12.01.2022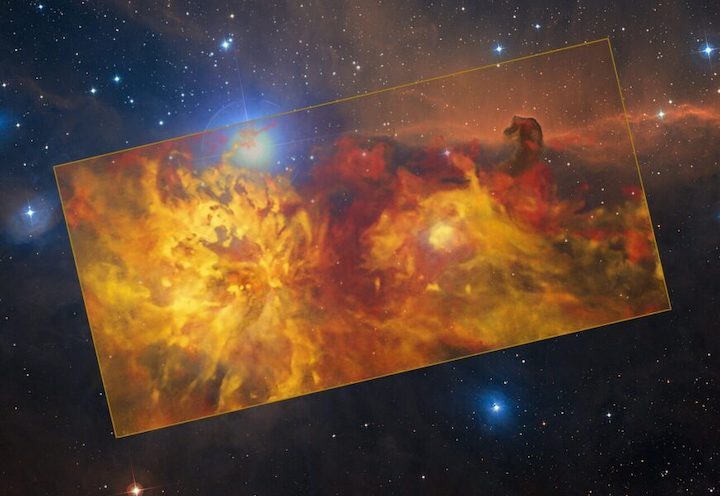 STARBIRTH: NEW VIEW OF THE FLAME NEBULA
The Atacama Pathfinder Experiment (APEX), located on the Chajnantor Plateau in Chile's Atacama Desert, captured the Flame Nebula in Orion at radio wavelengths.
The nebula is one of half a dozen star-forming regions imaged as part of the APEX Large CO Heterodyne Orion Legacy Survey (ALCOHOLS). This survey maps carbon monoxide gas as a tracer of star-forming gas in the galaxy. While clouds of molecular hydrogen, which may ultimately collapse into stars, are difficult to see on their own, the small amounts of mixed-in carbon monoxide shine at radio wavelengths, highlighting denser filaments and clumps.
Thomas Stanke (ESO) and colleagues will publish these observations in Astronomy & Astrophysics (preprint available here).
STARDEATH: SUPERNOVA CAUGHT IN THE ACT
Astronomers have captured the final months of a red supergiant star's life.
Using the Pan-STARRS telescope on Haleakalā and the W. M. Keck Observatory on Mauna Kea, both in Hawai'i, astronomers caught not only the star going supernova, in an event dubbed SN 2020tlf, but the death throes that portended the event.
Roughly four months pre-supernova, in the summer of 2020, Wynn Jacobson-Galán (University of California, Berkeley) and colleagues noticed an unexpectedly bright red supergiant. The star was likely casting off its outer layers in preparation for its final act. That fall, the star went supernova, and the astronomers were watching. Measuring the explosion's spectrum, they confirmed the tell-tale signature of shock waves blasting into dense material around the exploded star.
The team makes a full report in the Astrophysical Journal. See also the Keck Observatory's press release.
Quelle: Sky&Telescope
484 Views