Sonntag, 1. März 2015 - 19:15 Uhr
.
26.02.2015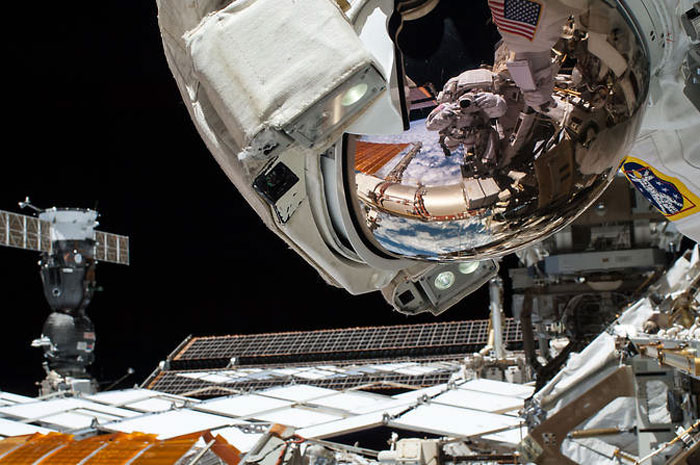 NASA astronauts Barry Wilmore and Terry Virts ended their spacewalk at 1:34 p.m. EST with the repressurization of the Quest airlock. Wilmore and Virts completed all the scheduled tasks for today. They completed rigging a series of power cables on Pressurized Mating Adapter-2, lubricated the Latching End Effecter of the space station's Canadarm2 robotic arm, and prepared the Tranquility module for the station's upcoming reconfiguration in preparation for the arrival of commercial crew vehicles later this decade. They also were able to complete get-ahead work for the installation during Sunday's spacewalk of the Common Communications for Visiting Vehicles (C2V2) system by pre-staging wire-ties that will be used to secure some 400 feet of cable.
The 6-hour, 43-minute spacewalk was the third for Wilmore and the second for Virts. Wilmore now has spent 19 hours and 58 minutes in the void of space during his three spacewalks. Virts has now spent 13 hours and 24 minutes outside during his two excursions. Crews have now spent a total of 1,165 hours and 51 minutes conducting space station assembly and maintenance during 186 spacewalks.
The duo will venture outside the space station again on Sunday, March 1, to install the C2V2 equipment commercial spacecraft delivering crews to the space station will use to rendezvous and dock with the orbital laboratory. NASA TV coverage will begin at 6 a.m. Sunday ahead of a planned 7:10 a.m. start time for the spacewalk.
Quelle: NASA
.
Update: 28.02.2015
.
NASA 'go' for Sunday spacewalk outside ISS
NASA today confirmed plans for astronauts to proceed Sunday morning with a third spacewalk in just over a week outside the International Space Station.
Engineers determined there was no danger posed by the small amount of water astronaut Terry Virts reported floating in his helmet at the conclusion of the second spacewalk in the series on Wednesday.
The presence of water in a spacewalker's helmet became a major concern in 2013 when a significant leak threatened to drown Italian spacewalker Luca Parmitano.
NASA believes the estimated 15 milliliters of water Virts reported is the product of a known issue with his spacesuit that is unrelated to the cause of the leak Parmitano survived.
Virts and fellow NASA astronaut Barry "Butch Wilmore" on Sunday plan to continue rigging hundreds of feet of cables and install communications antennas, steps toward the outpost welcoming commercial crew capsules in the next few years.
The planned six-and-a-half-hour spacewalk is expected to start at 7:10 a.m. EST Sunday. Follow live NASA TV coverage starting at 6 a.m.
.
NASA OKs Sunday spacewalk despite water leak in helmet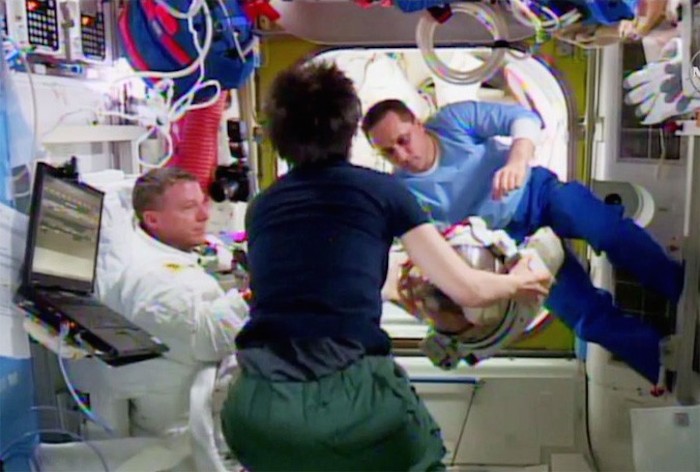 Left to Right: NASA astronaut Terry Virts, Italian astronaut Samantha Cristoforetti and cosmonaut Anton Shkaplerov inspect Virts' spacesuit helmet after it leaked a small amount of water during a spacewalk Wednesday, Feb. 25, 2015. (PHOTO/NASA TV)
Astronauts on the International Space Station will head out for another spacewalk this weekend despite a water leak in one astronaut's helmet Wednesday.
NASA on Friday cleared astronaut Terry Virts' spacesuit for Sunday's spacewalk, the last of three to route hundreds of feet of cable needed for the new, American-made spacecraft set to fly to the space station starting in 2017.
At the end of  Wednesday's spacewalk with fellow astronaut Butch Wilmore, a small amount of water leaked into Virts' helmet.
NASA said Virts was never in any danger Wednesday, but engineers spent two days investigating the leak. Another astronaut almost drowned in 2013 when his helmet flooded during a spacewalk.
NASA said it now believes it understands the quirks with Virts' spacesuit and helmet, and that they are safe to use on Sunday.
.
Update: 1.03.2015 
.
After a spectacular run of two EVAs, lasting a cumulative 13 hours and 24 minutes, over the last week, Expedition 42 astronauts Barry "Butch" Wilmore and Terry Virts will venture outside the International Space Station (ISS) for the third and final time tomorrow (Sunday). Scheduled to run for six hours and 45 minutes, EVA-31 will install the expansive Common Communications for Visiting Vehicles (C2V2) infrastructure, providing standardized communications between the ISS and future visiting vehicles—including Boeing's CST-100 and SpaceX's Dragon V-2 piloted craft—with a common data link for exchanging audio, video, and telemetry at varying rates and communications ranges. For unpiloted visiting vehicles, this will include trajectory and spacecraft health data, whilst for the piloted craft it will also feature a two-way audio capability. When the C2V2 hardware is fully operational, it will operate for up to 13 years, throughout the expected remainder of the station's lifetime, and consolidate ISS-based communications, save weight and volume, and greatly simplify logistics for co-ordinating the arrival and departure of all visiting vehicles.
...11.35 MEZ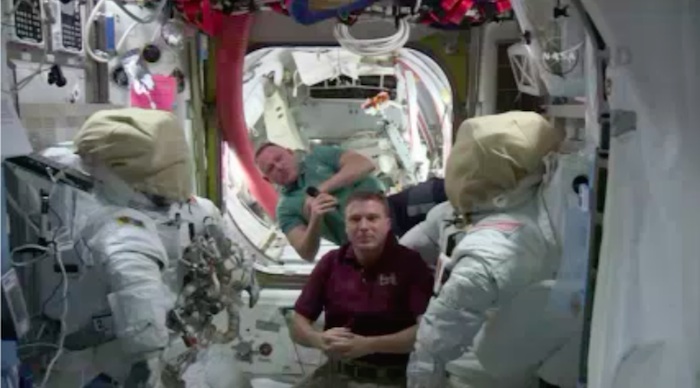 ...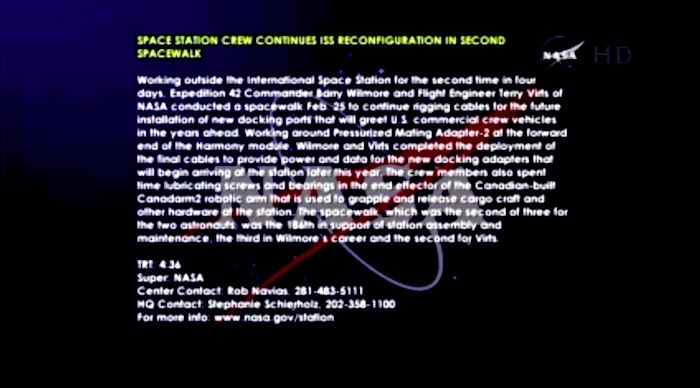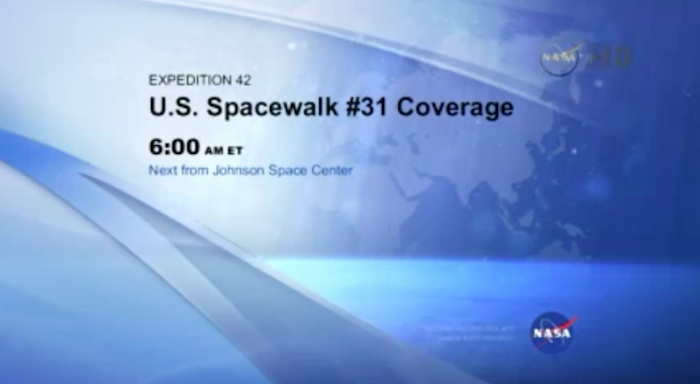 ...12.05 MEZ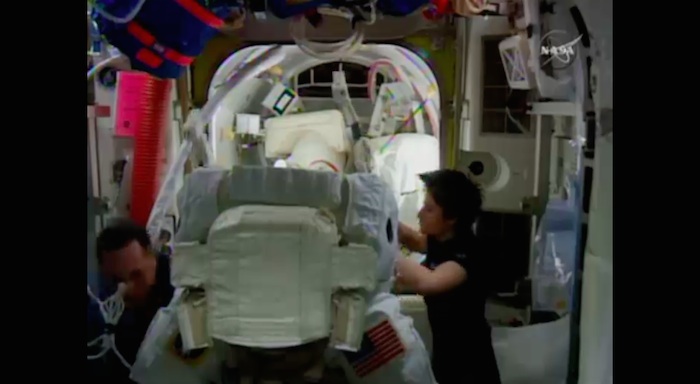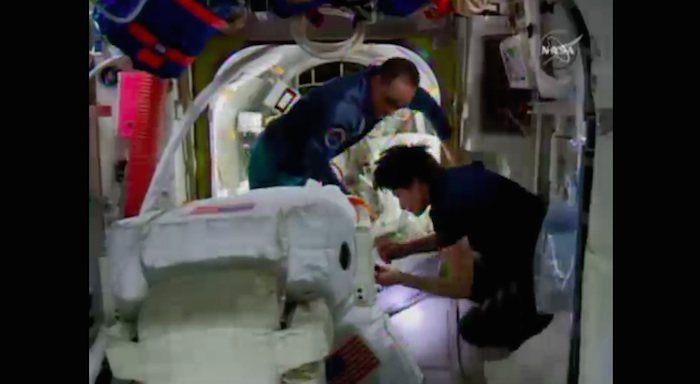 ...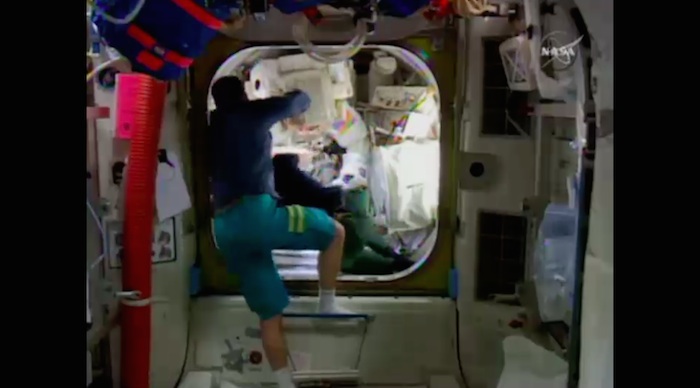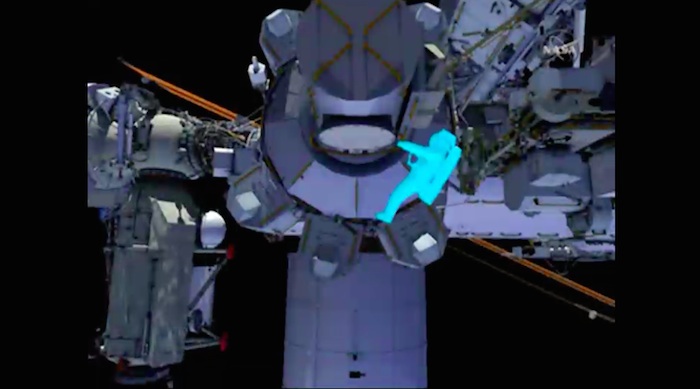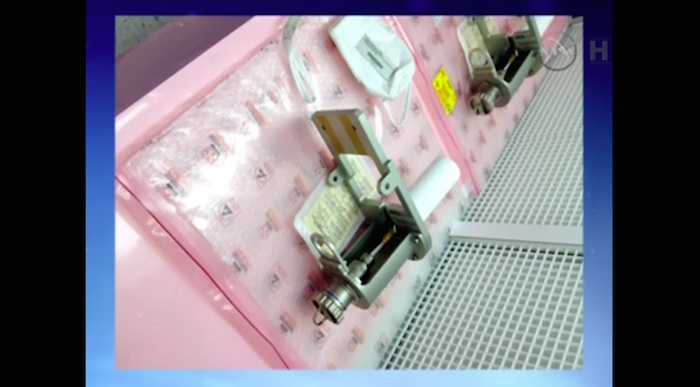 ...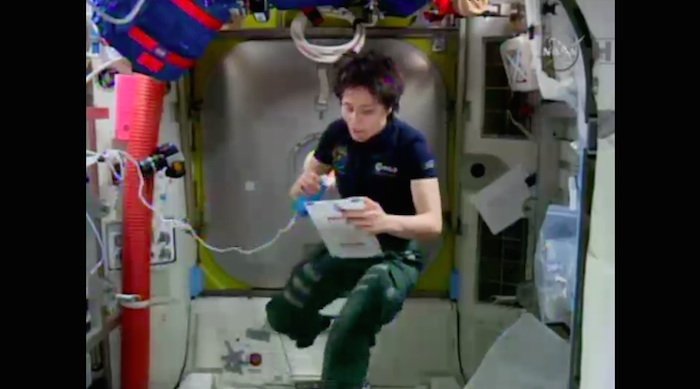 ...12.30 MEZ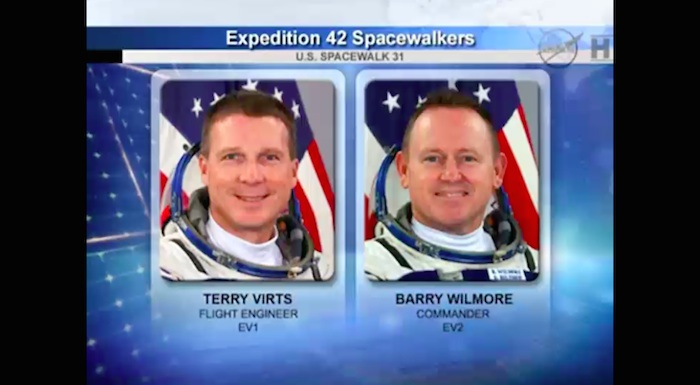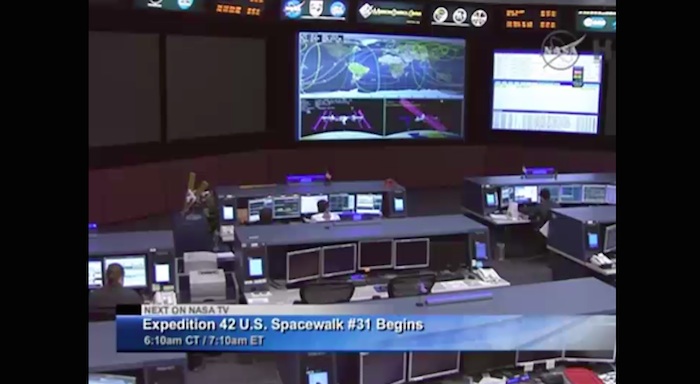 ...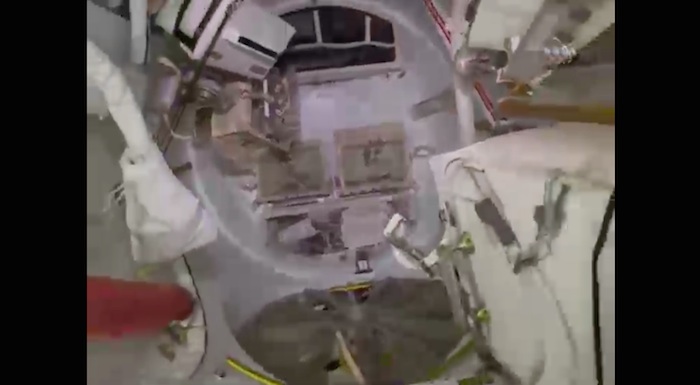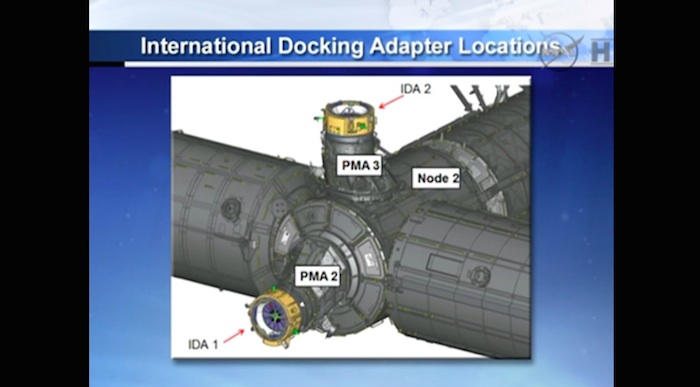 ...13.00 MEZ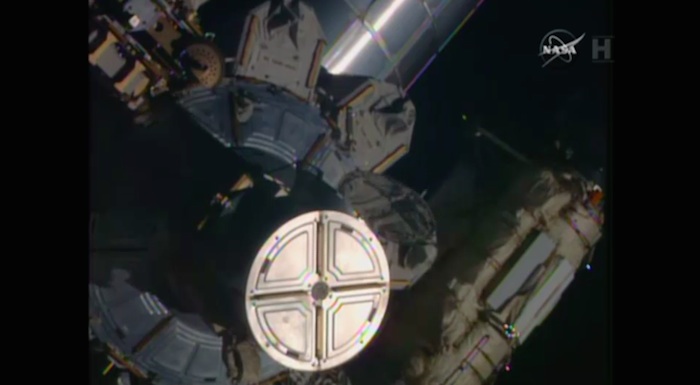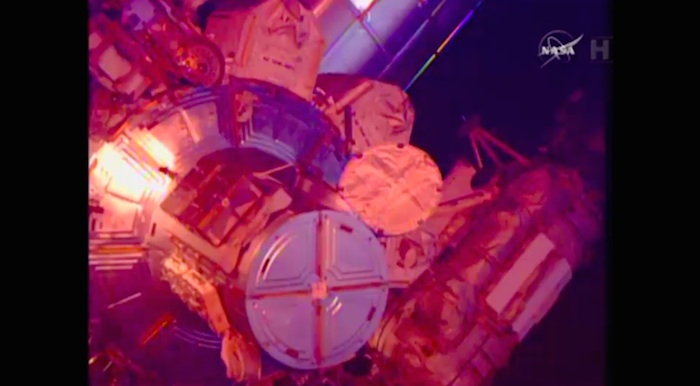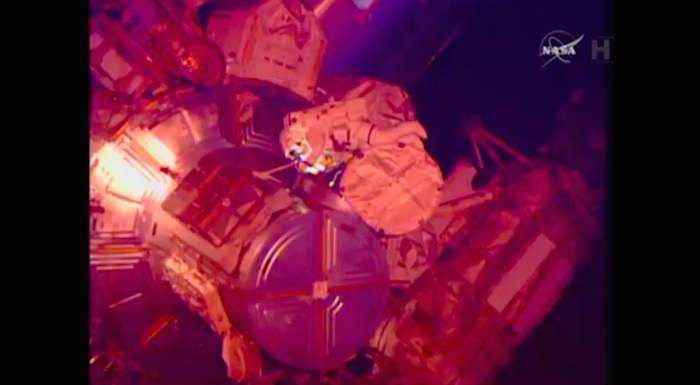 ...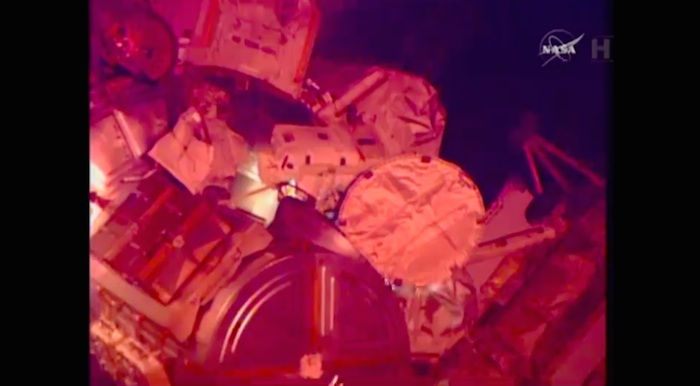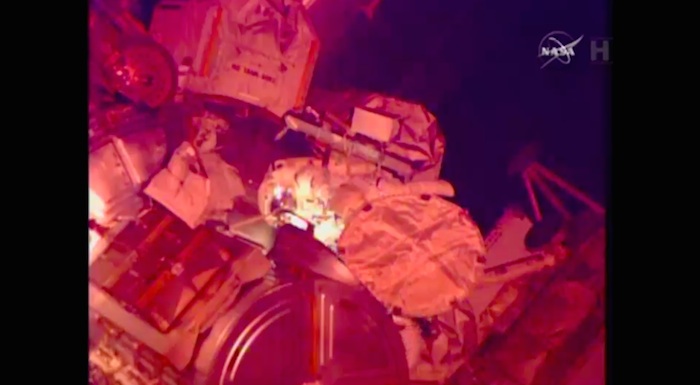 ...13.20 MEZ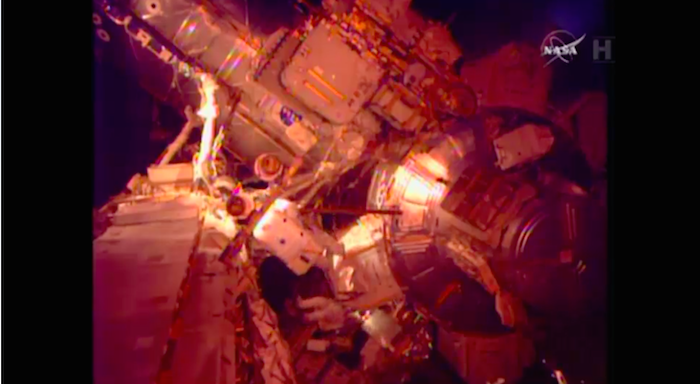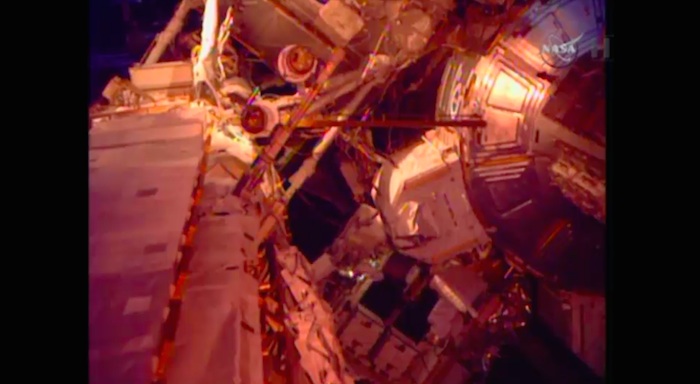 ...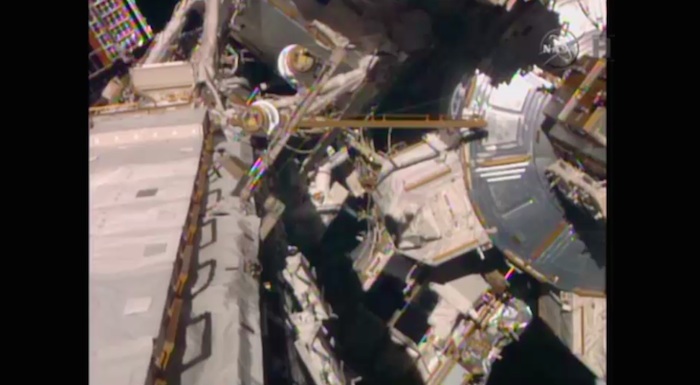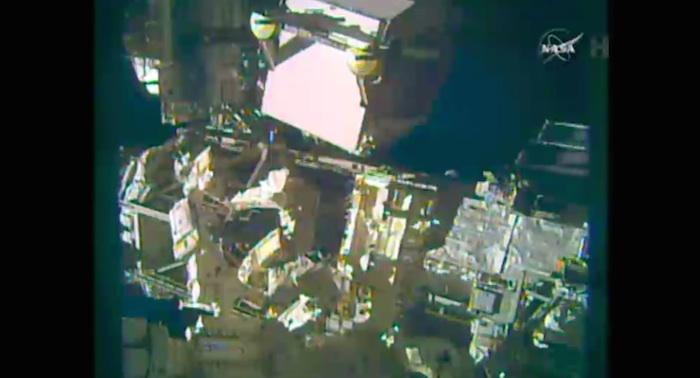 ...13.40 MEZ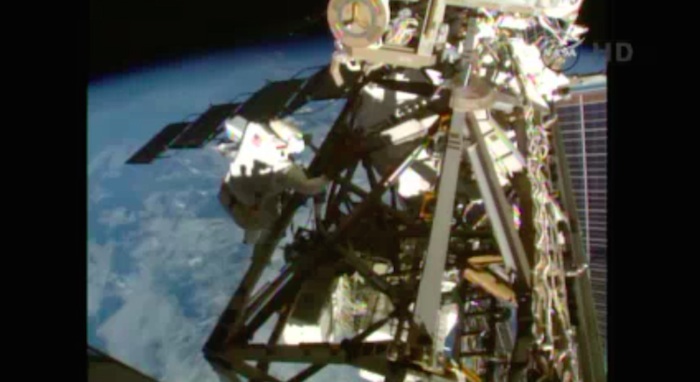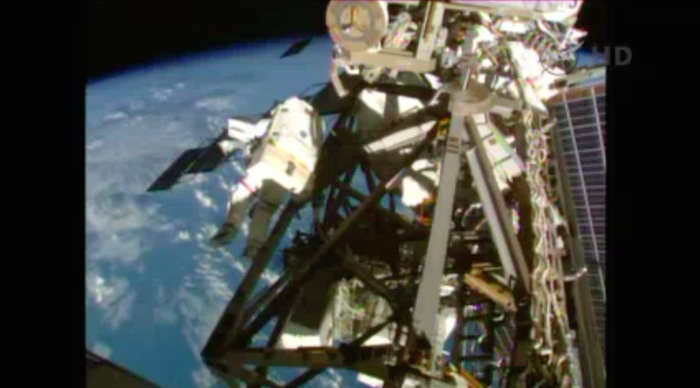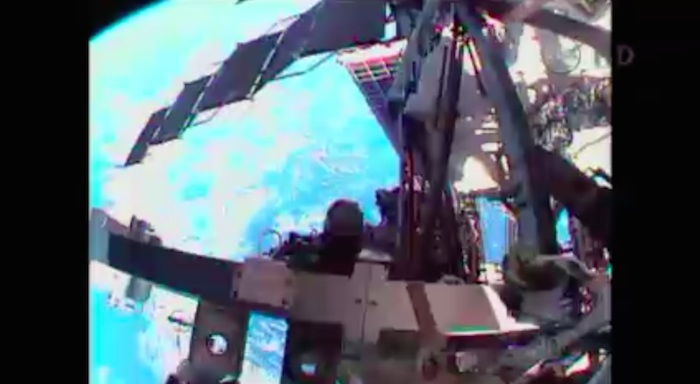 ...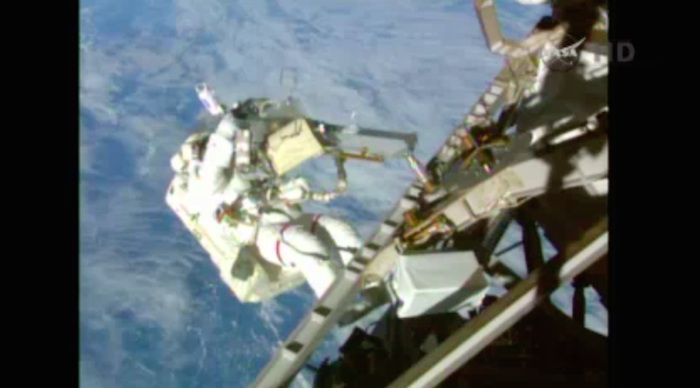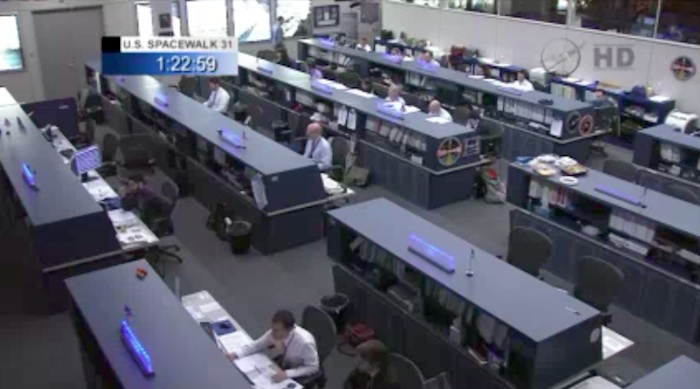 ...14.45 MEZ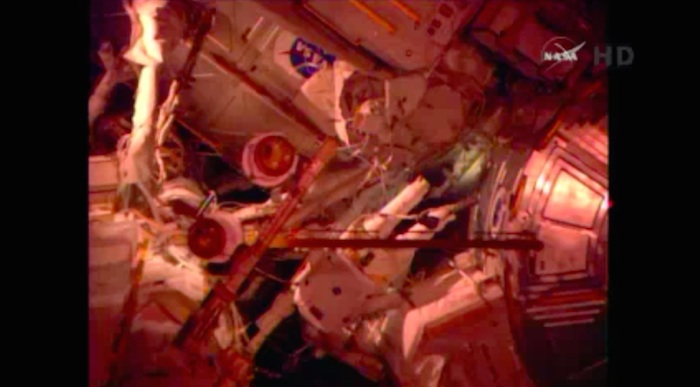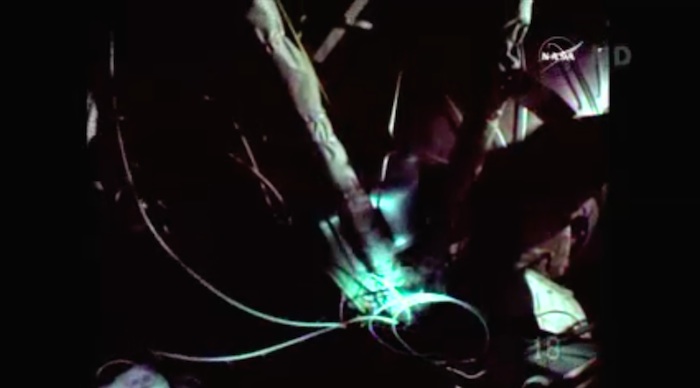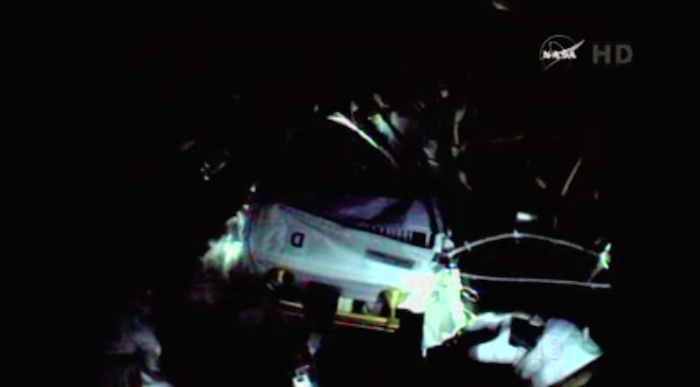 ...15.08 MEZ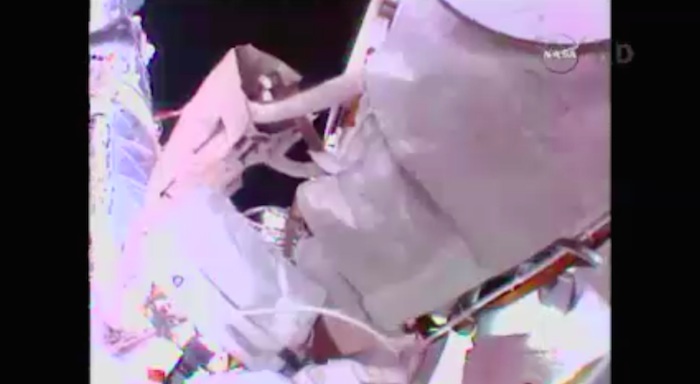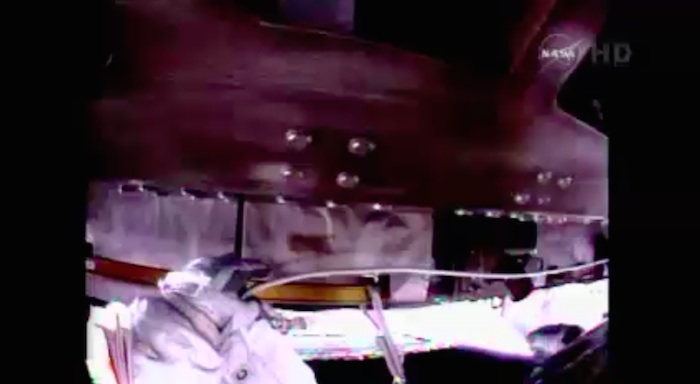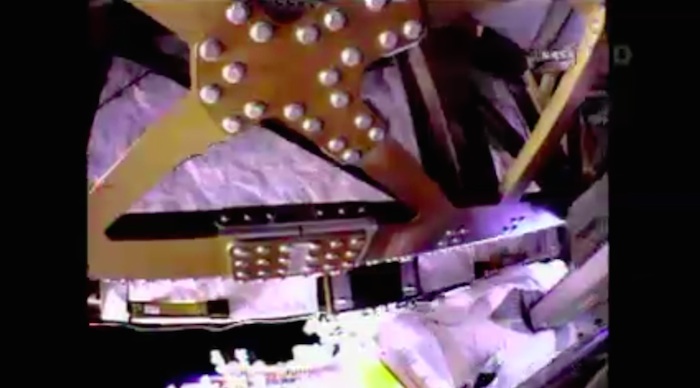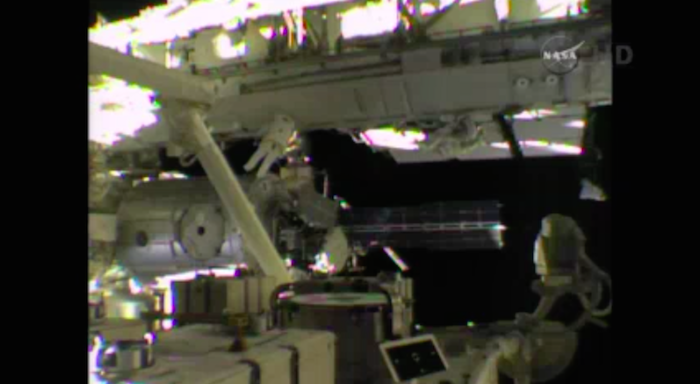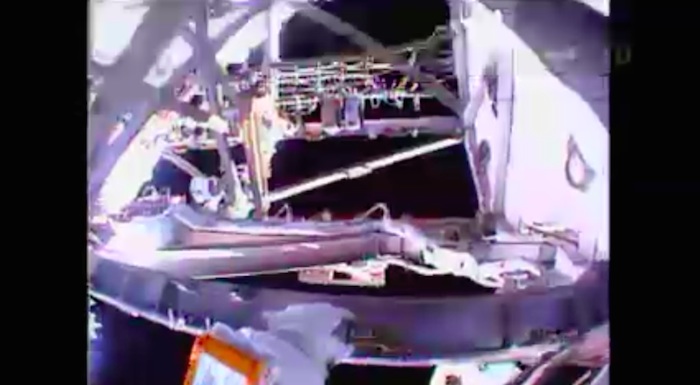 ...15.30 MEZ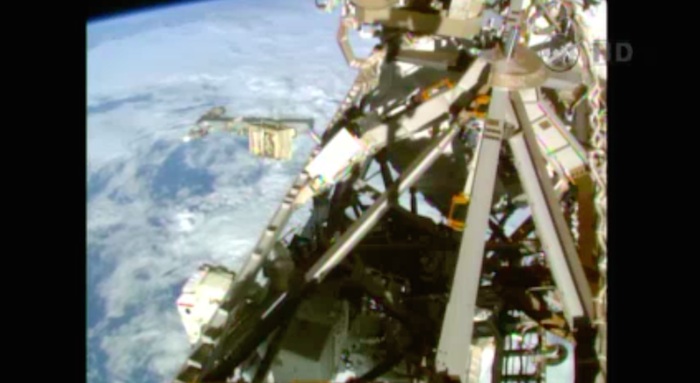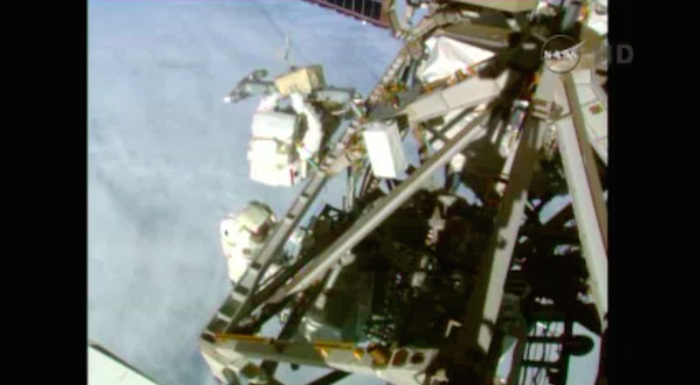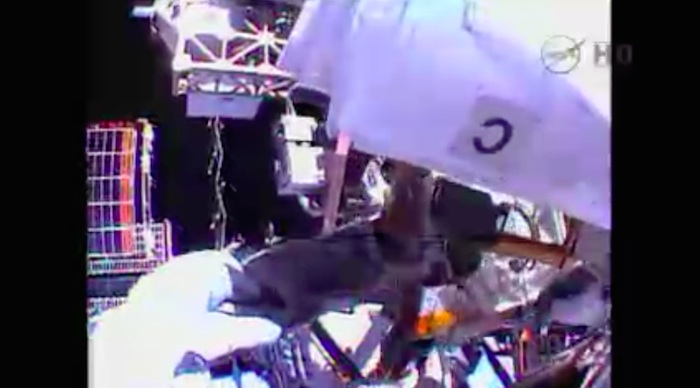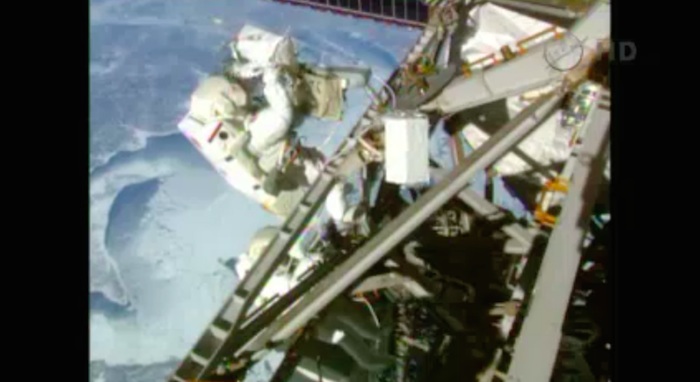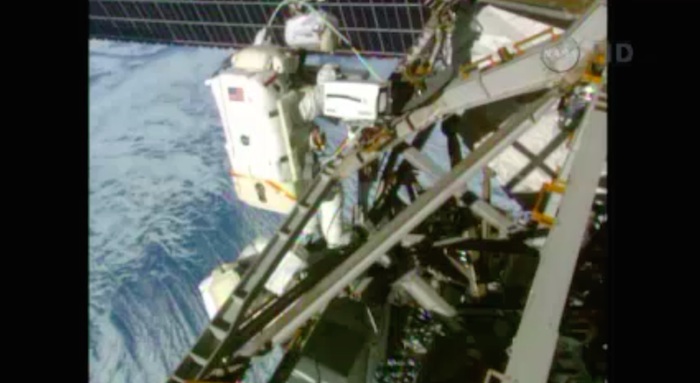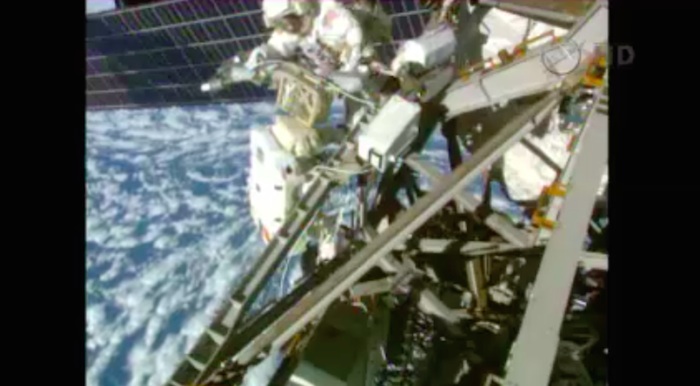 ...17.00 MEZ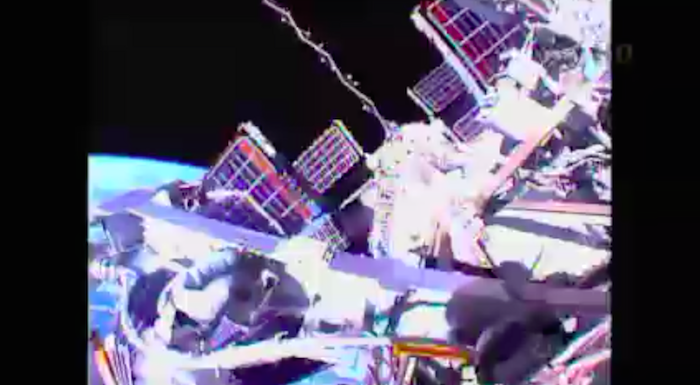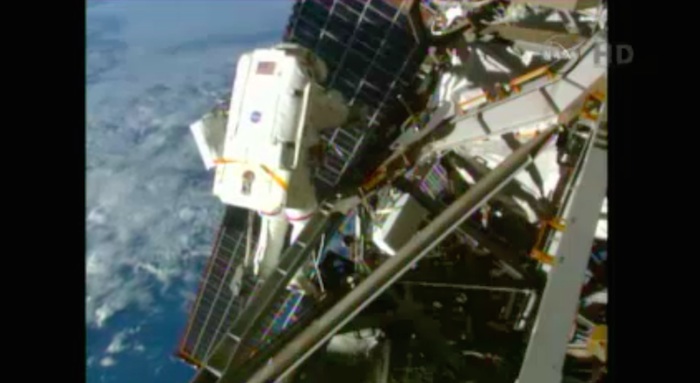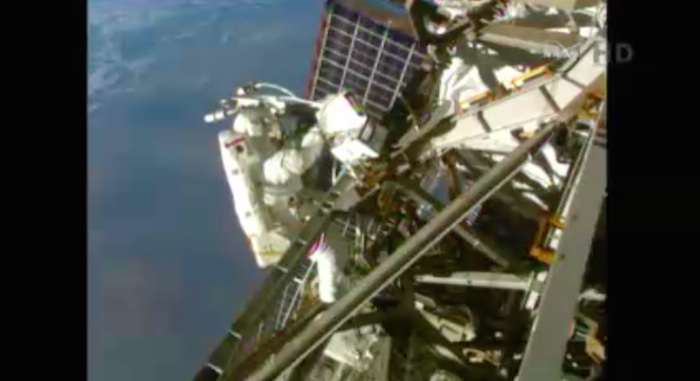 ...17.30 MEZ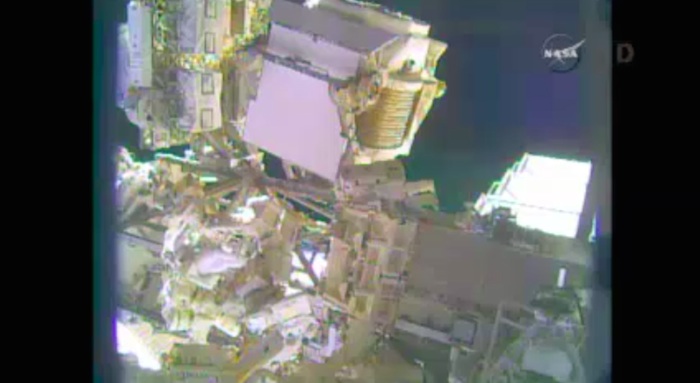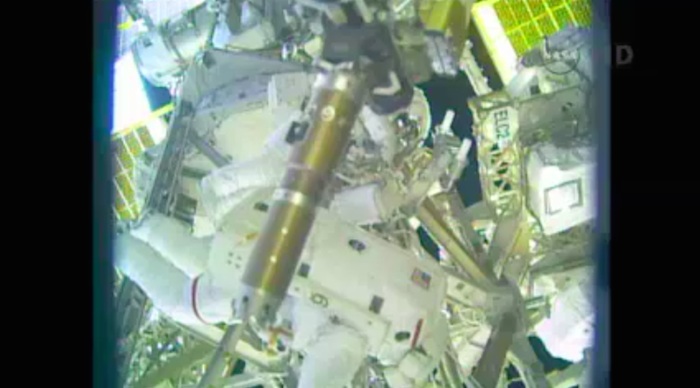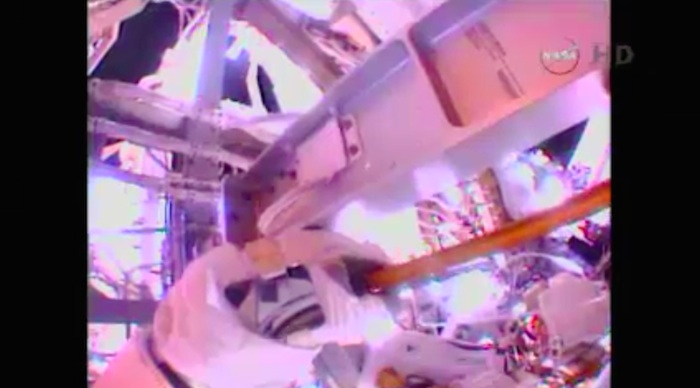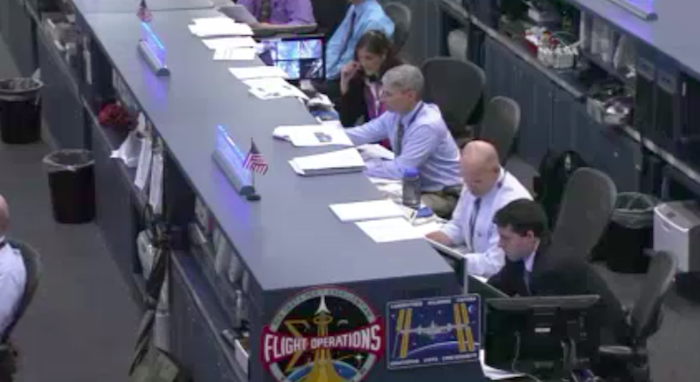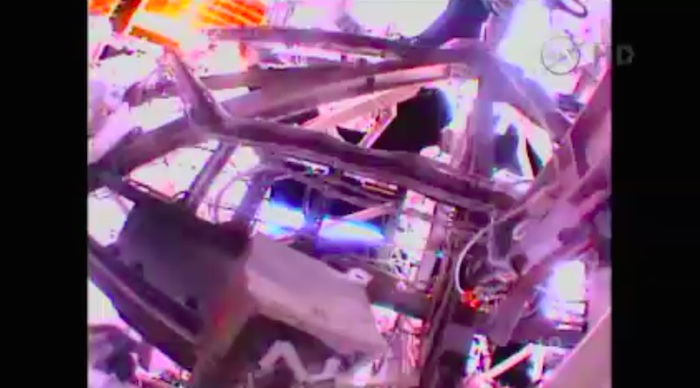 ...18.00 MEZ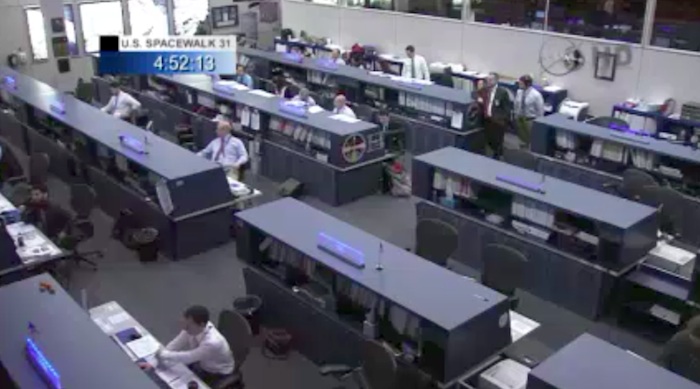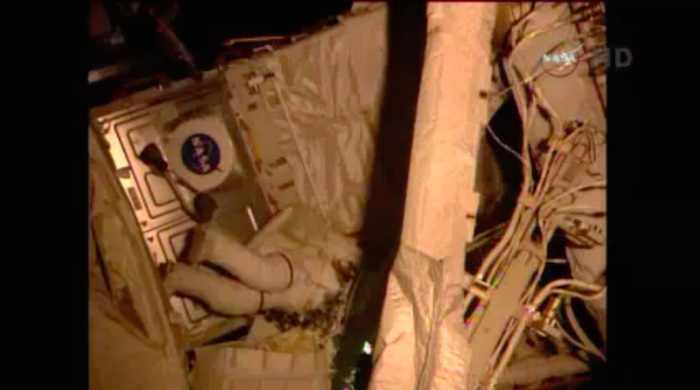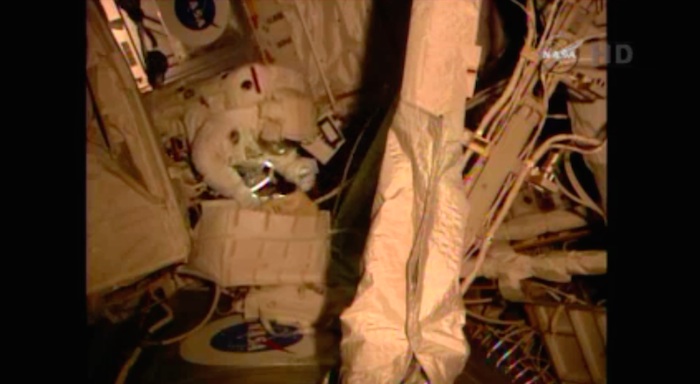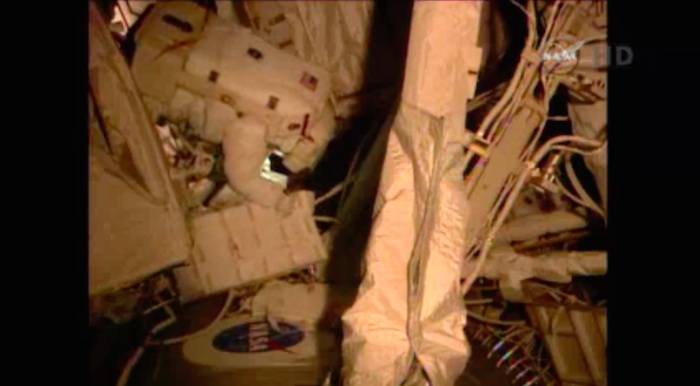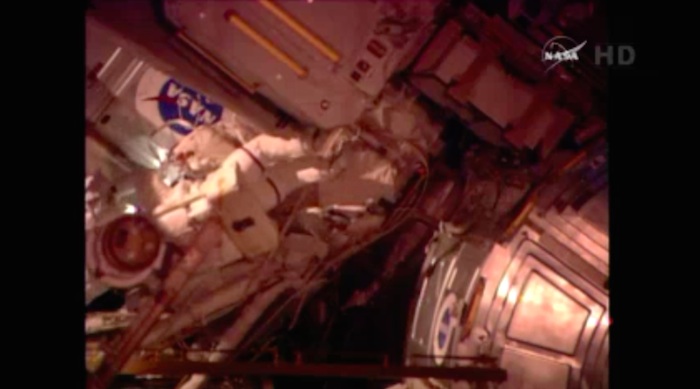 ...18.45 MEZ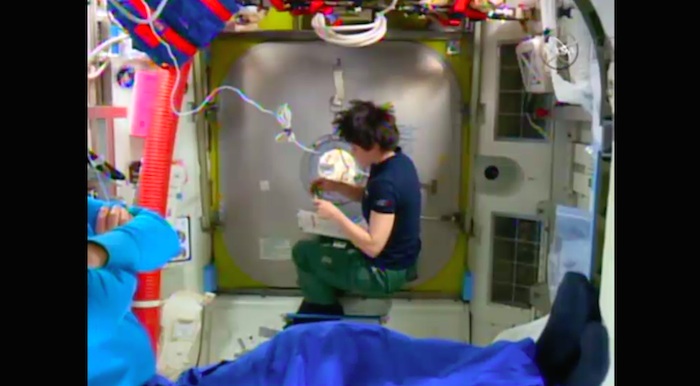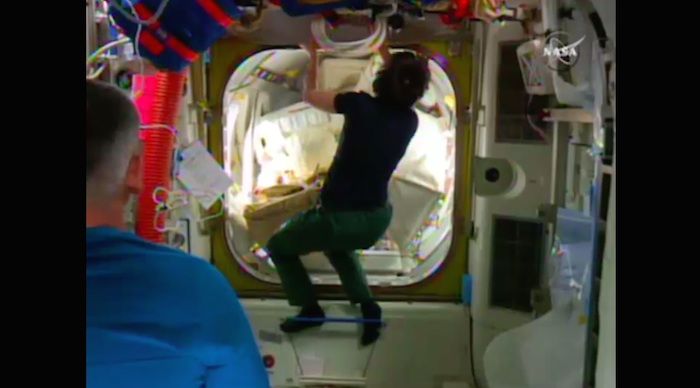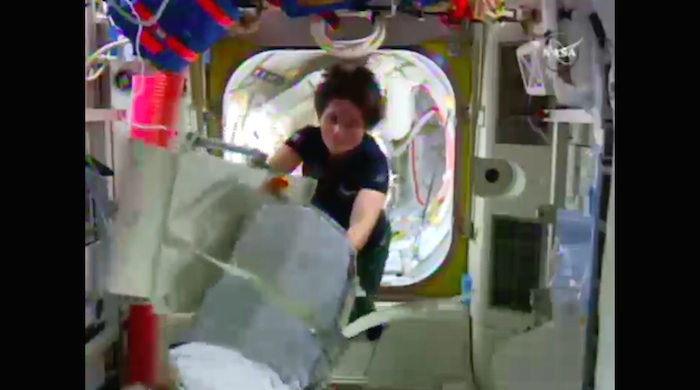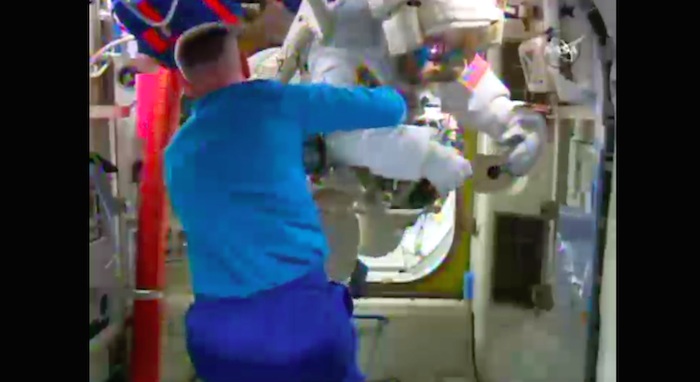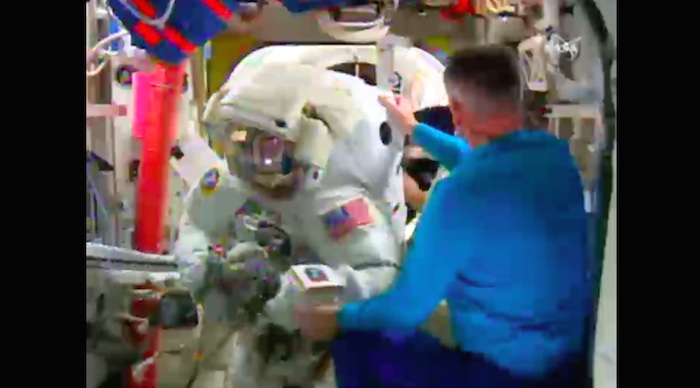 ...19.00 MEZ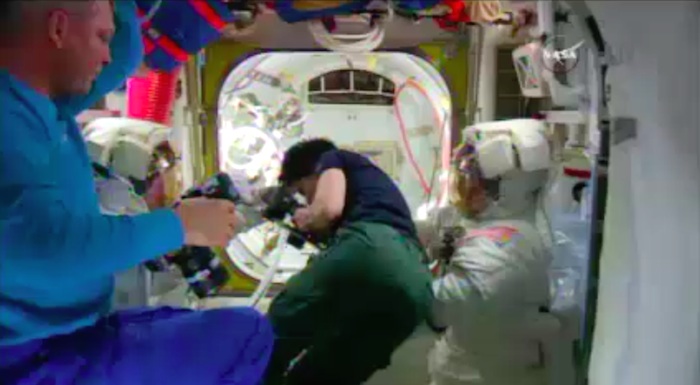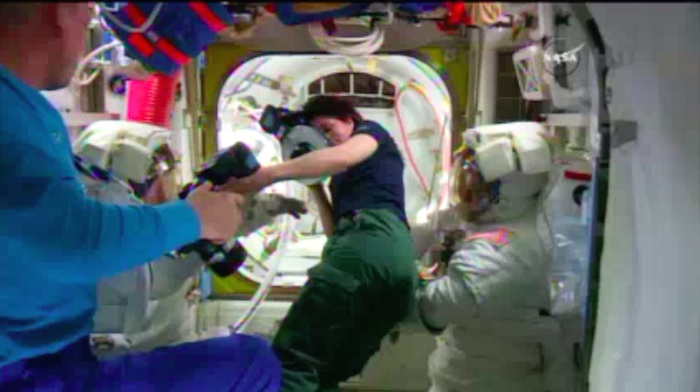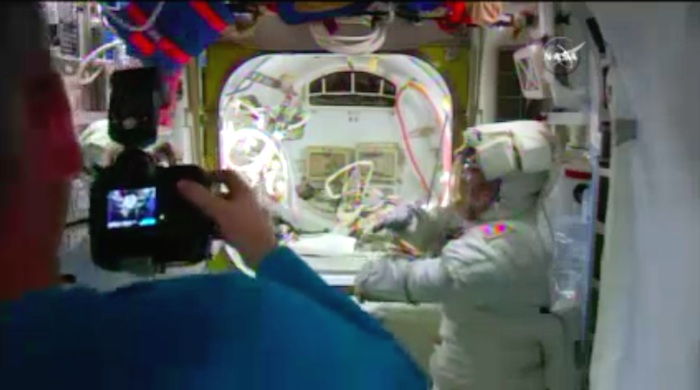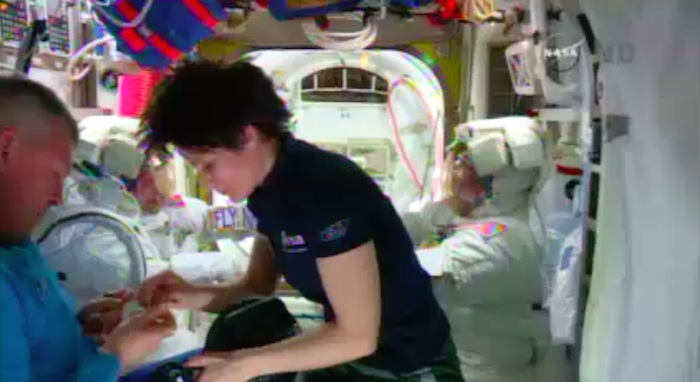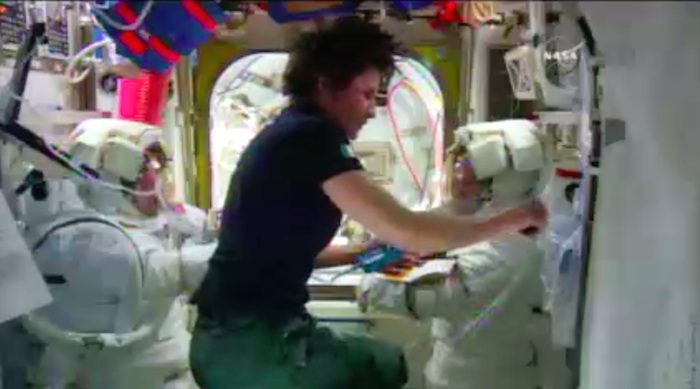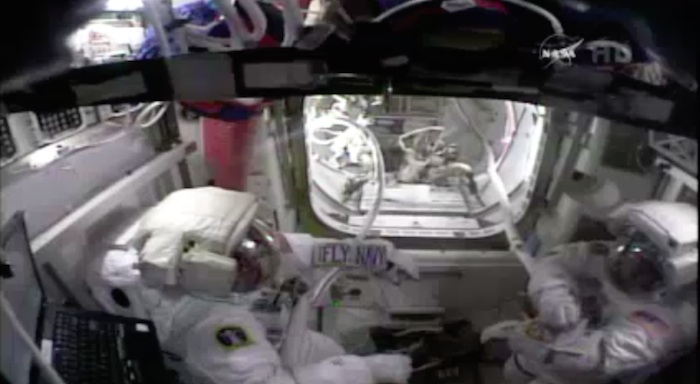 ...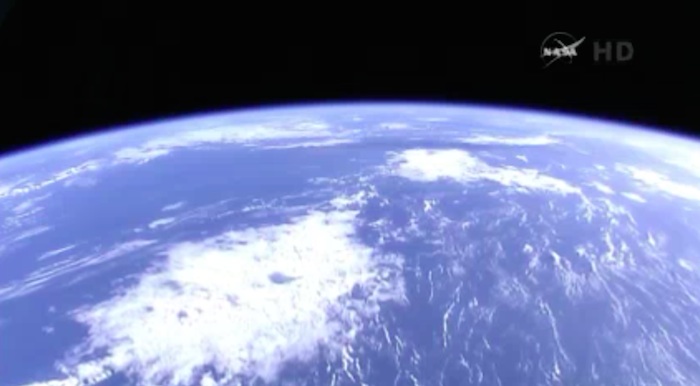 Frams: NASA-TV
-
NASA astronauts Terry Virts and Barry Wilmore ended their spacewalk at 12:30 p.m. EST with the repressurization of the Quest airlock. Virts and Wilmore completed installing 400 feet of cable and several antennas associated with the Common Communications for Visiting Vehicles system known as C2V2. Boeing's Crew Transportation System (CST)-100 and the SpaceX Crew Dragon will use the system in the coming years to rendezvous with the orbital laboratory and deliver crews to the space station.