8.06.2018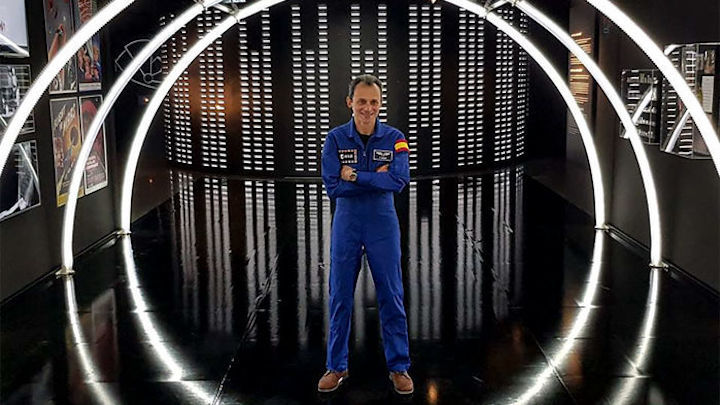 E. FLETCHER/ESA
-
BARCELONA, SPAIN—Spain has a ministry of science again—and none other than the first Spanish astronaut is leading it. Yesterday, the new transition government led by socialist Pedro Sánchez announced that Pedro Duque, who visited space twice, will be at the helm of the newly created Ministry for Science, Innovation, and Universities. The announcement was cheered by the Spanish scientific community, which has long suffered from declining budgets and bureaucratic hurdles.
"It is a great privilege to be able to transfer my experience as an astronaut, project manager and space sector CEO to my new role in the government," Duque says in a statement on the website of his previous employer, the European Space Agency (ESA). "I am looking forward to increasing awareness in science and technology among Spanish citizens."
In 2011, the center-right government of Mariano Rajoy—which lost a vote of confidence last week—relegated science to a state secretariat under the economy minister. The creation of a new ministry is "very good news for Spanish science," says Nazario Martín, president of the Confederation of Spanish Scientific Societies here. The appointment of Duque rather than a career politician at the top job is the icing on the cake. His background "puts him in a good position to do interesting things," Martín says.
Duque, 55, trained as an aeronautic engineer and joined ESA in 1992. In 1998, he was a mission specialist aboard the space shuttle Discovery, where he was responsible for ESA's five scientific facilities on the 9-day STS-95 mission. In 2003, he served as a flight engineer during the 10-day Cervantes mission to the International Space Station, where he ran experiments and participated in educational activities. Duque has industry experience as well: During a leave of absence from ESA between 2006 and 2011, he led the Spanish Earth observation company Deimos Imaging. A well-known science communicator, he emphasized the need for continued investments in education, science, and technology in an open letter in 2012, when Spain's economy was in the doldrums.
Although an inspiring figure, "Pedro Duque isn't going to have it easy," says Borja Sánchez, a spokesperson for the newly founded Spanish Association for the Advancement of Science who is based in Villaviciosa, Spain. "He's got in front of him an immense task, starting with raising the spirits of the Spanish scientific community," after years of hardship. The transition government has 2 years at most to serve before the next elections, and only has 84 of the 350 seats in the Spanish parliament; Duque may struggle to pass measures of major significance, Sánchez says.
His ability to choose his staff well and turn the State Research Agency (AEI) created by the previous government into an efficient science funding body will determine whether Duque succeeds as science minister, Martín says. The scientific community had hoped AEI would bring stability to scholarships and research funding, but long delays and uncertainty as to when funds become available continue to hamper research.
Luis Serrano, director of the Centre for Genomic Regulation here, also welcomes Duque's appointment but says "one shouldn't be super ambitious." If Serrano could give Duque just one mission, it would be to provide AEI with the means to issue funding to research groups on the same day every year. It would make "a tremendous difference" to Spanish scientists, says Serrano, and Duque "would make history."
Quelle: Science
2986 Views