6.06.2018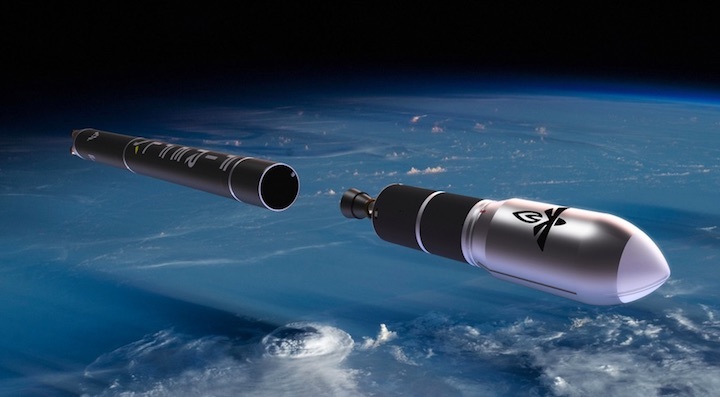 Firefly Alpha will be able to place payloads weighing up to 1,000 kilograms into orbit, with a first launch scheduled for the third quarter of 2019. Credit: Firefly Aerospace
-
WASHINGTON — British smallsat developer Surrey Satellite Technology Ltd. (SSTL) announced June 4 it has signed an agreement for up to six launches from small launch vehicle developer Firefly Aerospace.
In a statement, the companies said they had executed a launch services agreement that covered up to six launches of SSTL payloads on the Firefly Alpha launch vehicle between 2020 and 2022. Terms of the agreement were not disclosed, but Firefly officials have earlier stated a price of about $10 million per launch.
The first satellite that SSTL plans to launch on the Firefly Alpha is Carbonite-4, a satellite SSTL had not previously disclosed. The first two Carbonite satellites were technology demonstration satellites with high-resolution imaging payloads.
"Our new partnership with Firefly assures SSTL customers convenient, dependable access to space, with certainty of launch opportunities," Sarah Parker, managing director of SSTL, said in a statement. "Starting with CARBONITE-4 in early 2020, we look forward to launching many successful missions together."
The agreement is the first announced by Firefly Aerospace, created last year when entrepreneur Max Polyakov acquired the assets of Firefly Space Systems, which filed for bankruptcy protection in 2016. The original Firefly was working on a smaller launch vehicle but had won only a NASA Venture Class Launch Services contract that was later cancelled.
Firefly Alpha is scheduled to make its debut in the third quarter of 2019 from Vandenberg Air Force Base in California. The company announced May 1 that it had won approval from the U.S. Air Force to take over Space Launch Complex 2 West there, which currently hosts Delta 2 launches. The final Delta 2 launch, from that pad, is planned for September.
"The Firefly Alpha program is on schedule for our first launch in the third quarter of 2019," Polyakov said in a statement. "Our mass production processes will enable eight Alpha flights in 2020 and 18 flights in 2021."
In a May 25 talk at the International Space Development Conference in Los Angeles, Tom Markusic, chief executive of Firefly Aerospace, said that initial production of the Firefly Alpha will take place from the company's existing facilities in Texas, but that the company plans to develop a new "mass production" facility as its launch tempo increases.
"Our goal is to ramp up to 24 launches a year. We can do maybe six rockets a year in our Texas facility," he said. "We're actively looking at establishing a large-scale mass production facility. Florida is of interest but we're looking at others as well. Obviously being near a launch site would be good."
While the company's technical operations are primarily in Texas, in the Austin area, the company recently opened a research and development center in Dnipro, Ukraine. Among those who attended the opening of the center was Ukrainian President Petro Poroshenko.
"That's going to add a new element of what Firefly can do," Markusic said, saying that about 150 people would soon be working there. "We can draw on the technical and manufacturing expertise in Ukraine, a lot of Soviet-era stuff that I don't think Western companies are really taking advantage of."
Quelle: SN
2278 Views