10.06.2018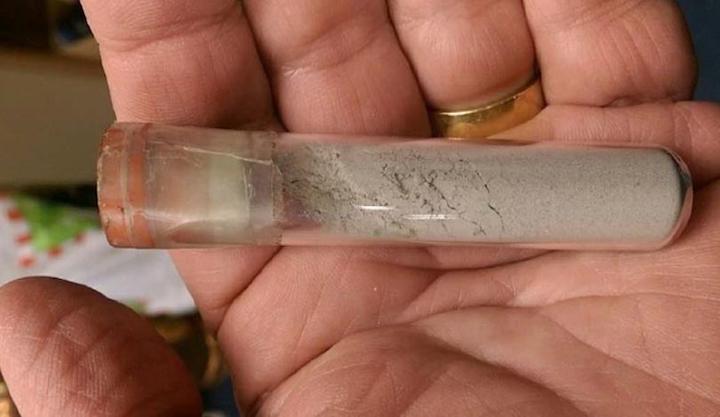 WICHITA, Kan. Laura Murray Cicco has a piece of space from the first man to land on the moon. She wants to make sure she can keep it, so she proactively filed a suit against NASA as the agency's position is that all lunar material belongs to it.
Murray Cicco received the small glass vial full of gray moon dust in the early 1970s. The vial came with a note: "To Laura Ann Murray -- Best of luck -- Neil Armstron Apollo 11."
As a child, Murray Cicco learned about Neil Armstrong and that the famous astronaut was a friend of her father's. Murray Cicco's father was a pilot during World War II who trained pilots for the B-17 Flying Fortress, a court document detailing the lawsuit says. After his astronaut career, Armstrong taught at the University of Cincinnati in the Department of Aerospace Engineering. This is where, the suit says, paths of Armstrong and Murray-Cicco's father crossed.
Armstrong's note and signature have been verified and testing has confirmed the contents in the vial he gifted her do include dust from the moon.
Decades after receiving the glass vial of moon dust, Murray Cicco is moving forward with her federal court case in Wichita, even though she lives in Tennessee. The reason for filing the case in Kansas goes back to a previous case in 2016 where a U.S. District Court judge in Wichita ruled in favor of a collector who bought a bag containing moon dust that was mistakenly placed in an online government auction. In that case, the bag was then sold at auction last year for $1.8 million.
While NASA hasn't demanded Murray Cicco give up the vial of moon dust, Murray Cicco's attorney has requested a jury trial in Wichita to stay ahead.
"There is no law against private persons owning lunar material. Lunar material is not contraband. It is not illegal to own or possess," the court document detailing the case says. "Therefore, she requests judgment declaring her the rightful and legal owner of the vial and its contents, and vesting title in her name."
Quelle: KWCH12
2030 Views