9.05.2018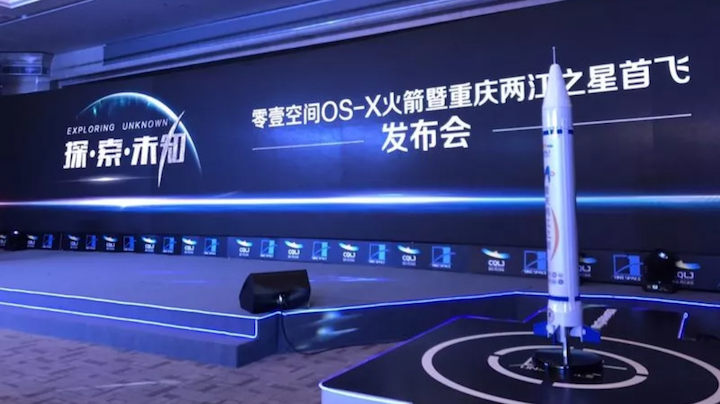 The stage for the May 8 announcement of OneSpace's debut flight, with a model OS-X rocket visible on the right. OneSpace
-
Chinese space company OneSpace Technology Co. revealed on Tuesday that they would attempt the first launch of its solid-fuelled OS-X suborbital rocket on May 17, 2018.
The announcement was made in Chongqing in southwest China, where the company has a major base, with officials stating that preparations for the launch are ongoing at an undisclosed location in Northwest China.
The launch date announcement follows a vertical assembly test on April 11, using independently developed equipment to transport and erect the rocket, and successful tests of its solid-propellant engine in December.
The rocket for the May 17 test flight has been Chongqing Liangjiang Star, taken from the company's manufacturing base in the Chongqing Liangjiang New Area, an economic zone named for where the two rivers, Yangtze and Jialing, meet.
The OS-X is a rocket which uses a solid engine with a thrust of 350 kilonewtons (kN)and has been designed for suborbital flights in order to provide high-altitude research and test services.
The company hopes to test launch an orbital rocket, the OS-M1, around the end of the year.
A 35 second test of solid-propellant engines for the OneSpace OS-X suborbital rocket in December 2017. OneSpace
Support, investment, competition
The rocket startup received support from the State Administration for Science, Technology and Industry for National Defence (SASTIND), providing crucial access to technology, and has raised 500 million yuan (US$77.6m) through finance rounds since its establishment in summer 2015, according to Tencent Technology.
OneSpace has since invested 250 million yuan (US$39m) in the Liangjiang New Area to build a commercial space intelligent manufacturing base for its rockets.
Other commercial launch service providers emerging in China include Linkspace, which is pursuing vertical takeoff, vertical landing capabilities, i-Space, Expace, and Landspace.
Commercial space activity is also growing in other sectors, with nascent Jilin-1 and Zhuhai-1 Earth observation satellites constellations and others planned, and SpaceTY of Hunan Province also involved.
Global broadband communication constellations in low Earth orbit are also planned by actors in the Chinese space sector.
OneSpace OS-X rocket vertical assembly rehearsal.
Quelle: gbtimes
2437 Views