6.03.2022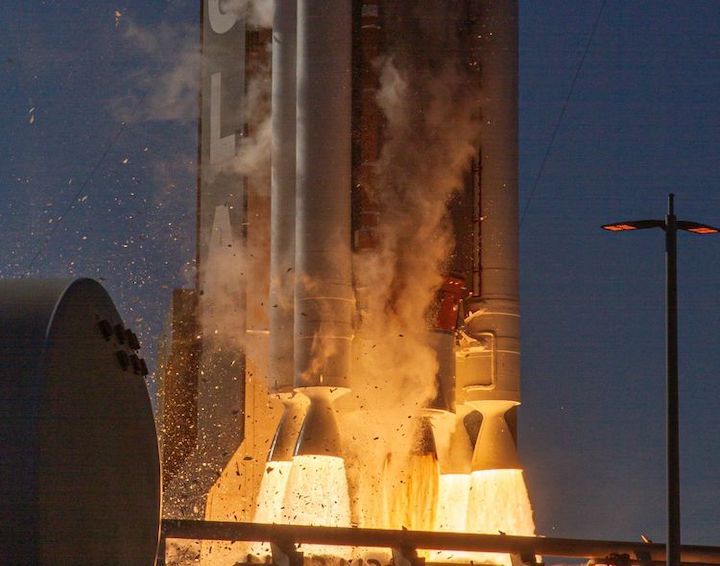 MAGNA, Utah – March 2, 2022 – (PHOTO RELEASE) Four Northrop Grumman Corporation (NYSE: NOC) 63-inch-diameter Graphite Epoxy Motors (GEM 63) solid rocket boosters helped successfully launch and deploy the National Oceanic and Atmospheric Administration's (NOAA) Geostationary Operational Environmental Satellite T (GOES-T) aboard a United Launch Alliance (ULA) Atlas V rocket yesterday. The GEM 63 boosters provided approximately 1.5 million pounds of additional maximum thrust at launch, with each motor contributing approximately 375,000 pounds of thrust. Northrop Grumman also produced the composite heat shield, the Centaur interstage adapter and the boattail on the ULA Atlas V launch vehicle.
Propulsion Systems
Building the world's largest solid rocket motor is impossible. Until it's not.
Solid Rocket Propulsion Systems and Products
Northrop Grumman provides reliable and flight-proven solid rocket motors for both Northrop Grumman vehicles and for other providers in defense and commercial markets. For defense programs, the company produces propulsion systems for the company-built Ground-based Midcourse Defense interceptor, as well as for the Trident II D-5 and Minuteman III strategic missiles.
Northrop Grumman is providing the five segment boosters for NASA's Space Launch System (SLS) and the main launch-abort motor and the attitude control motor for the Orion Crew Vehicle's Launch Abort System (LAS). In addition Northrop Grumman propulsion systems are employed in the company's Pegasus®, Minotaur and Antares™ rockets as well as in Delta IV and commercial launch vehicles.
Solid Rocket Motors Defines Possible
Northrop Grumman is the leader in providing solid rocket motors for civil, national security and commercial rockets. From rockets that launch from below the sea, to ground and air launched rockets, our customers rely on our solid-rocket motors to conduct their most important missions.
Quelle: Northrop Grumman
453 Views