6.03.2022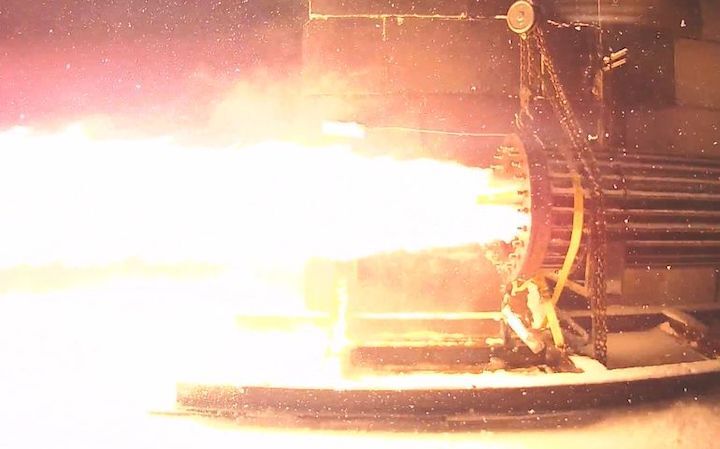 COURTESY / BLUSHIFT AEROSPACE
After two attempts earlier this week, Brunswick-based bluShift Aerospace on Tuesday evening successfully completed the first static-fire test of the startup's full-scale biofueled rocket engine.
"I'm still shaking, and my heart is pounding a thousand beats per second, but wow — this test was exactly what we were hoping for," CEO Sascha Deri said in a news release.
Click here to view the test.
The rocket-maker is developing a line of eco-friendly rockets to provide affordable, sustainable space launch services. The company is targeting universities, corporations and federal agencies that want to launch nanosatellites as far as 400 miles above the Earth.
Tuesday's test, conducted at 8:34 p.m., came after the team fixed ignition failures that aborted tests scheduled for Sunday and Monday.
A static-fire test is one in which the engine is fired but the vehicle doesn't launch. The test was conducted at bluShift's headquarters at Brunswick Landing's Tech Place, and viewed by in-person guests and over 1,250 followers on a Youtube livestream.
Founded in 2014, bluShift has designed a bio-derived rocket fuel and a modular hybrid rocket engine, and is working toward a small rocket that can lift 30-kilogram payloads to low-Earth orbit.
On Jan. 31, 2021, bluShift launched the first commercial rocket in the world powered by eco-friendly, bio-derived fuel from Loring Commerce Centre in Limestone.
The full-scale engine is called a Modular Adaptable Rocket Engine for Vehicle Launch, or MAREVL 2.0.
The MAREVL 2.0, custom-built with a 2-foot diameter and a length of 8 feet, is a novel, modular hybrid rocket engine that burns non-toxic, carbon-neutral, bio-derived solid fuel.
In the first test, the engine fired at full power for 5 seconds in order to test ignition, stability of flow, command and control, and data collection.
COURTESY / BLUSHIFT AEROSPACE SCREENSHOT
Future tests are expected to feature full-duration burns of approximately 90 seconds.
The test marked the culmination of eight years of research and development, over 200 engine tests, the realization of grants from NASA and the Maine Technology Institute, and the Stardust technology demonstration mission in January 2021.
Following a series of static fire tests, MAREVL 2.0 is expected to power a full-sized commercial rocket, Starless Rogue, into suborbital flight in late 2022. Company engineers are currently working at Hangar 6 in Brunswick to design the rocket.
The company is also working to qualify for NASA Flight Opportunities Program for future suborbital launches. The fuel, test site and launchpad will all be solar-powered, and bluShift will reuse nearly 100% of its suborbital rockets and 70% of its orbital ones.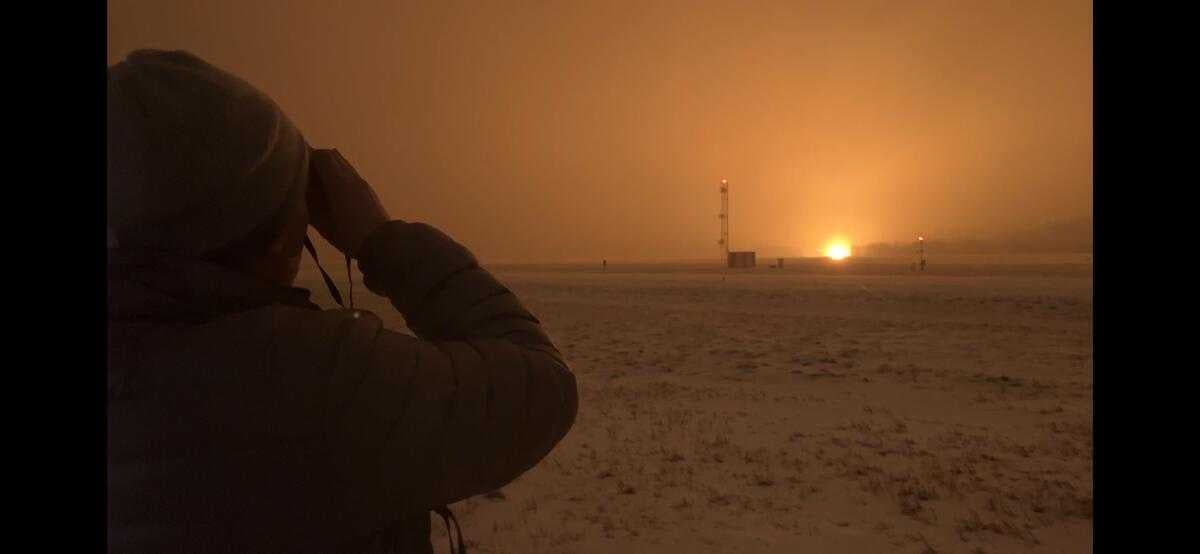 COURTESY / BLUSHIFT AEROSPACE
The company has plans to develop an orbital rocket it calls Red Dwarf. The latter is expected to deliver small satellites, called cubeSats and nanosats, into polar orbit around the Earth. The small but powerful satellites can be produced cheaply and quickly by companies and research institutions that are seeking affordable and timely ways to get to space.
According to the company, in 2021 there were 135 rocket launches worldwide, up from 104 in 2020. Market analysis company Frost & Sullivan predicts that small-satellite launch service revenues will exceed $28 billion by 2030.
To date, bluShift has raised more than $1 million in capital investment from local and national investors and is raising funds via the crowdfunding platform Wefunder.
The company said it expects to capture a sector of the expanding market, creating 50 jobs in the next five years and supporting more jobs across Maine.
The company has been looking at developing a potential launch site on an island off Jonesport, but suffered a setback in December when Jonesport residents voted to put a six-month moratorium on aerospace activities.
The startup said it was looking at other towns as sites for planned commercial lift-offs.
Quelle: Mainebiz
347 Views