3.03.2022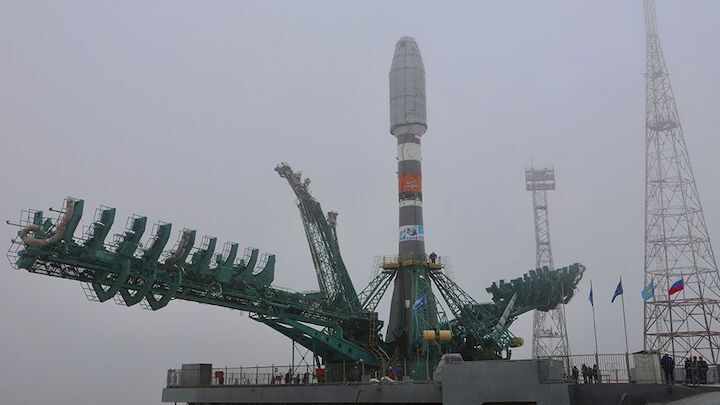 The OneWeb satellites were due to be launched from the Baikonur spaceport
OneWeb, the satellite company part-owned by the UK government, says it is suspending all launches from the Russian-operated Baikonur spaceport.
The firm had hoped to send up 36 spacecraft on a Soyuz rocket from the Kazakhstan cosmodrome, but the mission has become embroiled in the fall-out over the invasion of Ukraine.
Russia put down demands ahead of the flight that OneWeb could not meet.
These included a guarantee that armed forces wouldn't use the satellites.
Russia also wanted the UK government to divest itself of OneWeb shares, an ultimatum that was firmly rejected by Business Secretary Kwasi Kwarteng.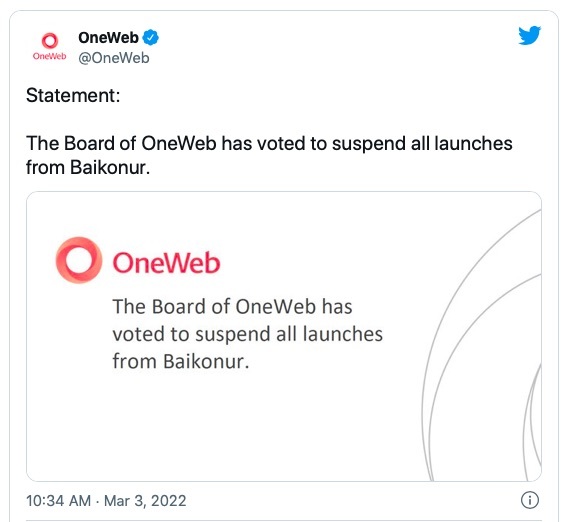 The board of OneWeb, which is headquartered in west London, voted on Thursday morning to suspend all future launches from Baikonur. It had been planning a series of flights from the cosmodrome this year to complete its broadband internet constellation in the sky.
The firm will now be working with its French partner Arianespace, which organises Soyuz launches around the world, to find alternative rocket rides.
This will be difficult, however. There is a dearth of available vehicles in the class needed by OneWeb.
The company currently has 428 spacecraft in orbit. This is sufficient to provide space-borne internet connections above 50 degrees North (which includes the UK), but close to 650 satellites are required to run a truly global service.
After OneWeb's announcement, Mr Kwarteng, whose department has a seat on the board, followed up with his own comments, tweeting: "In light of Russia's illegal and unprovoked invasion of Ukraine, we are reviewing our participation in all further projects involving Russian collaboration."
This would appear to bring an end to the "will it, won't" confusion over whether the Soyuz rocket standing on the pad at Baikonur would actually launch on Friday.
When the vehicle, with 36 OneWeb satellites nestled under its nosecone, was rolled out by cosmodrome workers on Wednesday, it seemed that the flight was "go!".
But then the head of the Russian space agency Roscosmos, Dimitry Rogozin, started to make demands before he would give the flight approval. These demands, he said, were a response to western sanctions imposed on Russia because of the war in Ukraine.
First, he wanted assurances that OneWeb's system wouldn't be used for military purposes - an impossible ask given that UK and US forces are very keen to use the internet system. Then he wanted the "hostile" UK government to sell its shares in the company - instantly rebuffed by the business secretary.
Mr Rogozin ended by posting a video of pad workers covering up UK, US and Japanese flags on the rocket's nosecone.
Assuming Friday's planned launch is indeed cancelled, there arises the question of what happens to the 36 satellites.
These remain the property of OneWeb, but it's unclear how they could be returned. There are currently no OneWeb staff in Baikonur to organise a shipment, even if Russia agreed to release the spacecraft.
The company's manufacturing facility is in Florida where the production line can turn out two satellites a day, so they could quickly be replaced if alternative rockets are sourced.
Mr Rogozin has already stated that money received in exchange for Soyuz rockets will not be given back.
"Due to force majeure circumstances that have arisen as a result of the aggressive policy of the West and the sanctions that are applied against Russia, this money will remain in Russia," he said.
Quelle: BBC
+++
OneWeb leaves Baikonur Cosmodrome after Roscosmos ultimatum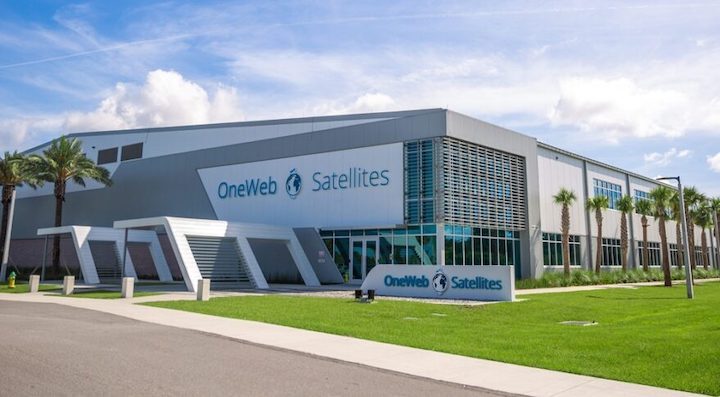 Mounting international sanctions raise launch and production questions for OneWeb's remaining constellation. Credit: Airbus OneWeb Satellites
Update: OneWeb announced March 3 that its board voted to "suspend all launches from Baikonur."
TAMPA, Fla. — OneWeb on March 2 ordered staff to leave Russia's Baikonur Cosmodrome in Kazakhstan amid an impasse over the planned March 4 launch of its latest batch of satellites on a Soyuz rocket, an executive for the U.K.-based company said.
Chris McLaughlin, OneWeb's chief of government, regulatory affairs and engagement, told SpaceNews it decided to leave the Russian-controlled launch site after Roscosmos issued an ultimatum on the mission.
With geopolitical tensions rising amid Russia's invasion of Ukraine, Roscosmos Director General Dmitry Rogozin said the planned March 4 launch could only go ahead if OneWeb guarantees the satellites would not be used for military purposes, and the British government divests its stake in the company.
"There's no negotiation on OneWeb: the UK Government is not selling its share," U.K. Business Secretary Kwasi Kwarteng said in response.
Roscosmos issued its ultimatum via Twitter March 2 shortly after the Soyuz rocket carrying 36 satellites was rolled out to the pad.
In a further sign of fraying relations, Rogozin posted a video on Twitter purportedly showing OneWeb's livery being removed from the Soyuz rocket.
"The launchers at Baikonur decided that without the flags of some countries, our rocket would look more beautiful," Rogozin tweeted in Russian, according to a translation.
France-based Arianespace, which has a contract with OneWeb to launch the constellation and has so far deployed 428 of its 648-strong network on Soyuz rockets over 13 missions since February 2019, declined to comment.
Prior to Russia's Feb. 24 invasion of Ukraine, OneWeb expected to deploy the remaining satellites in its planned constellation by the end of August to provide global services.
Another potential wrinkle
Widening sanctions and worsening relations between Russia and the West also pose manufacturing questions for OneWeb.
Although OneWeb builds its satellites in Florida under a joint venture with Airbus, it uses spacecraft thrusters imported from Fakel, a Russian propulsion company.
Airbus highlighted Airbus OneWeb Satellites' cooperation with Fakel for OneWeb's constellation in a news release ahead of a Moscow airshow last summer.
The companies have not disclosed how many satellites still need to be built to complete OneWeb's constellation, or whether enough thrusters have been stockpiled.
Airbus OneWeb Satellites spokeswoman Molly Townsend and Airbus U.S. Space & Defense spokeswoman Morgan Keese directed questions about the thrusters to OneWeb, which declined to comment.
It is also unclear whether the OneWeb-derived satellite platforms that San Francisco-based condosat operator Loft Orbital ordered from Airbus in January are designed to use Fakel thrusters. Ten of the more than 15 buses Loft Orbital ordered are intended for customer EarthDaily Analytics of Canada.
Loft Orbital co-founder and CEO Pierre-Damien Vaujour did not immediately respond to a request for comment.
Quelle: SN
+++
Rogozin puts poison-pill conditions on OneWeb Soyuz launch
TAMPA, Fla. — This week's Soyuz launch of a set of OneWeb satellites has been thrown into doubt after Russia made new demands on the company.
In tweets Wednesday, just after the Soyuz rocket carrying 36 satellites rolled out to the pad at the Russian-controlled Baikonur Cosmodrome in Kazakhstan, Roscosmos Director General Dmitry Rogozin said the launch would proceed only if the U.K.-based company met new conditions.
These include a guarantee its satellites would not be used for military purposes and that the British government divest its stake in the company — demands OneWeb is unlikely to accede to.
The Soyuz-2.1b rocket will be removed from the pad unless OneWeb guarantees by 1:30 p.m Eastern Standard Time March 4 its satellites will not be used for military purposes, the Russian space agency tweeted March 2.
"There's no negotiation on OneWeb: the UK Government is not selling its share," U.K. Business Secretary Kwasi Kwarteng tweeted just hours later.
"We are in touch with other shareholders to discuss next steps…"
OneWeb and the British government were already feeling pressure from members of parliament to call off the launch in order not to support Russian ventures.
Darren Jones, chair of the Business, Energy and Industrial Strategy Committee in Parliament, questioned the appropriateness of the upcoming mission in a March 1 letter to other government officials.
Jones has previously criticized the British government's decision to invest $500 million in OneWeb to help save the company from bankruptcy in 2020.
Indian conglomerate Bharti Global owns about a third of OneWeb and is its largest shareholder.
France-headquartered Arianespace has so far launched 428 of OneWeb's planned 648-strong constellation, enabling the company to provide connectivity above 50 degrees North.
OneWeb had aimed to deploy the rest of the satellites before the end of August to expand its reach into more parts of Europe, Africa, Asia and other regions to provide global services.
Arianespace has performed 13 Soyuz missions for OneWeb to date across launch sites in Kazakhstan, Russia and French Guiana, where Arianespace launched OneWeb's last batch of satellites Feb. 10.
Responding to European sanctions for Russia's invasion of Ukraine, Russia's space agency said Feb. 26 it is halting cooperation with Europe on Soyuz launches from French Guiana.
Neither OneWeb nor Arianespace have commented in recent days on the company's latest launch.
Quelle: SN
366 Views