30.08.2020
Sister to the SAOCOM 1A satellite SpaceX launched from California in October 2018, SAOCOM 1B is more or less identical. Notably, however, it will launch from Florida – the first polar launch planned from the US East Coast in half a century. The reason the United States effectively retired the Eastern polar launch corridor is a bizarre story of Cold War tensions gone awry but the gist is that SpaceX's Falcon 9 rocket will 'dogleg' midflight, changing its trajectory to avoid overflying populated regions.
Originally scheduled to launch as early as March 30th, the Argentinian satellite has been relentlessly delayed by coronavirus-related restrictions and technical delays. SAOCOM 1B's Falcon 9 booster was even swapped amidst the delays, switching from B1051 to B1059 as SpaceX strove to fill the gap in its manifest with internal Starlink missions. Now, NROL-44's technical launch delays have pushed the Falcon 9 mission from August 27th to NET 7:19 pm EDT (UTC-4) on Sunday, August 30th.
SAOCOM 1B will be SpaceX's first return-to-launch-site (RTLS) booster landing since March 2020.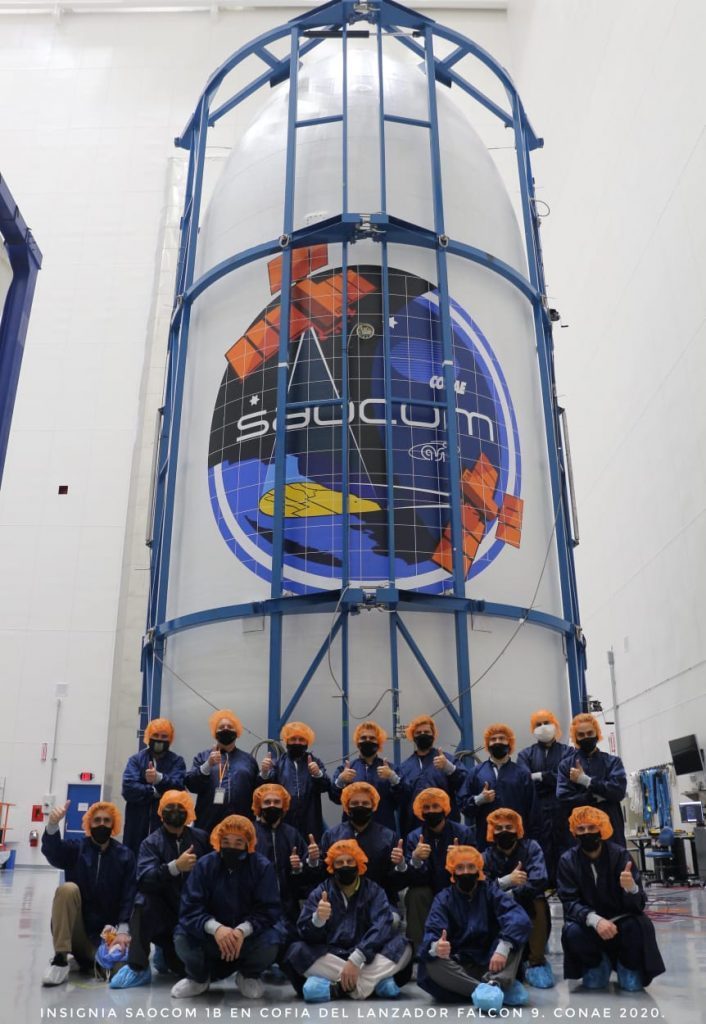 Quelle: TESLARATI
----
Update: 30.08.2020
.
Launch of Falcon 9 with payload SAOCOM-1B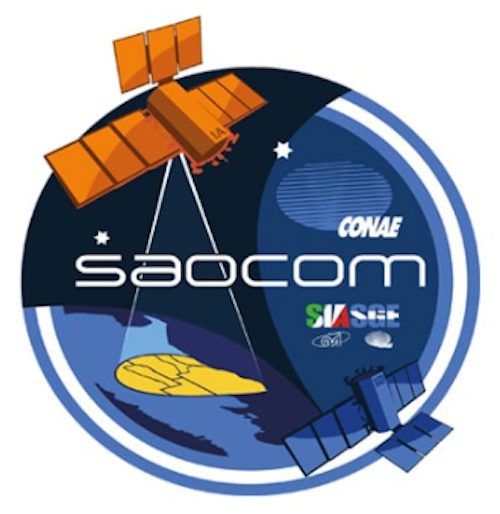 Aug 30 - Falcon 9 : SAOCOM-1B Launch site Cape Canaveral AFB, FL
Launch Date Aug 30
From Launch Pad LC-40
Launch Window : 7:18pm Eastern (23:18 GMT)
A SpaceX Falcon 9 will launch Argentina's delayed SAOCOM-1B Earth-observation satellite and a pair of "rideshare" payloads. This will mark the 100th rocket launch for SpaceX.

The SAOCOM twins (the acronym denotes "Satélite Argentino de Observación COn Microondas", Spanish for "Argentine Microwaves Observation Satellite") have been over a decade in development. According to the government-owned INVAP aerospace corporation, which built them on behalf of CoNAE, the project got underway in 2007. Launch contracts between CoNAE and SpaceX were inked in April 2009, with SAOCOM-1A and SAOCOM-1B originally targeted to fly a year apart in 2010-2011. However, both missions suffered from extensive delay.

Riding alongside SAOCOM-1B is the Global Navigation Satellite System (GNSS) Navigation and Occultation Measurement Satellite GNOMES-1, operated by Denver, Colo.-based PlanetiQ, which aims to place a constellation of up to 20 microsats into orbit by 2023 for high-definition weather forecasting, climate research and space weather monitoring. GNOMES-1 will be equipped with PlanetiQ's in-house-built Pyxis Global Positioning System (GPS) radio occultation payload for atmospheric sounding and is expected to operate at an altitude of almost 500 miles (800 km), inclined 72 degrees to the equator.

Also flying as a rideshare payload is Capella-2, part of a network of small satellites which will use X-band SAR to provide high-contrast, low-noise and high-resolution imagery as fine as 1.6 feet (0.5 meter). Provided by San Francisco, Calif.-headquartered Capella Space, it is a larger and more capable successor to the Capella-1 satellite, which rode a Falcon 9 on the SSO-A SmallSat Express rideshare mission in late 2018. To achieve its imaging resolution, Capella-2 utilizes a 11.5-foot-diameter (3.5-meter) mesh reflector antenna.
Quelle: AS
----
Update: 31.08.2020
.
Start von SpaceX Falcon-9 mit SAOCOM 1B Satelliten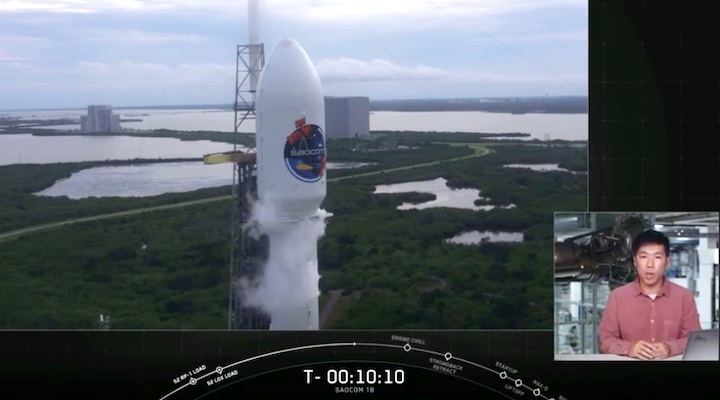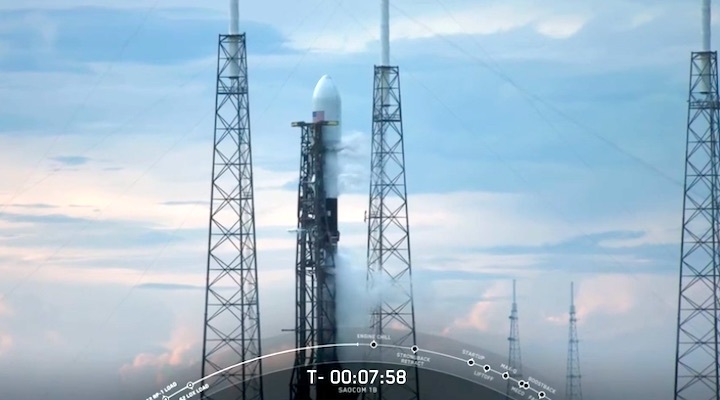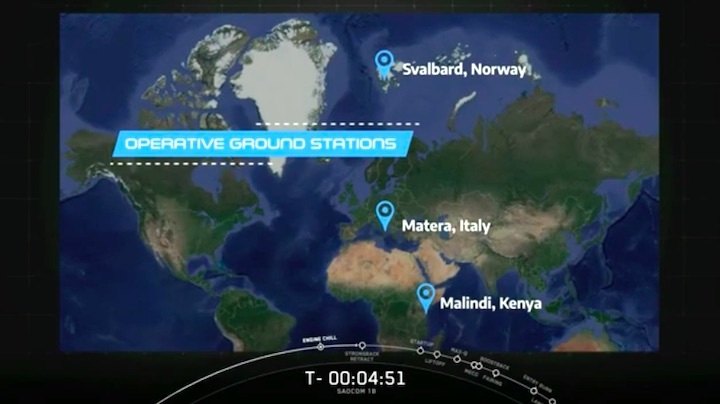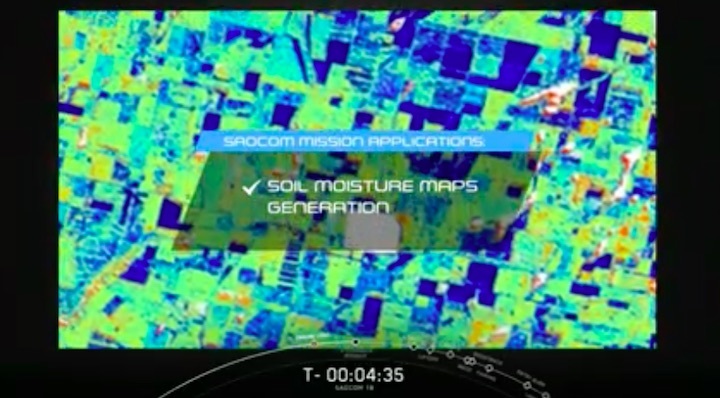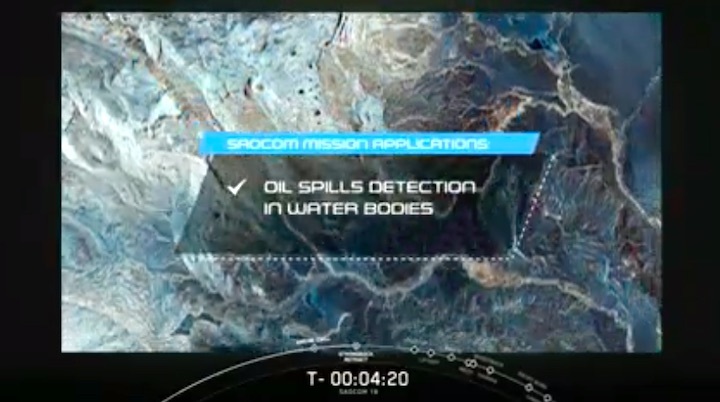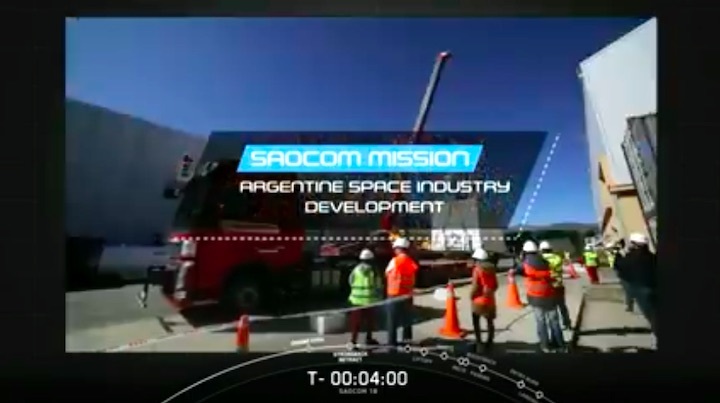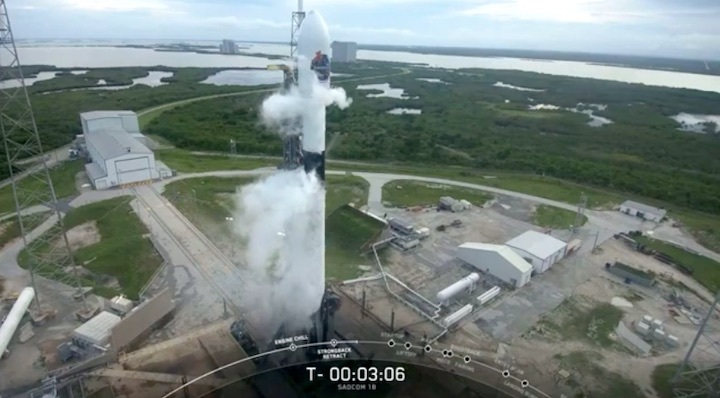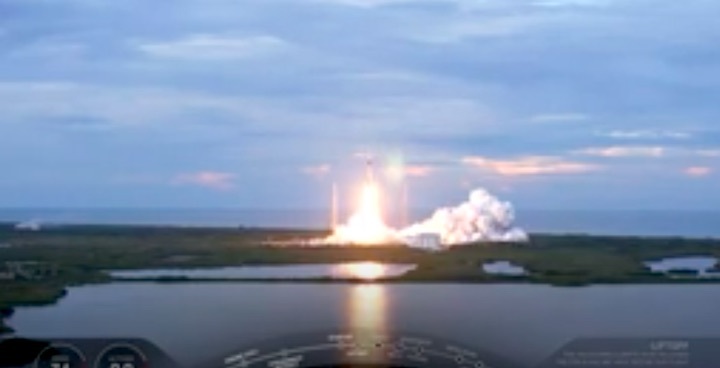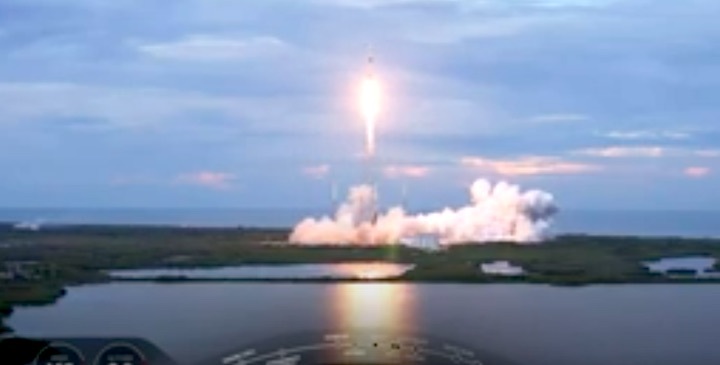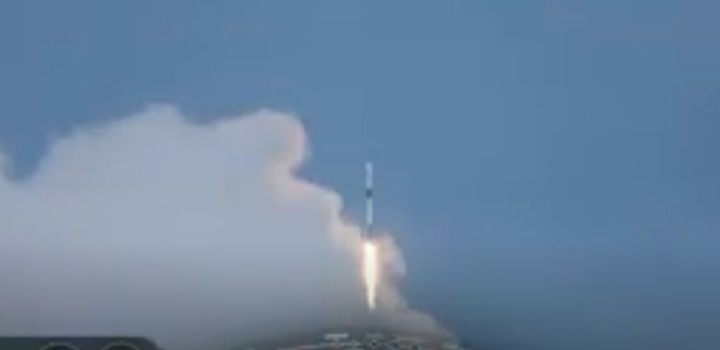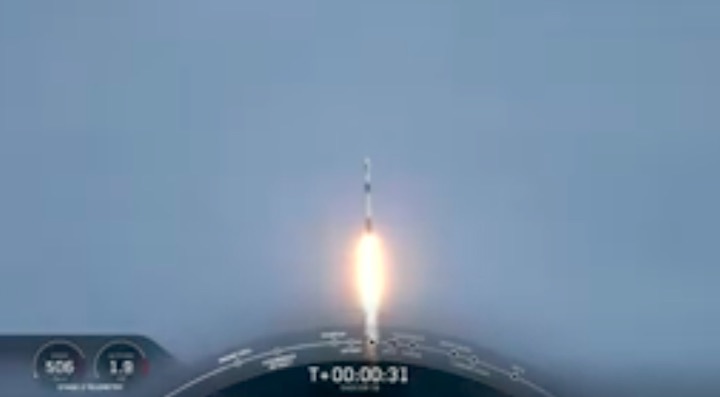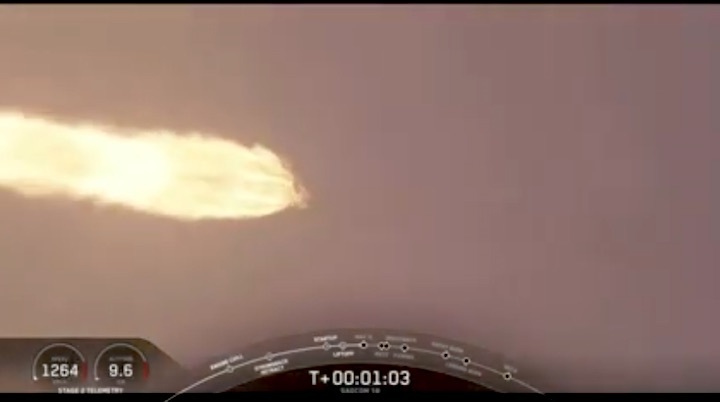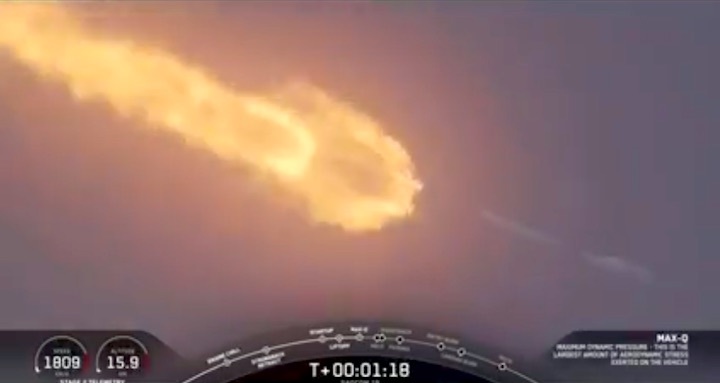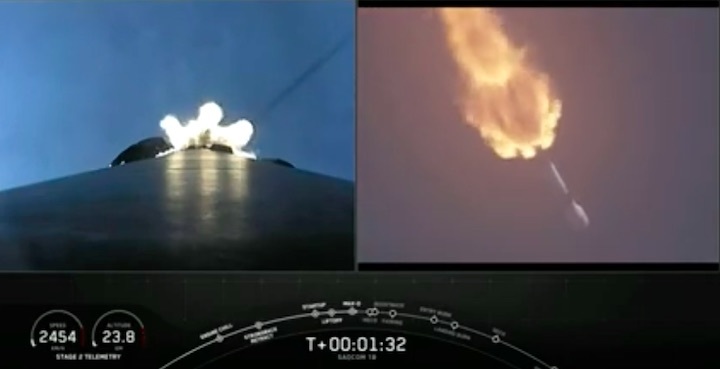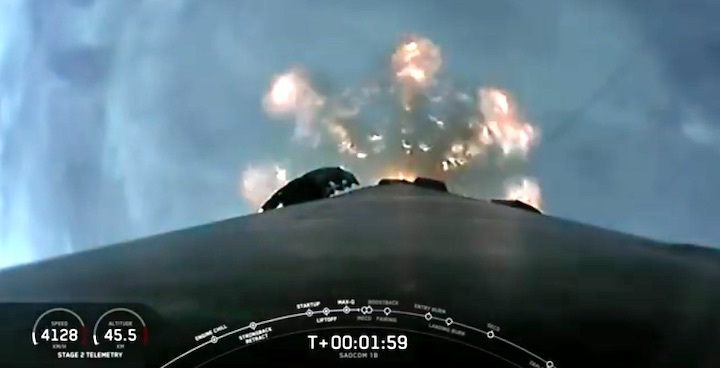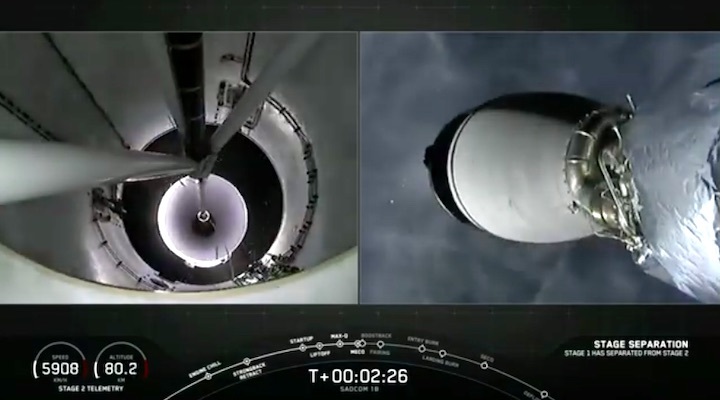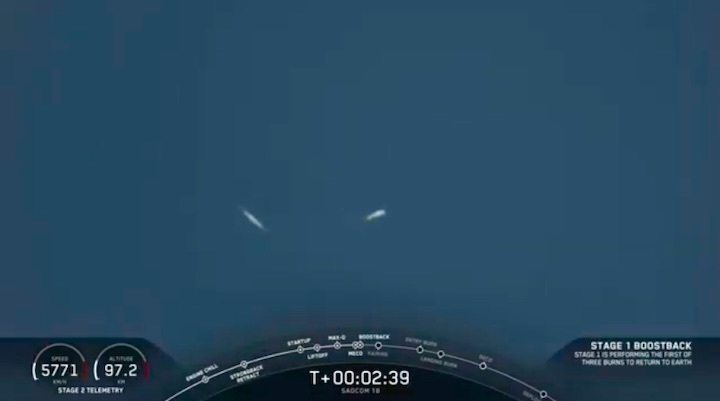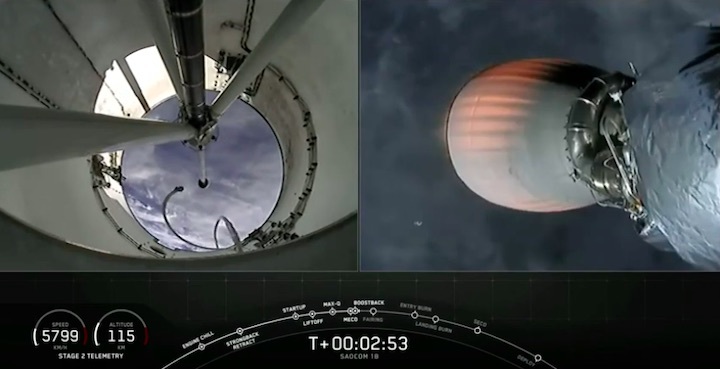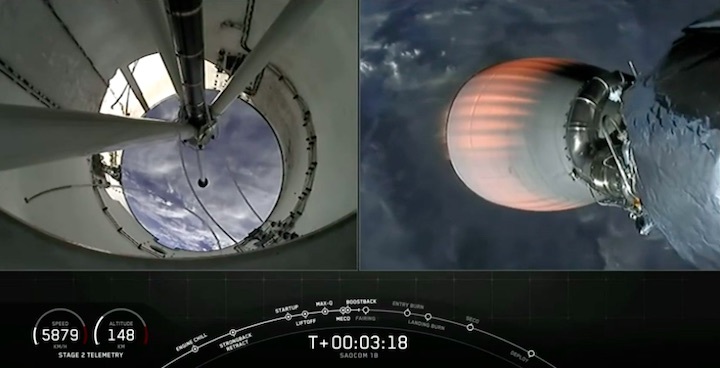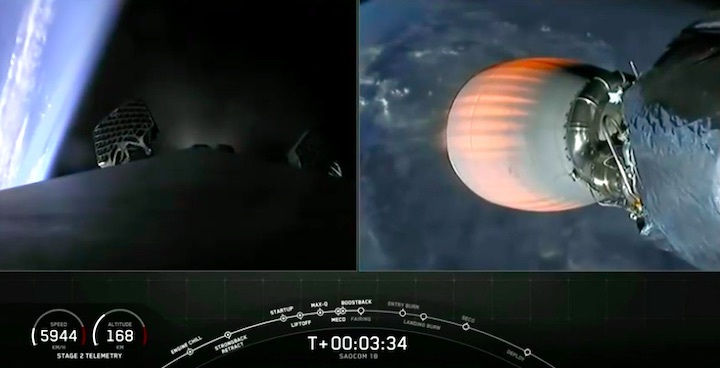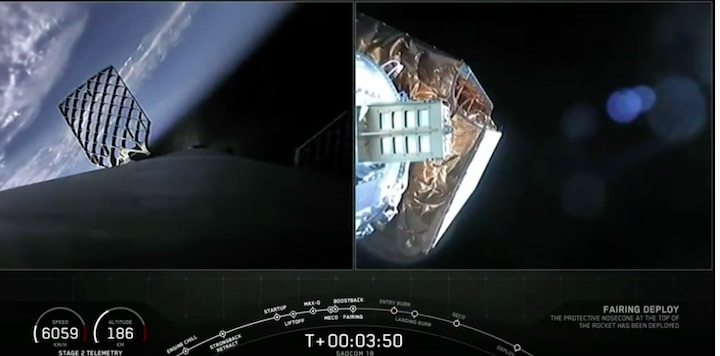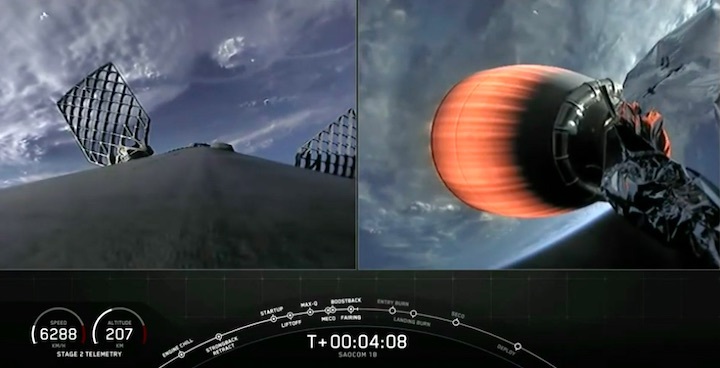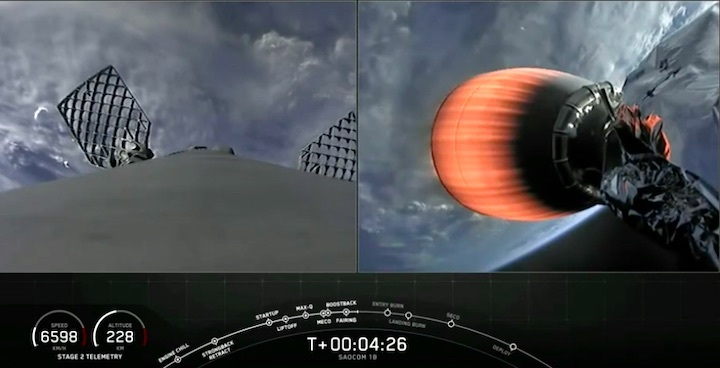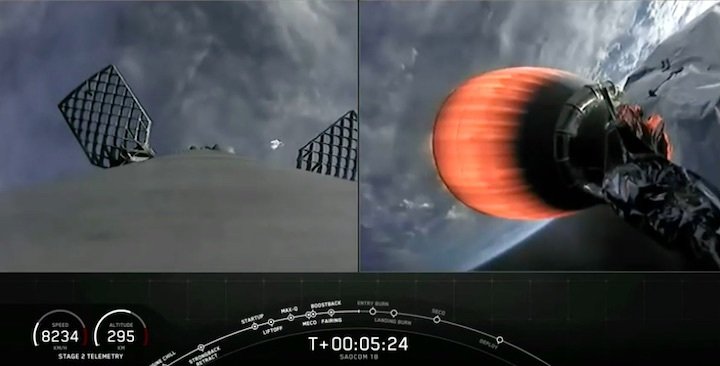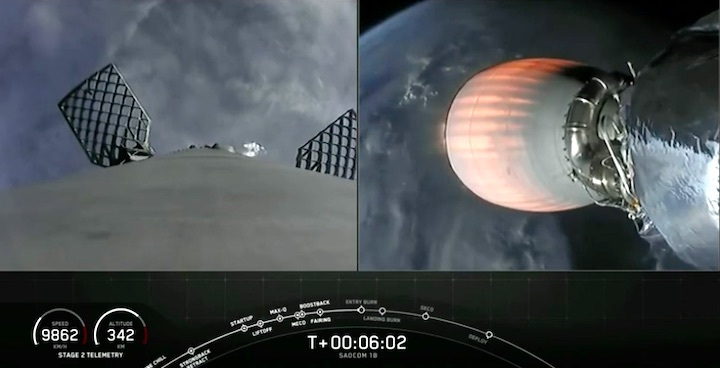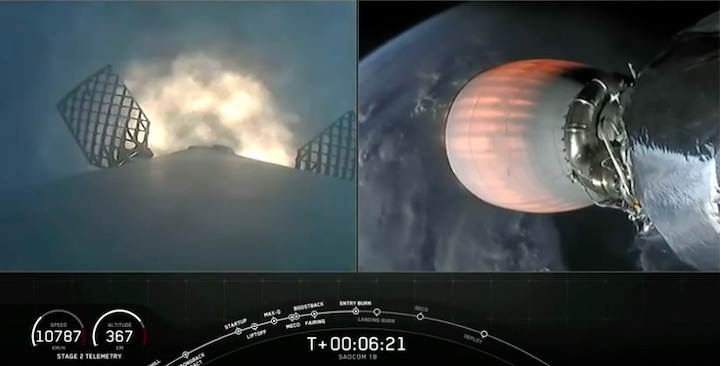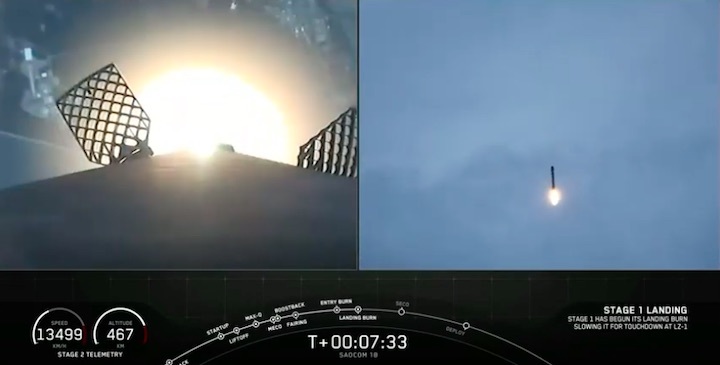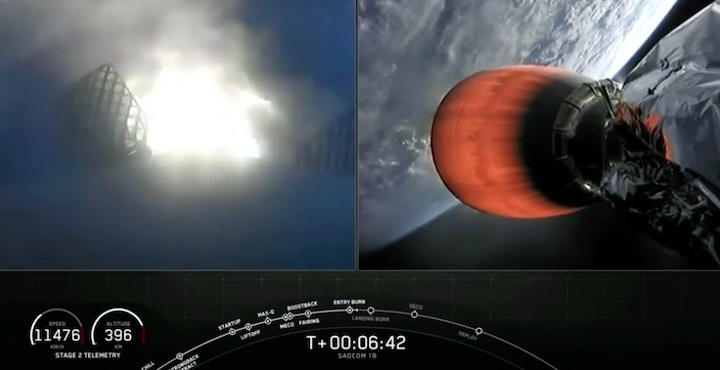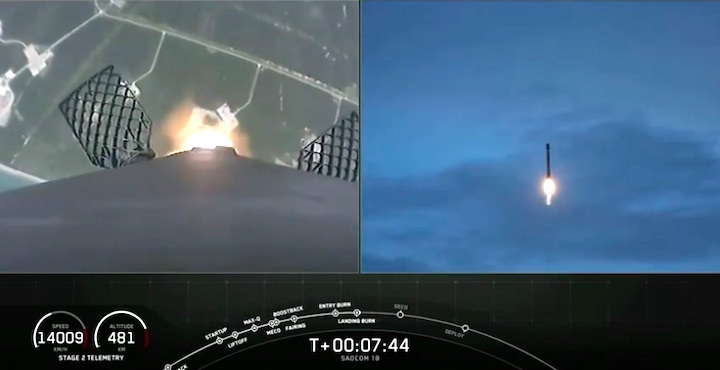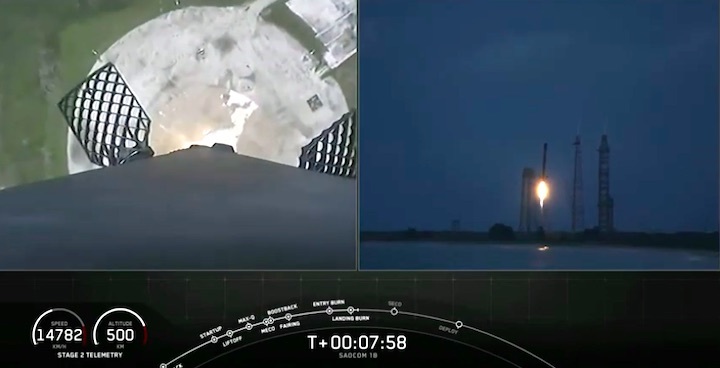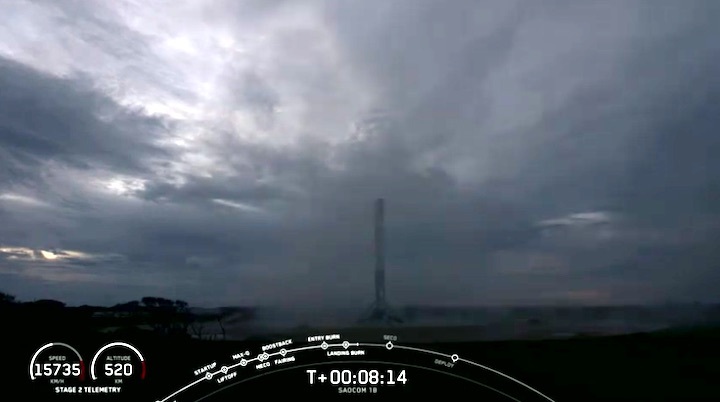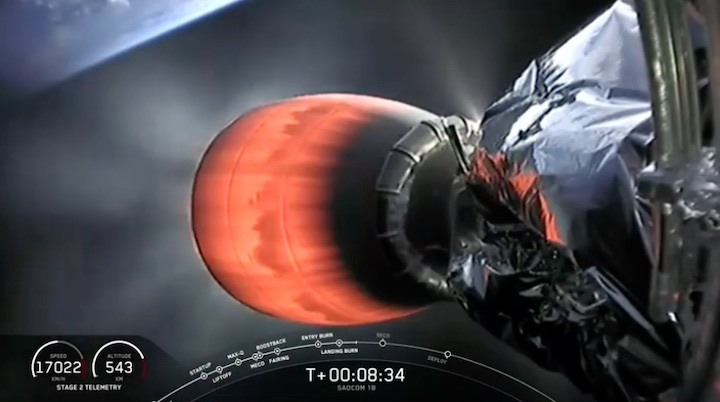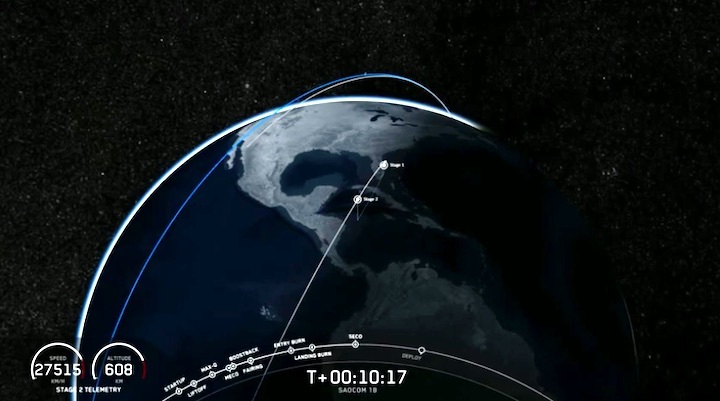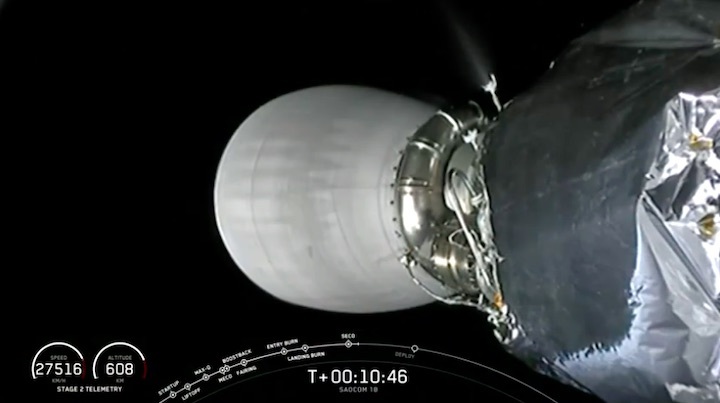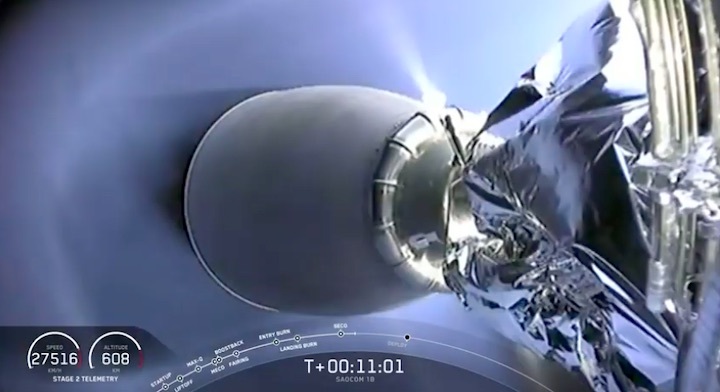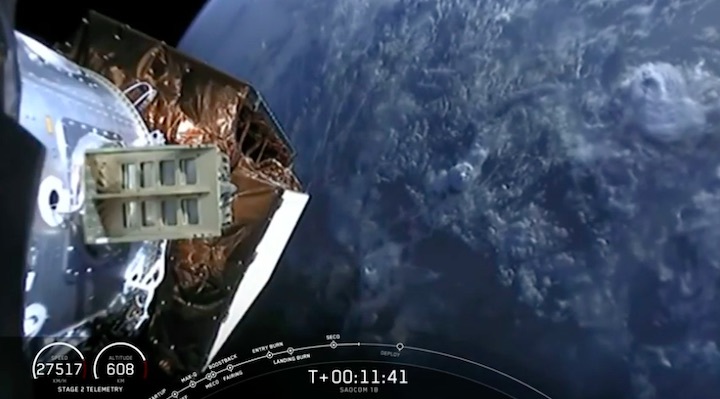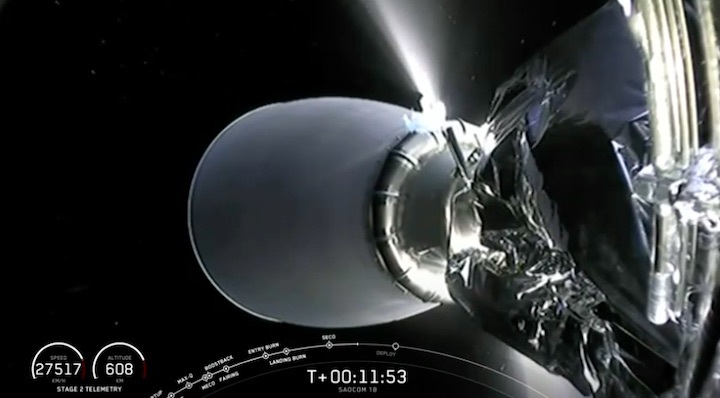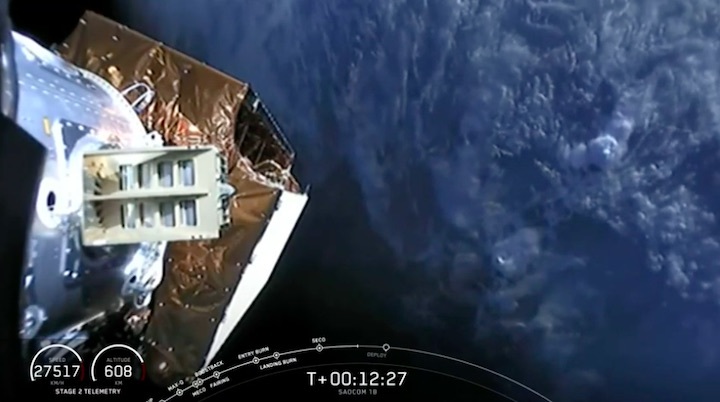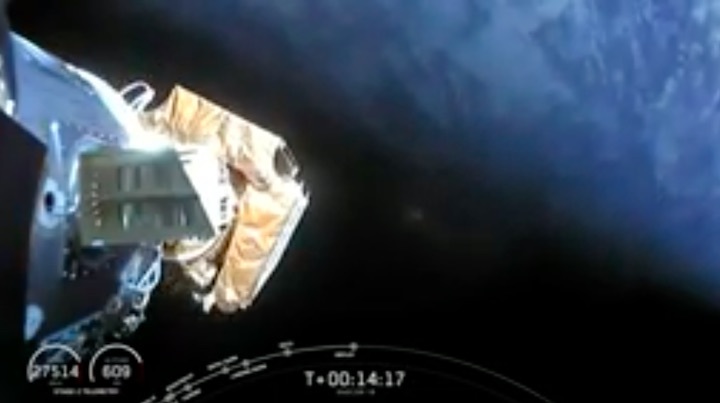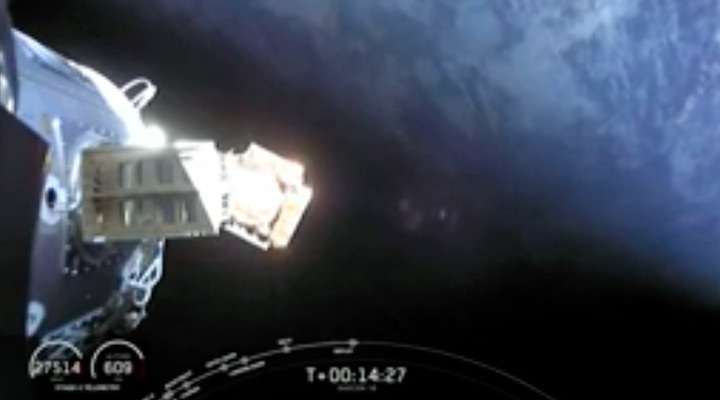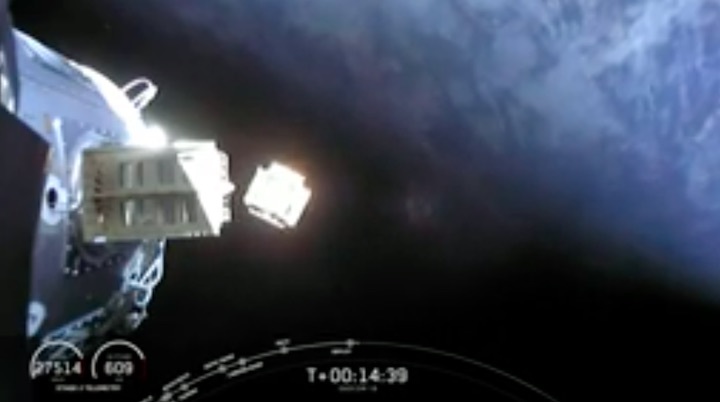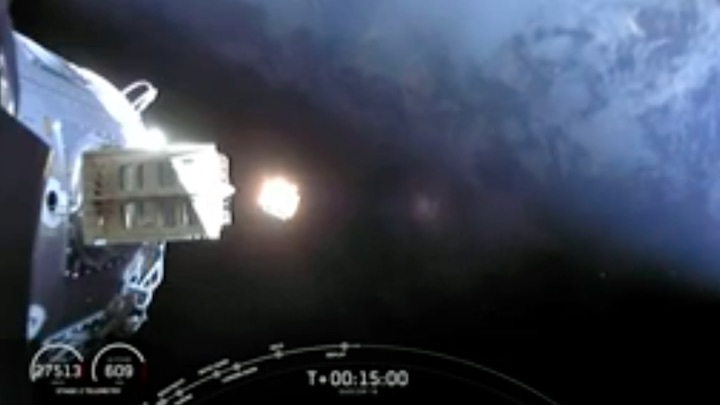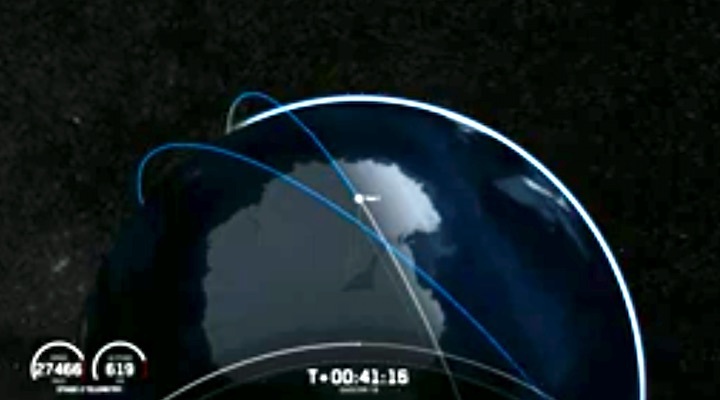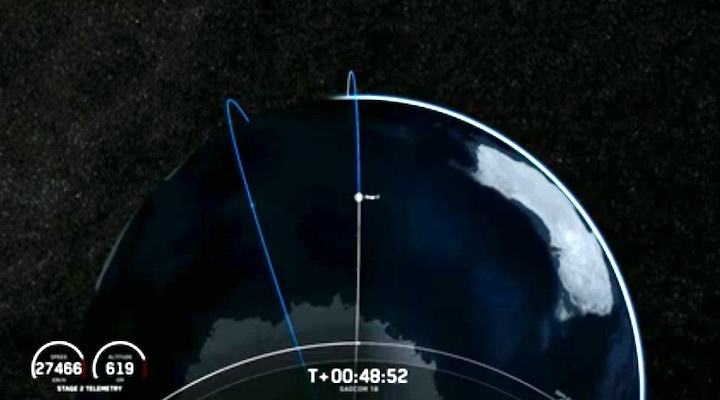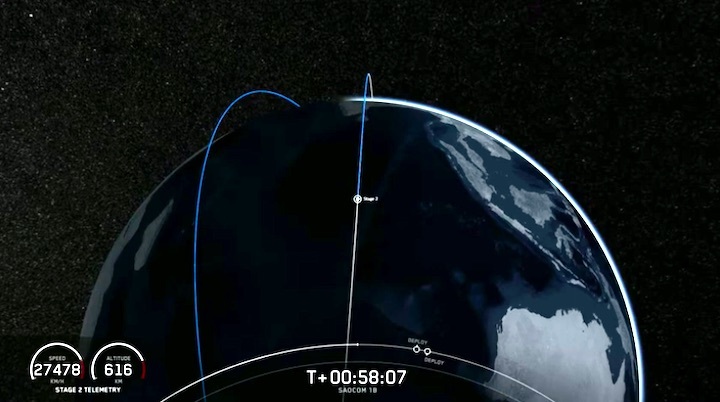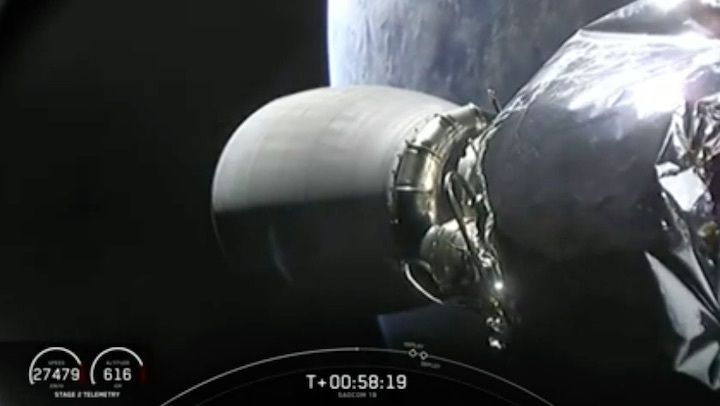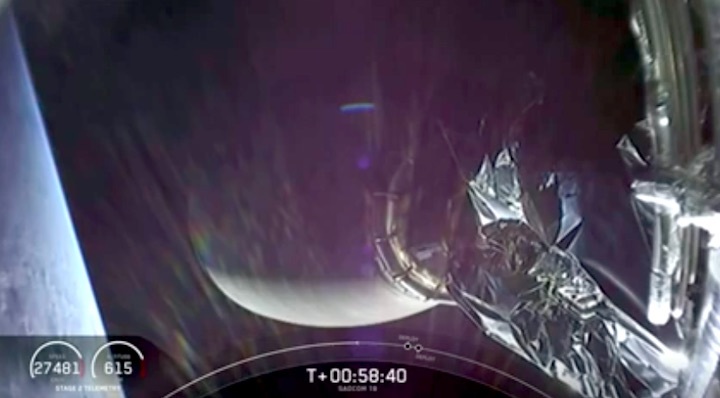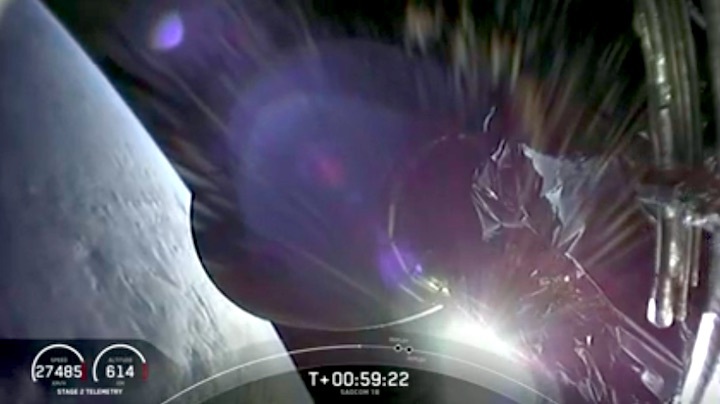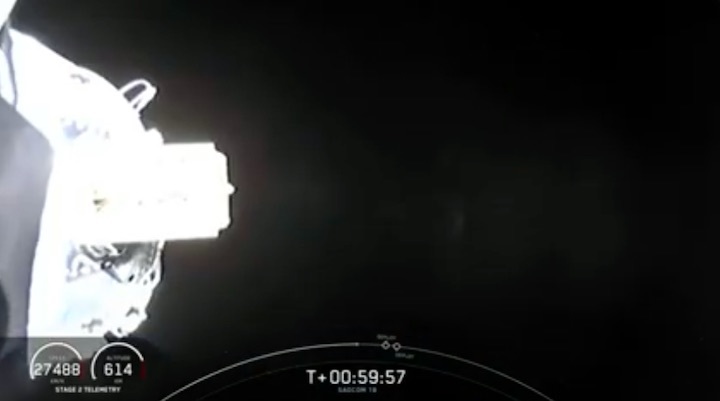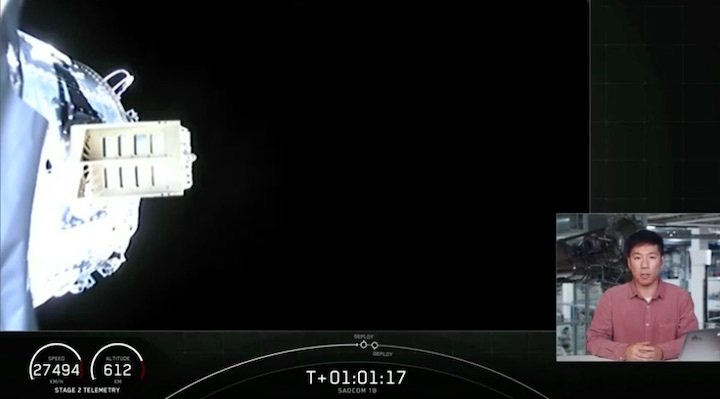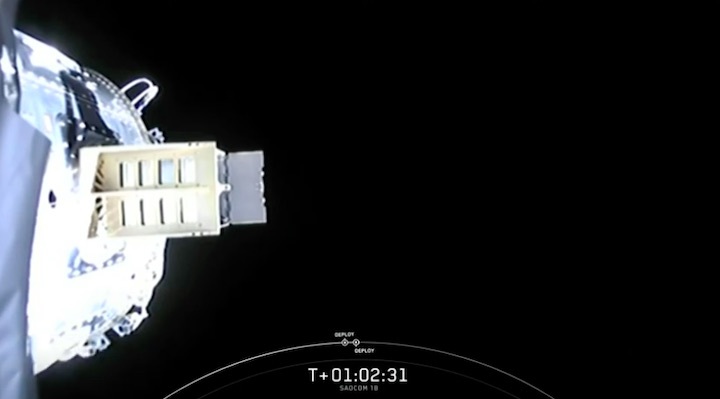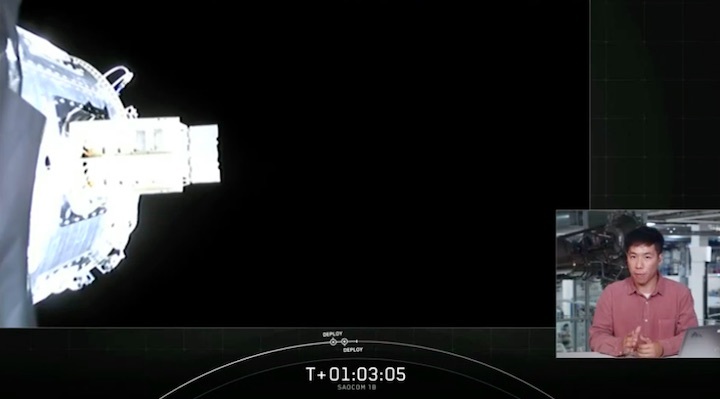 Quelle: SpaceX
2172 Views