22.10.2018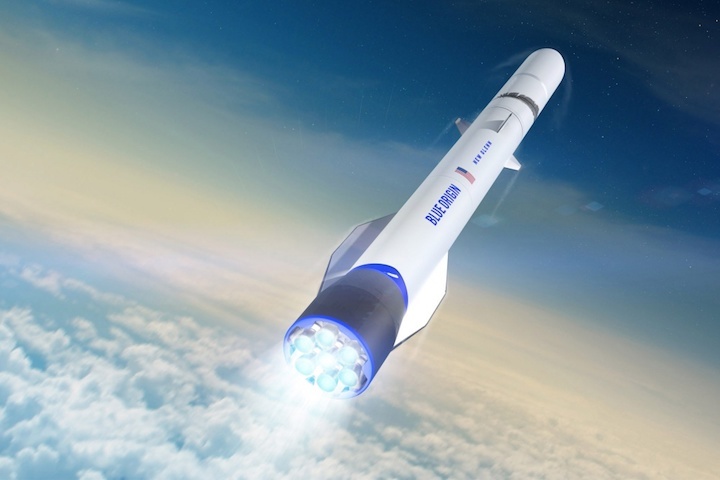 A competition to create new space boosters featuring U.S technology could bring to Vandenberg Air Force Base a rocket made by a company founded by billionaire entrepreneur Jeff Bezos, founder of Amazon.com.
The New Glenn rocket, by Bezos' Blue Origin, was among three chosen by the U.S. Air Force in new launch service agreements for $2.3 billion.
Also selected were Northrop Grumman Innovation Systems, for development of the OmegA Launch System, and United Launch Alliance, for development of the Vulcan Centaur Launch System.
Blue Origin LLC, based in Kent, Wash., was awarded $500 million from the Air Force.
Northrop Grumman — the division recently acquired from a merger with OrbitalATK — will get $791.6 milion under the deal.
And ULA, which has its headquarters in Centennial, Colo., was awarded $967 million.
Funds under all three contracts will be handed over incrementally through 2024 for research, development, test and evaluation, the Air Force said.
All three contracts call for launch sites at Vandenberg Air Force Base and in Florida at either Cape Canaveral Air Force Station or Kennedy Space Center.
"Our launch program is a great example of how we are fielding tomorrow's Air Force faster and smarter," Air Force Secretary Heather Wilson said.
"We're making the most of the authorities Congress gave us, and we will no longer be reliant on the Russian-built RD-180 rocket engine."
Orbital and ULA have previously conducted launches of different vehicles from Vandenberg, but Blue Origin would be new to the base.
The awards come as part of the Air Force's Evolved Expendable Launch Program,which is aimed at developing rockets available to purchase for future missions to carry military and other national security satellites to space.
A similar effort led to the selection of Lockheed Martin Corp., and its Atlas V, and Boeing Co., and its Delta IV rocket, families. But the Russian-built RD-180 engines employed by Atlas sparked concerns leading to the effort to create domestic boosters.
The agreements will help in the development of three prototypes and lead to the eventual competitive selection of two rockets to conduct future missions, a decision planned for no earlier than fiscal year 2020.
This effort stems from the congressional mandate to move away from space boosters using foreign rocket propulsion systems, such as the Atlas V, and the planned retirement of the Delta IV family of space boosters.
The Air Force said it intends to assure access to space by having at least two domestic rocket providers and without relying on components made in countries not considered allies.
Blue Origin is developing the heavy-lift New Glenn — yes, it's named for pioneering astronaut John Glenn — to have a single-configuration while having a reusable first stage.
As a rocket to carry the nation's largest spacecraft, New Glenn would be powered by seven BE-4 liquefied natural gas rocket engines.
In a comment on Twitter, Bezos said he was honored to be selected.
"With this, we will pursue a Vandenberg launch site and gain certification for national security missions," he said. "Thrilled to leverage our commercial heavy-lift #NewGlenn launch vehicle for these important missions."
It's not known what launch site Blue Origin is eyeing for New Glenn missions at Vandenberg.
Noticeably missing from this announcement is Space Exploration Technologies, but industry insiders say SpaceX is not precluded from bidding on future missions since this round focused on developing new next-generation space boosters.
While not part of the original EELV program, SpaceX Falcon rockets were added to the fleet of options for getting military satellites into space.
Quelle: Noozhawk
2591 Views