24.10.2018
Xiaoxiang-1, named for Hunan Province, developed by private Chinese company Spacety. Courtesy of SPACETY
.
A Chinese small satellite startup is set to launch a range of satellites on three rocket flights before the end of 2018, starting with four CubeSats on a Long March 2C on Monday.
Four satellites were dispatched to the Jiuquan Satellite Launch Centre in the first week of October ready to be sent into a 500-km Sun-synchronous orbit (SSO). The satellites piggybacking on the China-France Oceanography Satellite (CFOSAT) will launch using a Long March 2C, scheduled to launch on October 29.
Spacety, based in Changsha, Hunan Province, has no plans for its own constellations but is providing satellite platform services to scientists, research institutes and commercial companies, for science experiments and technology demonstrations. It recently received 150 million yuan (US$21.84m) in round B funding.
The company launched its first small satellite, Xiaoxiang-1, in November 2016and saw two more - Xiangjiangxinqu and Quantutong-1 - fly on the third Long March 11 launch earlier this year.
DIDO-2/Chen Jiayong-1, developed jointly with the Chinese Academy of Sciences and SpacePharma of Israel for a microgravity CubeSat test, was launched on the record-breaking Indian launch of 104 satellites in February 2017. Monday will be Spacety's fourth mission, involving four satellites with a range of partners.
Experimental satellites
Mission patches for the satellites involved in Spacety's fourth mission. Spacety
Xiaoxiang-1 (02) will be a technology verification test for LaserFleet, a Chinese company aiming to establish a low Earth orbit constellation of 288 laser communications satellites providing broadband access to flights and has signed a cooperation deal with the Civil Aviation Management Institute of China (CAMIC).
Zhaojin-1, also known as Tongchuan-1 after a city in Shanxi Province through sponsorship, is also the first of the Gamma Ray Integrated Detectors (GRID), a planned Tsinghua University astrophysics constellation of 24 CubeSats. The satellites will pick up signals from extremely energetic events known as gamma-ray bursts, with the main science goal of identifying and locating the electromagnetic counterparts to gravitational waves such as those famously detected by LIGO.
The 6U CubeSat will also be involved in space-to-ground tests with the newTongchuan commercial space ground station.
Tianfuguoxing-1(Xinghe) will be a remote sensing and 'AI' demonstration CubeSat in cooperation with Guoxing Yuhang Co. Ltd., or ADA Space, a private firm based in Chengdu which had two payloads on the iSpace suborbital flight in September.
Changshagaoxin, named for the Changsha city High-Tech zone and marks its 30th anniversary, will be an amateur radio payload satellite and also a technology verification for a next-generation 20U Spacety satellite platform.
Launch will take place from the Jiuquan Satellite Launch Centre on the edge of the Badain Jaran Desert with early indications that the launch will take place on Monday around 08:30 local time (00:30 Universal time). The orbit will for CFOSAT will be 519 km altitude with an inclination of 97 degrees.
Shenzhou-10 stands atop a Long March 2F rocket at the Jiuquan Satellite Launch Centre in June 2013.
Two further missions are expected to follow before the end of the year, in November and December, but dates are not confirmed.
Xiaoxiang-1 (05), Tianfuguoxing-2 and Tianfuxinghe will be on a Long March 2D launch, while more could be aboard the maiden launch of the Kuaizhou-11, a new solid-propellant rocket developed from missile technology from state-owned CASIC and utilised by Expace, a nominally private setup with backing from CASIC and China Sanjiang Space Group.
Kuaizhou-11, or KZ-11, will have a liftoff mass of 78 tonnes and be capable of lofting a 1 metric tonne of payload to a 700 km altitude Sun-synchronous orbit (SSO). The rocket will bring a huge improvement in launch capacity, decrease costs and boost international competitiveness in commercial rocket launches, according to Liang Jiqiu, chief designer of the rocket, while Zhang Di, deputy head of CASIC, claims Kuaizhou launch costs will be US$5,000 per kg of payload.
A microsatellite developed by Spacety undergoing testing. Spacety
Future Spacety-developed satellites for launch are expected to include the Quantutong-2 (全图通一号/QTT-2) satellite, which will, according to Spacety, test the integration of navigation, remote sensing, emergency response and broadband communication technologies, and Tianji-1 and -2.
LaserFleet, another newspace company emerged following a 2014 Chinese government decision to open up portions of the space sector to private capital. Many have received capital from both private and state-owned backers, sometimes with technology involved in cases of the latter, and local government support, as seems to be the case with Hunan-based Spacety and OneSpace facilities in Chongqing.
Quelle: gbtimes
+++
China-France oceanography satellite to launch from Jiuquan on Monday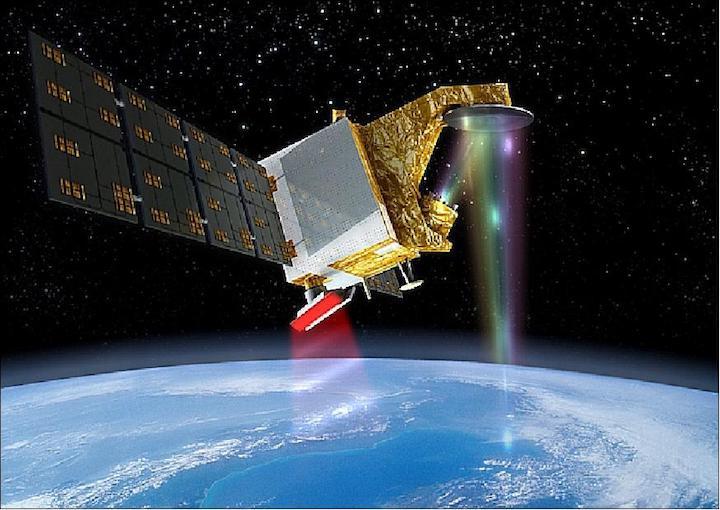 Artist's rendition of the deployed CFOSAT spacecraft in orbit. CNES
A joint Chinese and French oceanography satellite is set to be launched from the Jiuquan Satellite Launch Centre on Monday with the aim of improving understanding of marine meteorology, ocean dynamics and climate change variability.
According to a CNES press release, the CFOSat mission has been designed to gain new insights into ocean surface characteristics (winds and waves) and their impacts on the atmosphere-ocean exchanges that play a key role in the climate system.
The satellite will characterise the dynamics of waves and how they interact with surface winds more comprehensively than ever before, and provide crucial observations for forecasting and digital modelling of the coupled ocean-atmosphere system.
CNES President Jean-Yves Le Gall said ahead of launch that, "CFOSat materialises France and China's commitment to tackling climate change and is the result of a unique partnership in this domain."
Launch will be via a Long March 2C rocket at 08:30 local time October 29 (00:30 universal; 20:30 Eastern, October 28) from Jiuquan on the edge of the Badain Jaran Desert, according to the CNES press relation office.
CFOSat will be sent into a 519-kilometre altitude orbit with an inclination of 97 degrees. Along for the ride will be four microsatellites based on platforms developed by private firm Spacety and partners for a range of technology verification missions and amateur radio experiments.
Shenzhou-10 stands atop a Long March 2F rocket at the Jiuquan Satellite Launch Centre in June 2013.
CFOSat and future collaboration
The 650 kg satellite is based on the CAST2000 bus developed by the China Academy of Space Technology, an institute under the country's main space contractor, CASC.
The same compact platform has been used for a range of remote sensing probes, including the recently-launched VRSS-2 for Venezuela and China's indigenous Gaofen-1 high-resolution optical Earth observation satellite.
CFOSAT undergoing testing in an anechoic chamber. Chinese Academy of Sciences
The joint project is being overseen and funded by the Centre national d'études spatiales (CNES) and China National Space Administration (CNSA), having reached a memorandum of understanding in 2006.
The mission could see an oceanographic follow-on, but will first be followed by a space science probe in the coming years.
The SVOM spacecraft, to be launched in 2021, will study Gamma Ray Bursts (GRBs)—the most powerful explosions in the universe—emanating from the era of the first generation of stars. The phenomena are triggered by the deaths of massive stars or merger of two smaller stars.
Artist's rendition of the deployed SVOM spacecraft. SVOM consortium
Quelle: gbtimes
2700 Views