8.09.2020
Following Starship SN6's hop, SN7.1 prepares to pop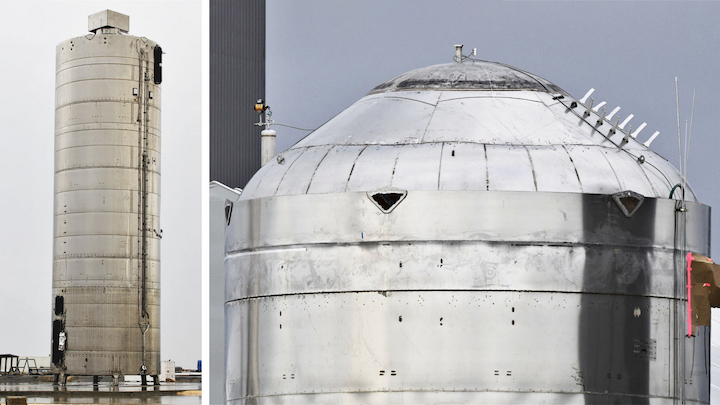 With two successful 150-meter hops in the bag for SpaceX, Starship testing is preparing to enter the next phase. Starship SN6's successful 150-meter hop followed just weeks after SN5's achievement.
While SN5 is preparing to conduct another leap, Starship SN8 is closing in on its maiden flight, this time sporting three Raptor engines, a nosecone, and aero surfaces – likely to come after additional data is gathered via the upcoming SN7.1 Test Tank "Burst Test."

SN6:
The success of SN6's test will have added additional confidence into numerous elements of the Starship prototype – ranging from structures to propulsion and controllability.
Chief Designer Elon Musk cited that repeating the tests will allow engineers to refine how they launch and land the vehicles, already observed via comparisons to Starhopper's flight, SN5's maiden launch, and then SN6.
Improvements to the processing flow surrounding the test are also improving, with SN6 conducting just a cryoproofing test and a Static Fire of Raptor SN29 before being cleared to proceed toward the hop.
While weather aborted the attempts during the opening launch window, SN6 leapt off the launch mount on Thursday without issue before a pinpoint landing on the adjacent pad.
Although SN6 was observed to be slightly leaning in post-landing footage, Starship's legs do have the ability to cushion additional loading during landing, as was likely the case with SN6 returning under the power of a single Raptor (SN29) in an offset placement engine placement.
Despite thunderstorms over the local area on Saturday, engineers worked through the weekend to prepare SN6 for the return to the Production Facility.
SN7.1:
The next prototype to greet Starhopper – the launch site's permanent resident – is expected to be the SN7.1 Test Tank.
SN7.1 follows on from SN7, which was also a test tank and pushed to bursting point, on purpose. SN7.1 is a larger test tank and made from 304L-series stainless steel (or at least a variant of that alloy).
While not deemed to be the "final" alloy SpaceX is hoping to utilize on Starships and Super Heavy's in the longer-term future, all previous Starships have been made from the 301-series alloy, whereas SN7, SN7.1, and all near-term future Starships are made from 304L.
As such, SN7.1 will provide vital data into how much pressure the tankage can withstand before failing – data that will be fed into SN8's test program.
Work on completing the SN7.1 Test Tank at the Production Facility is all but finished, allowing for a roll to the launch site this coming week.
With two launch mounts available, it is yet to be seen if SN7.1 will take up residence on Starship's regular mount, or the second test mount – or switch between the two. SN7.1's test regime is likely to include cryoproofing and load tests before being pushed to bursting point.
SN5:
Starship SN5 is expected to hop at least one more time, with processing at the Production Facility readying her for rollout to the pad after SN7.1 has completed the trip.
SN5 is likely to follow SN6's refined test regime of a cryoproofing test, a Static Fire test, followed by a 150-meter hop.
At present, SN5 remains located outside of the Mid Bay, acting as a pretend supervisor to the High Bay construction efforts that are now towering above her.
SN8:
Starship SN8 will mark the next phase of testing as the first prototype to fly with three Raptor engines, a nose cone, and aero surfaces.
With SN5 making way for SN8's final stacking operations inside the Mid Bay, this new Starship is now waiting in line for testing.
At present, SN8's testing will have to wait until SpaceX has concluded the burst test objectives with SN7.1 and even the potential of a second hop with SN5.
Several interesting new items will be employed during SN8's flow, such as the likely rollout of the nose cone separately, for mating with SN8's tankage at the launch site.
SN8 will also mark the first time three Raptor engines will have been fired on a Starship.
The test launch's initial altitude target is yet to be confirmed.
With an allowance to launch to 20 KM, SN8 could be launched to a lower altitude at first, with incremental testing as Starship conducts her first-ever horizontal drop toward the launch site before the Raptors push the aft vertical for a touchdown.
SN9:
Once SN8 rolls out of the Mid Bay, sections for SN9 will begin stacking. The assembly of this future Starship is known thanks to footage of sections now in final preparation outside of the "Big Tent" production buildings by the ever-vigilant Mary (@bocachicagal), NSF's Boca Chica photojournalist and a long-time local resident.
The most recent milestone was the sleeving of SN9's Thrust Dome and a five-ring stack with stringers – that will connect SN9's tank section to the nosecone – spotted out in the open.
SN9's role is potentially akin to SN5 and SN6's relationship, backing up SN8 for the evolved test regime.
SN10 and Future Vehicles:
With hardware such as Thrust Pucks, Downcomers, and landing legs arriving almost every second week – along with various bulkheads and ring welding being worked on inside the "Big Tents", it was always likely that even more Starships were being born.
Confirmation came via the sighting of hardware labeled SN10 arriving into Boca Chica last week.
While it can only be speculated as to what test regime SN10 will undergo, it does confirm the ever-increasing production cadence at SpaceX Boca Chica.
Although Super Heavy labeled hardware is yet to be seen out in the wild, vast numbers of steel rings are being staged at Boca Chica, which could prove to be the steel that will be used to create the rings for what will initially be a dual-Raptor prototype booster.
This initial Super Heavy booster will be stacked inside the new High Bay, which is now just waiting for its roof section. It will then head to the under-construction mount at the Orbital Launch Site for its own hop test.
The initial testing of prototype Super Heavy vehicles will pave the way for additional refinements to the full stack booster, which – likely thanks to impressive test results at SpaceX McGregor – is now set to host 28, rather than 31, Raptor engines.
Quelle: NS
----
Update: 12.09.2020
.
After second hop, SpaceX preps for next phase of Starship testing
After another Starship hop test last week, SpaceX is set to build the first prototype for the next-gen rocket's huge first stage booster. Meanwhile, testing will commence soon on the Raptor engine model needed for orbital Starship missions.
Elon Musk, SpaceX's founder and CEO, said Aug. 31 the first test vehicle for the Starship's "Super Heavy" booster could begin production as soon as last week, but there's been no confirmation that a Super Heavy prototype is being assembled yet.
The most recent Starship test last week involved a flight of a prototype vehicle, designated SN6, to an altitude of about 500 feet, or 150 meters, over SpaceX's facility at Boca Chica in South Texas. The stainless steel cylinder performed the test flight Sept. 3, following a similar 500-foot hop by SpaceX's SN5 prototype Aug. 4.
Next up is a ground test of a test tank named SN7.1, which could occur as soon as Thursday. SpaceX engineers will take the tank to burst pressure test the limits of the structure, which is made of a different stainless steel alloy than earlier Starship prototypes.
SpaceX is building multiple additional Starship test vehicles, including SN8, which could be the first Starship to fly with aerosurfaces, a nose cone, and three Raptor engines. So far, SpaceX has test-flown Starships with a single methane-fueled Raptor engine.
Three throttleable Raptor engines, each capable of producing up to 440,000 pounds of thrust, will allow SpaceX to attempt more ambitious Starship test flights. The addition of fins will also aid in high-altitude, higher-speed flights.
Eventually, SpaceX will mount six Raptor engines at the base of Starship. Three of the Raptors will be similar to the existing engine models flown to date, while three will be fitted with much larger nozzles.
The engine version with the nozzle extension is known as the Raptor Vacuum, or RVac. SpaceX announced on Twitter last week that the first RVac engine has shipped from the company's headquarters and Raptor engine factory in Hawthorne, California, to a test site in McGregor, Texas, to begin a series of test-firings.
The RVac engine configuration is needed to power Starship launches into orbit.
The pace of Starship development has hastened in recent months as SpaceX builds out a sprawling production facility at Boca Chica, located just east of Brownsville, Texas, on the Gulf of Mexico near the U.S.-Mexico border.
In a virtual discussion during the Humans to Mars Summit on Aug. 31, Musk offered updates on SpaceX's Starship program. Once operational, the Starship could carry more than 100 metric tons, or 220,000 pounds, of cargo to low Earth orbit, more than any rocket in the world.
With life support systems and in-space refueling, Starship missions could eventually transport people to the moon, Mars, and other distant destinations.
Starship is central to the vision of Elon Musk, SpaceX's billionaire founder, who established the company with a mission of sending people to Mars. Future Starships could cruise to Mars with up to 100 people, Musk says.
During his Aug. 31 talk, Musk emphasized SpaceX's progress on production capabilities and ground infrastructure.
"The main thing we needed to make progress on with Starship is the production system," Musk said, adding that making a prototype was "relatively easy" by comparison.
Numerous structures, high bay assembly buildings, and elements of launch infrastructure have sprung up at Boca Chica over the last year. SpaceX assembled the first Starship prototype outdoors, using open-air welding, but teams are moving production into indoor, climate-controlled facilities.
Several Starship prototypes were destroyed during ground testing since SpaceX built the first Starship test vehicle last year. But SpaceX gathered critical data during those tests, allowing engineers to update design specifications and improve the Starship design.
"Building the production system so that we can build ultimately hundreds or thousands of Starships — that's the hard part," Musk said Aug. 31. "But we've been been making good progress on the productions system as people can see from the aerial photos of Boca Chica.
"A year ago, there was almost nothing there, and now we've got quite a lot of production capability," Musk added. "We're rapidly making more and more ships, and we'll be starting production of the booster soon."
Musk said last week that SpaceX was on the verge of starting assembly of the first Super Heavy booster.
Like the early Starship test flights, the first Super Heavy prototypes will fly to low altitudes with a subset of Raptor engines, beginning with two of the SpaceX-made powerplants, Musk said.
In parallel with the early Super Heavy testing, SpaceX will attempt higher test flights of the Starship, which acts as the combined launcher's upper stage. For an orbital mission, the Starship will need six Raptor engines and a heat shield for re-entry. The entire stack will stand around 394 feet (120 meters) tall, according to SpaceX's website.
With the nose cone added, the Starship vehicle itself will reach a height of around 164 feet, or 50 meters. The vehicle measures around 30 feet (9 meters) wide, about one-and-a-half times the diameter of a Boeing 747 jumbo jet.
Both stages will come back to Earth for propulsive landings, much like the first stage on SpaceX's partially reusable Falcon 9 rocket. That will make the Super Heavy and Starship fully reusable.
Musk said that engineers have tweaked the design of the Super Heavy booster by increasing the thrust of its Raptor engines, allowing SpaceX to remove several Raptors from the design. It's the latest in a series of design adjustments made since Musk unveiled the giant rocket program in 2016, when it was named the "BFR."
Musk previously said the Super Heavy booster would have more than 30 methane-fueled Raptor engines, but Musk said Monday SpaceX is trying to "simplify the configuration."
"So it might be 28 engines," Musk said. "That's still a lot of engines. We'll also end up cranking up the thrust on the engines."
An outer ring of engines on the Super Heavy booster will have fixed nozzles, while an inner group of eight Raptors will vector their thrust to steer the rocket during takeoff and landing.
Over time, the outer row of engines could each generate around 300 tons, or about 600,000 pounds, of thrust, according to Musk. The inner eight engines will each produce about 210 tons, or 420,000 pounds, of thrust. That will give the Super Heavy more than 15 million pounds of total thrust at liftoff.
SpaceX is eyeing giant floating platforms for operational Super Heavy and Starship launches, but near-term test flights will be based at Boca Chica. SpaceX suspended Starship development work at sites on Florida's Space Coast last year.
Asked when SpaceX might perform the first orbital Starship launch and re-entry, Musk replied: "Probably next year."
"I hope we do a lot of flights," Musk continued. "The first ones might not work. This is uncharted territory. Nobody has ever made a fully reusable orbital rocket. So just having that at all is pretty significant."
The billionaire entrepreneur last year said the first orbital launch of Starship could happen in 2020. Despite the project's fast rate of progress, SpaceX won't meet that schedule.
Musk said last week that SpaceX is not yet performing much development of the life support systems Starships will need to accommodate people.
"We've got to make the thing work automatically, delivering satellites, doing hundreds of mission delivering satellites before we put people on-board," Musk said. "We know how to make a complex life support system that can deal with a wide range environments, changing atmospheric pressure, changing the oxygen and nitrogen percentage in the air."
Developed in partnership with NASA, SpaceX's human-rated Crew Dragon spaceship flew astronauts to the International Space Station for the first time, demonstrating the capsule's life support systems and SpaceX's first spacesuit design. The suits worn by Dragon astronauts Doug Hurley and Bob Behnken were designed to protect the crew members if the capsule depressurized in flight.
"In short, we know how to do that," Musk said. "For a longer mission, like if you're going to Mars, you want to have a more renewable system than what we have on Crew Dragon. You want to recycle things, recycle water a lot more, and oxygen more. But if you're going to the moon, no problem."
SpaceX's longer-term roadmap includes an in-orbit refueling capability to make trips to the moon possible. NASA selected SpaceX's Starship vehicle in May as one of three contenders — alongside Blue Origin and Dynetics — for a human-rated lunar lander the space agency will fund for crewed moon missions later this decade.
Under the planned architecture for NASA's Artemis moon landing program, astronauts will launch from Earth on top of the government-owned Space Launch System heavy-lift rocket and Orion crew capsule. A human-rated lander will launch separately on a commercial rocket, then fly to the moon and await the docking of the Orion crew in lunar orbit.
Astronauts will float into the lunar lander and descend to the moon's surface, perform experiments and spacewalks, then take off to head back to the Orion capsule, which will bring the crew back to Earth.
NASA's lunar lander contract with SpaceX is initially valued at $135 million, but could grow if the Starship wins the NASA competition against Blue Origin and Dynetics. The $135 million will cover just a few percent of the Starship's total development cost, which Musk estimated to be more than $5 billion.
"The NASA support is appreciated, but this is a program that's over, probably more than $5 billion," Musk said Monday. "It's helpful, but it's not a game changer. But hopefully, if we demonstrate success with Starship, then they can start thinking seriously about a lunar base."
Quelle: SN
----
Update: 15.09.2020
.
Starship test program advances towards ambitious SN8 test flight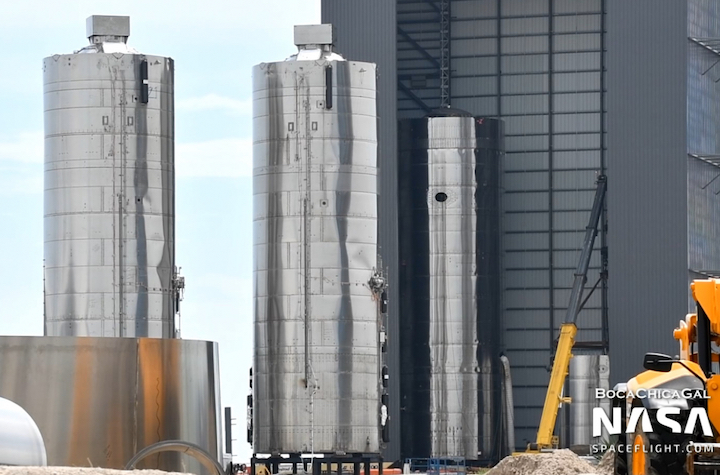 Starship SN8 is to become the next prototype vehicle to undergo a test flight. CEO and Chief Designer Elon Musk confirmed a readiness schedule for the vehicle that will fly with three Raptors, a nose cone, and aero surfaces.
The update is an advance on SpaceX's previous test schedule that was set to conduct multiple hops with SN5 and SN6. Following two successful 150 meter hops, SN8 will be launched to 60,000 feet (18.2 KM) as early as October.

Hop-Proven:
Starship SN5 and SN6 were set to become a tag-team, flying 150-meter hops to refine the launch and landing techniques that SpaceX has pioneered with its Falcon 9 rocket.
However, with SN5's hop proving to be a success, followed by a notable improvement with SN6's leap to 150 meters a few weeks later, it's likely SpaceX is now confident of advancing to the next milestone.
The fate of SN5 and SN6 is currently unknown. The two vehicles are located outside the Mid Bay, with SN5 having already undergone work in preparation for a second hop. However, most of this work was conducted ahead of SN6's success.
Notably, both vehicles stand testament to SpaceX's perseverance to test, fail, fix, fly – shaking off the "pops" of previous prototypes and finding the sweet spot with the manufacturing and testing.
SN7.1:
Improvements to the construction of the vehicles will be tested again during the "burst test" of the SN7.1 Test Tank, which – like its SN7 predecessor – will be purposely pushed to destruction.
Following rollout on the same day, SN6 was returned to the production site, SN7.1 was first put through a cryotest to check the tank's integrity. With that test in the bag, the Test Tank was lifted onto the launch mount.
With the hydraulic rams already in place to simulate loading on the thrust puck, SN7.1 will test additional refinements in the construction of the vehicles. All new Starships are made from a variant of the 304L steel alloy, ahead of the expected switch to an under-development alloy in the long-term.
The test on SN7.1 is currently expected later in the week, involving the loading of cryos before being pushed through and above the predicted pressure ratings. It is hoped the vehicle will exceed a predetermined "bar rating" before finally succumbing to the pressure loads.
SN8:
SN8 has been assembled inside the Mid Bay, with SN5 and SN6 taking it in turns to keep it company.
Current work involves the installation of the fins on the aft of the vehicle, while the nose cone waits inside the Windbreak facility. Final assembly is expected to take place at the launch site following the rollout of the main sections.
SN8 will fly with three Raptor engines, although it is not yet clear if SN27 and SN29 – which flew with Starship SN5 and SN6 respectively – will be two of the engines involved.
"One way or another, excitement guaranteed," added Elon in a follow-up tweet, confirming the highly ambitious advancement of the test program, which will include numerous challenges.
Milestones ahead of the flight will also be of great interest, with the first-ever Static Fire of three Raptor engines together. Elon noted two Static Fire tests would take place ahead of the test launch.
However, the landing will be the most challenging element of the flight, which will see the vehicle shut down its Raptors and begin to return by "belly-flopping" and using its aero surfaces to guide it back toward the launch site.
SN8 will then attempt an engine relight in the final seconds to swing the aft vertical for landing.
"If this works, it'll be the craziest piece of rocket gymnastics since landing Falcon 9," added Lars Blackmore, Sr. Principal Mars Landing Engineer for SpaceX.
SN9, onwards:
If – and expectations should be set accordingly – SN8 suffers an issue and fails to land, SN9 will likely be at a stage of construction where it will be waiting in the wings, akin to how SN6 would have backed up SN5 had the latter suffered a failure during testing.
Sections of SN9 were spotted in the last two weeks, with stacking now taking place inside the Mid Bay next to SN8. This provided the unique first-time view of four Starships in the same viewpoint.
This incredible production cadence will allow for SpaceX to continue to push the prototypes through an ambitious test program where failures will be more useful for data gathering, as opposed to causing major scheduling issues.
Although some elements of production are hidden behind the doors of the "Big Tents," sections for SN10 and SN11 have already been spotted by Mary (@bocachicagal) during her documentary level coverage for this site.
This is in addition to numerous deliveries of thrust pucks and downcomers – specialist builds that will be installed into future Starships.
Super Heavy and future:
With the near-term focus on SN8's flight test, preparations for the maiden flight of a Super Heavy prototype are continuing at the launch site and production area.
The huge High Bay is now at its final height with roof sections being added while workers add cladding to the side of the facility.
This is where the first Super Heavy will be stacked, although such operations won't necessarily have to wait until the completion of construction on the High Bay, given the first Starship stacking occurred while workers were still finishing the construction of the Mid Bay.
Over at the launch site, the construction of the orbital launch pad continues ahead of hosting the first prototype that is expected to hop with two Raptor engines.
The expected high demand for Raptor engines is likely to be satisfied during the test program phase, with three test stands at McGregor enjoying the constant residence of the powerful Methalox engines.
NSF member Gary Blair, who regularly passes the test facility, observed one Raptor on the vertical test stand – which used to be the Tripod Stand for Falcon 9 booster testing – and two Raptors on the horizontal test stand facility, as seen in his latest photos provided to NSF L2 McGregor.
Notably, one of the bays is now occupied by the RVac engine that SpaceX recently tweeted ahead of its departure from Hawthorne. Its huge nozzle is supported by struts that are a recent new addition for this engine's test series.
With the RVac now set for a Static Fire test at McGregor, there is increased optimism surrounding the likelihood SpaceX is laying the groundwork for orbital flight missions – with a full-stack Super Heavy/Starship – as early as next year.
Lead Photo via Mary (@bocachicagal)
**Support NSF's youtube channel by subscribing and/or joining here**
Latest video:
Quelle: NS
1510 Views