26.10.2017
.
DARPA Ties XS-1 Military Space Plane Project to National Security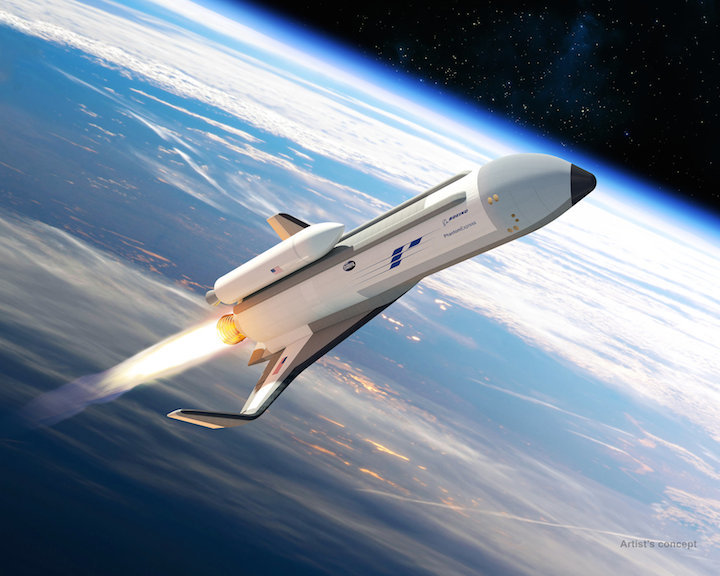 While NASA is working to build a next-generation rocket and space capsule that could help send humans to Mars, another government agency is trying to build a versatile, uncrewed space plane for military applications closer to Earth. Recently, a representative from the Defense Advanced Research Projects Agency (DARPA) explained why the U.S. needs this kind of space capability.
"We are, frankly, in the midst of what I believe is a little bit of a crisis," Fred Kennedy, director of DARPA's Tactical Technology Office, said at the International Symposium for Personal and Commercial Spaceflight in Las Cruces, New Mexico, on Oct. 12.
The crisis, according to Kennedy, has to do with the obstacles to getting satellites into space quickly and cost effectively. The long lead times on launches (as well as frequent delays due to things like weather), the incredible cost of the launches and of the satellites themselves, and other hurdles that currently plague the spaceflight industry are not just an annoyance, but a national security risk, Kennedy argued, especially when satellites are used for things like military communications or tracking ballistic missiles.
"If it takes me 20 years to build a constellation of geosatellites to do, [for example], ballistic missile early warning, and it costs 20 billion dollars, that's a problem," Kennedy said. "Because someone else might figure out how to put up similar capabilities or develop countermeasures in that period. And you might not be surprised to find out that, guess what, our adversaries do just that."
DARPA's answer to this crisis was to create a concept for a space plane called the XS-1 that could put satellites into orbit (up to 3,000-lb. or 1,360-kilogram payloads) or service existing satellites. The plane would launch vertically using an AR-22 engine built by Aerojet Rocketdyne. The vehicle itself would have the reusability of a commercial airliner; specifically, DARPA's primary requirement is that the plane can fly to space 10 times in 10 days. Eventually, the cost of a launch could drop to less than $5 million, DARPA representatives have said. In May, the agency announced that it had selected Boeing to build the first XS-1 (which the company will name Phantom Express). The first test flights are scheduled to take place as early as 2020. A demonstration vehicle could fly as early as 2019.
"If we could go up into [geosynchronous orbit], perform inspections, potentially move satellites around, correct problems such as stuck booms or antennas, and install … new capabilities, I'll tell you right now, it would be great for the defense department," he said. "To be able to retrofit legacy spacecraft that we have spent billions on would be useful for us."
Glimmers of hope from industry
Kennedy said he thinks there are certainly "glimmers of hope" that commercial-industry members are also addressing the satellite crisis. For example, SpaceX's arrival as a large-payload launch provider has increased the number of launches available to customers and has also introduced cost competition against United Launch Alliance (ULA), which was for many years the only large-rocket provider in the U.S.
But ultimately, Kennedy argued that both vehicles and satellites need to scale down. Large satellites are costly to build and carry a high risk if they can't be repaired or replaced easily. Kennedy applauded the handful of companiesworking to make smaller launch vehicles, which makes it possible for small payloads to get to orbit without piggybacking on larger payloads. These smaller vehicles also have the potential to launch more frequently than what's possible with massive rockets like the SpaceX Falcon 9 and ULA's Atlas V.
For all the new small-launch vehicles appearing on the market, Kennedy said he fears there aren't enough payloads to match. Satellite manufacturers need to make small satellites that have a wide range of capabilities, and that aren't as costly or as specialized as communications and defense satellites have historically been, he said.
"They're Rolls-Royces," Kennedy said of many legacy satellites, because they are "very expensive and very complex. … They require a lot of manual labor, a lot of testing, a lot of independent verification and validation activities. That's all [additional] cost. It's a fragile architecture."
Once again, Kennedy argued that this approach also makes the satellite owner vulnerable to attack. Constellations that consist of only two or three very expensive satellites that are difficult to get to space are much easier to disable or build countermeasures against than constellations consisting of tens or hundreds of small satellites that can be replaced or repaired quickly.
"We need to investigate alternatives; certainly for [Department of Defense] alternatives," Kennedy said. "But I think the beauty of this is, there's so much going on right now in the new space community that could potentially address this. It's very exciting. We have a renaissance underway. In a couple or three years, the fad will fade. The venture capitalists [are interested now], so what are we going to do about that? We need to strike while the iron is hot, while all that money is available on the commercial side."
In anticipation of an increase in the number of satellites orbiting the planet, DARPA has also initiated what it calls the Consortium For Execution of Rendezvous and Servicing Operations (CONFERS), which will essentially bring together members of the spaceflight industry with representatives from government agencies involved in spaceflight to discuss "the rules of the road" for satellites and vehicles orbiting the Earth. He compared it to laws that dictate commercial and government activities on the ocean.
"This is not a normal DARPA play," he said. "However, we think it's so important that we get this right, that we want to be involved at the beginning. And we also want to make sure that in a couple of years, this is something that can stand on its own in industry. This should be a commercially driven activity first."
Quelle: SC
----
Update: 13.08.2020
.
Boeing throws in the towel on secret spaceplane project for military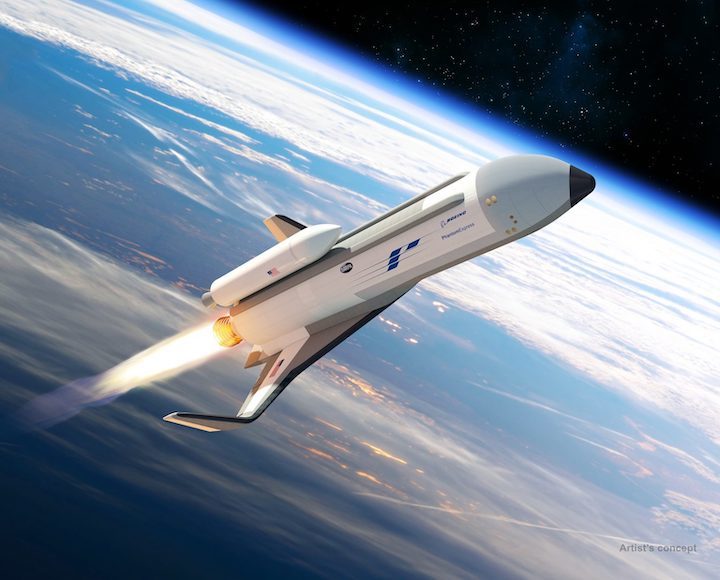 The Phantom Express is no more.
Boeing decided to halt the development of the experimental spaceplane it was building as part of the Defense Advanced Research Projects Agency (DARPA) XS-1 program.
It's unclear exactly why Boeing is dropping out of the program. However, the company issued a statement saying it would be redirecting its investment from the program to other areas.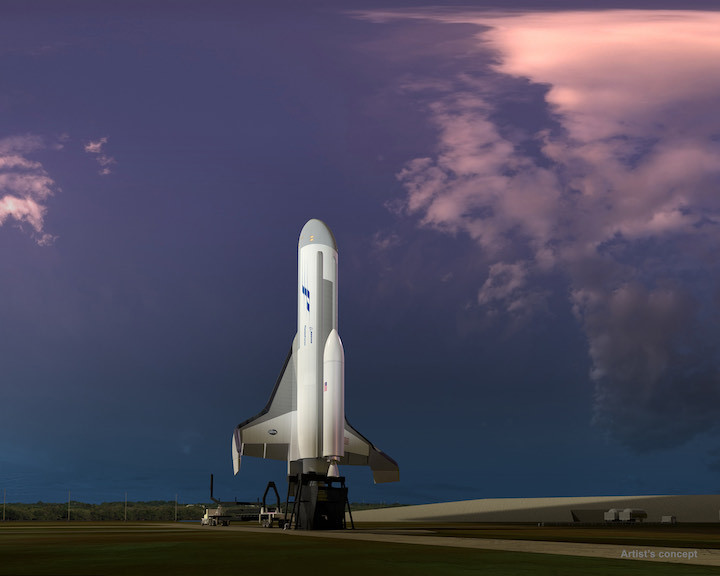 "We will now redirect our investment from XSP to other Boeing programs that span the sea, air and space domains," Boeing said. "We're proud to have been part of a DARPA-led industry team that collaborated to advance launch-on-demand technology. We will make it a priority to harvest the significant learnings from this effort and apply them as Boeing continues to seek ways to provide future responsive, reusable access to space."
The company was selected in May 2017 by DARPA, beating out Masten Space Systems and Northrop Grumman for an award totaling $146 million award to design and build an aircraft-like launch system, to launch both military and commercial payloads.
All three companies received phase 1 funding, but only Boeing was selected for phase 2 and 3 of the program. (Phase 2 would have covered the development of the vehicle and the phase 3 contract would have called for up to 15 flights of the vehicle.)
The program was designed to increase the nation's access to space. DARPA envisioned a reusable spaceplane that would loft hefty payloads rapidly, and at a lower cost — less than $5 million a flight.
"In its pursuit of aircraft-like operability, reliability, and cost-efficiency, DARPA and Boeing are planning to conduct a flight test demonstration of Experimental Spaceplane technology, flying 10 times in 10 days, with an additional final flight carrying the upper-stage payload delivery system," DARPA said in the program's mission description.
The major goal of the project is to reuse the spacecraft frequently, with a proposed launch rate of 10 one-day missions in just 10 days. Test flights were scheduled to begin in 2020; however, with Boeing dropping out, the program is now defunct.
The XS-1 would measure 98 feet (30 meters) in length, with a 62-foot-long (19-meter) wingspan. It would fly suborbital trajectories at speeds faster than Mach 10 (10 times the speed of sound), and be capable of depositing small satellites — weighing between 3,000 and 5,000 lbs. (1,360 to 2,267 kilograms) — into orbit.
"The XS-1 would be neither a traditional airplane nor a conventional launch vehicle but rather a combination of the two, with the goal of lowering launch costs by a factor of ten and replacing today's frustratingly long wait time with launch on demand," Jess Sponable, DARPA program manager said in a news statement.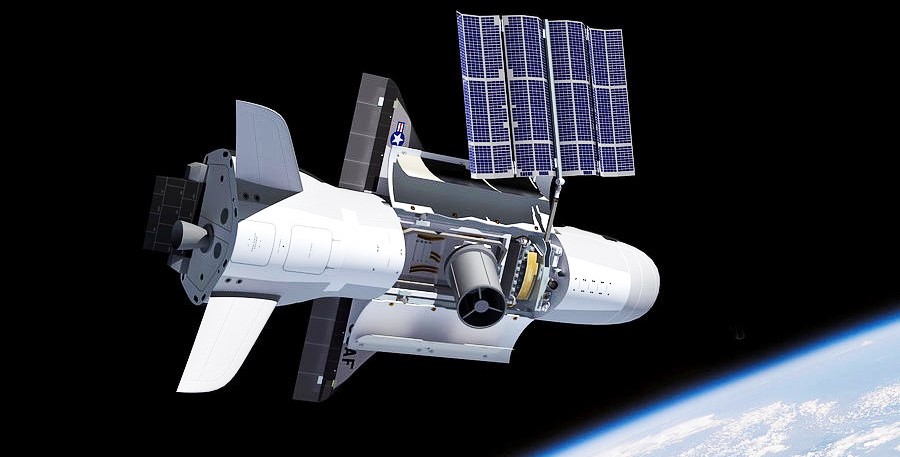 Boeing's Phantom Works division — which built the U.S. Air Force's two robotic X-37B space planes — was to design, build and test the vehicle.
Dubbed the Phantom Express by Boeing, the suborbital launcher would takeoff vertically, propelled by one Aerojet Rocketdyne AR-22 engine, which was a variant of the space shuttle's main engine. It would have an expendable upper stage that would separate from the plane before ultimately depositing the payload into orbit.
After upper stage separation, the Phantom Express would glide back to Earth, landing on a runway just like the shuttle did and like the X-37B does now.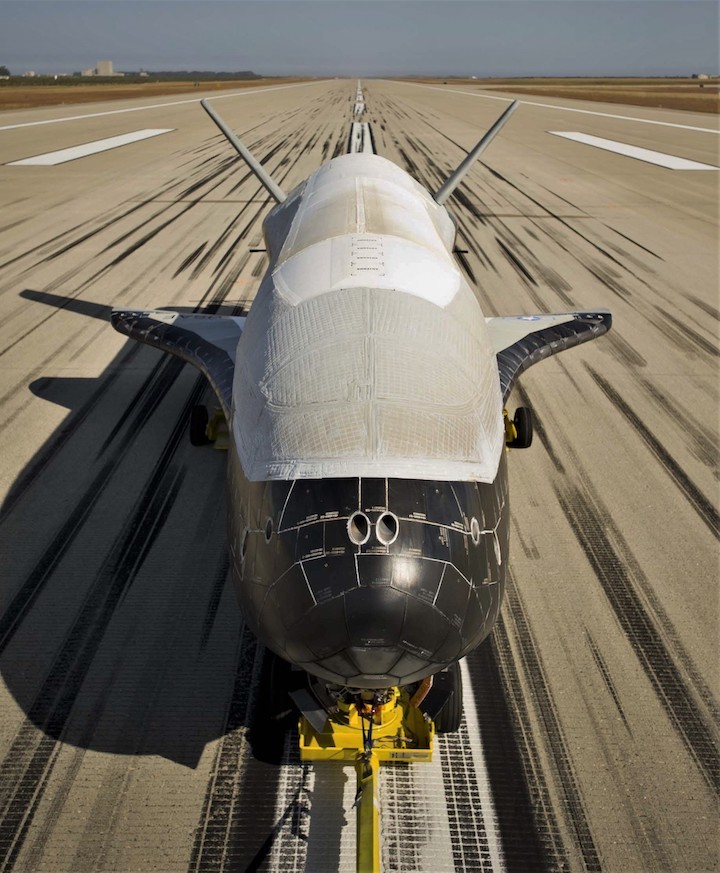 "Demonstration of aircraft-like, on-demand, and routine access to space is important for meeting critical Defense Department needs and could help open the door to a range of next-generation commercial opportunities," Brad Tousley, director of DARPA's Tactical Technology Office (TTO), which oversees XS-1, said in a news release shortly after Boeing's selection.
With a burgeoning commercial market opening up in low-Earth orbit, it's entirely possible that the military's high-tech agency may still pursue the program in some other fashion, but for now, we bid adieu to the XS-1.
Quelle: TESLARATI
4180 Views