12.07.2020
NASA Wraps Up Third SLS Core Stage Green Run Test, Eyes Test Fire This Fall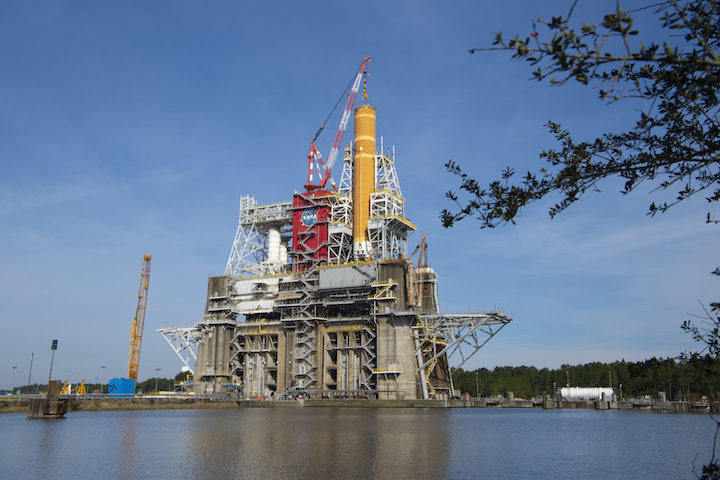 NASA engineers are approaching the midpoint of "Green Run" testing as the Space Launch System (SLS) core stage inches ever closer to a planned full-mission-duration static-firing of its four RS-25 engines, possibly later this fall. The space agency revealed Thursday that the third of eight critical Green Run tests has successfully concluded. The giant rocket, teamed with a pair of five-segment Solid Rocket Boosters (SRBs)—which arrived at the Kennedy Space Center (KSC) in Florida last month from prime contractor Northrop Grumman Corp.'s test site in Promontory, Utah—will send an uncrewed Orion spacecraft around the Moon late in 2021 for the Artemis-1 mission. In doing so, it will demonstrate the first human-rated space vehicle on a voyage to lunar distance since Apollo 17 in December 1972.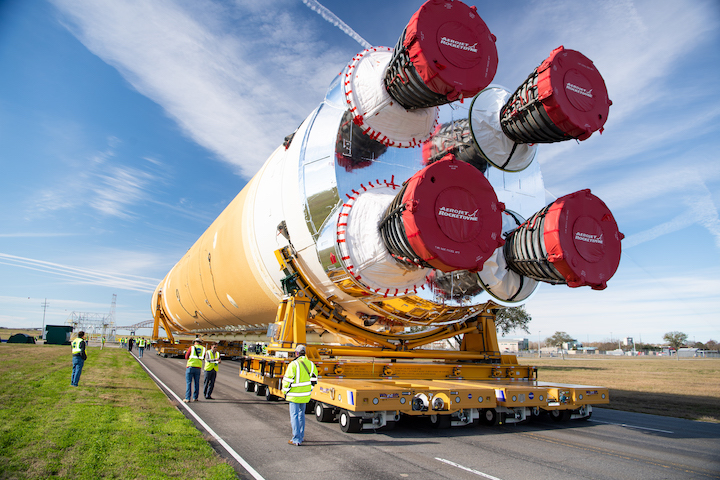 Green Run testing on the 212-foot-tall (64.6-meter) SLS core stage is being conducted in the B-2 Test Stand at NASA's Stennis Space Center in Bay St. Louis, Miss. The core will be powered by four shuttle-era RS-25 engines, generating a combined impulse of about 1.6 million pounds (760,000 kg), which, when combined with the twin SRBs will give the SLS a total thrust at liftoff of 8.8 million pounds (3.4 million kg). This represents an approximately 15-percent increase over the long-since-retired Saturn V, which currently still stands as the largest and most powerful rocket ever brought to operational status.
Testing of the SLS hardware has taken place on numerous fronts across the United States. The five-segment boosters—which derive in design from their shuttle-heritage predecessors—were put through an extensive series of evaluations, culminating in a pair of Qualification Motor (QM-1 and QM-2) firings at Northrop Grumman's facility in Promontory, Utah, in March 2015 and June 2016, respectively, which tested their performance at "maximum" anticipated operating temperatures of 32 degrees Celsius (90 degrees Fahrenheit) and "minimum" anticipated operating temperatures of 4.5 degrees Celsius (40 degrees Fahrenheit).
More recently, five Structural Test Articles (STAs) of the critical components of the SLS core stage—its upper segment, intertank, liquid hydrogen tank, liquid oxygen tank and engine section—were put through 199 tests at NASA's Marshall Space Flight Center (MSFC) in Huntsville, Ala. The upper section and intertank were tested first, followed by the engine section which wrapped up in February 2018.
More recently, last December the 149-foot-long (45.4-meter) liquid hydrogen tank, the biggest core stage element, was tested to destruction, and finally the 70-foot-long (21-meter) liquid oxygen tank was put through the wringer. In the case of the tanks, they endured far more punishing pressures and stresses than they can expect to receive on a real mission and provided not only valuable engineering data, but also a close-to-prediction endorsement of computer models.