3.02.2023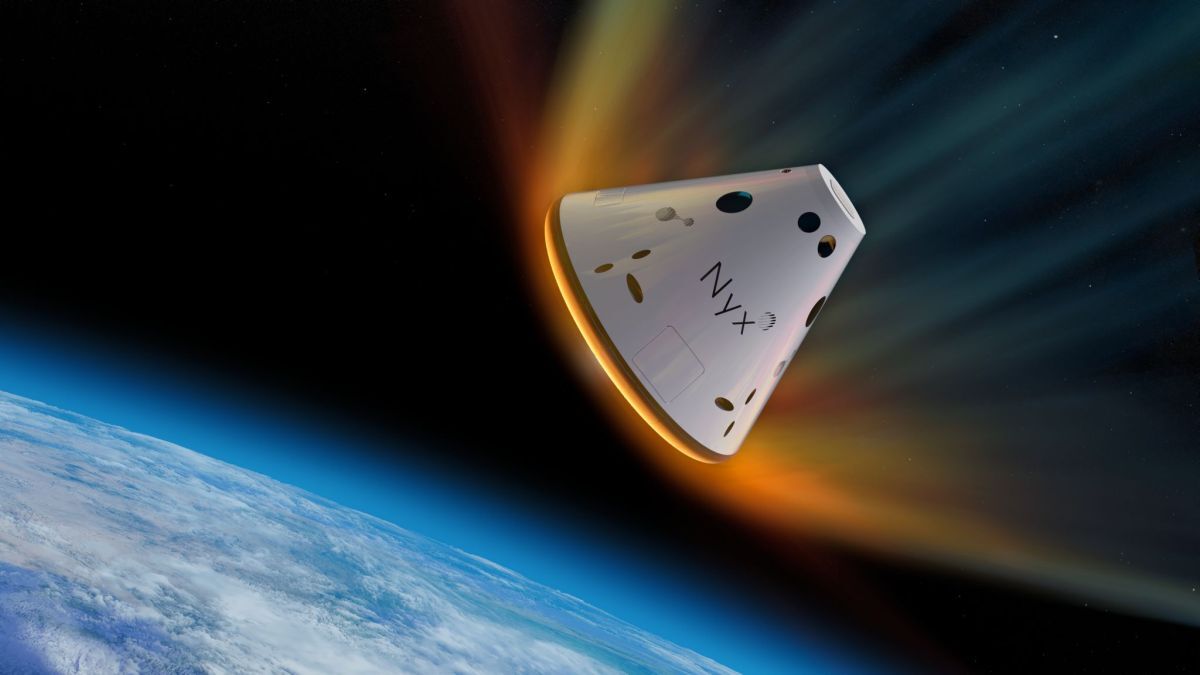 An illustration of The Exploration Company's Nyx capsule for flying cargo into space, resupplying space stations, and ultimately transporting humans. Credit: The Exploration Company
TAMPA, Fla. — European startup The Exploration Company said Feb. 1 it has raised 40.5 million euros ($44 million) to develop reusable orbital vehicles for flying goods and people to space.
The Series A funding will help finance a series of tests and demonstrations the startup hopes to kick off late this year on the inaugural launch of Europe's Ariane 6 rocket.
Hélène Huby, The Exploration Company's co-founder and CEO, said Ariane 6 is slated to launch a small reentry demonstrator for the startup called Bikini that is around 40 kilograms and 60 centimeters in diameter.
The Exploration Company hopes to gather data from this mission to test thermal protections, an onboard computer developed in-house, and validate the shape of larger capsules.
The startup has booked a SpaceX Falcon 9 mission next year that Huby said will carry a larger 1,600-kilogram, 2.5-meter demonstration capsule. This capsule would have propulsion and a parachute for a more controlled reentry after taking payloads for clients, including European space agencies, on a brief trip in low Earth orbit.
In 2026, Huby said the startup plans to launch a full-sized version of its Nyx orbital vehicle, measuring four meters in diameter with a mass of 8,000 kilograms.
The capsule would be designed to spend several months in orbit, she told SpaceNews, to demonstrate the capability to perform precise operations ahead of a plan to dock with the International Space Station in 2027.
A full-sized Nyx would be able to send 4,000 kilograms to orbit for up to six months, and bring 2,600 kilograms back down for 20,000 euros per kilogram.
The startup also has later plans for missions to the moon, and one day to use its vehicles for crewed missions.
Before co-founding The Exploration Company in July 2021, Huby was vice president at Airbus Defence and Space for the European Service Module serving as the main propulsion system for Orion, the spacecraft NASA is designing to send humans to the moon.
She sees strong near-term demand for a European capability for space station transportation, in addition to facilitating microgravity missions such as those Europe's Thales Alenia Space is also targeting with its proposed REV1 vehicle.
The ISS and China's Tiangong are currently the only space stations in orbit.
Huby expects there will be three additional private space stations within the next five years, and by the end of this decade about five to seven space stations orbiting the Earth.
Getting The Exploration Company's first flight completed in 2023 is an important stepping stone for the startup; however, the Ariane 6 has already faced multiple delays.
Huby said Bikini received an award last year from the European Space Agency "to fly almost free on Ariane 6," but the company is looking for alternative options to ensure a flight this year.
"We have several on the table," she added, and will select one of them by the end of March.
Swedish early-stage investor EQT Ventures and Red River West of France led The Exploration Company's funding round, which Huby said brings the total amount raised to date to 47.3 million euros for the 18-month-old company.
Other investors that joined its latest funding round include Promus Ventures, Cherry Ventures, Vsquared, Omnes Capital, July Fund, Partech, Possible Ventures, Habert Dassault Finance, Schlumberger, and Sista Fund.
This article was updated Feb. 2 with correct specifications for The Exploration Company's second demonstrator and to specify the total amount the startup has now raised.
Quelle: SN
200 Views