3.02.2023

U.S. Tracking High-Altitude Surveillance Balloon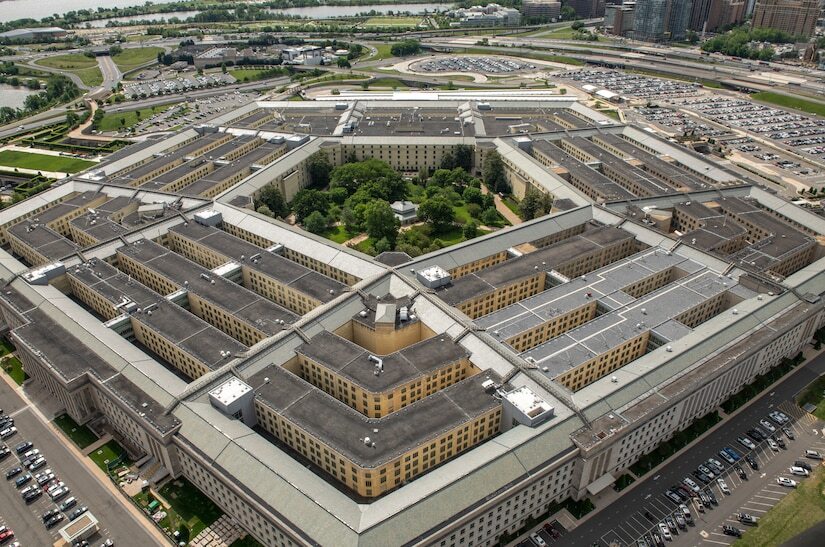 An intelligence-gathering balloon, most certainly launched by the People's Republic of China, is currently floating above the United States, the Defense Department announced Thursday evening.
"The United States government has detected and is tracking a high-altitude surveillance balloon that is over the continental United States right now," Pentagon Press Secretary Air Force Brig. Gen. Pat Ryder said during an impromptu briefing Thursday evening. "The U.S. government, to include NORAD, continues to track and monitor it closely."
Ryder said the balloon is well above commercial air traffic and doesn't pose a threat to civil aviation. He also said this isn't the first time such a balloon has been seen over the United States.
After the balloon was detected, Ryder said, the U.S. government "acted immediately" to protect against the collection of sensitive information, though he didn't detail what measures were taken.
A senior defense official who participated in the briefing on background only said the U.S. intelligence community has "very high confidence" the balloon belongs to the People's Republic of China, and that the United States has engaged with Chinese officials "with urgency, through multiple channels" regarding the presence of the balloon.
"We have communicated to them the seriousness with which we take this issue," the official said. "We have made clear we will do whatever is necessary to protect our people and our homeland."
Right now, the official said, following recommendations of the Chairman of the Joint Chiefs of Staff Army Gen. Mark A. Milley and Air Force Gen. Glen D. VanHerck, commander of U.S. Northern Command and the North American Aerospace Defense Command, the U.S. position is to allow the balloon to continue to float above the United States, rather than attempt to shoot it down.
The official said the risk of using kinetic force to take the balloon out of the sky might put civilian communities at risk, and that the threat the balloon poses now to both safety and U.S. intelligence doesn't justify such an action.
"Currently, we assess that this balloon has limited additive value from an intelligence collective collection perspective," the official said. "But we are taking steps, nevertheless, to protect against foreign intelligence collection of sensitive information."
The official said this is not the first time such a balloon has been seen above the United States, but did say this time the balloon appears to be acting differently than what has been seen in the past.
"It's happened a handful of other times over the past few years, to include before this administration," the official said. "It is appearing to hang out for a longer period of time, this time around, [and is] more persistent than in previous instances. That would be one distinguishing factor."
While the senior defense official would not say how large the balloon is, the official did say its size did figure into the calculation to not use kinetic force to take it out of the sky.
"We did assess that it was large enough to cause damage from the debris field if we downed it over an area," the official said. "I can't really go into the dimension — but there have been reports of pilots seeing this thing, even though it's pretty high up in the sky. So ... it's sizable."
As early as yesterday, the official said, the balloon was seen over Montana.
Quelle: The Department of Defense
+++
Twitter-Timeline zu China Spionageballon: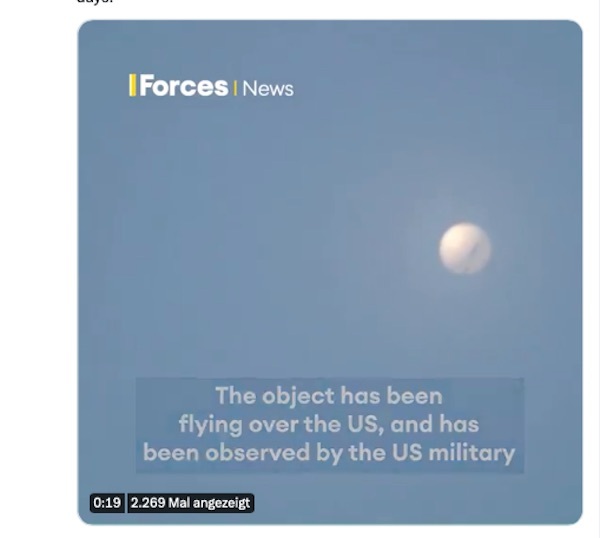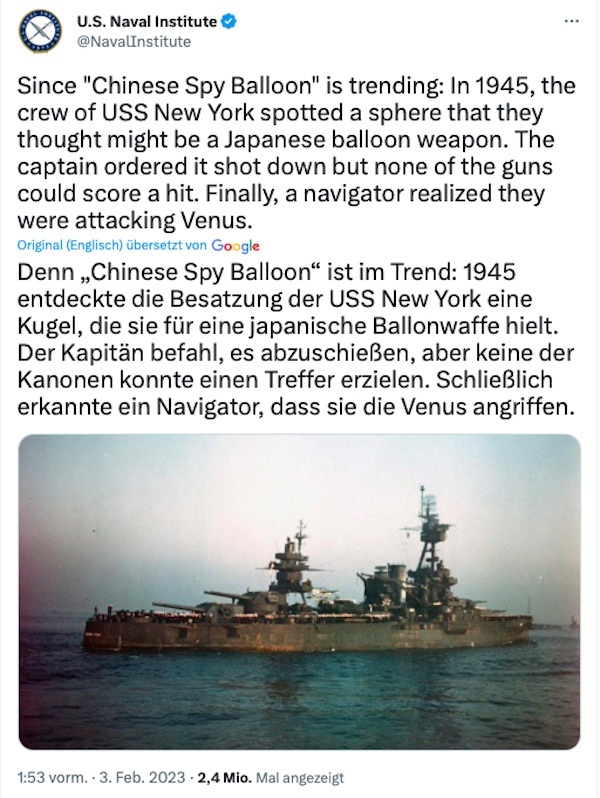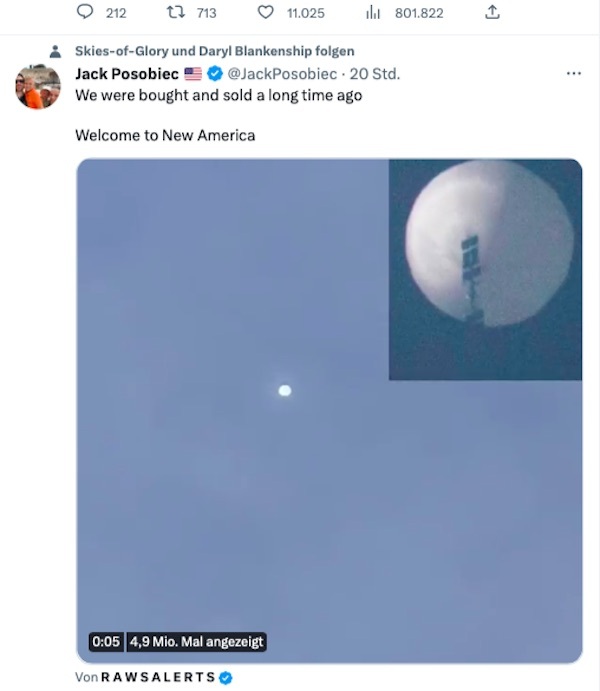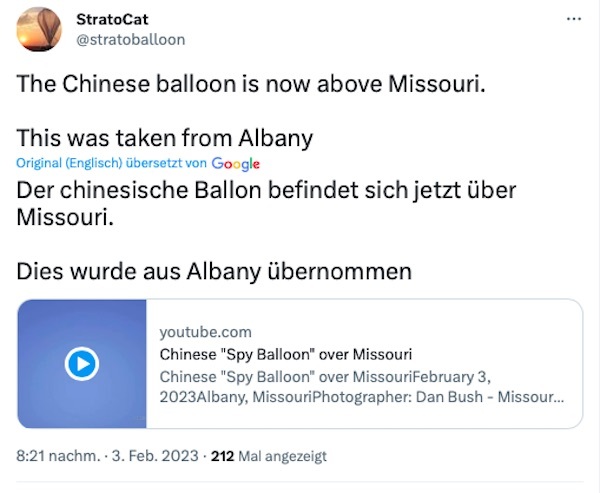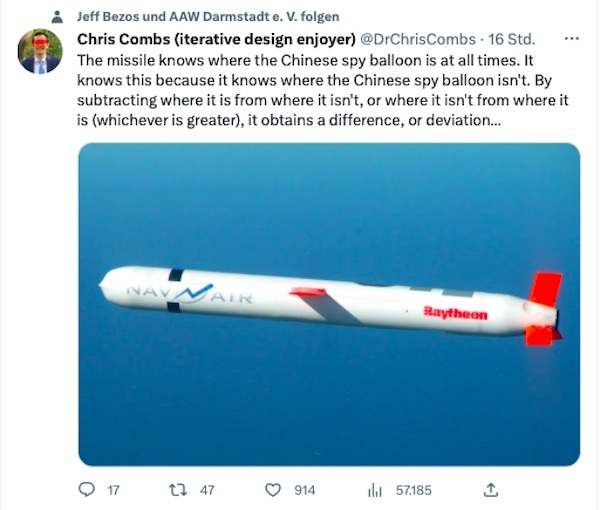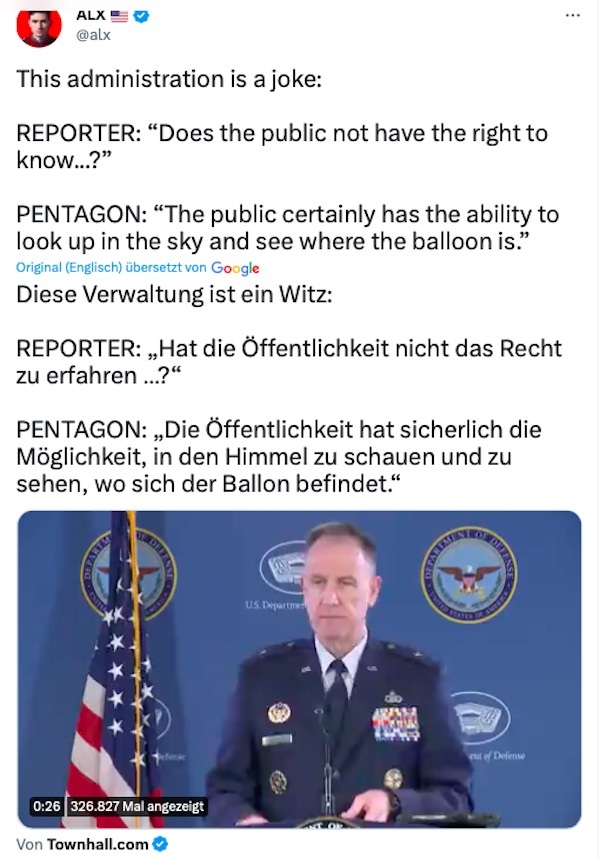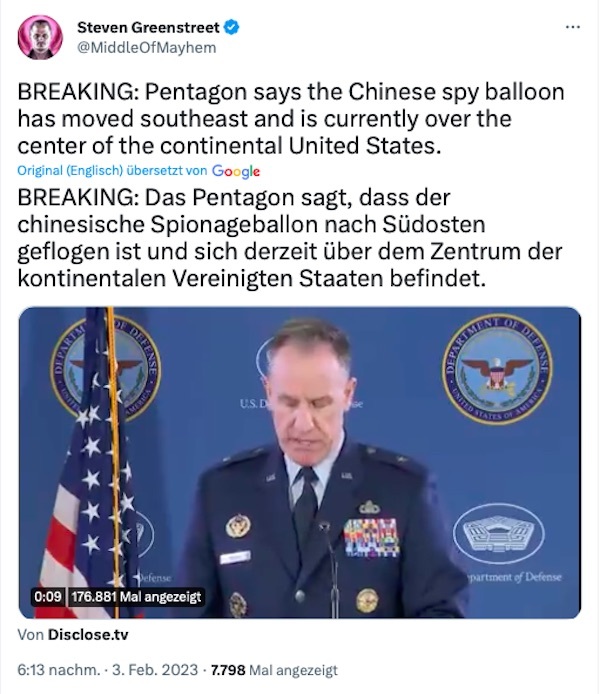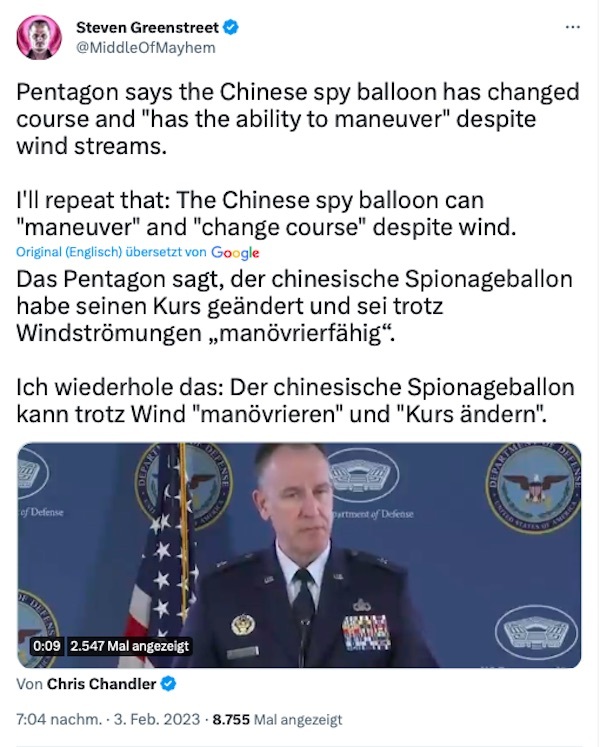 Interresante Aussage zu Ballon Flugeigenschaften.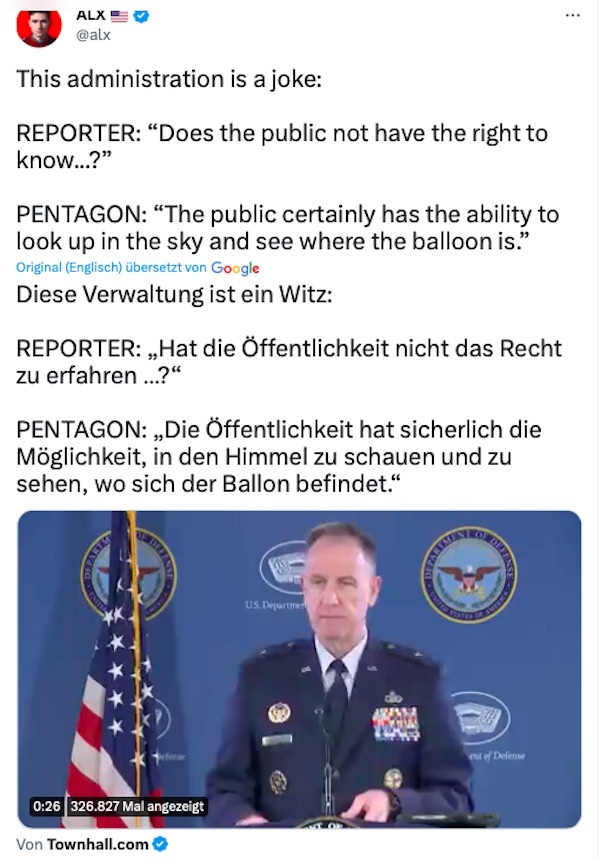 +++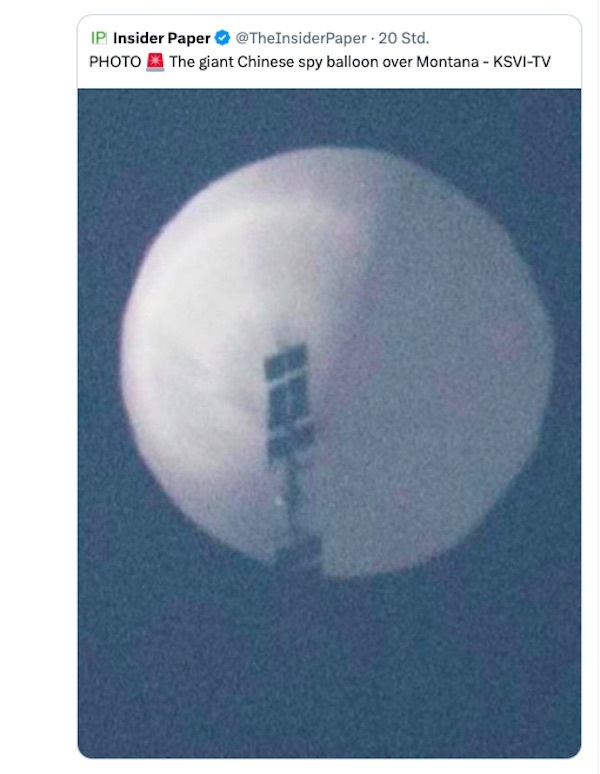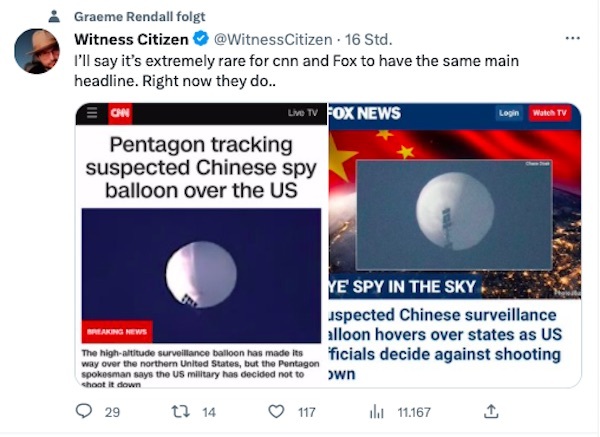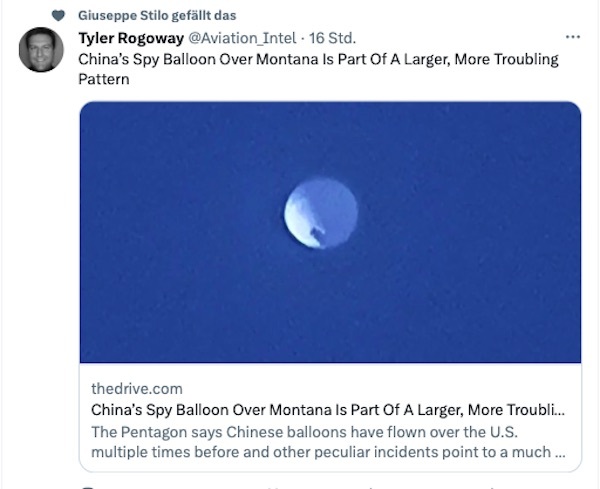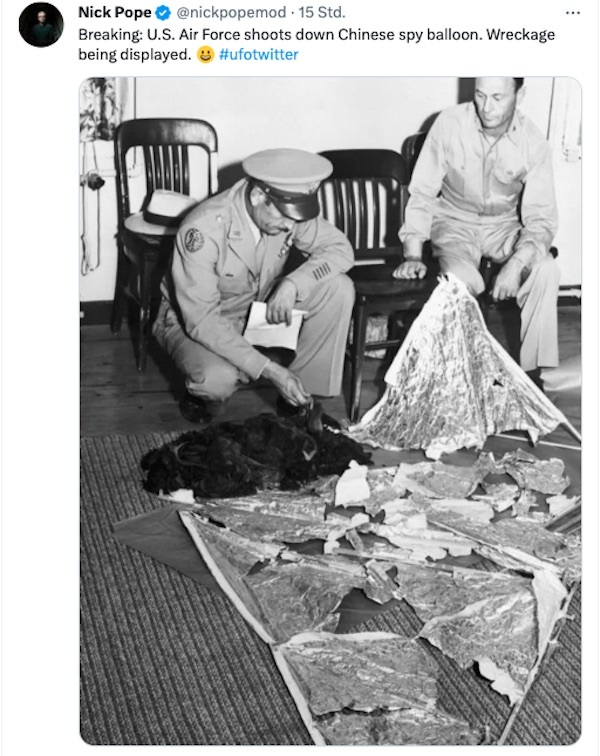 Joke von Nick Pope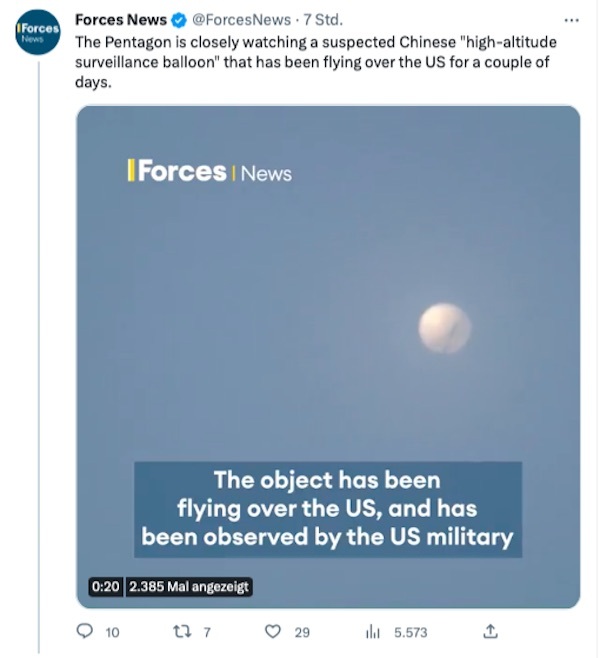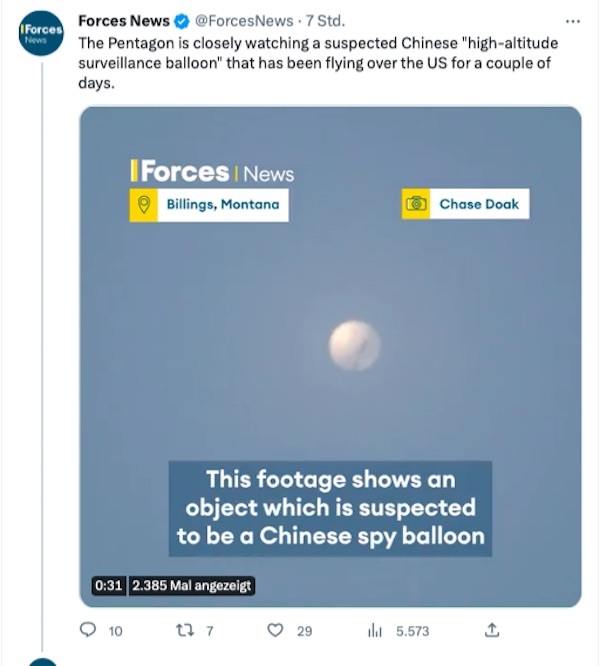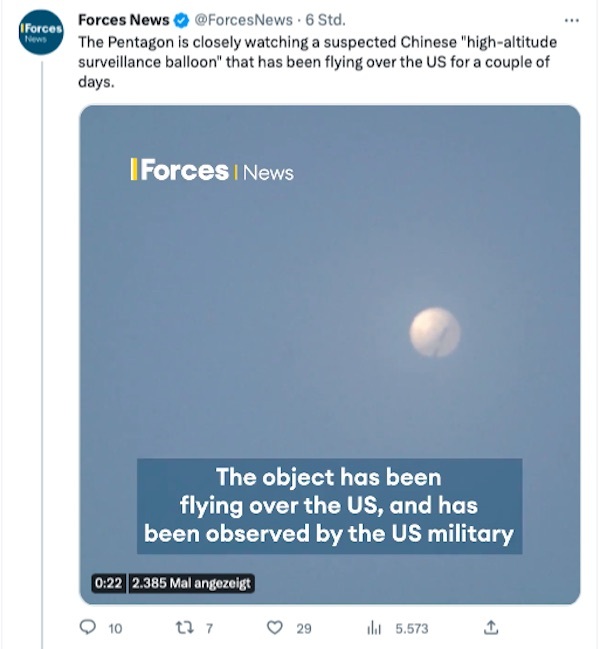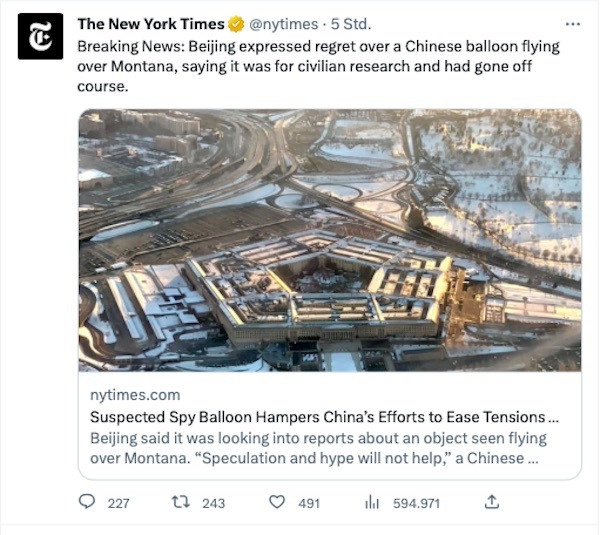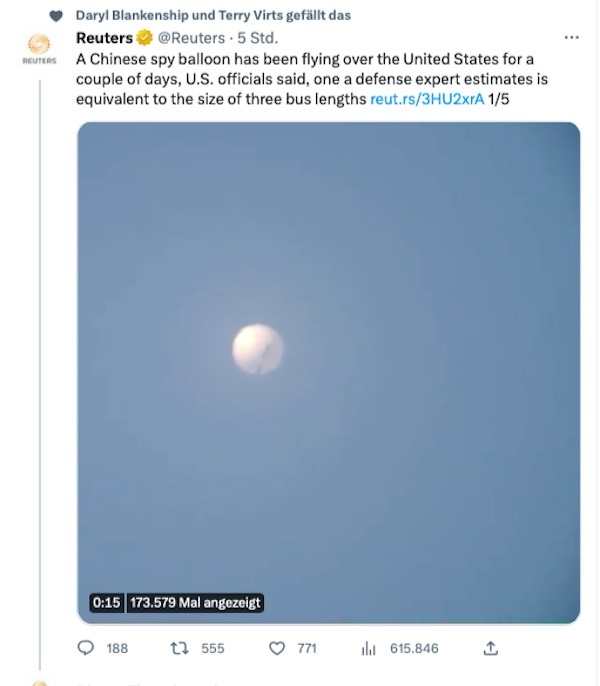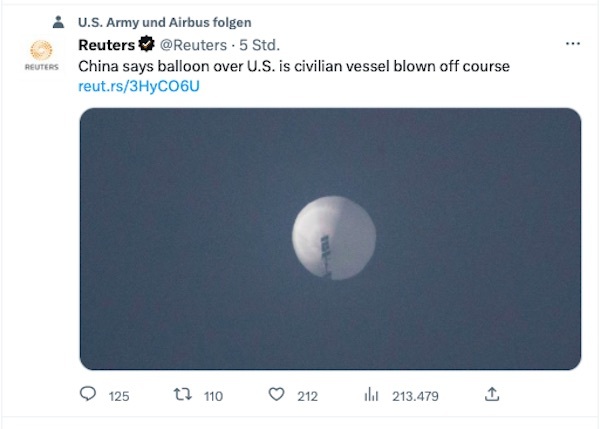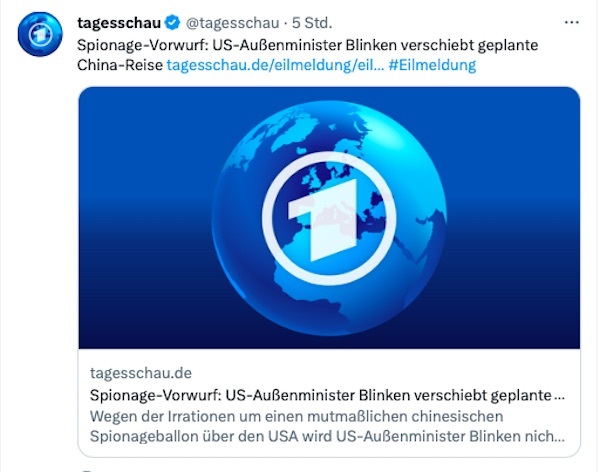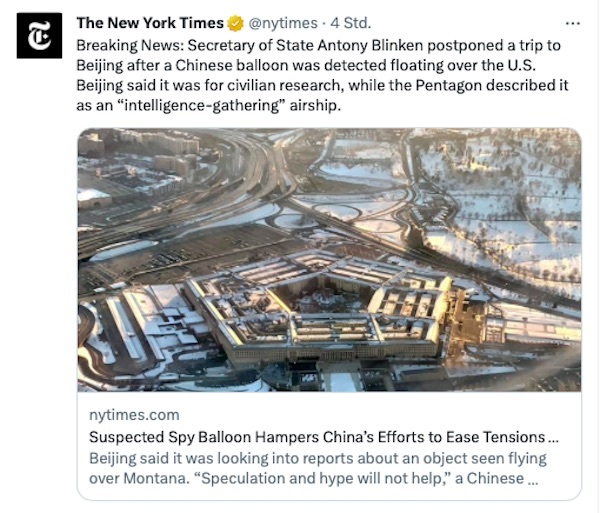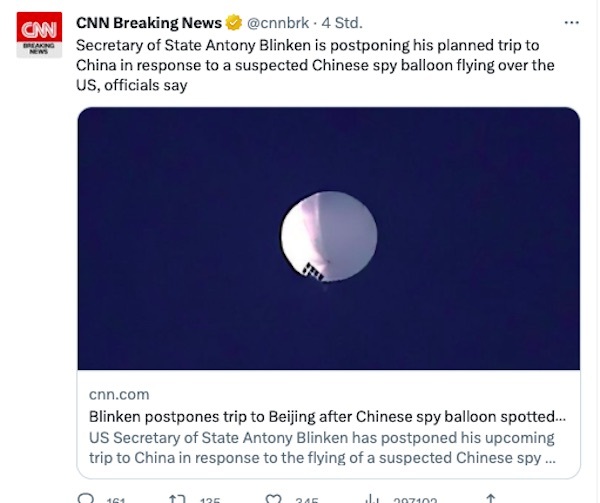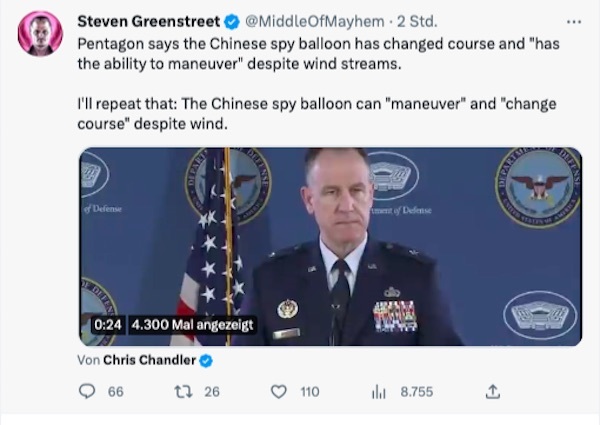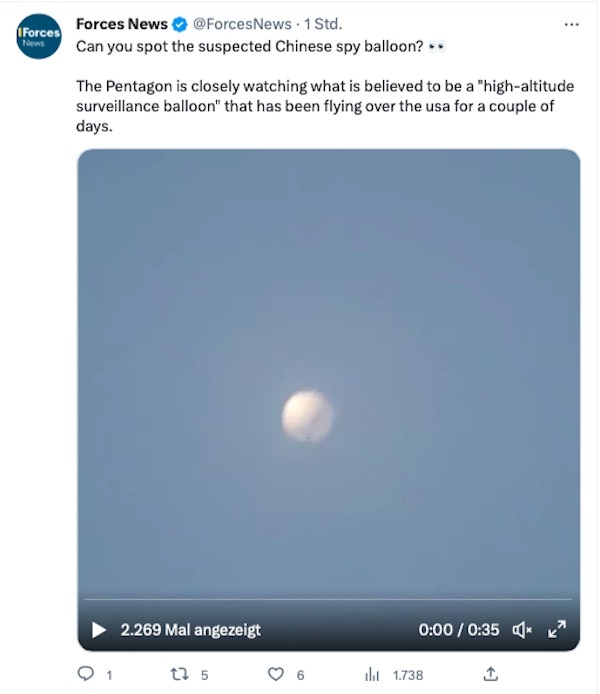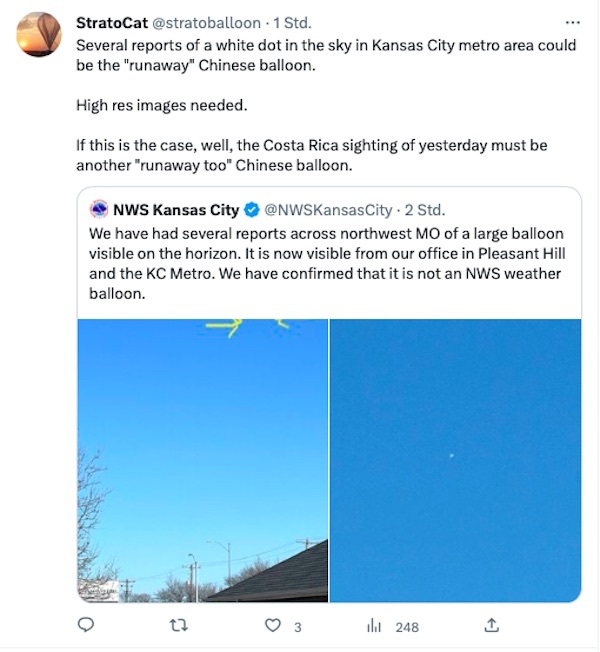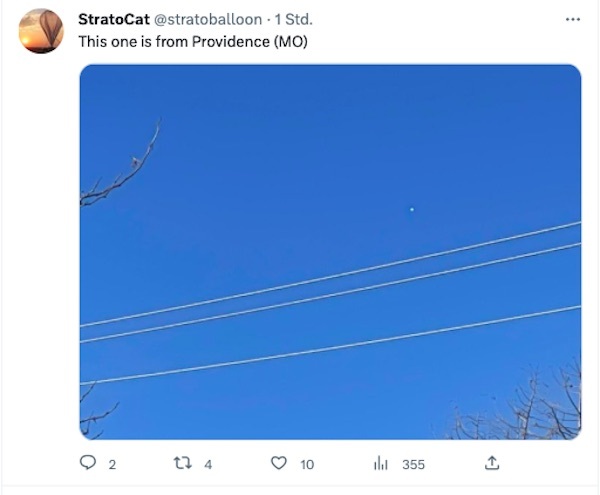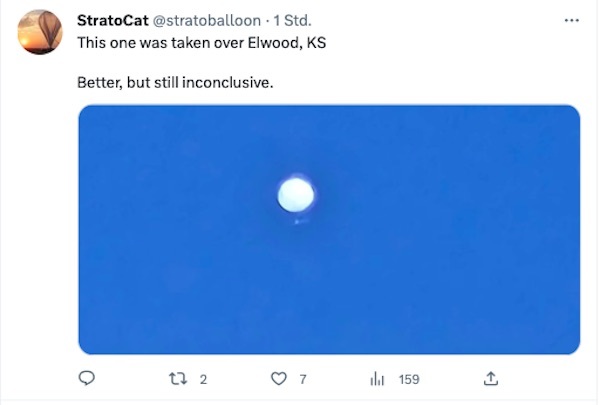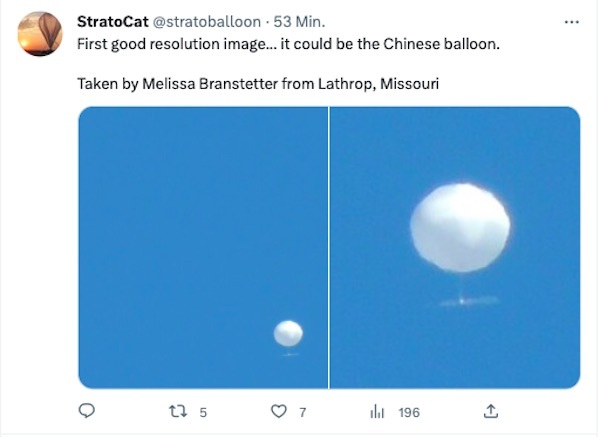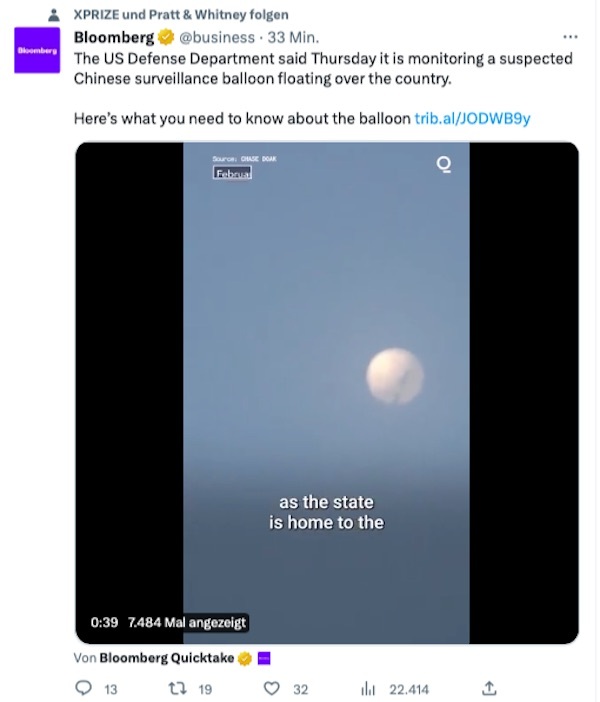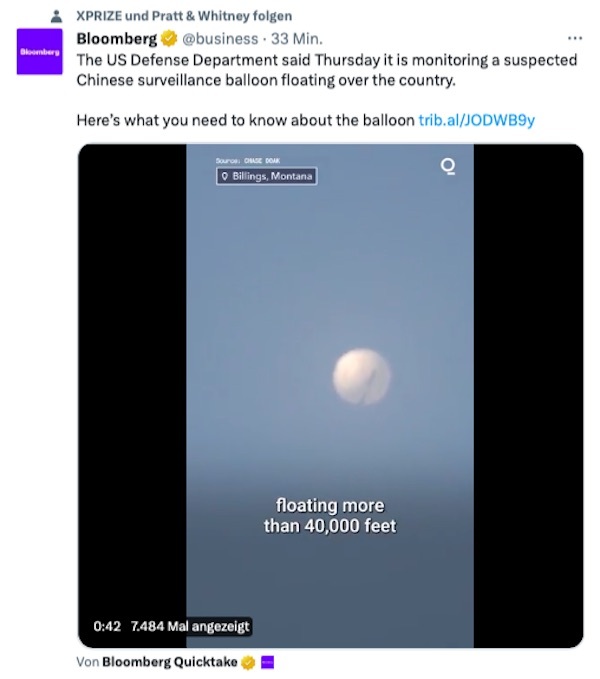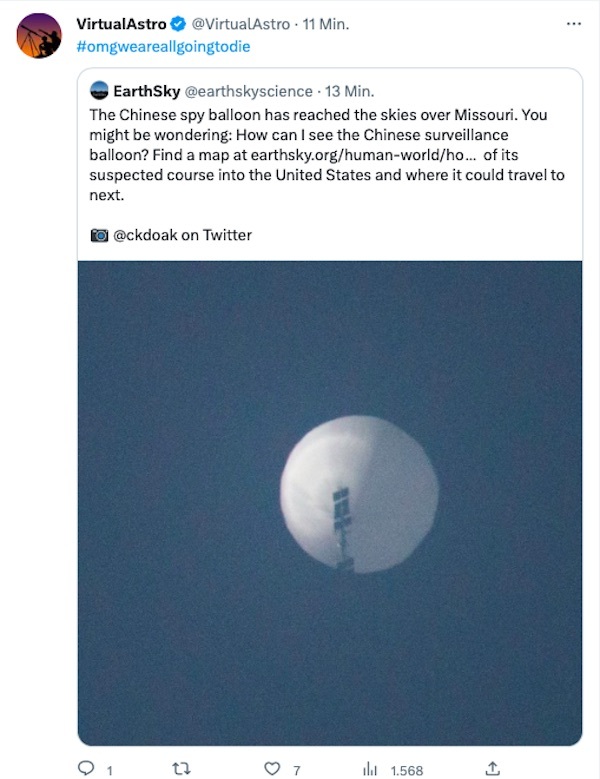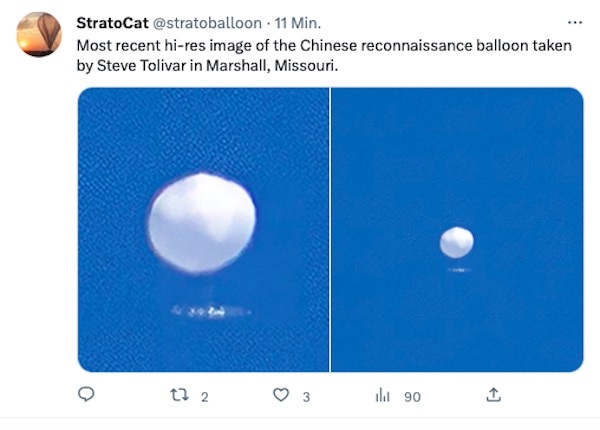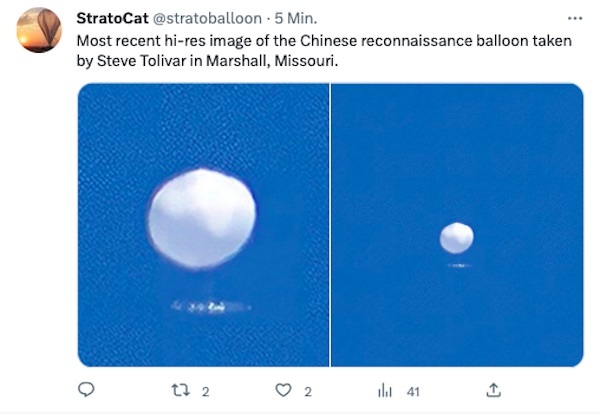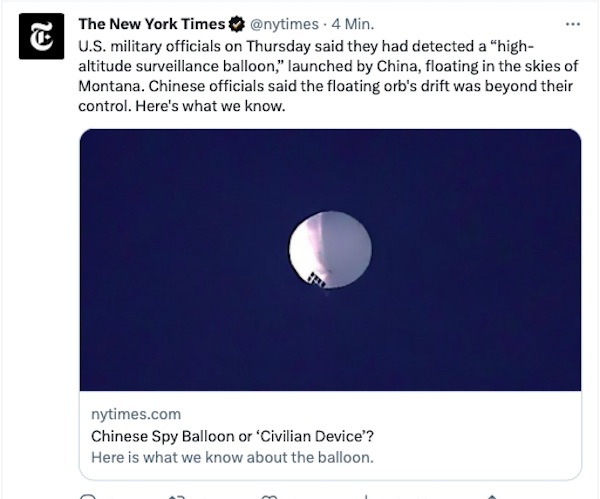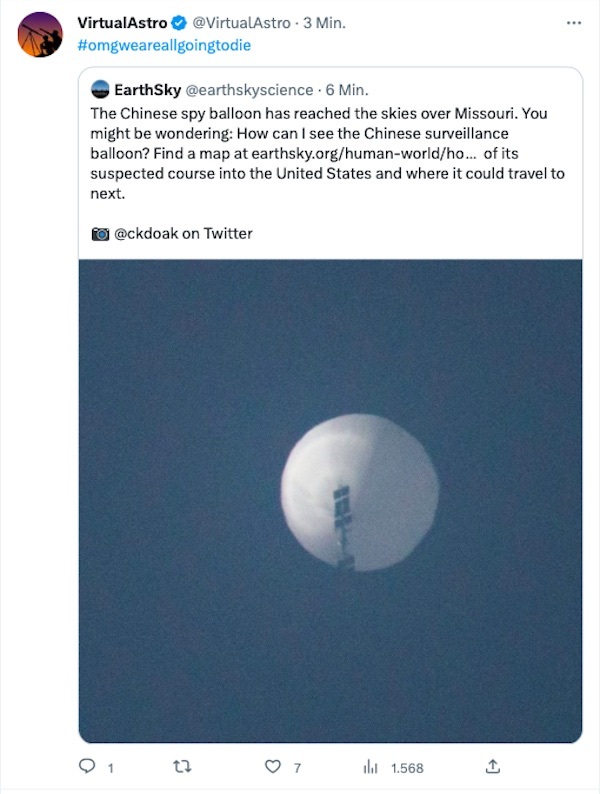 Quelle: Twitter
----
Update: 4.02.2023
.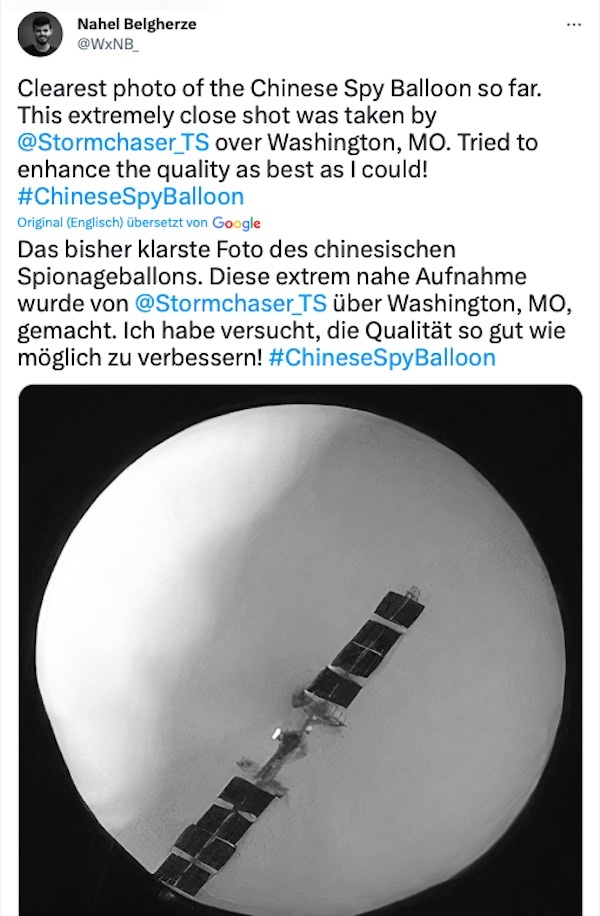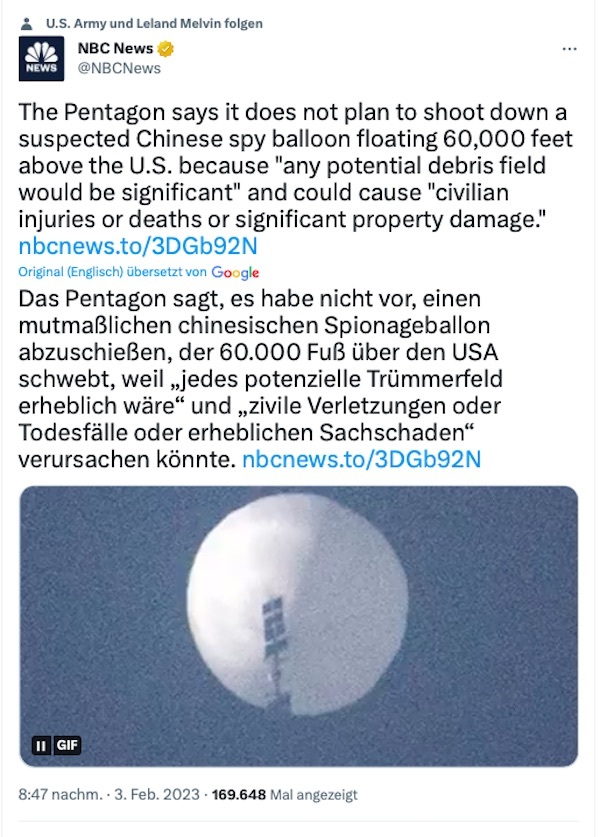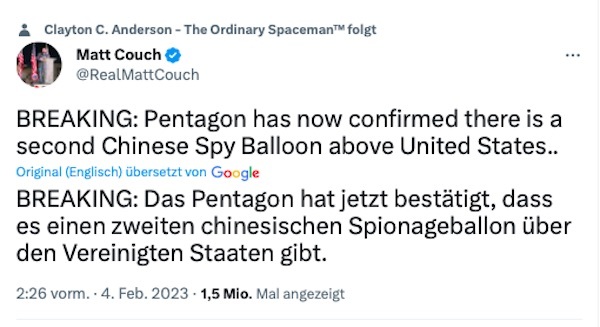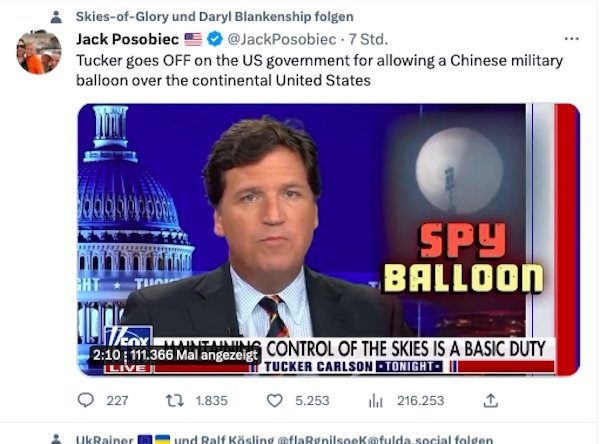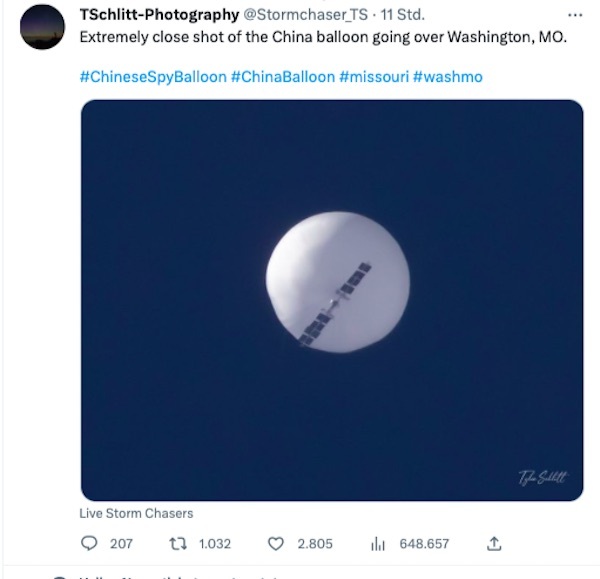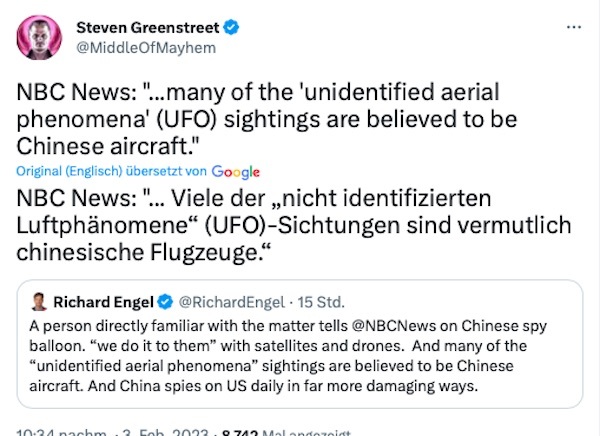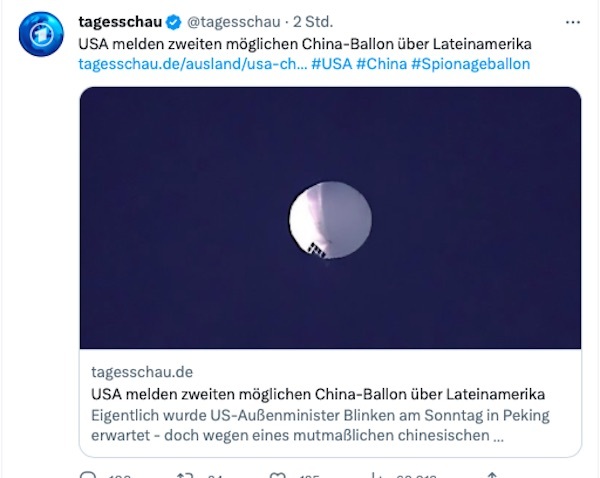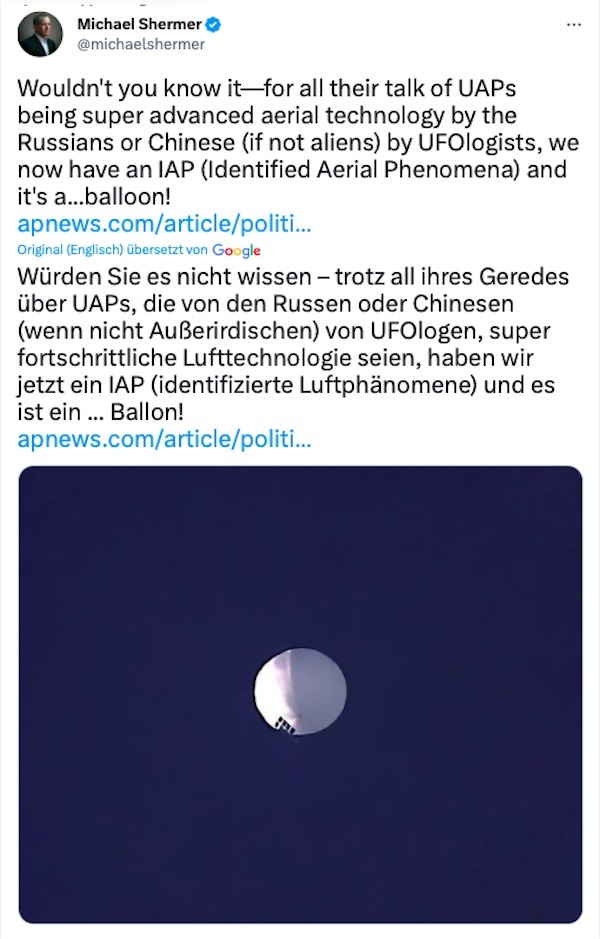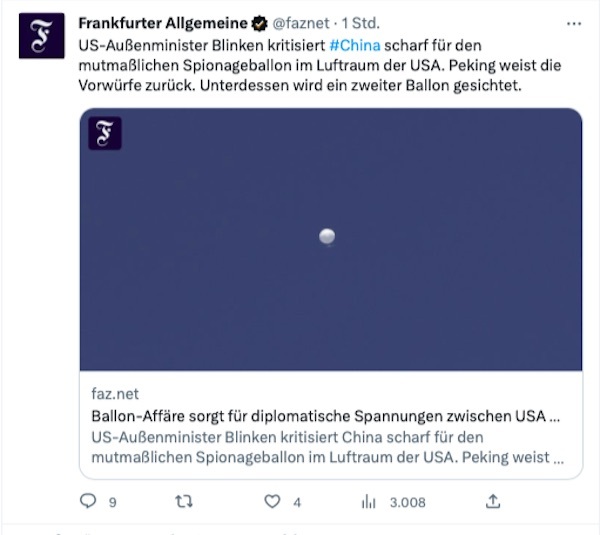 Quelle: Twitter
+++
WEGEN SPIONAGE
USA schießen China-Ballon über Atlantik ab
Die USA haben den chinesischen Spionage-Ballon vor der Ostküste abgeschossen. Die Trümmer sollen in den Atlantik gestürzt sein.
Der weiße Ballon, der Solarmodule und Spionagegeräte tragen soll, war am Mittwoch im Nordwesten der USA entdeckt worden. "Die Absicht dieses Ballons ist eindeutig, Informationen zu sammeln", sagte ein hochrangiger US-Verteidigungsbeamter.
Der China-Spion ist mittlerweile zur Chefsache geworden. US-Präsident Joe Biden: "Wir kümmern uns darum", sagte er Samstag am Rande eines privaten Termins in Syracuse im US-Bundesstaat New York laut mitreisenden Reportern.
Ihm waren mehrere Fragen zugerufen worden – auch, ob man den Spionage-Ballon abschießen wolle.
Drei Flughäfen wegen des Ballons geschlossen
Die Behörden hatten drei Flughäfen im Osten des Landes vorübergehend geschlossen. "Um das Verteidigungsministerium bei einer nationalen Sicherheitsmaßnahme zu unterstützen", seien die An- und Abflüge an drei Flughäfen in den Bundesstaaten South und North Carolina unterbrochen worden, teilte die Luftfahrtbehörde mit.
Das US-Verteidigungsministerium hatte am Donnerstagabend die Sichtung des chinesischen Ballons publik gemacht. Der Ballon wurde über dem US-Bundesstaat Montana, über Mittelamerika und auch Missouri gesichtet. US-Außenminister Antony Blinken nannte das Eindringen des "Überwachungsballons" in den Luftraum der USA "inakzeptabel" und "unverantwortlich".
China wies die Spionagevorwürfe am Samstag entschieden zurück, sprach von einem Forschungsballon, der durch "höhere Gewalt" vom Kurs abgekommen sei. Blinken sagte einen für Sonntag erwarteten Besuch in Peking ab.
Quelle: Bild
+++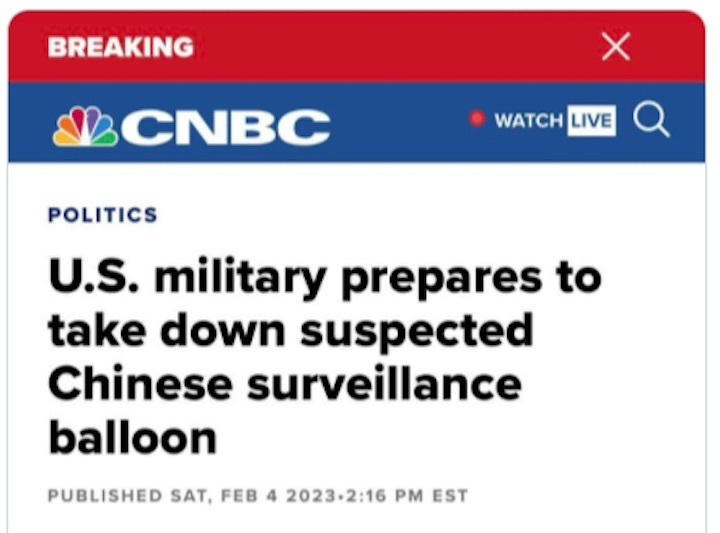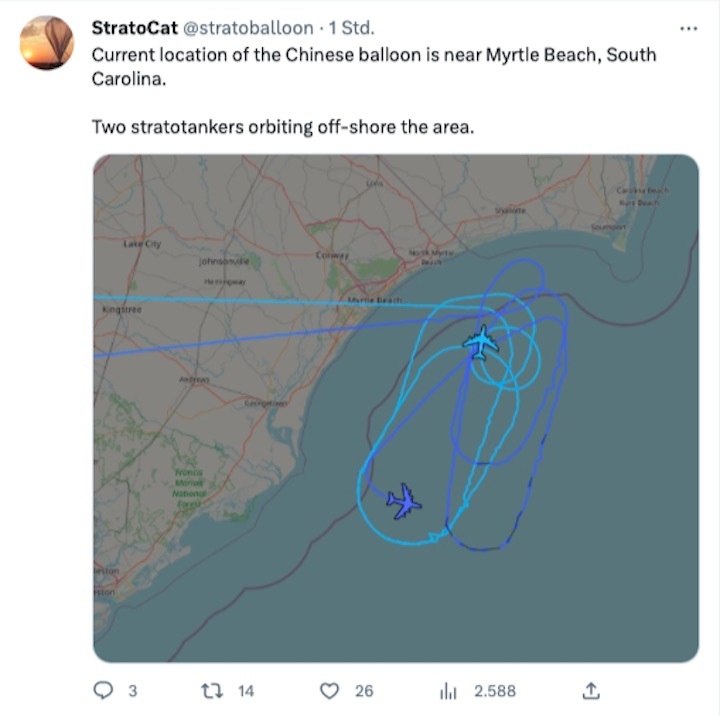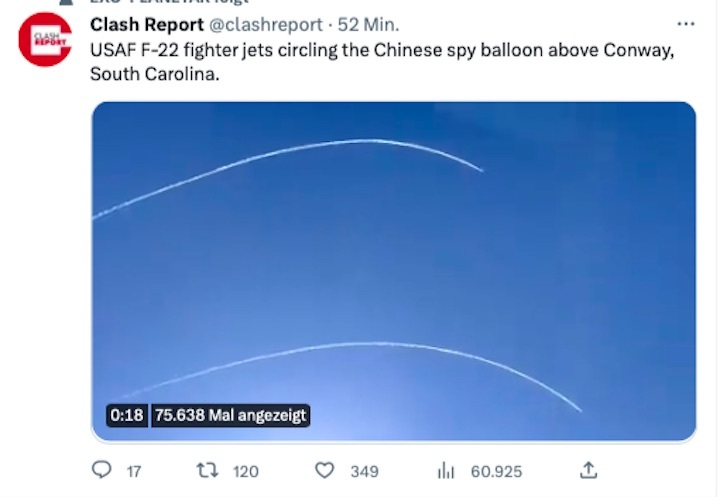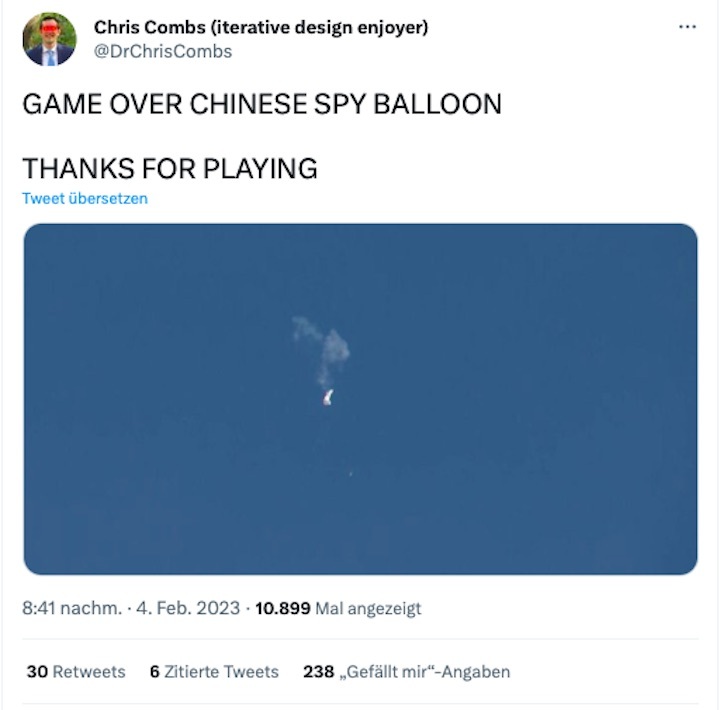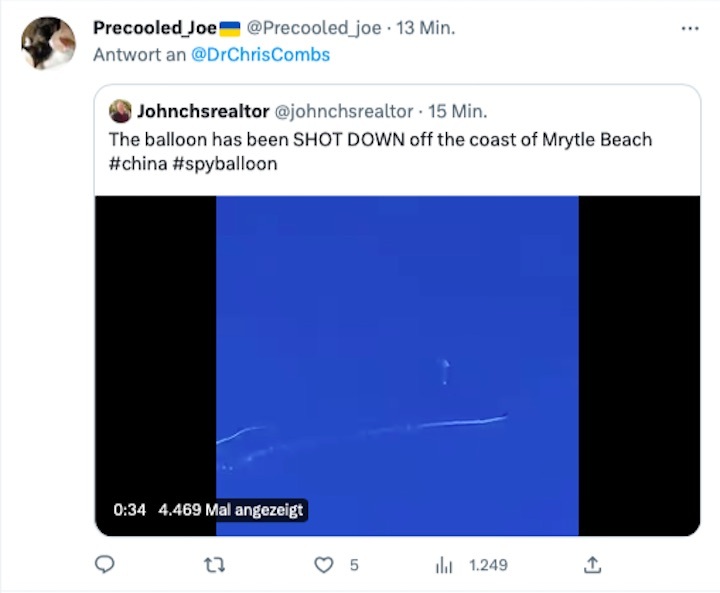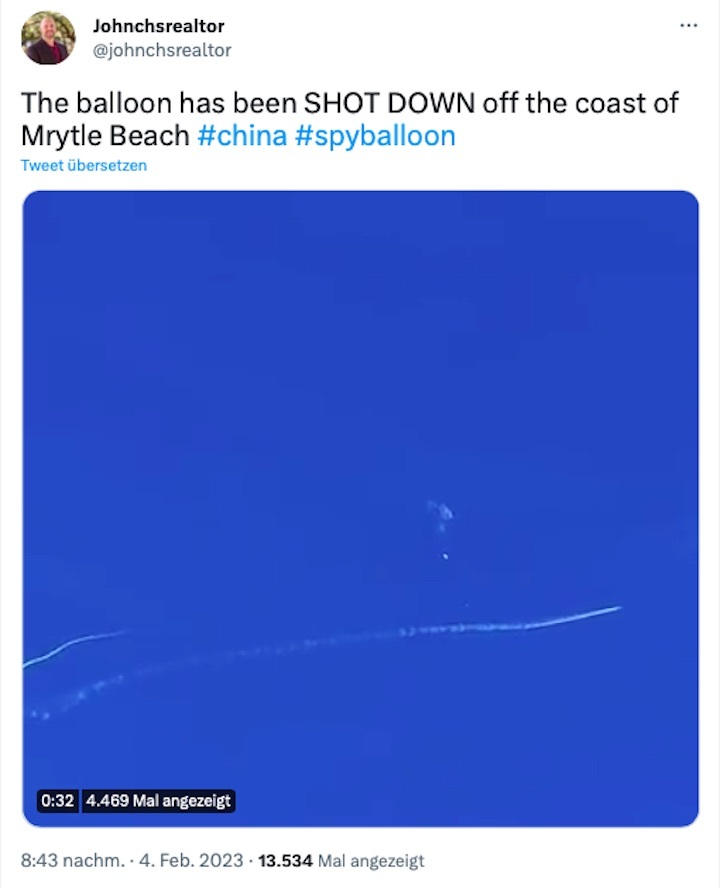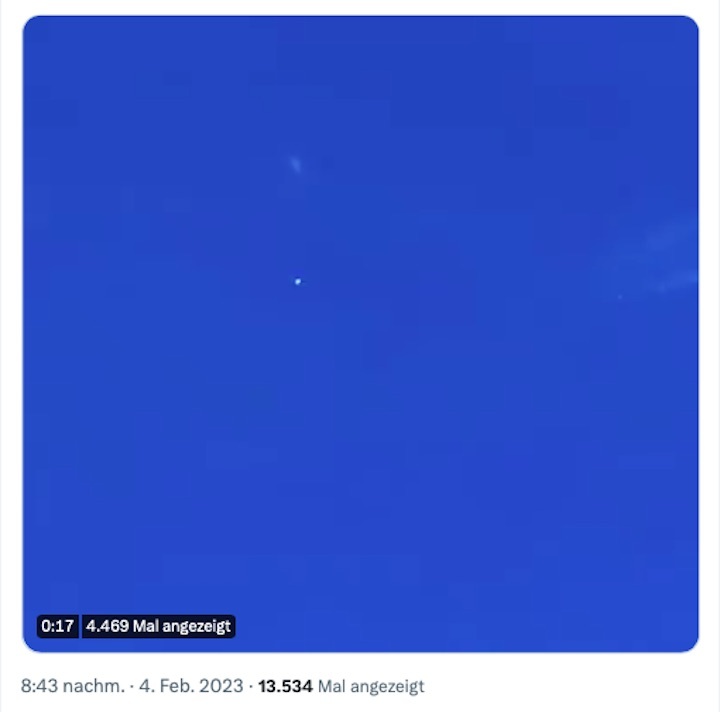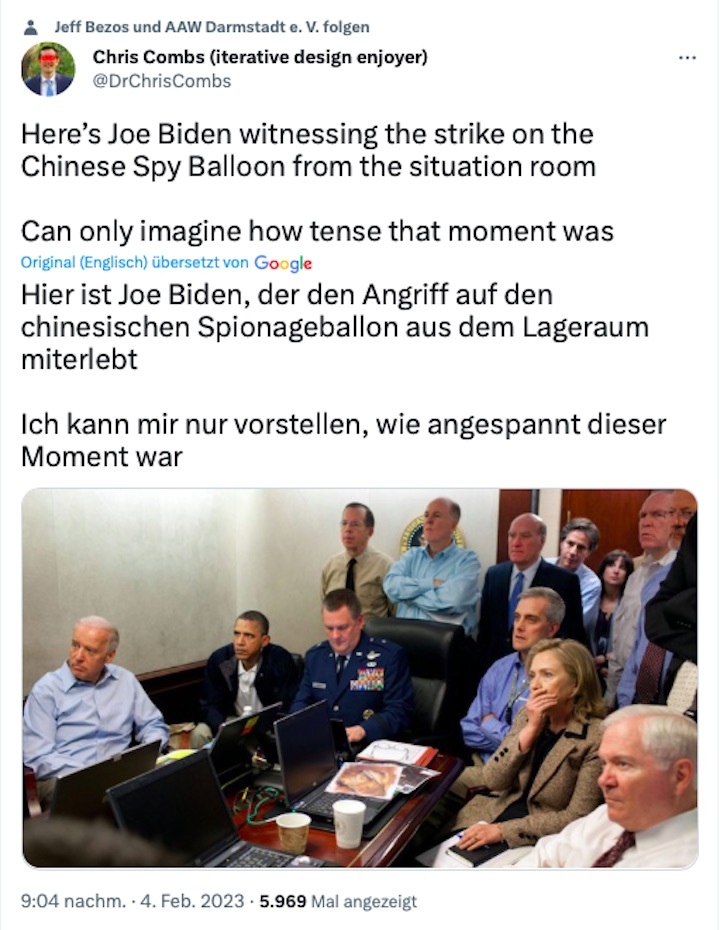 Quelle: Twitter
----
Update: 8.02.2023
.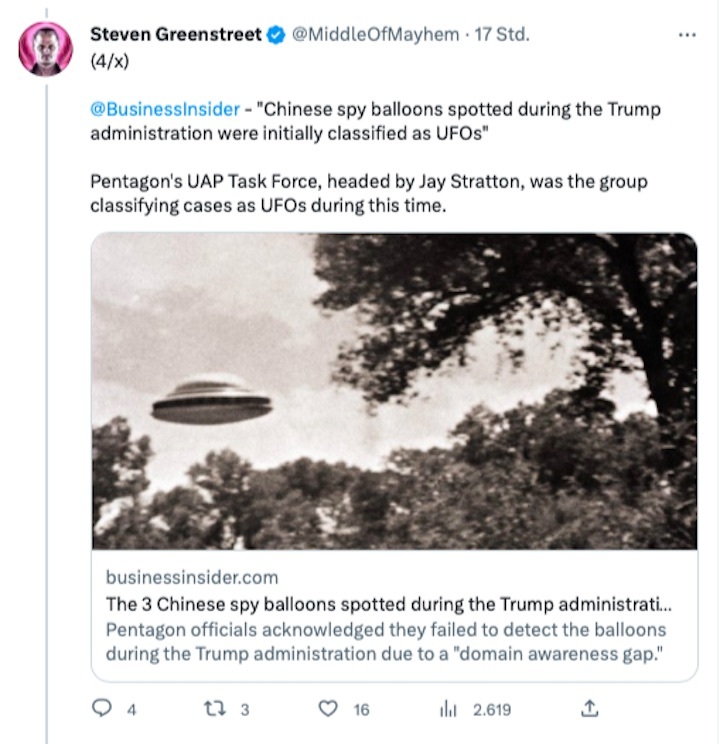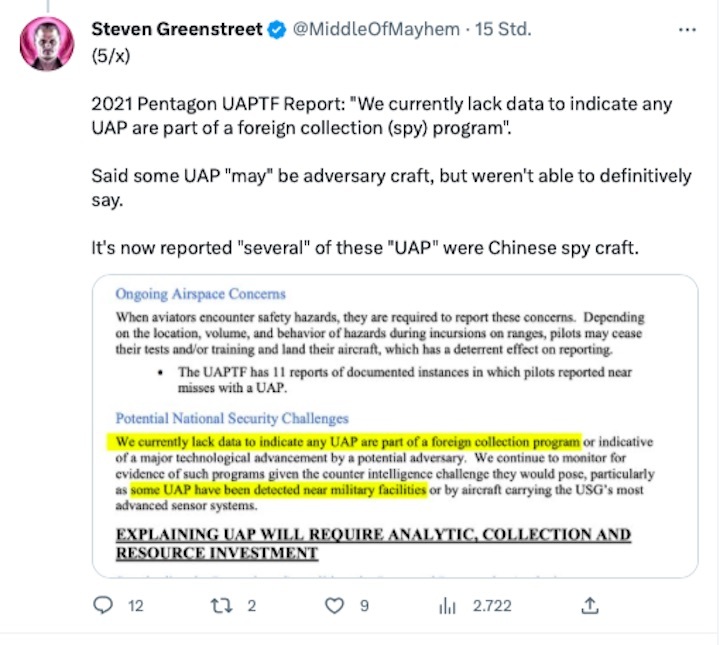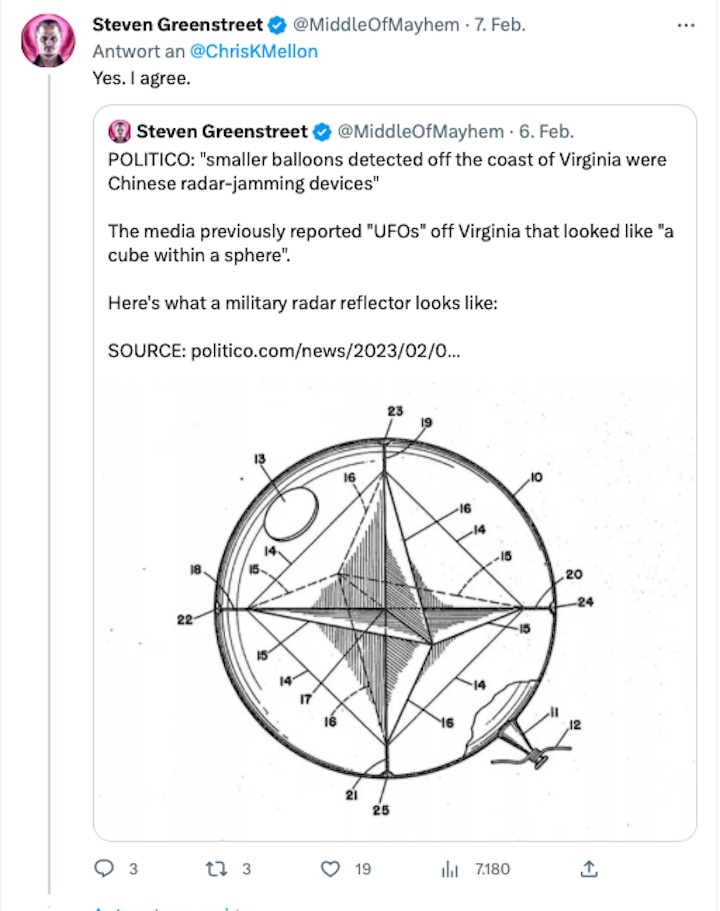 Quelle: Twitter
549 Views