4.02.2023
Astronomers using NASA's Hubble Space Telescope have for the first time directly measured the mass of a single, isolated white dwarf – the surviving core of a burned-out, Sun-like star.
Researchers found that the white dwarf is 56 percent the mass of our Sun. This agrees with earlier theoretical predictions of the white dwarf's mass and corroborates current theories of how white dwarfs evolve as the end product of a typical star's evolution. The unique observation yields insights into theories of the structure and composition of white dwarfs.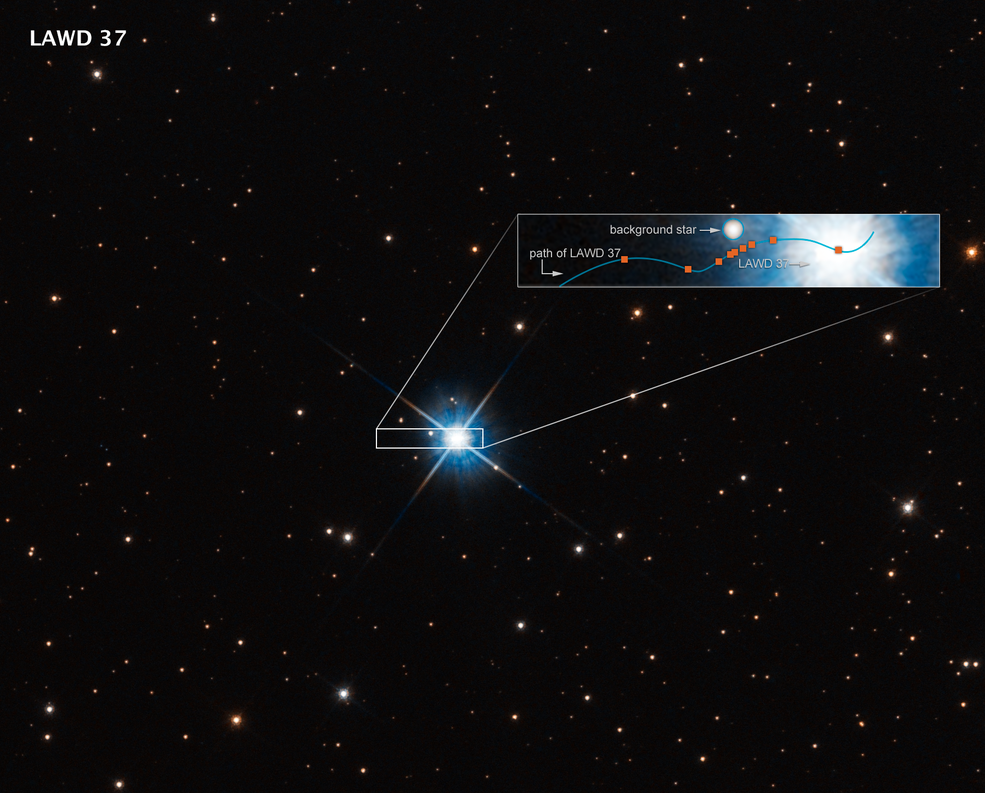 Credits: NASA, ESA, Peter McGill (UC Santa Cruz, IoA), Kailash Sahu (STScI); Image Processing: Joseph DePasquale (STScI)
The researchers say their results open the door for future event predictions with Gaia data. In addition to Hubble, these alignments can now be detected with NASA's James Webb Space Telescope. Because Webb works at infrared wavelengths, the blue glow of a foreground white dwarf looks dimmer in infrared light, and the background star looks brighter.
Based on Gaia's predictive powers, Sahu is observing another white dwarf, LAWD 66, with NASA's James Webb Space Telescope. The first observation was done in 2022. More observations will be taken as the deflection peaks in 2024 and then subsides.
"Gaia has really changed the game – it's exciting to be able to use Gaia data to predict when events will happen, and then observe them happening," said McGill. "We want to continue measuring the gravitational microlensing effect and obtain mass measurements for many more types of stars."
In his 1915 theory of general relativity, Einstein predicted that when a massive compact object passes in front of a background star, the light from the star would bend around the foreground object due to the warping of space by its gravitational field.
Exactly a century before this latest Hubble observation, in 1919, two British-organized expeditions to the southern hemisphere first detected this lensing effect during a solar eclipse on May 19th. It was hailed as the first experimental proof of general relativity – that gravity warps space. However, Einstein was pessimistic that the effect could ever be detected for stars outside our solar system because of the precision involved. "Our measurement is 625 times smaller than the effect measured at the 1919 solar eclipse," said McGill.
The Hubble Space Telescope is a project of international cooperation between NASA and ESA. NASA's Goddard Space Flight Center in Greenbelt, Maryland, manages the telescope. The Space Telescope Science Institute (STScI) in Baltimore conducts Hubble science operations. STScI is operated for NASA by the Association of Universities for Research in Astronomy, in Washington, D.C.
Quelle: NASA
156 Views