3.02.2023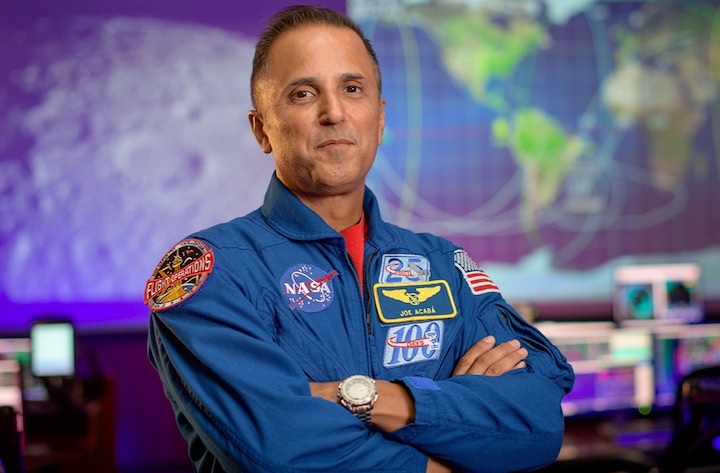 As NASA nears selecting its first crew to fly to the moon in more than 50 years, the space agency has a new leader for its astronaut corps.

Joe Acaba, a former educator who has flown three times to space including two long-duration stays on board the International Space Station, has been named the new chief of the Astronaut Office at NASA's Johnson Space Center in Houston. Acaba succeeds Reid Wiseman, who held the position for two years, and Drew Feustel, who served as acting chief since Wisemen stepped down on Nov. 14 to return to active flight duty.

"Congratulations to Joe Acaba on being named the new chief of the astronaut office!" said NASA Administrator Bill Nelson in a statement released on Thursday (Feb. 2). "Joe is an experienced space flyer and a proven leader, and he will undoubtedly inspire the next generation of NASA astronauts."

"As we build on the International Space Station's unparalleled success in low-Earth orbit with our eyes on the moon and then Mars, Joe will play an integral role in ensuring our NASA astronauts are prepared for the challenges ahead," said Nelson. "I also want to thank Reid Wiseman for his steady leadership, and to Drew Feustel for jumping in to continue the office's long legacy of excellence and integrity."

As chief, Acaba will be responsible for selecting astronauts for future missions, including commercial flights to the International Space Station and Artemis missions to orbit and land on the moon. NASA is expected to name the Artemis II crew — the first astronauts to fly to the moon since the end of the Apollo program in 1972 — this spring for a launch as soon as late 2024.

Depending on the status of the Artemis II crew selection, Acaba may have input into that history-making decision.

"Our Johnson Space Center team congratulates Joe Acaba on his appointment to chief of the astronaut office," said center director Vanessa Wyche. "We wish him well as he takes on this new and exciting leadership role."

Acaba will now lead the 41 active U.S. astronauts and 10 astronaut candidates in the corps and will coordinate missions and activities with the additional 15 international astronauts from Canada, Japan and the United Arab Emirates who train as part of NASA's human spaceflight program.

Chosen with "The Peacocks," NASA's 19th astronaut class selected in 2004, Acaba is a geologist, former high school teacher and the first person of Puerto Rican heritage to join NASA's corps. As an educator-astronaut, Acaba has spent 306 days in space.

In 2009, he served as a mission specialist on space shuttle Discovery's STS-119 crew, who delivered the fourth set of solar arrays for the International Space Station. He next flew on two Russian Soyuz flights to the space station, serving as a flight engineer on Expeditions 31/32 and 53/54 in 2012 and 2018, respectively.

When he was not in space, Acaba joined analog missions inside rock formations (ESA's CAVES) and aboard an underwater laboratory (NASA's SEATEST). He also served as branch chief for the space station operations branch and director of operations in Star City, supporting crew training in Russia.

"Joe is an excellent leader who brings a wealth of experience to the astronaut office," said NASA's Director of Flight Operations Norm Knight, who made the selection. "Knowing the significance of this position and the integrity of those who have previously served, I am confident Joe will be an outstanding chief for the astronaut office who will successfully lead our astronauts through an exciting future."

Acaba is NASA's 18th chief astronaut, a position that was first created for and held by Mercury astronaut Deke Slayton in 1962 (the title "chief astronaut" or "chief of the astronaut office" was not established until late 1963, when Alan Shepard took over the role). Acaba is the first person of Hispanic heritage selected for the post.

The prior chief astronauts have included: Slayton (1962-1963); Shepard (1963-1969); Thomas Stafford (1969-1971); Shepard (1971-1974); John Young (1974-1987); Dan Brandenstein (1987-1992); Robert "Hoot" Gibson (1992-1994); Robert Cabana (1994-1997); Kenneth Cockrell (1997-1998); Charles Precourt (1998-2002); Kent Rominger (2002-2006); Steven Lindsey (2006-2009); Peggy Whitson (2009-2012); Robert Behnken (2012-2015); Christopher Cassidy (2015-2017); Patrick Forrester (2017-2020) and Wiseman (2020-2022).
Quelle: CS
195 Views