12.03.2022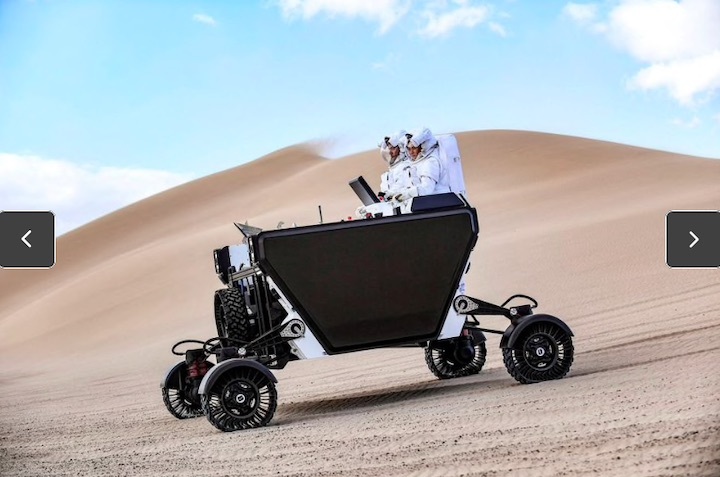 A handout image shows a prototype of California startup Astrolab's Flex lunar rover, that will be able to be operated directly by astronauts on the Moon or remotely by NASA's engineers on Earth, being tested in Death Valley National Park at the Dumont Dunes in December, 2021 and obtained by Reuters on March 10, 2022.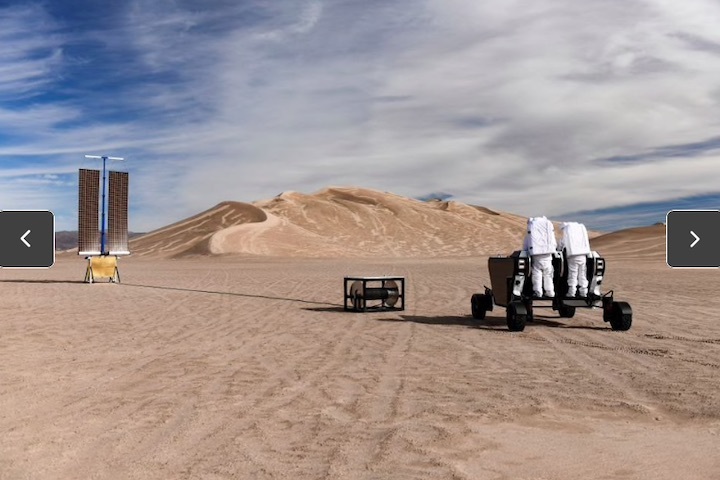 A handout image shows a prototype of California startup Astrolab 's Flex lunar rover, that will be able to be operated directly by astronauts on the Moon or remotely by NASA's engineers on Earth, being tested in Death Valley National Park at the Dumont Dunes in December, 2021 and obtained by Reuters on March 10, 2022.
LOS ANGELES, March 10 (Reuters) - A Los Angeles-area startup founded by a veteran spaceflight robotics engineer unveiled on Thursday its full-scale, working prototype for a next-generation lunar rover that is just as fast as NASA's old "moon buggy" but is designed to do much more.
The company, Venturi Astrolab Inc, released photos and video showing its Flexible Logistics and Exploration (FLEX) vehicle riding over the rugged California desert near Death Valley National Park during a five-day field test in December.
Astrolab executives say the four-wheeled, car-sized FLEX rover is designed for use in NASA's Artemis program, aimed at returning humans to the moon as early as 2025 and establishing a long-term lunar colony as a precursor to sending astronauts to Mars.
Unlike the 1970s Apollo-era moon buggies or the current generation of robotic Mars rovers tailored for specialized tasks and experiments, FLEX is designed as an all-purpose vehicle that can be driven by astronauts or by remote control.
Built around a modular payload system inspired by conventional containerized shipping, FLEX is versatile enough to be used for exploration, cargo delivery, site construction and other logistical work on the moon, the company says.
"For humanity to truly live and operate in a sustained way off Earth, there needs to exist an efficient and economical network all the way from the launch pad to the ultimate outpost," Astrolab founder and CEO Jaret Matthews said in a statement announcing the rover's development.
Other aerospace companies have announced new lunar rover design concepts, "but so far I believe, we're the only ones who have produced a working prototype of this scale and capability," Matthews told Reuters in an interview on Wednesday.
If NASA adopts FLEX and its modular payload platform for Artemis, it would become the first passenger-capable rover to ply the lunar surface since Apollo 17, the last of six original U.S. manned missions to the moon, in December 1972.
Apollo 17's lunar roving vehicle set a moon speed record of 11 miles per hour (17.7 km/h). FLEX can move just as swiftly.
Apollo astronauts found "they spent just as much time off the ground as on it at that speed, so it's kind of a practical limit for the moon," where gravity is one-sixth that of Earth, said Matthews, a former rover engineer for NASA's Jet Propulsion Laboratory.
While Apollo LRVs carried up to two astronauts seated at its controls like a car, FLEX passengers - one or two at a time - ride standing in the back, driving the vehicle with a joystick.
The rover itself, with a Jeep-like wheelbase, weighs just over 1,100 pounds (500 kilograms) but has a 3,300-pound cargo capacity, about the same as a light-duty pickup truck.
With its solar-powered batteries fully charged, the vehicle can drive two astronauts for eight hours straight and has sufficient energy capacity to survive the extreme cold of a lunar night, up to 300 hours in total darkness, at the moon's south pole, Matthews said.
During the field test at the Dumont Dunes Off-Highway Recreation Area, the rover was piloted by retired Canadian astronaut and Astrolab advisory board member Chris Hadfield and MIT aerospace graduate student Michelle Lin.
Video showed the pair dressed in mock spacesuits riding on the vehicle over a sand dune and using it to set up a large, vertical solar array.
"It was huge fun to drive the FLEX," Hadfield said in the video.
Quelle: Reuters
+++
Astrolab unveils Artemis lunar rover design
WASHINGTON — A California startup has developed and tested a prototype of a lunar rover that it plans to offer to NASA for use on future Artemis missions.
Venturi Astrolab revealed March 10 its work on a rover called Flexible Logistics and Exploration, or FLEX, that is intended to carry cargo or astronauts. The rover is designed to accommodate up to 1,500 kilograms of cargo, placed above or below a main deck, and either be driven remotely or by two astronauts on board.
Jaret Matthews, founder and chief executive of Astrolab, said in an interview that his company created FLEX to address a near future of lunar exploration where both crewed landers like SpaceX's Starship and robotic landers for NASA's Commercial Lunar Payload Services program deliver large amounts of cargo.
"FLEX really represents a rethinking of how you might approach the surface in that context," he said. "We're making FLEX to be the most versatile rover ever created, and the primary innovation is the fact that we have this modular payload capability."
He contrasted FLEX with past rovers, like those developed for robotic Mars missions, that were customized for their specific missions. He worked on several Mars rover programs at the Jet Propulsion Laboratory earlier in his career as well as a concept for a lunar rover called ATHLETE during the Constellation lunar exploration program.
"That is a reasonable approach in an environment where you have an extreme emphasis on mass efficiency," he said of those earlier designs. "But in this coming era of more lander capability, what we're doing is thinking more about economies of scale that you might achieve if you rethink that approach."
FLEX is more than a concept. The company built a full-sized prototype of the rover and recently tested it near Death Valley, California. They simulated using the rover for a range of activities expected for a future lunar base, such as setting up solar arrays, as well as its ability to navigate terrain either with people onboard driving it or through teleoperation.
Among those who drove FLEX in the test was former astronaut Chris Hadfield, who emphasized in a statement the value of mobility for future long-duration lunar exploration and settlement. "It was not only a joy to drive FLEX but also see its size, capability and get an intuitive sense of what this rover can do," he said.
"He was a great fit for us," Matthews said of Hadfield, citing the former astronaut's experience that included serving as chief of robotics in the NASA astronaut office. "He really gets what we're doing and the potential."
Matthews said Hadfield and others provided invaluable feedback on the FLEX prototype, offering suggestions on changes to rover controls. "The intent was building the prototype quickly, so that we can start learning and be ready as soon as the first opportunity to go to the moon comes up," he said.
That first opportunity may be NASA's Lunar Terrain Vehicle (LTV) project to develop a lunar rover for future Artemis landings. The agency has issued two requests for information seeking industry input on the requirements of the vehicle, most recently in August 2021. Jacob Bleacher, chief exploration scientist at NASA Headquarters, said at an Artemis town hall during the Lunar and Planetary Sciences Conference March 9 that he expected the agency to issue a request for proposals for LTV in the next few months.
Matthews said Astrolab has been developing its vehicle with the LTV competition in mind. That includes designing the rover to meet anticipated NASA requirements like the ability to operate for an eight-hour moonwalk, be able to work at the lunar south pole and survive the lunar night there, and be able to operate for 10 years.
Astrolab will likely have major competition for the LTV contract. Lockheed Martin announced in May 2021 a partnership with General Motors to design lunar rovers but said at the time their concept was still in the early stages. Northrop Grumman announced in November it was working with several companies on a lunar rover design but also provided few technical details.
By contrast, Astrolab, based in Hawthorne, California, is a 15-person company founded two years ago after Matthews left SpaceX. He declined to state how much money the company has raised, but it does have a strategic partnership with Venturi Group, an electric vehicle developer. The companies are collaborating on technologies such as batteries and tires, with Astrolab agreeing to buy those systems from Venturi for its flight vehicles. He said Astrolab is also looking at terrestrial applications of its rover.
He was optimistic that Astrolab could have FLEX ready quickly because of the company's approach of rapid, iterative development, which he described as "design, build, break, repeat." NASA's current plans don't call for having LTV on the moon until at least the Artemis 5 mission, the second crewed landing of the program in the second half of the decade. However, he thinks it's possible to have FLEX delivered to the moon ahead of the Artemis 3 landing, no earlier than 2025.
"I would love FLEX to be the first rover that astronauts drive since the Apollo era," he said. "We're moving as fast as we can and I think we'll be ready at the first opportunity."
Quelle: SN
----
Upte: 2.04.2023
.
Astrolab to send rover to the moon on SpaceX's Starship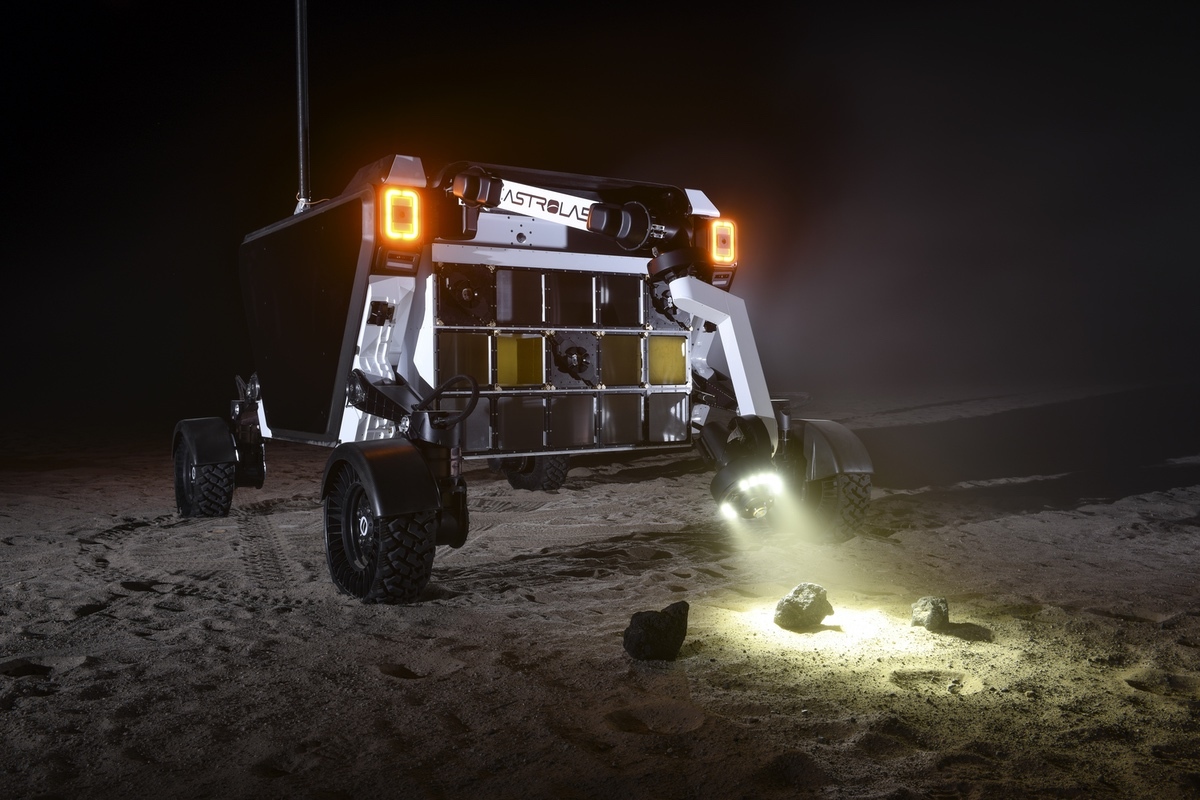 Astrolab is developing the FLEX rover that it plans to fly to the moon on a SpaceX Starship landing as soon as mid-2026. Credit: Astrolab
WASHINGTON — Lunar rover developer Astrolab has signed an agreement with SpaceX to transport its first rover to the moon on a future Starship flight.
Astrolab said it has arranged to fly the Flexible Logistics and Exploration (FLEX) rover it is developing as a payload on a Starship lunar lander mission scheduled for as soon as mid-2026. The companies did not disclose the value of the agreement, which Astrolab says is the first commercial contract SpaceX has signed for lunar cargo delivery.
Jaret Matthews, founder and chief executive of Astrolab, said in an interview that the mission, which will include 1,000 kilograms of customer payloads, will be the first flight of the FLEX rover. It will be a rideshare payload on a Starship mission landing somewhere in the south polar region of the moon.
"Because our rover can traverse up to a couple thousand kilometers in a given year, we're less sensitive to exactly where we land," he said. "'It is definitely optimized for the south polar region because that's fundamentally where we think that the bulk of the activity is going to be."
Astrolab has not disclosed specific customers for the mission, but he said they have a variety of planned applications, from resource utilization to data. "We are taking care of the core functions of mobility, navigation, communication and power, and that allows them to really focus on whatever they want to specifically achieve," he said, adding that Astrolab expects to announce details about its customers in the coming months.
The company unveiled its plans for FLEX a year ago after performing tests of a prototype in the California desert. The design is now at about the preliminary design review stage of maturity, Matthews said, with a particular focus on a robotic arm for the rover that has six degrees of freedom for deploying instruments or other payloads.
He emphasized the benefits the rover's modular design provides to potential customers. "This modular concept allows us to have adaptive utility," he said. "You land new implements or new cargo over time, and it refreshes, it renews what you can do with the platform. That's our big differentiator."
Astrolab is preparing to offer FLEX to NASA for the agency's upcoming Lunar Terrain Vehicle (LTV) competition. NASA is expected to issue a call for proposals by May for the LTV, which will be used by astronauts on missions starting with Artemis 5 in the late 2020s as well as be able to be controlled robotically between human landings.
"We're excited about that program It's well aligned with what we're doing," Matthews said. "We are certainly going to throw our hat in the ring." He added that he hopes that NASA pursues a services model for the LTV program, much as it has done with the Human Landing System landers.
Astrolab now has more than 20 full-time employees along with strategic partnerships that he said allows the company "to punch well above our weight" particularly for the upcoming LTV competition, where major aerospace companies like Lockheed Martin and Northrop Grumman have announced plans to offer rovers to NASA. "That's going to allow us to be first to market with this service."
Astrolab has not disclosed how much money it has raised, but Matthews raised the possibility of being able to fund development of FLEX through customer contracts. "We're hoping that that revenue stream will allow us to execute on this plan, perhaps without necessarily have to raise," he said. But, he added, "to the extent that investors are interested in what we're doing, we're more than happy to talk to them."
Quelle: SN
468 Views