27.08.2022
Starliner crewed test flight slips to early 2023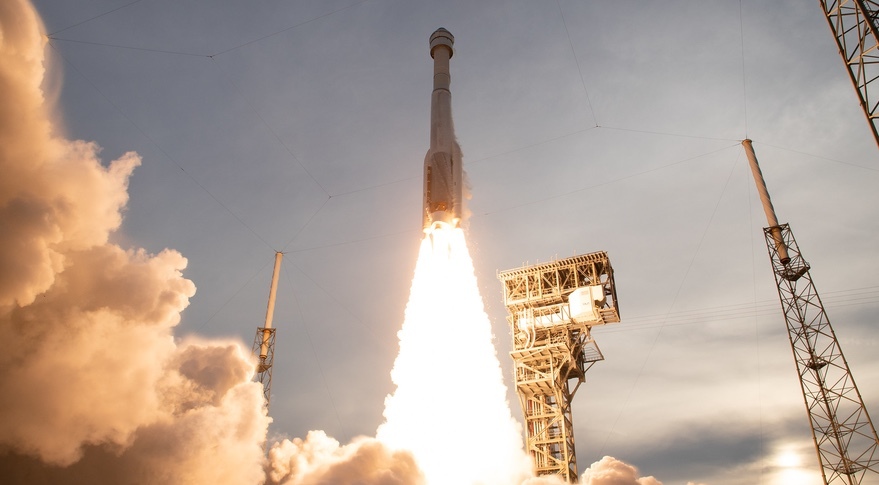 WASHINGTON — Work on Boeing's CST-100 Starliner commercial crew vehicle to correct minor problems during an uncrewed test flight in May will delay its first flight with astronauts to early 2023, NASA and Boeing said Aug. 25.
The Crew Flight Test (CFT) mission, with NASA astronauts Suni Williams and Butch Wilmore on board, is now scheduled to launch no earlier than February 2023. Boeing had been preparing to fly CFT as soon as this December immediately after completing the Orbital Flight Test (OFT) 2 test flight in May.
Mark Nappi, vice president and program manager for Starliner at Boeing, said during a media teleconference that a review of the data from the OFT-2 mission, which is now wrapping up, shows the need for a "minimal amount of changes" to the Starliner that will fly the CFT mission, a process he called "fine-tuning" and which he said the company expected from the earlier test flight.
That work, though, ruled out any chance of a CFT mission this year. "We had schedules that supported late '22, the December timeframe, for CFT," he said. "There were areas that we needed to go do a little bit more work on the systems. We plugged that into the plan and that's what moved us out by a month, five weeks or so."
That work addresses problems that came up during the OFT-2 flight, including Orbital Maneuvering and Attitude Control (OMAC) thrusters that shut down during the orbital insertion burn. Nappi said some "debris-related conditions" likely caused those thrusters to shut down, but later noted that is their best estimate since the OMAC thrusters are in a service module that burns up on reentry and is not recovered.
"We do not know where the debris may have come from," he said. "The bottom line is that it looks to be the leading root cause, and we've eliminated that by looking at the CFT vehicle and making sure that there's absolutely no debris in the system."
Several reaction control thrusters also shut down during the mission, which Nappi said was likely due to low inlet pressures and can be addressed with a "tweak in timing and tolerances" in software. High pressures in a thermal control loop noticed in the mission were linked to filters that engineers determined are not needed and can be removed. A guidance system on the spacecraft called VESTA worked well but generated more data than the flight software could handle, requiring changes to the software.
Work on the Starliner vehicle that will fly CFT, which includes the same crew module that flew the original OFT mission in December 2019, is on track, Nappi said. That crew module will be mated to its service module in November, "and we have good plans to get us to support that date in February."
Boeing is not planning to make major changes to the valves in the service module for CFT. Those valves suffered corrosion before an OFT-2 launch attempt in August 2021 when ambient moisture reacted with nitrogen tetroxide propellant that seeped through the valve, creating nitric acid that corroded aluminum elements of the valve. For the May OFT-2 launch, Boeing took steps to purge moisture from the valves and regularly open them to confirm they worked.
"We feel that we have a good short-term solution that we are enhancing slightly for CFT because it's being implemented during the build and not after the vehicle was built," he said. "We're flying that same configuration on CFT."
Boeing is continuing to study long-term changes that would involve sealing off the valves from moisture and replacing aluminum in them. "Our goal is to get it done as soon as possible," he said, but added the schedule was tight to have it ready in time for the first operational Starliner mission, tentatively scheduled for the fall of 2023.
A CFT mission to the International Space Station, docked there for eight days, would have to work around an "incredibly busy" schedule there in the first half of the year, said Joel Montalbano, NASA ISS program manager. By early March there will be a Soyuz crew exchange, followed by the Crew-5/Crew-6 exchange of Crew Dragon missions. Also on the manifest are cargo Dragon, Cygnus and Progress missions and Axiom Space's Ax-2 private astronaut mission.
He said, though, that flying CFT will be a priority so that the vehicle can be certified in time for its first operational mission in the fall. "CFT is a big deal for us," he said. "When these guys are ready in February, we'll be making sure there's room for them, and they will be a high priority unless we're working a major issue on board space station."
Montalbano added that he expects to start discussions with the Russian space agency Roscosmos in the fall to update the existing "integrated crew" agreement signed in July to exchange seats between Soyuz and commercial crew vehicles. The current agreement covers one exchange a year between Soyuz and Crew Dragon in 2022, 2023 and 2024.
The modification, he said, would include Starliner and extend the agreement beyond 2024. "The goal is a long-term agreement where, every time we fly, we have a cosmonaut on either SpaceX or Boeing and then an astronaut on the Soyuz spacecraft."
Boeing, in its second quarter financial results release July 27, said it recorded a $93 million charge in the quarter from its commercial crew program, "driven by launch manifest updates and additional costs associated with OFT-2." Boeing has now recorded $688 million in charges related to development of Starliner dating back to early 2020.
Quelle: SN
----
Update: 2.10.2022
.
NASA Updates Crew Assignments for First Starliner Crew Rotation Flight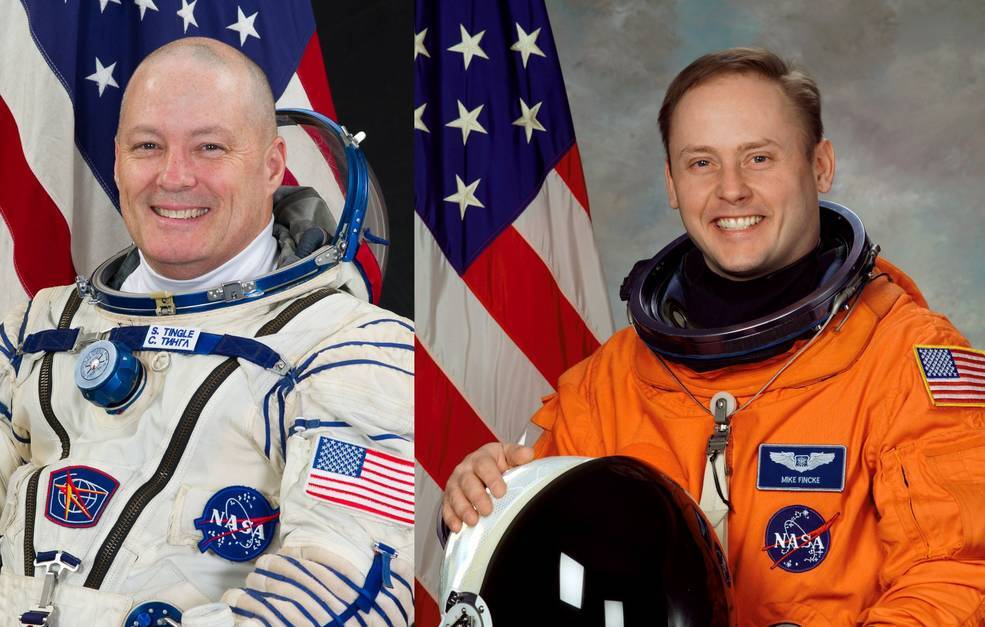 Credits: NASA
NASA has added two astronauts to the agency's Boeing Starliner-1 launch to the International Space Station, the spacecraft's first mission following completion of its flight tests and certification.
Astronauts Scott Tingle and Mike Fincke of NASA will serve as the CST-100 Starliner spacecraft commander and pilot, respectively, for the mission. Both astronauts have previously flown as crew members aboard the space station.
NASA astronaut Jeanette Epps remains assigned as a mission specialist on Starliner-1. Epps also continues cross-training on the Dragon spacecraft to protect for other flight opportunities.
The agency's Starliner crew rotation missions to the space station will carry four crew members at a time. Future crew assignments for Starliner-1 will be made following review and approval by the agency and its international partners.
Starliner-1 will launch following the successful completion of NASA's Boeing Crew Flight Test (CFT), which aims to demonstrate Starliner's ability to achieve NASA certification and safely fly regular crewed missions to space station.
Boeing is targeting launch of its first test flight with astronauts in early February 2023, pending space station program approval, rocket manifest, and confirmation by the Eastern Range. Starliner will launch aboard a United Launch Alliance Atlas V rocket from Space Launch Complex-41 at Cape Canaveral Space Force Station in Florida.
After a successful CFT mission, NASA will begin the final process of certifying the Starliner spacecraft and systems for future crewed missions to the space station as part of the agency's Commercial Crew Program.
For more than 21 years, astronauts have continuously lived and worked aboard the space station, testing technologies, performing science, and developing the skills needed to explore farther from Earth. Regular commercial crew rotation missions enable NASA to continue the important research and technology investigations taking place aboard the station and prepare for future commercial destinations in low-Earth orbit. As part of Artemis, NASA will send astronauts to the Moon to prepare for future human exploration of Mars. Inspiring the next generation of explorers – the Artemis Generation – ensures America will continue to lead in space exploration and discovery.
Quelle: NASA
----
Update: 28.10.2022
.
Boeing's Starliner charges approach $900 million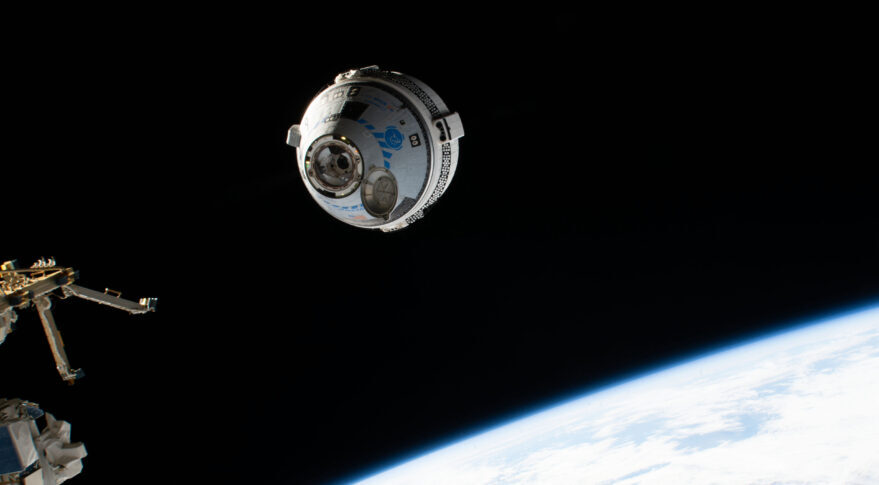 LAS VEGAS — Boeing announced Oct. 26 it will take yet another charge against earnings because of delays in the CST-100 Starliner commercial crew program, bringing the total losses recorded by the company to date on the program to nearly $900 million.
In a filing with the U.S. Securities and Exchange Commission, Boeing announced a charge of $195 million recorded in its fiscal third quarter it blamed on Starliner. It comes after a $93 million charge reported in its second quarter financial results July 27.
The latest charge brings the total losses announced by Boeing on the Starliner program to $883 million dating back to early 2020, when the company took a $410 million charge after a first uncrewed test flight, called Orbital Flight Test (OFT) was cut short by technical problems. The company took an additional $185 million charge in October 2021 when valve problems delayed the OFT-2 mission.
The company blamed the charges in the last two quarters in part on increased costs to get Starliner ready for its first flight with astronauts on board, the Crew Flight Test (CFT) mission, now scheduled for no earlier than February 2023. That will allow operational, or post-certification, missions for NASA to begin as soon as the fall of 2023.
Boeing said the major factor in the latest charge was a change in schedule for those post-certification missions. "The increase recorded in the third quarter of 2022 was primarily driven by timing of the three future post certification missions which are now assumed to be completed by 2026 based on NASA's revised launch plans," the company stated in its SEC filing. "We had previously assumed that the post certification missions would be completed by 2024."
NASA officials have stated that, once Starliner is certified after the CFT mission, it will alternate with SpaceX's Crew Dragon, which has been performing all of NASA's commercial crew missions since being certified after the Demo-2 test flight in mid-2020. Each company would thus conduct one commercial flight for NASA per year.
Boeing's commercial crew contract that NASA awarded in 2014 includes six post-certification missions. NASA awarded the same amount to SpaceX but has twice added missions to the contract, bringing the total to 14 as of the end of August.
Boeing did not discuss in detail commercial crew charge in the press release it issued about its quarterly financial results, stating only that it recorded losses on commercial crew as well as four aircraft programs in its Defense, Space and Security business unit. The company also did not mention the commercial crew charge in an earnings call.
The company did caution in the SEC filing that this latest charge may not be the last for the Starliner program. "Risk remains that we may record additional losses in future periods," it stated.
Quelle: SN
----
Update: 6.11.2022
.
NASA again delays the debut crewed flight of Boeing's troubled Starliner spacecraft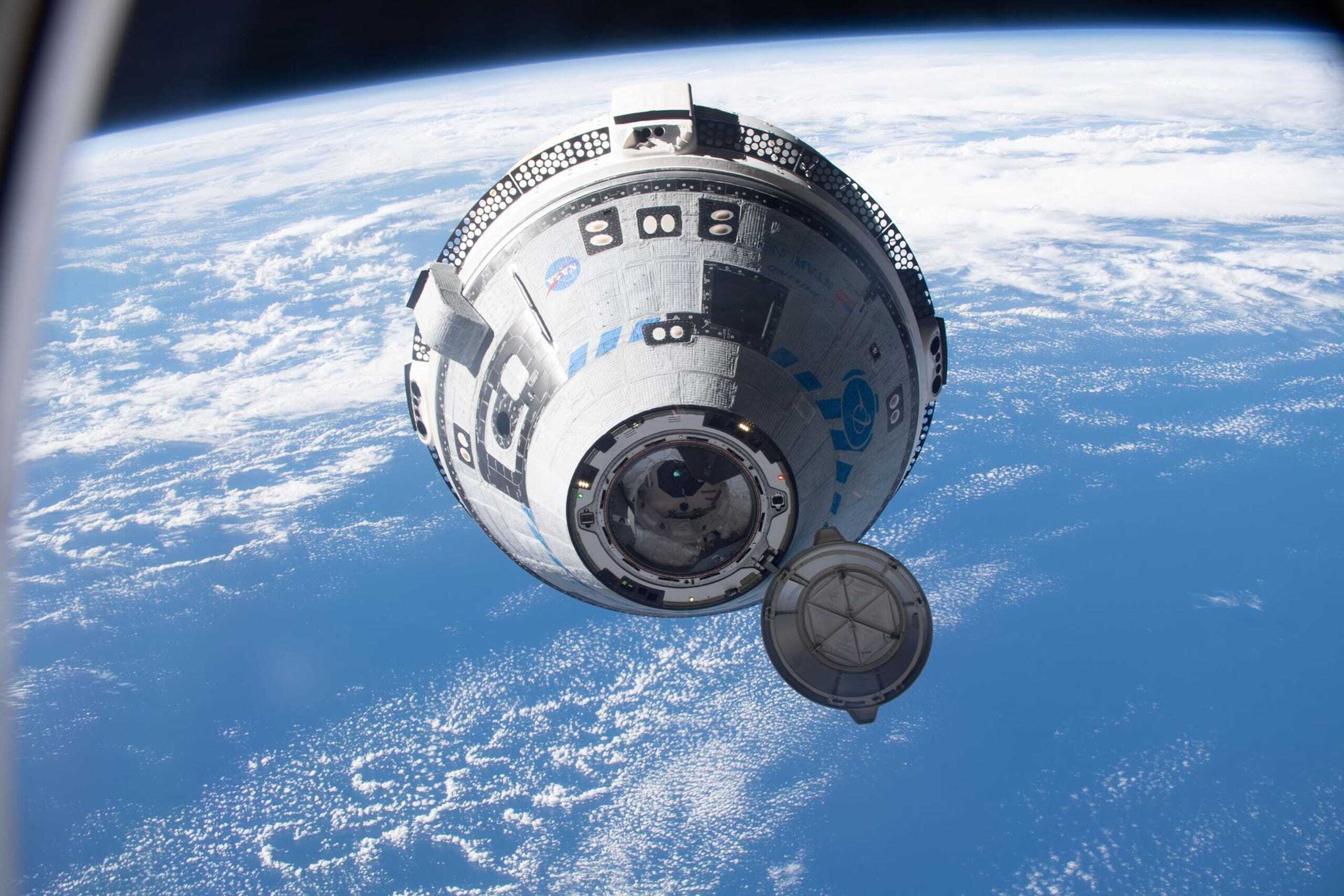 NASA announced new launch dates of its 2023 astronaut missions to the International Space Station and Boeing's debut crewed mission picked up another two-month delay.
The troubled Starliner capsule now won't get its opportunity to launch with crew members any time before April 2023. That's two months later than the previous February 2023 launch date.
The agency said in a blog post that the decision to push back Starliner's Crew Flight Test "deconflicts visiting spacecraft traffic at the space station." NASA also explained it's still working with Boeing to address several remaining issues following the less-than-perfect uncrewed OFT-2 test last May. More information beyond "a variety of verification efforts across several critical systems," was not disclosed however.
The Starliner experienced multiple issues with thruster corrosion prior to an OFT-2 launch attempt and multiple thruster performance issues during the flight test in May. Unfortunately, those thrusters were located on the Starliner's service module which is discarded during re-entry before landing.
In August, Mark Nappi, Boeing Starliner program manager, told reporters, that Boeing teams have made sure "that same condition doesn't exist."
In NASA's blog post, the agency said that all crewed flight test hardware components including the Starliner and the rocket it will launch on, United Launch Alliance's Atlas V, are on track to be completed in the early part of 2023.
The Starliner capsule slated to launch Boeing's first crew of astronauts is a reused one from the first uncrewed orbital flight test back in 2019 called "Calypso."
Boeing recently completed refurbishing the exterior and installing the heat shield. It will be mated with its service module later this year at Boeing's factory located at Kennedy Space Center. That was originally set to occur this month.
Whenever it launches, Starliner's crewed flight test mission will carry NASA astronauts Barry Wilmore and Suni Williams to the ISS for about two weeks.
The goal, to certify Boeing's Starliner human transportation system for future long-duration ISS missions for NASA. The first operational mission won't have an anticipated launch date until the CFT is deemed successful.
Quelle: Florida Today
----
Update: 9.11.2022
.
NASA astronauts debut new patch for Boeing Starliner crew flight test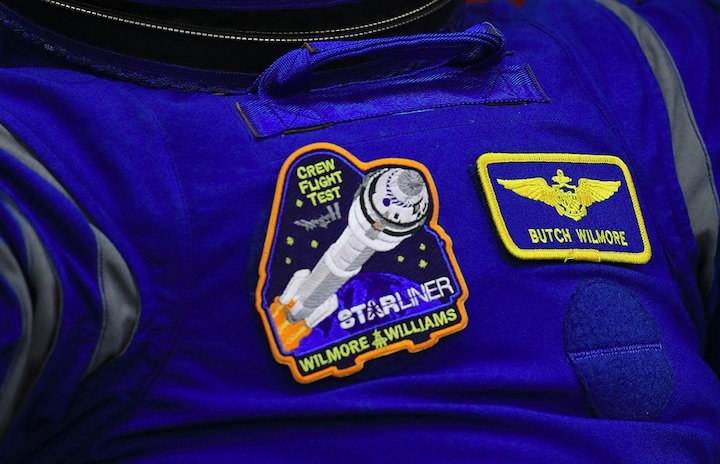 Boeing Starliner Crew Flight Test (CFT) commander Barry "Butch" Wilmore wears the new mission patch for his and Suni Williams' 2023 launch to the International Space Station. (NASA/Kim Shiflett)
The first astronauts set to fly on Boeing's CST-100 Starliner spacecraft debuted a new look for their mission patch during a spacesuit fit check.
Crew Flight Test (CFT) commander Barry "Butch" Wilmore and pilot Suni Williams sported the new insignia during a validation test at the Kennedy Space Center in Florida. The two NASA astronauts, together with their backup Mike Fincke, suited up and tried out the Starliner's pressurized crew module to ensure a good seat fit, suit functionality, audio systems, cabin temperature and day of launch operations.
The test, which Boeing declared a success, was conducted as the Starliner's crew module neared completion and was considered "a measure of confidence" for the astronauts as they continue to work towards their launch, which this month was re-targeted from March to April 2023.
"We are working to have the CFT vehicle ready to fly ahead of the new launch date," Mark Nappi, Boeing's vice president and program manager for the Starliner program, said in a Nov. 3 statement. "With the help of experienced NASA test pilots, Wilmore and Williams, we are closer to our goal of flying a safe and capable spacecraft."
Although the crew validation test was held on Oct. 18, photographs from the event were only released by NASA on Monday (Nov. 7). The images, which showed Wilmore and Williams donning their bright blue pressure suits, also revealed the new CFT mission patch.
Shaped like the Boeing Starliner crew capsule with its attached service module, the emblem depicts the spacecraft launching from Earth atop a United Launch Alliance (ULA) Atlas V rocket. The crew's destination, the International Space Station, is sewn in gray, set against a field of seven yellow stars and the words "Crew Flight Test."
Below the rocket, the patch includes the Starliner logotype and the crew members' names, Wilmore and Williams, separated by the NASA astronaut symbol. The entire insignia is outlined in an orange border, making it stand out from the blue outer fabric of the crew's suits.
The new patch replaces an emblem first introduced in 2019. Created as part of a set, with each patch representing an uncrewed flight test that preceded the CFT, the original insignia was designed with the input of the original flight crew, which did not include Wilmore or Williams.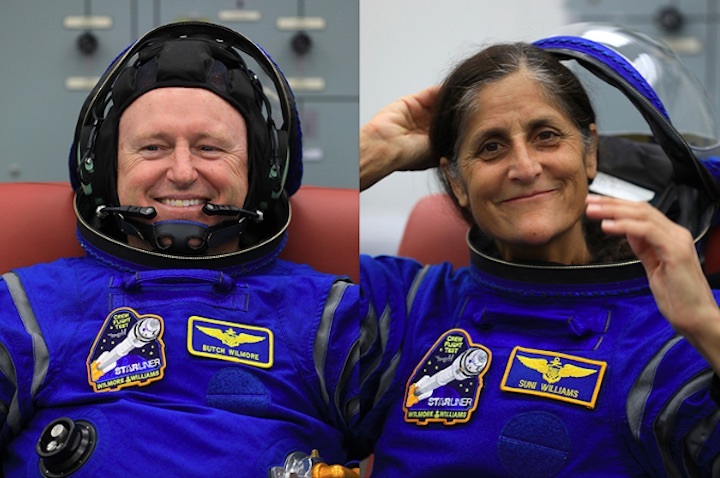 Boeing Starliner Crew Flight Test (CFT) commander Barry "Butch" Wilmore and pilot Suni Williams debut a new look for their mission patch while participating in a crew validation test at NASA's Kennedy Space Center in Florida. (NASA/Kim Shiflett)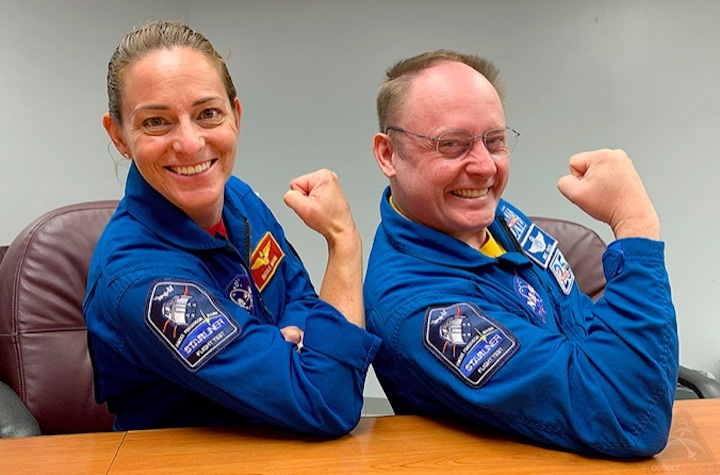 NASA astronauts Nicole Mann and Mike Fincke display the original Boeing Starliner Crew Flight Test (CFT) patch on their shoulders. Both were at one time assigned the CFT crew but were since reassigned to SpaceX's Crew-5 and serving as backup the CFT crew, respectively. (collectSPACE)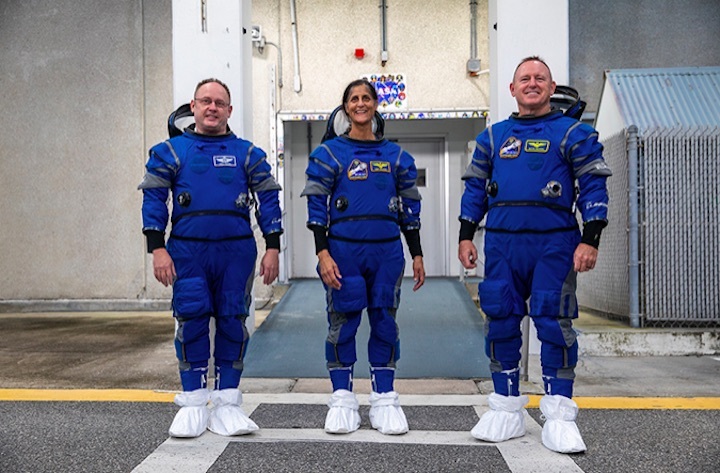 Boeing Starliner Crew Flight Test (CFT) commander Barry "Butch" Wilmore (at right), pilot Suni Williams and backup Mike Fincke outside the Neil A. Armstrong Operations & Checkout Building at NASA's Kennedy Space Center in Florida on Oct. 18, 2022. (NASA/Kim Shiflett)
Quelle: CS
314 Views