1.04.2023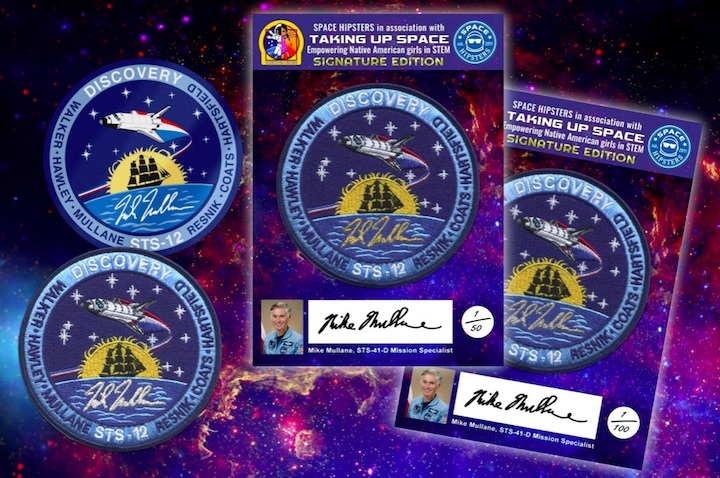 A son's 40-year-old sketch for his astronaut-father's mission patch has been made into a new embroidered emblem to raise funds for the next generation of space explorers.

The "Space Hipsters" Facebook group revealed on Friday (March 31) the next release in their "Signature" space patch series benefiting Taking Up Space, a non-profit that underwrites trips for Native American girls to attend Space Camp. The limited edition badges each feature the embroidered autograph of a former NASA astronaut as part of a design that highlights an aspect of their spaceflight career.

This new release features astronaut Mike Mullane, who flew on board three space shuttle missions, using art that was created for his first flight by his son, Patrick.

Earlier this year, Patrick shared on Facebook his pencil sketch for a possible patch design for his father's launch on the first flight of space shuttle Discovery in 1984.

"Found this sketch I drew probably in 1982/1983," Patrick posted to the Space Hipsters group in January. "It's an early idea for the STS-41D patch that Dad and the crew asked me to draw."

Patrick's drawing depicted Discovery soaring above a three-masted schooner. The sailing ship is shown in silhouette, set against the rising Sun on Earth's horizon.

"I had a few of these sketches — iterations on a similar theme connecting the first flight of Discovery to one of it's old sailing namesakes," wrote Patrick.

NASA named its space shuttle orbiters after ships of exploration. Discovery's primary namesakes were Henry Hudson's Discovery and James Cook's HMS Discovery, two different ships of the same name that sailed in the early 17th and late 18th centuries, respectively.

Ultimately, the crew went with another design, though Patrick's sketch shared some similar elements with what flew on STS-41D. The emblem that Mike Mullane and his crewmates wore still had depictions of Discovery and a sailing ship, but they are positioned opposite each other and without the Sun in the sky. Discovery is also shown deploying one of its payloads, a prototype extendable solar array.

Patrick's design labeled the mission as "STS-12," its designation at the time (STS-41D was the 12th flight of the space shuttle program).

Patrick's sketch caught the attention of the team behind the Hipsters' patch series, leading to the reveal of the new insignia.

"A few minor changes were made with Patrick's agreement to the details to create this embroidered patch, including adding [Charles] Walker to the crew roster (he was added to the crew in May 1983), but overall it remains true to Patrick's original design," wrote Chris Spain, who adapted the sketch to become the new patch. "The design also incorporates 12 stars, which in part follow the constellation Vela, the sail of the Argo, in keeping with the nautical exploration theme."

Patrick made mention of Vela and Argo 40 years ago.

"I also have a note on the bottom in my handwriting that says, 'Vela — one of the sales of the ship Argo,'" he wrote in January. "I didn't recall this reference and had to look it up. Vela is a constellation and is Latin for the word 'sail.' It's part of the larger constellation Argo Navis, a ship. I had wondered if it had 12 stars and therefore had a nice double meaning given the sailing vessel on the patch. But that doesn't seem to be the case. Maybe just a doodle idea that went nowhere."

Like the two earlier "Signature" series patches, which featured Robert "Hoot" Gibson and Fred Haise, the Mullane emblem comes in three different versions:

A limited edition of 50 "gold" patches featuring Mike Mullane's facsimile signature in metallic gold thread that come mounted to individually-numbered display cards, each hand-signed by Mullane.

A limited edition of 100 "silver" patches that render the signature in silver metallic thread. They also come on numbered cards signed by Mullane.

There are also open edition decals and patches. The latter lacks metallic thread and comes without a display card. Mullane's signature appears in white.

The patches are priced at $75 for each gold edition, $50 for silver and $15 for the open edition. Decals are $3 each. Instructions on how to donate the funds to "Taking Up Space" and then order can be found on the Space Hipsters group on Facebook.

Founded in 2016, Taking Up Space is a non-profit dedicated to increasing Native American representation and decreasing the gender gap in STEM (science, technology, engineering and mathematics) fields. In addition to sponsoring trips to Space Camp at the U.S. Space & Rocket Center in Alabama, the Tucson-based organization also provided a 36-week colloquium for middle-school-aged Native American girls to develop and pursue their curiosity, passion and confidence for STEM subjects.
Quelle: CS
131 Views