8.02.2022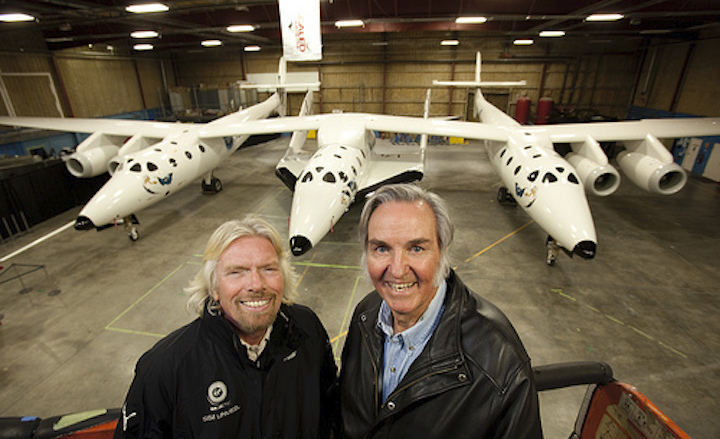 Sir Richard Branson and Burt Rutan pose for a photo in front of the SpaceShip2 resting under the Mothership WhiteKnight2 inside a hangar in Mojave, Calif. (Credit: Virgin Galactic)
MOJAVE, Calif. — The Mojave Air and Space Port has renamed itself to honor aviation and space pioneers Burt and Dick Rutan. The facility in California's High Desert is now known as the Mojave Air and Space Port at Rutan Field.
"Whereas, Burt Rutan and Dick Rutan have made significant contributions in experimental aviation design, fabrication, and flight test at Mojave Air and Space Port, with their combined contributions resulting in first flights of over sixty unique experimental aircraft, including one twenty-year period with an average of a first flight of a new manned research type every eight and a half months," the Board of Directors said in a resolution passed last month.
"Whereas, Mojave Air and Space Port is the preeminent flight test airport with the greatest number of first flights of new designs, and two dozen world records in aviation, over half of which were accomplished due to the efforts of the Rutans," the resolution added.
CEO Todd Lindner said renaming the airport could cost more than $100,000.
"Branding quotes received to this point range in price from $24,000 to $45,000. Most of these programs may be tailored in a manner to allow implementation as the organization desires," Lindner wrote in a memo to the board. "Visual mediums such as entry signs, billboards, vehicle markings and other visible elements representative of the organization serve as a foundation for marketing and branding. In addition to the 'Mojave Air & Space Port' two signs attached to the administration building and Air Traffic Control Tower, there are no less than three entry way signs located near the various entries welcoming patrons to the facility. Mojave Air & Space Port was provided a conservative estimate of approximately $56,000 to $60,000 to modify these signs."
Lindner recommended that the changes be implemented incrementally as the spaceport's budget allows. The board has formed a committee to oversee the process.
Burt Rutan is a renowned aircraft and spacecraft designer who put the Mojave Airport on the map, and built a suborbital vehicle named SpaceShipOne that resulted in the former Marine Corps training facility being designated as a spaceport in 2004. The rocket-powered SpaceShipOne became the first privately-built crewed vehicle to fly to space that year.
Five of his companies' vehicles — SpaceShipOne, Voyager, Virgin Atlantic GlobalFlyer, VariEze and Quickie — are on display at the Smithsonian Institution's National Air and Space Museum.
Dick Rutan is a decorated U.S. Air Force fighter pilot and test pilot who holds multiple aviation records, including one for the first non-stop, round-the-world flight aboard an aircraft designed by his brother.
In 1974, Burt Rutan founded Rutan Aircraft Factory at the Mojave Airport. The company, which operated until 1985, developed a series of innovative homebuilt aircraft that buyers could assemble.
Rutan Aircraft's most famous airplane is Voyager. In December 1985, Dick Rutan and Jeana Yeager became the first pilots to make a non-stop flight around the world without refueling or stopping. Their flight covered 26,366 statute miles and took 9 days, 3 minutes and 44 seconds.
The Rutan brothers and Yeager were awarded the Collier Trophy, the Presidential Citizens Medal from President Ronald Reagan, and the Gold Medal from the Royal Aero Club.
In 1982, Burt Rutan founded Scaled Composites to conduct research and development in advanced aircraft. As its name implies, the company produced a number of vehicles built with composite materials instead of the aluminum that went into most airplanes.
In 1996, Peter Diamandis' XPRIZE Foundation launches a $10 million prize for the first privately-built crewed vehicle to fly to suborbital space twice within two weeks. Burt Rutan and a team at Scaled Composites developed SpaceShipOne with $24 million in funding from Microsoft cofounder Paul Allen.
On June 21, 2004, Mike Melvill flew SpaceShipOne above the Karman line at 100 km (62.1 miles) after being air launched from its White Knight mothership. The Federal Aviation Administration awarded Melvill with astronaut wings for the historic flight.
Mike Melvill and Brian Binnie flew suborbital flights in September and October 2004 to claim the $10 million Ansari X Prize. SpaceShipOne was retired and flown to Washington, D.C., for display in the National Air and Space Museum's Milestones of Flight gallery.
British billionaire Richard Branson licensed the technology and teamed with Scaled Composites to develop a larger suborbital spacecraft named SpaceShipTwo flown by two pilots with up to six passengers in the cabin.
Branson projected commercial space tourism flights would begin as early as 2009. A series of technical problems and two fatal accidents have resulted in more than a decade of delays. SpaceShipTwo VSS Unity finally reached space in December 2018. Commercial flights are now forecast for the fourth quarter of 2022.
Another Mojave company, XCOR Aerospace, created the EZ-Rocket by putting a liquid rocket in a Rutan Long-EZ airplane. In December 2005, Dick Rutan set a point-to-point distance record for a ground-launched, rocket-powered airplane by flying 10 miles from the Mojave Air and Space Port to the California City Airport. He received the 2005 Louis Bleriot Medal from the Fédération Aéronautique Internationale for this achievement.
In 2006, Steve Fossett flew Scaled Composites Virgin Atlantic GlobalFlyer jet on the first solo nonstop flight around the world. The record breaking flight took 67 hours.
Burt Rutan sold Scaled Composites to Northrop Grumman in 2007. He retired from the company in 2011 and now lives in Idaho.
Quelle: Parabolic Arc
551 Views