15.01.2022
Astra Rocket 3 Set to Launch from Cape Canaveral Tuesday, Jan. 18
LAUNCH WINDOW WILL BE OPEN FROM 1:00-4:00 P.M. ET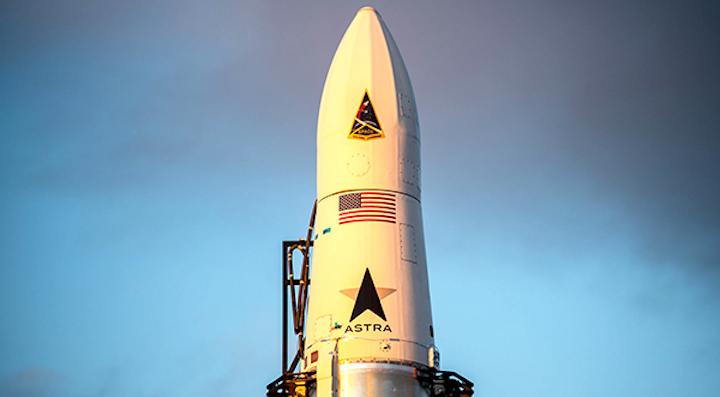 BREVARD COUNTY • CAPE CANAVERAL, FLORIDA – Astra Space has announced that it plans to deploy its first satellite in orbit for NASA when it launches a Astra Rocket 3 (VCLS Demo 2) on Tuesday, January 18, from Cape Canaveral.
The launch from Cape Canaveral will be conducted out of Space Launch Complex 46 (SLC-46) and will be Astra's first launch out of Cape Canaveral.
Launch window will be open from 1:00-4:00 p.m. EST.
"This historic launch site has been prepared for a new commercial launch partner in less than year, which is a tremendous milestone for our combined team, and illustrates how SLD 45 sets the pace for access to space." said Brigadier General Stephen Purdy, Commander of Space Launch Delta 45 and Director of the Eastern Range. "SLD 45, Space Florida, and Astra have moved at a rapid speed to demonstrate critical and responsive launch capabilities. We are excited to welcome Astra to Cape Canaveral Space Force Station."
Astra and Space Launch Delta 45, a part of the United States Space Force, enabled Astra to launch out of Cape Canaveral in record time – shortening the multi-year approval time to months.
"Launching out of the Cape allows us to serve customers with mid-inclination delivery needs, broadening our market," said Martin Attiq, Chief Business Officer at Astra.
"This is an additional step in our global spaceport strategy and positions us to serve the broad low earth orbit (LEO) market."
About Astra
Astra's mission is to improve life on Earth from space by creating a healthier and more connected planet. Today, Astra offers the lowest cost-per-launch dedicated orbital launch service of any operational launch provider in the world. Astra delivered its first commercial payload into Earth orbit in 2021, making it the fastest company in history to reach this milestone, just five years after it was founded in 2016. Astra (NASDAQ: ASTR) was the first space launch company to be publicly traded on Nasdaq. Visit astra.com to learn more about Astra.
Quelle: SPACE COAST DAILY
----
Update: 17.01.2022
.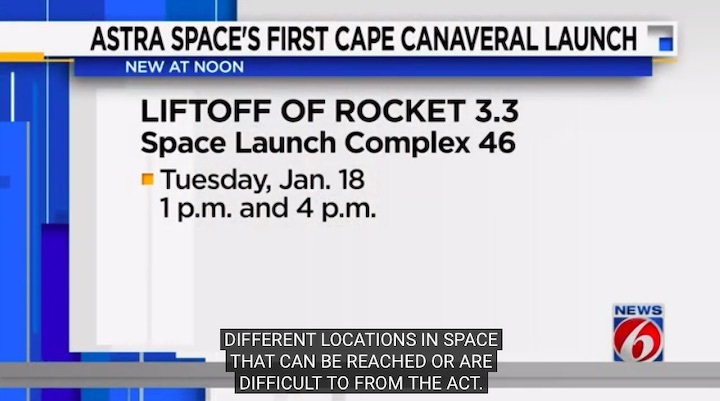 Quelle: News6
----
Update: 19.01.2022
.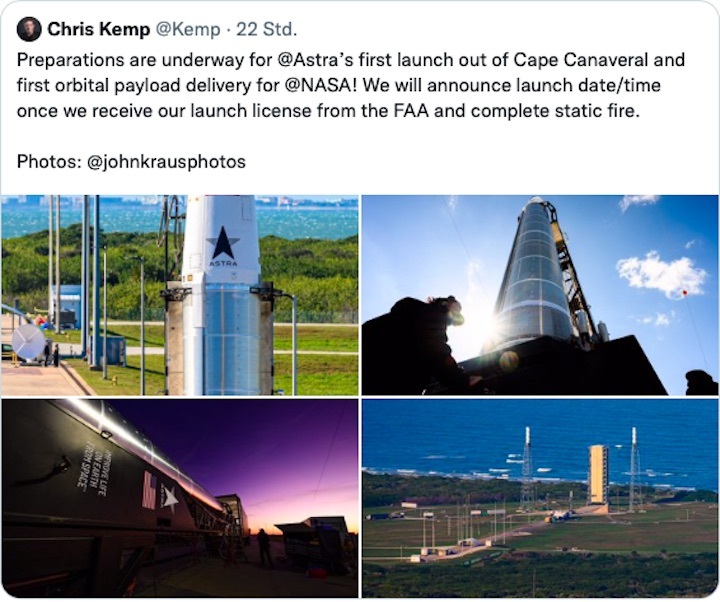 ----
Update: 24.01.2022
.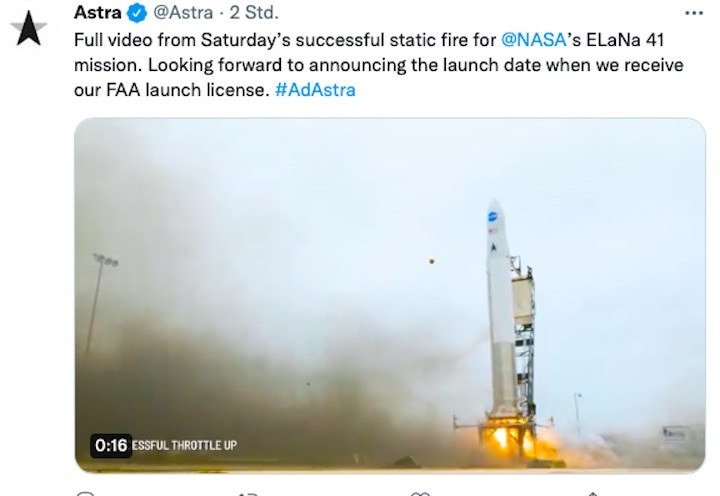 Quelle: ASTRA
----
Update: 1.02.2022
.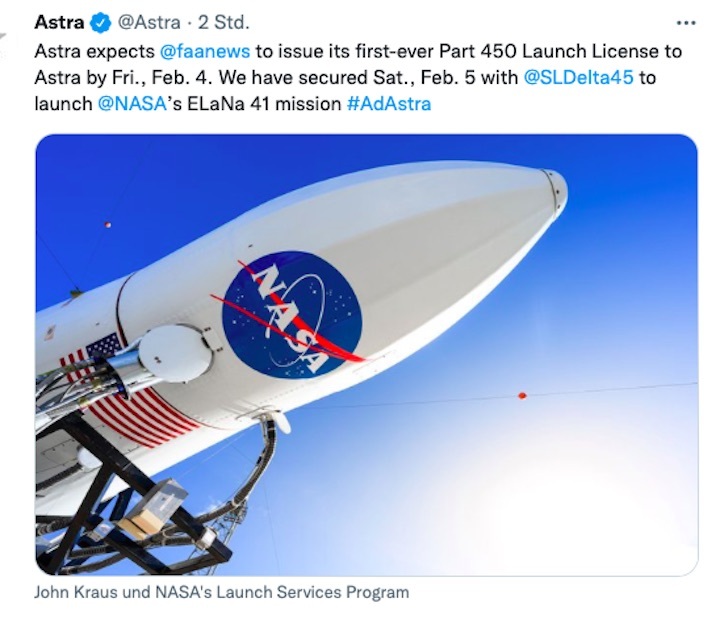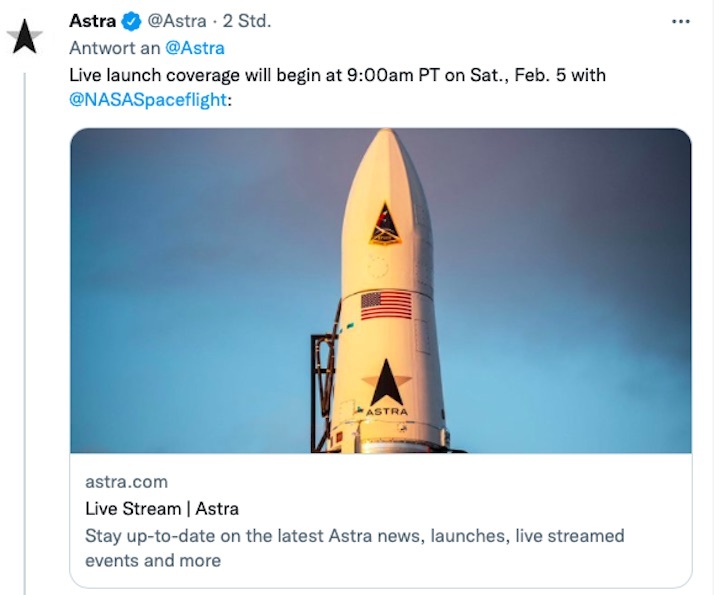 Quelle: Astra
+++
Astra finalizes plans for first Florida launch
WASHINGTON — Astra Space will launch four NASA-sponsored cubesats on its Rocket 3.3 vehicle as soon as Feb. 5 on a mission that will be the first to use a streamlined set of commercial launch regulations.
Astra announced Feb. 1 that it expected to launch its vehicle from Space Launch Complex 46 at Cape Canaveral Space Force Station in Florida on Feb. 5, pending receipt of a launch license from the Federal Aviation Administration's Office of Commercial Space Transportation, which the company expects by Feb. 4. A three-hour launch window opens at 1 p.m. Eastern, with a backup launch opportunity Feb. 6.
Astra announced Dec. 6 that its next launch would take place from Cape Canaveral after conducting previous launches from Pacific Spaceport Complex – Alaska on Kodiak Island. That included four orbital launch attempts, the most recent of which, Nov. 20, was the first to reach orbit.
This launch will be Astra's first mission with an operational payload, a set of cubesats on a mission called Educational Launch of Nanosatellites (ELaNa) 41 by NASA. The agency awarded Astra a $3.9 million contract in December 2020 for the launch through its Venture Class Launch Services (VCLS) Demo 2 competition.
"As the first VCLS mission to lift off from Florida's Space Coast, this launch is ushering in new opportunities for cubesat developers and small class launch vehicle providers," said Hamilton Fernandez, mission manager supporting NASA's Launch Services Program, in an agency statement. Launches under previous VCLS contracts took place from New Zealand on Rocket Lab's Electron and off the California coast by Virgin Orbit's air-launch LauncherOne system.
Three of the cubesats on ELaNa 41 are from universities. BAMA-1, from the University of Alabama, will test a drag sail designed to rapidly deorbit the satellite. INCA, from New Mexico State University, will carry out measurements to improve space weather models. QubeSat, from the University of California Berkeley, will test how quantum gyroscopes operate in the space environment. A fourth satellite RS-51, is from NASA's Johnson Space Center and will test a fast and cost-effective way to build cubesats and demonstrate some in-space inspection technologies.
Astra says the launch will be the first licensed under what the FAA calls Part 450, a new set of streamlined commercial launch regulations finalized in October 2020 and which took effect in March 2021. Existing licenses based on earlier regulations were grandfathered in but will gradually transition to the new regulations over several years.
One key element of Part 450 is enabling a single license to cover launches of the same vehicle from multiple sites. Astra said that it took three months to obtain the license and that it expects the license to, "with planned modifications, make it easier for Astra to launch at a higher frequency out of more launch sites in the United States."
Quelle: SN
----
Update: 5.02.2022
.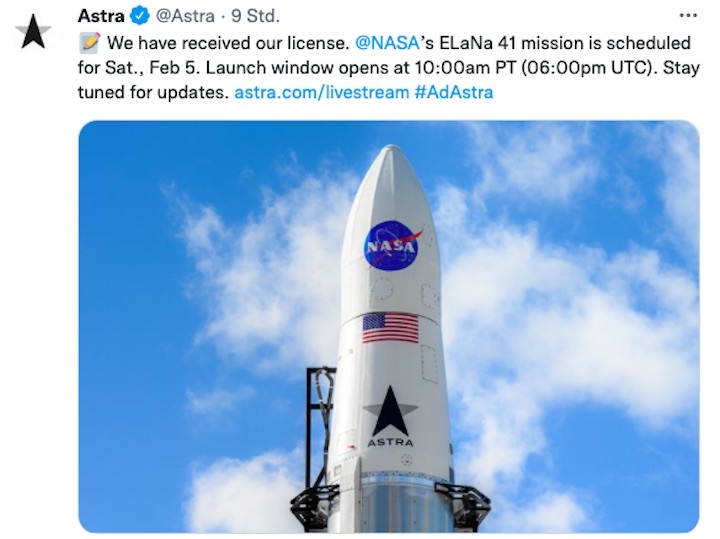 Quelle: Astra, Twitter
+++
Startabbruch:
Verzicht auf den heutigen Start der ELaNa 41-Mission von NASA aufgrund eines Range-Assets, das außer Betrieb gegangen ist. Das Team bereitet sich auf die nächste Gelegenheit am Sonntag, den 6. Februar vor.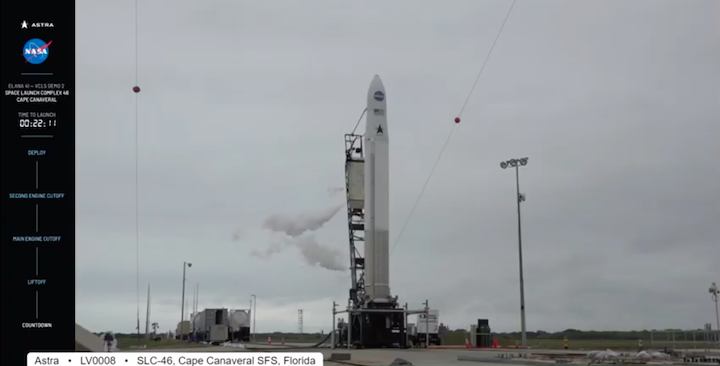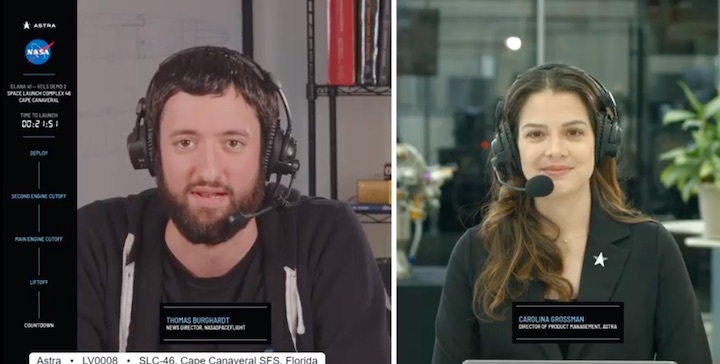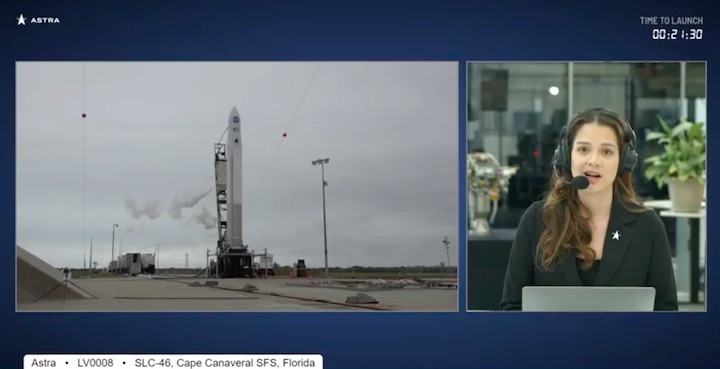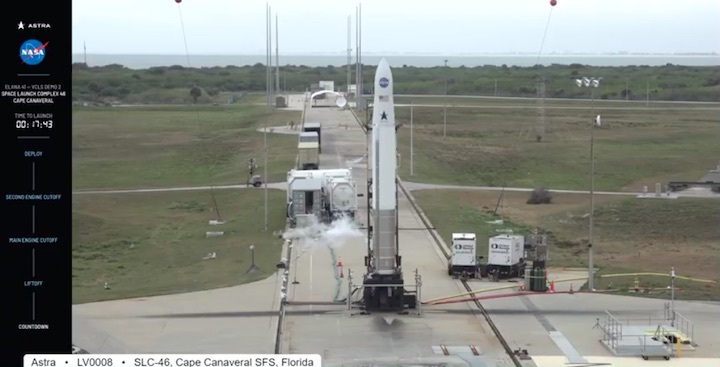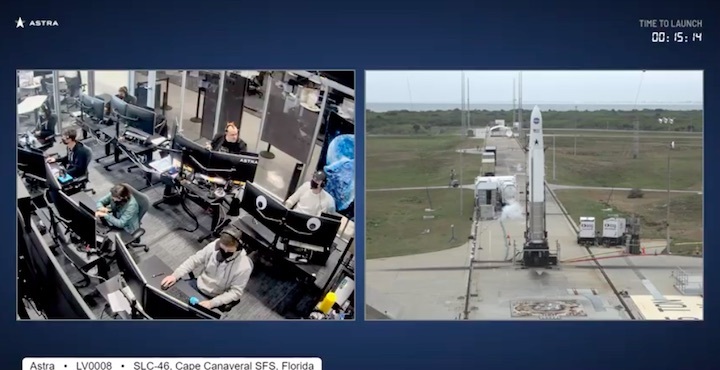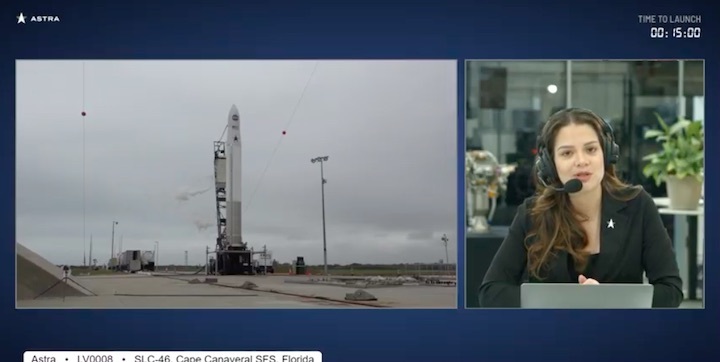 Quelle: ASTRA
----
Update: 6.02.2022
.
Astra scrubs first Florida launch due to hardware issue at Cape Canaveral
UPDATE: Astra now says the next launch attempt will be no earlier than Monday. The launch window remains from 1 p.m. to 4 p.m. Weather should be 80% "go" according to the Space Force.
Space startup Astra scrubbed its first Florida launch Saturday, citing a hardware failure at Cape Canaveral Space Force Station as the cause.
Teams at Launch Complex 46 were working with a three-hour window, but were unable to clear the issue in time before it closed at 4 p.m. EST. It would have marked Astra's first Florida mission as well as the first for NASA, its customer.
"We are standing down today due to a range equipment failure causing a critical range detection asset to be unavailable to support our launch," Astra co-founder and CEO Chris Kemp said via Twitter.
Teams are targeting a 24-hour turnaround – 1 p.m. to 4 p.m. EST Sunday, Feb. 6 – for the next attempt.
Weather, according to the Space Force, should be 40% "go" due to cumulus clouds and the potential for rocket-triggered lightning.
663 Views