9.02.2022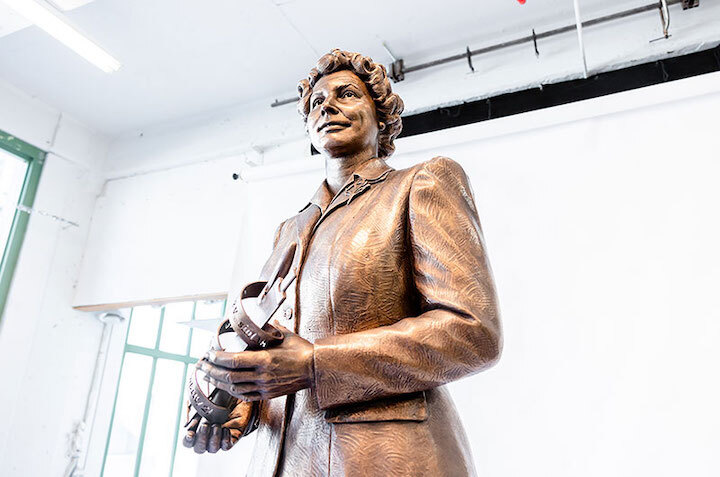 In life, Mary Golda Ross helped develop a rocket stage that served as a rendezvous and docking target for astronauts preparing to go to the moon. Now, a new statue of the trailblazing Native American woman will help steer a new generation toward the stars.

Olay, the skin care company, is unveiling the new statue of Ross on Monday (Feb. 7), ahead of it going on public display on Feb. 23 at the First Americans Museum in Ross' home state of Oklahoma. The monument was designed with advice from the staff at the Smithsonian National Air and Space Museum to ensure that it was historically accurate.

"Knowing young girls need to see themselves in these roles before they can dream of pursuing them, Mary's story will now inspire generations of women of all backgrounds to #FaceAnything and explore STEM careers," Olay wrote in a press release, adding that the statue was part of its annual $1 million donation for the second year of its ten-year effort to close the gender gap in science, technology, engineering and mathematics (STEM) fields.

"Olay is committed to #FaceTheSTEMGap by helping to double the number of women in STEM and triple the number of women of color in STEM by 2030," the company said.

Monday's unveiling, which was timed to precede the International Day of Women and Girls in Science on Feb. 11, reflects Ross' own work to inspire others.

"Mary encouraged everyone to seek education, because no one can ever take that from you. She pushed people to continuously better themselves and create their own opportunities through hard work and perseverance," Ross' family said in a statement released by Olay and the Mary Golda Ross Trust. "This statue will remind the public of what is possible when they believe in themselves and push to break through glass ceilings."

As a member of the Cherokee Nation, Ross was the first-known Native American woman to become an aerospace engineer and first female engineer to be hired by the Lockheed Corporation (today, Lockheed Martin), where she was one of the 40 founding members of the storied and highly-secretive Skunk Works project.

"Although much of her work remains classified, she is recognized as an important contributor to the 20th-century aerospace technologies and interplanetary exploration," the plaque at the base of her new statue reads. "In Ross' words, 'We were taking the theoretical and making it real.'"

Among Ross' known work is the development of Agena rocket, an upper stage that was used to launch Corona reconnaissance satellites and more than 30 NASA payloads. During the Gemini program, the precursor program to the Apollo moon landings, NASA chose the Agena to serve as a target vehicle for astronauts to practice the critical skills of rendezvous and docking.

The Agena was also used to send three Mariner probes to Venus and the two to Mars. In 1963, Ross was one of the authors of NASA's Planetary Flight Handbook, which covered space travel to Venus and Mars.

The life-size statue of Ross depicts her in a skirt suit similar to how she appeared in a circa 1950 Lockheed promotional photo, complete with a large flower brooch on her lapel. She was sculpted holding a model of an Atlas-Agena rocket and a slide rule wrapped in a scroll engraved with the equation that describes the energy needed for a spacecraft to depart Earth and reach the orbit of another planet.

The First Americans Museum, located in Oklahoma City, shares the cultural diversity, history and contributions of the 39 distinct tribal nations in Oklahoma. The museum also displays a painting of Ross, whose great-great grandfather was Cherokee Chief John Ross.

The statue, donated by Olay, is the latest honor for Ross, who died in 2008 at the age of 99. She was earlier recognized with a Google "Doodle" in 2018 and with her depiction on the U.S. Mint's 2019 Native American $1 coin, which celebrated the roles of Native Americans in space exploration.

"Olay hopes Mary Golda Ross' story will continue to inspire many generations of woman from all backgrounds to face anything and explore STEM careers to one day achieve greater equity in STEM," the company inscribed on the statue's base.
Quelle: CS
416 Views