7.05.2020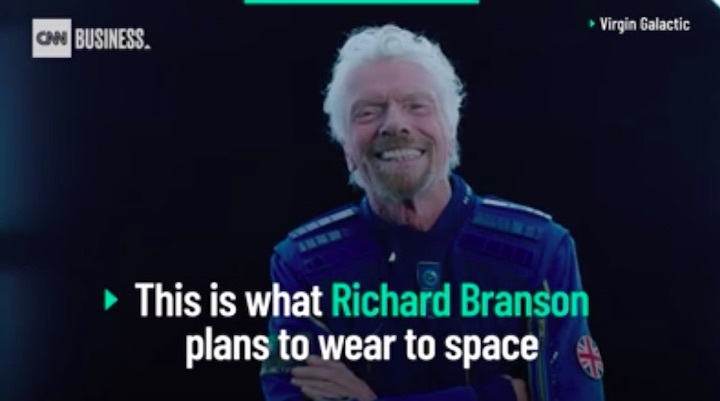 Virgin Galactic, the space tourism company slated to begin flying customers in the near future, posted a net loss of $60 million for the first three months of 2020.
The company's latest
earnings report
comes as it continues to work toward beginning commercial operations. Its shares have been
hammered
by the economic fallout from the Covid-19 pandemic over the past few months, just like the broader stock market, but the company's stock is still up about 50% so far in 2020.
Virgin Galactic's founder, British billionaire Richard Branson, is expected to be the first non-crew member to fly aboard the company's suborbital vehicle, SpaceShipTwo. The company has said it's working to reach that milestone this year.
Galactic plans to send groups of paying customers on brief, scenic flights to the edge of space, where they'll float weightless for a few minutes while viewing the cosmos through the plane's windows. They'll also encounter intense G-forces as the space plane rockets its way to more than 50 miles above Earth.
Tickets for the trip to space were sold for about $250,000, and the company says it had received about 600 reservations. Plans to re-open ticket sales kicked off a few months ago, and CEO George Whitesides said about 400 people have so far put down $1,000 refundable deposits. Whitesides has said newly sold tickets will likely be
even pricier
than $250,000.
Sam Korus, an industrial innovation analyst at ARK Invest, said the additional deposits showed that there could be sustained interest in space tourism.
"Coming into this earnings call with the environment as is, it was all steps in the right direction," Korus said, referring to the ongoing Covid-19 pandemic.
Korus said he was also encouraged by the fact that Virgin Galactic reported having about $420 million in cash on hand, suggesting the company could have enough money to finish its test flights before commercial operations begin.
Galactic's meteoric rise is evidence of Wall Street's
hunger to invest
in cutting-edge space companies. And though Virgin Galactic is only a small slice of that industry, it is the only so-called "new space" company that's publicly traded. The biggest players, including SpaceX and Blue Origin, are private and will likely
remain
that way for the immediate future.
But Galactic's rise in market value since the start of the year came as the company reported no big changes in its underlying business.
Morgan Stanley said in a research note last week that it considers Virgin Galactic's stock to be an attractive investment "in part due to its position as the only pure-play publicly traded space" company, and "a growth outlook we see as largely insulated from Covid-19 factors."
Analysts have also hyped up the potential for Galactic to parlay its rocket technology into an air travel business that shuttles people between cities at record speeds. One
analyst
predicted such an industry could grow to bring in roughly $300 billion in annual revenue.
Virgin Galactic has long talked about conducting point-to-point flights. Boeing (
BA
) in October invested $20 million in the company in a deal focused largely on aiding development of high-speed transportation, and Virgin Galactic announced Tuesday that it signed a deal with NASA to aid that development.
Developing supersonic point-to-point travel technology, which many companies in the aerospace world are taking on to various degrees, is likely still years away from reality.
So far, Virgin Galactic has completed two powered test flights to the edge of space over the company's testing facilities in Mojave, California.
The company's space plane was recently transported to New Mexico, the eventual launch destination for Virgin Galactic's tourism customers. Last week, its space plane conducted a glide test, in which the space plane took flight but did not power up its rocket engine, over New Mexico.
"The fact that we were able to get this flight off in that time was heartening to me, because it suggested that we are able to create updated operational protocols that allow our team to operate safely" during the pandemic, Whitesides said during a conference call Tuesday.
Quelle: CNN
1917 Views