5.02.2023
Space Force: Weather so-so for weekend SpaceX launch from Cape Canaveral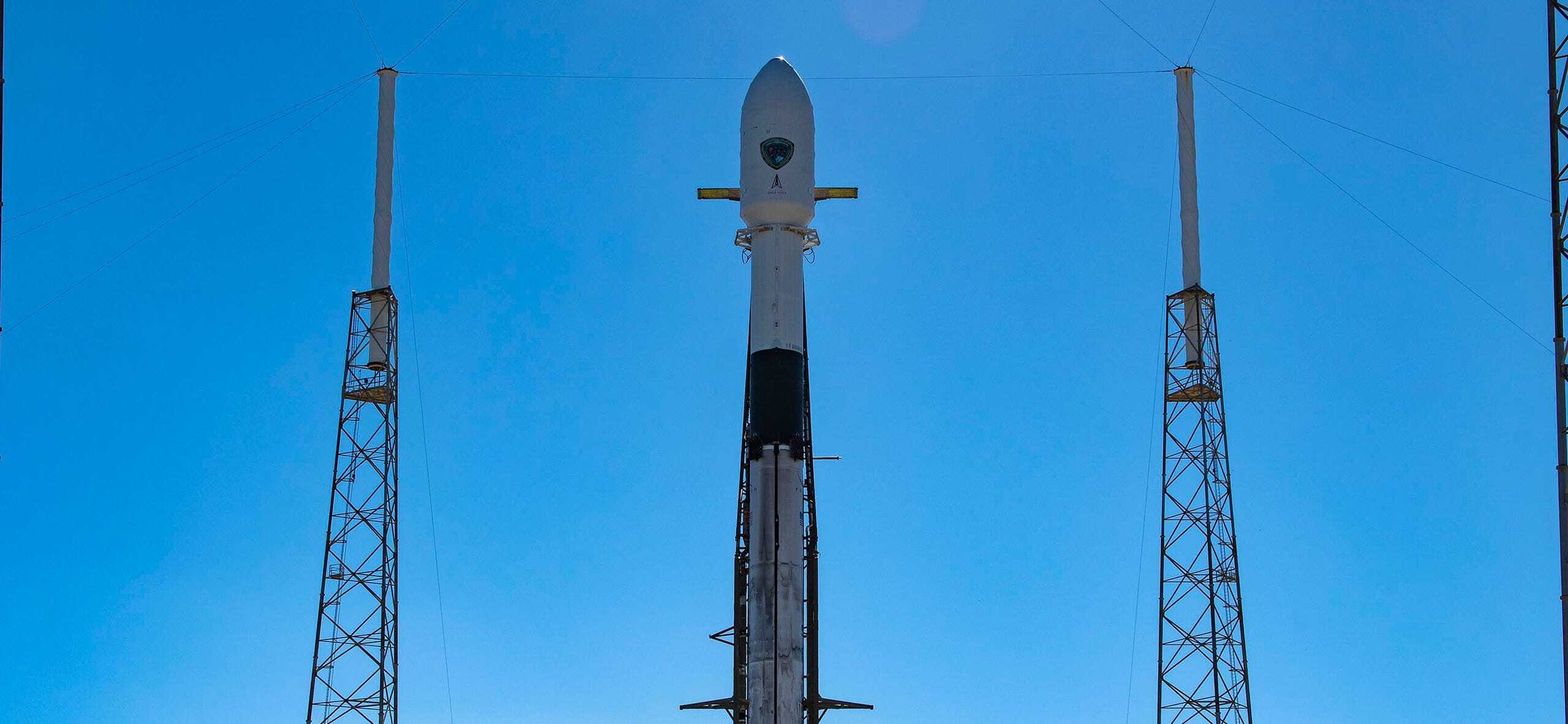 Weather forecasters, citing the possibility of scattered showers, are projecting iffy conditions for SpaceX's next launch of a commercial communications satellite from Cape Canaveral Space Force Station.
If schedules hold, SpaceX teams at Launch Complex 40 are likely to face 55% "go" conditions during a four-hour window that opens at 5:32 p.m. EST Sunday, Feb. 5. Space Force forecasters also said recovery of the Falcon 9 rocket's first stage on a drone ship was likely to be "high risk" due to rough conditions in the Atlantic Ocean.
"Although there still remains uncertainty among the models, moisture and scattered showers will push back into the area by Sunday afternoon," Space Launch Delta 45 forecasters said Friday. "While some dry air in the mid-levels will likely cap off deeper development, there is a threat for a cumulus cloud rule violation due to the scattered showers, and to a lesser degree, a thick cloud layers rule violation."
In the event of a delay to Monday due to weather or technical reasons, conditions are expected to dramatically improve to 90% "go." Drone ship recovery conditions look better, too.
Secured in the rocket's payload fairing is Amazonas Nexus, a roughly 10,000-pound commercial communications satellite owned by Spanish operator Hispasat. Once in orbit some 22,300 miles above Earth, it will provide coverage to the Americas, Greenland, and the north and south Atlantic.
After liftoff Sunday, the 230-foot rocket will fly an eastern trajectory before touchdown on the Just Read the Instructions drone ship.
The Eastern Range's schedule beyond Feb. 5 is up in the air. A SpaceX Starlink mission could fly from the Cape as soon as Feb. 11, but that remains to be seen as the company has not yet filed plans with federal agencies that oversee launch activities.
Quelle: Florida Today
----
Update: 6.02.2023
.
Live coverage: SpaceX delays launch of Amazonas Nexus satellite until Monday
SpaceX will try again Monday to launch a Falcon 9 rocket from Cape Canaveral with Amazonas Nexus, a powerhouse satellite owned by the Spanish company Hispasat to connect trans-Atlantic airline passengers, maritime traffic, and rural communities across the Americas.
The launch was delayed from Sunday due to poor weather at the launch site, and unfavorable conditions downrange in the Atlantic Ocean, where SpaceX plans to land the Falcon 9's first stage booster on a drone ship.
Much better conditions are forecast Monday, with a 95% chance of acceptable weather for liftoff of the Falcon 9 rocket from pad 40 at Cape Canaveral during a four-hour launch window opening at 5:32 p.m. EST (2232 GMT).
The 229-foot-tall (70-meter) Falcon 9 rocket will head east from Cape Canaveral to deliver Hispasat's Amazonas Nexus satellite into an elliptical "super synchronous" transfer orbit stretching tens of thousands of miles above Earth at its highest point. It will take about 36 minutes for the rocket to release its payload into the targeted orbit.
After deploying its solar arrays, the spacecraft will use its own plasma propulsion system to gradually reshape its orbit over the next few months, eventually settling into a circular geostationary orbit more than 22,000 miles (nearly 36,000 kilometers) over the equator.
Ground teams will put the satellite through a comprehensive series of tests after it arrives on station. Amazonas Nexus is scheduled to commence operational service in July to begin a planned 15-year mission.
"Amazonas Nexus is the most advanced satellite of Hispasat's fleet. It's a very special satellite," said Ignacio Sanchis, Hispasat's chief commercial officer.
Hispasat, based in Madrid, operates seven commercial communications satellite in geosynchronous orbit with coverage over the Americas, Europe, and North Africa. Through an affiliate, Hispasat also holds partial ownership over two communications satellites providing services for the Spanish government.
Amazonas Nexus will be positioned at 61 degrees west longitude, where its orbit will match the rate of Earth's rotation, giving the satellite a fixed field of view for its communications mission. The satellite will be co-located with three other Hispasat satellites at 61 degrees west: Amazonas 2, Amazonas 3, and Amazonas 5.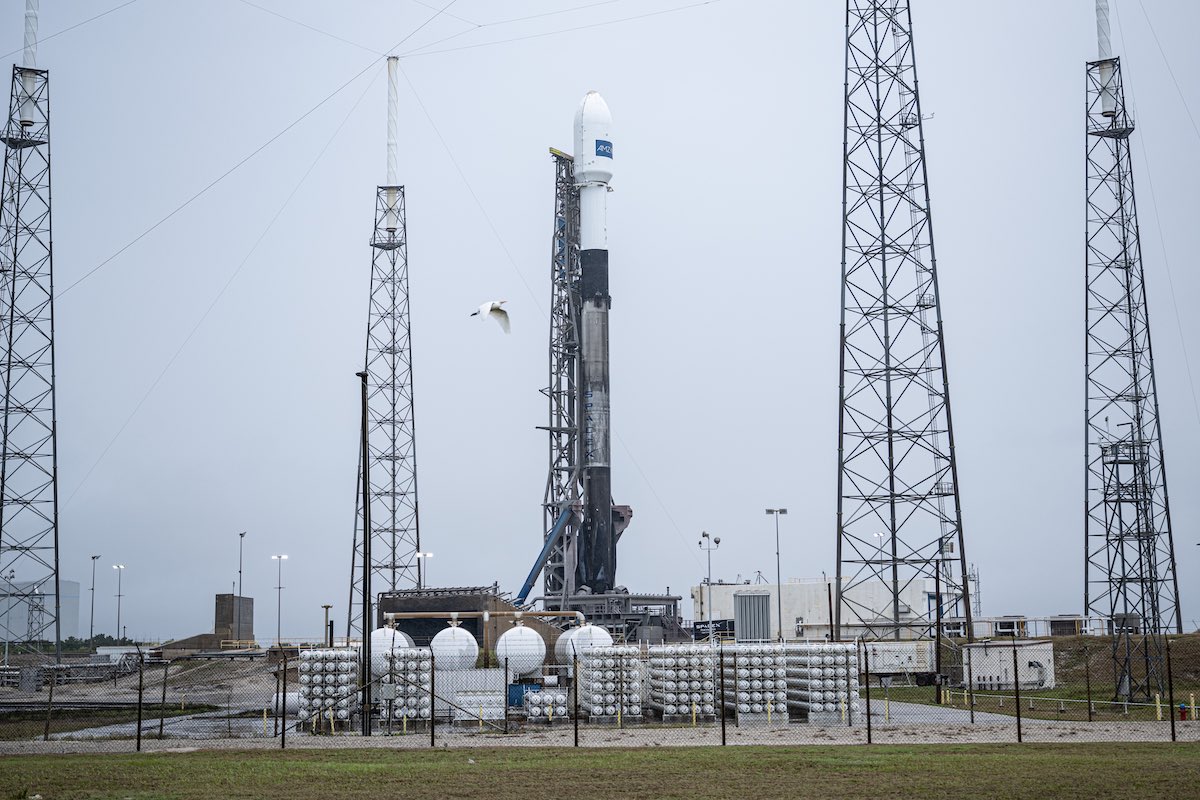 Built by Thales Alenia Space in Cannes, France, the new spacecraft carries Ku-band and Ka-band communications payloads and a "leading edge" digital processor, providing Hispasat with the ability to reconfigure beams from Amazonas Nexus to meet changing market demands, Sanchis told Spaceflight Now in a pre-launch interview.
"That makes it, really, a different asset within our fleet," Sanchis said. "The satellite will cover all of the Americas, plus the North Atlantic and South Atlantic corridors. As you can already guess from that, one of the main target markets for this satellite is mobility, in particular in-flight connectivity and maritime (services).
"We will also be providing connectivity services for governments and corporations in the fields of energy, oil and gas, etc., as well as telcos and mobile network operators in extending their cellular networks through cellular backhaul. All of these are the main target markets for Amazonas Nexus."
About two-thirds of the network capacity on the Amazonas Nexus satellite has already been sold to customers, according to Sanchis. The new satellite will help "reduce the digital divide by connecting rural communities, including connecting schools, providing telemedicine applications."
"It's a high throughput satellite, but rather than focusing it on residential or consumer broadband, we are focusing it on premium corporate applications in mobility, maritime, in-flight, and other corporate and telco applications," he said.
Hispasat ordered the Amazonas Nexus satellite from Thales in January 2020. The satellite, built on Thales' Spacebus Neo platform, weighs 9,140 pounds (4,146 kilograms) in launch configuration, according to a Hispasat spokesperson. Amazonas Nexus stands about 20 feet (6 meters) tall, and will extend power-generating solar panels to a span of more than 100 feet (30 meters) after separating from the Falcon 9.
Amazonas Nexus will replace the Amazonas 2 satellite, which launched in 2009.
"While it will actually replace, over time, Amazonas 2, it's a totally different concept. Amazonas 2 has also a focus on video applications, broadcast direct to home in Latin America, while Amazonas Nexus is fully devoted to connectivity, not just in Latin America, but a great deal of the capacity is devoted to North America and the North Atlantic," Sanchis said.
Amazonas Nexus has a dedicated payload to provide services for Tusass, the national telecom operator of Greenland, to connect towns, villages, and citizens across the country. Another customer signed up to use Amazonas Nexus is Intelsat, which will provide bandwidth for in-flight WiFi for airline passengers over the United States through the service formerly known as Gogo.
The U.S. Space Force also has a transponder on the Amazonas 2 satellite for communications coverage. The military's hosted payload, called Pathfinder 2, is led by the service provider Artel and supported by Hunter Communications. Pathfinder 2 consists of a 108 MHz payload that meets the Defense Department's security requirements to supplement the military's own communications satellites.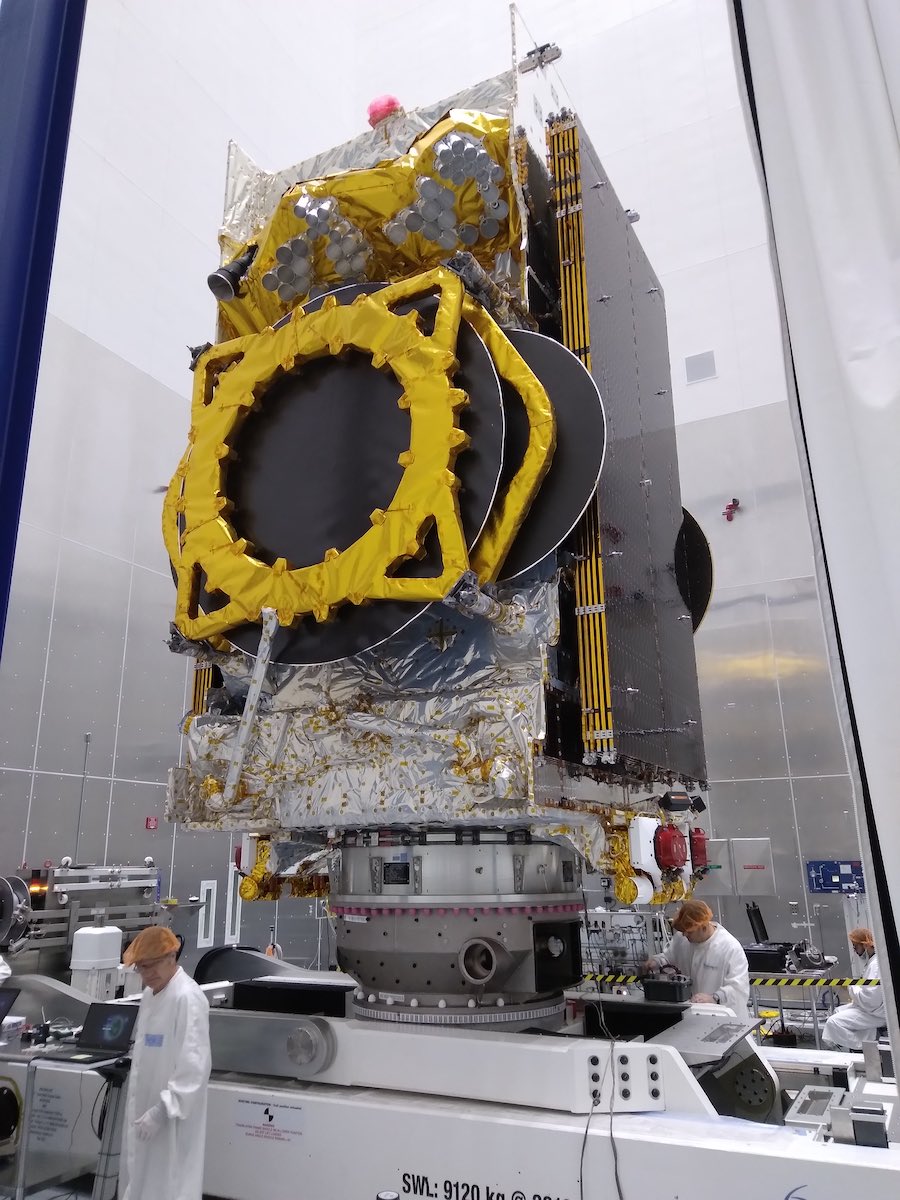 During Monday's countdown, the Falcon 9 launcher will be filled with a million pounds of kerosene and liquid oxygen propellants in the final 35 minutes before liftoff.
After teams verify technical and weather parameters are all "green" for launch, the nine Merlin 1D main engines on the first stage booster will flash to life with the help of an ignition fluid called triethylaluminum/triethylborane, or TEA-TEB. Once the engines ramp up to full throttle, hydraulic clamps will open to release the Falcon 9 for its climb into space.
The nine main engines will produce 1.7 million pounds of thrust for more than two-and-a-half minutes, propelling the Falcon 9 and Amazonas Nexus into the upper atmosphere. Then the booster stage will shut down and separate from the Falcon 9's upper stage to begin a controlled descent toward SpaceX's drone ship "Just Read the Instructions" parked in the Atlantic Ocean nearly 400 miles (about 620 kilometers) east of Cape Canaveral.
The booster, designated B1073, will extend titanium hypersonic grid fins and use cold gas nitrogen thrusters to control its orientation, then reignite three of its nine main engines for a 30-second braking maneuver during re-entry. A final landing burn with just the center engine will slow the rocket for touchdown on the drone ship about eight-and-a-half minutes into the mission.
A SpaceX recovery ship is also in position in the Atlantic to recover the Falcon 9 rocket's payload fairing after the nose cone's two clamshell halves parachute into the sea. The payload fairing will jettison from the rocket about three-and-a-half minutes into the flight, shortly after ignition of the Falcon 9's upper stage engine.
The Falcon 9 rocket will fire its upper stage engine two times to inject the Amazonas Nexus spacecraft into an elliptical super synchronous transfer orbit. Payload separation is scheduled for T+plus 35 minutes and 44 seconds.
ROCKET: Falcon 9 (B1073.6)
PAYLOAD: Amazonas Nexus communications satellite
LAUNCH SITE: SLC-40, Cape Canaveral Space Force Station, Florida
LAUNCH DATE: Feb. 6, 2023
LAUNCH TIME: 5:32-9:32 p.m. EST (2232-0232 GMT)
WEATHER FORECAST: 95% probability of acceptable weather
BOOSTER RECOVERY: Drone ship "Just Read the Instructions" about 385 miles (620 kilometers) east of Cape Canaveral
LAUNCH AZIMUTH: East
TARGET ORBIT: Super synchronous transfer orbit
LAUNCH TIMELINE:
T+00:00: Liftoff
T+01:12: Maximum aerodynamic pressure (Max-Q)
T+02:30: First stage main engine cutoff (MECO)
T+02:33: Stage separation
T+02:41: Second stage engine ignition
T+03:29: Fairing jettison
T+06:06: First stage entry burn ignition (three engines)
T+06:36: First stage entry burn cutoff
T+08:03: First stage landing burn ignition (one engine)
T+08:06: Second stage engine cutoff (SECO 1)
T+08:30: First stage landing
T+26:41: Second stage engine restart
T+27:43: Second stage engine cutoff (SECO 2)
T+35:44: Amazonas Nexus separation
MISSION STATS:
202nd launch of a Falcon 9 rocket since 2010
212th launch of Falcon rocket family since 2006
6th launch of Falcon 9 booster B1073
173rd Falcon 9 launch from Florida's Space Coast
112th Falcon 9 launch from pad 40
167th launch overall from pad 40
143rd flight of a reused Falcon 9 booster
2nd SpaceX launch for Hispasat
85th Thales Alenia Space-built satellite launched by SpaceX
8th Falcon 9 launch of 2023
9th launch by SpaceX in 2023
7th orbital launch attempt based out of Cape Canaveral in 2023
Quelle: SN
----
Update: 7.02.2023
.
Start von SpaceX Falcon9 mit Amazonas Nexus Satelliten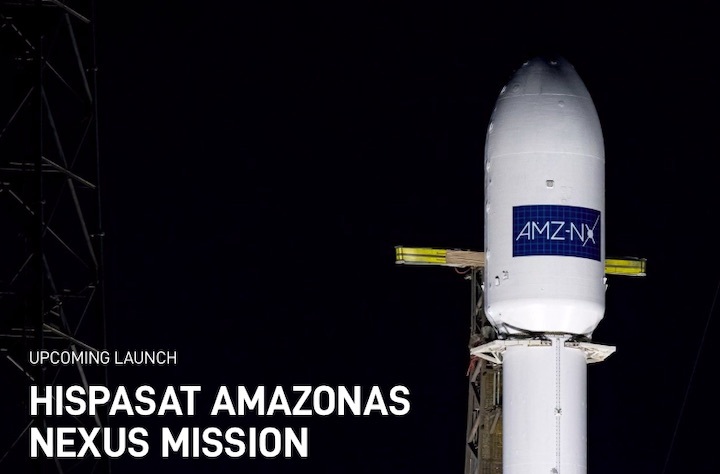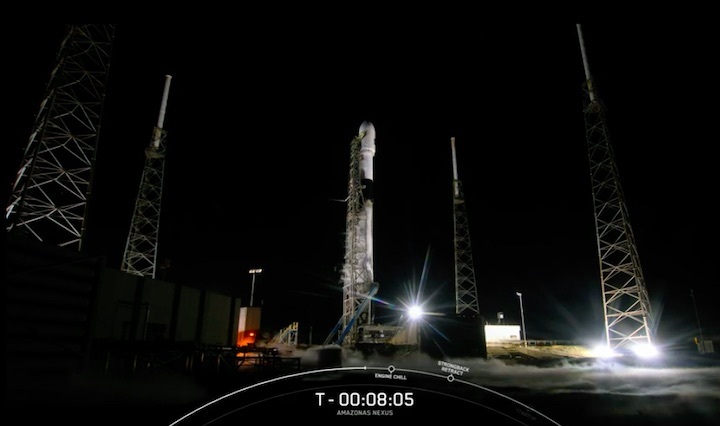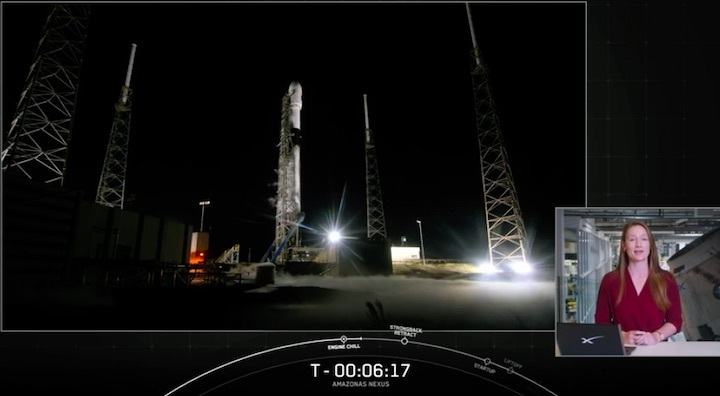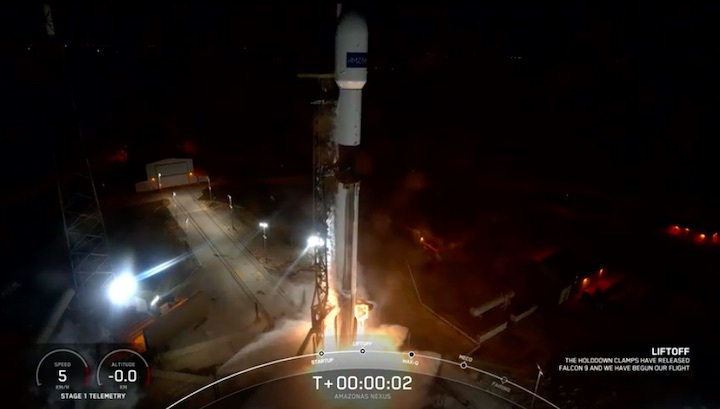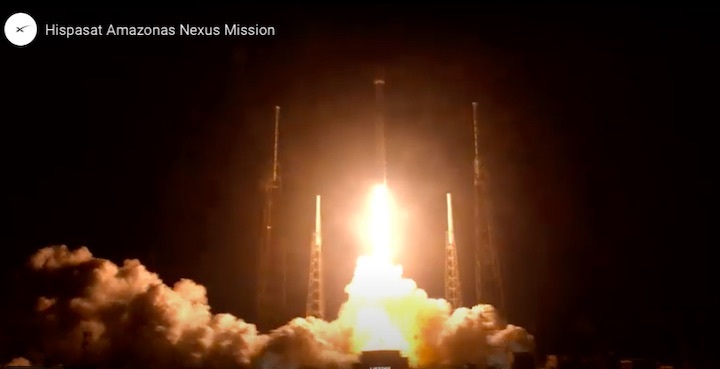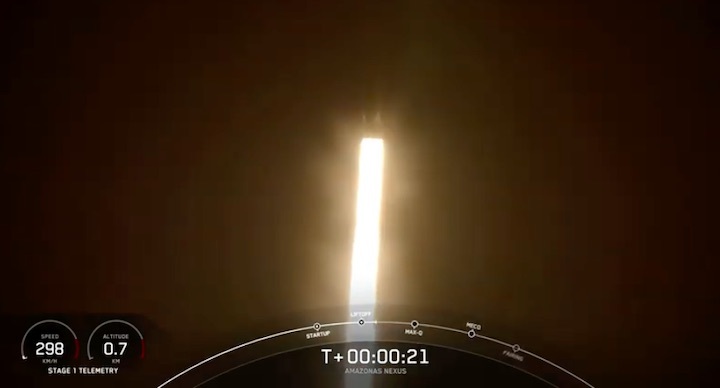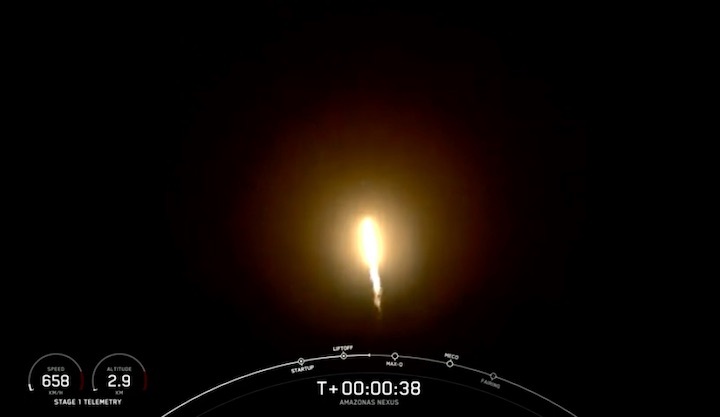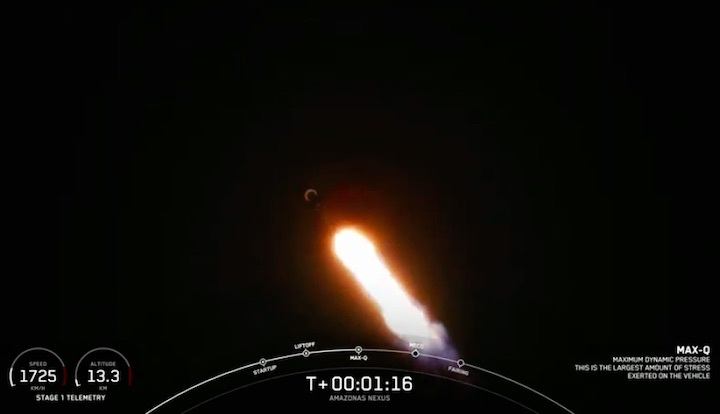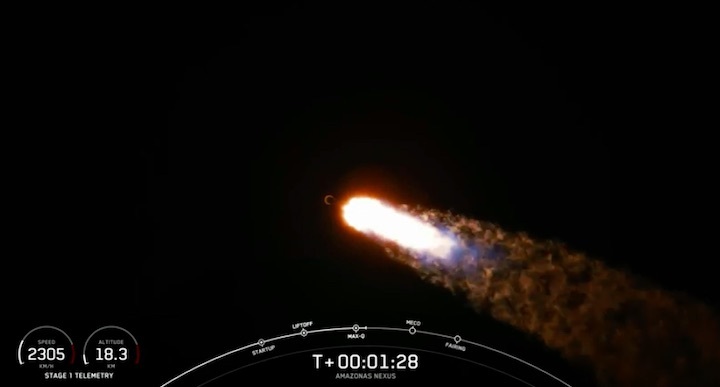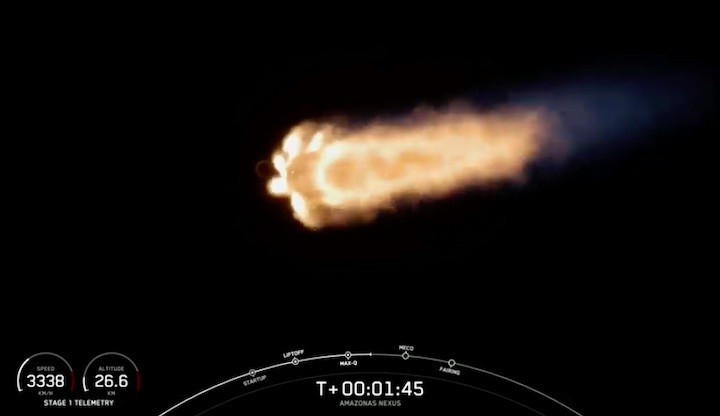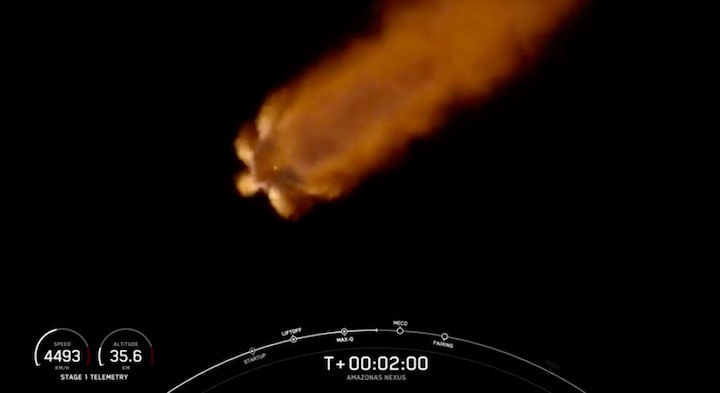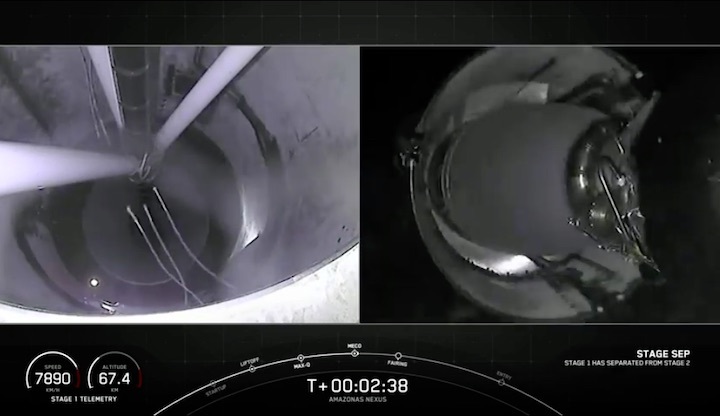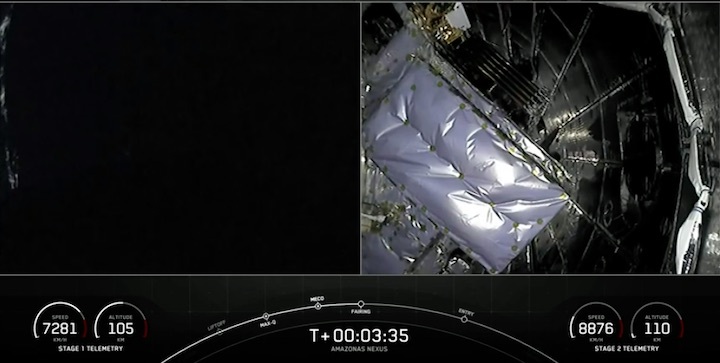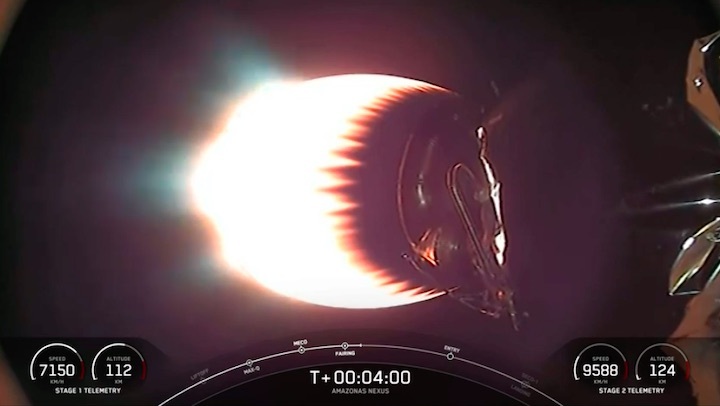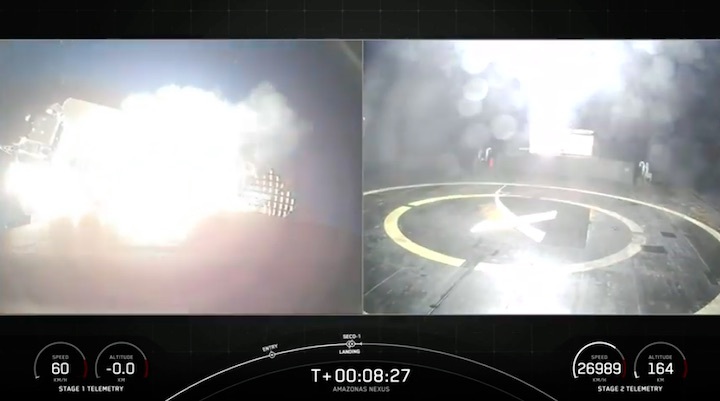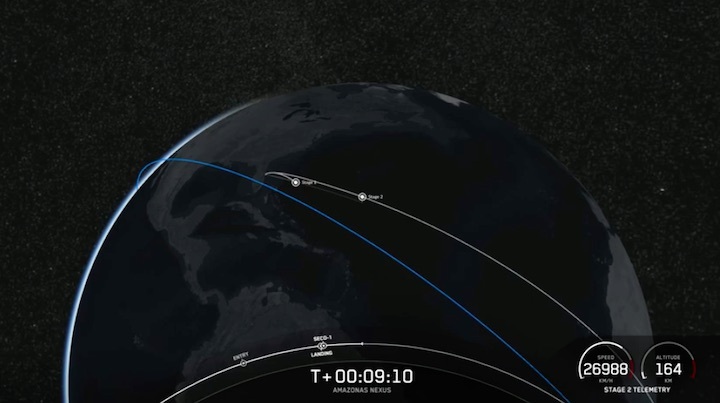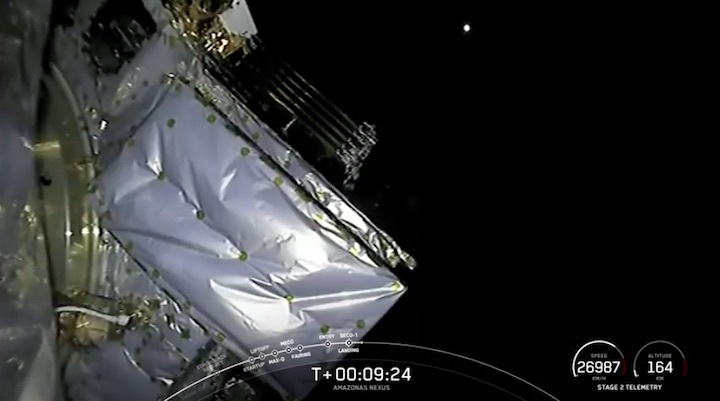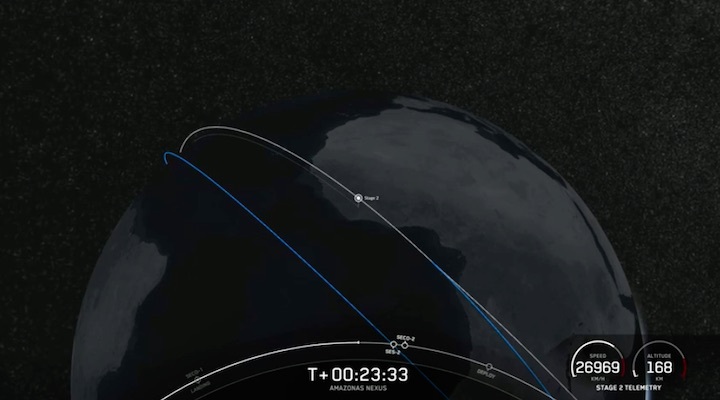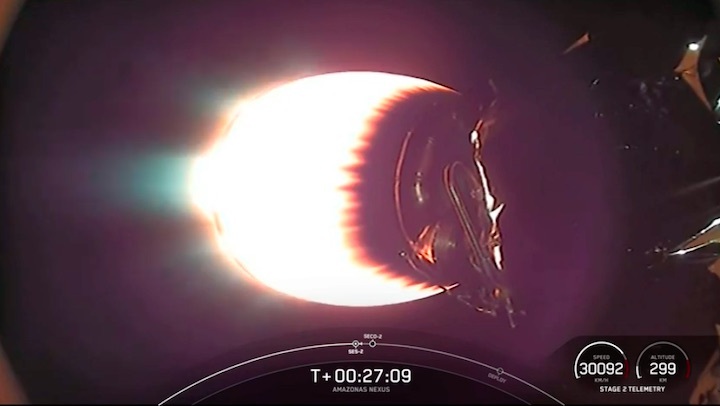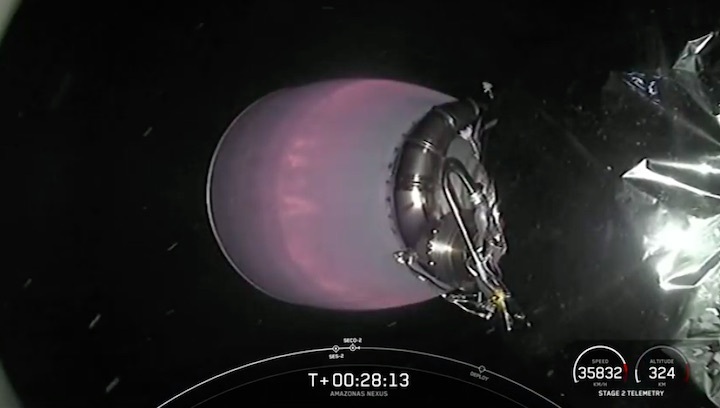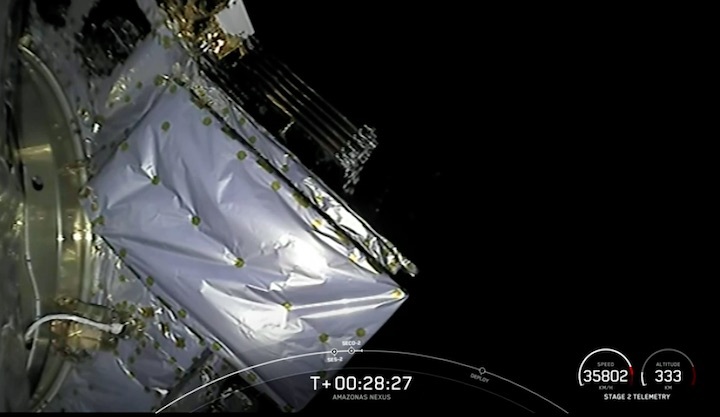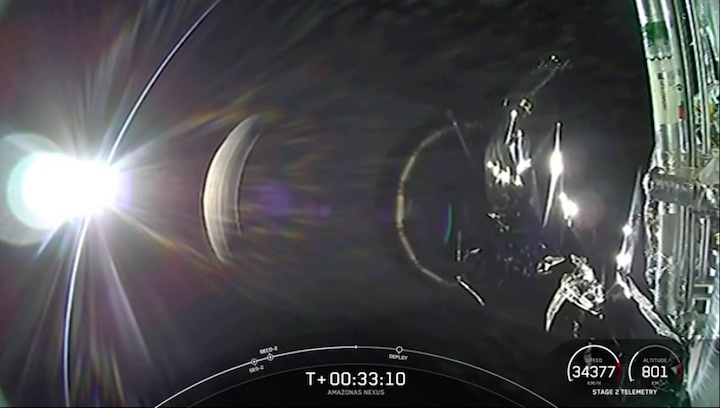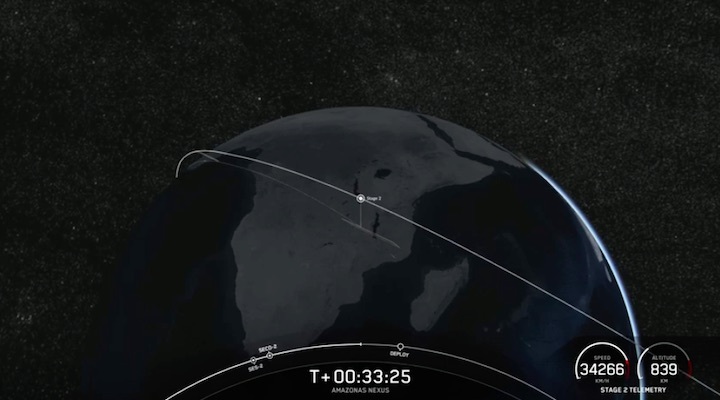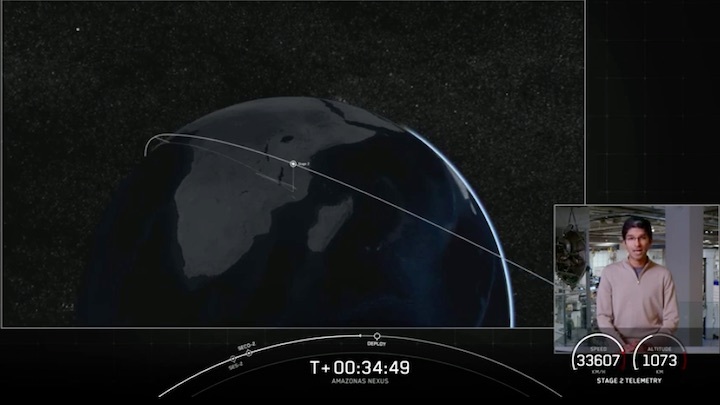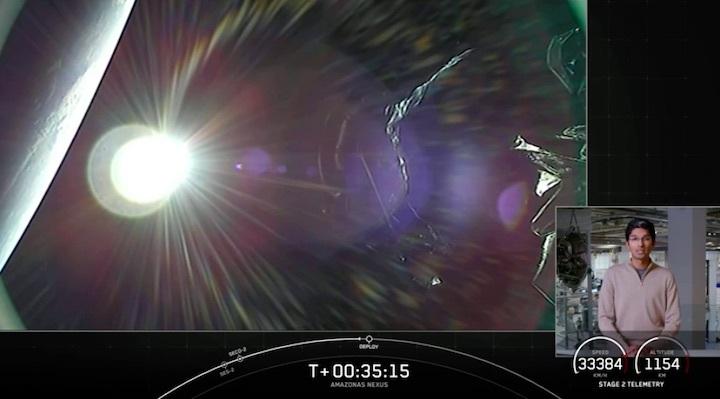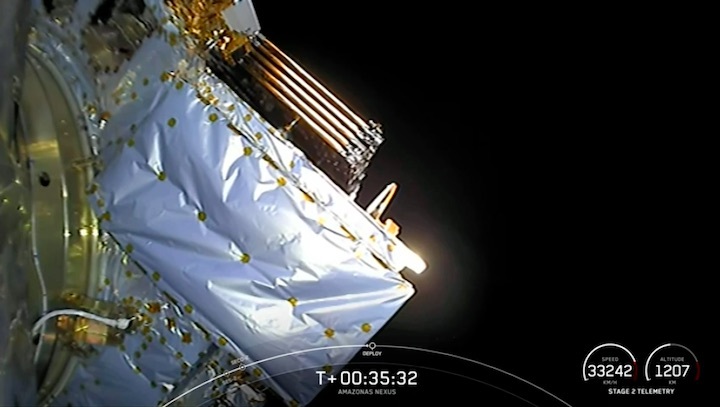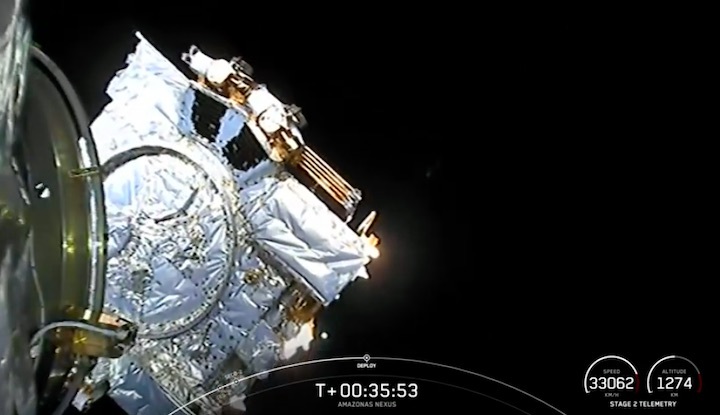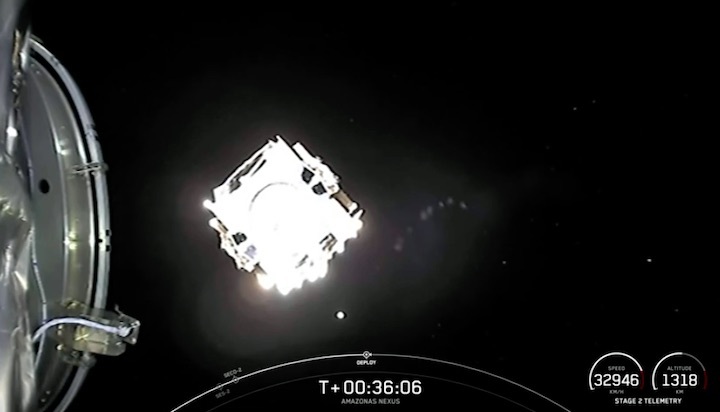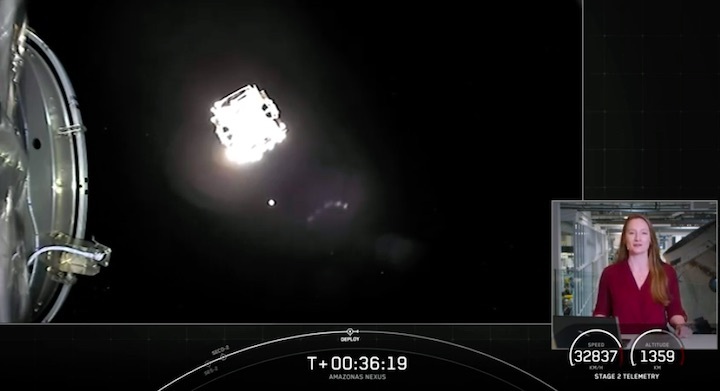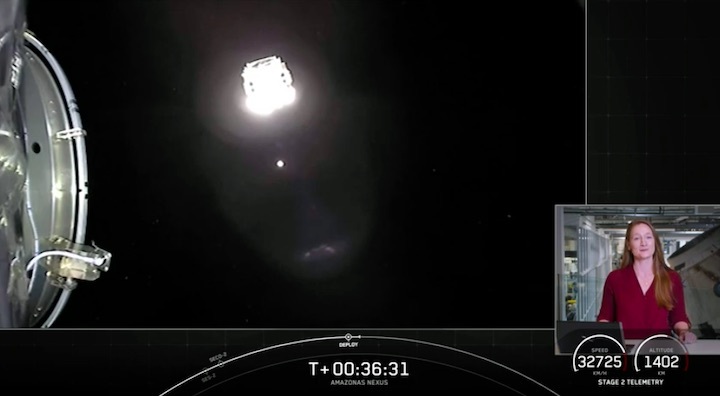 Quelle: SpaceX
236 Views