25.01.2023
SpaceX fuels up fully stacked Starship vehicle for 1st time ever
The Jan. 23 "wet dress rehearsal" was a huge step toward Starship's upcoming orbital test flight.
SpaceX fueled up a fully stacked Starship for the first time ever on Monday (Jan. 23), notching a huge milestone on the path toward the vehicle's debut orbital flight.
Elon Musk's company conducted a "wet dress rehearsal" with the 395-foot-tall (120 meters) Starship Monday at its Starbase facility in South Texas, running through many of the procedures it will perform on launch day.
The to-do list included loading liquid oxygen and liquid methane propellant into the vehicle's Super Heavy first stage and Starship upper stage, which SpaceXstacked together on Starbase's orbital launch mount earlier this month. This action was captured by NASASpaceflight.com, which live-streamed the lengthy test(opens in new tab), and Rocket Ranch Boca Chica(opens in new tab), whose video is featured below (footage provided by Rocket Ranch's Anthony Gomez).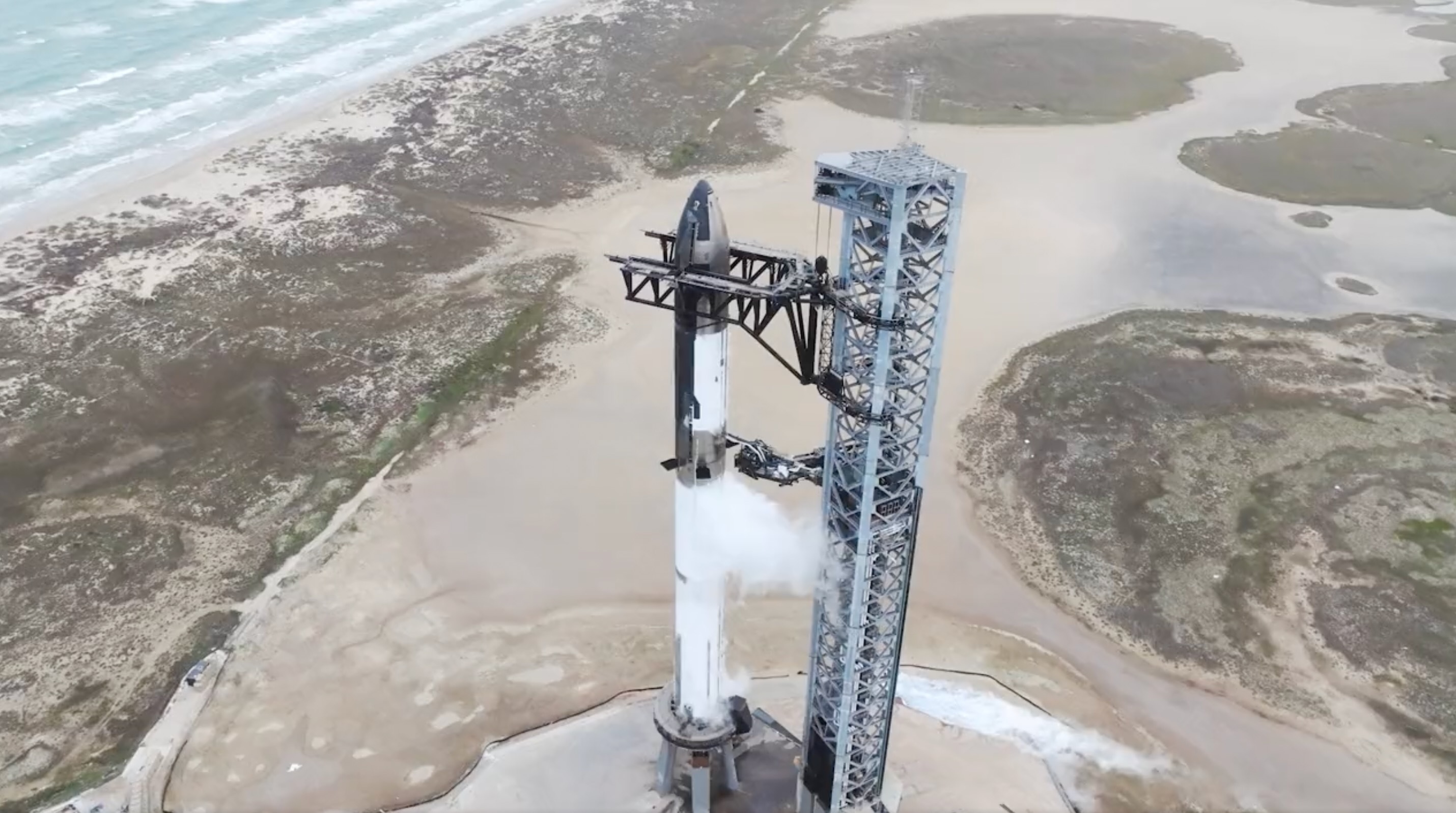 SpaceX conducted a wet dress rehearsal with its fully stacked Starship vehicle on Jan. 23, 2023 at its Starbase facility in South Texas. (Image credit: SpaceX)
"Starship completed its first full flight-like wet dress rehearsal at Starbase today. This was the first time an integrated Ship and Booster were fully loaded with more than 10 million pounds of propellant," SpaceX said via Twitter(opens in new tab) on Monday evening.
"Today's test will help verify a full launch countdown sequence, as well as the performance of Starship and the orbital pad for flight-like operations," the company added in another tweet(opens in new tab).
The success of Monday's wet dress rehearsal keeps this Starship vehicle — which consists of a Super Heavy prototype called Booster 7 and the Ship 24 upper-stage variant — on track for an orbital test flight in the near future.
That mission — which will send Ship 24 around Earth once, with a targeted splashdown in the Pacific Ocean near Hawai'i — could launch from Starbase as soon as next month, Musk has said.
SpaceX still needs to check some important boxes to make that happen, however. For example, the company will de-stack Starship to test-fire all 33 of Booster 7's Raptor engines simultaneously. The most powerful such "static fire" trial that SpaceX has performed to date with the vehicle involved just 14 of its Raptors.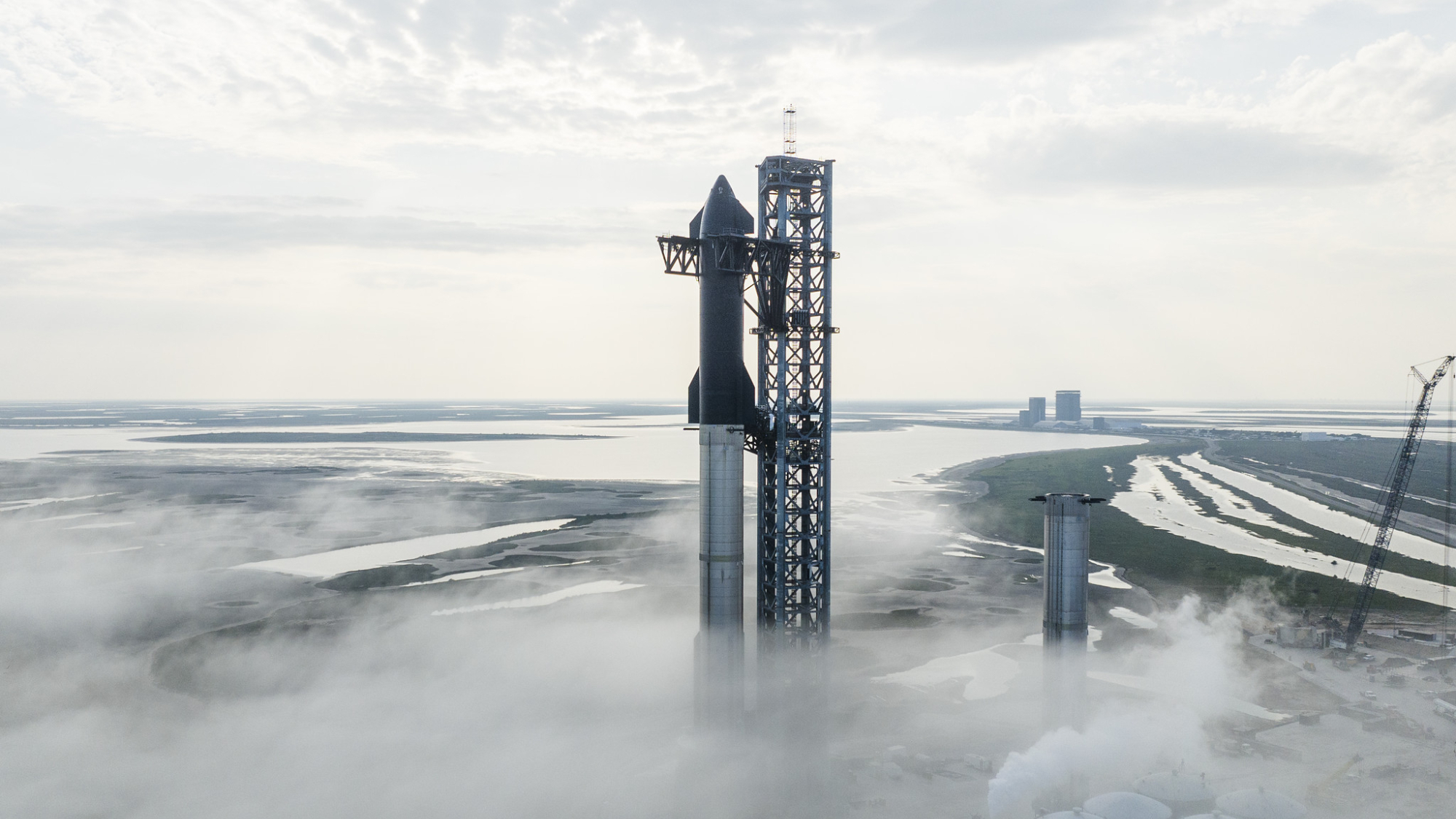 SpaceX posted this shot of its stacked Starship vehicle on Twitter on Jan. 12, 2023. (Image credit: SpaceX)
SpaceX is developing Starship to get people and cargo to the moon, Mars and beyond. NASA selected the vehicle to be the first crewed lunar lander for its Artemis program, and Japanese billionaire Yusaku Maezawa booked a round-the-moon flight on the vehicle for himself and a handful of artists and influencers.
SpaceX is also counting on Starship to launch the bulk of its big, next-generation Starlink 2.0 internet satellites, and to take over pretty much all of the company's spaceflight duties at some point down the road.
Though Starship's spaceflight future should be action-packed, the vehicle has been ground-bound for nearly two years now. The most recent Starship test flight occurred in May 2021; it sent a three-engine upper-stage prototype called SN15 about 6.2 miles (10 kilometers) into the skies above Starbase.
Several other upper-stage Starship prototypes had made similar journeys, but SN15 was the first to stick the landing.
Quelle: SC
+++
SpaceX's Starship rocket sails through first "flight-like" fueling test
SpaceX's fully-assembled Starship rocket appears to have sailed through a major wet dress rehearsal test on the first attempt.
With the completion of that test, the next-generation SpaceX rocket has taken a big step toward its first orbital launch attempt. Starship measures around 120 meters (~394 ft) tall and 9 meters (~30 ft) wide, making it the largest rocket ever assembled. It's designed to launch more than 100 metric tons (~220,000 lb) to low Earth orbit (LEO) in a fully-reusable configuration. At liftoff, Starship's 33 Raptor engines will produce up to 7590 tons (16.7M lbf) of thrust, making it more powerful than any rocket in history by a large margin.
And on Monday, January 23rd, Starship likely became the heaviest rocket ever after SpaceX fully loaded the vehicle with propellant. Surprising most viewers, SpaceX also appeared to complete the complex test associated with that milestone without running into any major issues.
The apparent success is surprising because it simply hasn't been SpaceX's approach of choice while developing Starship. Since SpaceX began assembling Starhopper in an empty Texas field in 2018, the Starship program has been almost exclusively managed to prioritize speed and expect failures. The company almost always preferred to build, test, and learn from minimum-viable-product prototypes as quickly as possible, even if that meant that failures were guaranteed.
Because SpaceX expected failures, it learned from them and always had another prototype ready to carry the torch forward. Starship prototypes rarely completed ground or flight tests on the first try, as SpaceX was simultaneously learning – often catastrophically – how to test and operate those vehicles. The culmination of that failure-as-an-option strategy was a series of seven suborbital Starship tests – two short hops of identical prototypes and five launch and landing attempts of five more advanced prototypes between August 2020 and May 2021. On the fifth attempt, after four failures, a full-scale Starship successfully launched to 12.5 kilometers (~41,000 ft), shut off its engines, fell back to Earth, reignited its engines, flipped around, and landed in one piece.
By all appearances, the campaign was the ultimate corroboration of SpaceX's development strategy. In the second half of 2022, however, SpaceX decided to dramatically change the Starship program's approach to risk management and systems engineering. Starship testing has become exceptionally cautious over the last several months, as a result.
FROM FAIL-FAST TO SLOW-AND-STEADY
There is a small chance SpaceX simply got lucky, but Starship's first fully-assembled wet dress rehearsal test appears to indicate that that caution has paid off. Combined, both stages of the rocket – Ship 24 and Booster 7 – collectively completed dozens of separate proof tests and static fires since mid-2022. They also made it through several far more limited tests while stacked.
Having cautiously characterized each prototype about as well as it possibly could, SpaceX finally pulled the trigger on January 23rd. After hours of conditioning the Starbase, Texas orbital launch site's giant tank farm, SpaceX opened the floodgates and loaded Ship 24 and Booster 7 with up to 4860 tons(~10.7M lbs) of cryogenic liquid oxygen and liquid methane propellant in about 90 minutes. Once fully loaded, the combined weight of the rocket and propellant likely exceeded 5000 tons (~11M lbs), making Starship the heaviest rocket in history. The next heaviest rockets ever built, Saturn V and N-1, weighed around 2800 tons (~6.2M lbs) fully loaded.
SpaceX was also able to drain Starship and return its propellant to the pad's ground storage tanks about four hours after filling the rocket.
"FLIGHT-LIKE" TESTING
The company later confirmed that the test was a "full flight-like wet dress rehearsal," as suspected, and noted that data gathered from it would "help verify a full launch countdown sequence, as well as the performance of Starship and the orbital pad for flight-like operations." Parts of the test visible from unaffiliated webcasts like NASASpaceflight's seemed to confirm as much. Shortly after Starship was fully loaded, for example, SpaceX activated the orbital launch mount's fire extinguisher system, seemingly practicing the moments before the rocket would otherwise ignite its engines and take flight.
At no point during the wet dress rehearsal did SpaceX appear to enter any kind of hold or abort, indicating that the rocket's systems were all working well enough together to smoothly complete it on the first try. The only mildly concerning behavior visible during the multi-hour test came shortly after Starship was topped off. Booster 7 opened one of its methane tank gas vents to relieve pressure and instead appeared to vent liquid methane, producing a flammable cloud thousands of feet long. More likely than not, the Super Heavy was slightly overfilled, and the liquid vent was an intentional response to that error. The cloud of methane thankfully did not find an ignition source, and Starship went on to finish the test as planned.
SpaceX has a lot of work left to prepare Ship 24 and Booster 7 for Starship's first orbital launch attempt. Booster 7 must still complete one or several more static fires, during which it could become the most powerful rocket ever tested. To reduce risk, SpaceX will likely remove Ship 24 while testing Super Heavy, and reassemble the rocket only if Booster 7 passes its tests. SpaceX also needs to repair the pad after static fire testing and work with the Federal Aviation Administration (FAA) to finalize Starship's first orbital launch license.
But after many false positives, Starship's successful completion of a wet dress rehearsal on the first try has confirmed that the rocket's orbital launch debut is – for the first time – actually close at hand.
Quelle: TESLARATI
----
Update: 26.01.2023
.
SpaceX completes Starship test in prep for rocket's first orbital launch attempt
Starship is a nearly 400-foot-tall rocket designed to carry cargo and people beyond Earth.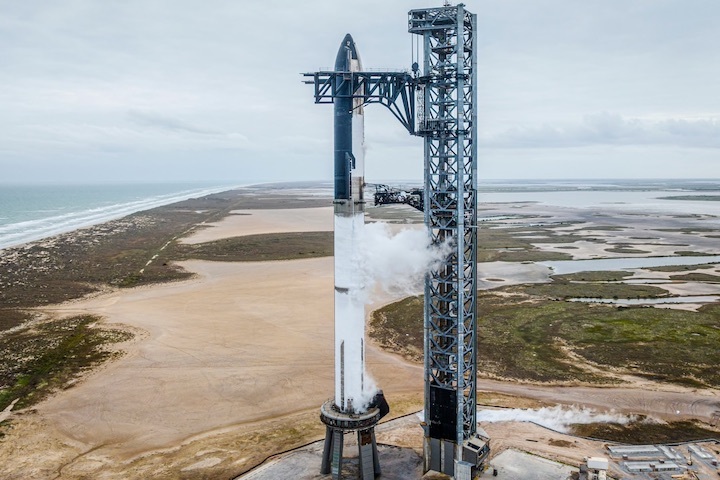 SpaceX announced on Monday it completed a major test of its latest Starship prototype, as the company prepares for the first orbital launch of the towering rocket.
Starship prototype 24, stacked on Super Heavy booster prototype 7, was fueled up at SpaceX's Starbase facility in Texas in a test known as a "wet dress rehearsal." While the test does not include firing up the rocket's engines, it is a typical practice during development of a new liquid-fueled vehicle to show that it can be safely filled before a launch, as well as verify the steps of a launch countdown.
"This was the first time an integrated Ship and Booster were fully loaded with more than 10 million pounds of propellant," SpaceX said in a tweet.
Starship is a nearly 400-foot-tall rocket designed to carry cargo and people beyond Earth. It is also critical to NASA's plan to return astronauts to the moon, with SpaceX having won a nearly $3 billion contract from the agency in 2021.
An orbital launch attempt of Starship marks the next step in flight testing for the rocket. It's been nearly two years since the company last performed a Starship flight test, and late last year SpaceX shook up leadership at its "Starbase" facility in Texas as the company pushes to get the next launch off the ground.
SpaceX has a few more steps remaining before Starship can next launch, including a planned test firing of all 33 engines at the base of the Super Heavy rocket booster. The company also needs a launch license from the Federal Aviation Administration.
Quelle: NBC News
----
Update: 29.01.2023
.
SpaceX preparing for Super Heavy static-fire test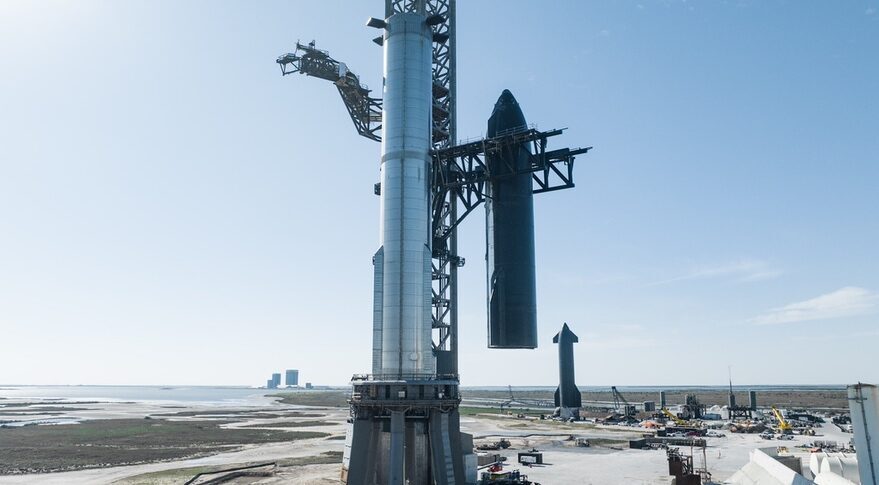 The Ship 24 Starship vehicle is removed from its Super Heavy booster Jan. 25 as SpaceX prepares to conduct a static-fire test of all 33 engines in the booster as soon as next week. Credit: SpaceX
WASHINGTON — SpaceX could attempt a long-awaited static-fire test of all 33 Raptor engines in its Super Heavy booster as soon as next week, one of the final technical milestones before an orbital launch attempt, a company executive said Jan. 27.
Speaking on a panel at the AIAA SciTech Forum, Bill Gerstenmaier, vice president of build and flight reliability, said the company was preparing for the test at its Starbase test site at Boca Chica, Texas.
"If things go well, maybe next week we'll have a 33-engine static fire," he said. "We still have a lot of work in front of us to get there and it's not easy."
He didn't elaborate on the work remaining before the test and the panel, devoted to examining the relationship of science fiction with aerospace, did not return to the topic. However, the company was starting to get ready for the static fire after a Jan. 23 test called a wet dress rehearsal where both the Super Heavy booster, called Booster 7, and the Starship upper stage, named Ship 24, were loaded with propellants and taken through a practice countdown.
SpaceX destacked the Starship from the Super Heavy Jan. 25, a move that the company said was part of preparations for the static fire. "Launch and catch tower destacked Ship 24 from Booster 7 on the orbital pad today ahead of the Booster's static fire test," the company tweeted.
According to Cameron County, Texas, where Boca Chica is located, there are road closures planned for Jan. 31 and Feb. 1 on the highway leading to Starbase, although the county did not disclose the reason for the closures other than "non-flight testing." It is not uncommon, though, for such closures to be canceled on short notice depending on SpaceX's plans. A closure planned for Jan. 30 was canceled Jan. 27.
Both the company and NASA, which is monitoring Starship test activities given the vehicle's use in the agency's Artemis lunar exploration campaign, had identified both the wet dress rehearsal and the 33-engine static-fire test as two major remaining milestones before the vehicle is ready, at least technically, for an orbital launch. SpaceX still needs a launch license from the Federal Aviation Administration before it can conduct a launch.
SpaceX Chief Executive Elon Musk tweeted earlier in the month that he thought the company could be ready for an orbital launch as soon as late February, with March "highly likely." However, SpaceX has missed past schedule estimates he has offered on Starship's first orbital flight.
First launches of new vehicle are inherently risky, a concern magnified by the sheer scale of Starship. Gerstenmaier, while not directly addressing the specific risks of a Starship launch on the panel, noted that all launches carry some degree of risk.
"Every launch has a high risk associated with it. I don't fear the failure, but what are we going to learn from this launch and are we taking this risk for a certain benefit?" he said. "So, I trade that benefit of what we're going to get out of this activity versus the cost of doing the activity, and what is the potential for learning."
Starship is essential not just for NASA's plans to return humans to the Moon but also SpaceX's deployment its second-generation Starlink constellation and, ultimately, sending humans to Mars. "We're going to try and take that vision, that future vision we've seen in science fiction," Gerstenmaier said, "and we're going to try to turn it into reality."
Quelle: SN
----
Update: 10.02.2023
.
Shotwell says SpaceX ready for Starship static-fire test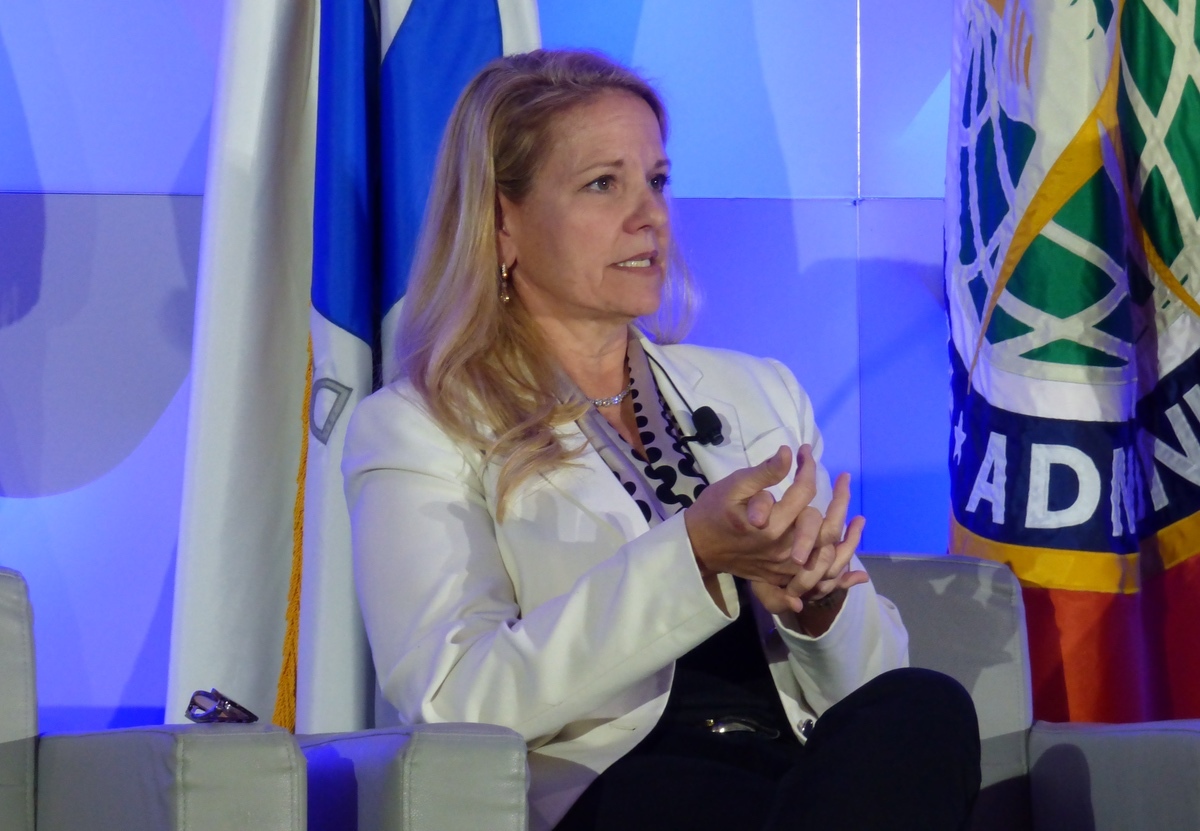 SpaceX President Gwynne Shotwell announced at the FAA Commercial Space Transportation Conference Feb. 8 that the company will attempt a 33-engine Starship static-fire test as soon as the next day. Credit: SpaceNews/Jeff Foust
WASHINGTON — SpaceX will attempt a static-fire test of all 33 engines in its Starship booster as soon as Feb. 9, a test that could allow the company to attempt an orbital launch a month later.
Speaking at the Federal Aviation Administration Commercial Space Transportation Conference here Feb. 8, Gwynne Shotwell, president and chief operating officer of SpaceX, announced the impending test, the final major technical milestone before the vehicle's first orbital launch attempt.
"Tomorrow is a big day for SpaceX. We are going to attempt a 33-engine static fire booster test for Starship," she said. "It's really the final ground test that we can do before we light 'em up and go."
The company had been hinting that the test was approaching for some time. Bill Gerstenmaier, SpaceX vice president for build and flight reliability, said at a conference Jan. 27 that the test could take place the following week, although he warned "We still have a lot of work in front of us to get there and it's not easy."
A successful test, she said, could set the company up for that orbital launch attempt soon. "That first flight test is going to be really exciting. It's going to happen in the next month or so."
The static-fire test will be the first time all 33 Raptor engines in the Super Heavy booster are fired for the first time. The most engines that have ignited at once in a booster is 14, which resulted in some pad damage.
Shotwell told reporters after her talk that she believed changes the company made will prevent pad damage from the upcoming more powerful test. "I don't expect the pad to have the same issues that we had during the 14-engine static fire," she said. "We've done some work on the pad." She didn't elaborate on the changes.
An orbital flight test will require an FAA launch license that is still pending, which includes implementing at least some of the mitigations identified by the FAA in an environmental review published in June for Starship launches from SpaceX's Boca Chica, Texas, test site.
"We've been working all the mitigations since we got it," she said of the environmental review, including working with state and federal agencies. As for the license, "I think we'll be ready to fly right at the timeframe that we get the license."
Starship is essential to SpaceX's long-term plans, from deploying a second generation of its Starlink constellation to landing NASA astronauts on the moon as part of the agency's Artemis lunar exploration campaign. It is also designed for a very high production and flight rate, a point Shotwell emphasized in her presentation.
"We have Starship be as much like aircraft operations as we can possibly can get it," she said. "We want to talk about dozens of launches per day, if not hundreds of launches a day."
She said she expected Starship to fly at least 100 times before it carries people for the first time, a challenge as the company prepares a lunar lander version of Starship for NASA's Artemis 3 mission, currently scheduled for as soon as 2025.
In her later conversation with reporters, she called that 100-flight milestone a "great goal" but suggested it was not a requirement. "I would love to do hundreds before. I think that would be a great goal and it's quite possible that we could do that," she said.
She noted the company has a goal of 100 Falcon launches this year. "If we can do 100 flights of Falcon this year, I'd love to be able to do 100 flights of Starship next year. I don't think we will do 100 flights of Starship next year, but maybe 2025 we will do 100 flights."
First, she said, SpaceX needed to get Starship to orbit as soon as it can. "We will go for a test flight and we will learn from the test flight and we will do more test flights," she said. "The real goal is to not blow up the launch pad. That is success."
Quelle: SN
----
Update: 11.02.2023
.
Starship: SpaceX tests the most powerful ever rocket system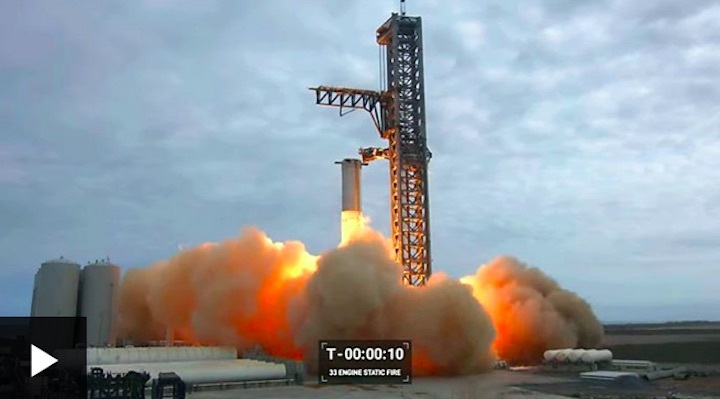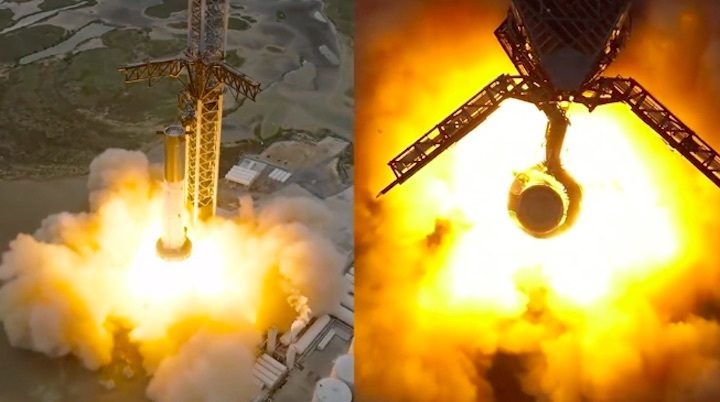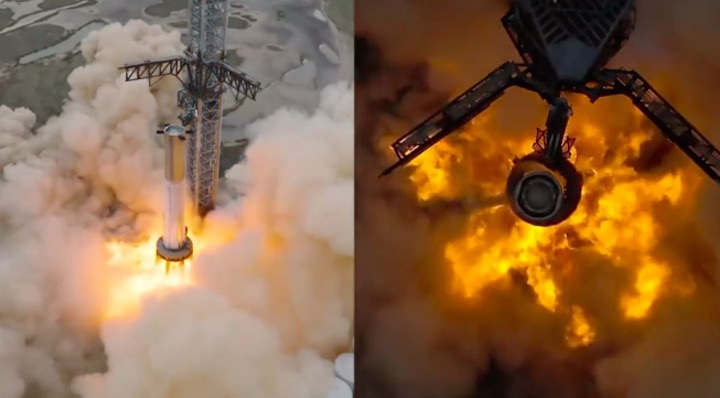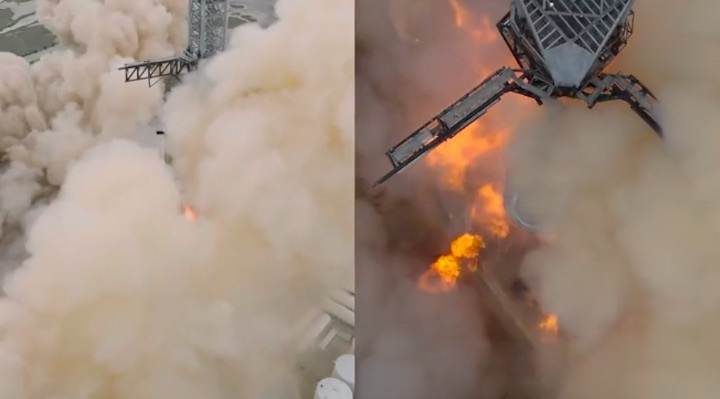 Elon Musk's SpaceX company has performed a key test on its huge new rocket system, Starship.
Engineers conducted what's called a "static fire", simultaneously igniting 31 out of 33 of the engines at the base of the vehicle's lower-segment.
The firing lasted only a few seconds, with everything clamped in place to prevent any movement.
Starship will become the most powerful operational rocket system in history when it makes its maiden flight.
This could occur in the coming weeks, assuming SpaceX is satisfied with the outcome of Thursday's test.
The static fire took place at SpaceX's R&D facility in Boca Chica on the Texas/Mexico border.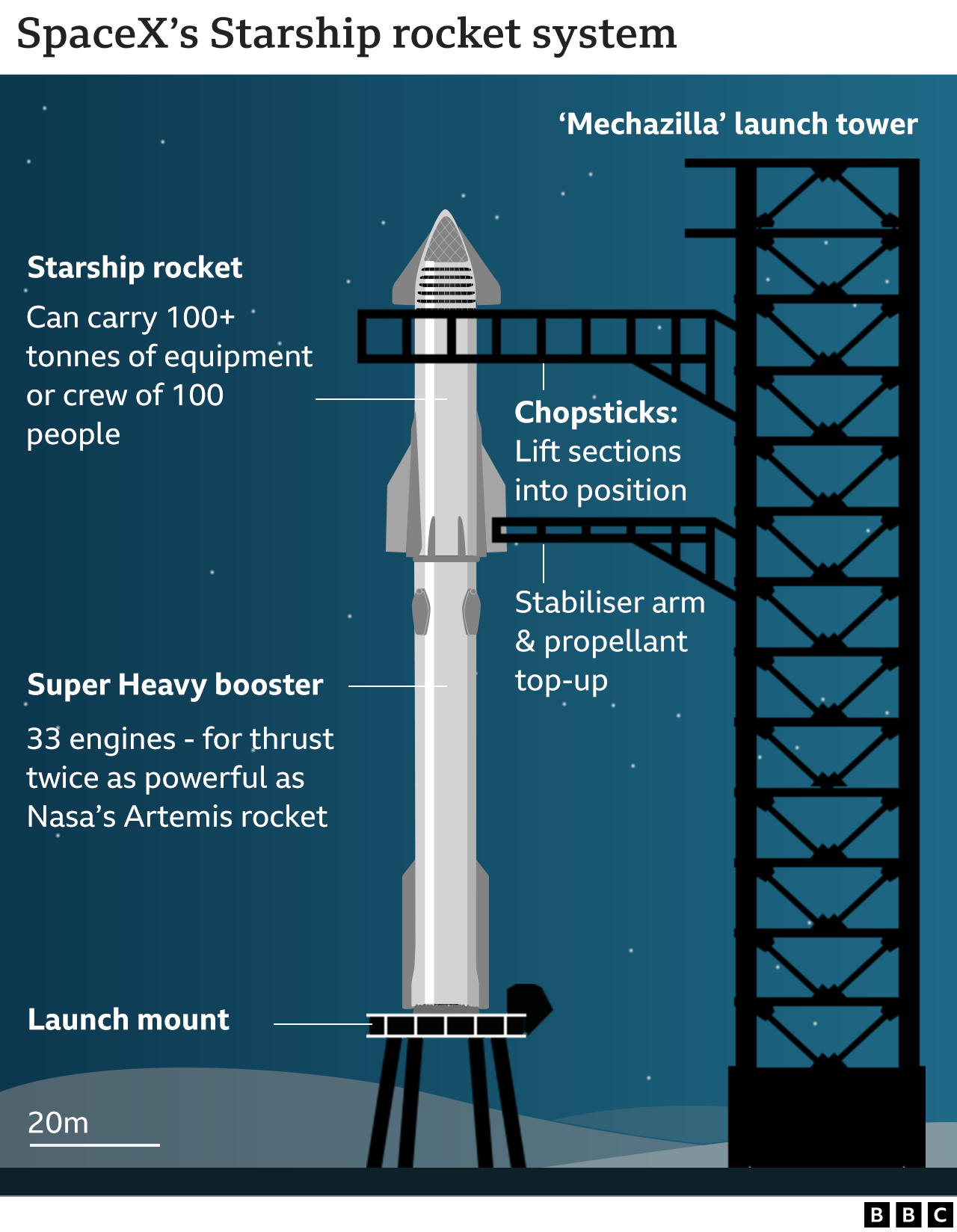 282 Views