28.01.2023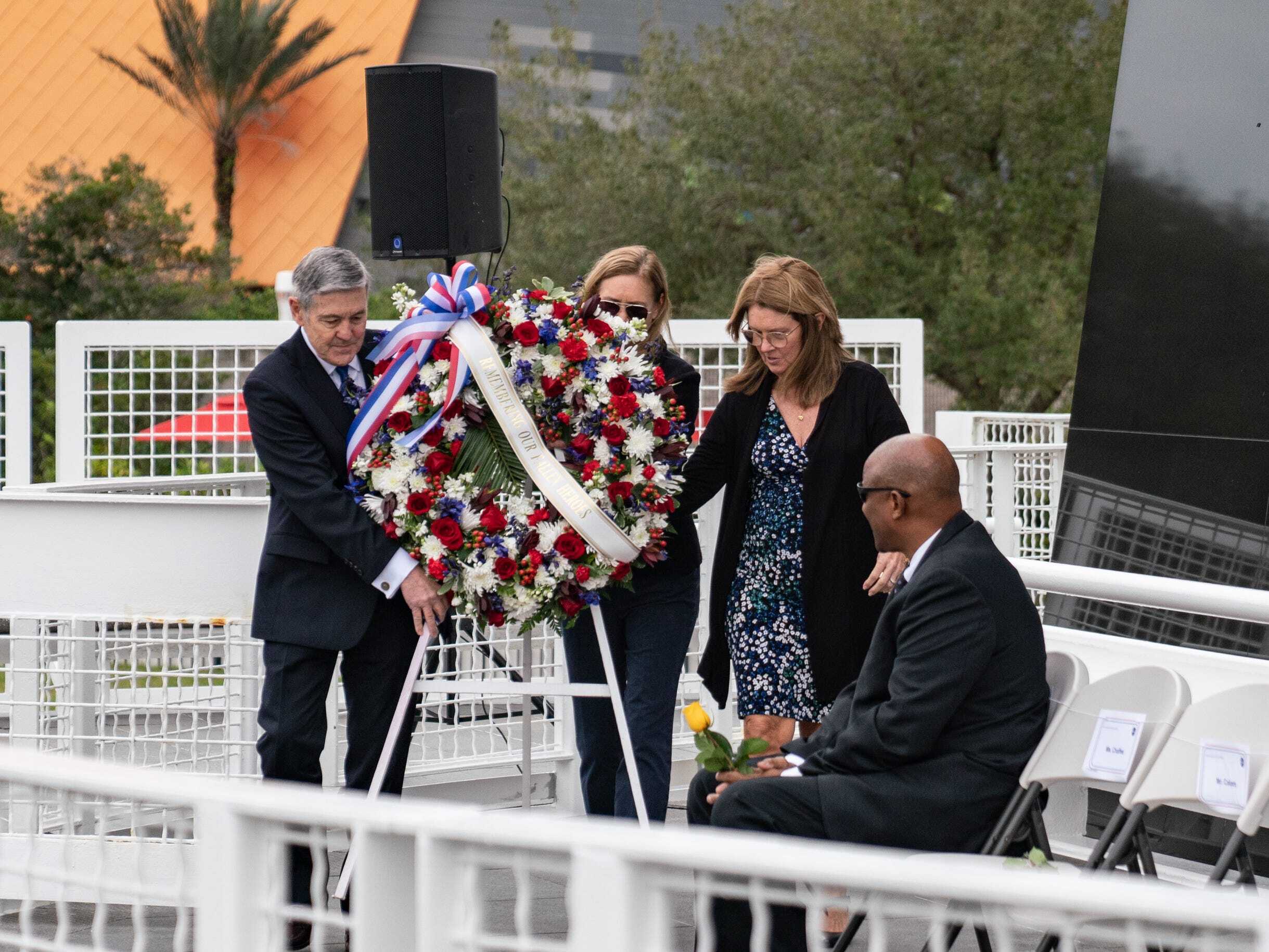 Dozens of space industry representatives and officials gathered around a 42-foot memorial at the Kennedy Space Center Visitor Complex on Thursday, part of an annual NASA effort that remembers fallen astronauts.
They listened as community and industry leaders recounted lessons of past mistakes, many of which converge in late January: An on-the-pad capsule fire killed three Apollo 1 astronauts on Jan. 27, 1967; a failure during liftoff killed all seven space shuttle Challenger astronauts on Jan. 28, 1986; and a re-entry gone wrong on Feb. 1, 2003, claimed seven more shuttle lives, that time Columbia.
"When we look back, why do we have to keep repeating the same hard lessons?" NASA Associate Administrator Bob Cabana said during the ceremony. "This normalization of deviance ... that you can have something wrong, but as long as nothing bad happens, it's OK – it's not."
Cabana was in part referring to NASA's acceptance of damages sustained by protective tiles under space shuttles. Early in the program, the agency's rules made it clear that any tile damages were a deviation from the norm. But as liftoff damages continued and tiles were replaced, all appeared to be well.
That changed when tiles failed in 2003 and Columbia broke up on re-entry. Astronauts Rick Husband, William McCool, Laurel Clark, Michael Anderson, Kalpana Chawla, David Brown, and Ilan Ramon were lost. This year's event took on special significance as the agency prepares to mark Columbia's 20th anniversary next week.
"I ask all the NASA team and the Kennedy team that's listening today: when they go back to work, they ensure they've created an environment where everybody is heard, where they can ask questions without fear of retribution, that they get answers to their questions, that they feel free to speak up. That when something isn't right, we take action," Cabana said.
"I don't want to ever have to go through another Columbia," Cabana, an astronaut himself, said. "That was an amazing crew."
In total, there are 25 names inscribed into the Space Mirror Memorial, a 42-foot monument that includes 90 black granite tiles. At night, their illuminated names are a reminder of why NASA hosts the annual event at centers across the country.
The Space Mirror Memorial was created by the Astronauts Memorial Foundation, a local organization led by State Rep. Thad Altman.
All names on the Space Mirror Memorial:
Theodore Freeman (T-38 crash)
Charles Bassett (T-38 crash)
Elliott See (T-38 crash)
Clifton Williams (T-38 crash)
Virgil "Gus" Grissom (Apollo 1 fire)
Edward White (Apollo 1 fire)
Roger Chaffee (Apollo 1 fire)
Michael Adams (X-15 crash)
Robert Lawrence (F-104 crash)
Francis Scobee (Challenger)
Michael Smith (Challenger)
Judith Resnik (Challenger)
Ellison Onizuka (Challenger)
Ronald McNair (Challenger)
Gregory Jarvis (Challenger)
Christa McAuliffe (Challenger)
Manley "Sonny" Carter (Airliner crash)
Rick Husband (Columbia)
William McCool (Columbia)
Laurel Clark (Columbia)
Michael Anderson (Columbia)
Kalpana Chawla (Columbia)
David Brown (Columbia)
Ilan Ramon (Columbia)
Michael T. Alsbury (VSS Enterprise)
Quelle: Florida Today
69 Views