.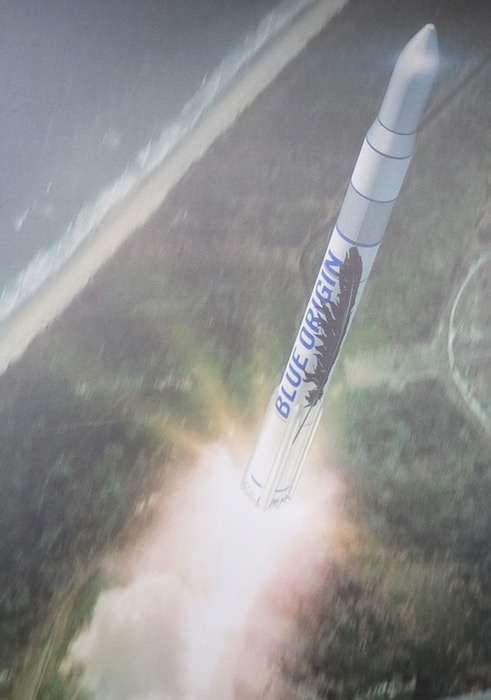 For a company known for its secrecy as much as for its technology, its plans weren't much of one. For months, most people in the space industry, and in the Florida's Space Coast region, believed the company was interested in setting up a launch site, and possibly also a factory, in that region. Official negotiations were held behind closed doors with code names used in public meetings, but few doubted that the initiative Space Florida, the state's space development organization, called "Project Panther" was linked to Blue Origin.
"The pad has stood silent for more than ten years. Too long," Bezos said. "We can't wait to fix that."
So, when Blue Origin announced in late August it would hold an event September 15 at Cape Canaveral's Launch Complex 36, where company founder Jeff Bezos would "make a significant announcement regarding the emerging commercial launch industry," it was not much of a surprise. Nor was the announcement itself: Bezos confirmed that the company planned to launch a new orbital vehicle from the site, building those rockets at factory nearby. Lifting that translucent veil of secrecy, though, didn't mean there were no questions left unanswered.
Awakening a silent pad
Launch Complex 36, where the announcement took place, once hosted Atlas launches. However, the last Atlas II lifted off from the site in 2005, and much of the site's infrastructure, including the launch towers, have since been demolished.
"The pad has stood silent for more than ten years. Too long," Bezos said. "We can't wait to fix that."
Bezos briefly outlined his vision of the site's future to the audience of a few hundred invited guests and media, sitting under a giant tent that offered shelter from the Florida sun (and a brief passing shower.) "Where you guys are sitting, right where you are, is going to be a big vehicle processing facility," he said. "About 4,000 feet that way"—pointing off to one side—"is going to a BE-4 engine acceptance test stand." The BE-4 is a large rocket engine that Blue Origin is developing, producing 550,000 pounds-force (2.45 million newtons) of thrust using methane and liquid oxygen propellants.
"About 2,000 feet that way," he added, point in another direction, "is going to be the new Launch Pad 36. And what is going to lift off from Launch Pad 36? I want to give you a little sneak peek."
Bezos then unveiled an illustration of the company's orbital launch vehicle concept, shown publicly for the first time: a two-stage vehicle depicted ascending into space, the Cape Canaveral coastline beneath it.
He offered only a few details about the vehicle, including the fact that it would be powered by the company's BE-3 and BE-4 engines. The first stage is also designed to be reusable, making a powered vertical landing, either on a ship at sea on back at the launch site. A close inspection of the illustration showed what appeared to be four landing legs on the side of the vehicle near its base, similar to the configuration used by SpaceX for reusable versions of its Falcon 9. The rocket's first launch, he said, is planned for the end of the decade.
The vehicles will be built at a new factory Blue Origin will establish at Exploration Park, a business park just outside the gates of the Kennedy Space Center. While some components, such as the engines, may be built elsewhere, Bezos said most of the vehicle's components would be built in Florida. "We're talking about bringing raw aluminum and raw carbon fiber here, and it'll be milled and formed and friction-stirred welded here," he told a small group of reporters after the event. "It's not just final assembly, and certainly not just vehicle stacking, which is what you've traditionally seen here."
"We became very encouraged as we went through the process about how forward leaning the Air Force is, and NASA, in making sure that LC-36 can be operated in a very commercially favorable way," Bezos said.
Many other details about the vehicle, though, are unknown—even its name. Bezos said that the rocket will be used to launch satellite payloads and also, at some later date, people. But he declined to answer questions about the vehicle's payload capacity. "We've been working on it for about three years, but we're not quite ready to share some of those details," he said. "I can tell you a few things about it, but not the payload capability."
Bezos promised to provide more details about the vehicle's capabilities in 2016. "Next year, I'm going to share a lot more details with you about that vehicle," he said at the event.
Shiloh vs. LC-36
One detail the event did nail down about the vehicle is from where it will launch. While Blue Origin had been rumored for some time to be interested in launching from Florida, its initial interest was rumored to be not on Cape Canaveral proper, but a proposed new commercial launch site just north of KSC, known as Shiloh. Both Blue Origin and SpaceX—who announced last year plans to develop its own commercial launch site near Brownsville, Texas—had been considered potential customers of Shiloh.
Shiloh, though, faced a long path to development. Some residents raised concerns about the impacts of the launch site on the environment, as well as fishing activities and beach access. While Space Florida has started on the process of an environmental assessment of the site, a key requirement for obtaining a commercial spaceport license from the FAA, the site likely faced more obstacles had the state and an anchor tenant, like Blue Origin, pushed for its development.
Meanwhile, the Air Force was becoming more receptive to commercial operations at Cape Canaveral, thanks in part to some prodding from Washington. "The Air Force always was concerned that if you got commercial activity here, was it going to hinder the national security military and intelligence mission that is so vital to our nation's protection," said Sen. Bill Nelson (D-Fla.) at the event. "But that's starting to change."
Nelson said he used some "friendly persuasion" on the Secretary of the Air Force to meet with the heads of NASA and the FAA to figure out ways to make unused property at the Cape available for commercial interests. "It was a precursor to making this vision today for the Cape to become a reality," he said. Air Force policy, he said, is now far more accommodating to commercial users.
The Air Force echoed those sentiments. "We're dedicated to working with our mission partners and focus on things that are important to them, whether it's providing regulatory confidence, increasing range operational efficiency, or just working with our other range partners to improve scheduling assurance," said Brig. Gen. Steve Garland, vice commander of the 14th Air Force.
Bezos told reporters later that Blue Origin was indeed initially interested in the Shiloh site versus Launch Complex 36. "We became very encouraged as we went through the process about how forward leaning the Air Force is, and NASA, in making sure that LC-36 can be operated in a very commercially favorable way," he said. "We got comfortable with that."
Bezos said the Air Force showed flexibility and openness to new approaches, such as Blue Origin's use of an automated flight termination system. "You want to do things in new, better ways that are not just less expensive but safer," he said.
"Another way to put this," Bezos added, "is that space is pretty big. There's a lot of opportunities and there's room for multiple winners."
One other obstacle for using Cape Canaveral for commercial launches has been security, particularly for foreign nationals who might, for example, be attending the launch of their satellite. Bezos, though, wasn't concerned. "If badging becomes our toughest problem, we've already won," he said.
State and local officials were simply happy that Bezos chose Florida for its launch site. Florida Gov. Rick Scott (R) thanked Bezos for choosing the Cape for its manufacturing and launch facilities, and even put a medal around Bezos' neck at the event. (Bezos quietly took the medal off later in the hour-long proceedings.) "This is an exciting day," Scott said. "This will be another great success for Jeff Bezos."
The competition was strong. "I was told there were 12 states in the running for this opportunity to bring Jeff and his team to this state," said Steve Crisafulli, speaker of the Florida House of Representatives.
Bezos later described as "very competitive" the selection of the launch and manufacturing site. "We got detailed bids from five different states, and there were pluses and minuses to all of the options," he said. "Florida, in our opinion, was the best choice, and a big part of that was the talent pool here."
Competition, and taking the long view
While the capabilities of Blue Origin's orbital launch vehicle are still unknown, one thing that is clear is that the company is entering a complex, and crowded, market. United Launch Alliance (ULA) launches Atlas and Delta rockets a short distance to the north of LC-36 at the Cape, with plans to develop the Vulcan by the end of the decade. SpaceX's Falcon 9 flies also from the Cape, to be joined next year by the Falcon Heavy at KSC's Pad 39A. And, in the commercial market, Blue Origin will be competing with vehicles from Europe, Russia, India, Japan, and China.
Blue Origin's most complicated relationship, though, may be with ULA. A year ago, the two companies announced an agreement to work on the BE-4 engine as a possible first stage engine for the Vulcan. ULA has indicated more recently that the BE-4 remains its top choice for the Vulcan, being farther along in development than alternatives like Aerojet Rocketdyne's AR1.
While Bezos wouldn't give his vehicle's payload performance data, it's possible that it might overlap with ULA's existing vehicles, or the BE-4-powered Vulcan, putting Blue Origin in the position of both a potential supplier and competitor to ULA.
Bezos, asked about that potential competition, suggested that Blue Origin would not compete with ULA in the latter's largest current market of national security missions. "Part of what makes ULA such a great asset to this country is their expertise in dealing with these very high value government payloads, National Reconnaissance Office payloads and so on," he said. "That expertise is something that is very unique to them."
"Another way to put this," he added, "is that space is pretty big. There's a lot of opportunities and there's room for multiple winners."
Bezos said he was not concerned about reports that Aerojet Rocketdyne might buy ULA, a deal that would likely jeopardize Blue Origin's deal with ULA for BE-4 engines. "I've seen the same rumors" about a potential sale, he said. "Our approach on this is very simple, which is to stay head-down, focused on the technology. We're going to build the best 21st century engine that we can for ULA. Ultimately they will make the decision about what they want to do." (Later last week, executives with Boeing, one of the two co-owners of ULA, said they did not take Aerojet's offer seriously and—for now, at least—had no plans to sell.)
Blue Origin has also sparred in recent years with SpaceX. Blue Origin contested a NASA decision in 2013 to lease Pad 39A to SpaceX, a contest later denied by the Government Accountability Office. SpaceX, meanwhile, objected to a patent awarded to Blue Origin for the recovery of vehicle stages on floating platforms. In late August, the US Patent and Trademark Office announced that Blue Origin was withdrawing most of the claims in that patent, making it effectively unenforceable, although Blue Origin is working on a revised patent on the topic.
"Do we want to go to Mars? Absolutely. But we want to go everywhere, and if you want to go everywhere, you need to dramatically lower the cost of space."
Bezos, though, showed no particular animus towards SpaceX and its own billionaire founder, Elon Musk. "I run into him quite frequently," he said of Musk. "For sure this is an industry where people are competitive, but I think it's also an industry where there's also a lot of heart, and people doing this for reasons of passion."
He added that passion drives him and his employees as well. "The people who are attracted to this field are like me. It's in their heart," he said. "They are missionary. They want to build rockets. They want to see humanity fly into space."
That is Bezos' goal as well. "The vision for Blue is pretty simple, which is: we want to see millions of people living and working in space," he said. While Musk has a particular focus on Mars—he's long stated a desire to retire there—Bezos is more expansive. "Do we want to go to Mars? Absolutely. But we want to go everywhere, and if you want to go everywhere, you need to dramatically lower the cost of space."
Bezos said achieving that goal is a long-term endeavor, but he may be as well positioned as anyone to achieve it, given his considerable wealth that allows him to invest what he said was a "significant amount" of his own money in the company, "and there's much more to come."
"That's going to take a long time," he said of that goal of millions of people living and working in space. "I think it's worthwhile goal."
Quelle: SN
3581 Views