11.09.2021
Perseverance rover collects 2nd Mars sample (photos)
Perseverance drilled another hole in the Red Planet rock dubbed 'Rochette.'
NASA's Perseverance rover has collected two drilled-out samples from this Red Planet rock, which the mission team calls "Rochette." (Image credit: NASA/JPL-Caltech)
NASA's Perseverance rover has now socked away two Red Planet samples.
Perseverance collected a drilled-out core of a Martian rock dubbed "Rochette" and sealed the sample in its designated titanium tube, mission team members announced via Twitter on Wednesday (Sept. 8).
The success came just four days after the car-sized rover collected its first-ever Martian sample, which was also cored from Rochette.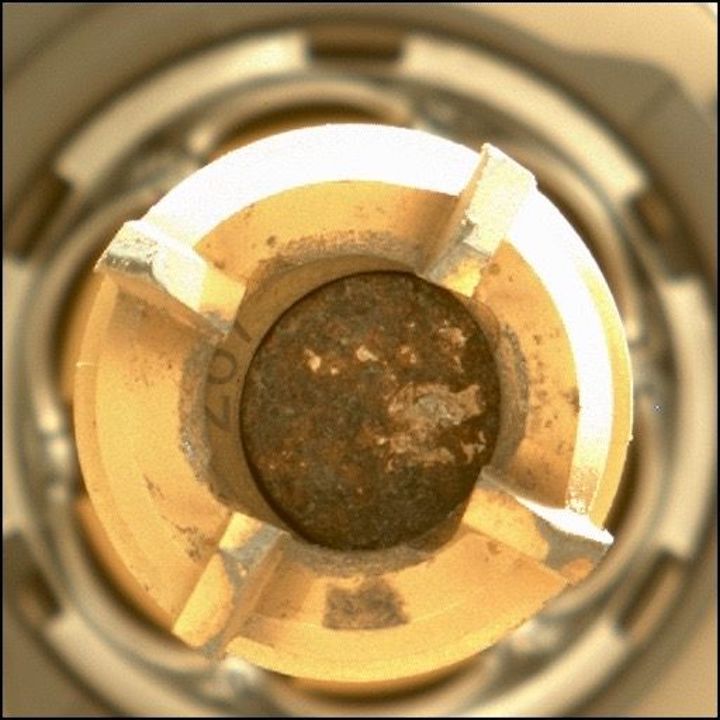 Perseverance landed inside the Red Planet's 28-mile-wide (45 kilometers) Jezero Crater on Feb. 18. The six-wheeled robot's chief tasks are hunting for signs of ancient Mars life and collecting and caching dozens of samples, which will be brought to Earth by a joint NASA-European Space Agency campaign a decade or so from now.
Early in its mission, the rover also supported and documented the first few flights of NASA's technology-demonstrating Ingenuity helicopter, which traveled to Mars on Perseverance's belly. Ingenuity is now embarked on an extended mission, scouting out areas of potential interest to the rover.
Once Perseverance's samples arrive here, scientists in labs around the world will study them for evidence of life and clues about Mars' climate and geological history, NASA officials have said.
Perseverance first tried to collect a sample on Aug. 5 but was stymied by an unexpectedly soft target rock, which crumbled to bits beneath the rover's percussive drill. Rochette is made of much sturdier stuff, as the two latest drilling efforts have shown.
NASA will hold a news conference at 12 p.m. EDT (1600 GMT) on Friday (Sept. 10) to discuss the recent sampling efforts and what the Perseverance team has learned about Rochette to date, among other topics. You can watch it live here at Space.com, courtesy of NASA, or directly via the space agency.
The briefing participants will be:
Lori Glaze, director of NASA's Planetary Science Division at NASA headquarters in Washington
Jessica Samuels, Perseverance surface mission manager at NASA's Jet Propulsion Laboratory (JPL) in Southern California
Matt Robinson, Perseverance strategic sampling operations team chief, JPL
Katie Stack Morgan, Perseverance deputy project scientist, JPL
Yulia Goreva, Perseverance return sample investigation scientist, JPL
Meenakshi Wadhwa, Mars sample return principal scientist, JPL and Arizona State University
Quelle: SC
----
Update: 12.09.2021
.
NASA's Perseverance Rover Collects Puzzle Pieces of Mars' History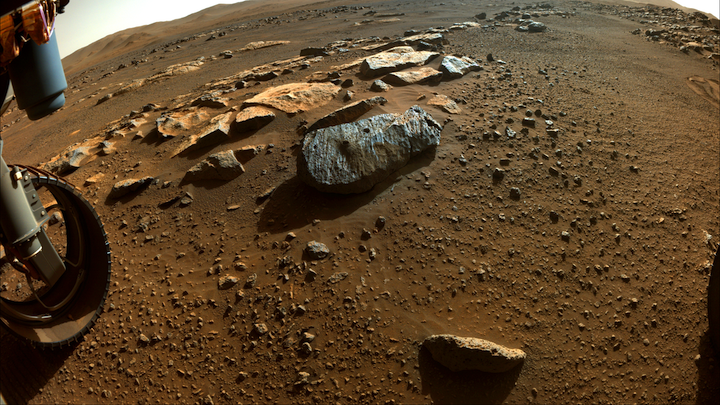 Credits: NASA/JPL-Caltech
NASA's Perseverance Mars rover successfully collected its first pair of rock samples, and scientists already are gaining new insights into the region. After collecting its first sample, named "Montdenier," Sept. 6, the team collected a second, "Montagnac," from the same rock Sept. 8.
Analysis of the rocks from which the Montdenier and Montagnac samples were taken and from the rover's previous sampling attempt may help the science team piece together the timeline of the area's past, which was marked by volcanic activity and periods of persistent water.
"It looks like our first rocks reveal a potentially habitable sustained environment," said Ken Farley of Caltech, project scientist for the mission, which is led by NASA's Jet Propulsion Laboratory (JPL) in Southern California. "It's a big deal that the water was there a long time."
The rock that provided the mission's first core samples is basaltic in composition and may be the product of lava flows. The presence of crystalline minerals in volcanic rocks is especially helpful in radiometric dating. The volcanic origin of the rock could help scientists accurately date when it formed. Each sample can serve as part of a larger chronological puzzle; put them in the right order, and scientists have a timeline of the most important events in the crater's history. Some of those events include the formation of Jezero Crater, the emergence and disappearance of Jezero's lake, and changes to the planet's climate in the ancient past.
What's more, salts have been spied within these rocks. These salts may have formed when groundwater flowed through and altered the original minerals in the rock, or more likely when liquid water evaporated, leaving the salts. The salt minerals in these first two rock cores may also have trapped tiny bubbles of ancient Martian water. If present, they could serve as microscopic time capsules, offering clues about the ancient climate and habitability of Mars. Salt minerals are also well-known on Earth for their ability to preserve signs of ancient life.
The Perseverance science team already knew a lake once filled the crater; for how long has been more uncertain. The scientists couldn't dismiss the possibility that Jezero's lake was a "flash in the pan": floodwaters could have rapidly filled the impact crater and dried up in the space of 50 years, for example.
But the level of alteration that scientists see in the rock that provided the core samples – as well as in the rock the team targeted on their first sample-acquisition attempt – suggests that groundwater was present for a long time.
This groundwater could have been related to the lake that was once in Jezero, or it could have traveled through the rocks long after the lake had dried up. Though scientists still can't say whether any of the water that altered these rocks was present for tens of thousands or for millions of years, they feel more certain that it was there for long enough to make the area more welcoming to microscopic life in the past.
"These samples have high value for future laboratory analysis back on Earth," said Mitch Schulte of NASA Headquarters, the mission's program scientist. "One day, we may be able to work out the sequence and timing of the environmental conditions that this rock's minerals represent. This will help answer the big-picture science question of the history and stability of liquid water on Mars."
Next Stop, 'South Séítah'
Perseverance is currently searching the crater floor for samples that can be brought back to Earth to answer profound questions about Mars' history. Promising samples are sealed in titanium tubes the rover carries in its chassis, where they'll be stored until Perseverance drops them to be retrieved by a future mission. Perseverance will likely create multiple "depots" later in the mission, where it will drop off samples for a future mission to bring to Earth. Having one or more depots increases the likelihood that especially valuable samples will be accessible for retrieval to Earth.
Perseverance's next likely sample site is just 656 feet (200 meters) away in "South Séítah," a series of ridges covered by sand dunes, boulders, and rock shards that Farley likens to "broken dinner plates."
The rover's recent drill sample represents what is likely one of the youngest rock layers that can be found on Jezero Crater's floor. South Séítah, on the other hand, is likely older, and will provide the science team a better timeline to understand events that shaped the crater floor, including its lake.
By the start of October, all Mars missions will be standing down from commanding their spacecraft for several weeks, a protective measure during a period called Mars solar conjunction. Perseverance isn't likely to drill in South Séítah until sometime after that period.
More About Perseverance
A key objective for Perseverance's mission on Mars is astrobiology, including the search for signs of ancient microbial life. The rover will characterize the planet's geology and past climate, pave the way for human exploration of the Red Planet, and be the first mission to collect and cache Martian rock and regolith --broken rock and dust.
Subsequent NASA missions, in cooperation with ESA (European Space Agency), would send spacecraft to Mars to collect these sealed samples from the surface and bring them to Earth for in-depth analysis.
The Mars 2020 Perseverance mission is part of NASA's Moon to Mars exploration approach, which includes Artemis missions to the Moon that will help prepare for human exploration of the Red Planet.
JPL, which is managed for NASA by Caltech in Pasadena, California, built and manages operations of the Perseverance rover.
Quelle: NASA
----
Update: 15.09.2021
.
Perseverance collects first Mars samples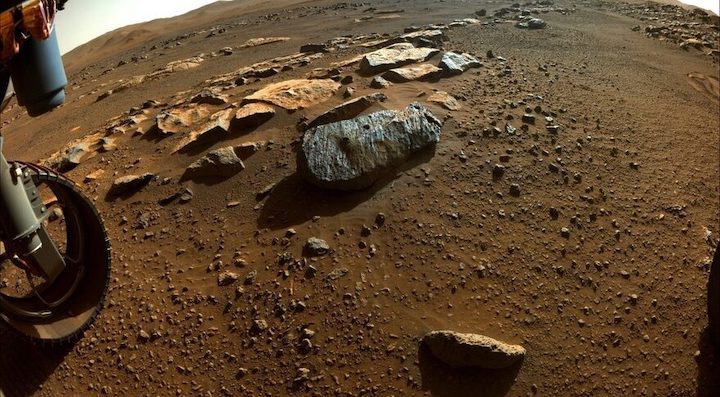 WASHINGTON — NASA's Perseverance Mars rover has collected and stored the first samples of Martian rock for later return to Earth, but exactly when those samples will arrive on Earth remains uncertain.
At a Sept. 10 news briefing, NASA officials and project scientists hailed the collection of two samples from a rock dubbed "Rochette" as a major step forward in the long-term Mars sample return effort that will conclude no earlier than a decade from now with those samples returned to Earth.
"These now represent the beginning of Mars sample return," said Meenakshi Wadhwa, an Arizona State University planetary scientist who serves as Mars sample return principal scientist for NASA.
The successful collections of the first two samples came a month after the rover tried and failed to collect a sample from another rock, called Roubion. Scientists concluded that the problem was not with the sampling system but instead with the rock itself: it was weaker than expected and crumbled during the sampling process.
The two volcanic rocks are similar, but likely were exposed to different amounts of water, said Yulia Goreva, Perseverance return sample investigation scientist at JPL. Roubion experienced much more alteration in the form of salts created by the exposure to water.
"If these rocks experienced water for long periods of time, there may be habitable niches in these rocks that could have supported ancient microbial life," said Katie Stack Morgan, Perseverance deputy project scientist at JPL. The project thus decided to collect two samples of Rochette, with plans to later store them in separate sample caches to increase the likelihood at least one makes it back to Earth.
Perseverance will collect about three dozen samples during its mission. Scientists said at the briefing they were planning their next sample collection efforts and left open the possibility of making another attempt to collect samples from Roubion.
Two future missions will retrieve those samples and bring them back to Earth. A lander mission, led by NASA and including a European Space Agency rover, will pick up the samples, load them into a container and launch them into orbit around Mars. An ESA-led orbiter, with a NASA-provided collection system, will grab the samples and return them to Earth.
Those later missions will launch no earlier than 2026, although they are still in what NASA calls Phase A, focused on initial studies. "As part of Phase A, we are exploring a bunch of different trades and trying to best understand how we can execute this mission," said Lori Glaze, director of NASA's planetary science division. "We're where we should be right now."
She didn't elaborate on what trades were being studied or when that would be complete. An independent review last year recommended NASA consider several changes, ranging from pushing the launch of the missions to 2028 to considering splitting the sample return lander into two spacecraft and using nuclear, rather than solar, power for it. There's growing skepticism in the planetary science community that the two Mars sample return missions could be ready to launch in 2026.
Funding, she added, is not an issue. "We are extremely pleased with the budget request that the president put forward for fiscal year 2022 and beyond, and I think we are in a really good place right at this moment with the funding that we have," she said. That budget proposal included $653 million for Mars sample return in 2022 and projected spending $3.5 billion from 2022 through 2026.
In the meantime, Perseverance will continue to collect samples for eventual return to Earth. "In our science community, we've talked about Mars sample return for decades," said Wadhwa. "Now it's actually starting to feel real."
Quelle: SN
----
Update: 20.09.2021
.
Take a 3D Spin on Mars and track NASA's Perseverance Rover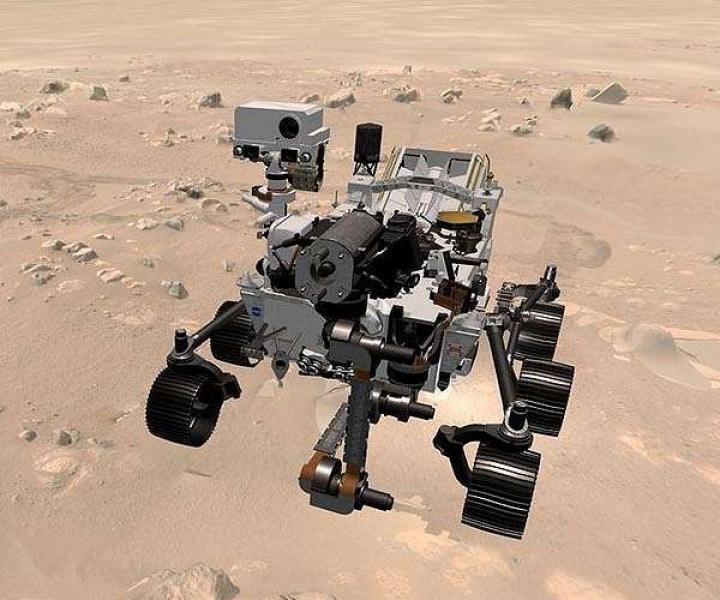 NASA's Mars Perseverance rover is shown at its landing site in Jezero Crater in this view from the "Explore with Perseverance" 3D web experience. This interactive web tool features a 3D model of the rover on 3D landscape created from real images taken by Perseverance. Credit: NASA/JPL-Caltech
Two interactive web experiences let you explore the Martian surface, as seen by cameras aboard the rover and orbiters flying overhead.
It's the next best thing to being on Mars: Two online interactive experiences let you check out Jezero Crater - the landing site and exploration locale for NASA's Perseverance rover - without leaving our planet.
One new experience, called "Explore with Perseverance," allows you to follow along with the rover as though you were standing on the surface of Mars. Another interactive - "Where Is Perseverance?" - shows the current location of the rover and Ingenuity Mars Helicopter as they explore the Red Planet. It's updated after every drive and flight and allows you to track the progress of Perseverance and Ingenuity, in their journeys on and above the Red Planet.
Explore with Perseverance is made mostly with images taken by the rover from various vantage points, with additional images from the HiRISE (High Resolution Imaging Experiment) camera aboard NASA's Mars Reconnaissance Orbiter overhead.
"It's the best reconstruction available of what Mars looks like," said Parker Abercrombie, a senior software engineer who is leading the software development at NASA's Jet Propulsion Laboratory in Southern California. The agency's Mars Public Engagement team recruited Abercrombie and his colleagues, who work on similar tools for the mission team, to develop a public-friendly experience by stitching together and reconstructing the Perseverance and HiRISE images.
The team plans to update the site regularly with new views from the spacecraft and the rover and some new points of interest, as they are found. For example, says Abercrombie, "we can highlight scientifically interesting rocks and other features, or the Ingenuity helicopter flight locations."
Abercrombie believes the site will help people understand the perspective as if they were on Mars. "It's sometimes hard for people to grasp location and distance from Mars images. It's not like here on Earth, where you can get your bearings by looking at trees and buildings. With the Martian terrain, it can be really hard to wrap your head around what you're seeing."
The dashboard makes it easy for parents and teachers to share the 3D views with kids, bringing them along as Perseverance explores.
The 3D tool is based on the Advanced Science Targeting Tool for Robotic Operations (ASTTRO) that the rover's science team uses to select interesting targets for the rover to study - but has been modified to make it more user-friendly.
"It's a unique challenge to set things up so people can browse in a way they'll understand, since users have varying experiences in using 3D environments," Abercrombie said. "This is a great opportunity for the public to follow along with the mission, using the same type of visualization tools as the mission scientists."
The Curiosity mission has a similar experience built by the same team.
A Mars Map of the Rover and Helicopter Journeys
"The Where Is Perseverance? map allows you to see more of what we're doing and where we're going," said JPL Mapping Specialist Fred Calef. It, too, is based on ASTTRO, and Calef notes that you'll get the data almost as fast as the engineers and scientists do. Plus, you're using practically the same software the team uses, "so everyone can explore the way we explore in almost the same way," Calef says, zooming in, zooming out, and panning around.
The map shows the rover's route and its stopping points with markers indicating the Martian day, or sol, and you'll get the overview of where Perseverance and Ingenuity might head next. Terrain maps like this one allow scientists to spot interesting places to look for possible evidence of ancient life, and you'll be able to share in the journey.
When Ingenuity flies, it's usually a burst of activity and then a lull for a couple of weeks. The rover, says Calef, "drives more often, though not as far, traveling around 130 meters [142 yards] on its longest drive (sol) to date. When we find a geologically interesting spot, we'll stop for a week or so to check it out."
Quelle: SD
+++
NASA's Ingenuity Helicopter Captures a Mars Rock Feature in 3D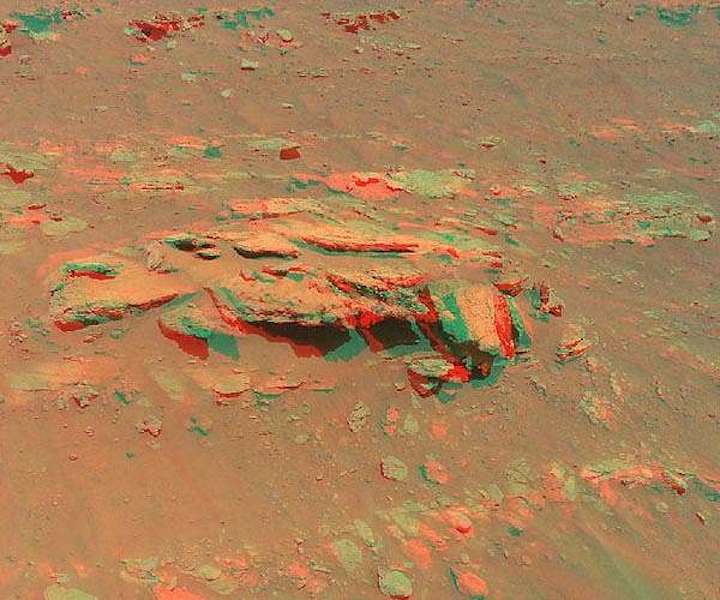 NASA's Ingenuity Mars Helicopter provided a 3D view of a rock-covered mound during its 13th flight on Sept. 4. The plan for this reconnaissance mission into the "South Seitah" region of Mars' Jezero Crater was to capture images of this geologic target - nicknamed "Faillefeu" (after a medieval abbey in the French Alps) by the agency's Perseverance rover team - and to obtain the color pictures from a lower altitude than ever before: 26 feet (8 meters).
About 33 feet (10 meters) wide, the mound is visible just north of the center of the image, with some large rocks casting shadows. Stretching across the top of the image is a portion of "Artuby," a ridgeline more than half a mile (900 meters) wide. At the bottom of the image, and running vertically up into the middle, are a few of the many sand ripples that populate South Seitah.
Best viewed with red-blue glasses, this stereo, or 3D, view (also called an anaglyph) was created by combining data from two images taken 16 feet (5 meters) apart by the color camera aboard Ingenuity.
Quelle: SD
190 Views