27.09.2019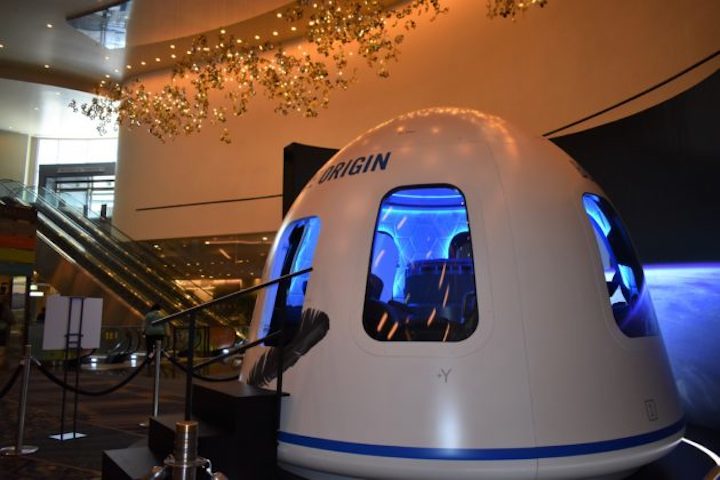 Amazon CEO Jeff Bezos' Blue Origin space venture is laying plans for two more uncrewed tests of its New Shepard suborbital spaceship, but may have to delay its plans to put people on board until next year, CNBC reported.
The potential for shifting the start of test flights with people came up on Tuesday when Blue Origin CEO Bob Smith met with reporters in Washington, D.C.
Blue Origin, which is headquartered in Kent, Wash., has filed plans with the Federal Communications Commission for at least two more New Shepard test flights from its test and launch facility in West Texas. These would be the 12th and 13th flights of the New Shepard test program.
On Tuesday, Blue Origin sought reauthorization of the next test flight for a six-month period running from Nov. 1 to next May. The existing authorization is set to expire on Dec. 1, which suggests that the company wants to reserve more time to prepare for the test.
Blue Origin has repeatedly pushed back its predictions for the start of New Shepard flights with people on board. Less than a year ago, for example, Smith told GeekWire that the first crewed flight would take place during the first half of 2019.
In a July interview, Smith told Axios that "we're still pushing" to do flights with people by the end of the year. But Smith and other executives, including Bezos himself, have always included the caveat that the company would make sure the spaceship was safe before taking that step.
This week, Smith told CNBC that Blue Origin was taking its time out of concern for "the robustness of our entire system" rather than any single factor.
"It's us being cautious and thorough with the total systems we need to verify," Smith was quoted as saying.
The New Shepard capsule that's destined to fly people has already been built, and has been christened "RSS First Step" (with RSS standing for "Reusable Spaceship"). It hasn't yet been flown, however.
Because the capsule is designed to fly autonomously, it's debatable whether the people on board would be called crew members or passengers. "We will fly Blue Origin astronauts before we fly commercial passengers and haven't done any real work on passenger selection or the ticket sale process," the company told GeekWire via an emailed statement in July. It said ticket sales would begin sometime after the first in-house astronauts fly.
During Tuesday's session with journalists, Smith highlighted longstanding concerns about the Air Force's plan to winnow down the field of participants in its program to develop new launch vehicles for national security missions.
The Air Force plans to select two providers in Phase 2 of the program, but Blue Origin argues that three or four providers should be selected to service what it says will be an increased demand for launches. To support its view, the company is distributing an internal market study conducted by an unnamed consulting firm.
Air Force officials have defended their approach to the Phase 2 selection process, saying that it strikes the proper balance for achieving assured access to space while respecting a congressional mandate to stop using Russian-made rocket engines. Space News reported that an Air Force white paper addressed Blue Origin's concerns in detail.
Other competitors for Phase 2 funding include Northrop Grumman, SpaceX and United Launch Alliance.
SpaceX has its own concerns about the competition — stemming from the fact that it was excluded from last year's Phase 1 funding round, which set aside as much as $2.3 billion for the other three companies. SpaceX protested the process in a lawsuit filed against the federal government in May. Last month, the U.S. Court of Federal Claims in Washington referred SpaceX's dispute to U.S. District Court in California.
Quelle: GeekWire
2283 Views