9.09.2019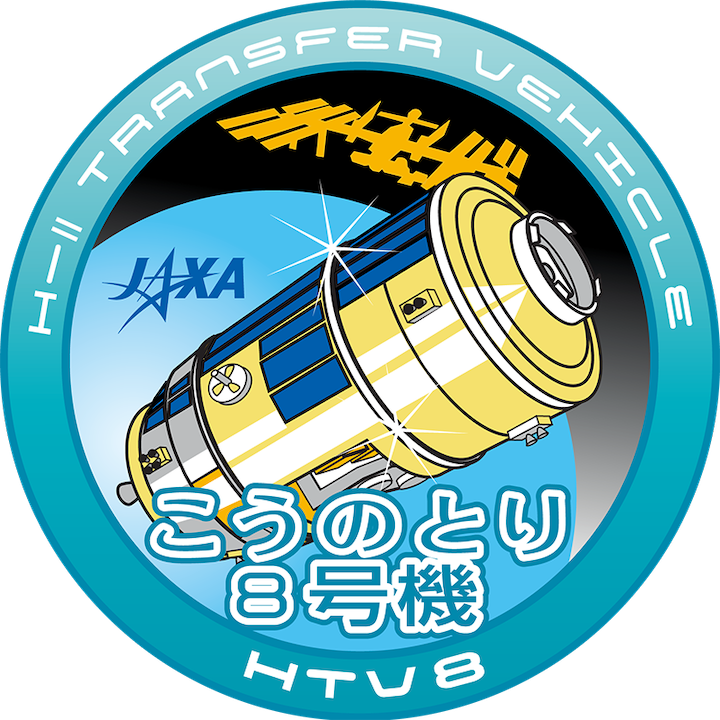 HTV8 Mission
Developed and built in Japan, the H-II Transfer Vehicle (HTV) known as "KOUNOTORI (meaning 'white stork' in Japanese)" is an unmanned cargo transfer spacecraft that delivers supplies to the International Space Station (ISS).
"KOUNOTORI" provides very basic support for ISS operations by delivering up to six tons of cargo and has the world's largest transportation capacity. It also has the unique function of carrying multiple numbers of large-size experimental instruments on one flight.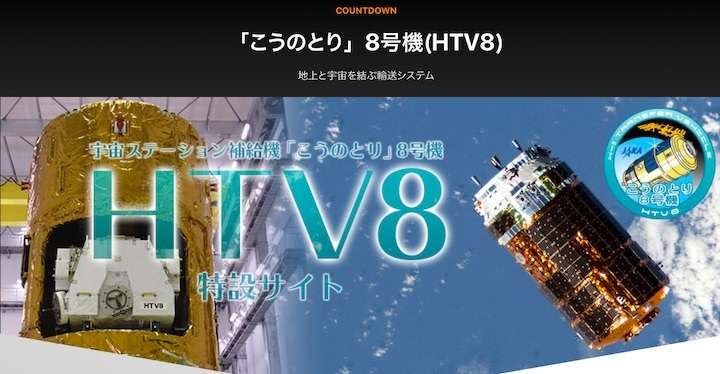 +++
HTV8 Payload
HTV8 delivers a total of 5.4 metric tons (in the Pressurized Logistics Carrier (PLC) 3.5 metric tons and in the Unpressurized Logistics Carrier (ULC) 1.9 metric tons) supplies to the ISS.
Major supply goods to be delivered on board are as follows:
Cargo in the pressurized Logistic Carrier (PLC)
Utilization/experiment related items
Cell Biology Experiment Facility-Left (CBEF-L)

Small Optical Link for International Space Station (SOLISS)

Gravitational Dependence Research of Flexible Surface on a Planet (Hourglass)

JEM Small Satellite Orbital Deployer (J-SSOD) and Ultra-small Satellite (CubeSat)
Cargo for the ISS crew
Cargo on the Unpressurized Logistics Carrier (ULC)
ISS battery Orbital Replacement Units (ORUs)

Following HTV6 and HTV7, HTV8 will deliver new lithium ion batteries for ISS on the Exposed Pallet (EP) on the Unpressurized Logistic Carrier (ULC). New six battery Orbital Replacement Units (ORUs) consisting of new lithium-ion battery cells manufactured by a Japanese company are delivered.

The nickel-hydrogen batteries currently used on the ISS are becoming old. The extension of ISS operations becomes possible with the supply of Japanese lithium-ion battery cells. Only the HTV is capable of delivering six battery ORUs at one time, and thus plays an important role in continuous ISS operations.

Quelle: JAXA

----

Update: 10.09.2019

.

Japan set to launch space station resupply mission

Japan's eighth HTV supply ship is set for launch Tuesday (U.S. time) from the Tanegashima Space Center. Credit: JAXA

A Japanese HTV cargo freighter is set for launch Tuesday (U.S. time) aboard a powerful H-2B rocket, ferrying six new lithium-ion batteries, a Sony-developed laser communications terminal, fresh water and other equipment to the International Space Station.

The unpiloted cargo ship is set for liftoff at 2133:29 GMT (5:33:29 p.m. EDT) Tuesday from the Tanegashima Space Center, a spaceport carved from rocky outcrops overlooking the Pacific Ocean.

A Mitsubishi Heavy Industries H-2B rocket will haul the HTV supply ship, also known as Kounotori 8, into orbit on a 15-minute flight heading southeast over the Pacific.

Liftoff is set for 6:33 a.m. Japan Standard Time on Wednesday, roughly the moment Earth's rotation brings the Tanegashima launch complex under the space station's orbital plane.

The mission will be the eighth cargo flight to the space station by a Japanese H-2 Transfer Vehicle since 2009.

The 186-foot-tall (56.6-meter) H-2B rocket is set to roll out Tuesday to Launch Pad No. 2 at Tanegashima, where launch crews will connect the vehicle's mobile transporter to ground electrical and fluid supplies. Super-cold liquid hydrogen and liquid oxygen, which will power both stages of the H-2B launcher, will begin flowing into the rocket in the hours before liftoff.

The rocket's two first stage LE-7A main engines will ignite in the final seconds of the countdown, followed by ignition of four strap-on solid rocket boosters to propel the launcher off the pad with 2.5 million pounds of thrust.

The H-2B's guidance computer will turn the rocket toward the southeast to align with the space station's orbital plane, and the rocket's four strap-on boosters will burn out and jettison around two minutes after liftoff. The H-2B's nose fairing, which will shield the HTV supply ship in the early phases of the mission, will separate at around T+plus 3 minutes, 40 seconds.

The rocket's first stage engines will shut down just shy of the six-minute mark on the mission, followed be stage separation seconds later. A single LE-5B engine on the second stage will ignite and ramp up to more than 30,000 pounds of thrust for a burn set to last more than eight minutes.

The second stage engine will accelerate the HTV supply ship into a preliminary orbit ranging nearly 200 miles above Earth. Deployment of the the HTV cargo craft is planned approximately 15 minutes after liftoff.

Japan's eighth HTV cargo freighter, inside the H-2B rocket's payload fairing, is seen during transport at the Tanegashima Space Center in preparation for launch. Credit: JAXA

An on-target launch will set up the Kounotori 8 spacecraft for a four-day pursuit of the space station.

Packed with some 8,326 pounds (3,777 kilograms) of equipment, experiments and crew provisions, the Kounotori 8 spacecraft will approach the space station in autopilot mode Saturday. The space station crew will use the lab's Canadian-built robotic arm to capture the HTV supply ship around 7 a.m. EDT (1100 GMT) Saturday, then bring the spacecraft to a berthing port on the station's Harmony module.

The six-person crew inside the station will get to work unpacking 5,313 pounds (2,410 kilograms) of cargo inside the HTV's pressurized logistics carrier. Meanwhile, robots outside the station will extract a pallet from the HTV's unpressurized cargo bay containing six lithium-ion batteries to upgrade the space station's power system.

Astronauts Nick Hague and Andrew Morgan on the space station will conduct at least two spacewalks — the first is set for later this month — to begin installing the fresh batteries, which will replace aging and less-capable nickel-hydrogen batteries on the P6 solar array module on the far port side of the station's truss backbone.

The Kounotori 8 mission will deliver the third set of six lithium-ion batteries to upgrade the space station's four huge U.S.-built external power modules, each of which features solar array wings that span 240 feet (73 meters) tip-to-tip. The sixth HTV mission in 2016 carried the first set of new batteries to the station, followed by a second batch last year on the Kounotori 7 resupply mission.

A final set of six batteries will launch on the ninth HTV flight next year.

Each solar array section powers two electrical channels with 12 charging nickel-hydrogen batteries, and NASA is replacing the old batteries in power truss section with six lighter, more efficient lithium-ion batteries.

Diagram of the H-2 Transfer Vehicle. Credit: JAXA

JAXA uses the HTV missions as part of its contribution to the space station program. Nicknamed Kounotori, which means "white stork" in Japanese, the cargo freighter measures about 33 feet (10 meters) long and about 14 feet (4.4 meters) in diameter.

The Kounotori 8 mission is also carrying food, fresh drinking water, a high-pressure gas tank to recharge the space station's internal atmosphere with oxygen and nitrogen, and spacewalking tools.

The HTV will also deliver experiments to the space station.

One of the experiments will demonstrate a high-speed satellite laser communications system developed by JAXA and Sony Computer Science Laboratories. The technology demonstrator will test a laser link with a ground station, which can accommodate higher-bandwidth communications than radio systems.

"This technology, which employs a laser for in-orbit mass-data communication, will likely be widely used not only in the telecommunications industry, but in the future as a means of communication in the field of exploration," said Koichi Wakata, a JAXA vice president, in a statement. "Specifically, it can be used as a means of communication between the Earth and the International Space Station, the moon, and Mars. There is a wide range of potential applications, such as communication with the moon rovers."

The Small Optical Link for International Space Station, or SOLISS, experiment will be mounted on an experiment platform outside the space station's Japanese Kibo laboratory module.

"Sony CSL is taking advantage of the in-orbit demonstrations to complete our long-distance laser communication system," said Hiroaki Kitano, president of Sony CSL. "It will be the first step for Sony to build upon the results of these demonstrations and put it into practical use in society as we commercialize it.

"The opportunity to use Kibo for the in-orbit demonstrations makes it possible to greatly advance the research and development of the optical communication system, much more quickly than if we had launched a small satellite for the same purpose on our own," Kitano said. "The SOLISS system is built using consumer components. After the demonstrations, we will retrieve the SOLISS unit and perform follow-up analyses, which we expect will further accelerate our commercialization process."

Japan's Hourglass experiment is also set for launch on the eighth HTV mission to help scientists investigate the behavior of soil and rock particles under low gravity, simulating the conditions future probes might encounter on a small planet or asteroid.

New hardware for a cellular biology experiment rack will also fly to the space station on the Kounotori 8 spacecraft, expanding the station's capabilities for biological research.

Three CubeSats are also set to ride to the station inside the Kounotori 8 spacecraft. Once they arrive at the station, astronauts will transfer them to the Japanese Kibo module, where they will install them into a deployer for release into orbit through an airlock.

The 2-pound (1-kilogram) NARSSCube 1 nanosatellite was developed by Egypt's National Authority for Remote Sensing and Space Science in partnership with the Kyushu Institute of Technology in Japan. It carries a low-resolution imaging camera.

The AQT-D CubeSat, which weighs 8.1 pounds (3.7 kilograms) and is about the size of a shoebox, will demonstrate a water-based satellite propulsion system. The AQT-D mission is led by the University of Tokyo.

Rwanda's first satellite, named RWASAT 1, will also launch Tuesday. Officials say the satellite will aid agricultural and environmental monitoring.

Quelle: SN

----

Update: 11.09.2019

.

Pad fire scrubs HTV-8 launch to the ISS

+++

Space station cargo mission grounded by launch pad fire

Japanese officials called off the launch of an H-2B rocket and HTV space station cargo ship Tuesday after a fire broke out on the launch pad at the Tanegashima Space Center.

The fire occurred at around 1805 GMT (2:05 p.m. EDT) Tuesday, or 3:05 a.m. local time Wednesday, around three-and-a-half hours before the H-2B launcher was scheduled to lift off with an automated supply ship bound for the International Space Station.

The cause of the fire was still under investigation when officials briefed reporters on the fire four hours after cameras first observed the blaze near the base of the 186-foot-tall (56.6-meter) rocket. The launch pad was evacuated at the time of the fire, and the rocket's manufacturer, Mitsubishi Heavy Industries, reported no injuries.

A live video feed of the launch pad showed a flash near the base of the H-2B rocket, followed by a cloud smoke. Water jets began spraying the launcher and its mobile platform around 15 minutes later.

Around 90 minutes later, a loudspeaker announcement at Tanegashima said the H-2B launch was postponed because of a "fire around a hole in the deck of the mobile launcher … We are trying to extinguish a fire."

The fire occurred after the H-2B launch team filled the rocket with nearly 430,000 pounds (194 metric tons) of super-cold liquid hydrogen and liquid oxygen propellants.

The flames were easily visible in the live video feed for several minutes before abating. But a hydrogen fire can be almost invisible, and water continued spraying on the launch pad for nearly three hours.

Detectors around the launch pad did not sense any leak of liquid hydrogen or liquid oxygen during the countdown, and MHI officials at Tanegashima told reporters a few hours after that fire that ground crews were still investigating the cause of the blaze.

No apparent damage to the rocket was visible after sunrise at Tanegashima.

Officials from MHI and the Japan Aerospace Exploration Agency did not announce a new target launch date, but the flight was expected to be postponed by at least several days.

The H-2B rocket was set to blast off with Japan's eighth HTV resupply mission to the space station.

The eighth HTV spacecraft is packed with some 8,326 pounds (3,777 kilograms) of equipment, experiments and crew provisions for the space station, including six new lithium-ion batteries to update the orbiting research lab's power system.

Around 5,313 pounds (2,410 kilograms) of cargo is loaded inside the HTV's pressurized logistics carrier, including a Sony-developed laser communications experiment, hardware for a cellular biology research rack and fresh water.

Astronauts Nick Hague and Andrew Morgan on the space station planned to conduct at least two spacewalks Sept. 27 and Oct. 1 to begin installing the fresh batteries, which will replace aging and less-capable nickel-hydrogen batteries on the P6 solar array module on the far port side of the station's truss backbone.

The spacewalk schedule may be impacted by the HTV launch delay, depending on how long the mission remains grounded.

Meanwhile, a Russian Soyuz crew ferry craft is set for liftoff from Kazakhstan on Sept. 25 with cosmonaut Oleg Skripochka, NASA astronaut Jessica Meir, and United Arab Emirates astronaut Hazzaa Ali Almansoori. The trio will arrive at the station the same day, and Ali Almansoori will return to Earth on Oct. 3 on a different Soyuz capsule with outgoing station crew members Alexey Ovchinin and Nick Hague.

Quelle: SN

+++

Pad fire scrubs HTV-8 launch to the ISS

Japan's Kounotori H-II Transfer Vehicle's eighth journey to the International Space Station aboard an H-IIB carrier rocket was scrubbed due to a fire on the launch pad. Liftoff from the Tanegashima Space Centre was scheduled for 06:33:29 Japan Standard Time (21:33 UTC on Tuesday), with the spacecraft due to separate into low Earth orbit just over fifteen minutes later. A new launch date is yet to be decided.

The H-II Transfer Vehicle (HTV), also known as Kounotori, is the Japanese contribution to a fleet of uncrewed spacecraft that fly cargo and resupply missions to the International Space Station (ISS).

Along with the Russian Progress, US Dragon and Cygnus and formerly the European Automated Transfer Vehicle (ATV), it can deliver supplies, equipment and experiments to the astronauts aboard the outpost.

The Kounotori 8 (HTV-8) mission that will launch is the penultimate flight of the HTV, which is to be replaced with the enhanced HTV-X in the early 2020s.

Japan's contributions to the ISS program are managed by the Japan Aerospace Exploration Agency, JAXA. The launch, JAXA's eighth to the station, comes on the tenth anniversary of the first HTV launch. Launched on 11 September 2009 (10 September in UTC) the Kounotori 1, or HTV-1, spacecraft spent six weeks berthed at the ISS before ending its mission with a planned destructive reentry on 1 November.

The Kounotori 1 mission also marked the maiden flight of the H-IIB rocket and the first use of the second pad of the Tanegashima Space Centre's Yoshinobu Launch Complex, both of which will be used for the launch.

Manufactured by Mitsubishi Electric, HTV measures about ten meters (33 feet) in length and 4.4 meters (14 feet) in diameter. It has a mass of up to 16,500 kilograms (36,400 lb), including up to 4,100 kg (9,000 lb) of pressurised and 1,900 kg (4,200 lb) unpressurised cargo.

HTV is designed for five days of free-flight either side of a 45-day stay at the International Space Station, with the ability to loiter on-orbit for seven days in the event of a problem during initial berthing attempts.

Primary propulsion for the HTV is provided by four IHI Corporation HBT-5 thrusters, fuelled by monomethylhydrazine and mixed oxides of nitrogen (MON-3, a mixture of three percent nitrogen monoxide and 97% dinitrogen tetroxide), while twenty-eight 120-Newton (27 pound) reaction control thrusters are used for attitude control and maneuvering. Surface-mounted solar cells on spacecraft's exterior generate power for its systems.

Kounotori is designed to carry both pressurized and unpressurized cargo to the Space Station in two compartments. The Pressurised Logistics Carrier (PLC) is located at the nose of the spacecraft and incorporates the Common Berthing Mechanism that will secure it to the station. Once berthed, astronauts will enter the PLC and access its cargo.

Behind this, the Unpressurised Logistics Carrier (ULC) contains an Exposed Pallet with additional cargo to be accessed from outside of the station. For the Kounotori 8 mission, a Type III Exposed Pallet will be used, which is designed to be used in conjunction with the Mobile Base System on the US Orbital Segment. The other type of pallet, Type I, is designed instead to be mounted to the Exposed Facility of the Japanese Kibo module.

CanadArm2, the space station's robotic arm, and its Dextre attachment are used to extract the pallet from Kounotori, and to reinstall it prior to departure.

The Exposed Pallet is loaded with six Orbital Replacement Units (ORUs) for batteries on the station's Integrated Truss Structure (ITS). These consist of lithium-ion batteries which will replace the original nickel-hydrogen units that launched with the truss segments.

Once these have been installed – which will require a series of spacewalks – three quarters of the truss batteries will have been replaced with a final batch of six replacements due to launch aboard the next Kounotori mission next year. The old batteries will be loaded into Kounotori 8 for disposal, burning up with the spacecraft when it reenters the atmosphere at the end of its mission.

The Pressurised Logistics Carrier incorporates a new racking system developed for the next-generation HTV-X spacecraft, which increases the number of Cargo Transfer Bags that can be carried from 248 to 316. Each bag measures 50.2 by 42.5 by 24.8 centimeters (19.8 by 16.7 by 9.76 inches), providing a volume of about 50 liters (3,050 cubic inches). The cargo includes provisions and fresh food for the space station's crew, as well as experiments that will be conducted in the station's Japanese Experiment Module (JEM), Kibo.

The Cell Biology Experiment Facility – Left (CBEF-L) contains a centrifuge to support biological and other experiments that require artificial gravity. CBEF-L will join the existing Cell Biology Experiment Facility (CBEF), providing new capabilities to simulate a greater range of gravity conditions and to facilitate experiments on larger animals than mice.

The Hourglass experiment, also known as Gravitational Dependence Research of Flexible Surface on a Planet is a materials research project which will use the CBEF centrifuge to investigate how powders and granular materials behave in microgravity and low-gravity conditions. Samples will be tested in cylindrical and hourglass-shaped containers, with the experiment aimed at giving better insights on how surface dust or sand might behave on planets and moons.

The Small Optical Link for International Space Station (SOLISS) will test optical communications with a gimballed laser and receiver assembly and engineering camera to be mounted outside the space station on the IVA-Replaceable Small Exposed Experiment Platform (i-SEEP). A partnership between JAXA and Sony, SOLISS can send and receive laser communications to and from the ground via a 1,550-nanometre beam. While the engineering camera's primary purpose is to observe operation of the gimbal, its images can also be transmitted to the ground as part of the experiment.

Three small satellites are also being carried aboard Kounotori 8, for deployment from the International Space Station via the JEM Small Satellite Orbital Deployer (J-SSOD). Built to the CubeSat standard, these spacecraft will be released from the Kibo module's airlock later this year.

The University of Tokyo's Aqua Thruster Demonstrator (AQT-D) is a three-unit CubeSat which will test the Aqua Resistojet Propulsion System (Aquarius-1U) in orbit. This will eject water vapor from the satellite to generate an impulse, adjusting the satellite's orbit. A water propulsion system has been proposed as a way of extending the lifespan of small satellites deployed from the space station without endangering the crew or outpost by carrying traditional propellants. AQT-D will attempt to validate this in space. The satellite also carries a UHF communications payload.

NARSScube-1 is a single-unit CubeSat built by Egypt's National Authority for Remote Sensing and Space Sciences (NARSS). Equipped with a miniature camera with a 200-meter (650-foot) resolution, the satellite will record images of the Earth and transmit them back to its operators, while providing them with experience and demonstrating technologies ahead of future missions. It follows on from the identical NARSScube-2, which was deployed from a US Cygnus spacecraft in August.

The final CubeSat aboard HTV-8 is Rwanda Satellite 1, or RWASAT-1. Rwanda's first satellite, RWASAT-1 carries a communications payload that will collect and forward data from remote monitoring stations on the ground. The satellite also carries two cameras for Earth observation and will serve as a technology demonstrator.

Mitsubishi Heavy Industries' H-IIB rocket is used to launch the Kounotori spacecraft. The H-IIB is a modified version of Japan's workhorse H-IIA rocket, featuring a wider first stage with two LE-7A engines instead of the single engine used on the H-IIA. Used only in conjunction with the HTV, this launch marks the H-IIB's eighth and penultimate flight.

JAXA has taken lessons learned with both the H-IIA and H-IIB to develop a next-generation rocket, H-III, which will reduce the cost per launch of Japanese satellites. H-III is expected to make its first flight in late 2020 or 2021 and will take over HTV launches when the enhanced HTV-X is introduced.

The launch will use the second pad of the Yoshinobu Launch Complex at JAXA's Tanegashima Space Centre. The Yoshinobu Complex was constructed for the original H-II rocket in the 1990s, initially consisting of a single pad. This was subsequently converted for H-IIA missions, and in the early 2000s a backup pad was built for the H-IIA close to the original.

H-IIA never flew from the backup pad, which was later repurposed for the H-IIB. All of the H-IIB's missions have been flown from this second pad, while the H-IIA continues to fly from its original pad.

Prior to launch, the H-IIB was integrated atop a mobile launch platform in Bay 2 of the Vehicle Assembly Building 350 meters (1,150 feet) northwest of the pad.

Quelle: NS

+++

JAXA launch for HTV-8 cargo mission to International Space Station officially scrubbed

During a press conference held just after 6 AM JST, Mitsubishi Heavy Industries Launch Director Atsutoshi Tamura and the Director of JAXA's Tanegashima Space Center Takeshi Fujita detailed what the two partners knew so far about the cause of their aborted HTV-8 mission on Tuesday.

The launch, scheduled to take place at 6:33 AM JST, instead was officially scrubbed at around 4:34 AM JST due to a fire on the mobile launcher upon which the Mitsubishi Heavy Industries H-IIB rocket was sitting ready for launch. The fire began at 3:05 AM JST according to Tamura, and efforts began immediately to extinguish it immediately, with the fire finally being completely put out (as far as JAXA and MHI can tell) by 5:10 AM JST.

So far, all that is known about the fire is that it occurred in a small hole in the platform located between the third and fourth solid propellant boosters, which is designed to provide a venting channel for fire put out by the rocket's engines when it's operating normally during launch. This aperture is made of metal, and surrounded by fire retardant materials, which makes it very unlikely for it to catch fire normally. Both Tamura and Fujita confirmed that this specific situation has not happened previously with any prior launches.

The actual cause of the fire remains unknown, and so far, JAXA and MHI staff have not been able to approach the launch vehicle for a closer inspection due to safety considerations. They are confident based on observation from a distance that they've succeeded in putting the fire out, and anticipate being able to approach the rocket later today to perform an in-person inspection.

The vehicle was fully fueled when the fire began, but the fuel was quickly siphoned out when the fire was discovered. It's not yet clear what damage to the launch vehicle has resulted from the incident. The cargo, which included a significant amount of supplies for ISS astronauts, doesn't initially appear to have been damaged but further inspection will be required, per MHI and JAXA. There isn't an urgent need for those supplies, however, JAXA confirms.

At the very earliest, the next launch attempt will be September 17, MHI shared, but this date is highly dependent on the results of the investigation into the cause of the fire.

The original article, including updates, follows below.

[Update 09/11/19 4:34 AM JST: JAXA and MHI confirm the launch is scrubbed for today. We'll find out more at a press conference at 6 AM JST, including whether there is any chance of making an attempt in the backup window.]

[Update 09/11/19 4:07 AM JST: JAXA and MHI confirm that there is a fire on the Mobile Launcher upon which the H-IIB is loaded to roll out to the launch pad. The fire, described as 'small,' started at 3:10 AM JST and continues as of this writing at 4:07 AM JST, while attempts are underway to extinguish it, as you can see in the photo captured on site by TechCrunch below. We'll provide more updates as they become available.]

Mitsubishi Heavy Industries's Launch Services division is all set to send a crucial cargo payload to the International Space Station from JAXA today. The launch is scheduled for 6:33 AM Japan Standard Time (5:33 PM ET/2:33 PM PT), and will take off from Tanegashima Island, at JAXA's Tanegashima Space Center.

The rocket used for this launch is the Mitsubishi Heavy Industries (MHI) H-IIB, and this is the eighth flight launch of the H-II Transfer Vehicle (HTV) that MHI designed and built in Japan.

In the H-IIB configuration, the MHI-built rocket that will transport he HTV includes a liquid propellant central core, along with four solid propellant rocket boosters to give it additional life capacity. This particular mission will see the HTV loaded with 5.3 metric tons (just under six U.S. tons) of supplies for the ISS on board in both pressurized and unpressurized cargo containers, which divvy up the total capacity.

One of the crucial pieces of cargo going up is a small satellite deployment device, called "Kibo," created by the Kyushu Institute of Technology and the National Authority for Remote Sensing and Space Science. It'll be used to deploy a range of super compact CubeSats also on board, including a propulsion tech demo created by the University of Tokyo and startup Space BD, which is the first company awarded a contract by JAXA to be the commercial operator for deploying smallsats from the ISS via Kibo.

NASA TV will be carrying the launch live via the stream above, with their coverage kicking off around 5 PM ET (2 PM PT/6 AM JST).

Quelle: TC

----

Update: 21.09.2019

.

Updated Launch Schedule of the H-II Transfer Vehicle KOUNOTORI8 aboard the H-IIB Vehicle No. 8

Mitsubishi Heavy Industries, Ltd. (MHI) has revised the launch schedule of the H-IIB Launch Vehicle No. 8 (H-IIB F8) which carries aboard the H-II Transfer Vehicle "KOUNOTORI8" (HTV8), the cargo transporter to the International Space Station (ISS) from the JAXA Tanegashima Space Center.

The following changes will be made based on the results of the latest orbit based analysis (※ 1) of the International Space Station and Soyuz spacecraft. It was revealed there's a possibility that the 2nd stage of H-IIB rocket after separation from "KOUNOTORI8" may approach the Soyuz spacecraft.

*1: COLlision Avoidance Analysis to prevent collision between the rocket and debris from the rocket and manned space systems (Space Station, etc.) in orbit after launching the rocket. The launch was previously rescheduled for September 24, 2019.
Updated launch schedule is as follows.

| | |
| --- | --- |
| Launch Date | : Thursday, September 25, 2019 |
| Launch Time | : 1:05 am (Japan Standard Time, JST) *1 |
| Launch Window | : September 26 through October 31, 2019 *2 |

*1) The launch time is subject to change as the ISS orbit is updated.
*2) Launch time and date during this period are pending, determined by the ISS operations and other status.

Quelle: Mitsubishi Heavy Industries

----

Update: 22.09.2019

.

NASA to Air Rescheduled Launch, Capture of Cargo Ship to Space Station

Credits: NASA

A Japanese cargo spacecraft loaded with more than four tons of supplies, spare parts, and experiment hardware is scheduled to launch from the Tanegashima Space Center in southern Japan to the International Space Station at 12:05 p.m. EDT Tuesday, Sept. 24 (1:05 a.m. Sept. 25 in Japan). Live coverage on NASA Television and the agency's websitewill begin at 11:30 a.m.

The Japan Aerospace Exploration Agency (JAXA) unpiloted H-II Transport Vehicle-8 (HTV-8) originally was scheduled to launch Sept. 10, but the launch was postponed because of a fire at the mobile launch pad exit hole during the countdown operation. Launch provider Mitsubishi Heavy Industriesidentified the root cause for the fire and set the new launch date after corrective measures were put in place.

Following a successful launch Sept. 24, the spacecraft will arrive at the station Saturday, Sept. 28. NASA TV coverage of the HTV's rendezvous and capture will begin at 5:45 a.m. Expedition 60 Flight Engineer Christina Koch of NASA, backed up by her NASA crewmate Andrew Morgan, will operate the station's Canadarm2 robotic arm from the station's cupola to capture the 12-ton spacecraft as it approaches from below. Robotics flight controllers will then take over the operation of the arm to install HTV-8 to the Earth-facing port of the Harmony module where it will spend a month attached to the orbiting laboratory. Flight Engineer Luca Parmitano of ESA (European Space Agency) will monitor HTV-8 systems during its approach to the station.

Capture of the HTV-8 is scheduled around 7:15 a.m. Coverage will resume at 9:30 a.m. for the final installation of the resupply craft to Harmony by robotic ground controllers. If the installation operations are running ahead of schedule, coverage would begin earlier.

Named Kounotori, meaning "white stork" in Japanese, the craft will deliver six new lithium-ion batteries and corresponding adapter plates that will replace aging nickel-hydrogen batteries for two power channels on the station's far port truss segment. The batteries will be installed through a series of robotics and spacewalks the station's crew members will conduct later this year.

Additional experiments on board HTV-8 include an upgrade to the Cell Biology Experiment Facility (CBEF-L), a small-sized satellite optical communication system (SOLISS), and a payload for testing the effects of gravity on powder and granular material (Hourglass).

Quelle: NASA

----

Update: 24.09.2019 / 8.30 MESZ

.

Startvorbereitung für JAXA´s H-II Transfer Vehicle HTV-8

Quelle: JAXA

+++

Update: 18.15 MESZ

Quelle: JAXA
8401 Views