11.06.2023
Lt. Gen. Burt: The Space Force is 'pushing hard' to allow more sharing of information with allies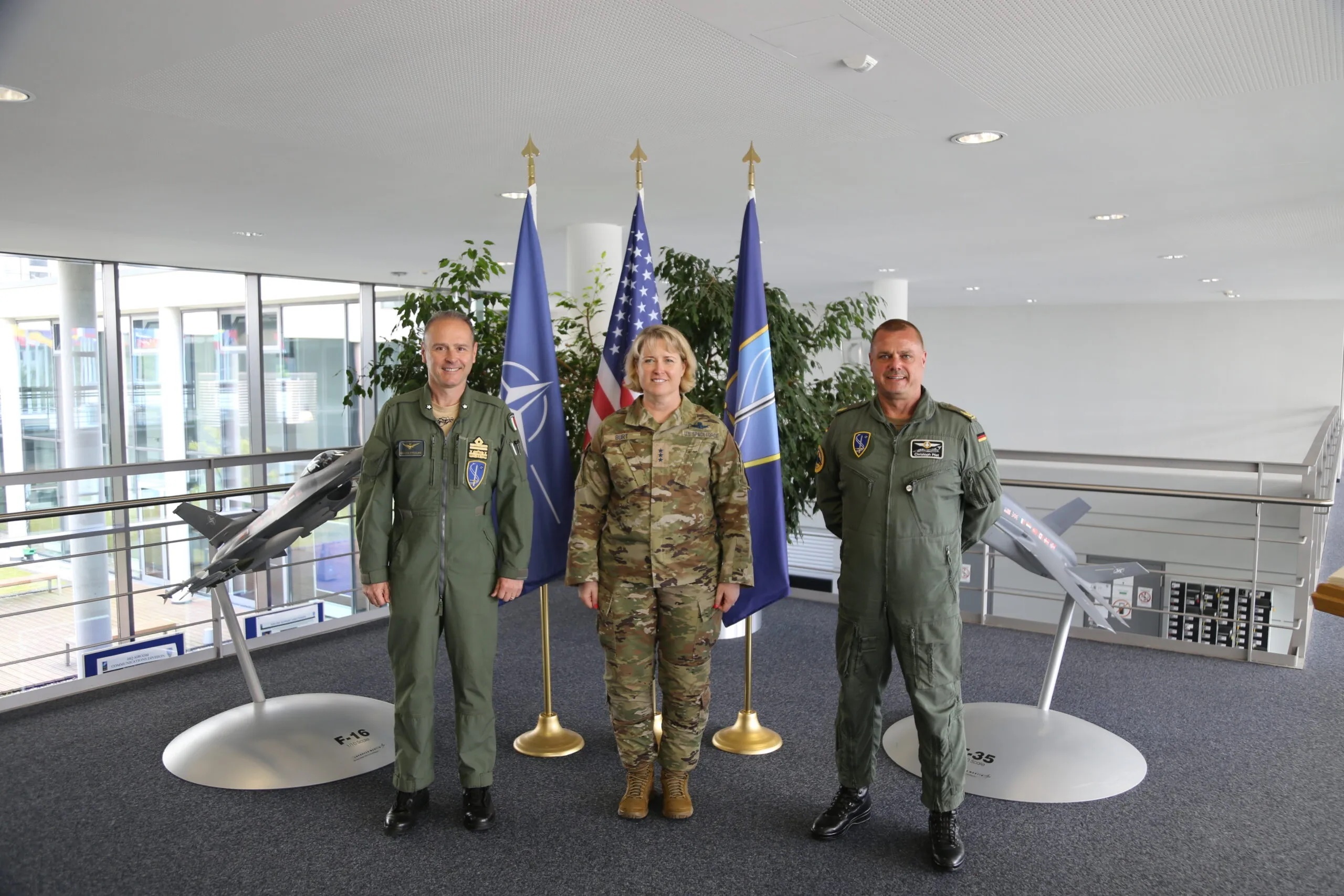 Italian Air Forces Maj. Gen. Gianluca Ercolani, NATO Allied Air Command chief of Staff (left); Lt. Gen. DeAnna Burt (center), deputy chief of space operations of the U.S. Space Force; and German Air Forces Brig. Gen. Christoph Pliet, NATO Allied Air Command deputy chief of staff, met at NATO Allied Air Command at Ramstein Air Base, Germany, May 22, 2023. Credit: Department of the Air Force
WASHINGTON — U.S. Space Force deputy chief of space operations Lt. Gen. DeAnna Burt during a recent trip to Germany and the United Kingdom heard a consistent message from allies: They don't expect the United States to bear all the costs of protecting satellites from cyber attacks and other threats.
In an interview with SpaceNews, Burt said a growing number of spacefaring nations are looking to work with the United States on technologies and strategies to defend their assets from anti-satellite weapons, and are increasingly making their own investments in space defense systems.
Burt, who is deputy chief for operations, cyber and nuclear, said the Space Force is ramping up efforts to work more closely with allies. This is a top priority of the chief of the Space Force Gen. Chance Saltzman, who declared "partner to win" as one of the service's ideals.
In meetings with European allies, many of the conversations were about them '"not wanting to put the burden on the U.S.," Burt said. "Other nations are having the same conversation. How are we all going to defend our capabilities against these threats? And how are we going to be mutually supportive of each other in the future?"
Many countries have capabilities to contribute to joint defense efforts, Burt said. What remains to be seen is "how do we build things in line with our partners that are interoperable just as we do in every other domain?"
Defending satellites has become a front-burner issue since Russia's invasion of Ukraine. Russian forces targeted Ukraine's communications infrastructure with missiles and cyberattacks on Viasat's KA-SAT and SpaceX's Starlink networks.
Burt has suggested increased sharing of cyber threat information among allies, and even jointly buying or building cyber-defense systems.
U.S. supporting NATO space center
The Space Force plans to soon establish a unit within U.S. European Command, based at Ramstein Air Base in Germany..
The service already has set up components at U.S. Pacific Command, U.S. Forces Koreaand U.S. Central Command. "We're slowly building our next one in EUCOM," said Burt. The final order is awaiting approval from the secretary of defense. "Hopefully that will come any day now," she said.
In meetings with U.S. and NATO commanders during her recent trip, Burt said many of the questions were about how the Space Force will support NATO, which operates a space defense center at NATO's Allied Air Command in Ramstein.
"They will be starting 24/7 operations this August," said Burt. "Every country is providing capability into that center."
For the U.S. Space Force, "adding a service component right now is really timely, and it will continue to bring that dialogue with NATO and space even further," Burt said.
Restrictions on information sharing
U.S. support of NATO's space operations presents some challenges due to security restrictions that prevent the U.S. from sharing information about space systems and threats in orbit.
Conversations on space defense are usually classified and the United States can discuss these issues at the secret level with members of the Five Eyes intelligence alliance that includes Australia, Canada, New Zealand and the United Kingdom.
Although the U.S. has space partnerships with other nations, the most sensitive discussions are only held with the Five Eyes.
Burt said the Space Force is "pushing hard" on policy changes that would allow more open conversations with allies outside the Five Eyes. "We have been working on this for years, on how we share information, and how we talk about operations," she said.
For example, the United States is a member of the Combined Space Operations alliance with Australia, Canada, France, Germany, New Zealand and the United Kingdom.
The Five Eyes rules don't work in a NATO setting "when I can't talk to France and Germany," Burt said.
The classification of information that would support NATO, she said, "is something we've got to do work on." The same issues affect discussions with other allies in Asia like Japan and South Korea.
"Spain is coming hard with their own space capabilities at the NATO Space Center," said Burt. "Italy also is stepping up. So I think the NATO classification is going to be important."
This has been a concern for a long time, said Burt. "Security has always been a problem. And we continue to keep attacking it."
The Defense Department's Special Access Program office has supported some Space Force initiatives to share information with allies, said Burt. Classifying a program as special access severely restricts who can access information.
"I think they're working hard at that level," said Burt.
But it's also up to the Space Force to help identify what really needs to be special access or classified, "and get all of it, top to bottom, really scrubbed."
"We have the ability to control that as we control the data we create about space systems," Burt said. "How do we make sure that we're classifying things properly, and not overly classifying things."
Quelle: SN
124 Views