5.06.2023
Images like works of art: CaSSIS image from the rim of the Korolev crater © ESA/TGO/CaSSIS CC BY-SA 3.0 IGO
Tatiana Keller (Drozhzhova) is a particle physicist with a PhD and a filmmaker. As a member of astrophysicist Nicolas Thomas' research group at the University of Bern, she came up with the idea of making a short film series about CaSSIS, the Mars camera developed in Bern, and the mysteries of the red planet.
On March 14, 2016, CaSSIS, the Mars camera developed in Bern, started its journey on board the ExoMars spacecraft to provide high-resolution color images of the Martian surface from April 2018. The camera system was developed and built under the direction of Nicolas Thomas at the University of Bern.
Thomas probably never dreamed that the space explorer would one day talk about the spectacular images and secrets of Mars as a cartoon detective in short films. In the "CaSSIS. Mars demystified" video series, the astrophysicist turned detective investigates, for example, where the mysterious slope streaks on the surface of Mars come from and how massive "dust devils" can form on Mars (a link to the videos can be found below).
The short films explaining the scientific knowledge gained about Mars thanks to CaSSIS in an easy-to-understand way were made by Tatiana Keller. The young Russian has lived in Bern since February 2020 and was a member of Thomas' research group until the beginning of 2023.
Now the first of four planned episodes has been awarded "Best Short Film Professional" at the 5th Global Science Film Festival, which took place in Switzerland, Japan, India, and China (more information about the festival can be found here: https://www.sciencefilm.ch/). uniAKTUELL talked to Tatiana Keller to find out how a particle physicist with a PhD ends up making films about space exploration.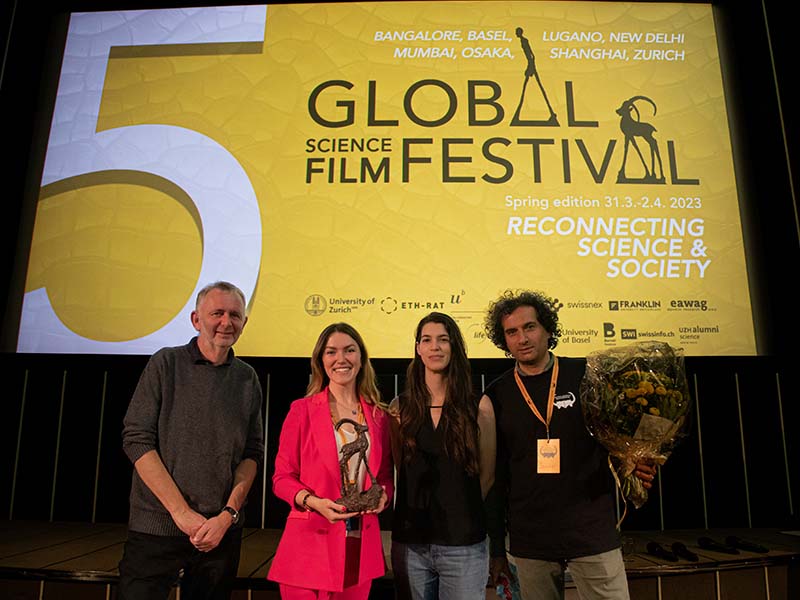 How it all began
Keller first heard about Thomas' CaSSIS project in 2019 at a planetary science conference. She was intrigued and saw that there was a vacancy on the team at that time. "I applied and was honestly very surprised to be invited for an interview". Surprised because she actually came from particle physics, not space exploration.
The Russian tells us about her career: "I come from a small city on the North of Russia. My father is a pilot, and he is often in St. Petersburg. Once he brought me brochures from the St. Petersburg State University (SPbU). I was convinced that this was the best university in the world in my absolute dream city," she says with a laugh. After a few detours, she passed the entrance examination to the SPbU Physics Faculty.
During her studies, she learned about the Large Hadron Collider particle accelerator at CERN in Geneva. Keller: "I had a passionate interest in the world of particles and the link to space exploration. I wanted to know everything, from the scale of elementary particles to that of the Universe, to understand how the physical world is organized in general." She completed her doctoral thesis at the St. Petersburg State University, as part of a research group at the Ultra High Energy Physics Laboratory and was involved in two experiments at CERN in Geneva.
"When I was working on my doctoral thesis, I felt like I wasn't realizing my full potential," Keller says. She reflected on what she had been fascinated with as a child: space and U.S. astrophysicist Carl Sagan, a television host and nonfiction author dedicated to bringing space exploration to people. "Carl Sagan wanted to teach people about the beauty of exploration to inspire them."
Keller also had a hobby for a long time – she shot outreach videos in her spare time. So, she decided to receive a second education as a film director and screenwriter at the Cinematography University of Russia (VGIK). She combined evening classes and the last preparations for her dissertation defense.
After a year, a physicist friend invited her to the Budker Institute of Nuclear Physics in Novosibirsk to make a feature film together about particle physics. "It was to be a story about a little girl called Alice who got lost in the particle accelerator there during a guided tour."
"Unfortunately, the film has not been finished yet due to a lack of financial support for visual effects needed to show the world of particles", Keller says. However, she was one step closer to her goal of following in the footsteps of her great role model Sagan and communicating science to a broad audience.
When world history thwarts plans
In February 2020, she joined the CaSSIS research group at the University of Bern. "After one and a half months, the Covid pandemic also hit Switzerland. I was locked in and felt like I was in the movie "The Martian". I hadn't made any friends yet in Bern and only knew a few people in the research group."
She joined the research group of Nicolas Thomas to develop a simulation model to determine the properties and compositions of planetary surfaces based on the reflection. In the process, she had told him about her hobby as a filmmaker. "He was the first professor who didn't tell me to just focus on science, but motivated me to make something out of the fascinating CaSSIS images," she says. For her, the CaSSIS Martian landscape images are real works of art.
Thomas prepared for her an Excel file with his ideas on what physics could be included in the first CaSSIS episode. Keller recounts: "I was happy that such a great scientist not only supported my idea about the movie, but also was involved in the process of creation! I shifted a few things back and forth in the Excel file and enriched the script from a cinematic standpoint: it should be a compelling story with a hero and other characters like a cheeky bookworm."
But the CaSSIS film project was then put on hold for a year due to a lack of budget, as it again required a lot of computer graphics. It was finally completed thanks to a support grant from the National Centre of Competence in Research PlanetS.
"I worked remotely with the same team I had already collaborated with for previous space film projects, such as 'Through the Stardust' and 'Dust puzzles'. We all have the same passion for science education in the medium of film and have joined forces under the name Magic Science Pro," Keller tells us. (see https://magicsciencepro.com). For the CaSSIS video series, she could get on board the graphic designer Tim Stupak and his wife Arina Stupak, who is an artist illustrator, as well as the Swiss artist Geena Gasser. "Thanks to them, I was able to bring the physical explanation behind the CaSSIS images to the screen in a fascinating and attractive way", as Keller says.
But then the Ukraine war came along. Work on the CaSSIS films had to be halted for months due to the extremely stressful situation for everyone involved. "Thanks to the team's huge commitment though, we then somehow managed to finish the first two episodes," Keller recounts pensively.
From the right balance
So, whether and when Keller will be able to make the two other CaSSIS episodes is still unclear at the moment. However, she does not give up and continues searching for financial support for computer graphics and artists, as it is the central core of the Mars Demystified movie series. Her contract at the University of Bern has expired, but she does not know yet whether she will continue her career in academia or as a filmmaker, as in her ideal world, she sees herself combining these two paths – just as the US astronomer, television presenter and writer Carl Sagan once did.
At the end of our encounter, Keller reveals the origin of Nicolas Thomas' role in the movie. In the beginning, he was not even supposed to appear in the CaSSIS videos, just his voice as a narrator, but then the movie needed a hero. "Nick almost killed me when I presented him the draft of the movie, where he appears as a detective," she says with a laugh. Thomas said it was important that the science in the film "comes across well." Keller adds that "We probably didn't do too badly in finding the right balance between imparting knowledge and humorous elements like our bookworm, – in any case, Nicolas Thomas is now also very happy with the films."
"CaSSIS. Mars demystified. Devils", Episode 1
"CaSSIS. Mars Demystified. Chameleons", Episode 2
Quelle: University of Bern
103 Views