26.05.2023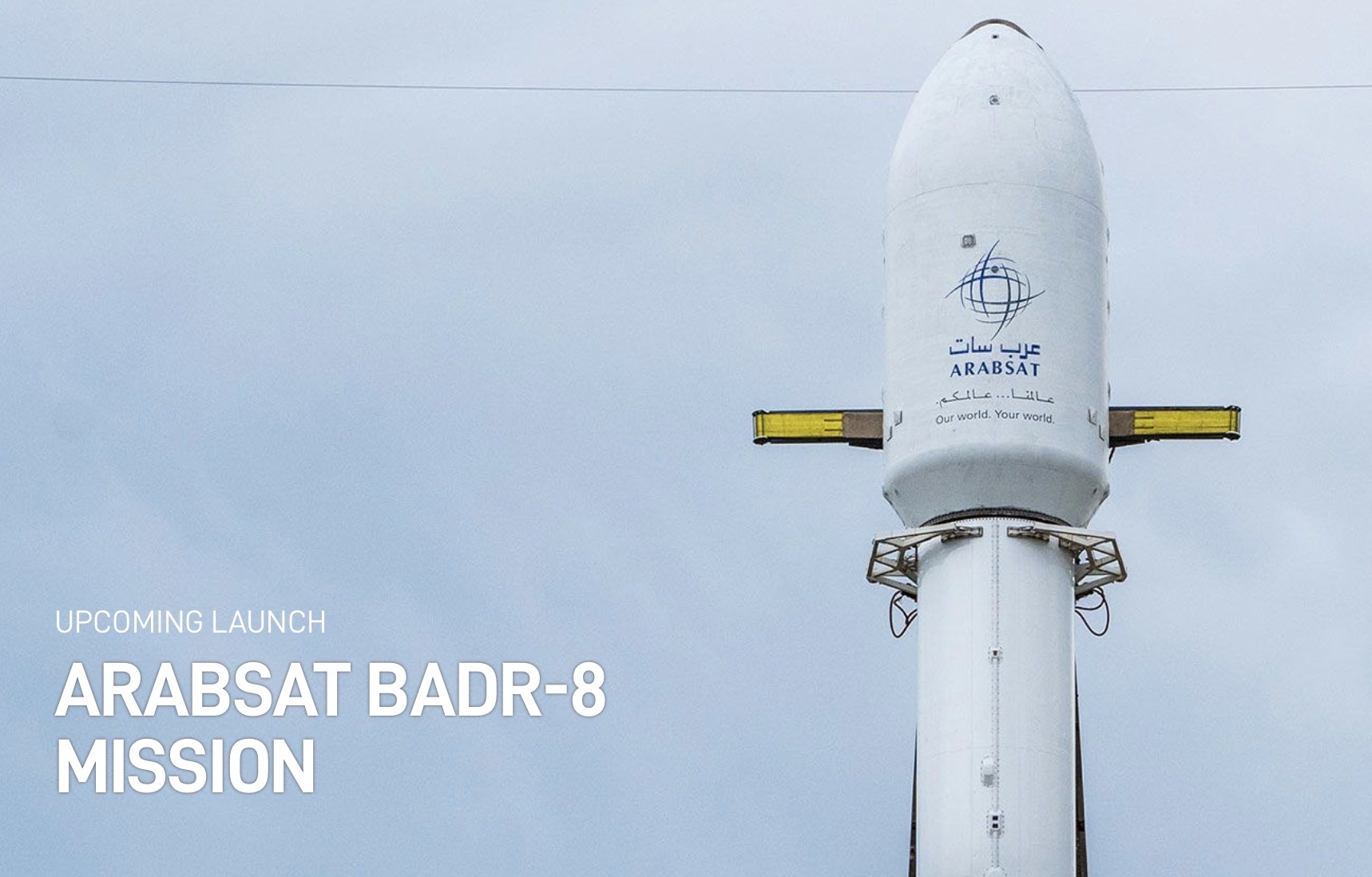 Watch SpaceX launch a big communications satellite into orbit on May 26 after delays
Liftoff could occur at 11:25 p.m. ET tonight (May 24).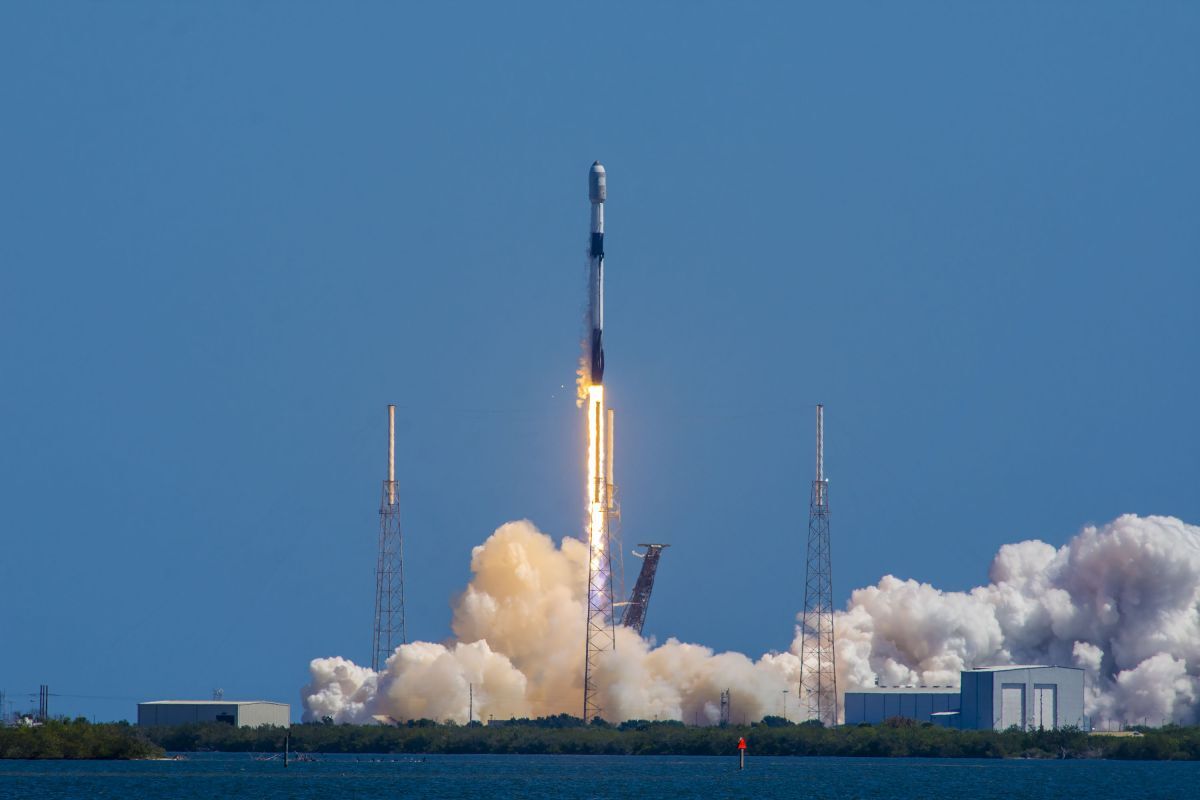 SpaceX called off an attempted launch of its huge communications satellite on Tuesday night (May 23) due to bad weather.
A planned attempt on May 24 was delayed by the need for more rocket checks. The next attempt could occur tonight, May 26, at 11:25 p.m. EDT (0325 GMT).
SpaceX may try to launch a big telecommunications satellite to orbit tonight (May 24), and, if it happens, you can watch the action live.
A Falcon 9 rocket topped with the Arabsat BADR-8 satellite was scheduled to lift off from Cape Canaveral Space Force Station in Florida on Tuesday night (May 23).
Bad weather forced SpaceX to push the attempt to the very end of the 127-minute window, but that wasn't enough time; the team called the launch off with about 3.5 minutes left on the countdown clock, citing "unfavorable weather." A planned attempt on May 24 was delayed by the need for more rocket checks.
The next possible launch window, which also lasts 127 minutes, opens Friday, May 26, at 11:25 p.m. EDT (0325 GMT). If SpaceX decides to attempt a liftoff tonight, you can watch it live here at Space.com, courtesy of SpaceX, or directly via the company. Coverage is expected to begin about 15 minutes before launch.
If all goes according to plan, the Falcon 9's first stage will come back to Earthsafely about eight minutes and 45 seconds after liftoff. The booster will land on the SpaceX droneship Just Read the Instructions, which will be stationed in the Atlantic Ocean off the Florida coast.
It will be the 14th mission for this particular Falcon 9 first stage, according to a SpaceX mission description. Among those previous flights are two private astronaut missions, September 2021's Inspiration4 and April 2022's Ax-1.
Ax-1, which was operated by Houston-based company Axiom Space, sent four people to the International Space Station for a roughly two-week stay. SpaceX just launched Axiom's second mission, Ax-2, sending its four crewmembers toward the orbiting lab atop a Falcon 9 on Sunday (May 22).
Fourteen flights is not a SpaceX reuse record, by the way. The current mark is 15, set last December on a mission that lofted a big batch of the company's Starlinkinternet satellites.
Arabsat BADR-8 weighs roughly 9,900 pounds (4,500 kilograms), according to EverydayAstronaut.com. The satellite is bound for geostationary orbit, about 22,200 miles (35,700 kilometers) above Earth.
It'll take four to five months for the satellite to reach its operational orbit. Once it's up there and fully checked out, BADR-8 will beam TV broadcasting and other telecom services to central Africa, Europe, and the Middle East for Saudi Arabia-based Arabsat, EverydayAstronaut.com wrote.
Quelle: SC
----
Update: 29.05.2023
.
SpaceX launches Badr-8 to bolster Arabsat's satellite fleet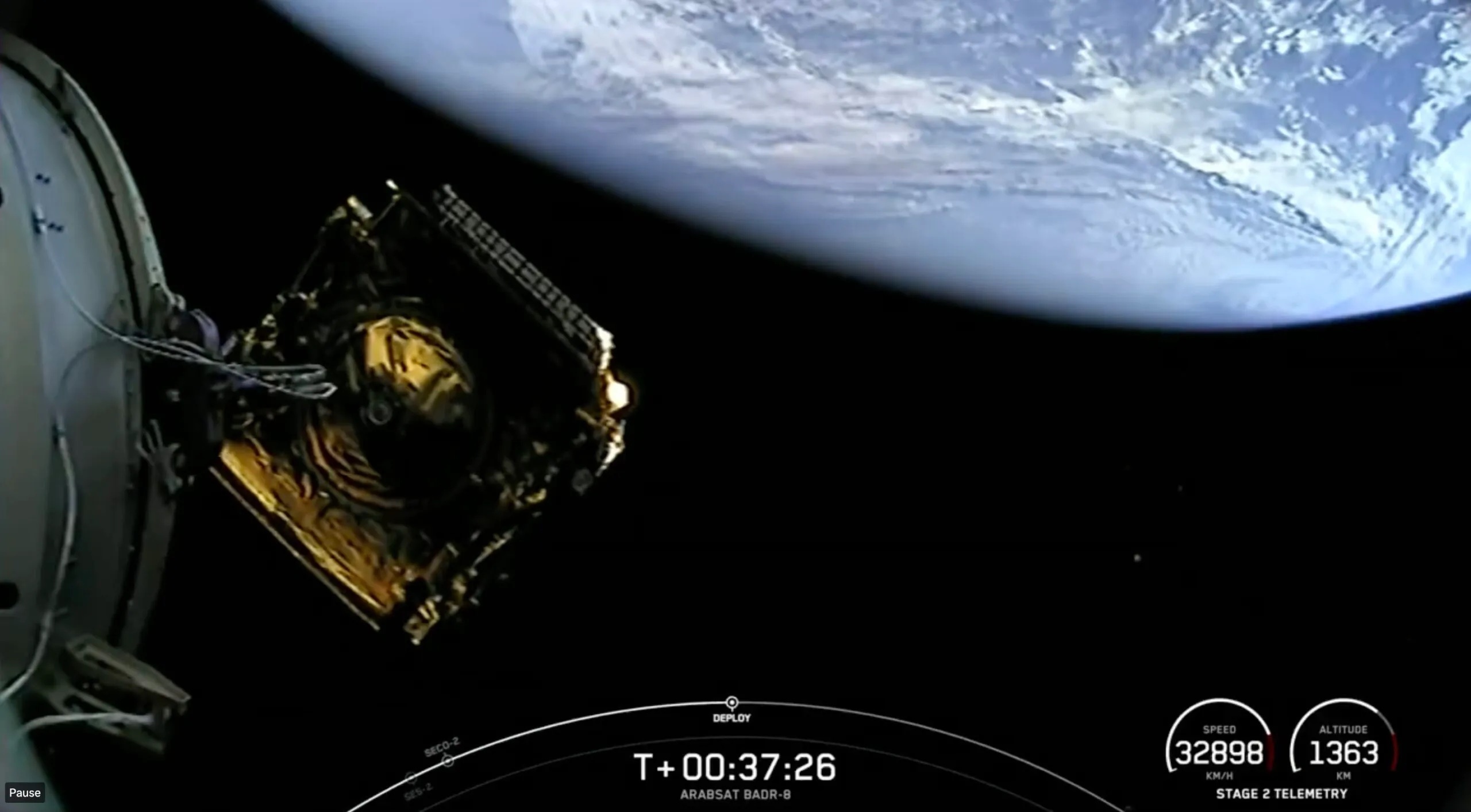 Arabsat's Badr-8 satellite separating from the Falcon 9 rocket shortly after lifting off from Florida. Credit: SpaceX webcast
TAMPA, Fla. — SpaceX launched the Badr-8 TV broadcast and telecoms satellite May 27 for Saudi Arabia-based fleet operator Arabsat, equipped with a jamming-resistant optical communications payload demonstrator.
The 4,500-kilogram satellite lifted off at 12:30 a.m. Eastern on a Falcon 9 from Cape Canaveral Space Force Station, Florida, and separated from the rocket in geosynchronous transfer orbit about 37 minutes later.
The rocket's reusable first stage used a drone ship to make its 14th landing following the mission, delayed from May 24 because of poor weather conditions.
Airbus Defence and Space, which built Badr-8 based on its Eurostar Neo platform, declared the launch successful several hours later.
It will take several more months for the 17-kilowatt satellite to use all-electric propulsion to reach its 26 degrees east orbital slot, where it would replace Arabsat's 15-year-old Badr-6 satellite.
Operating at the end of its 15-year design life, Badr-6 showed its age in February after a thruster issue led to a temporary outage.
Badr-8 is designed to replace and expand Arabsat's C-band and Ku-band capacity across Europe, Middle East, Africa, and central Asia over its 15-year design life.
The satellite also carries an experimental photonics feeder link called Teleo, which Airbus developed with support from France's space agency.
According to Airbus, Teleo is designed to provide space to ground optical communications at gigabit speeds.
Optical communications are more robust against signal jamming compared with conventional radio frequency technology, Airbus said, and the demonstrator is set to play a key role in expanding the manufacturer's capabilities in this area.
Arabsat's fleet comprises 10 satellites across four orbital positions.
The company announced its latest satellite order last year, picking Airbus' European rival Thales Alenia Space to build Arabsat 7A to replace Arabsat 5A, which launched in 2010 with 15 years of expected operational life.
Quelle: SN
138 Views