21.07.2019
NASA's Orion crew capsule is officially complete and ready to prep for its first Moon mission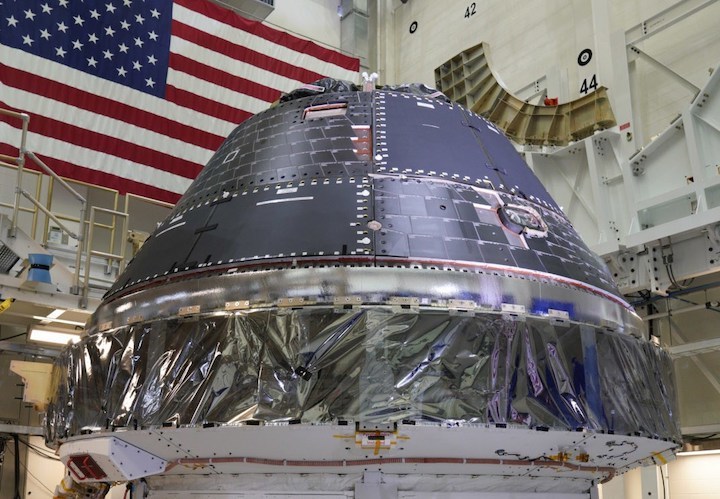 NASA's 50th anniversary celebrations weren't limited to just remembrances of past achievements – the space agency also marked the day by confirming that the Orion crew capsule that will bring astronauts back to the Moon for the first time since the end of the Apollo program is ready for its first trip to lunar orbit, currently set for sometime after June 2020.
Orion won't be carrying anyone for its first Moon mission – instead, as part of Artemis 1, it'll fly uncrewed propelled by the new Space Launch System, spend a total of three weeks in space including six days orbiting the Moon, and then return back to Earth. Once back, it'll perform a crucial test of high speed re-entry into Earth's atmosphere, to demonstrate the efficacy of the Orion capsule's thermal shielding prior to carrying actual crew for Artemis 2 in 2022, and ultimately delivering astronauts back to the lunar surface with Artemis 3 in 2024.
This isn't Orion's first trip to space, however – that happened back in 2014 with Exploration Flight Test 1, another uncrewed mission in which Orion spent just four-hours in space, orbiting the Earth twice and then returning to ground. This mission used a Delta IV rocket instead of the new SLS, and was meant to test key systems prior to Artemis.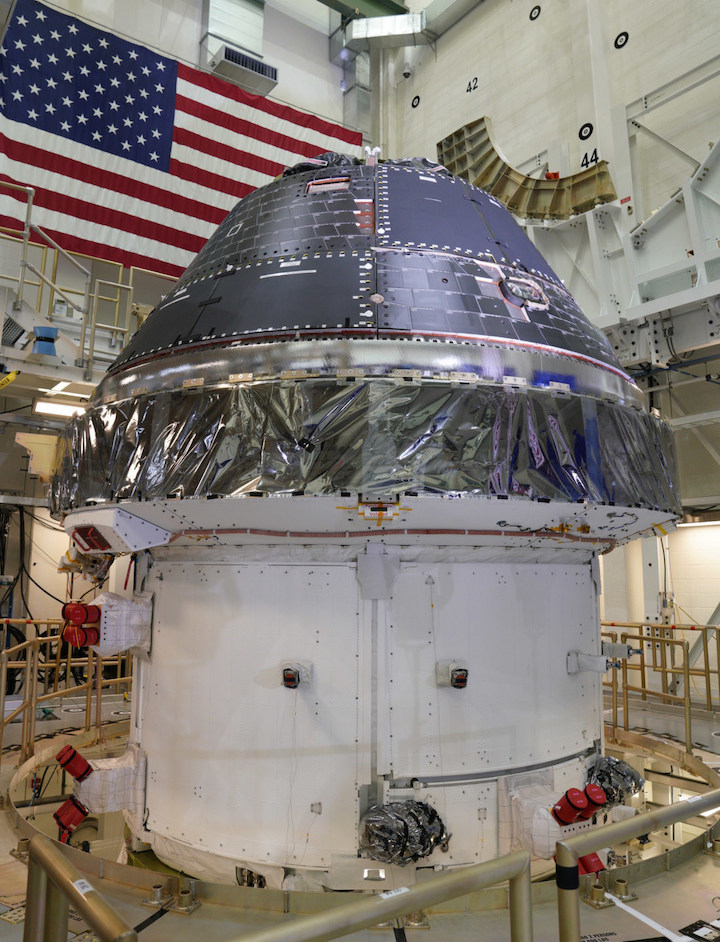 NASA contractor Lockheed Martin, which is responsible for the Orion spacecraft's construction, also noting that the combined crew module and service module are currently being properly integrated, and then will undergo a series of tests before returning to Kennedy Space Center in Florida by the end of the year to begin the final preparations before launch.
Quelle: TC
----
Update: 9.08.2019
.
NASA Administrator to Discuss Status of Rocket for First Artemis Lunar Mission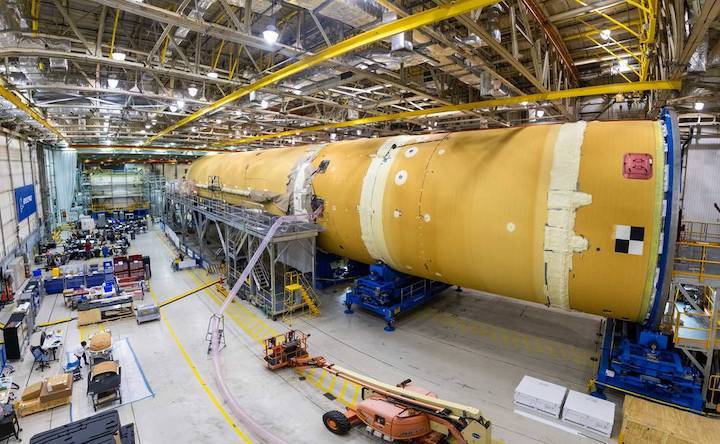 Credits: NASA/Eric Bordelon
Media are invited to accompany NASA Administrator Jim Bridenstine Thursday, Aug. 15, on his visit to the agency's Michoud Assembly Facility in New Orleans, where engineers are preparing to add the final section to the core stage of the rocket that will power NASA's Artemis 1 lunar mission.
Bridenstine will meet with members of the Space Launch System (SLS) program to discuss and view progress on the rocket and take questions from media at 11:30 a.m. CDT in front of SLS's 212-foot-tall core stage.
U.S. media who would like to attend the event should contact Tracy McMahan at 256-544-0034 or tracy.mcmahan@nasa.gov no later than 5 p.m. Tuesday, Aug. 13, and plan to arrive at Michoud by 10:30 a.m. Aug. 15, with at least one form of government-issued photo identification. Long pants and flat, closed-toe shoes are required.
Assembly of the core stage, the largest and most complex stage NASA ever has built, remains on schedule for completion before the end of the year. Comprised of two liquid propellant tanks and four RS-25 engines, it will produce more than two million pounds of thrust to send NASA's Orion spacecraft, crew and cargo to the Moon.
NASA is working to land the first woman and the next man on the Moon by 2024. SLS is the only rocket that can send Orion, astronauts and supplies to the Moon on a single mission. The rocket, Orion spacecraft and Gateway in orbit around the Moon, are NASA's backbone for deep space exploration.
Quelle: NASA
----
Update: 11.08.2019
.
Hot Fire! Orion's Service Module Completes Critical Propulsion Test

NASA is building a system to send astronauts to the Moon for Artemis missions, and that includes tests to make sure the Orion spacecraft is prepared to safely carry crew on an alternate mission profile in the face of unexpected problems. That capability was most recently demonstrated with a successful, continuous 12-minute firing of Orion'spropulsion system that simulated a possible alternate mission scenario.
"Inserting Orion into lunar orbit and returning the crew on a trajectory back home to Earth requires extreme precision in both plotting the course and firing the engines to execute that plan," said Mark Kirasich, program manager for Orion at NASA's Johnson Space Center in Houston. "With each testing campaign we conduct like this one, we're getting closer to accomplishing our missions to the Moon and beyond."
The Aug. 5 test was conducted using a qualification version of the propulsion system at NASA's White Sands Test Facility near Las Cruces, New Mexico. While the system never left the ground, it simulated one of the most taxing situations the spacecraft's engines could encounter after launch.
This test simulated what is referred to as an abort-to-orbit scenario. In the event the interim cryogenic propulsion stage (ICPS) was unable to set the spacecraft on its path to the Moon, Orion would deliberately separate early from the ICPS and the ESA (European Space Agency)-provided service module's engines would fire to boost the spacecraft into a safe, temporary orbit. That would allow time to evaluate the crew and spacecraft before a decision is made to either continue with an alternate mission profile, or return to Earth. Under an alternate mission profile, Orion and its crew may still be able to accomplish some of the mission objectives even if the trajectory and the primary mission objective has changed.
During the successful test, engineers simulated the abort-to-orbit scenario by firing the Orion main engine on the service module, in addition to all eight of its auxiliary engines simultaneously. Each of the reaction control thrusters were also periodically fired throughout the test to simulate attitude control and overall propulsion system capacity.
"This was our most demanding test for the pressurization system, including our propellant tanks, valves and other components," said Josh Freeh, deputy manager, Orion's Service Module, at NASA's Glenn Research Center. "The combined international team has been working towards this test for many months."
The qualification version of the service module's propulsion system serves as a testbed to verify the performance of the multiple types of engines, propellant systems and other propulsion-related subsystems.
"The tests at White Sands have been very helpful to better understand and operate our service module propulsion system," said Jim Withrow, project manager for the test article. "This firing was one of a series of tests performed to date and in the coming months to simulate contingency modes and other stressful flight conditions."
As the powerhouse of the Orion spacecraft, the service module provides in-space maneuvering, power and other astronaut life support systems, including consumables like water, oxygen and nitrogen. Engineers at NASA's Kennedy Space Center are joining the completed Artemis 1 crew module and service module together, before sending the spacecraft to NASA's Plum Brook Station in Sandusky, Ohio, later this fall for simulated in-space environmental testing. Once testing is complete in Ohio, the spacecraft will return to Kennedy for final processing and integration with the Space Launch System (SLS) rocket.
Artemis 1 will be the first, full test flight of the SLS and Orion as it is sent around the Moon. The uncrewed test will precede Artemis 2, the first flight with astronauts aboard, and both will pave the way for the first woman and the next man to land on the Moon by 2024, while preparing for future missions to Mars.
Credits: NASA/Radislav Sinyak
Quelle: NASA
----
Update: 20.08.2019
.
SLS contractors expect first launch in 2021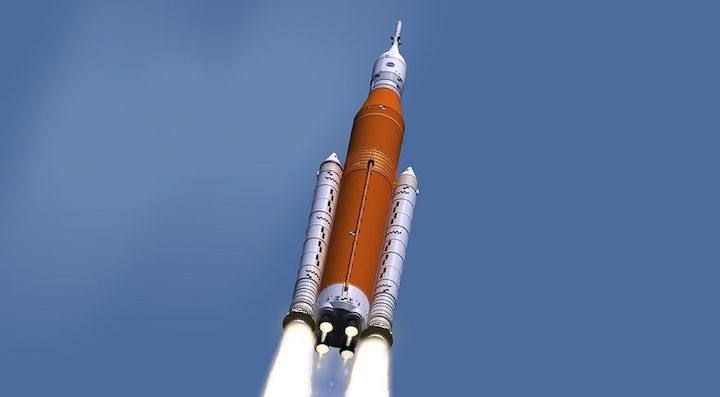 WASHINGTON — While NASA has yet to update the schedule for the first flight of its Space Launch System, companies working on the heavy-lift rocket now expect the rocket to launch in early 2021 rather than 2020.
The first launch of the SLS, on a mission called Artemis 1, had been formally scheduled for the second half of 2020, a date that already represented two years' worth of delays. That date is under review as NASA brings in new leadership for its exploration programs after reassigning former associate administrator Bill Gerstenmaier and his deputy, Bill Hill, in July.
During an Aug. 19 panel discussion at the American Institute of Aeronautics and Astronautics' Propulsion and Energy Forum in Indianapolis, executives with companies involved with the SLS projected that, based on what work needs to be done to complete the vehicle for launch, that launch probably won't take place before early 2021.
Jeff Foote, vice president of NASA programs at Northrop Grumman Innovation Systems, said he expected that, with the agency deciding to perform a "Green Run" static-fire test of the core stage at the Stennis Space Center next year, that core stage won't arrive at the Kennedy Space Center for launch preparations until late 2020.
"From that time forward, with the integration of Orion, wet dress rehearsal and that sort of thing, there's probably two quarters, maybe two and a half quarters, or work to get to a launch date," he estimated. "So, most likely early in 2021. It could happen earlier, it could happen later."
The core stage has been on the critical path for the launch for some time because of problems with its engine section. Both NASA and Boeing now expect the core stage to be completed and ready to ship to Stennis at the end of the year.
"We'll probably fire it off in the second or third quarter of next year, and do a full test," Robert Broeren, the integrated product team lead for SLS stages at Boeing, said of the Green Run test on the panel. "After that, it probably takes quite a bit of time to do rework and some upgrades to it, then we'll put it on a barge and send it down to the Cape."
Earlier this year NASA said it was considering whether the Green Run test was necessary, since skipping it could save several months of schedule. However, NASA Administrator Jim Bridenstine announced July 25 that NASA would go ahead with the test.
Bridenstine visited the Michoud Assembly Facility in New Orleans where Boeing is building the core stage Aug. 15, and said later he was impressed with the progress that we saw. "What I saw there was absolutely eye-watering," he said Aug. 16 during a separate event at the Marshall Space Flight Center. He acknowledged the challenges in the engine section that delayed completion of the core stage, and NASA's efforts to get around it by integrating the other sections of the core stage first.
That engine section, he said, is nearly ready to be integrated to the rest of the core stage, to be followed by its four RS-25 engines. He confirmed that work should be completed by the end of the year.
Bridenstine didn't discuss the schedule for Artemis 1 in those remarks, but in July 17 testimony before the Senate Commerce Committee suggested a first launch in 2021, rather than 2020, was likely. "I think 2021 is definitely achievable" for that mission, he said then, but noted he wanted to bring in new leadership for the agency's exploration program before setting a firm date.
A slip to 2021 would not necessarily delay the first crewed SLS/Orion mission, Artemis 2, now scheduled for 2022. "If Artemis 1 launches no later than mid 2021, there will be no impact to Artemis 2," Bridenstine said in an Aug. 3 email to Sen. Mike Enzi (R-Wyo.), who several days earlier wrote to the NASA administrator about his concerns about cost and schedule problems with SLS and other major NASA programs.
"This is a realistic plan," Bridenstine added, "but I would like to have new leadership in place and committed to an integrated schedule before committing to a date."
Quelle: SN
----
Update: 25.08.2019
.
Orion Hot Fire Test Blazing a Safe Trail for NASA Missions to the Moon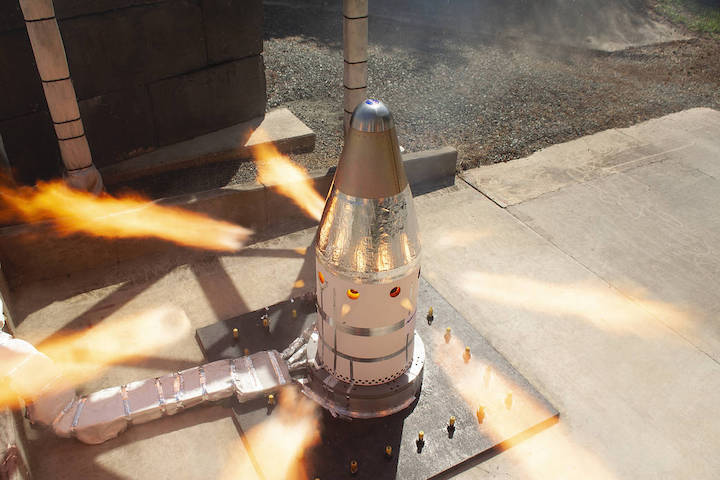 The Northrop Grumman built attitude control motor (ACM) on Orion's launch abort system was successfully tested on August 22, at their facility in Elkton, Maryland.
The 30-second trial by fire was the second to last test before it's qualified for human spaceflight on Artemis 2 -- the first mission with astronauts. During the static test, the ACM produced more than 7,000 pounds of thrust from eight valves, providing enough force to steer Orion and its crew to a safe distance.
The launch abort system is designed to transport Orion and its crew to safety in the event of an emergency during launch or ascent. It consists of three solid rocket motors: the abort motor pulls the crew module away from the launch vehicle; the ACM steers and orients the capsule; then the jettison motor ignites to separate the launch abort system from Orion for parachute deployment and a safe crew landing.
All three motors will be certified for future crewed flights after qualification tests are completed later this year. The launch abort system was stress tested earlier this year during the successful Ascent Abort-2 test.
These achievements brings Orion closer to safe flights with astronauts, paving the way for the first woman and the next man to land on the Moon by 2024.
Quelle: NASA
981 Views