29.05.2022
Exclusive: 3D printer Relativity Space ready for first Terran rocket at Cape Canaveral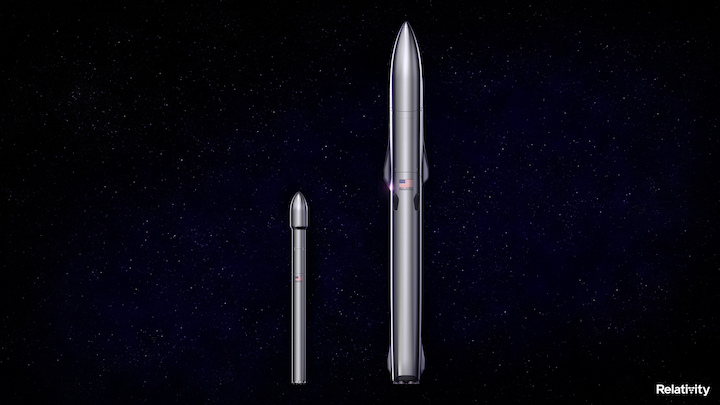 Lorenzo Locante has become something of an expert on the history behind Launch Complex 16, a Space Race-era pad that sits a few miles north of the tip of Cape Canaveral Space Force Station.
But his real expertise lies with its future as the complex that hosts Relativity Space, a California-based company breaking into the launch provider business, and its upcoming family of 3D-printed Terran rockets.
The pad itself, flanked by brand new lightning mitigation towers, propellant storage tanks, a hangar for horizontal processing, and support buildings, is ready for the next piece of the puzzle: receiving Terran 1 rocket hardware after it makes the trek to from California to Cape Canaveral. If everything checks out, Relativity hopes to fly its first mission before the end of this year.
In a nutshell, Relativity is ready to transition the pad from a construction site to an operational site with about 60 full-time workers. The company currently employs about 750 across sites in California, Mississippi, and Florida.
"In a short timeframe and the small team we have, we put a lot of work together to get to where we're at right now," Locante, Relativity's lead launch engineer, told FLORIDA TODAY during an exclusive tour of the complex. "To be a part of this team has been an impressive part of my history and my life."
Relativity's angle is unique compared to other space companies. Using massive 3D printers named Stargate, the company says it can print nearly an entire rocket at a fraction of the cost and time typically expected in the industry. That opens the door to automating portions of the production process, introducing more software-driven changes that can be made on the fly, and someday even being able print last-minute replacement parts without waiting for suppliers.
Combined with low initial launch costs and future plans for reusability through recovering rocket stages, the company hopes to become one of the top players at the Cape next to SpaceX, United Launch Alliance, and Blue Origin. Relativity has already signed contracts for more than a dozen launches and raised north of $1.3 billion in recent years.
'Good Luck, Have Fun'
Locante is likely thrilled about the fact that Relativity recently shipped the first Terran 1 rocket's upper stage from Mississippi to Cape Canaveral. Next up is the larger first stage, which hosts the thrust structure's nine Aeon 1 engines.
After merging the first and second stages, along with the rocket's nose cone, teams at LC-16 will complete fit checks to make sure the pad hardware correctly accommodates the rocket. After modifications, preps, software work, and more tests like loading propellants, Relativity should be set to launch Terran 1 on its demonstration mission.
Terran 1, much like SpaceX's Falcon family, is designed around affordability. The company says a dedicated mission on Terran 1 should cost around $12 million and is capable of taking 2,750 pounds of payload to low-Earth orbit. That number drops to about 2,000 pounds when going to sun-synchronous orbit.
Though the 110-foot Terran 1 won't be reusable and will be expended into the Atlantic Ocean, it should inform the company's future development of the much larger, 216-foot Terran R rocket. That vehicle will be reusable and is expected to directly compete with SpaceX's Falcon 9 rocket.
Terran 1's demonstration mission, appropriately labeled "Good Luck, Have Fun," is slated to carry no customer payload. The company appears to be on track for its goal of flying before the year is out.
History behind LC-16
LC-16, completed in 1959, mostly hosted ballistic missile launches along with some Apollo-related testing and processing. It was decommissioned in 1988 and the Space Force – then the Air Force – agreed to let Relativity use the facility in 2019.
Relativity was granted exclusive use of the complex through a direct agreement, not a lease, through the Air Force that can be extended to a 20-year term. Relativity doesn't pay to use the complex, but does have to foot the bill for its infrastructure.
The complex is part of "Missile Row" or "ICBM Row," a series of eight pads used for missile testing in the 1960s. Immediately outside the row are even more pads that made history with Gemini, Mercury, and Apollo program launches through the early 1970s.
Titan I, Titan II, and Pershing missile tests flew from the complex until 1988.
LC-16 is about 10 miles north of popular viewing spots around Port Canaveral like Jetty Park and the strip of restaurants overlooking the channel – that's much closer than other high-activity pads like 39A at Kennedy Space Center, which is leased by SpaceX.
Part of the agreement in using the pad was making sure its historic "block house" – Space Race-era buildings essentially used as launch control bunkers that today would be considered uncomfortably close to liftoff – stayed intact. Relativity teams cleaned up portions of it and plan on using it for hardware storage.
"We've just been going full-tilt," Pat Svatek, Relativity's site director, told FLORIDA TODAY. "We've got a full integration hangar ready to go. We've got an area where we've utilized some space in the block house as part of our logistics and shipping and receiving area.
"And of course, the launch pad itself," Svatek said.
Changes at LC-16
When Relativity teams took over LC-16, there wasn't much to greet them: stubborn concrete structures, once used for diverting Titan rocket flames, dotted the area around the pad. Walls spray-painted with "ABANDONED" were common. And evidence of Florida's infamous corrosion-causing sea air dotted almost every structure.
Now, Svatek said, LC-16 is a brand new example of commercial space's ability to enter an area and make its own mark.
Changes and upgrades to the pad include:
A new hangar for horizontally processing Terran 1 stages and payloads;
Four new lightning suppression towers;
New "rainbird" water suppression systems designed to muffle potentially damaging liftoff sounds;
Storage tanks for propellants like liquid oxygen (Terran 1 uses liquid oxygen and liquefied natural gas);
A support building for employees working on hardware and software;
A new flare stack to burn off natural gas;
And, of course, clearing corrosion from any old structures left behind like the block house.
Upgrades also include a new launch control center a few miles south of the pad in the Cape's industrial area.
Svatek said it's a career highlight to be a part of the "amazing history here at the Cape and to be part of the upcoming history for the future of the U.S. at these historic sites."
Things like keeping the block house intact and maintained were required by the Space Force, but Svatek said Relativity appreciates that opportunity regardless.
"You've got historic preservation efforts at keeping the block house where it is ... We absolutely love that," he said. "And we're doing a little hat tip to previous launches out of here by naming our conference rooms after the Titan and Pershing programs."
But even after Terran 1's first flight, Svatek said, teams won't be done working on LC-16. The company's much larger Terran R vehicle will involve significantly re-working the pad – a common theme in the rapidly evolving spaceflight industry. "We are going to be growing as a company and we're very excited to be at the Cape facility along with so many other historical companies and future companies," Svatek said. "We're looking forward to being a trendsetter and disrupting with the way we do our business out here." Quelle:Florida Today
----
Update: 24.02.2023
.
Relativity Space's first launch of 3D-printed Terran rocket scheduled for March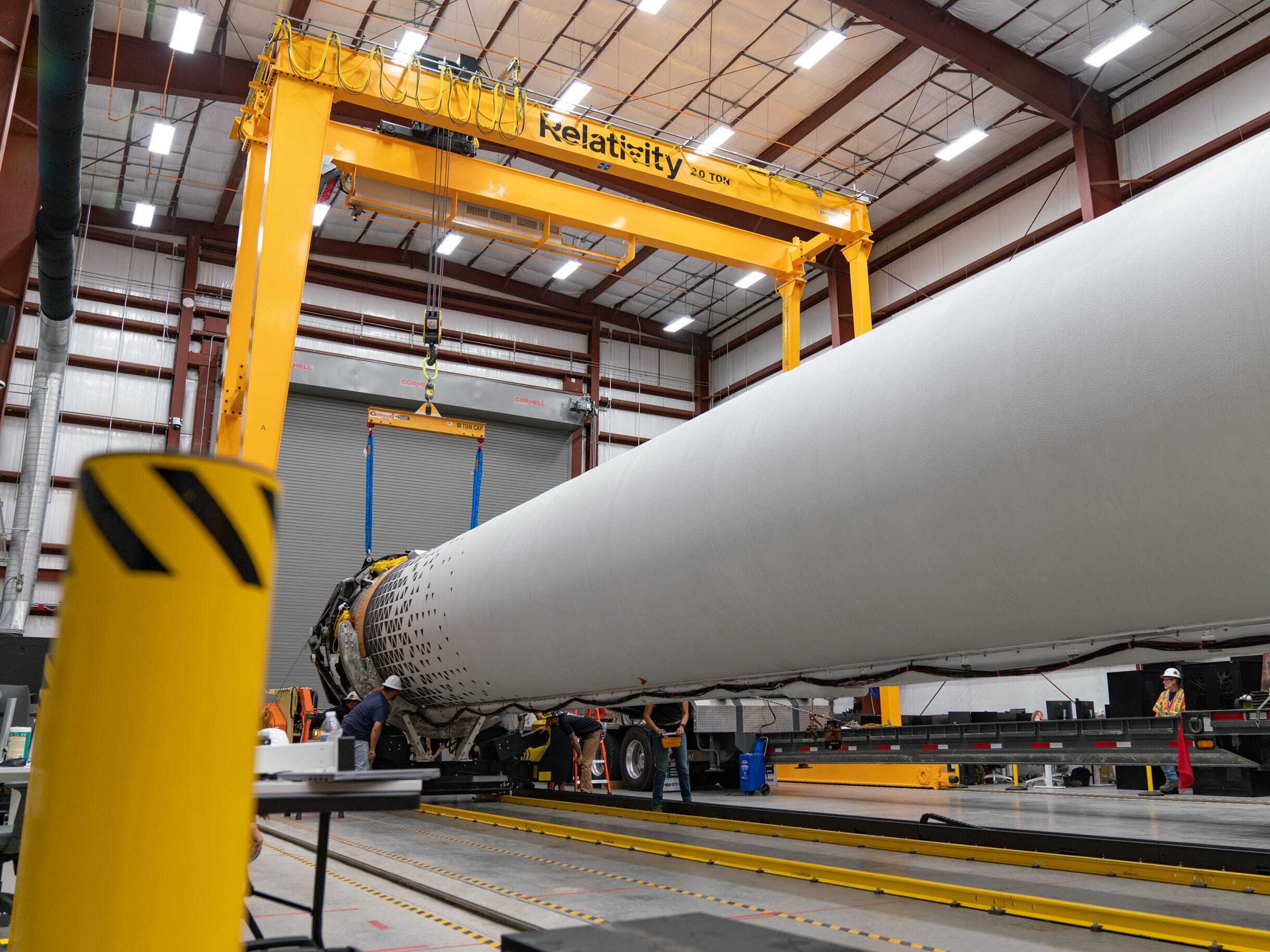 Photos: Relativity Space's first Terran 1 rocket arrives at Cape Canaveral
Relativity Space, the 3D printing company that produces rockets based on the cutting-edge process, is targeting March for the first flight of its Terran vehicle from Florida.
Dubbed "Good Luck, Have Fun" or "GLHF," the Wednesday, March 8, mission will not only mark the 110-foot Terran 1 rocket's debut launch, but also the company's first overall. Liftoff is set for 1 p.m. EST.
Relativity will use its pad at Cape Canaveral Space Force Station's Launch Complex 16, which has seen extensive renovations and upgrades since it was leased from the Air Force in 2019. Because it's a demonstration mission, the rocket won't fly with a customer payload.
Relativity had planned on test firing the rocket's Aeon-1 engines one last time before flight, but in a statement, the company said teams had run enough tests to feel confident in the hardware. Plus, continually stressing the rocket with test after test could cause more issues along the way.
At 110 feet in height, Terran is a smaller rocket, but Relativity also plans on building a larger vehicle named Terran R. That would compete with SpaceX's Falcon 9 and United Launch Alliance's Atlas V and Vulcan Centaur, the last of which is set for its flight in the first half of this year.
Despite that smaller size, it will become the largest 3D printed object to attempt an orbital mission once it takes flight. Roughly 85% of the rocket's mass is 3D printed; Relativity hopes to increase that to 95% for future rockets.
Terran's components are printed and assembled at the company's massive 1 million-square-foot headquarters in Long Beach, California, before transport to Florida via semitrailer. It uses nine Aeon engines on the first stage, one on the upper stage, and a mix of liquid natural gas (LNG) and liquid oxygen (LOX) as its propellants.
Quelle: Florida Today
+++
Relativity Space sets date for first Terran 1 launch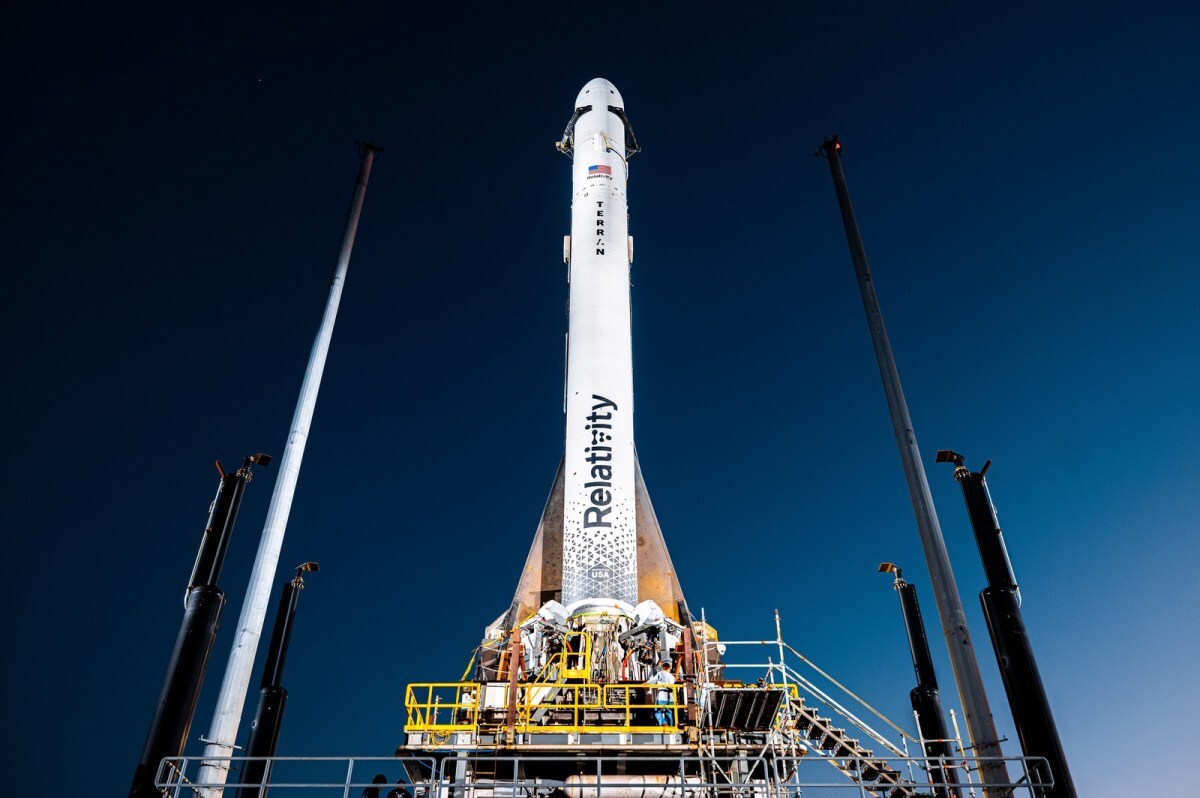 Relativity Space is targeting March 8 for the inaugural launch of its Terran 1 rocket from Cape Canaveral. Credit: Relativity Space/Trevor Mahlmann
ORLANDO — Relativity Space announced Feb. 22 it will attempt the first launch of its Terran 1 rocket as soon as March 8 after securing a launch license and skipping a planned final test.
The company announced it received a Federal Aviation Administration launch license for its first Terran 1 mission. With the license in hand, the company says it is targeting a launch of the rocket March 8 between 1 and 4 p.m. Eastern from Launch Complex 16 at Cape Canaveral Space Force Station in Florida.
The mission, called "Good Luck, Have Fun" by the company, is a test flight of the rocket. While Terran 1 is designed to place up to 1,250 kilograms into low Earth orbit, the inaugural launch is not carrying any customer payloads.
The license comes after a series of tests of both stages of the rocket, manufactured largely using 3D printing. Relativity had planned to cap off that test campaign by firing the first-stage engines of the full vehicle on the pad. The FAA license for the launch included a "stage one hotfire" as part of the pre-launch operations covered by the license.
However, a company spokesperson told SpaceNews that Relativity had decided not to conduct that static-fire test. The overall test campaign had "burned down risk significantly" and gave the company confidence in proceeding with a launch without another hotfire of the first stage. The spokesperson added the company had to balance the risk of proceeding with the launch and conducting more tests that add wear and tear on the vehicle, and that the company had decided to accept the higher risk of an abort on its first launch attempt.
Terran 1, while designed to serve the small satellite market, is also a technology pathfinder for the larger, fully reusable Terran R rocket that Relativity is also developing. The company says it has a launch backlog worth more than $1.2 billion for that vehicle, including an agreement last June with OneWeb to launch some of that company's second-generation satellites.
Tim Ellis, chief executive and co-founder of Relativity, tweeted Feb. 22 that he recalled that his mentor when starting up the company, technology entrepreneur Sam Altman, "told us we were absolutely crazy for trying to simultaneously invent a brand new manufacturing technology and an orbital rocket, which is already super hard."
"Now we are on the launch pad almost ready to go with the world's first 3D printed rocket," he continued. "It's been a truly wild ride to get to this point, and certainly way harder than I ever imagined going into it – but all the feels from me and our team as we embark on this historic launch."
Quelle: SN
----
Update: 7.03.2023
.
Space Force: Weather solid for Relativity Space's first launch from Cape Canaveral
Weather conditions will likely be excellent for the launch of a new rocket from Cape Canaveral Space Force Station this week, the military branch's forecasters said over the weekend.
If conditions hold, Relativity Space's Terran 1 rocket, the first developed using mostly 3D printing techniques, will face 90% "go" conditions for liftoff from the Cape's Launch Complex 16. The mission dubbed "Good Luck, Have Fun" or "GLHF," is set for liftoff during a three-hour window that opens at 1 p.m. EST Wednesday, March 8.
"A weak backdoor cold front will push through from the northeast Wednesday morning, perhaps with a light shower or two, but definitely with an increase in low-level cloud cover and northeasterly winds," Space Launch Delta 45 forecasters said Sunday. "The threat for precipitation is expected to be past by the open of the primary launch window Wednesday afternoon, but cloud cover will likely linger through the front half of the window."
Conditions at the Cape should hover around 78 degrees at 58% humidity during the window. In the event of a delay to the next opportunity, which falls on the same window Thursday, weather would improve to 95% "go," the Space Force said.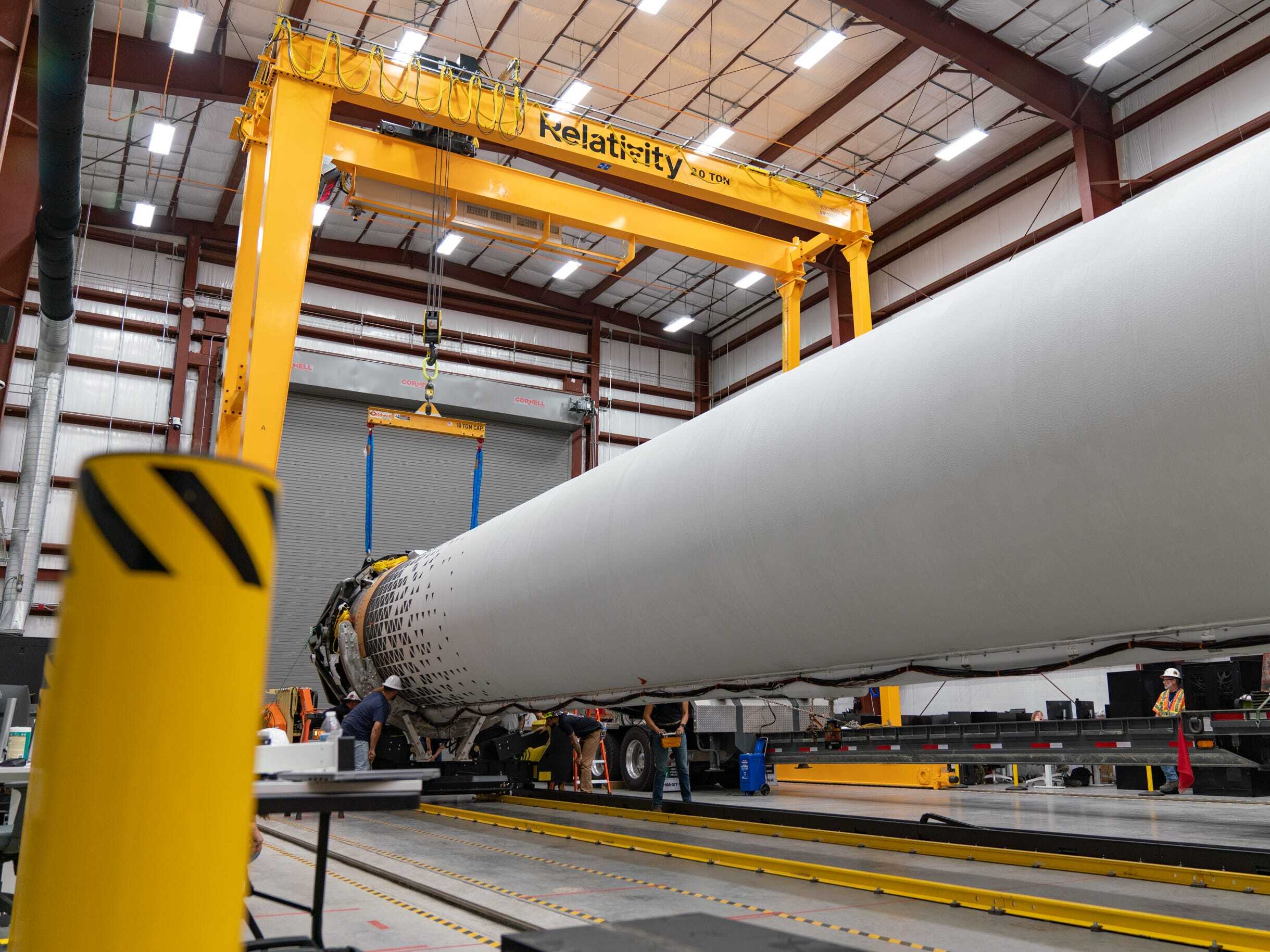 Relativity Space's first Terran 1 rocket arrives at Cape Canaveral
Because it's the 110-foot Terran 1 rocket's demonstration flight, the mission won't include a customer payload. Relativity said once it launches, it will become the largest 3D printed object to attempt an orbital mission. Roughly 85% of the rocket's mass is 3D printed; Relativity hopes to increase that to 95% for future rockets.
Terran is a relatively small rocket, but Relativity also plans on building a larger version named Terran R. That would compete with SpaceX's Falcon 9 and United Launch Alliance's Atlas V and Vulcan Centaur, the last of which is set for its flight with a lunar lander on May 4.
Terran's components are printed and assembled at the company's massive 1 million-square-foot headquarters in Long Beach, California, before transport to Florida via semitrailer. It uses nine Aeon engines on the first stage, one on the upper stage, and a mix of liquid natural gas (LNG) and liquid oxygen (LOX) as its propellants.
At the Cape's Launch Complex 40, meanwhile, SpaceX is set to launch another Falcon 9 rocket just a day after Relativity. Teams are tentatively slated to launch another batch of OneWeb internet satellites sometime after 1 p.m. EST Thursday, March 9, but SpaceX has not yet confirmed the existence of the mission – only federal filings point to teams pushing forward with that attempt.
Quelle: Florida Today
----
Update: 8.03.2023
.
Watch live: Relativity Space to launch first 3D-printed, methane-fueled orbital rocket
Watch our live coverage of the countdown and launch of Relativity Space's first Terran 1 rocket during a three-hour launch window opening at 1 p.m. EST (1800 GMT) on March 8 from Launch Complex 16 at Cape Canaveral Space Force Station, Florida. Follow us on Twitter.
Relativity Space, a California-based startup that counts billionaire Mark Cuban as one of its early investors, will try to launch the first 3D-printed, methane-fueled rocket into orbit from Cape Canaveral Wednesday.
The two-stage rocket, called the Terran 1, will lift off from Launch Complex 16 at Cape Canaveral Space Force Station. The test flight has a three-hour launch window Wednesday opening at 1 p.m. EST (1800 GMT), and there's a 90% chance of favorable weather, according to the Space Force's 45th Weather Squadron.
The mission is a demonstration for Relativity's Terran 1, a 110-foot-tall (33.5-meter) launcher designed to haul more than a ton of cargo into low Earth orbit. The Terran 1 is aimed at the commercial launch market for small to mid-sized satellites, making Relativity one of several privately-developed smallsat launch companies coming online in the last few years.
"There are a number of firsts here potentially on this rocket," said Josh Brost, vice president of revenue operations at Relativity Space. "It has the chance of being the first liquid natural gas / liquid oxygen rocket to make it to orbit. It has, by far, the highest 3D-printed content of any rocket in history. We're sitting at about 85% by mass, where I don't think any other rocket has gone past maybe 4%."
Relativity Space has nicknamed the Terran 1's test flight as "Good Luck, Have Fun." It won't carry any customer satellites.
The Terran 1 rocket could become the first methane-fueled launcher to reach orbit if the eight-minute flight goes well Wednesday, beating two much larger rockets — ULA's Vulcan and SpaceX's Starship — scheduled to attempt their first full-scale test flights in the coming weeks or months.
Tim Ellis, co-founder and CEO of Relativity Space, said methane is the "propellant choice of the future, especially for reusable rockets."
Methane is a more efficient fuel than kerosene, which is used on SpaceX's Falcon 9 rocket, Russia's Soyuz launcher, and ULA's Atlas 5. It also burns cleaner and leaves less residue inside an engine than kerosene, easing refurbishment and reuse between missions.
Before the first Terran 1 has even left the launch pad, Relativity started development of a larger fully reusable rocket called the Terran R, a vehicle the company says will become a "point-to-point space freighter capable of missions between the Earth, moon and Mars."
But the first test flight of the smaller Terran 1 rocket is a major milestone for Relativity, a company founded in 2015 by Ellis and Jordan Noone, college classmates who worked short stints as engineers with Blue Origin and SpaceX. Ellis, 32, is CEO of Relativity, while the 30-year-old Noone stepped down as the company's chief technology officer in 2020.
"Hard to believe the day is nearly here to launch Terran 1, our first rocket!" Ellis tweeted Tuesday. "Seven years ago, I co-founded Relativity Space, which feels like a lifetime ago, but is an incredibly short time frame in the scheme of things in aerospace — especially starting as two people in a WeWork, truly from scratch, where we had to rally and scrap together every ounce of funding, team, facilities, and technology starting from absolutely nothing."
The company now boasts some 1,000 employees, a million-square-foot headquarters and factory in Long Beach, California, and $1.3 billion in venture capital and equity fundraising, including an early $500,000 investment from billionaire Mark Cuban. In 2021, the company reached a valuation of $4.2 billion before launching any rockets.
Now the Terran 1 is on the launch pad in Florida, ready for an inaugural test flight to demonstrate the rocket's 3D-printed tanks, structures, and engine components can withstand the rigors of launch.
"No new company has ever had their liquid rocket make it to space on their first attempt," Brost, also a former engineer and manager at SpaceX, told Spaceflight Now in a pre-launch interview. "So if everything goes incredibly well, and we achieve orbit on our first launch Wednesday, that would be a remarkable milestone for us, which we would be, of course, over the moon excited about. But that doesn't define success for us.
"There are many other things that could happen on launch that would still be considered very successful for us," Brost said.
"Of course, the rocket-loving engineer in me wants to see us be the first privately-funded AND first liquid-propellant rocket to ever reach orbit on the first try," Ellis tweeted. "That would be truly unprecedented, especially with all the other 'firsts' this launch represents on the global stage. But there are a lot of important moments before that which will have me jumping out of my seat."
The Terran 1 rocket can carry up to 2,755 pounds, or 1,250 kilograms, of cargo to a low-altitude orbit. That's significantly more than other commercial small satellite launchers, such as Rocket Lab's Electron vehicle. Relativity says it sells a dedicated launch on a Terran 1 rocket for $12 million, about twice the price of a flight on the smaller Rocket Lab vehicle.
Relativity Space not only developed the Terran 1 rocket and designed a new rocket engine from scratch, the company has introduced four generations of 3D printers, each capable of building more rocket components faster and at lower cost.
About 85% of the 20,458-pound (9,280-kilogram) structural mass of the Terran 1 rocket is manufactured with 3D printing technology, including its Aeon engines, fed by methane fuel and super-cold liquid oxygen. 3D printing allows Relativity to manufacture rockets with 100 times fewer parts than launch vehicles built using conventional methods, the company says.
Relativity produced the Terran 1 rocket's primary structure and propellant tanks on its 3D printers. The engine thrust chambers, injectors, and turbopumps, reaction control thrusters, and pressurization systems also rely on 3D printing tech. Other parts, such as avionics and flight computers, were manufactured using conventional methods, Brost said.
The nine Aeon 1 engines on the first stage of the Terran 1 rocket will generate about 207,000 pounds of thrust at full power.
A company spokesperson said Relativity has completed six ignitions and more than 185 seconds of hotfire time for all nine Aeon 1 engines on the first stage of the Terran 1 rocket, with no ignition failures, premature engine shutdowns, or engine swaps. The engines and the Terran 1's autogenous pressurization system, which uses self-generated gases to maintain pressure in the propellant tanks, have performed well during the ground tests, Relativity said.
Relativity said last month it would skip a full-duration test-firing of all nine Aeon 1 engines on the first stage of the Terran 1, opting instead to proceed into final launch preparations.
"We were very intentional about trying to get to the pad as fast as we could to maximize the rate of learning," Brost said.
Without performing the final hold-down test-firing, Relativity says there is an increased chance of an abort on the first launch attempt. The spokesperson said the company is trying to balance the risk of wear and tear on the Terran 1 rocket from continued testing with the risk of proceeding with the test flight.
Computers check the health of all launch vehicle systems, including engines, before giving the command to release the rocket for flight. If there's a problem, the countdown will abort and the engines will shut down on the pad. If all systems are working normally, hold-down restraints will release to allow the Terran 1 to climb off the launch pad and accelerate into orbit.
Overall, Relativity has completed 191 Aeon 1 hotfire tests with 10,900 seconds of run time during engine qualification and acceptance testing on a firing stand at NASA's Stennis Space Center in Mississippi.
The second stage of the Terran 1 rocket, powered by a single "Aeon Vac" engine optimized for firings in space, completed a full "mission duty cycle" simulating the burn it will perform on the test flight. Relativity also completed structural loads testing on the first and second stages of the Terran 1 rocket, and functional testing on stage separation and other "flight-critical" mechanisms.
Aeon engines have been test-fired more than 2,000 times, the company said. The engines were designed and built in-house by Relativity Space, with the exception of the upper stage's nozzle extension.
The Terran 1 rocket will take off from Launch Complex 16, a long-dormant facility at Cape Canaveral once used by Titan and Pershing missile tests, and test-firings of NASA's Apollo service module engine. Launch Complex 16 was last used for a launch in 1988, and is located on the historic "missile row" at Cape Canaveral, south of United Launch Alliance's Delta 4 launch pad and north of SpaceX's rocket landing zone.
After announcing in 2016 it received the military's approval to use Launch Complex 16, Relativity built a rocket processing hangar, erected lightning protection towers, and installed propellant holding tanks at the site.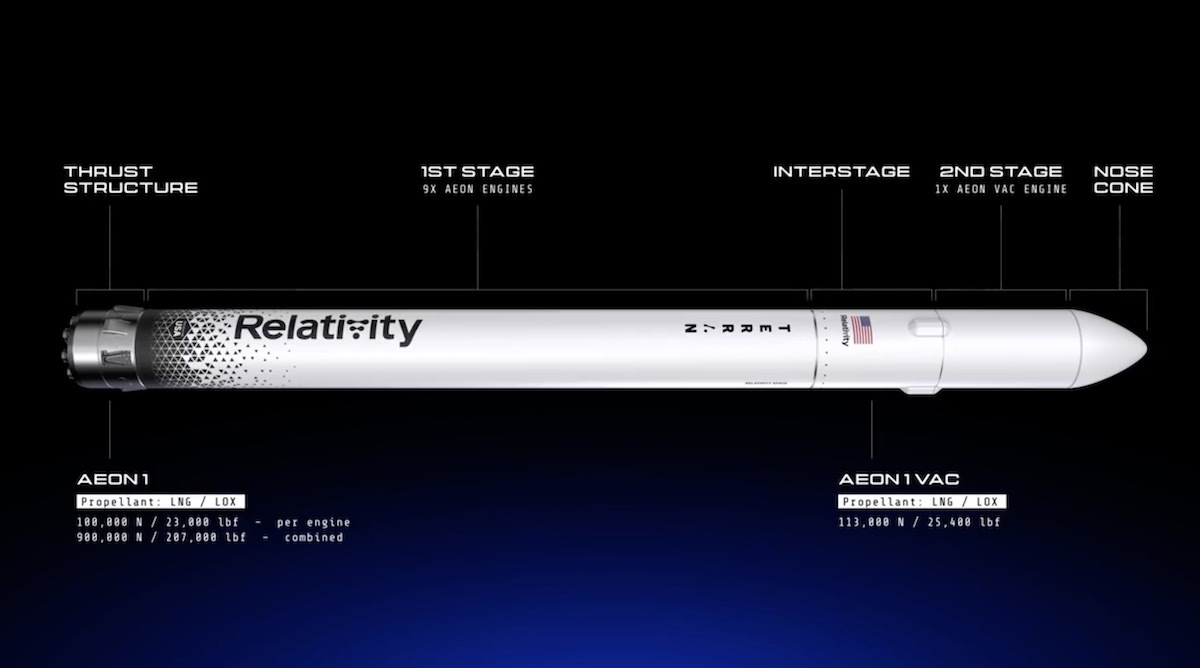 Relativity delivered the Terran 1 rocket to Cape Canaveral last June for final integration and testing.
The Terran 1 will begin steering on a path due east after a 12-second vertical climb away from Launch Complex 16. Around 42 seconds after liftoff, the rocket will be far enough downrange to ensure debris would not fall on the launch pad if the vehicle broke apart in flight.
"When the clock gets to zero, a million things can happen and only one of them is good," Brost said. "And that's because rockets are incredibly complex systems that are tightly coupled, where your avionics, your propulsion system, your structures, all these things need to work perfectly in concert to have a rocket ultimately achieve orbit.
"We're designing the rocket to have the same kind of safety factors and structural margin that you would see in any other system," Brost said. "Over time, we have developed our own alloys to make the printed material both higher performance and more printable, which is part of our very unique tech stack that makes it possible to 3D-print the vast majority of a rocket."
The rocket will surpass the speed of sound as it accelerates through the atmosphere, a phase of flight called Max-Q where the Terran 1 will encounter the most extreme aerodynamic forces of the mission. Ground testing has shown the 3D-printed rocket can withstand similar forces as a launch vehicle built with more conventional materials, like aluminum, carbon fiber, or stainless steel.
"We feel like we've done the testing on the ground to validate that 3D-printed structures can survive the launch environment, but obviously demonstrating that in flight will be an important milestone to get through," Brost said. "And as we look at the day of flight operations, Max-Q happens partway into Stage 1 ascent. That's the point we're going to get the maximum aerodynamic forces pushing on the rocket. That really is the key validation point for us to show not just to ourselves, but to the world, a 3D-printed rocket is really up to the to the task of taking on those launch environments."
The Terran 1 rocket will push through Max-Q about 1 minute and 20 seconds after liftoff.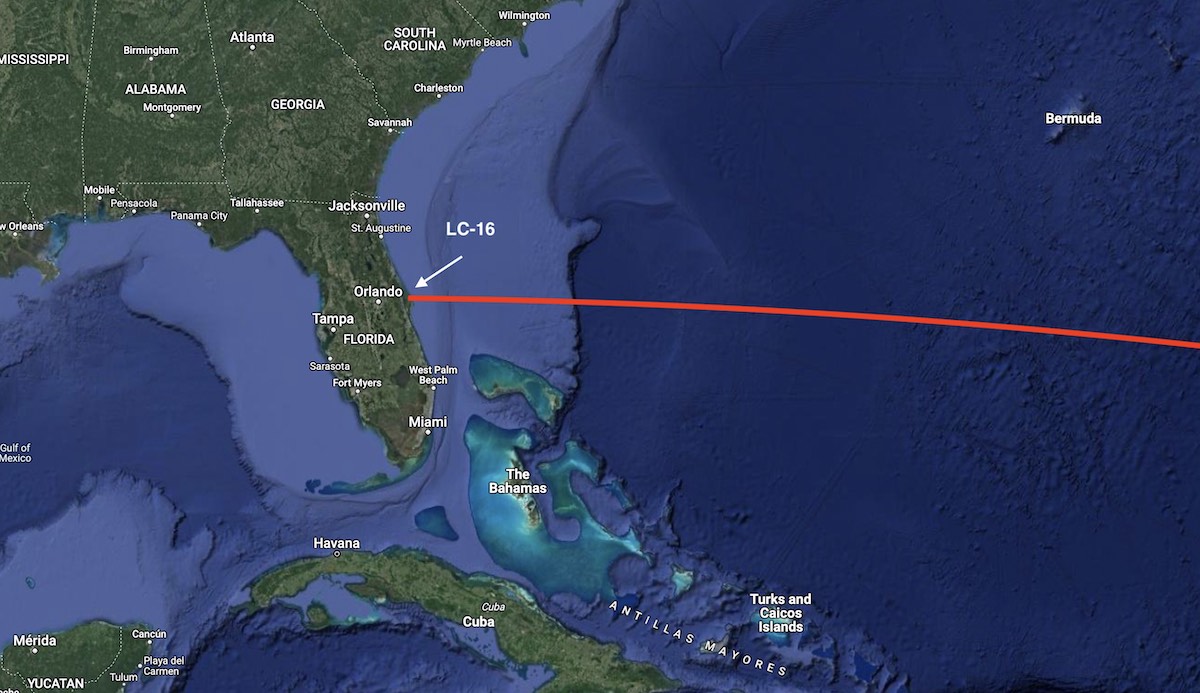 The Terran 1's first stage will fire for 2 minutes and 40 seconds, then detach from the rocket's upper stage. The booster on the Terran 1 is not reusable, and will fall into an impact zone in the Atlantic Ocean.
At T+plus 2 minutes and 51 seconds, the upper stage will light its Aeon Vac engine to accelerate the rocket to orbital velocity around 17,000 mph. If the flight goes as planned, the Aeon Vac engine will burn around five minutes before injecting the upper stage into a low-altitude orbit ranging in altitude between 124 miles and 130 miles (200-by-210 kilometers), according to Relativity.
The due east trajectory from Cape Canaveral will aim to place the rocket into an orbit inclined 28.5 degrees to the equator, the same latitude as the Florida spaceport, a company spokesperson said. The mission should be complete around eight minutes after liftoff.
One thing the Terran 1 rocket is not testing on Wednesday's mission is a payload fairing, the aeroshell that protects satellites during a rocket's initial climb through the atmosphere, then jettisons to reveal the payloads after they reach space. The Terran 1 set for launch on Relativity's first test flight has an aerodynamic nose cone, which will not separate from the rocket.
The decision to forego flying a payload fairing on the Terran 1's first test flight was simply to ensure the company kept its focus on the parts of the rocket that have to work to reach orbit, Brost said.
"If you look at how new rockets fail, there's a number of different failure modes where systems can run into trouble," Brost said in a pre-launch interview. "Those are really where we're focusing our efforts.
"That's putting our effort into massive amounts of propulsion testing and significant amounts of on-ground, hardware-in-the-loop avionics testing, and full end-to-end structural testing to make sure that the system has the best chance of getting all the way to orbit, and gives us the best chance to collect massive amounts of data that we can then use to improve our systems going forward."
A small metal ring, one of the first test articles Relativity printed several years ago, is riding inside the Terran 1's nose cone. It will remain attached to the upper stage.
"The quality is not great, the scale isn't very large and it's riding on top of a rocket that is majority 3D-printed," Brost said of the rocket's mock payload. "So it really kind of book-ends where we started, and Terran 1 shows where we are today."
Relativity has a launch contract with NASA to fly a cluster of small satellites on the second Terran 1 mission from Cape Canaveral. The company also has a contract with Telesat to launch satellites for that company's planned low Earth orbit internet constellation. And Iridium has a long-term agreement to launch voice and data relay satellites on Relativity's rockets.
Last year, Iridium shifted the launch of five of its remaining six spare "Iridium Next" satellites from multiple dedicated flights on Relativity's Terran 1 rocket to a rideshare mission later this year on a single SpaceX Falcon 9 rocket. "We still have one ground spare left, which could launch in the future on the Terran 1," an Iridium spokesperson said.
But Iridium says its contract with Relativity includes provisions to use the launch company's future systems, like the Terran R. OneWeb has also signed a multi-launch agreement to fly its second-generation broadband satellites on Terran R rockets. And another startup space company, called Impulse Space, announced last year it plans to send a robotic lander to Mars with a boost from Relativity's Terran R.
Relativity says it has a contract backlog with a dozen customers worth more than $1.65 billion. The majority of the backlog is for missions to launch on the larger reusable Terran R, which Relativity says could launch for the first time by the end of 2024. Like the Terran 1, the Terran R will be constructed with 3D-printing technology, use methane fuel, and will depart for space from Launch Complex 16 at Cape Canaveral.
In a Twitter thread posted on the eve of the Terran 1's first launch, Ellis signaled Relativity is eager to shift its efforts to developing the Terran R.
"Medium-heavy lift is clearly where the biggest market opportunity is for the remaining decade, with a massive launch shortage in this payload class underway," Ellis said.
Resembling a smaller version of SpaceX's giant Starship rocket, the Terran R will stand 216 feet (66 meters) tall and measure 16 feet (5 meters) in diameter.
Flying in reusable mode, the Terran R rocket will be capable of delivering a payload of 20 metric tons, or 44,000 pounds, to low Earth orbit, according to Relativity. The payload capacity could increase if Relativity flew the Terran R as an expendable rocket.
The Terran R first stage will be powered by seven reusable 3D-printed Aeon R engines capable of 302,000 pounds of thrust each, combining to generate 2.1 million pounds of thrust at full throttle. The Terran R second stage will have one Aeon Vac engine.
Other new commercial launch providers that initially developed a small satellite launcher, such as Rocket Lab and Firefly Aerospace, are also pivoting to larger rockets. Rocket Lab is developing the partially reusable Neutron rocket, and Firefly is in the early stages of a partnership with Northrop Grumman to develop a medium-class launch vehicle.
Ellis tweeted that Relativity will look to its customers for guidance on whether to continue testing and flying the Terran 1, or to move on to the Terran R.
"Our customers will really be our deciding jury," Ellis said. "They may view this launch as a success once we prove the vehicle's structural integrity at Max-Q, but they may also be looking to later stages of flight, like stage separation, and then 2nd stage engine ignition."
"If on our inaugural Terran 1 launch we encounter issues that are more commonplace with rocket launches — rocket science problems and not additive-related problems — we'll ask those customers for input," Ellis said. "Do they want us to continue down the path of producing more Terran 1s to solve for those issues on this vehicle? Or would (they) like us to solve the remaining rocket science problems on the vehicle they are actually most interested in, Terran R?"
No matter the outcome of the Terran 1 test flight, Ellis said the mission will provide "useful data and insights that will make us better prepared" for whatever comes next.
The Terran 1 is a "fantastic learning platform for developing developing technologies directly applicable to Terran R, giving us a lot of confidence we are ahead in the race to become the next great launch company," Ellis said.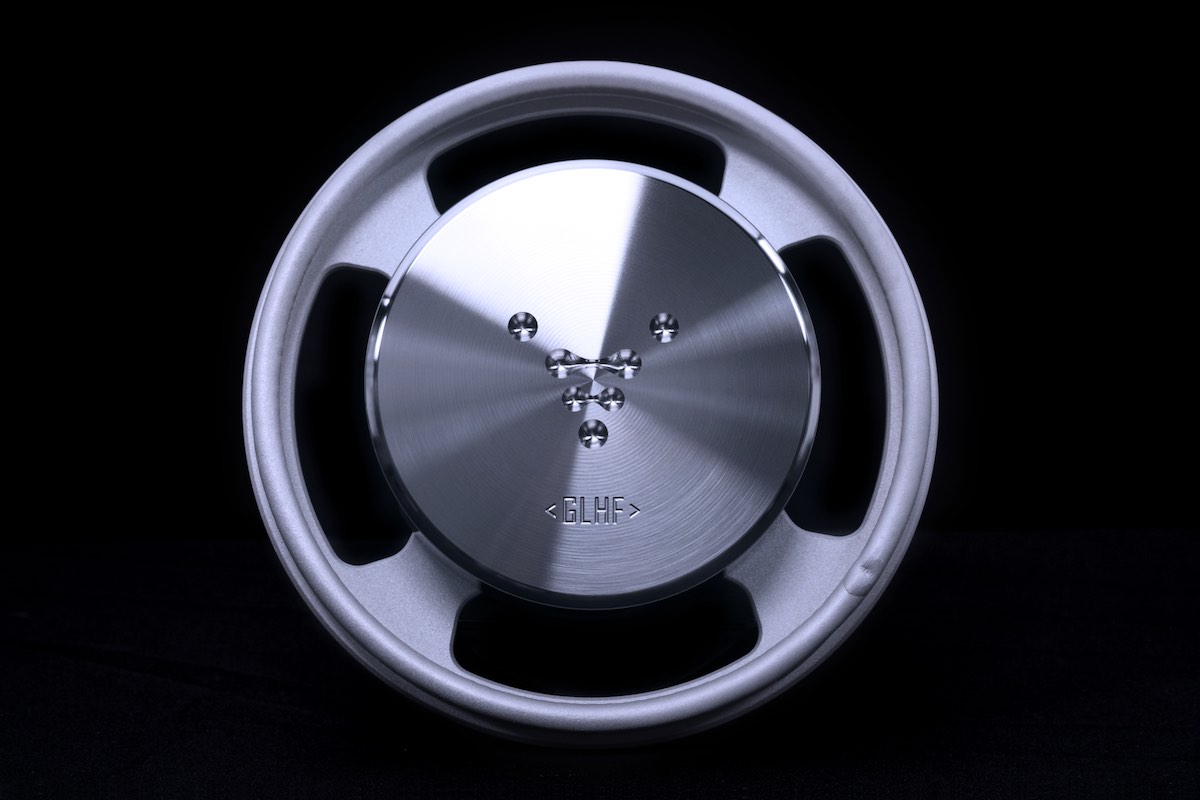 ROCKET: Terran 1
PAYLOAD: "Good Luck, Have Fun" test flight; No customer payload
LAUNCH SITE: LC-16, Cape Canaveral Space Force Station, Florida
LAUNCH DATE: March 8, 2023
LAUNCH WINDOW: 1:00-4:00 p.m. EST (1800-2100 GMT)
WEATHER FORECAST: 90% chance of acceptable weather
BOOSTER RECOVERY: None
LAUNCH AZIMUTH: East
TARGET ORBIT: 124 miles by 130 miles (365 kilometers by 373 kilometers), 28.5 degrees inclination
LAUNCH TIMELINE:
T+00:00: Liftoff
T+00:12: Pitch downrange
T+01:20: Maximum aerodynamic pressure (Max-Q)
T+02:40: First stage main engine cutoff (MECO)
T+02:45: Stage separation
T+02:51: Second stage engine ignition
T+07:43: Second stage engine cutoff (SECO)
T+08:00: Terran 1 in orbit
MISSION STATS:
1st launch by Relativity Space
1st launch of Terran 1 rocket
151st launch from Launch Complex 16
12th orbital launch attempt based out of Cape Canaveral in 2023
Quelle:SN
+++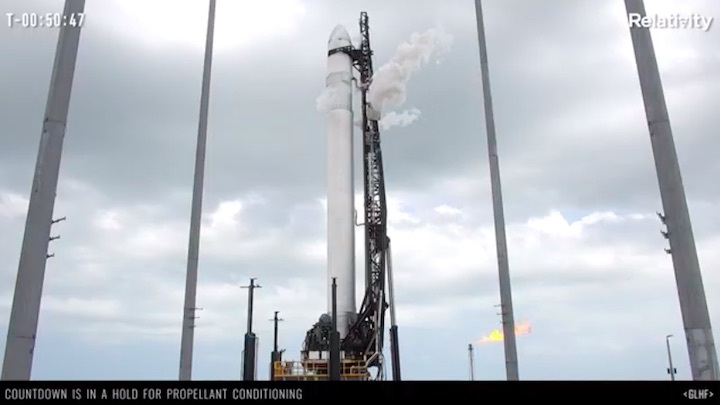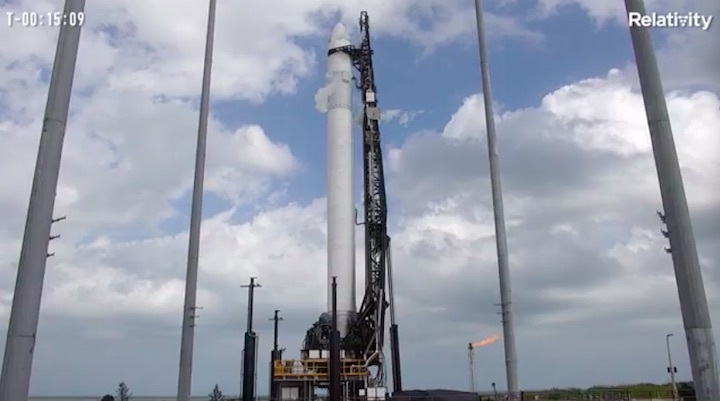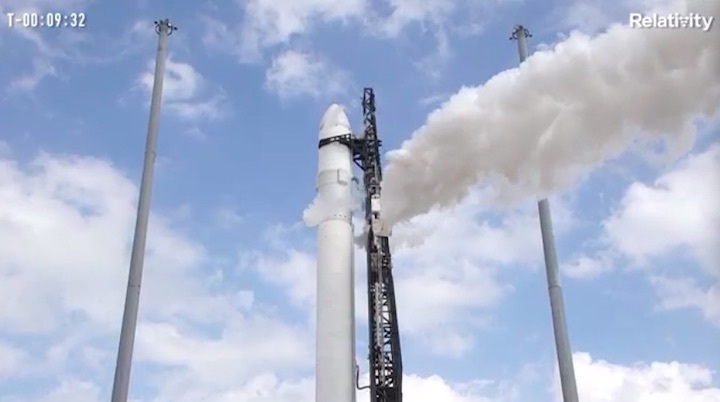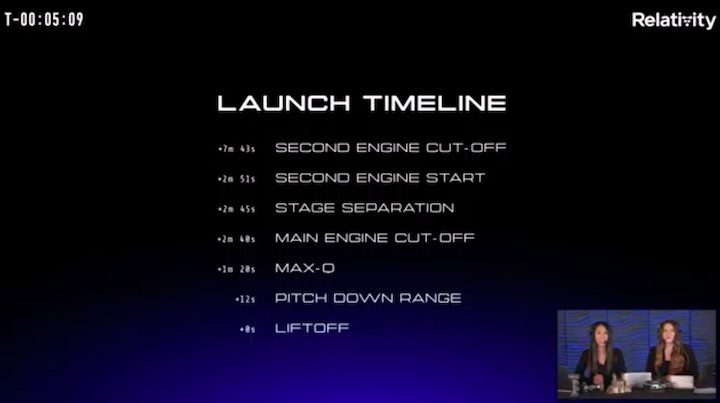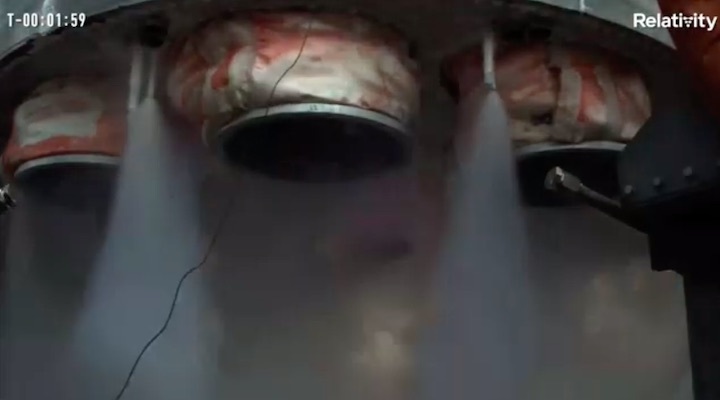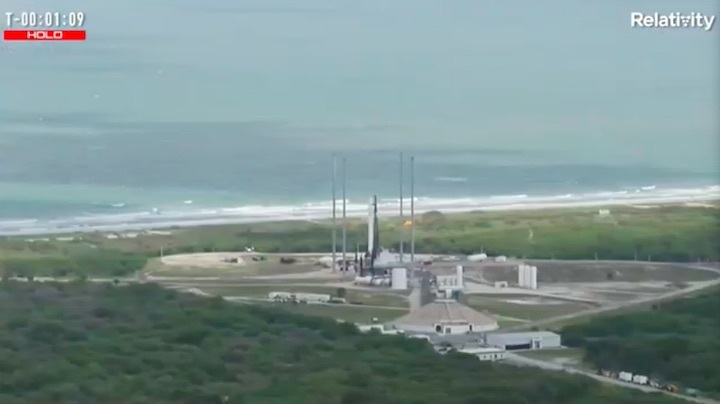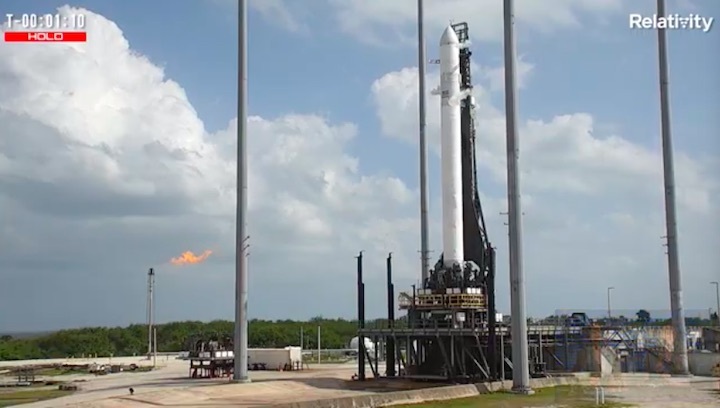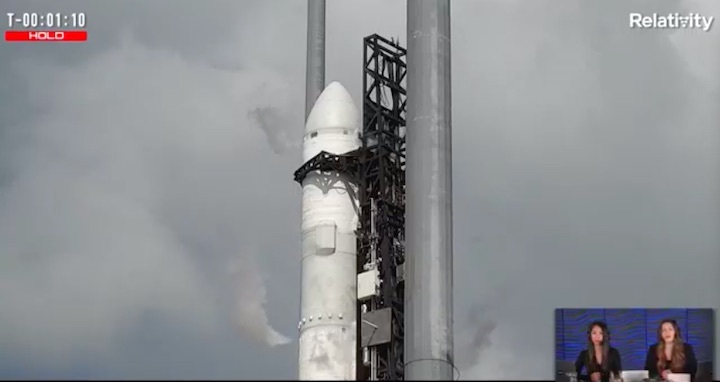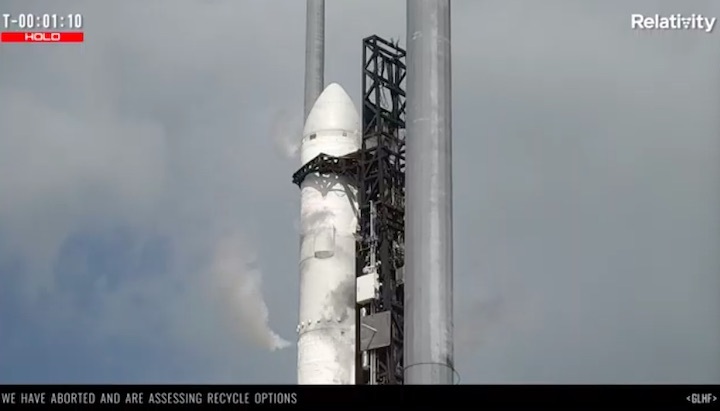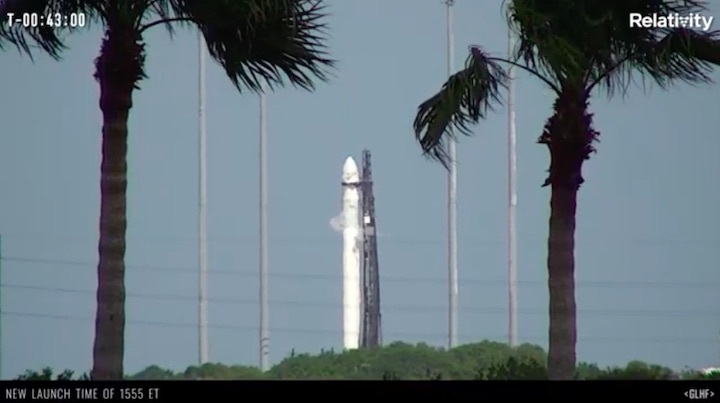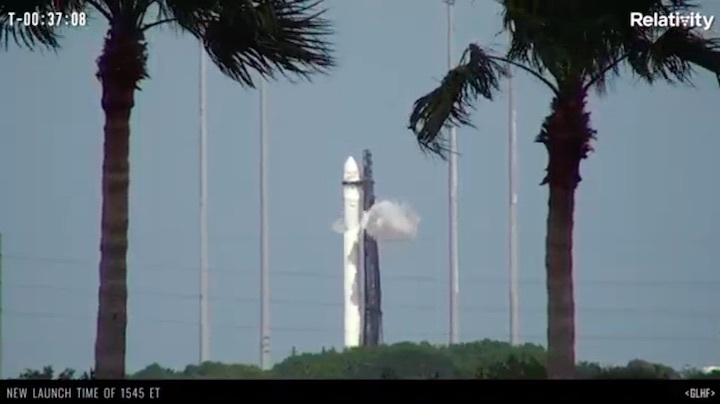 +++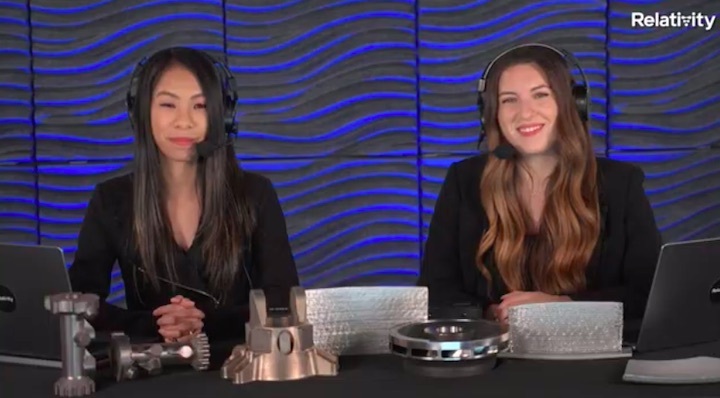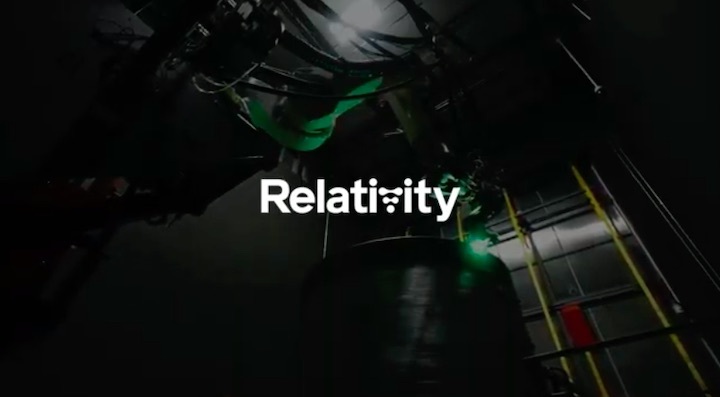 Quelle:Relativity
----
Update: 13.03.2023
.
Relativity scrubs first Terran 1 launch again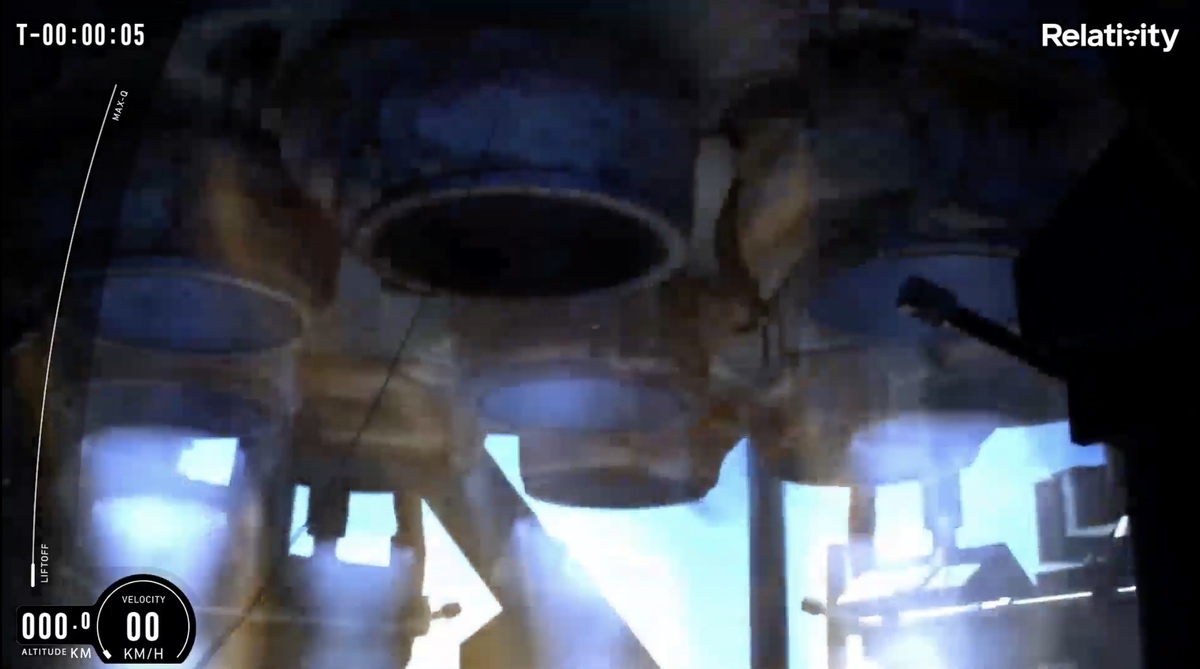 The nine Aeon engines in the Terran 1 first stage briefly ignited just before a launch abort March 11. Credit: Relativity Space webcast
WASHINGTON — Relativity Space scrubbed a launch of its Terran 1 rocket March 11 after two last-minute aborts for technical issues.
A first launch attempt during a three-hour window was aborted at 2:42 p.m. Eastern, at T-0.5 seconds. The rocket's nine Aeon 1 engines had already ignited when the abort was called.
Relativity said on its launch webcast that the abort was triggered by a violation of launch commit criteria, but was not more specific. It later tweeted that a "a corner case in the stage separation automation" a few seconds before scheduled liftoff caused the abort.
The company recycled for a second launch attempt at 4 p.m. Eastern, at the end of the launch window at Cape Canaveral's Launch Complex 16. That countdown halted at about T-45 seconds, scrubbing the launch for the day. The company later said the abort was caused by fuel pressure in the upper stage that dropped too low.
The March 11 scrub came after propellant temperature issues postponed an initial launch attempt March 8. The company said during the March 11 webcast that a faulty ground valve, since fixed, caused the problem during the earlier launch attempt. The company did not report any propellant temperature issues in the latest attempt.
Relativity has not announced a new launch date for the mission, which it calls "Good Luck, Have Fun." The company explained it waited three days between launch attempts to condition the liquid natural gas it uses as fuel for the rocket. That is primarily methane, but includes some butane, ethane and propane, according to Arwa Tizani Kelly, technical program manager for test and launch at Relativity, during the webcast.
Methane boils off faster than the other compounds. "If we were to offload and then reload those same propellants after a scrub, our methane composition would be off," she said. "Instead, we bring in fresh propellants, and the fuel then needs some time to level off to the right compound mix before we make another launch attempt."
This is the first mission for Terran 1, a rocket that Relativity manufactured primarily using 3D-printing technologies. The mission does not carry a payload and is primarily a technology demonstration of the vehicle, including testing if those additive manufacturing techniques are suitable for a launch vehicle.
Tim Ellis, chief executive and co-founder of Relativity, tweeted before the first launch attempt that he hopes the launch at least gets through maximum dynamic pressure, or Max-Q, about 80 seconds after liftoff, when stresses on the vehicle peak. "But the key inflection in my mind is surpassing Max-Q," he wrote. "We have already proven on the ground what we hope to prove in-flight – that when dynamic pressures and stresses on the vehicle are highest, 3D printed structures can withstand these forces. This will essentially prove the viability of using additive manufacturing tech to produce products that fly."
Terran 1 is also testing technologies for its larger, reusable Terran R rocket. The company has $1.65 billion in launch contracts from several customers, including OneWeb, for that vehicle, which could start launching as soon as 2024.
The Terran 1 launch was one of two scheduled for March 11, neither of which took place. Rocket Lab postponed a launch of its Electron rocket from Wallops Island, Virginia, earlier in the day, citing strong upper-level winds. The company has not announced a new date for the "Stronger Together" mission carrying two Capella Space radar satellites. The company has airspace restrictions for the launch daily through March 17.
Quelle: SN
----
Update: 22.03.2023
.
Space Force: Weather looks good for Relativity's third attempt at launching 3D-printed rocket
Weather forecasts point to excellent conditions for Relativity Space's third attempt at launching the world's first 3D-printed rocket, currently set for late Wednesday from Cape Canaveral Space Force Station.
Space Force forecasters on Monday said weather around Launch Complex 16 should be 90% "go" for liftoff of Terran 1, a 110-foot rocket slated to become the first launch ever for Relativity. A three-hour window to fly opens at 10 p.m. EDT.
"Expect only a few clouds to be in the area on Wednesday and as a result, the primary weather concern will be the cumulus cloud rule," Space Launch Delta 45 forecasters said Monday.
Conditions should be "go" for spectators, too: 68 degrees, 78% humidity, and mostly gentle winds.
Since this first flight is a demonstration mission, Terran 1 will fly without a customer payload in the fairing. Two previous attempts were scrubbed due to a mix of technical, weather, and range issues – not uncommon during a new rocket's debut attempt.
Terran 1 is 85% 3D printed by mass. After the hardware is produced in California, completed rocket stages are shipped to Cape Canaveral Space Force Station using semitrailers.
Relativity says 3D printing will be essential to long-term habitability in space and on the moon and Mars. Instead of waiting months or years for replacement parts to be shipped off to habitats, for example, astronauts will be able to print the necessary parts right there. The company's long-term goal, much like SpaceX, is to help establish human settlement on Mars.
Quelle: Florida Today
----
Update: 23.03.2023
.
Relativity:
Today's launch proved Relativity's 3D-printed rocket technologies that will enable our next vehicle, Terran R. We successfully made it through Max-Q, the highest stress state on our printed structures. This is the biggest proof point for our novel additive manufacturing approach. Today is a huge win, with many historic firsts. We also progressed through Main Engine Cutoff and Stage Separation. We will assess flight data and provide public updates over the coming days.
+++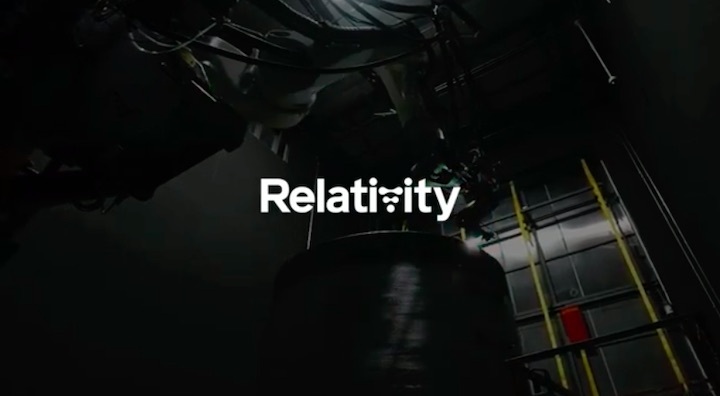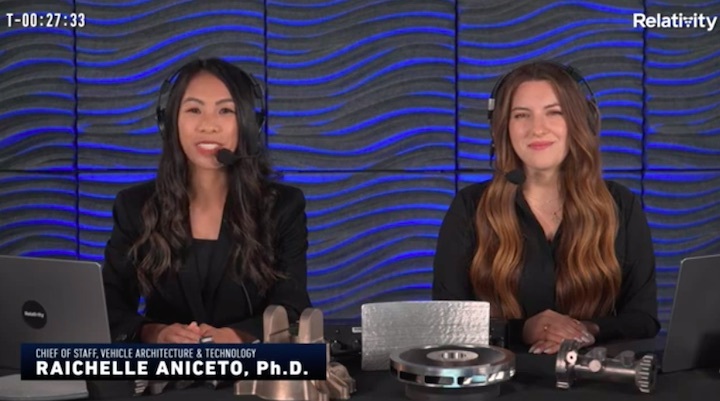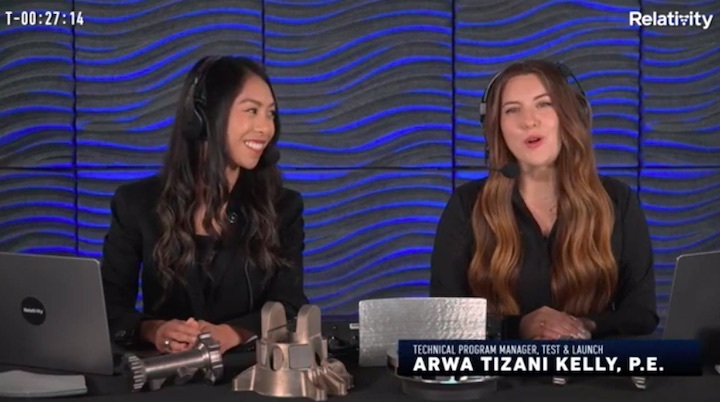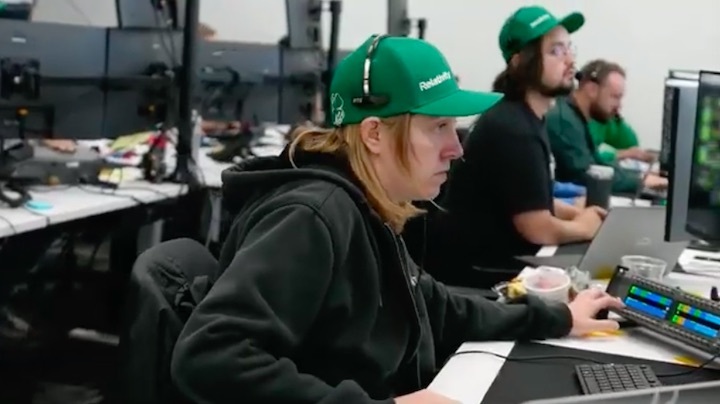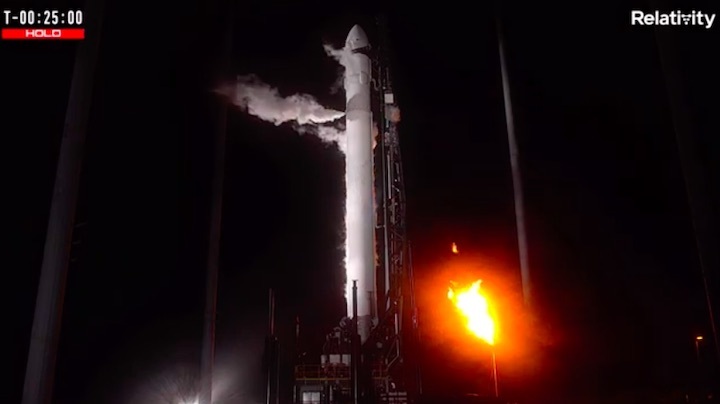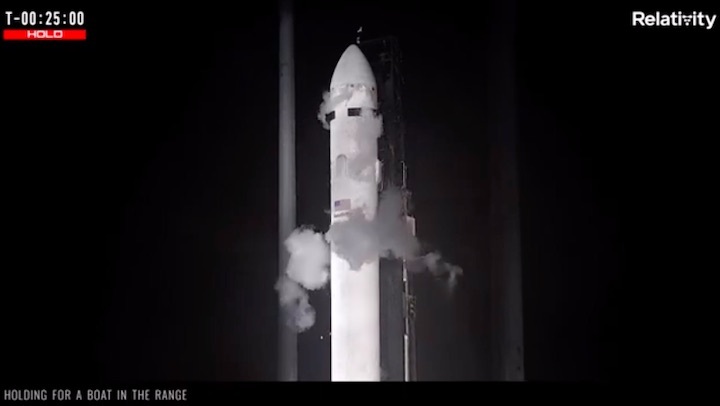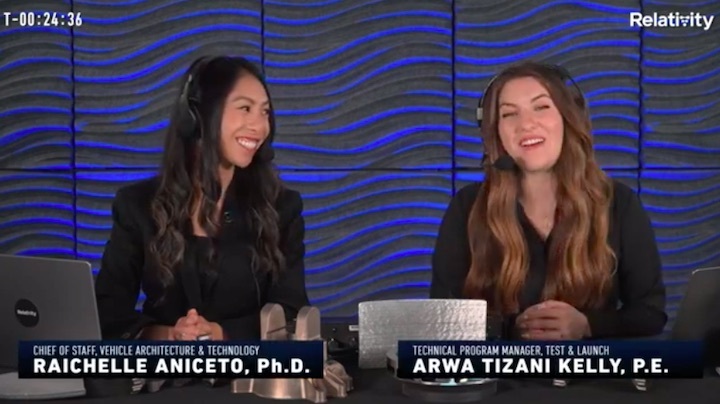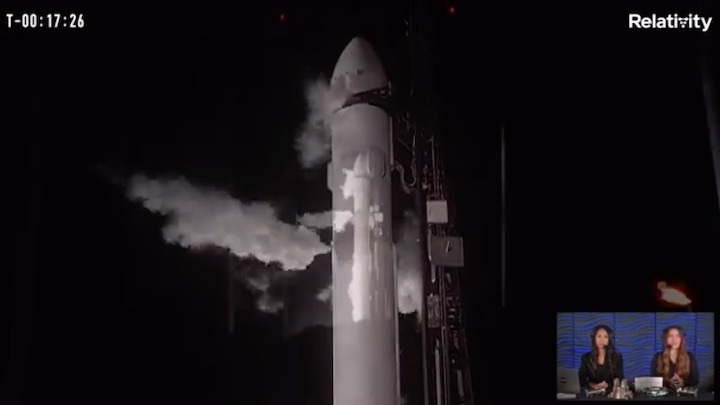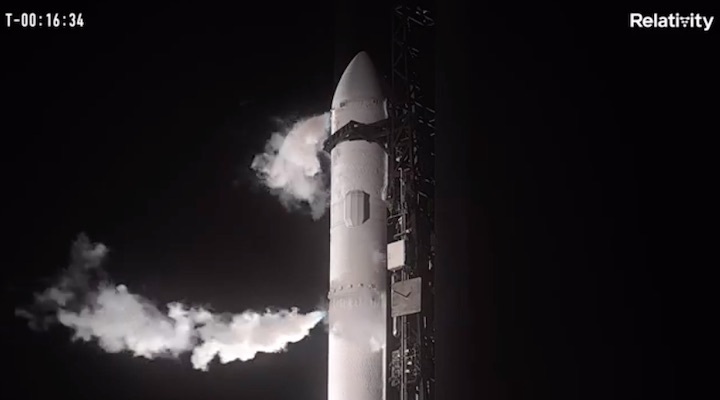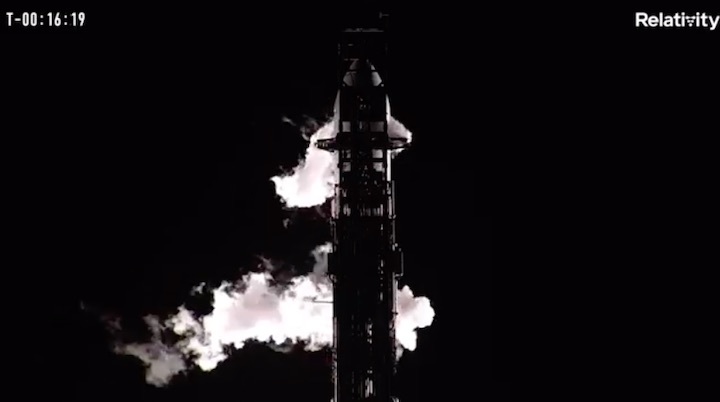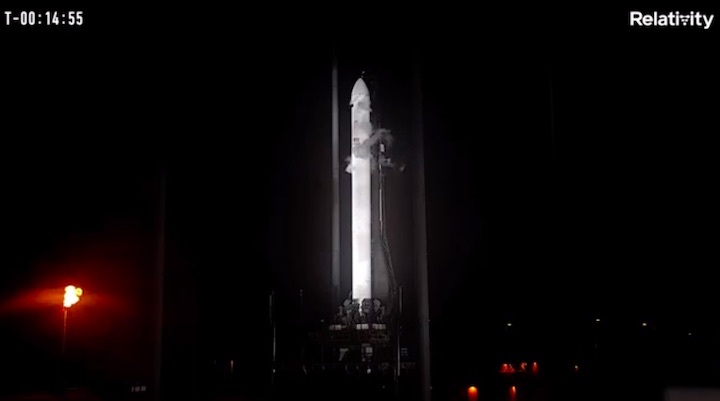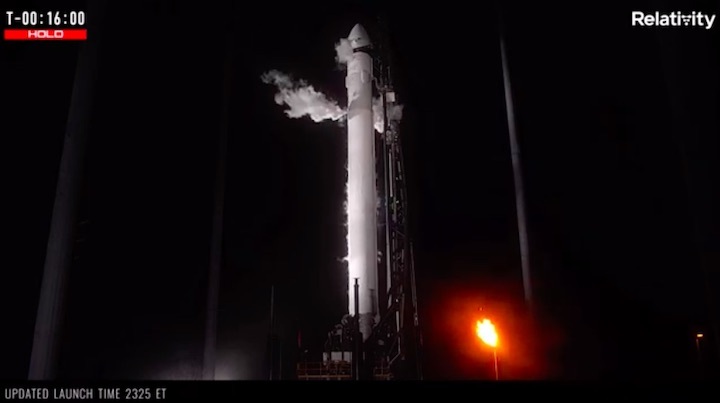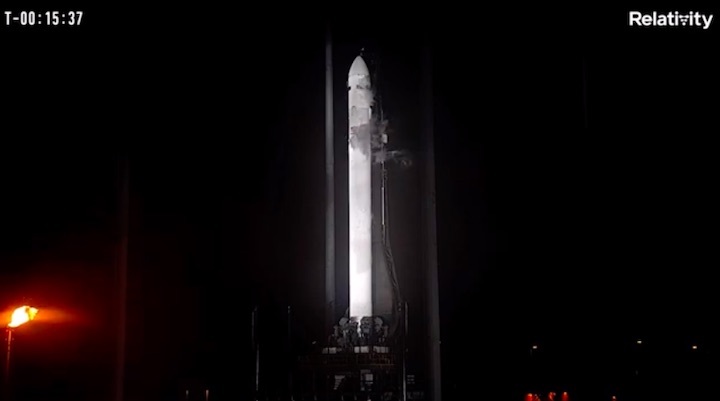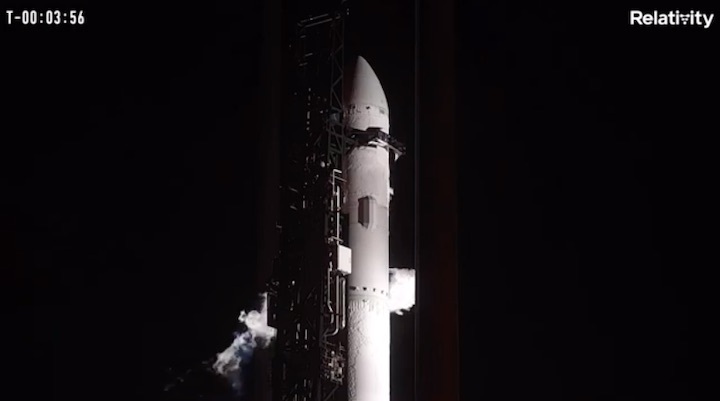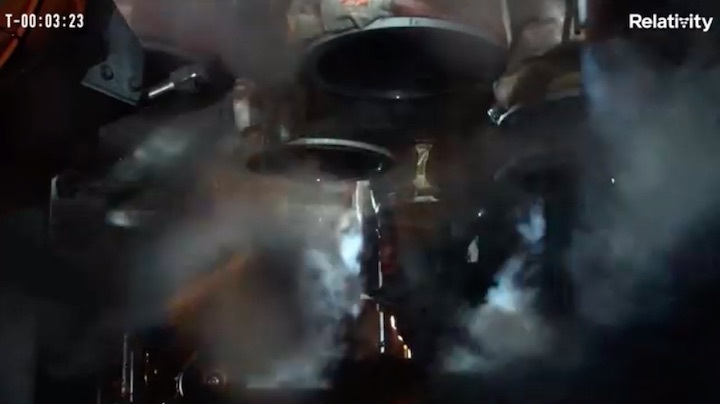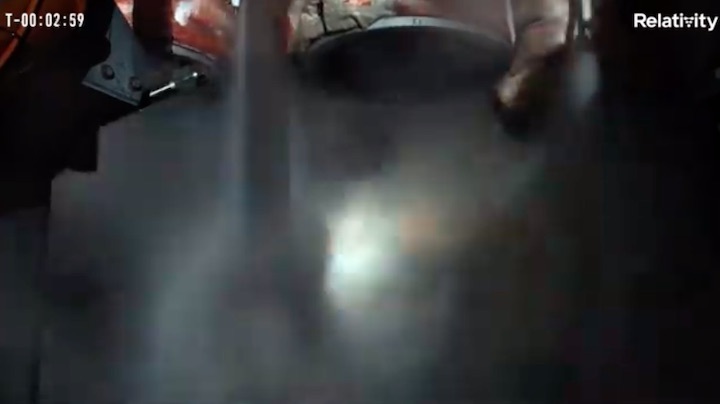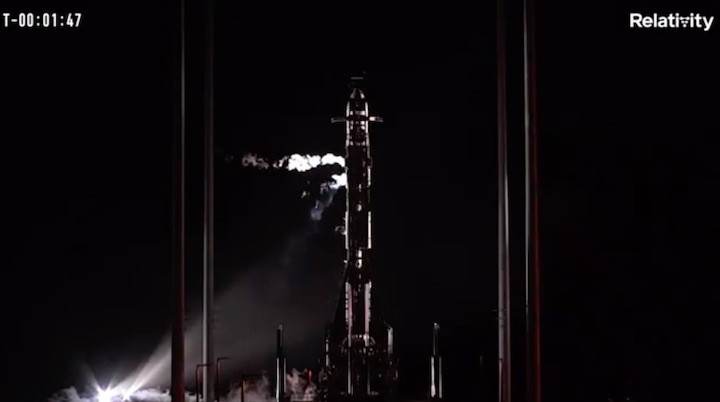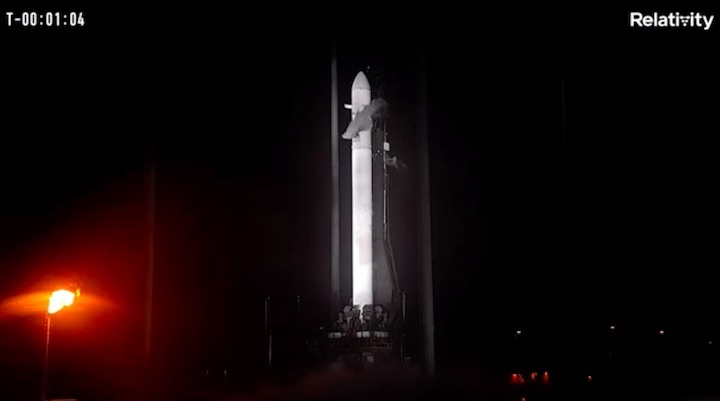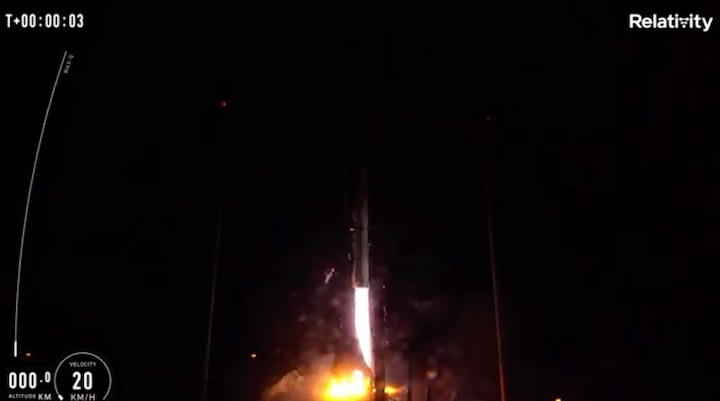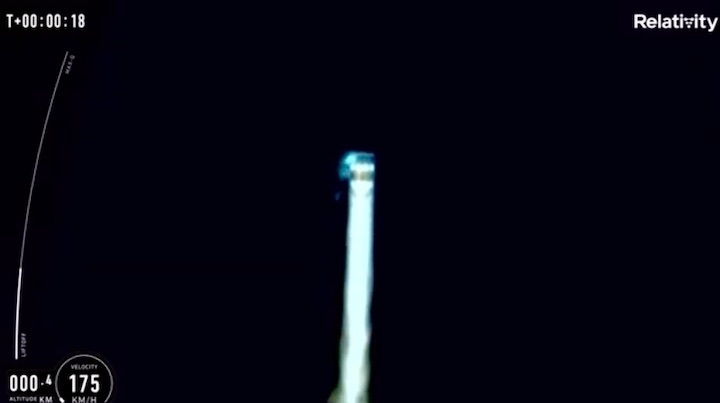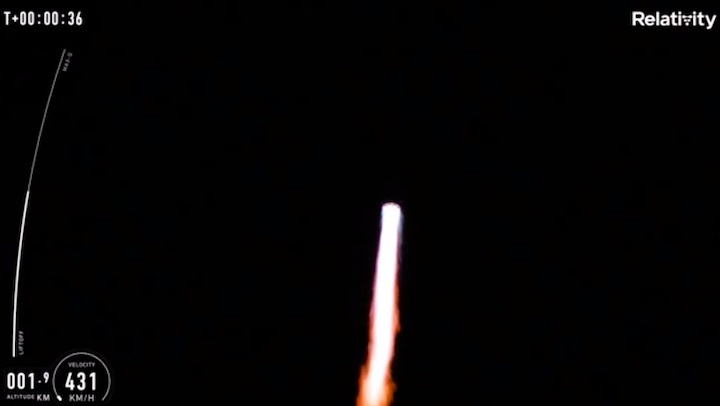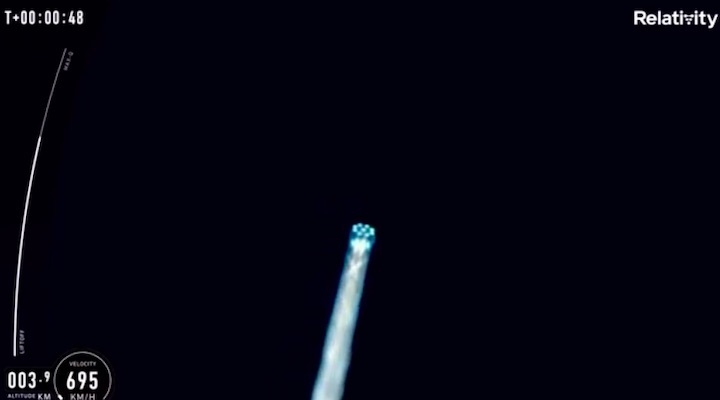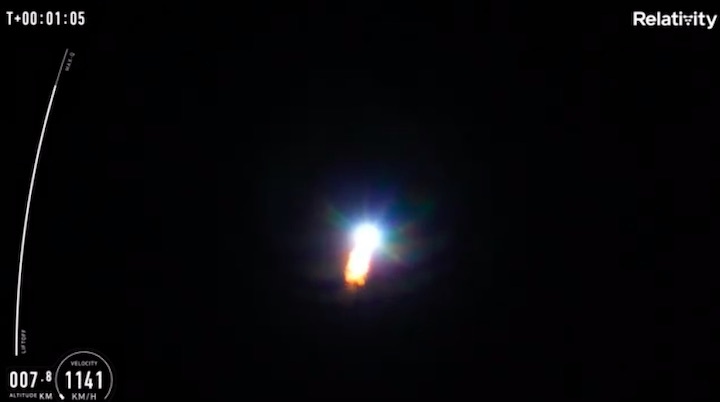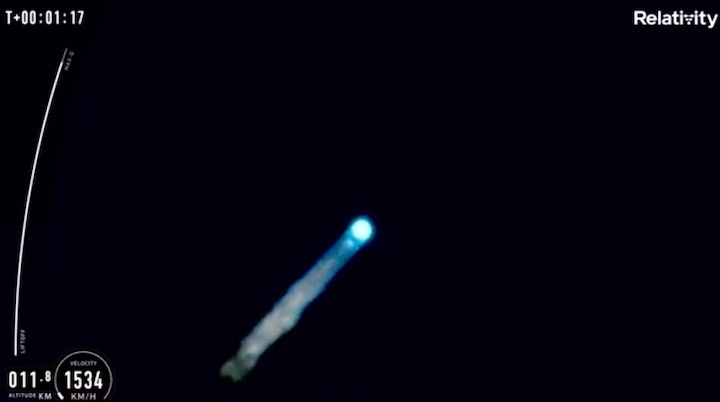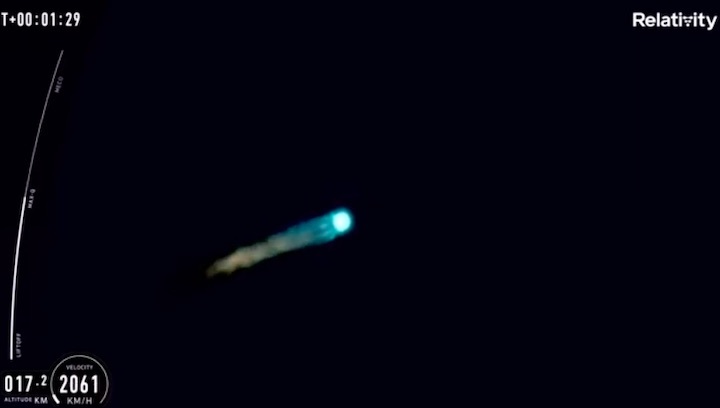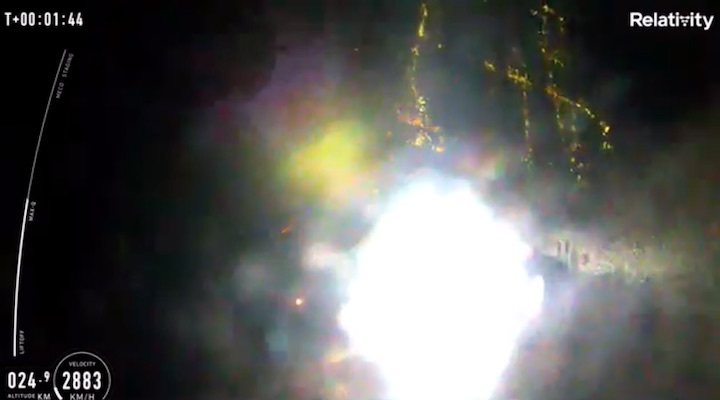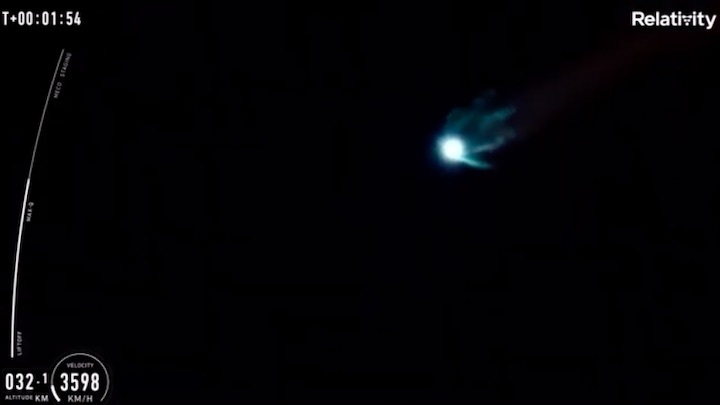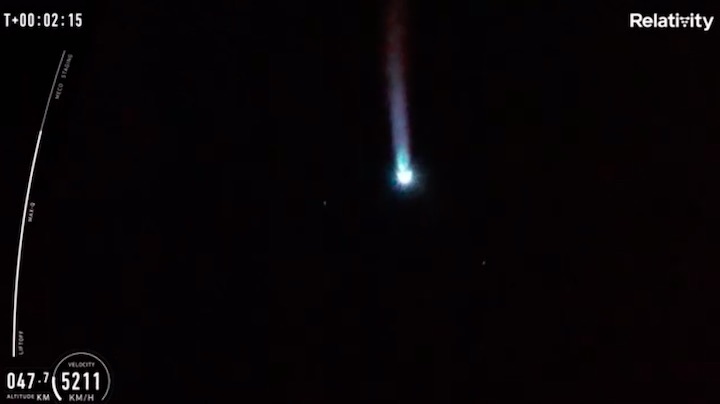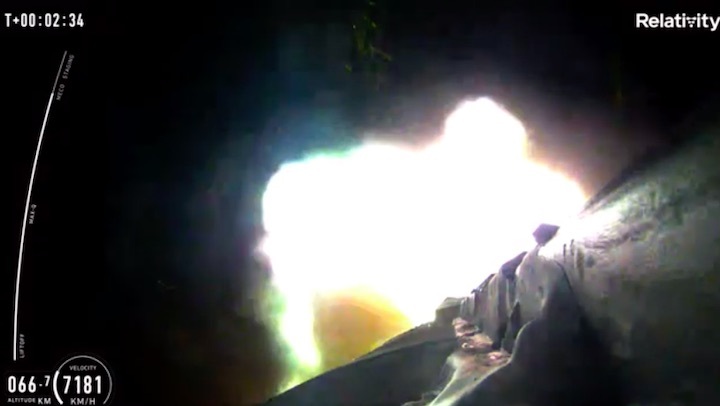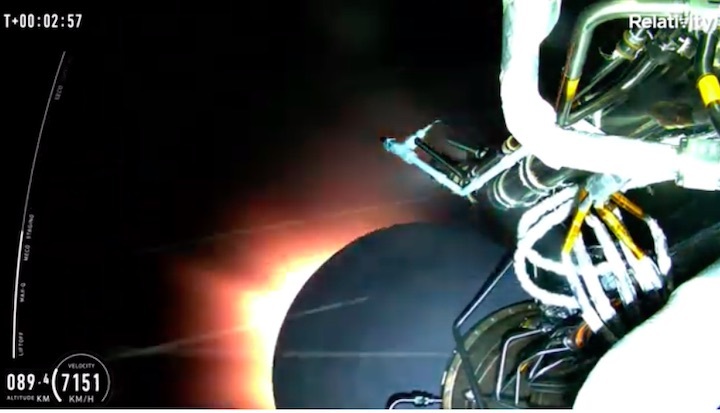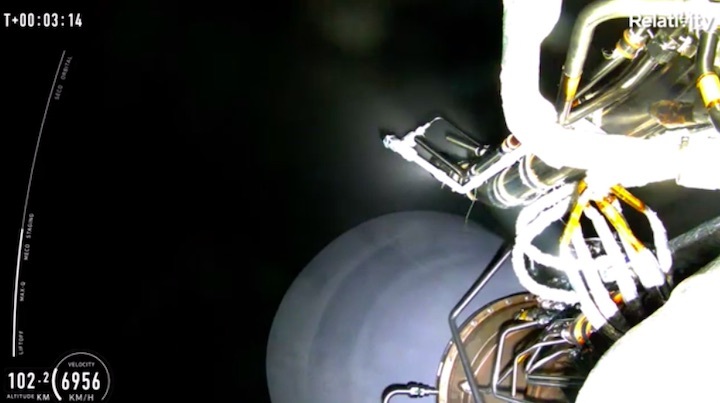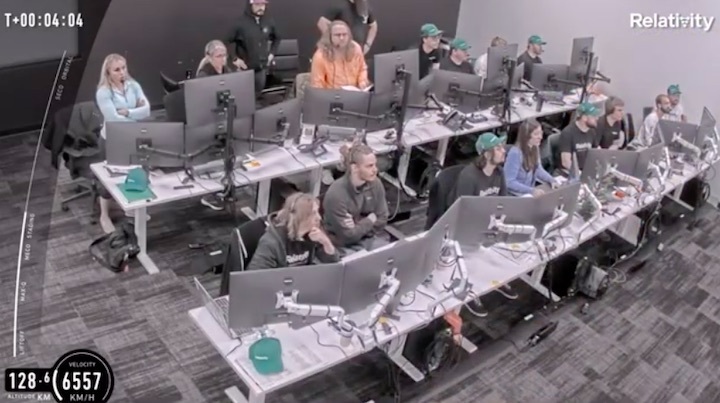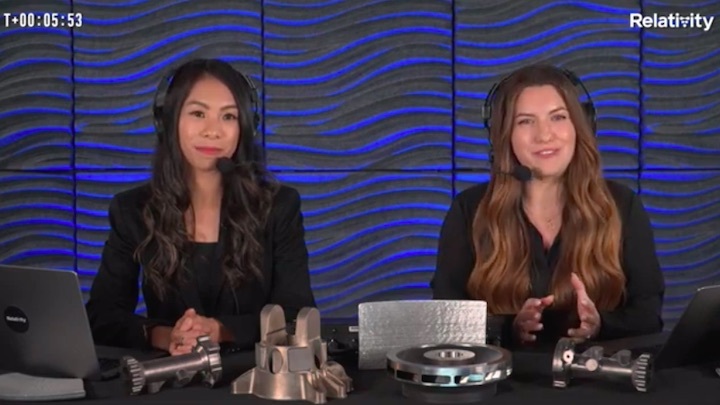 Quelle:Relativity
+++
Launch debut of 3D-printed rocket ends in failure, no orbit
A rocket made almost entirely of 3D-printed parts has finally taken flight, but didn't last long
CAPE CANAVERAL, Fla. -- A rocket made almost entirely of 3D-printed parts made its launch debut Wednesday night, lifting off amid fanfare but failing three minutes into flight — far short of orbit.
There was nothing aboard Relativity Space's test flight except for the company's first metal 3D print made six years ago.
The startup wanted to put the souvenir into a 125-mile-high (200-kilometer-high) orbit for several days before having it plunge through the atmosphere and burn up along with the upper stage of the rocket.
As it turned out, the first stage did its job following liftoff from Cape Canaveral Space Force Station and separated as planned. But the upper stage appeared to ignite and then shut down, sending it crashing into the Atlantic.
It was the third launch attempt from what once was a missile site. Relativity Space came within a half-second of blasting off earlier this month, with the rocket's engines igniting before abruptly shutting down.
Although the upper stage malfunctioned and the mission did not reach orbit, "maiden launches are always exciting and today's flight was no exception," Relativity Space launch commentator Arwa Tizani Kelly said after Wednesday's launch.
Most of the 110-foot (33-meter) rocket, including its engines, came out of the company's huge 3D printers in Long Beach, California.
Relativity Space said 3D-printed metal parts made up 85% of the rocket, named Terran. Larger versions of the rocket will have even more and also be reusable for multiple flights.
Other space companies also also rely on 3D-printing, but the pieces make up only a small part of their rockets.
Founded in 2015 by a pair of young aerospace engineers, Relativity Space has attracted the attention of investors and venture capitalists.
Quee:abc News
577 Views