.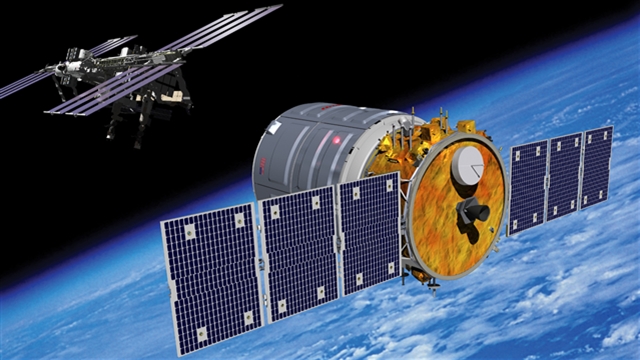 Orbital Sciences' new Cygnus spacecraft is due to fly on a demonstration mission to the ISS in April. Credit: Orbital
-
The world's space agencies are looking forward to another busy year of launches in 2013 as more private companies join them by developing plans for commercial exploitation of the final frontier.
Current robotic missions exploring the planets and observing the Universe will continue while new ones are launched to learn more about the Moon and Mars and to map the stars. Here are some of the launch highlights to look forward to.
January will see a test lift-off of Orbital Sciences Corporation's Antares rocket from Wallops Flight Facility, Va, under NASA's Commercial Orbital Transportation Services agreement.
On 5 April, Orbital are due to launch another Antares rocket from Wallops, this time carrying their Cygnus spacecraft on a demonstration flight, attempting to rendezvous and berth with the ISS.
On 29 January, an Atlas V is due to launch from Cape Canaveral carrying the Tracking and Data Relay Satellite-K (TDRS-K), part of NASA's new constellation of communication satellites.
On 11 February, the newest Landsat satellite will launch from Vandenberg Air Force Base, California. The Landsat Data Continuity Mission (LDCM) will provide valuable data and Earth imagery for agriculture, education, business, science, and government.
In April, the European Space Agency (ESA) will launch Proba-V, a mission to track the growth of vegetation from orbit, on its new Vega rocket from Kourou, French Guiana.
Other Earth-centred ESA missions will be the launch of Swarm, the Earth Explorer mission to map Earth's magnetic field, in February, and Sentinel 1-A, the first in a new family of satellites for the Global Monitoring for Environment and Security (GMES) programme, in the second quarter of the year.
ESA will also launch Alphasat I-XL, a new-generation telecommunications satellite, plus two pairs of Galileo satellites to add to that programme's constellation.
Astronomers are looking forward to the launch in October of ESA's Gaia space observatory which will chart a billion stars in our own Milky Way galaxy. Here is a Sen article about Gaia.
Servicing of the International Space Station (ISS) will continue on 12 February when Progress 50 blasts off from Baikonur Cosmodrome, Kazakhstan, carrying water and other vital supplies. Further supply runs to the ISS from Baikonur are due with Progress 51 on 24 April, Progress 52 on 24 July and Progress 53 on 16 October.
On 11 December a Russian Proton rocket will lift off from Baikonur carrying something more substantial to the ISS - the Multipurpose Laboratory Module with European Robotic Arm (ERA).
On 1 March, SpaceX will send its second unmanned Dragon to deliver supplies to the ISS. This commercial launch will be made by a Falcon 9 rocket from Cape Canaveral. If all goes well, a third will fly on a similar mission on or around 30 September.
SpaceX will launch the Canadian Space Agency's Cascade Smallsat and Ionospheric Polar Explorer (Cassiope) spacecraft from Vandenberg to study solar storms and also aims to make the first demonstration launch of its Falcon Heavy rocket from the same site some time during the year.
The next manned flight to the ISS, on 28 March, will be a Soyuz TMA-08M from Baikonur carrying the three Expedition 35/36 crew. This will be followed by the Expedition 36/37 crew on 28 May aboard Soyuz TMA-09M, the Expedition 37/38 team in Soyuz TMA-10M on 25 September and the Expedition 38/39 crew in Soyuz TMA-11M on 25 November.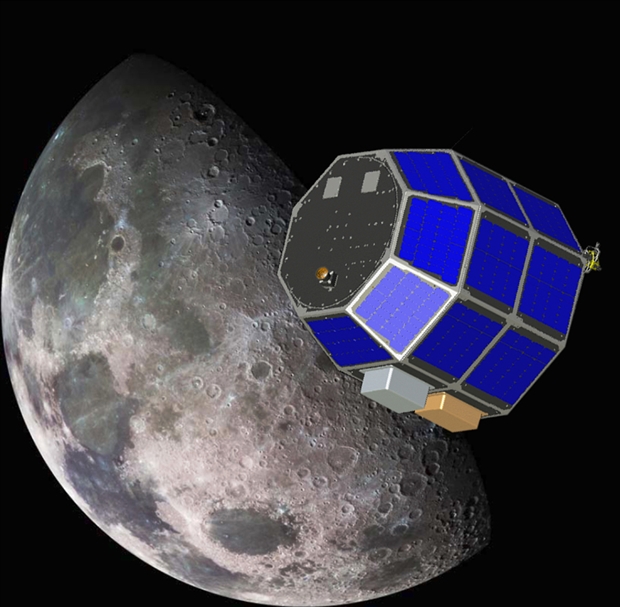 An impression of NASA's LADEE probe rounding the Moon. Credit: NASA
The next European cargo mission to the ISS will be by ESA's now proven workhorse the Automated Transfer Vehicle 4 (ATV-4), named after Albert Einstein, from Kourou, French Guiana. The unmanned craft will deliver several tons of supplies to the ISS, docking with the Russian Zvezda Service Module.
Some time on or after 28 April, a NASA mission to help learn more about the Sun's corona and the solar wind, called the Interface Region Imaging Spectrograph (IRIS), will launch atop a Pegasus XL rocket from Vandenberg.
Another NASA discovery mission, this time to learn about the Moon, will be the Lunar Atmosphere and Dust Environment Explorer (LADEE), due to blast off on a Minotaur V rocket from Wallops on 12 August. Later in the year, another robotic mission the Moon, Chang'e-3, will be launched by the Chinese space agency with the aim of achieving that country's first soft landing.
China's other major mission for 2013 is the latest manned spacecraft, Shenzhou-10, which should carry a crew of three to their Tiangong-1 space lab module.
On 18 November, NASA's newest mission to the Red Planet is set to lift off. Mars Atmosphere and Volatile EvolutioN (MAVEN) will fly on an Atlas V from Cape Canaveral.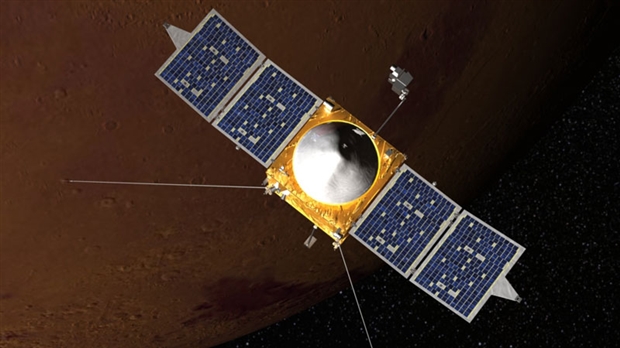 How MAVEN will look orbiting Mars.Credit: NASA
The Indian Space Research Organisation pans to send its own Mangalyaan orbiter to Mars in November.
The Japanese Space Agency, JAXA, aims to launch a Global Precipitation Measurement satellite, a joint mission with NASA, on 21 July to study rainfall. And in late 2013 it will test a new rocket launcher called Epsilon.
In the commercial sector, developments will include the first powered test flights by Virgin Galactic's suborbital SpaceShipTwo and by XCOR's Lynx spaceplane. And newcomers Golden Spike will continue to develop plans towards a private Moon landing while Planetary Resources study the best ways to mine the asteroids.
Quelle: sen
5378 Views