.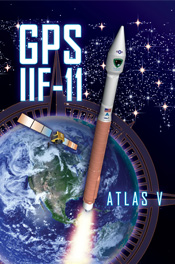 Atlas V to Launch GPS IIF-11
Rocket/Payload: A United Launch Alliance Atlas V 401 will launch the GPS IIF-11 mission for the U.S. Air Force.
Date/Site/Launch Time: Friday, Oct. 30, 2015, from Space Launch Complex-41 at Cape Canaveral Air Force Station, Florida.
Mission Description: GPS satellites serve and protect our warfighters by providing navigational assistance for U.S. military operations on land, at sea, and in the air. Civilian users around the world also use and depend on GPS for highly accurate time, location, and velocity information.
GPS IIF-11 is one of the next-generation GPS satellites, incorporating various improvements to provide greater accuracy, increased signals, and enhanced performance for users.
Launch Notes: GPS IIF-11 will be the third GPS mission ULA launches in 2015: GPS IIF-9 launched on a Delta IV in March, and GPS IIF-10 launched in July. This mission will be ULA's 11th in 2015 and 102nd since the company was founded in 2006.
Quelle: ULA
---
Update: 19.10.2015
.
Rocket launches expected to ramp up as end of year approaches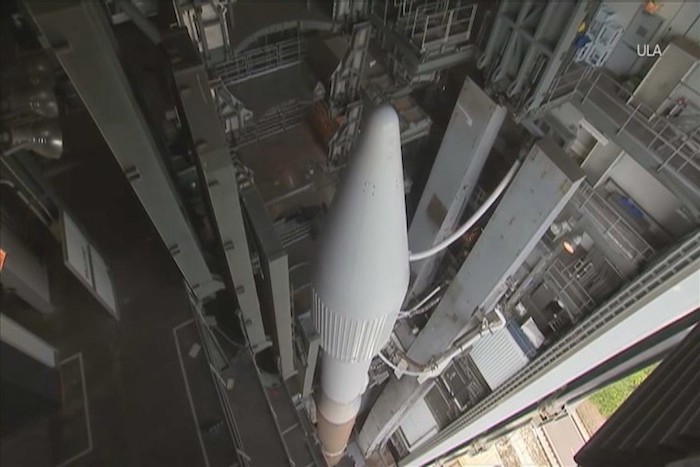 United Launch Alliance is preparing its Atlas V rocket for its next launch on October 30 from the Cape Canaveral Air Force Station.
.
CAPE CANAVERAL --
Rocket launches are expected to ramp up as we end the year on the Space Coast.
SpaceX, Orbital and United Launch Alliance are all planning missions to end 2015 with a bang.
United Launch Alliance is preparing its Atlas V rocket for its next launch on October 30 from the Cape Canaveral Air Force Station.
The company will deliver the 11th in a series of 12 GPS satellites for the US Air Force.
This year alone, ULA has already launched two GPS satellites, including back in July.
Meanwhile, the company's final launch from Florida this year will be historic.
The service module of Orbital ATK's Cygnus spacecraft arrived at Kennedy Space Center last week.
Cygnus will be loaded with 7,700 pounds of food and supplies for astronauts at the International Space Station.
It will launch on ULA's Atlas V rocket on December 3.
It's the first time the spacecraft will launch on an Atlas V and the first time launching from Florida.
The last Orbital mission, a year ago, ended in disaster when an Antares rocket exploded just after liftoff from Virgina.
Orbital isn't the only company banking on a return to flight from Florida.
SpaceX also plans to fly its Falcon 9 rocket again, after it exploded after the launch of NASA cargo from Cape Canaveral back in June.
A faulty strut was to blame.
The company plans to deliver 11 satellites from Orbcomm to space in 6 to 8 weeks.
And aggressive as they are, SpaceX engineers plan another launch, an SES communications satellite, by the end of 2015.
Quelle: NEWS13
-
Update: 23.10.2015
.
Atlas 5 receives payload for third launch this month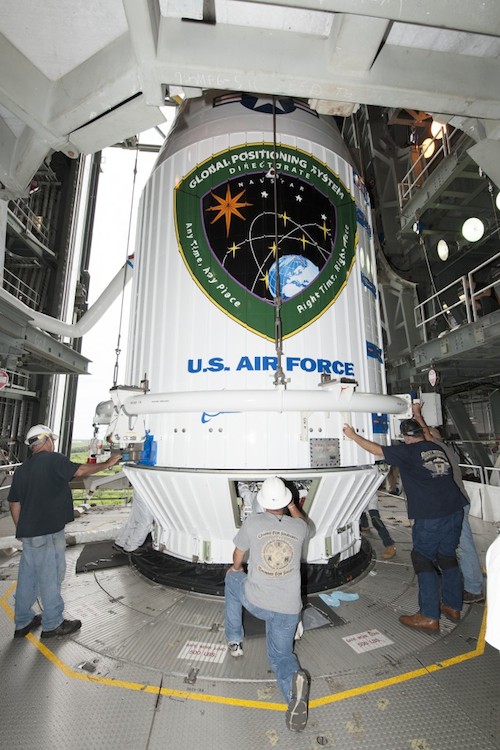 File photo. Credit: ULA
CAPE CANAVERAL — Heading to space next week to replace a 12-year-old satellite in the Global Positioning System navigation network, a modernized spacecraft was placed atop its Atlas 5 launcher.
That completes assembly of the 189-foot-tall United Launch Alliance rocket at Cape Canaveral for liftoff of the GPS 2F-11 craft.
Launch on Oct. 30 will be possible between 12:17 and 12:36 p.m. EDT (1617-1636 GMT) to reach the correct location within the GPS constellation.
The new satellite will take the place of the GPS 2R-10 craft launched aboard Delta 302 on Dec. 21, 2003 into Plane E, Slot 2 of the constellation. The old craft moves to a backup role in the network once the fresh GPS 2F-11 enters service.
The satellite was flown to Florida on June 8 from Boeing's manufacturing facility in El Segundo, California. After arriving, it was taken to the Cape's Area 59 were GPS spacecraft undergo their pre-flight preps.
Final testing, loading of hydrazine maneuvering propellant and encapsulation in the rocket's nose cone was accomplished with the satellite.
Then, a convoy hauled the 3,400-pound satellite north through Cape Canaveral Air Force Station to United Launch Alliance's Vertical Integration Facility where the Atlas had been stacked beginning Oct. 12.
Already shrouded in the launcher's 39-foot-tall, 14-foot-diameter aluminum nose cone, the spacecraft was hoisted atop the Centaur upper stage for attachment.
This will be the 11th Block 2F satellite sent into the GPS network since 2010. Boeing in building a dozen spacecraft of this kind featuring greater accuracy, more signals, better anti-jamming and longer design lives than previous models.
For Atlas 5, it is the rocket's third launch this month. It follows a commercial flight Oct. 2 and a national security mission Oct. 8.
Quelle: SN
-
Update: 29.10.2015
.
Atlas V rolling to pad for Friday GPS launch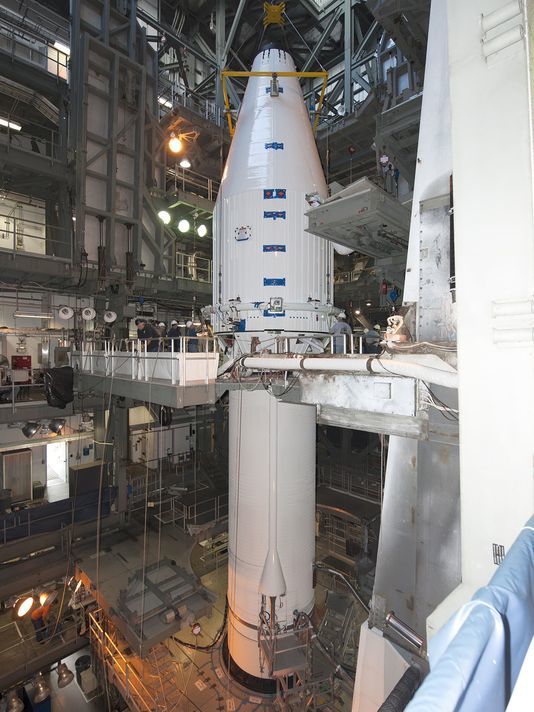 An Atlas V rocket at 10 a.m. today is scheduled to start rolling to its pad for a 12:17 p.m. Friday launch of a Global Positioning System satellite from Cape Canaveral Air Force Station.
The 189-foot rocket and its payload will roll on a transporter over rails about one-third of a mile from a processing tower to the pad at Launch Complex 41.
On top of the rocket is the Air Force's 11th GPS IIF, or 2F, satellite in a series of a dozen built by Boeing, and the third to launch from the Cape this year.
The Atlas V is launching in its most basic configuration known as the "401," with a four-meter (13.1-foot) diameter payload fairing, no solid rocket motors attached to the booster and a single engine powering the Centaur upper stage.
The Air Force's 45th Weather Squadron anticipates a 90 percent chance of favorable weather during Friday's 19-minute launch window.
The mission is ULA's 11th of 2015.
Quelle: Florida Today
-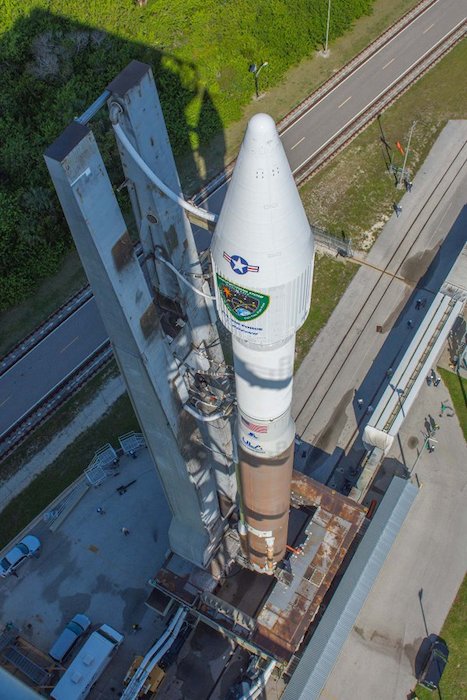 Quelle: ULA
.
Update: 30.10.2015
.
Atlas V launch pushed back to Saturday
An Atlas V rocket originally scheduled to blast off from Cape Canaveral Air Force Station on Friday has been rescheduled for Saturday after a leak was discovered during final launch preparations.
A ground support equipment valve for the launch pad water suppression system will need to be replaced or repaired, according to the United Launch Alliance.
The rocket is scheduled for a 12:13 p.m. lift-off from Launch Complex 41. There is a 19-minute launch window in case weather or other factors cause a minor delay.
The Air Force's GPS IIF-11 communications satellite is part of a constellation of next-generation GPS technology satellites.
This will be the third such satellite launched this year on a United Launch Alliance Atlas V rocket. Atlas Vs carrying Air Force GPS IIF satellites also went up in March and July. There is one more such satellite planned to complete the constellation.
On Thursday, the Air Force 45th Weather Squadron predicted good weather for Friday's launch, with light clouds, a slight chance of rain, but no high winds or lightning. There is about a 10 percent chance of weather delaying the launch.
Made by Boeing, the GPS IIF satellites weigh about 3,600 pounds. They have location accuracy of about a meter, and time accuracy of a billionth of a second, providing greater accuracy, increased signals and better performance than old GPS satellites.
This is the last launch scheduled at the cape until Dec. 3, when Orbital ATK will resume its resupply missions to the International Space Station, following a 14-month grounding. The Orbital cargo capsule will group on another Atlas V. Also around that time, though not yet scheduled, Space will resume launching its Falcon 9 rockets, ending a five-month grounding. Both Orbital and SpaceX saw their last rockets blow up.
Space Florida, the state space-industry development corporation, and Florida's Space Coast Office of Tourism are organizing a launch watch party Friday at the Coconuts On The Beach restaurant in Cocoa Beach.
Quelle: Orlando Sentinel
-
Update: 31.10.2015 / 8.55 MEZ
.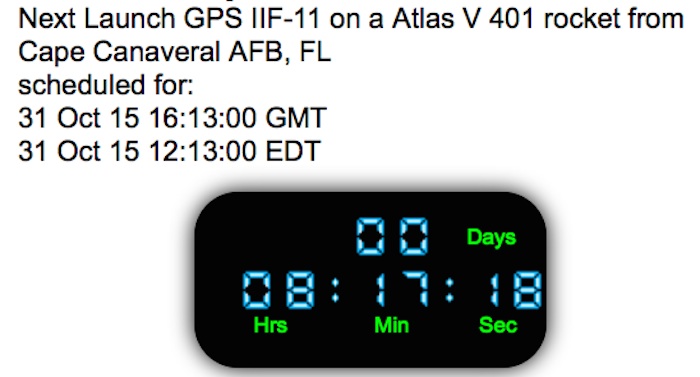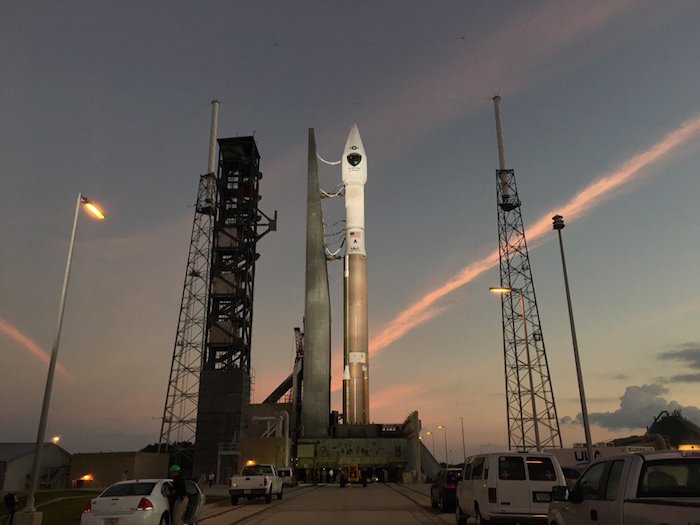 ...
Update: 18.45 MEZ
.
Erfolgreicher Start von Atlas V mit GPS IIF-11 Satelliten
.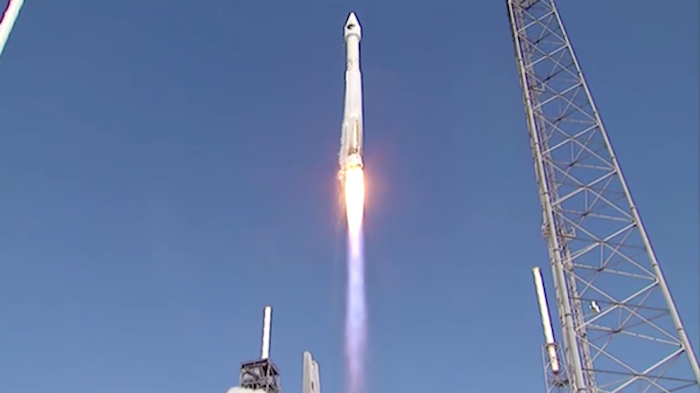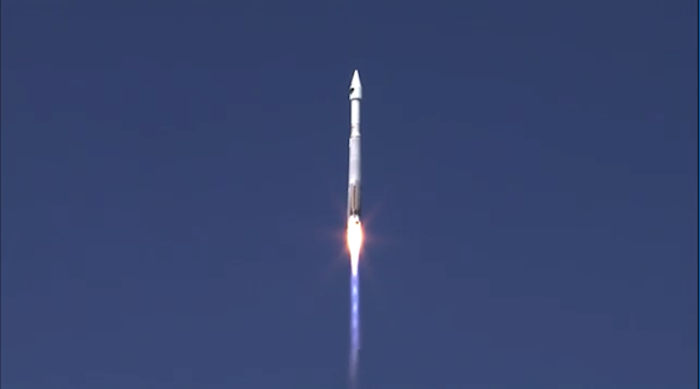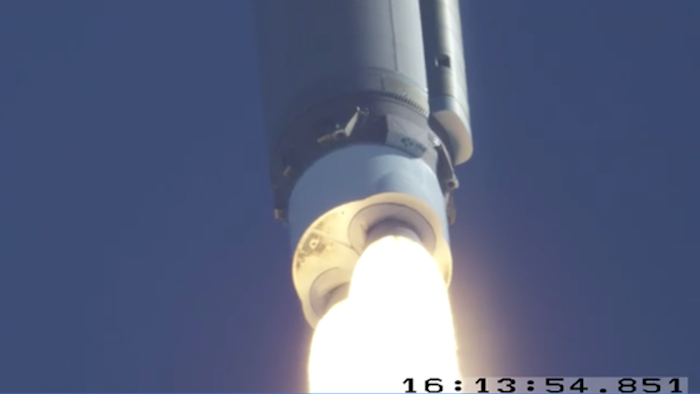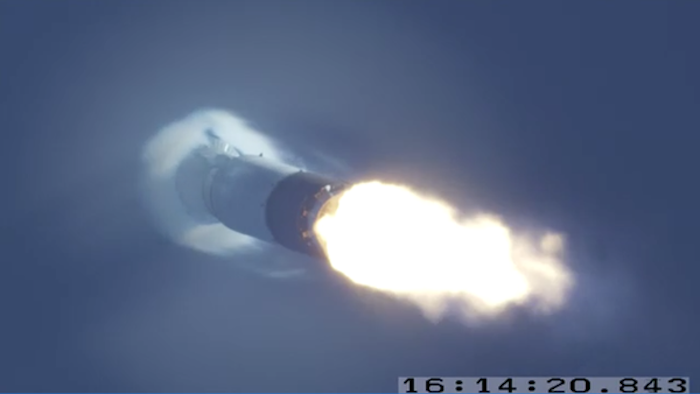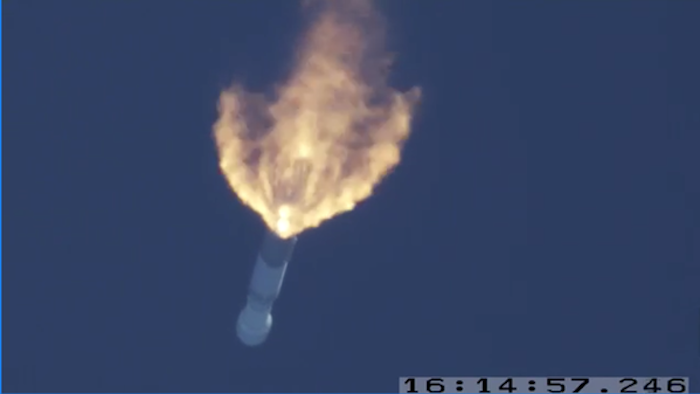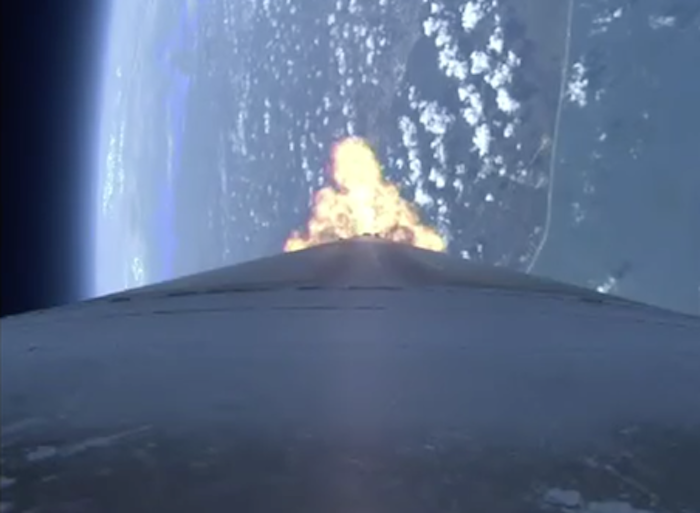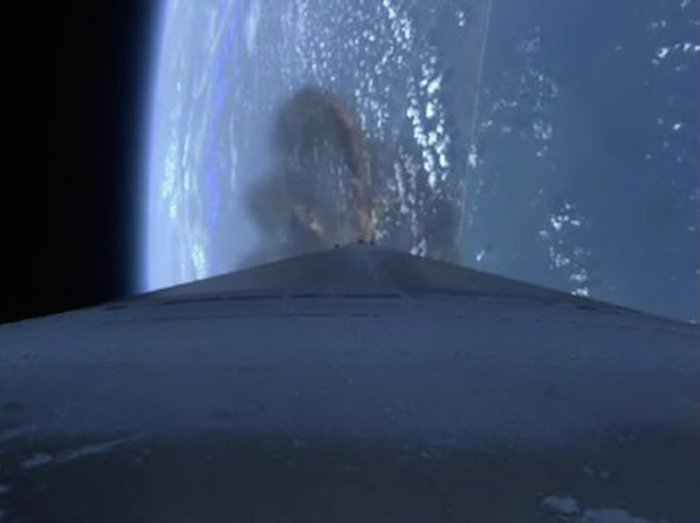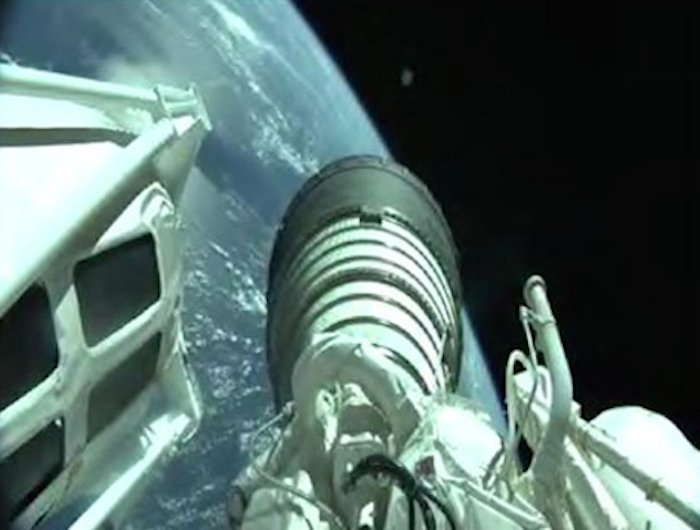 Quelle: ULA
3059 Views