14.01.2023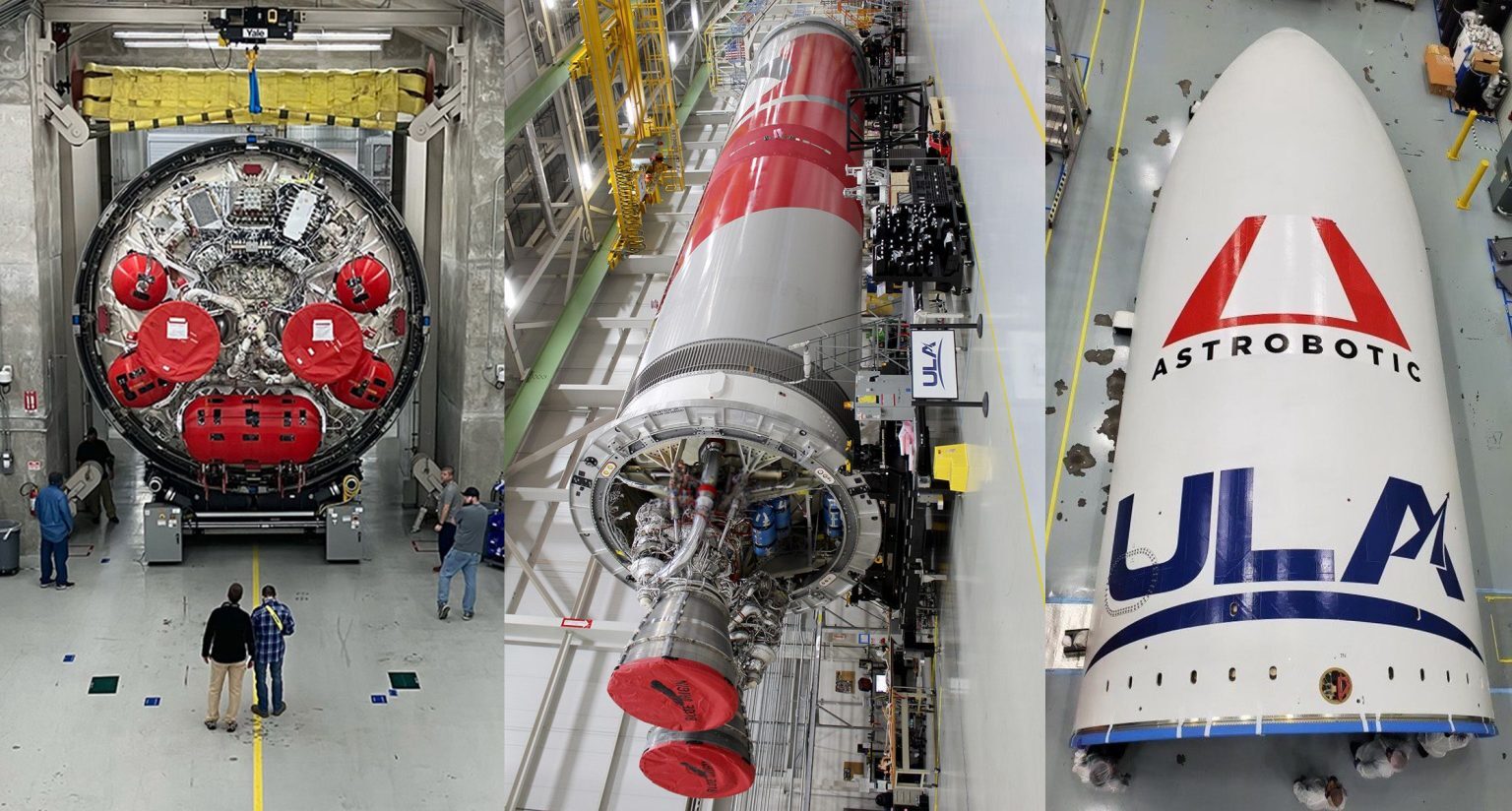 After many years of delays, all the parts of the United Launch Alliance's next-generation Vulcan Centaur rocket are about to converge on Florida for their first launch.
Unveiled in 2015, ULA has been working on Vulcan Centaur since at least 2014. Following Russia's first illegal invasion of Ukraine, countries around the world attempted to punish the aggressor mainly through economic sanctions. In the US, those sanctions included bans on the import of most Russian aerospace technologies, including the RD-180 engines that still power ULA's Atlas V workhorse rocket in 2023. In 2014, ULA announced that it would work with Blue Origin to integrate the startup's BE-4 engine into a new rocket booster to end its reliance on Russian engines.
More than eight years later, that BE-4 engine is finally ready for flight, and the rest of the first two-stage Vulcan rocket appears to be right behind it.
EASTWARD-BOUND
In a burst of New Year activity, CEO Tory Bruno confirmed that Vulcan Flight 1's core stage (booster) has been fully assembled, buttoned up, and loaded onto ULA's transport ship. The aptly named RocketShip will ferry the booster from ULA's Decatur, Alabama factory to Cape Canaveral, Florida, where it will enter the final stages of launch preparation at the company's Cape Canaveral Space Force Station (CCSFS) LC-41 pad.
Simultaneously, ULA has finished proof testing Vulcan's first Centaur V upper stage, a larger and more advanced version of the Centaur III stage ULA and its predecessors have been flying for decades. Centaur V is almost twice as wide as Centaur III and is designed to hold two and a half times more propellant, enabling significantly higher performance in some scenarios.
Additionally, while ULA has partially abandoned plans for a reusable upper stage called ACES (Advanced Cryogenic Evolved Stage), some of those improvements may still be added to Centaur V. Compared to Centaur III, Centaur V's longevity in space will grow from 8 to 12 hours. ULA is also developing a "mission extension kit" that will allow it to operate for multiple months – unprecedented for a rocket stage powered by cryogenic propellant.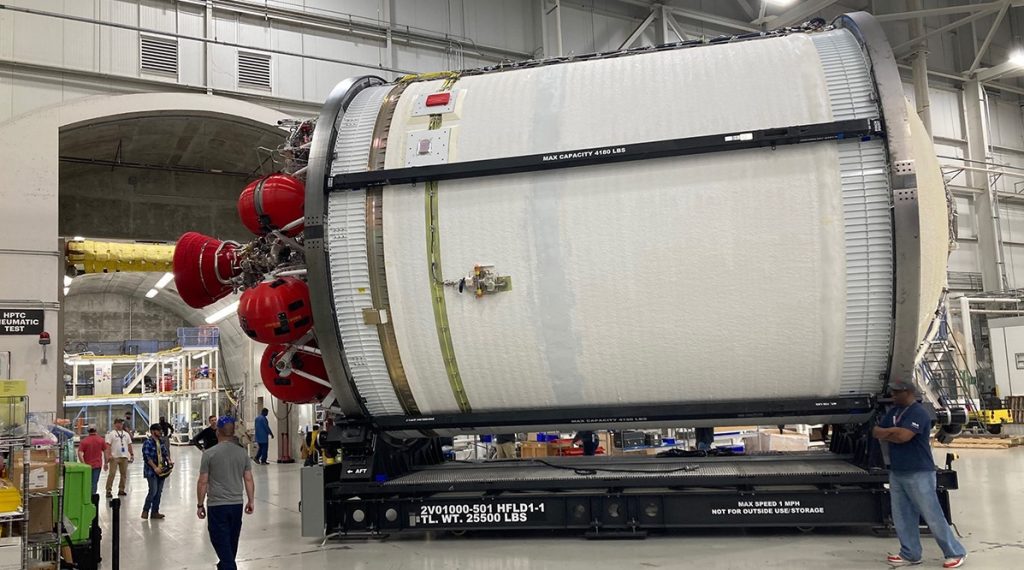 Photos taken by a local paper appear to indicate that ULA is shipping one or more payload fairing (nosecone) halves alongside Vulcan's first flightworthy booster. While unconfirmed, it would make sense for ULA to ship Vulcan's booster and fairing together. Another tweet from Tory Bruno indicates that ULA intends to ship Vulcan's booster and upper stage together, increasing the odds that all components will be aboard RocketShip when it departs for Florida.
A NEW WORKHORSE
Vulcan Centaur is ultimately designed to fully replace ULA's existing Delta IV and Atlas V rockets. Building and operating two very different rockets simultaneously is undoubtedly one of the reasons that ULA's launch costs are so much higher than SpaceX's, and simplifying to a single production line is one clear way to achieve major cost savings. ULA hopes that the simplest version of Vulcan will eventually cost about $100 million per launch – still far more than SpaceX's base Falcon 9 price [PDF]but potentially more competitive than Atlas V. That's unclear, though, as Bruno has previously stated that Atlas V's launch costs have fallen to about $100 million apiece thanks to unrelated cost savings.
Regardless, Vulcan Centaur will be a capable rocket and its price is close enough to SpaceX's extremely competitive Falcon 9 for it to be a mostly valid option for launch customers who want diversity or want to avoid SpaceX for less rational reasons. Vulcan has secured more than 70 launch contracts thanks to ULA's intimate relationship with the US military and Amazon's reluctance to launch its Project Kuiper internet satellites with the company behind Starlink, a direct competitor.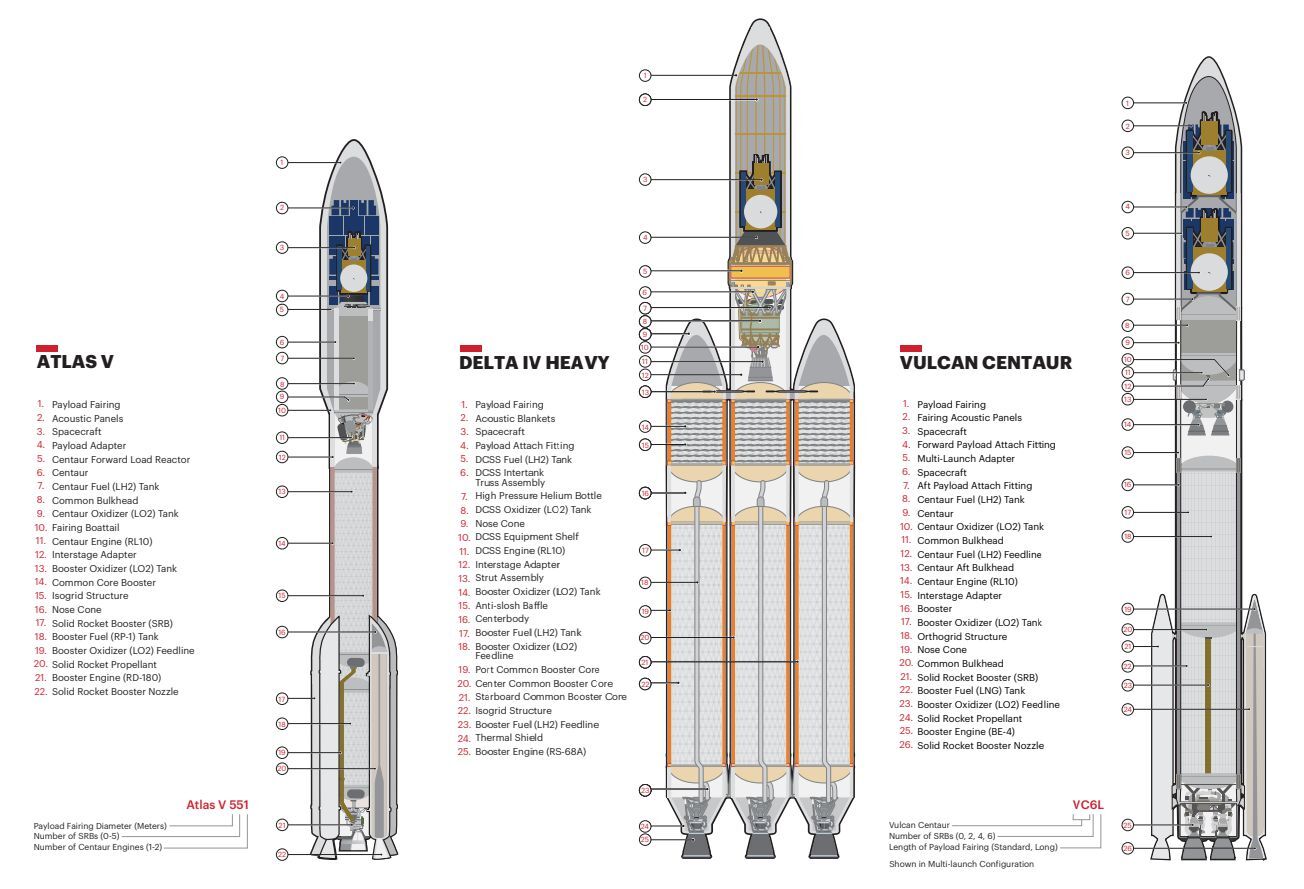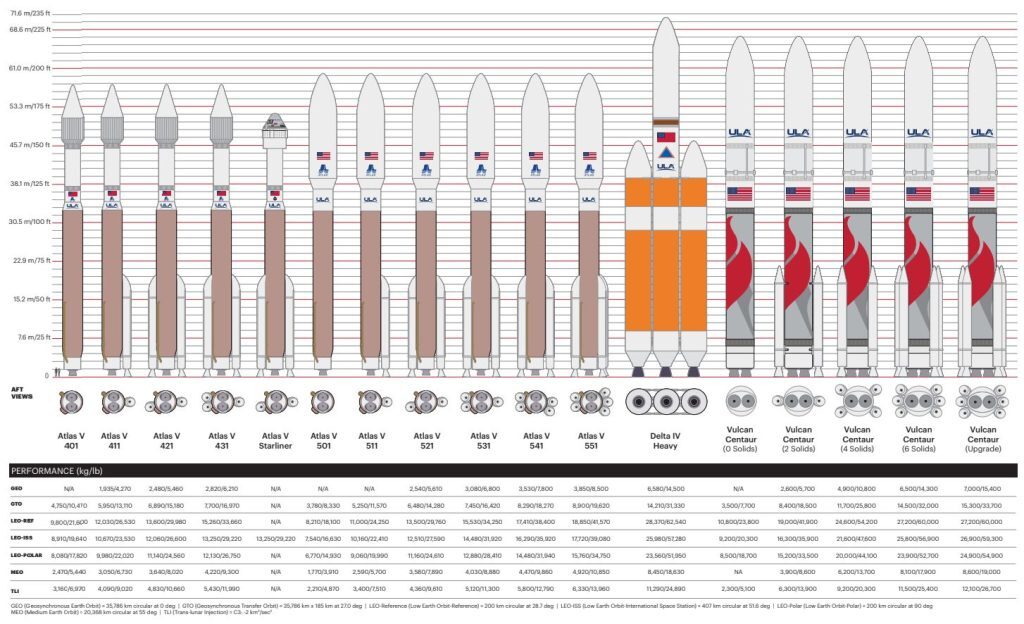 ULA
Fitted with two BE-4 engines, six solid rocket boosters (SRBs), and unknown upgrades, ULA says the most capable version of Vulcan Centaur will be able to launch up to 12.1 tons (26,700 lb) to the Moon, 15.3 tons (33,700 lb) to geostationary transfer orbit (GTO), and 27.2 tons (60,000 lb) to low Earth orbit (LEO). To high orbits, the most capable Vulcan variant will fairly competitive with SpaceX's Falcon Heavy rocket. To low orbits, it will generally match or slightly exceed the performance of an expendable Falcon 9, but likely for a much higher price. By every measure, the simplest and cheapest Vulcan variant is significantly less capable than even a partially reusable Falcon 9 and will likely cost 50-100% more.
MOON OR BUST
Indicating ULA's confidence in the unflown rocket, the main target of Vulcan's first launch is the Moon. Vulcan Flight 1 will carry two main payloads: the first two Amazon Kuiper satellite prototypes and Pittsburgh startup Astrobotic's first Peregrine Moon lander. After deploying both Kuiper satellites in low Earth orbit, Centaur V will fire up again and attempt to send the 1.3-ton (~2850 lb) Peregrine lander directly to the Moon – also known as a trans-lunar injection (TLI) burn. Developed as part of NASA's Commercial Lunar Payload Services (CLPS) program, Peregrine will be tasked with entering orbit around the Moon and eventually landing up to 70-90 kilograms (150-200 lb) of payload on the lunar surface.
The first Peregrine Moon lander is fully assembled and currently in the middle of extensive integrated testing. If successful, ULA CEO Tory Bruno says that Vulcan will likely be ready to launch sometime in Q1 2023, though Q2 2023 is more likely.
Quelle: TESLARATI
+++
ULA's big new Vulcan rocket boards ship in Alabama for Cape Canaveral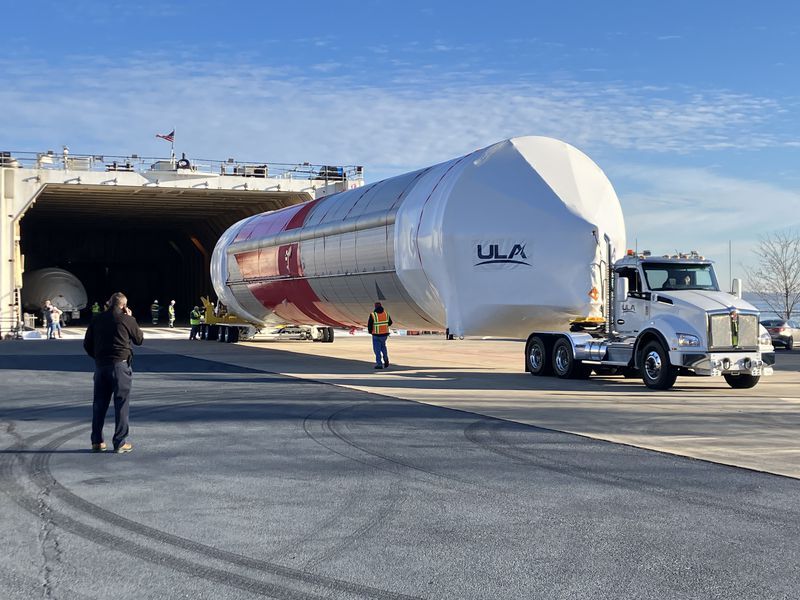 United Launch Alliance rolled its first new Vulcan rocket out of its Decatur, Ala., plant today for a ship ride down the Tennessee and Mississippi rivers to Cape Canaveral. There it will face a series of ground tests before a planned first flight later this year.
The first of United Launch Alliance's big new Vulcan rockets left the factory near the Tennessee River in Decatur Tuesday bound by ship for Cape Canaveral, Fla., and a critical certification test flight this year.
The roughly 200-foot-tall rocket is the centerpiece of ULA's future launch business with 70 already sold. Vulcan launches are lifted off the ground by two main engines built by Blue Origin's engine plant in Huntsville.
Many of those missions will be to put Amazon's new Project Kuiper satellites into space to deliver what the company says will be "fast, affordable broadband (for) unserved and underserved communities around the world."
"This is our future," ULA Vice President for Development Mark Peller said in Decatur Tuesday. "It's the start of a new era for ULA."
To meet what Peller called an unprecedented demand for the new rocket will mean adding 500,000 square feet to the already large Decatur plant. The company says it also means "sustained work output and staff for years to come."
The first Vulcan rolled out Tuesday will be ground tested at Cape Canaveral, Florida, before an inaugural flight planned for the end of the year. That will be a national security satellite launch for the U.S. Space Force.
Boeing opened the Decatur factory in 1999 to build Delta rockets to launch large military and national security satellites. The production rate was eight-12 rockets per year. Boeing and Lockheed Martin teamed up in 2006 to form ULA.
"We're going to be ramping up in a few years to 20-25 rockets a year," Peller said. He said doubling the existing production rate is "a big challenge but the team is up to it."
The bigger challenge, Peller said, is, "Everything we do from here forward is for the first time. It's not the first time we've done it in (earlier rockets) Atlas and Delta, but Vulcan's a new rocket."
But before it can turn full attention to production, Peller said, "We've got to get this rocket flying. We need to take our time, follow our processes and procedures and make sure that first launch is a success."
Finding the workforce to build the planned rockets won't be a big challenge, Peller said. "There's a great workforce here in the north Alabama area, but we're also drawing people from the rest of the country.
"It's a good place to live," he said, "and there are a lot of advantages to this area. We've not had a challenge attracting people. We're not an island here. We're part of a larger aerospace market in north Alabama."
Quelle: AL
----
Update: 24.01.2023
.
United Launch Alliance's newest rocket, Vulcan, arrives at Cape Canaveral launch site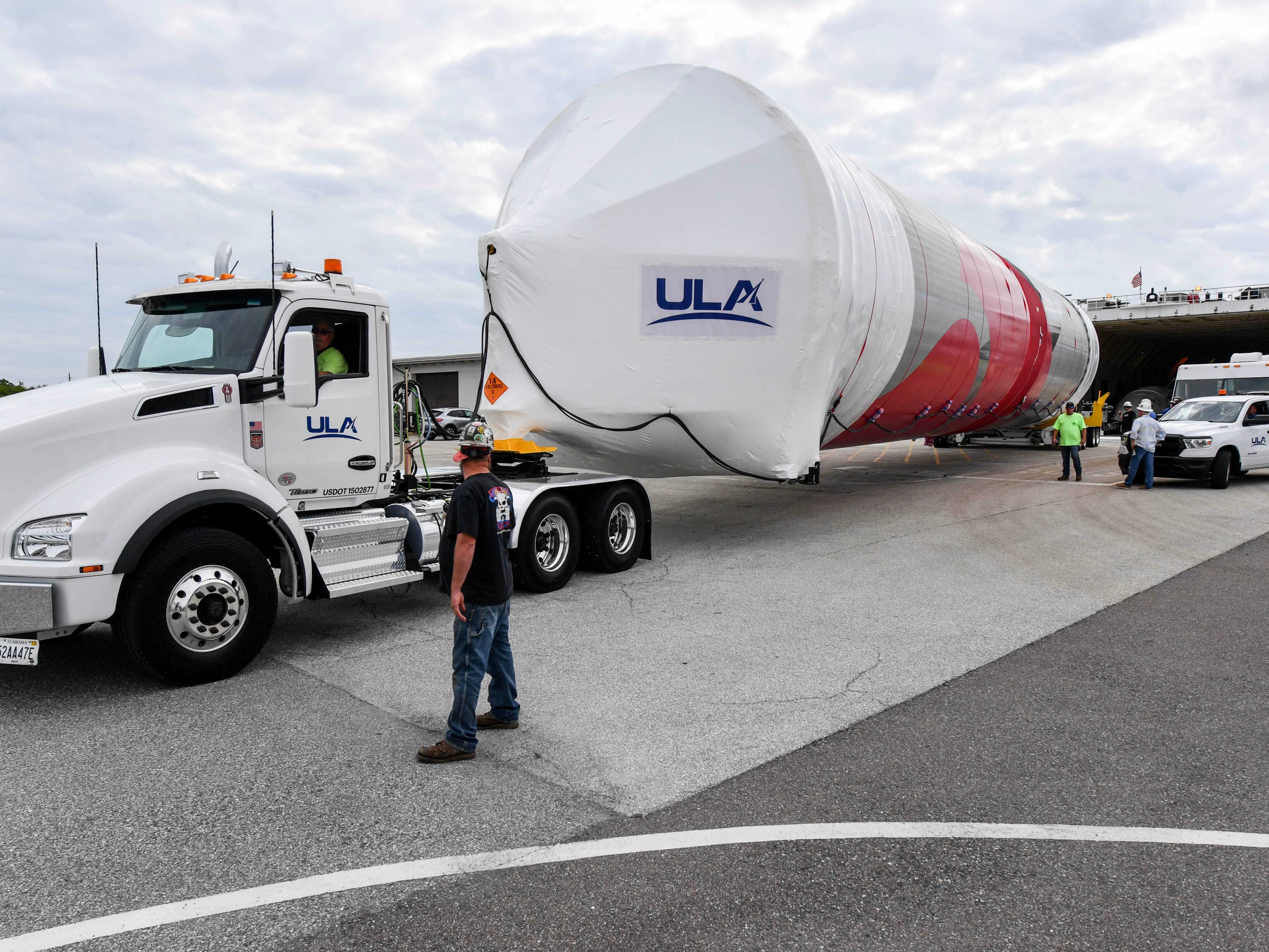 Cape Canaveral Space Force Station got a special delivery over the weekend in the form of a new rocket. The final pieces of flight-ready hardware of United Launch Alliance's first Vulcan Centaur rocket were delivered by barge after a 2,000-mile voyage from the company's rocket factory in Decatur, Alabama.
Sunday, ULA teams offloaded the core booster section and transported it to a processing facility at the Cape. Alongside it was the Vulcan's Centaur V upper stage and a protective payload fairing half.
Other pieces for the inaugural launch, including the Northrop Grumann twin solid rocket boosters, were delivered to the Cape late last year.
Prior to the inaugural launch, according to ULA, there are still many inspections and tests left to get through. This includes multiple core booster and upper-stage tanking tests and a wet dress rehearsal which entails fully fueling the rocket and running through a mock countdown. Testing will culminate with a flight readiness firing test of Vulcan's main engines.
Tory Bruno, ULA's president and CEO, said in a statement, "We could not be more excited to be this close to seeing Vulcan lift off on its inaugural flight."
Liftoff is slated for sometime in the first half of this year.
Vulcan's first flight
Vulcan's first mission, known as Certification-1, is a test flight to meet certification requirements to launch U.S. Space Force national security missions in the future.
In a release, Mark Peller, ULA vice president of Vulcan Development, said, "The ULA team has worked tirelessly to complete the rocket for the first certification flight."
"Now that production is complete, our launch team will begin processing and testing this innovative new rocket in preparation for the first mission, which will deliver a payload to the moon," he said.
Although a test flight, ULA will use the opportunity to send multiple payloads to orbit and beyond.
Scheduled to fly on Vulcan's Certification-1 mission are two prototype broadband satellites for Amazon's Project Kuiper, a proposed constellation of over 3,000 satellites that will provide internet services to customers around the globe.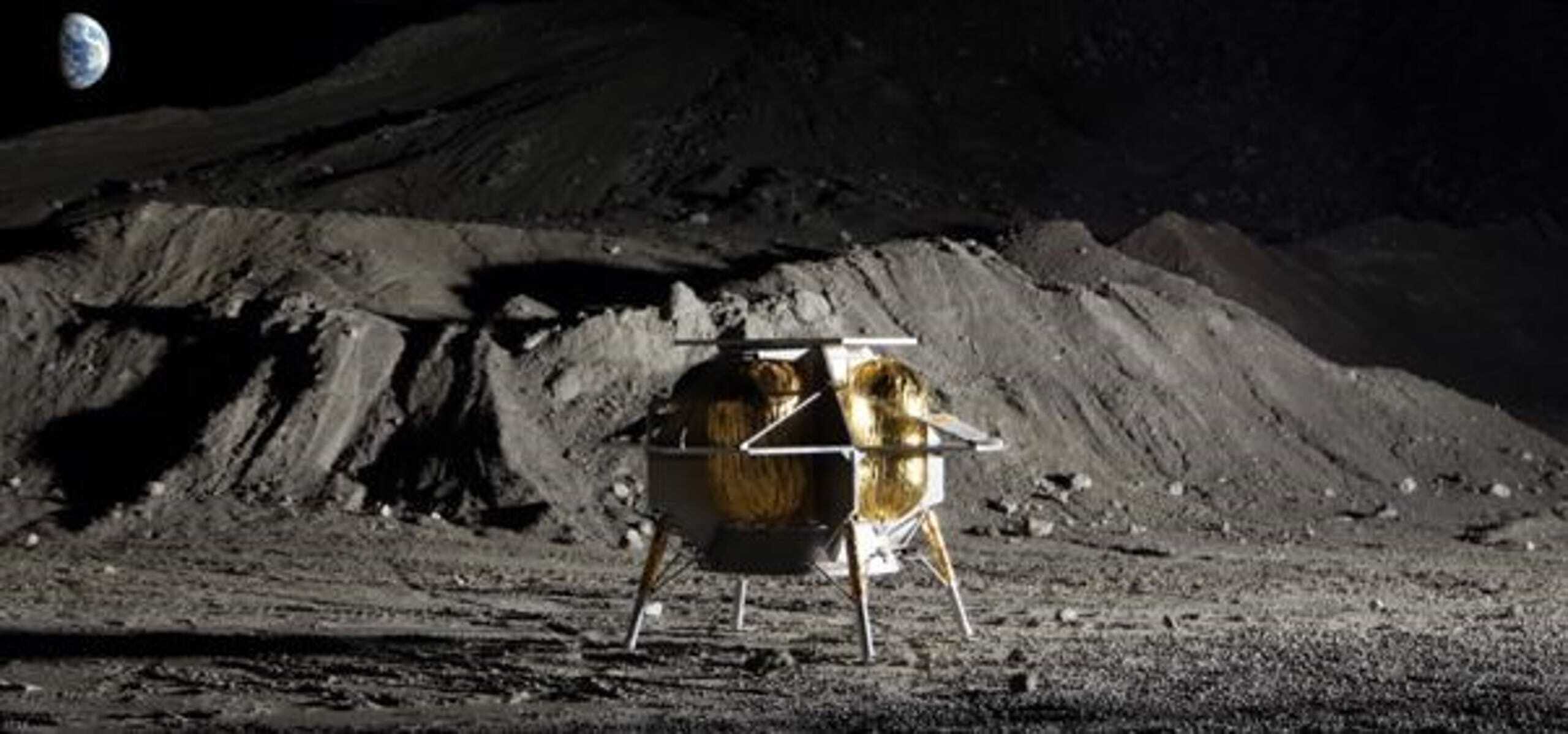 Also on board is a payload destined for the moon, Pittsburgh-based Astrobotic's Peregrine commercial lunar lander. According to NASA, the lander, a part of the agency's Commercial Lunar Payload Services (CLPS) initiative, will study the lunar exosphere, regolith, magnetic fields, and radiation and test advanced solar arrays.
The lunar lander will also carry a secondary payload to the surface of the moon for the Celestis Memorial Spaceflight company. It features 150 capsules carrying ashes, DNA samples, and messages from clients from around the world, including that of Star Trek creator Gene Roddenberry, his wife Majel Barrett Roddenberry, and Star Trek actor James "Scotty" Doohan.
Next-generation rocket
"Vulcan is a powerful rocket with a single core booster that is scalable for all missions, including heavy class performance normally requiring a Delta IV Heavy configuration," said Bruno.
It's powered by two massive BE-4 main engines, purchased from Blue Origin, and can be outfitted with up to six solid rocket boosters to provide extra thrust. It's designed to take over the launching responsibilities of the company's aging Atlas V rocket and the soon-to-be-retired Delta IV Heavy rocket.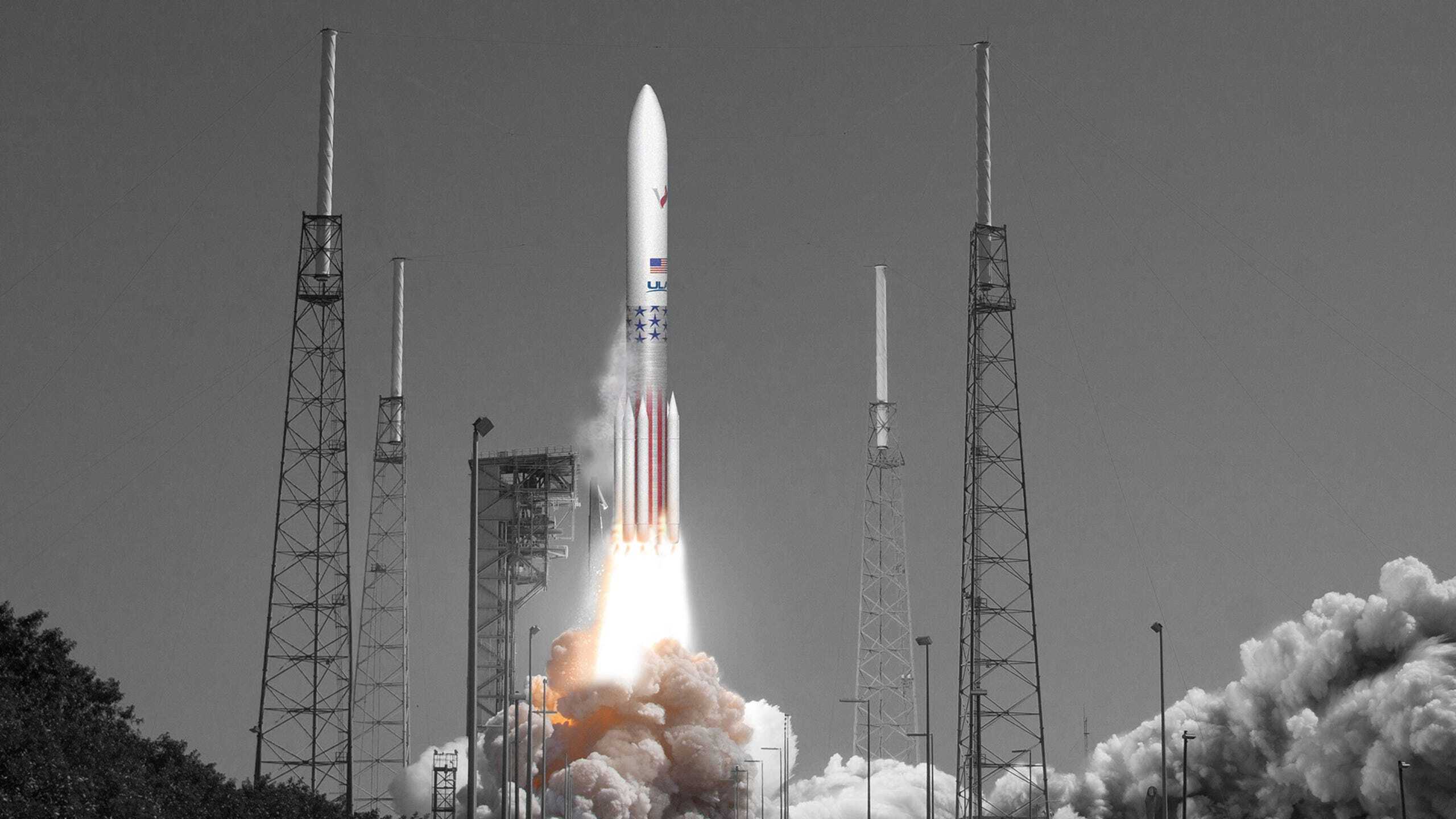 Standing 202 feet tall, Vulcan will liftoff from the Cape's Pad 41, the same pad currently used to launch Atlas V rockets from Florida. It's designed to be discarded into the ocean after every launch, but ULA is working on plans to recover the valuable engine sections.
Future of Vulcan
According to ULA, Vulcan has already been commissioned to launch more than 70 missions, 38 of which are dedicated to launching a majority of Amazon's Project Kuiper satellite constellation.
Of those flights, at least one will launch the Dream Chaser, Sierra Nevada Corp.'s uncrewed reusable space plane. The spacecraft is contracted by NASA to carry out at least one cargo resupply mission to the International Space Station.
ULA estimates anywhere between 20 to 30 national security missions for the Space Force could launch on the Vulcan over the course of its lifetime. Should all go as planned, ULA could fly the first of those Space Force national security missions on Vulcan toward the end of this year.
Quelle: Florida Today
----
Update: 9.02.2023
.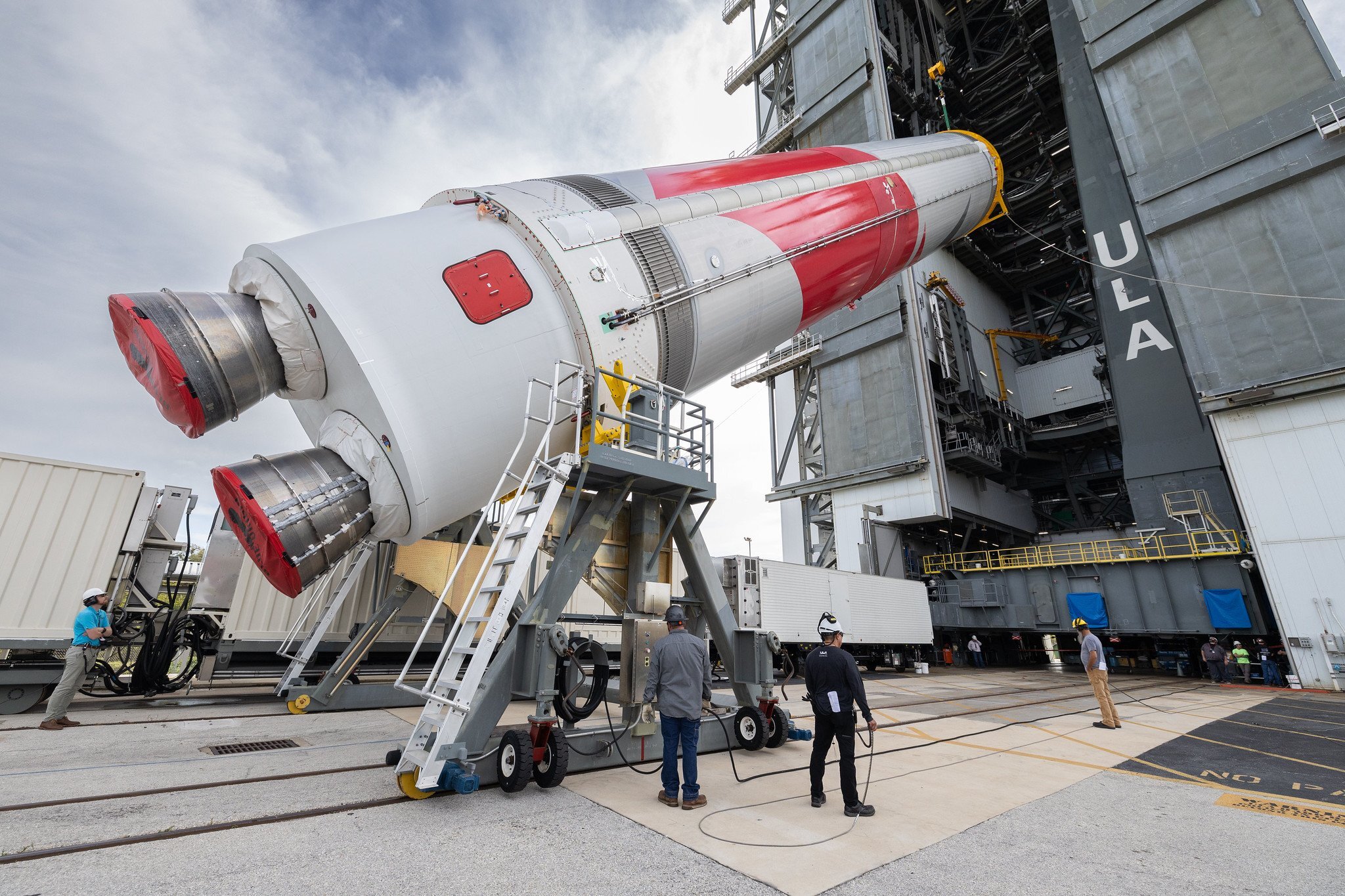 ULA technicians guide the Vulcan first stage into the Vertical Integration Facility. Photo by United Launch Alliance
Embarking on a bold new era to broaden affordable access to space, the inaugural United Launch Alliance (ULA) Vulcan rocket now stands assembled at its Florida launch site for pre-flight testing.
ULA technicians successfully stacked the all-American rocket atop the Vulcan Launch Platform (VLP) in the Vertical Integration Facility (VIF) at Cape Canaveral Space Force Station in preparation for the first launch, called Certification Flight-1.
Teams used processes and procedures evolved from time-proven Atlas V operations to perform the activities known as Launch Vehicle on Stand (LVOS).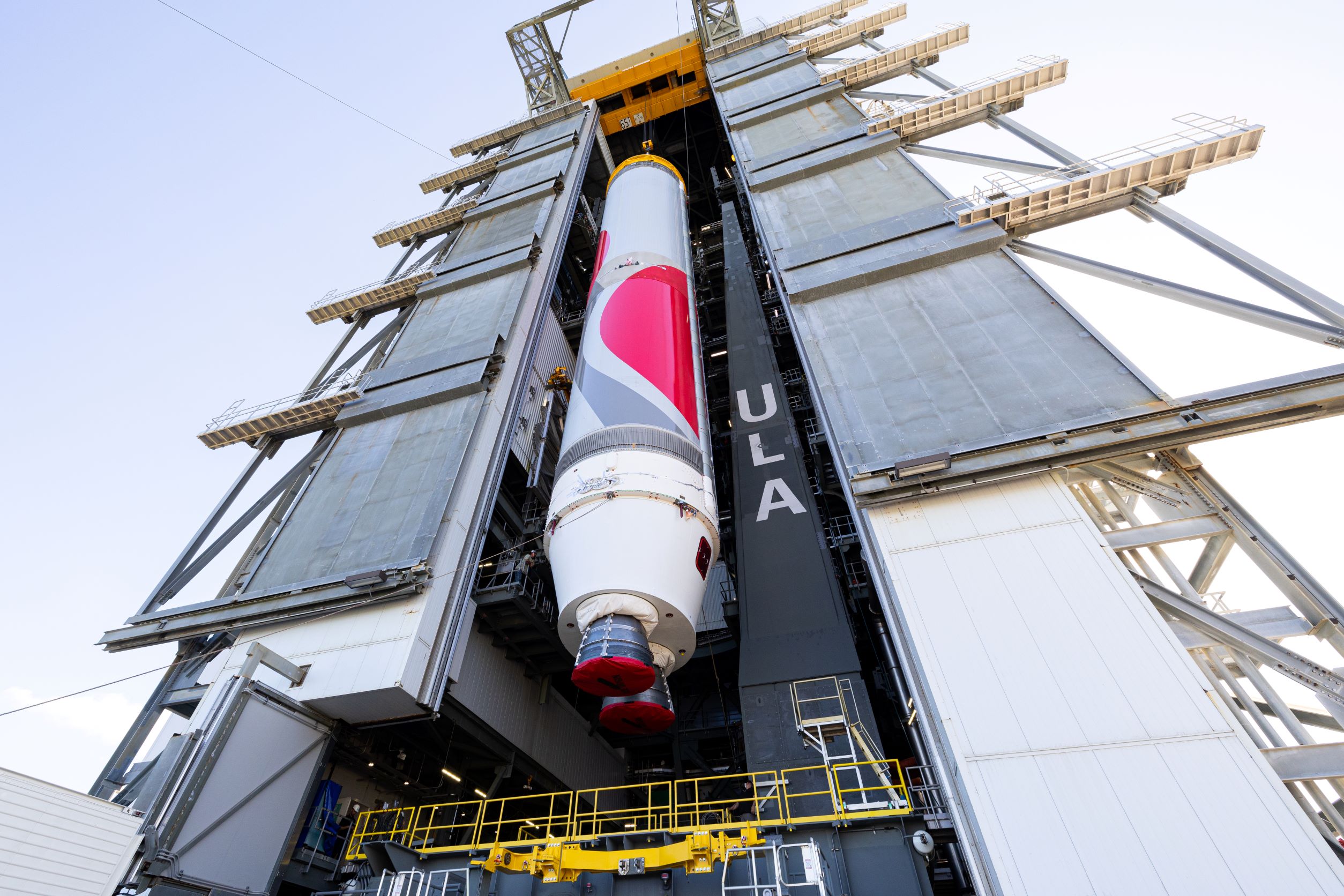 The work began Jan. 25 when the first stage was trucked to the doorway of the 286-foot-tall (87-meter) VIF for cranes to grapple both ends of the 109.2-foot-long (33.3-meter) stage and then rotate it vertically. Once upright, Vulcan was lifted into the building and secured to the four support fixtures on the VLP.
The following day, the 18.8-foot-tall (5.7-meter) interstage was attached to the top of the first stage. This hollow barrel segment connects the Vulcan stages during vehicle stacking operations for launch and encloses the twin RL10 upper stage engines during the boost phase of flight.
The high-performance Centaur V upper stage, measuring 38.5 feet (11.7 meters) in length, was hoisted into place to complete the initial buildup of the first Vulcan rocket, a major milestone that was achieved through the commitment and diligence of the entire ULA workforce, support contractors and suppliers from across the country.
Integrated testing of the rocket stages, VLP and ground systems will be conducted within the VIF over the next few weeks before Vulcan rolls out to Space Launch Complex (SLC)-41 to undergo a series of fuel-loading and countdown exercises. The testing culminates with a Flight Readiness Firing (FRF) to practice the full day-of-launch timeline complete with a brief ignition of the rocket's main engines.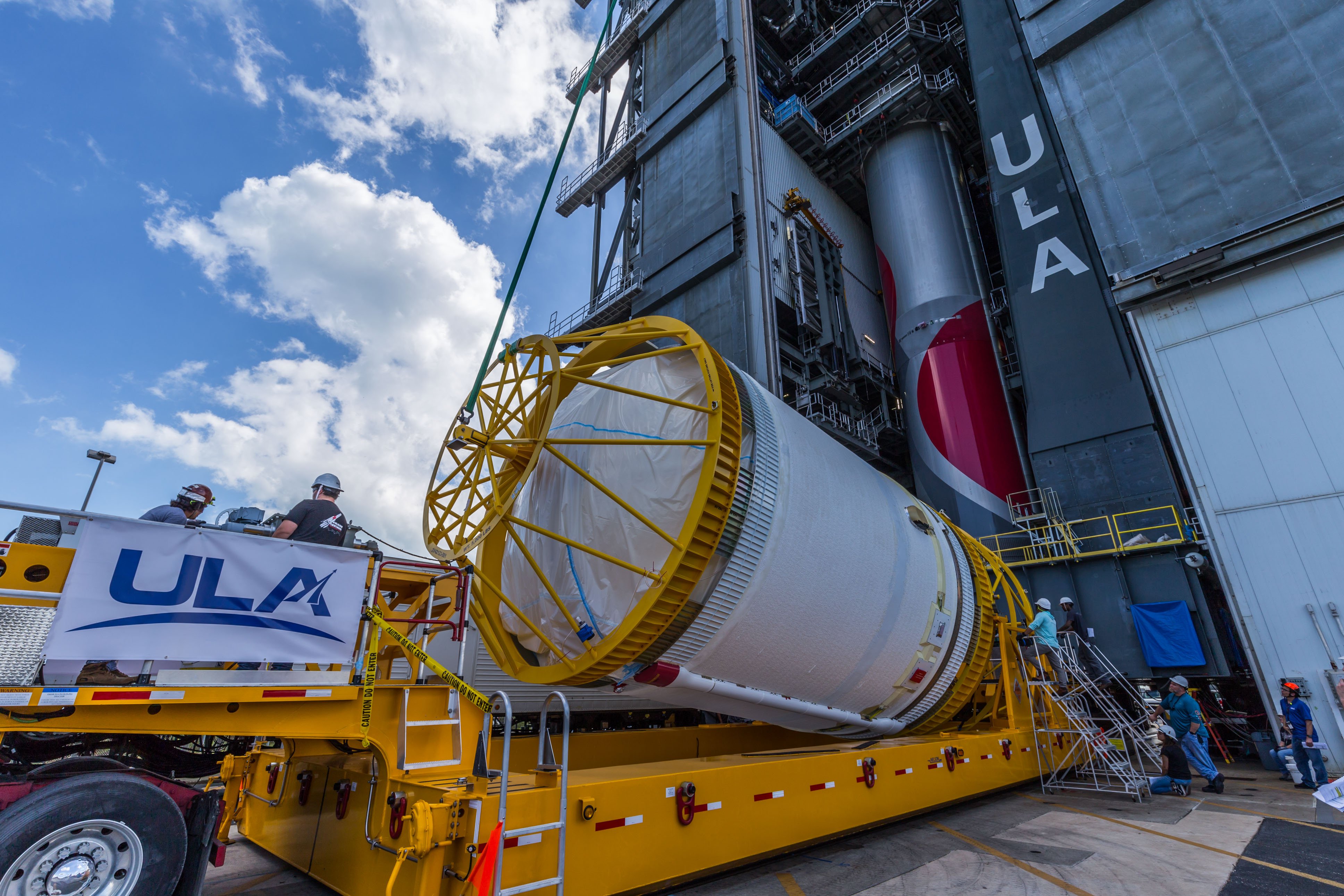 After the FRF, the rocket will return to the VIF for installation of two solid rocket boosters and its payload for launch. The first launch will send Astrobotic's Peregrine commercial lunar lander to intercept the Moon, deploy two Project Kuiper prototype broadband satellites into low Earth orbit for Amazon and carry a Celestis memorial payload into deep space.
Vulcan's innovative technology transforms the future of launch, meeting the challenging requirements now demanded by an expanding spectrum of missions that are essential to U.S. national defense – from low Earth orbit to high-energy orbits. Satisfying those specifications means Vulcan is well-suited for commercial and civil markets, including launching dual-manifested payloads and missions across the solar system.
Vulcan offers customers unprecedented flexibility in a single system. The single-core Vulcan has more lifting capacity than the Delta IV Heavy with significantly reduced cost and streamlined processes.
This new rocket can be built in less than half the time as its predecessors, launched at a much higher tempo, and will carry forward ULA's unique suite of technologies that give our rockets the world's most precise orbital insertions.
Quelle: ULA
----
Update: 25.02.2023
.
ULA announces May launch of first Vulcan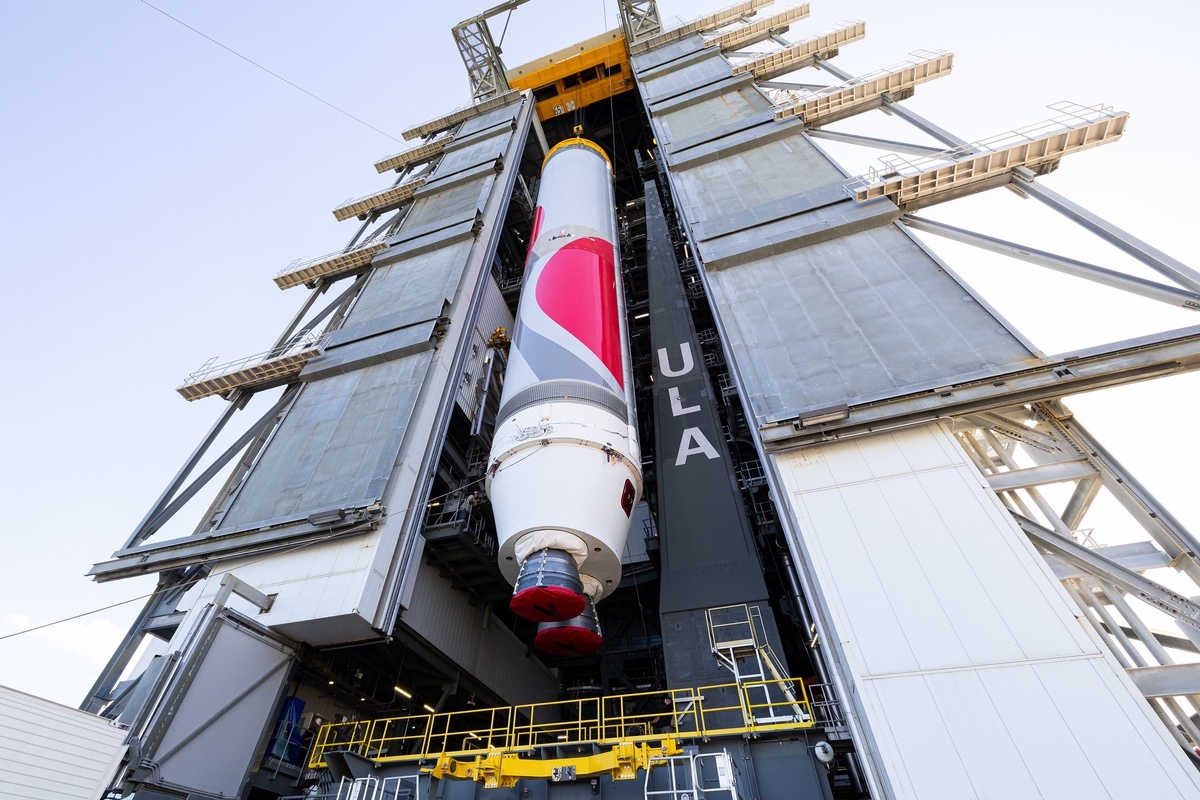 ORLANDO — The first launch of United Launch Alliance's Vulcan Centaur rocket is now scheduled for no earlier than May 4, a date the company says is based on remaining tests of the rocket and its main engines as well as launch windows for its primary payload.
In a call with reporters Feb. 23, ULA Chief Executive Tory Bruno announced the date for the long-awaited inaugural flight of the rocket as the company gears up for a series of tests of the rocket at Space Launch Complex 41. The launch will carry Astrobotic's Peregrine lunar lander, two demonstration satellites for Amazon's Project Kuiper broadband constellation and a payload for space memorial company Celestis.
"We are now targeting the fourth of May so we plan our manifest around that and be ready to fly that payload when it comes in," Bruno said. ULA will have a window of about four days to conduct the launch.
Several factors led ULA to select that date. One is the mission requirements of Peregrine, the primary payload on the launch, which has a window of only a few days each month to fly its trajectory to the moon.
A second is a series of tests of the Vulcan Centaur rocket, currently in the vertical integration facility adjacent to the pad. Bruno said the rocket will roll out to the pad "a few days from now" for tanking tests followed by at least one wet dress rehearsal where the vehicle is fully loaded with propellants and goes through a practice countdown, stopping just before engine ignition.
That will followed by what ULA calls a flight readiness firing, a wet dress rehearsal that ends with a firing of the BE-4 engines in the booster at about 70% of rated thrust for 3.5 seconds. "That is more than adequate for us to understand all of those systems," he said.
After the flight readiness firing, the rocket will return to the integration facility for payload integration, then be rolled back to the pad for launch.
In parallel, ULA and Blue Origin are finishing the formal qualification of the BE-4 engine, which Bruno described as the "pacing item" for the launch. "It's taking a little bit longer than anticipated."
He revealed that, in a qualification test of one of two engines, the liquid oxygen pump had about 5% higher performance than expected or seen on other engines. "When the performance of your hardware has even a small shift that you didn't expect, sometimes that is telling us that there could be something else going on in the system that is potentially of greater concern."
ULA and Blue Origin decided to take the engine off the test stand and disassemble it. Engineers concluded that the higher performance was just "unit-to-unit variation" and not a problem with the engine itself, Bruno said.
"Now we're satisfied and will resume testing shortly with the other engine," he said. That would allow qualification tests to conclude in time for a launch as soon as mid-April. However, Peregrine's launch window in April is earlier in the month, hence the decision to set the May 4 launch date for Vulcan.
That's schedule depends on not just testing of the Vulcan and qualification of the BE-4 but the delivery of Peregrine and other payloads. Bruno expressed confidence that all three customers will deliver their payloads in time for that May launch.
Astrobotic, he disclosed, just completed testing of Peregrine at NASA's Marshall Space Flight Center and will return it to the company's Pittsburgh headquarters for final preparations before shipping to Cape Canaveral. "I'm not concerned about them," he said of Astrobotic. "I feel very confident they will be ready to go."
Similarly, he expected both Amazon and Celestis to deliver their payloads in time for a May launch. "I believe that we will have all three of our payloads there and ready to go."
The Vulcan launch date is very close to another critical ULA mission, the Atlas 5 launch of Boeing's CST-100 Starliner on its first crewed flight. Boeing and NASA officials announced Feb. 17 that they were on track to have the vehicle ready for launch in mid to late April.
With the May 4 launch date set for Vulcan, ULA can now sort out other launches on its manifest. "By declaring that now, it allows us to work with all the other customers on the manifest, understand where their spacecraft are and get everybody scheduled so there are fewer disruptions," he said. However, he said it's too soon to determine how missions like Starliner would be affected.
ULA had previously projected the first Vulcan launch for the first quarter of the year. The slip, Bruno argued, should not adversely affect plans to certify the vehicle for its first national security launch in the fourth quarter, a schedule that requires ULA to both perform this launch and a second carrying Sierra Space's Dream Chaser cargo spacecraft.
"Are we frustrated? No. We're being careful and we're being thoughtful to make sure we have a successful mission," he said. "We want very much to get this right, and waiting a few weeks for the first launch does not impact any of those other schedules. We have plenty of time to do this. We're going to do this the right way."
Quelle: SN
----
Update: 26.02.2023
-
Private company gears up to launch remains of Star Trek actress, moon lander into space
Several companies have reserved space on the more than 200-foot ULA rocket. Astrobotic's moon lander, Amazon's prototype satellites and Celestis with cremated remains are all expected to be aboard.
CAPE CANAVERAL, Fla. – The United Launch Alliance recently announced it's targeting May for the inaugural launch of its highly anticipated Vulcan Centaur rocket, which is expected to carry everything from satellites to human ashes into space.
The Vulcan Centaur rocket has faced years of delays following the slower-than-anticipated development of powerful engines and requirements for when the moon lander can be launched.
Under an updated timetable released by ULA CEO Tory Bruno, the more than 200-foot-tall rocket will take off on May 4, 2023, from Florida's Cape Canaveral Space Force Station.
If the launch is successful, the company plans to eventually replace the Atlas V and Delta IV rockets with the Vulcan Centaur.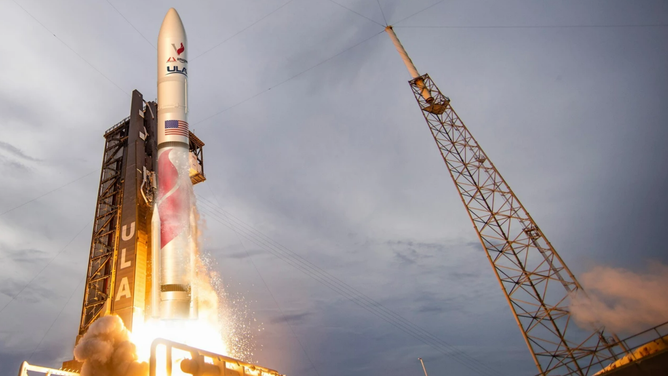 The rocket is said to be capable of launching 60,000 pounds of payload into low-Earth orbit and could one day be certified to carry highly sensitive satellites for U.S. intelligence agencies.
Here's a look at the payload that will be aboard the uncrewed launch.
Astrobotic Technology's lunar lander
The Peregrine Lunar Lander will carry scientific and other payloads to the surface of the moon.
Astrobotic Technology said it will be the first commercial mission to land on another planetary body.
NASA said the Peregrine Mission 1 will study the moon's exosphere, thermal properties, magnetic fields and radiation.
Mementos and payloads from six countries are expected to be aboard the craft when it departs the Vulcan Centaur rocket after reaching its designated orbit.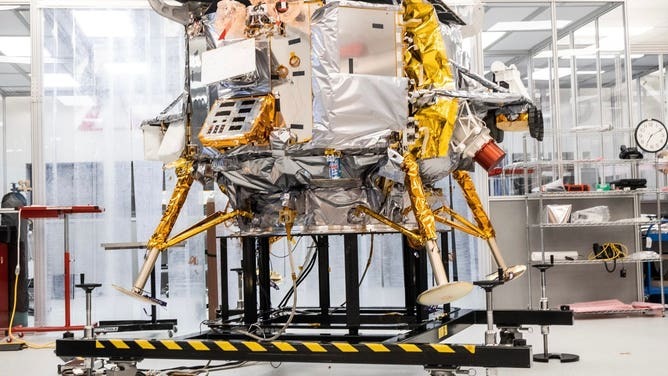 Astrobotic's lunar lander
Prototype broadband satellites for Amazon
Project Kuiper, Amazon's proposed broadband program, will have two prototype satellites aboard the Vulcan Centaur rocket.
Amazon said the goal of the constellation will be to deliver fast, affordable internet to underserved communities around the world.
Once complete, the constellation is expected to have more than 3,200 satellites orbiting Earth and be similar to SpaceX's Starlink program.
The world's largest online retailer has already inked a deal with ULA for an additional 47 launches for Project Kuiper.
Dates for future launches of the Vulcan Centaur rocket have not been set.
"We couldn't be more excited to join the first launch of ULA's Vulcan Centaur. We've already secured 38 Kuiper launches on Vulcan, and using the same launch vehicle for our prototype mission gives us a chance to practice payload integration, processing, and mission management procedures ahead of those full-scale commercial launches," Rajeev Badyal, vice president of technology for Project Kuiper, said in statement.
LATE STAR TREK ACTRESS NICHELLE NICHOLS TO GRACE ONE FINAL VOYAGE INTO THE COSMOS
Human ashes for Celestis
The cremated remains of Star Trek actress Nichelle Nichols will be one of more than 150 capsules aboard the inaugural Vulcan Centaur flight, which will launch the personal effects on an endless journey into space.
Celestis, Inc., a Texas-based company, offers memorial flights that start at $2,995 and can cost customers $12,995 or more.
Launching cremated remains into space is not a new mission, but sending them beyond the orbit of Earth and the moon has not been completed by a commercial company.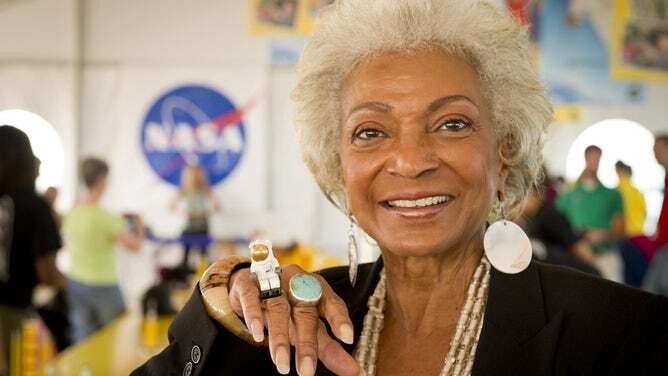 Nichelle Nichols a "Star Trek" star, died at the age of 89
Also aboard the rocket will be ashes from Star Trek's creator and several other cast members.
The launch date of May 4 is also synonymous with the celebration of the Star Wars series – a fitting day for the remains of Nichols and Star Trek members to start their maiden voyage.
Quelle: FOX WEATHER
----
Update: 11.03.2023
.
ULA targets May for debut launch of new Vulcan Centaur rocket
192 Views