SpaceX's 21st commercial resupply mission (CRS-21) to the International Space Station (ISS) is slated for launch no earlier than December 2 at 12:50 p.m. ET from Launch Pad 39A at Kennedy Space Center in Florida. The ISS U.S. National Laboratory is sponsoring more than 15 payloads on this mission that will bring value to our nation and further enable a sustainable market in low Earth orbit. Many investigations included in this launch are in the areas of tissue engineering and regenerative medicine, and results could provide insights that may lead to therapeutics capable of improving patient care on Earth and beyond. Additionally, this launch will feature multiple student experiments that will engage and excite the next generation of researchers and explorers.
Below are highlights of ISS National Lab-sponsored research and technology development investigations that are part of the SpaceX CRS-21 mission to the space station.
Quelle: ISS National Lab Mission
----
Update: 25.11.2020
.
NASA TV Coverage Set for Next Space Station Resupply Mission with SpaceX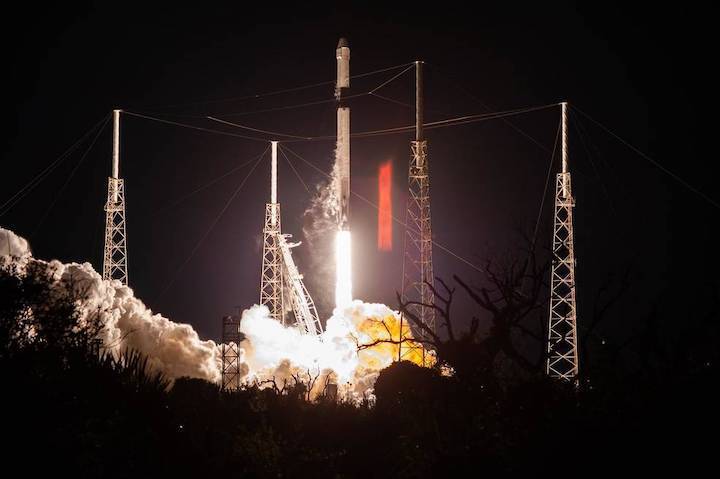 Credits: NASA/Tony Gray and Tim Terry
NASA commercial cargo provider SpaceX is targeting 11:39 a.m. EST Saturday, Dec. 5, for the launch of its 21st commercial resupply services (CRS-21) mission to the International Space Station from Launch Complex 39A at the agency's Kennedy Space Center in Florida. CRS-21 will deliver science investigations, supplies, and equipment for NASA and is the first mission under the company's second Commercial Resupply Services contract with NASA. Live coverage will air on NASA Television and the agency's website, with prelaunch events Friday, Dec. 4, and Saturday, Dec. 5.
The upgraded Dragon spacecraft will be filled with supplies and payloads, including critical materials to directly support dozens of the more than 250 science and research investigations that will occur during Expeditions 64 and 65. In addition to bringing research to the station, the Dragon's unpressurized trunk will transport the Nanoracks Bishop Airlock. The first commercially funded space station airlock, the Bishop Airlock is an airtight segment used for transfer of payloads between the inside and outside of the station. It provides payload hosting, robotics testing, and satellite deployment while also serving as an outside toolbox for astronauts conducting spacewalks.
About 12 minutes after launch, Dragon will separate from the Falcon 9 rocket's second stage and begin a carefully choreographed series of thruster firings to reach the space station. Arrival to the space station is planned for Sunday, Dec. 6. Dragon will autonomously dock to the station's Harmony module with Expedition 64 Flight Engineers Kate Rubins and Victor Glover of NASA monitoring operations.
The Dragon spacecraft will spend about one month attached to the space station before it returns to Earth with research and return cargo, with splashdown in the Atlantic Ocean.
Full mission coverage is as follows (all times Eastern):
Friday, Dec. 4
2 p.m. – One-on-one media opportunities with principal investigators for payloads on CRS-21 at the Kennedy Press Site (compliant with COVID-19 safety protocols).

TBD – Prelaunch news conference from Kennedy with representatives from NASA's International Space Station Program, SpaceX, and the U.S. Air Force's 45th Space Wing. For the dial-in number and passcode, please contact the Kennedy newsroom at ksc-newsroom@mail.nasa.gov no later than 3 p.m. Friday, Dec. 4.

Saturday, Dec. 5
11:15 a.m. – NASA TV launch coverage begins for the 11:39 a.m. launch.
Sunday, Dec. 6
9:30 a.m. – NASA TV coverage begins for Dragon docking to space station
11:30 a.m. – Docking
The deadline for media to apply for accreditation for this launch has passed, but general information about media accreditation is available by emailing ksc-media-accreditat@mail.nasa.gov.
Members of the public can attend the launch virtually, receiving mission updates and opportunities normally reserved for on-site guests. NASA's virtual launch experience for CRS-21 includes curated launch resources, a behind-the-scenes look at the mission, notifications about NASA social interactions, and the opportunity for a virtual launch passport stamp following a successful launch.
Quelle: NASA
----
Update: 3.12.2020
.
Weather so-so for SpaceX and NASA launch from Kennedy Space Center
Weather conditions around Kennedy Space Center are likely to be iffy for SpaceX and NASA's planned weekend launch of a resupply mission to the International Space Station, the Space Force said Wednesday.
If current trends hold, teams at pad 39A will contend with 40% "go" conditions for the Saturday morning launch of a Falcon 9 rocket and uncrewed Cargo Dragon packed with supplies and science experiments. The mission includes an instantaneous window, meaning SpaceX must launch on time – down to the second at 11:39:38 a.m. – or push to another day.
"At a minimum, scattered showers can be expected, but instability thresholds may be high enough to produce isolated thunderstorms as well," the 45th Weather Squadron said of Saturday morning's attempt. "Primary weather concerns during the launch window will be flight through precipitation, cumulus clouds rule, and the thick cloud layer rule."
The "percent go" calculation doesn't include upper-level winds or downrange conditions in the Atlantic Ocean, where a SpaceX drone ship will be on standby to host Falcon 9's first stage landing. While both are continually monitored leading up to liftoff, the Space Force on Wednesday did categorize the recovery weather risk as "high."
If at-sea conditions are too rough, Falcon 9's 162-foot first stage could not only have issues successfully landing on an unstable platform, but it could also topple and explode or simply fall into the ocean. Saturday's mission will mark the company's 68th landing attempt to date.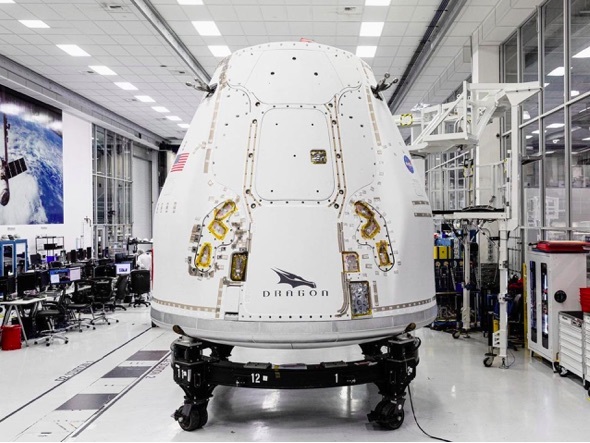 ©SpaceX Dragon
SpaceX is tasked with launching thousands of pounds of cargo and science experiments to the ISS, which for the first time will be flown on the newest version of its capsule known as Dragon 2 or Cargo Dragon. Compared to the Crew Dragon spacecraft that have launched six astronauts so far, Cargo Dragon is almost identical save for the lack of seats, windows, and an emergency abort engine system.
After spending about a month at the ISS, the autonomous spacecraft will splash down in the Atlantic Ocean with return cargo and science experiments. It's a significant departure from previous Dragon resupply missions that were recovered from the Pacific, then had to be trucked back to the Cape after refurbishment at company headquarters in Hawthorne, California.
Saturday will mark the Space Coast's 27th launch of the year, 101st of a Falcon 9 rocket, and 21st NASA-contracted resupply mission for SpaceX.
Launch Saturday, Dec. 5
Rocket: SpaceX Falcon 9

Mission: 21st Dragon ISS resupply

Launch Time: 11:39 a.m.

Launch Window: Instantaneous; must launch on time

Launch Pad: 39A at Kennedy Space Center

Landing: Drone ship

Weather: 40% "go"
Visit floridatoday.com/space at 10 a.m. Saturday for live video and updates.
Quelle: Florida Today
----
Update: 5.12.2020
.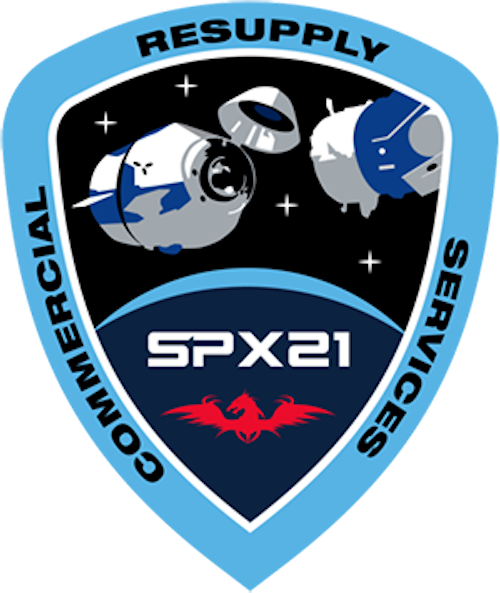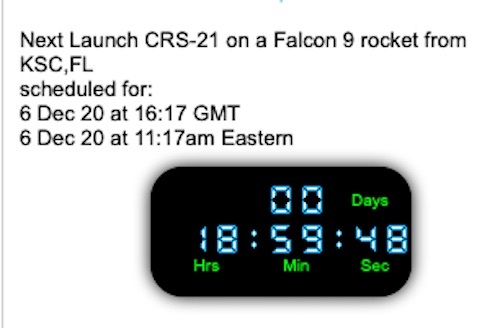 Quelle: AS
----
Update: 6.12.2020 /
.
Start von SpaceX Dragon cargo spacecraft CRS-21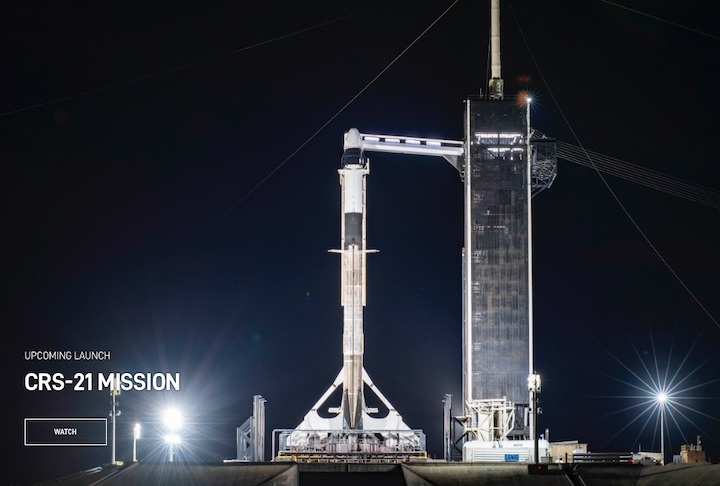 +++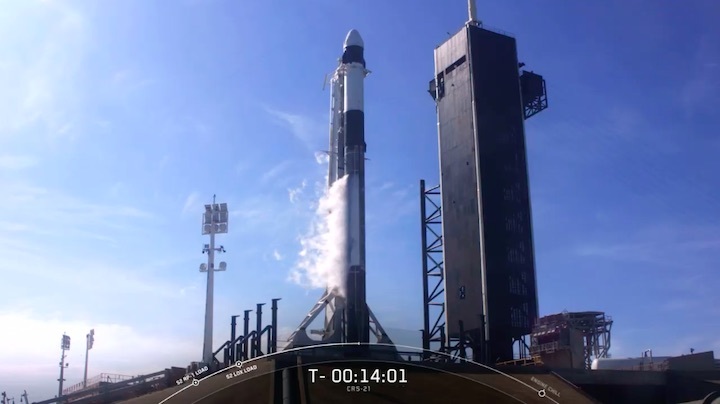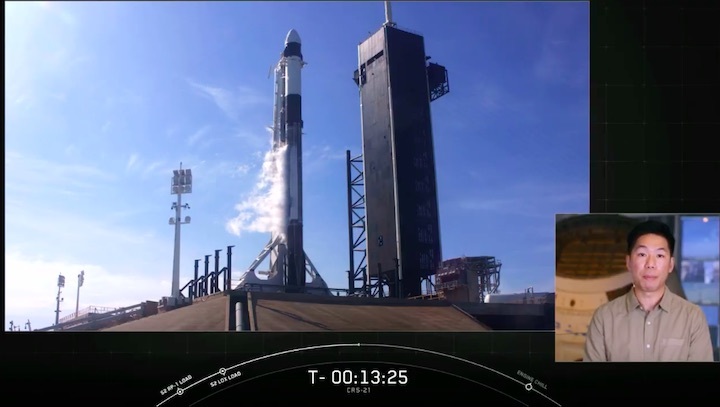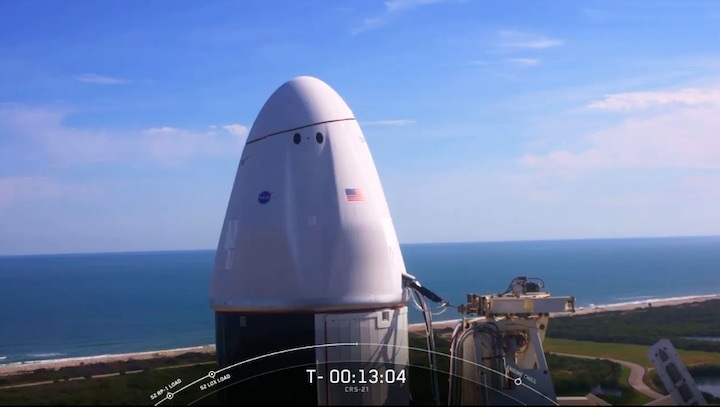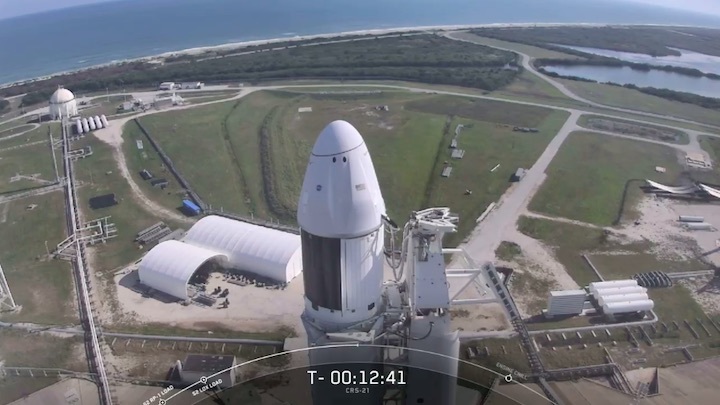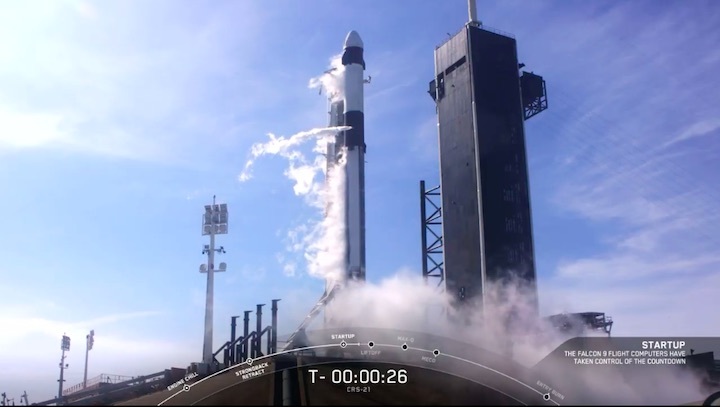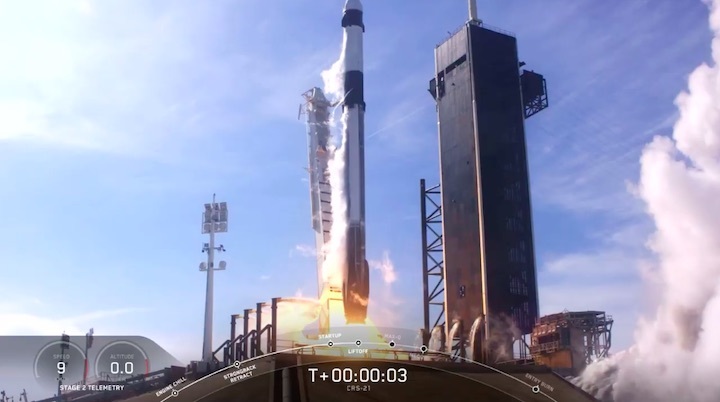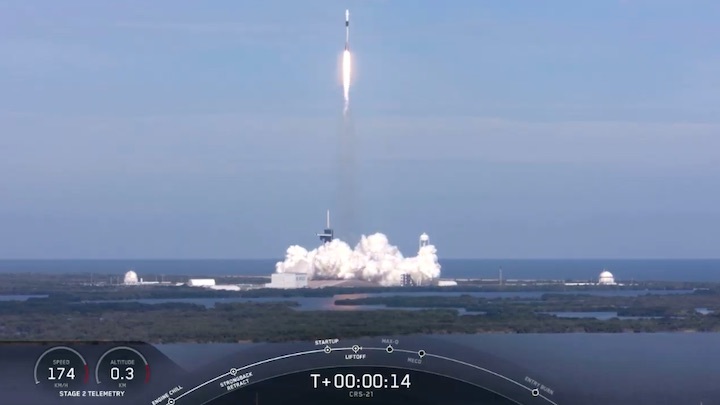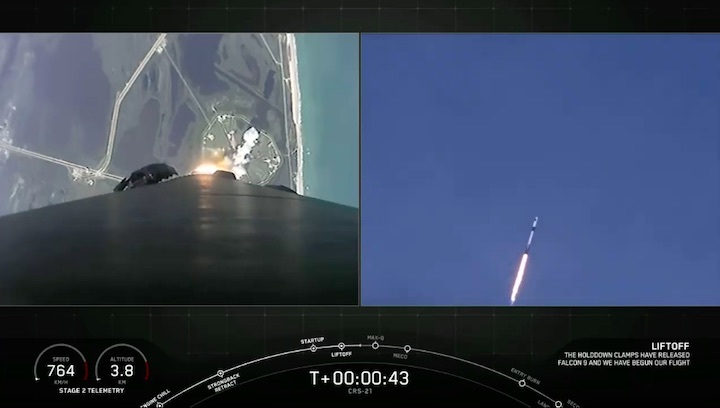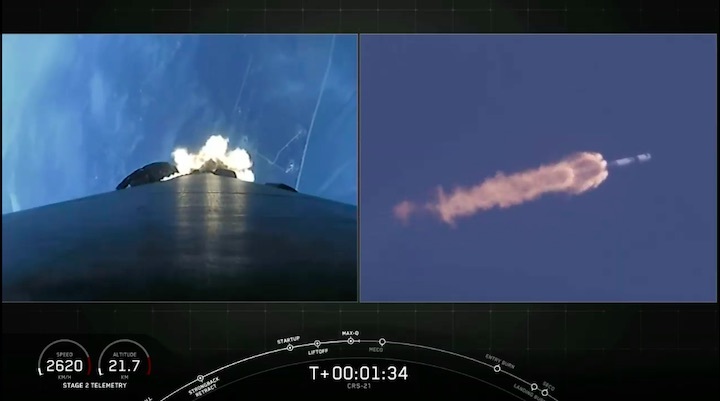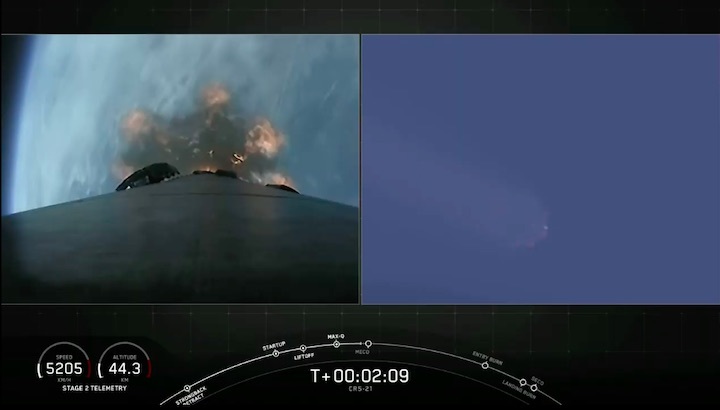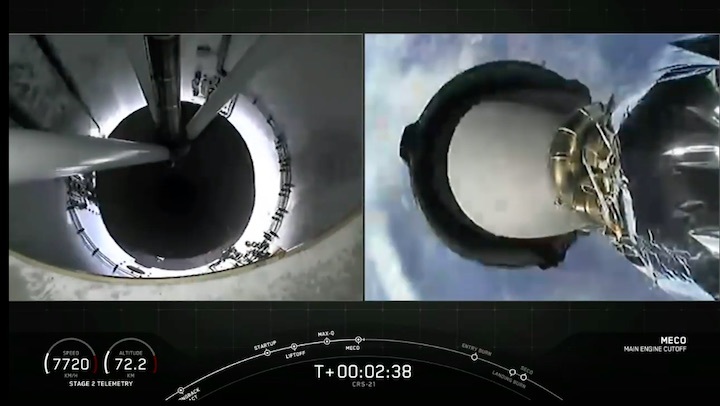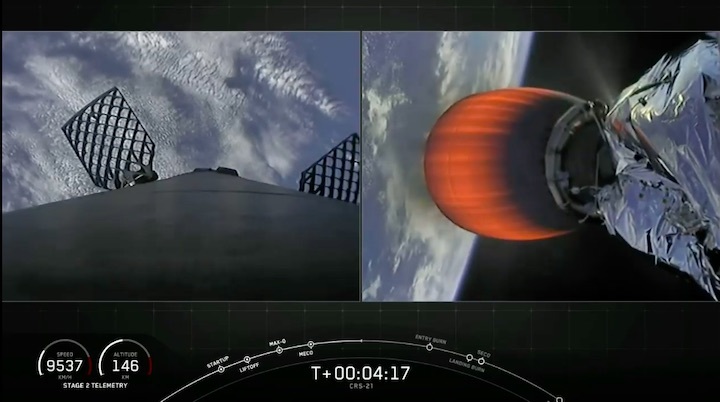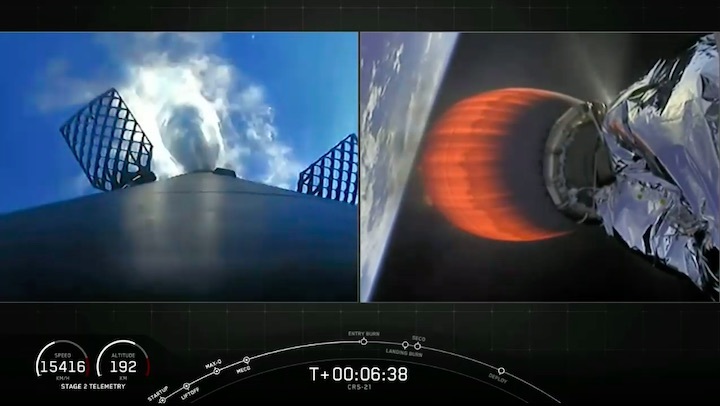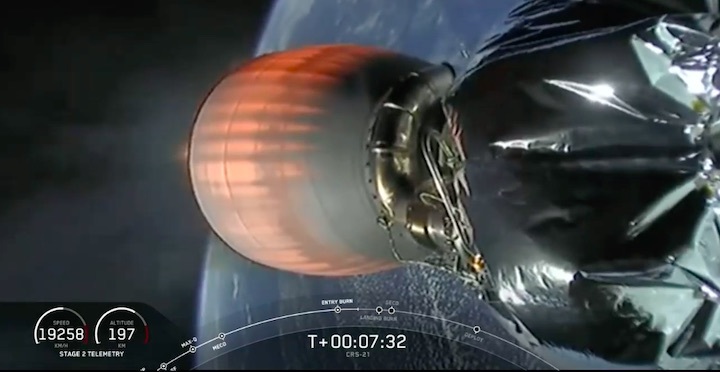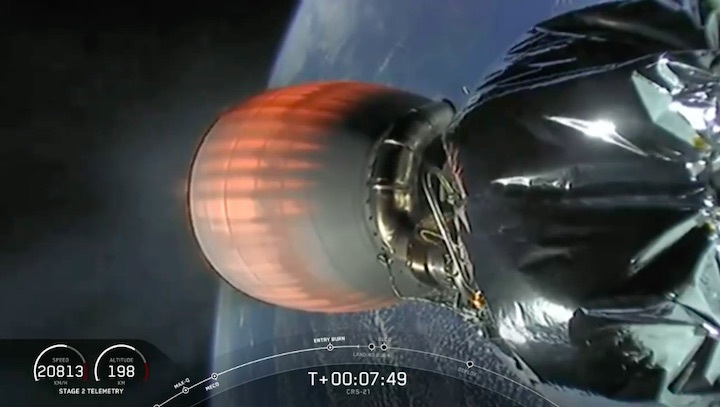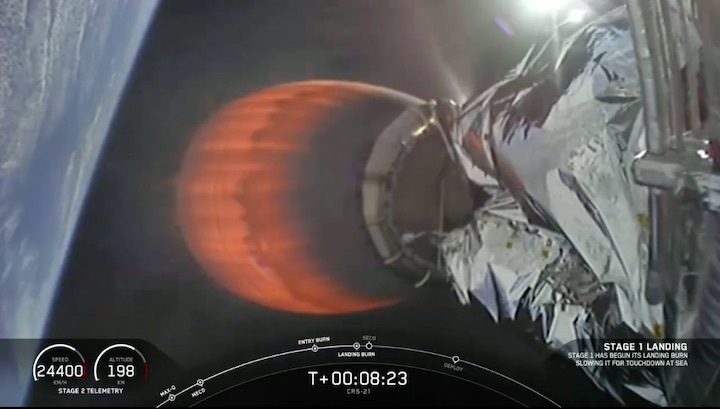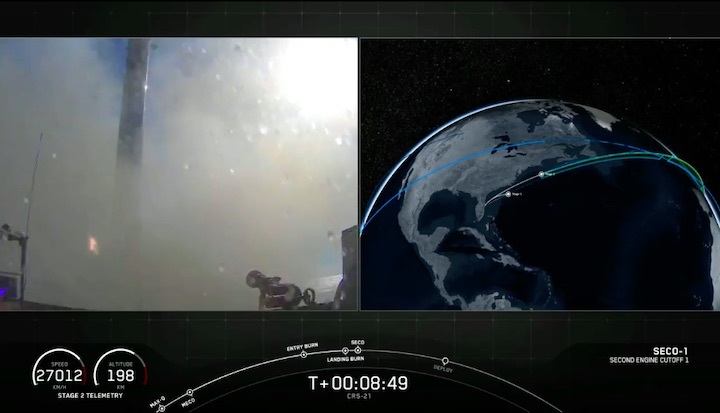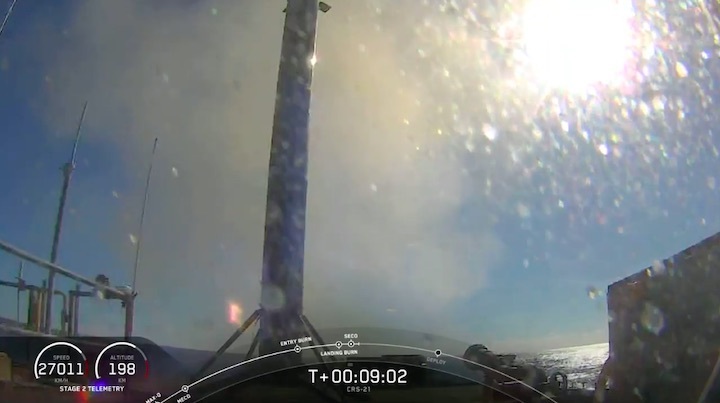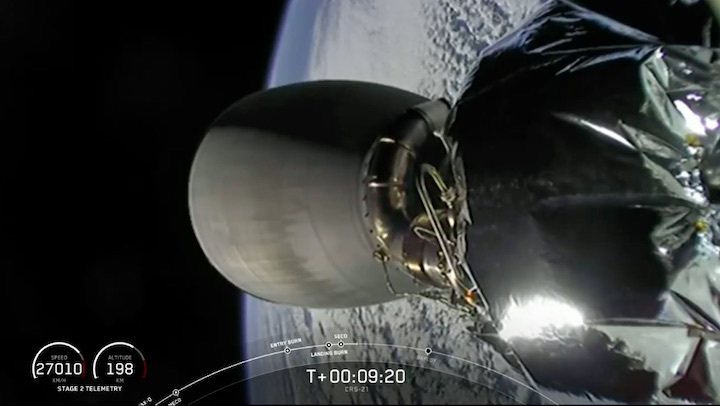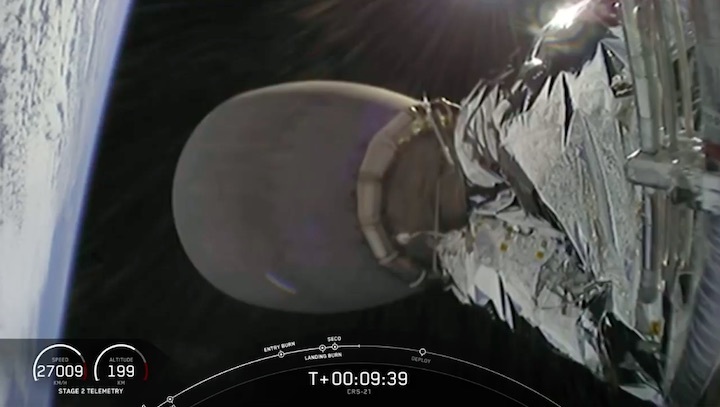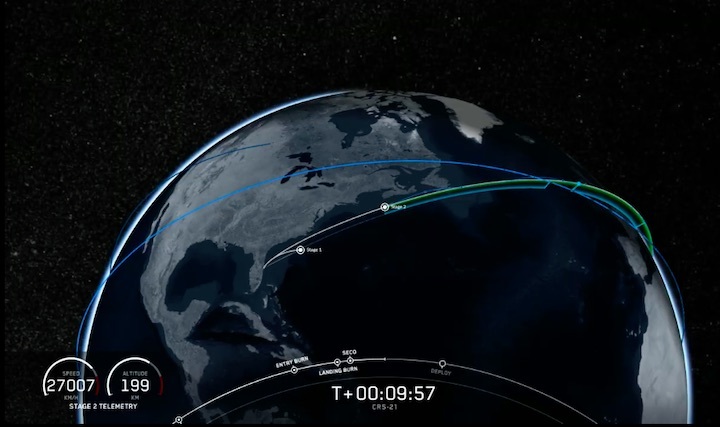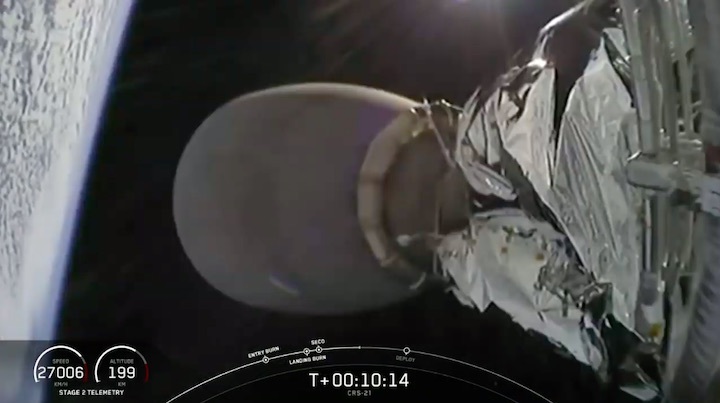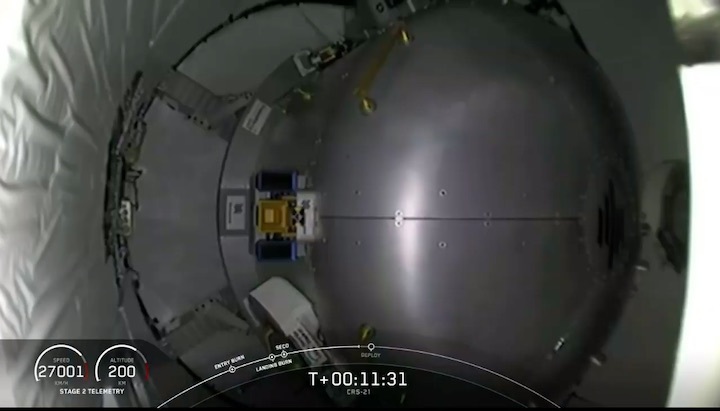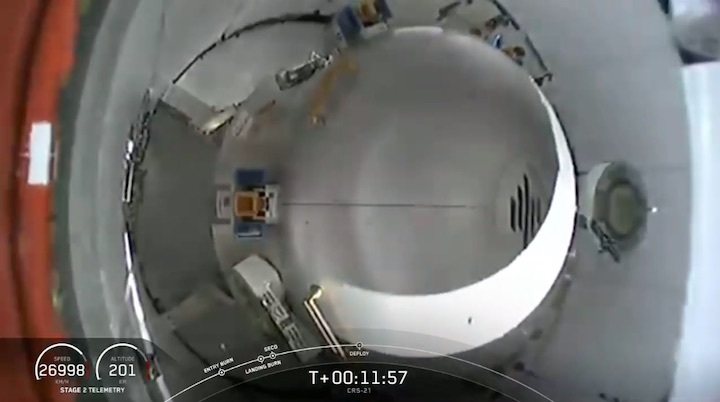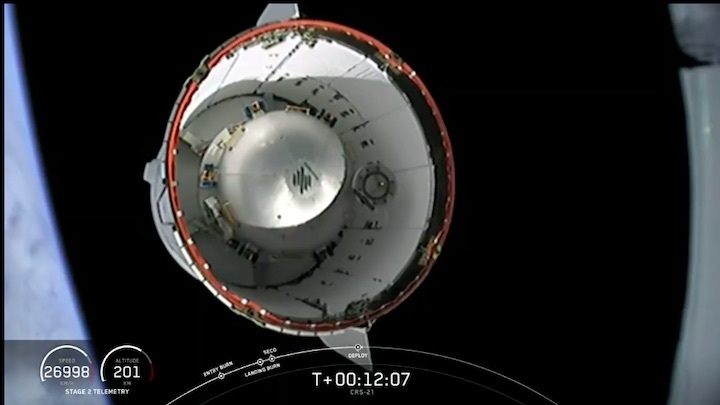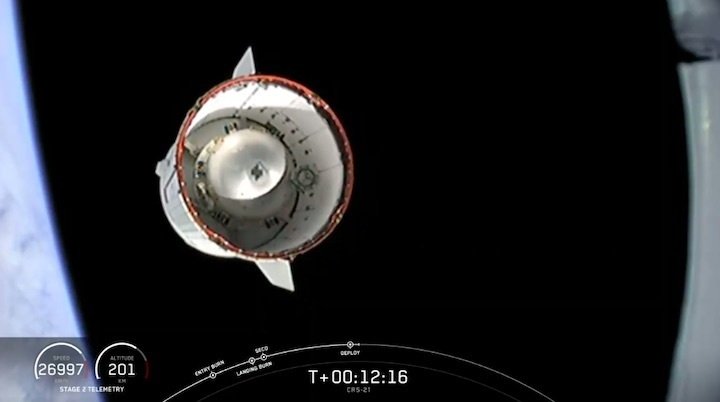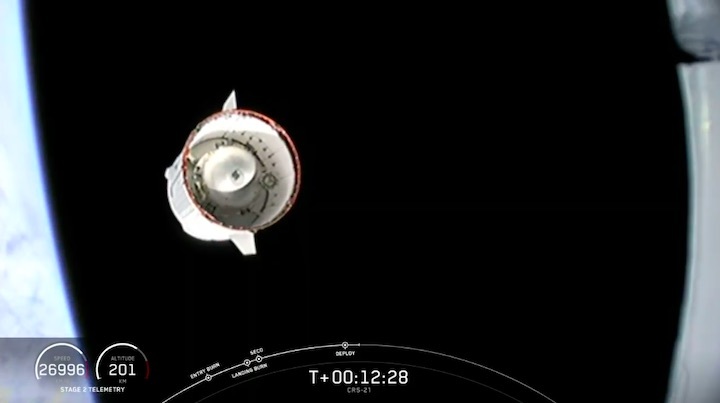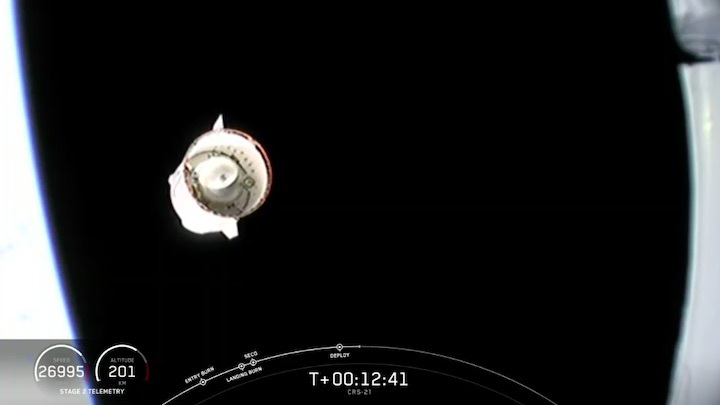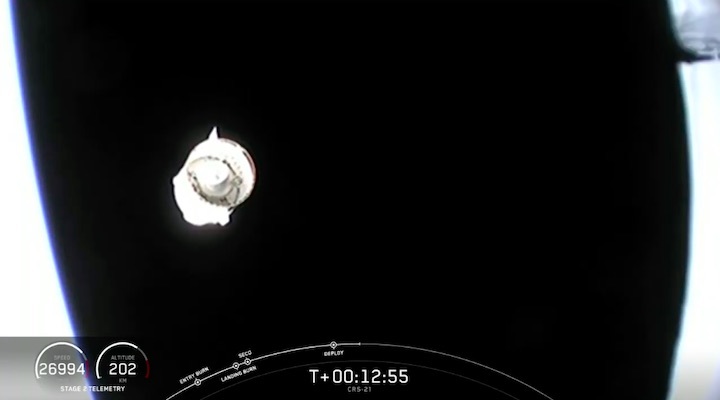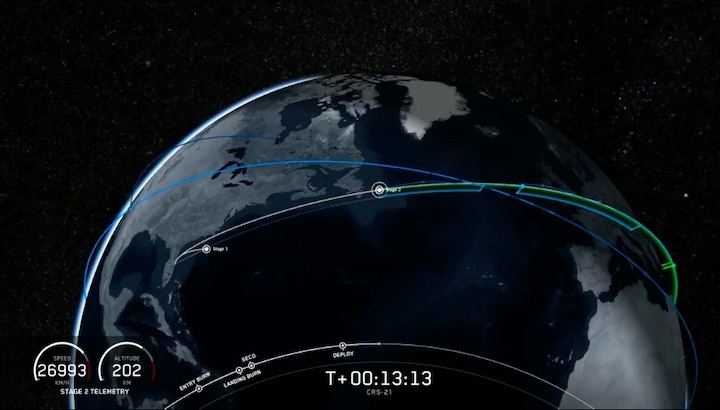 Quelle: SpaceX
----
Update: 7.12.2020
.
SpaceX launches first next-generation cargo Dragon spacecraft to ISS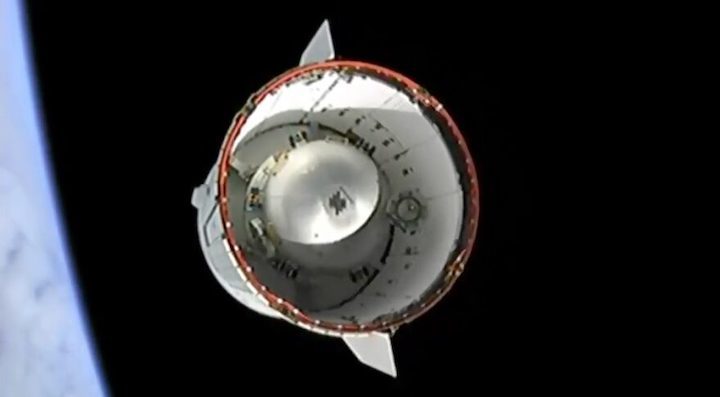 WASHINGTON — SpaceX launched the first of a new generation of Dragon cargo spacecraft Dec. 6, carrying experiments and supplies to the International Space Station.
The SpaceX Falcon 9 lifted off from Kennedy Space Center's Launch Complex (LC) 39A at 11:17 a.m. Eastern after a one-day delay caused by weather. It deployed the Dragon cargo spacecraft nearly 12 minutes after liftoff. The rocket's first stage, previously used for the Demo-2 commercial crew mission in May then for launches of the ANASIS-2 satellite and a set of Starlink satellites, landed on a droneship in the Atlantic Ocean.
The Dragon, flying a mission designated CRS-21, is carrying 2,972 kilograms of cargo, both within the spacecraft itself and in its external trunk. It is scheduled to dock autonomously with the zenith port of the space station's Harmony module at 1:30 p.m. Eastern Dec. 7.
CRS-21 is the first mission in SpaceX's Commercial Resupply Services 2 contract, which uses a version of the Crew Dragon spacecraft developed for the commercial crew program. "What you see on the outside, the exterior, is the same outer mold line" between the crew and cargo versions, said Sarah Walker, director of Dragon mission management at SpaceX, at a Dec. 4 prelaunch briefing. The biggest difference, she noted, is the lack of SuperDraco abort thrusters on the cargo version.
The interior is redesigned to accommodate cargo, with about 20% more volume than the first-generation cargo Dragon. The spacecraft can host eight powered lockers for research payloads at launch and 12 for its return to Earth, compared to six such lockers on both launch and return for the earlier Dragon version. Dragon can support more lockers for return than at launch since it can use additional power that, at launch, is needed for external payloads.
Walker noted that the new Dragon can stay at the ISS for up to 75 days, twice as long as the original version, although for this mission it will be docked to the station for about 35 days. The spacecraft, which can dock directly with the station rather than being berthed by the station's robotic arm, is designed to be used at least five times.
While original cargo Dragon missions launched from both LC-39A as well as nearby Space Launch Complex 40, Walker said SpaceX plans to use LC-39A for cargo Dragon missions in the future, taking advantage of the crew access arm there for loading time-sensitive cargo. "That is a huge advantage for us to be able to perform late-load cargo while the vehicle is already vertical," she said. "It allows us to do it even closer to T-0."
Like Crew Dragon, the new cargo Dragon will splash down just off the Florida coast, rather than in the Pacific hundreds of kilometers from California as the first-generation Dragon cargo spacecraft. That will enable some research payloads to be handed over to scientists as soon as four hours after splashdown. "It's a really critical capability for biological payloads," said Kirt Costello, chief scientist for the ISS program office at NASA, at the prelaunch briefing.
This Dragon is carrying a wide range of biological and other research payloads for the station. The experiments include studies of the effects of spaceflight on heart and brain cells, testing of an off-the-shelf blood analysis device, and a "biomining" experiment that will examine how microbes could be used to extract resources from asteroids.
The largest payload on the spacecraft is the Bishop airlock for Nanoracks. The company built the airlock as a commercial facility for use deploying satellites and hosting external payloads. The station's robotic arm will remove Bishop from Dragon's trunk shortly after docking and install it on the Tranquility, or Node 3, module of the station.
Nanoracks decided to develop Bishop to get around a bottleneck in satellite deployments using an airlock in the Japanese Kibo module, but the potential applications of the airlock have grown over time. "We tried to make the airlock design flexible so that it can be used in a variety of different ways down the road," said Brock Howe, program manager for Bishop at Nanoracks, during a November briefing about the mission that included several scientists also flying experiments on the Dragon. "Hopefully, the airlock will be able to provide them with capabilities that will enable them to be very creative going forward."
"This is a monumental moment for Nanoracks," Jeff Manber, chief executive of Nanoracks, said in a statement after launch. "We came up with this idea five years ago. In those five quick years, we've gone from being known as the 'CubeSat' deployment company to an organization that is building the future of commercial low Earth orbit infrastructure."
The Dragon is also carrying several hundred kilograms of crew supplies, which includes some special items for the upcoming holidays, such as "some Christmas-y food," said Kenny Todd, NASA ISS deputy program manager, at the prelaunch briefing. He declined, though, to say if there were any gifts on board. "I don't like to get out in front of Santa Claus."
Quelle: SN