SpaceX has filed a request with the Federal Communications Commission related to experimental launches of its reusable Starship rocket system.
The filing requests permission to track and communicate with Starship prototypes as they fly up to 12 1/2 miles, or 20 kilometers, into the air from SpaceX's rocket-development facilityin Boca Chica, Texas, between August and February.
SpaceX earned a launch license from the Federal Aviation Administration on May 28 to fly the vehicles, but the company, founded by Elon Musk, also needs the FCC's permission.
Musk recently said he still hoped to launch the first humans to Mars aboard a Starship rocket in mid-2024.
SpaceX hopes to launch prototypes of its Starship rocket more than a dozen miles high within the next seven months, according to a filing with the Federal Communications Commission.
Elon Musk, the aerospace company's founder and CEO, is urgently racing to develop Starship, a fully reusable rocket system that is designed to one day land on the moon for NASA and take up to 100 people to Mars at a time.
In early June — shortly after SpaceX successfully launched two astronauts to the International Space Station using a different rocket — Musk reportedly urged employees to shift their focus to Starship. Aerial photos also show a frenzied increase in activity at the company's rocket development site in Boca Chica, Texas.
Now the company has filed a request to the FCC to use certain radio frequencies while launching Starship prototypes up to 12 1/2 miles, or 20 kilometers, into the air. The filing, posted Thursday, specifies that launch operations would occur between August 18 and February 18.
The Federal Aviation Administration on May 28 awarded SpaceX a launch license for suborbital flights. SpaceX can't feasibly fly its Starship prototypes, however, until the FCC grants it permission to use frequencies required to track and communicate with them. (The FCC is typically quick to grant such permission to SpaceX.)
Proving a reusable steel rocket ship can fly and land hasn't been easy
A full-scale 16-story Starship prototype has yet to fly, though a previous and shorter version of the rocket — known as Starhopper — successfully launched 500 feet high and landed in 2019.
Since then, more advanced yet still early iterations of Starship prototypes have failed and were obliterated during testing, typically when engineers filled the rockets with inert liquid nitrogen to test the limits of their integrity.
During a test-firing of recent Starship prototype called SN4 in Boca Chica on May 29, the vehicle spectacularly exploded. The failure happened the day before the astronauts Bob Behnken and Doug Hurley rode the company's Crew Dragon spaceship to the International Space Station with the help of a different SpaceX rocket, Falcon 9. (That launcher successfully flew 85 missions before sending Behnken and Hurley into space.)
Such a string of failures, however, is anything but unexpected, as SpaceX saw with the development of core technologies for its Falcon 9 system. Musk has also said the company may need to build about 20 large Starship prototypes before SpaceX can attempt to launch one into orbit.
Musk confirmed on June 4 that he still hoped to launch the first crew to Mars in a Starship vehicle in mid-2024 — ostensibly as the start of an effort to populate the red planet.
Though SpaceX is licensed to launch suborbital rockets from Boca Chica, the Border Report recently revealed that the company would face a new environmental analysis with the FAA before flying prototypes to orbit.
Business Insider requested details about the nature and timing of that assessment from the FAA on July 9, and an agency representative acknowledged receipt of our questions. The FAA, however, has yet to provide answers to the inquiries.
Quelle: Business Insider
----
Update: 24.07.2020
.
SpaceX Starship flight debut could happen this week, says Elon Musk
SpaceX CEO Elon Musk says that Starship's full-scale flight debut could happen as early as this week if a suite of tests planned over the next few days goes according to plan.
The SpaceX leader also revealed a bit about the company's plan to create its own custom steel alloy to build the best Starships possible – the first of which is already under construction. Beginning with Starship SN8, parts of which have already been spotted in work at SpaceX's Boca Chica, Texas rocket factory, all future ships are expected to be built out of steel different than the 301 alloy used for all prior ships.
Of course, Starship SN8 is likely 2-4 weeks at best away from being ready for integrated testing. Instead, Starship SN5 is currently occupying SpaceX's adjacent test stand and launch pad as teams work to prepare the rocket for several tests – potentially culminating in the first flight of a full-scale Starship.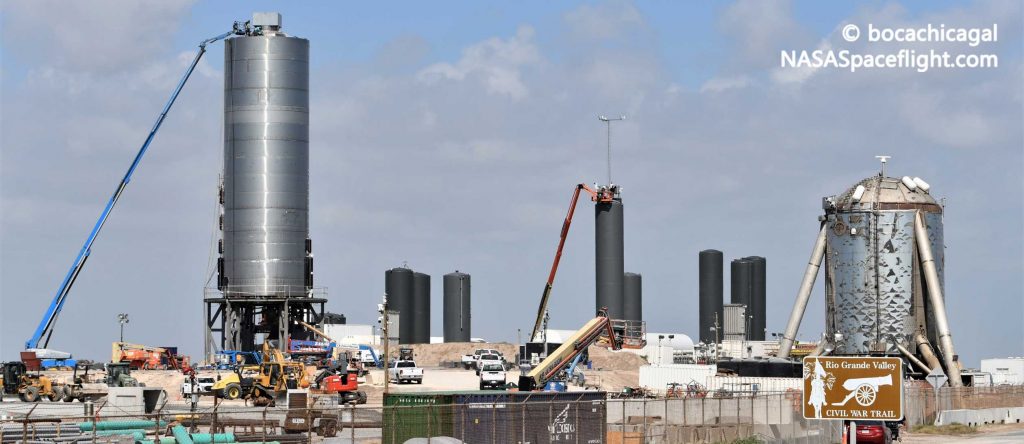 For more than two weeks, SpaceX has been slowly preparing Starship SN5 for its first wet dress rehearsals and Raptor engine static fires. When a ground systems leak lead to a massive fuel-air explosion and Starship SN4's destruction, it severely damaged the pad and required the construction of an entirely new launch mount.
Based on photos of the gradual rebuild taken by Boca Chica Village resident and photographer Mary (bocachicagal), SpaceX has visibly taken the opportunity to implement some significant changes (possibly upgrades) to the pad's ground support equipment (GSE). Notably, the company has already installed a system meant to reclaim waste methane that would otherwise have to be burned at a flare stack, instead re-liquefying the gas a returning it to propellant storage tanks.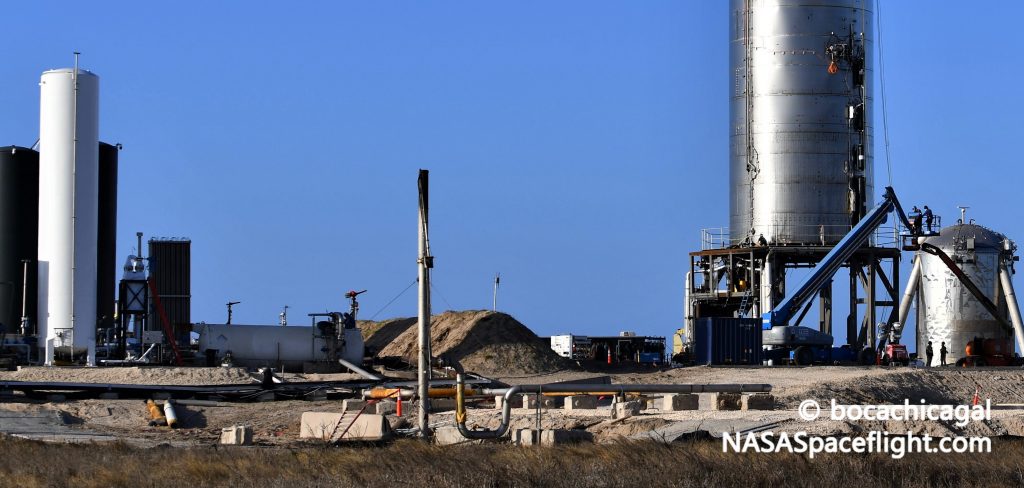 It's unclear if SpaceX is attempting to onboard that new system as part of Starship SN5's first major fueling tests, but the flare stack has not been active for weeks and the finicky nature of methane reclamation would certainly explain some of the 10+ days of delays.
On July 17th, after many day-by-day delays, SpaceX began Starship SN5's first fueling test. The rocket appeared to be briefly pressurized with ambient-temperature gas (possibly methane and oxygen) but the test was quickly aborted. Another attempt on July 20th was also aborted after several hours with no frost (indicative of propellant loading). Finally, a third attempt on July 21st was canceled before it began, although a roadblock was briefly set up prior to the abort. Shortly after the abort, SpaceX published plans for another attempt at Starship SN5's first WDR and static fire test on July 22nd with backup windows (8am-5pm CDT, UTC-5) on the 23rd and 24th.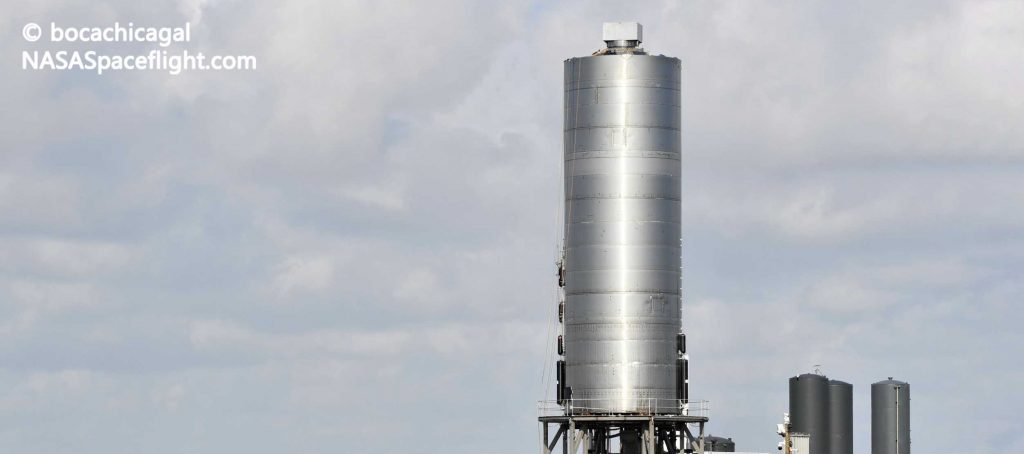 First reported by NASASpaceflight.com, Elon Musk's comment confirms their sourced information that Starship SN5's flight debut could follow just a few days after a successful WDR and static fire. Given the sheer number of delays SN5's test campaign has suffered, that's far from guaranteed, but the ship certainly still has a shot at a hop test this weekend if things go perfectly over the next several days. Stay tuned for updates later today or tomorrow.
Quelle: TESLARATI
----
Update: 29.07.2020
.
Starship SN5 survives Hanna, scrubs initial Static Fire attempts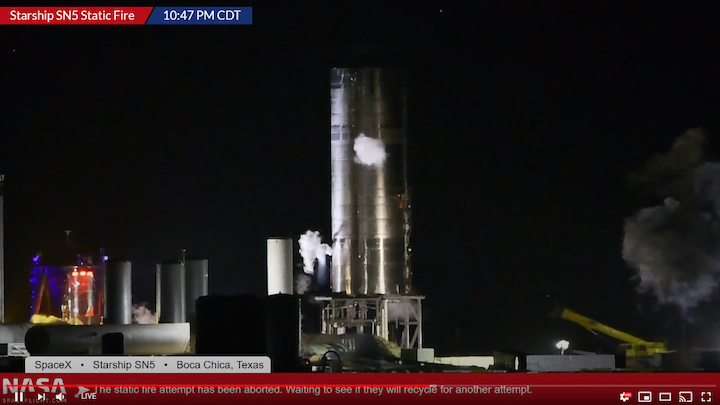 Starship SN5 is aiming to succeed where its predecessors have failed by passing all the required testing required for the 150 meter hop. While Starhopper still holds the claim for being the only vehicle to take flight at Boca Chica, SN5 will be the first Starship prototype to take to the air, at least in a planned manner, should this coming week's Static Fire test – which was slightly delayed, most recently by hunkering down during the passing of Hurricane Hanna – go to plan. Monday saw two attempts, scrubbing during the day and then aborting during the evening.

Week In Review -Video Version:
Week In Review – Article Version:
The week began with SN5 being pressed through a fuel test, loading the vehicle with Liquid Methane for the first time, following on from its successful cryo test that involved Liquid Nitrogen.
While the testing was aiming for a Static Fire test with Raptor SN27 as early as Wednesday, on-off road closures during the first two days pushed the schedule past Elon Musk's claim of a hop "later in the week".
Meanwhile, over at the Production Site, another new Starship was starting to take shape, with the Common Dome for Starship SN8 spotted by Mary, along with a handy sticker to confirm its identification.
This Starship will be the first full-sized vehicle to be made from the 304L steel, as much as that alloy is in a continued state of evolution.
SN8 will also be the initial prototype Starship to gain a nosecone with aero surfaces. Despite the herd of nosecones now on show at the Production Site, SN8's has now been mated with its five-ring section inside the Windbreak.
Another set of new arrivals were spotted on Tuesday, as a flatbed truck of Kuka welding robots pulled into the Production Facility.
SpaceX has been working on improving its welding techniques over the evolution of Starship construction, self-evident when comparing the latest SN vehicles to the Mk1.

Speaking of Mk1, the mystery surrounding fins from that since-deceased vehicle continued as they were moved into place at the Production Facility for assembly into a structure of its own, potentially as an entrance to a new building or even covering for a cafe for the workforce. However, Elon later clarified on Twitter that they are now set up to provide covering for a seated area at the production facility.
Wednesday saw SN5 return to testing with what was either a repeat – or at least an extended – version of Monday's Fueling Test. This time SN5 enjoyed a lengthy amount of being fueled with Liquid Methane, highlighted by the occasional double venting, before undergoing detanking operations.
Signs the test went to plan were all-but-confirmed by the cancellation of the following day's road closures, which pointed to preparations moving towards the Static Fire test as the next objective.
Over at the Production Facility, future Starships continued to take their place in the line, with SN8 – set to become the first fully assembled 304L steel Starship – seeing its Common Dome flipped as part of the assembly sequence we've come to follow.
SN8's Nosecone also continued its preparations inside the Windbreak, as the other nosecones, both old and new, watched on. SpaceX now has an untold number of nosecones – albeit including fairings that will never fly as they were built to allow for construction techniques to be honed – both outside near the Windbreak and also under assembly inside the large Onion Tent buildings.
This building follows on from the original "assembly bay" that has since become the Windbreak for the nosecones and the building that is now known as the Mid Bay, currently housing Starship SN6.

The reason for calling what is still a large building in its own right a "Mid Bay" becomes clear now the "High Bay" is rising from the ground.
With assembly on the second level, this facility will grow at least two more levels, rising to 83 meters tall – as required for the Super Heavy boosters.
Based on the pace of this building's assembly, it could reach its full height in just a matter of weeks, providing a tantalizing prospect of the first Super Heavy sections to arrive inside the new building before the end of this year.
Work continued on the High Bay as forecasts aligned to show soon-to-be Hurricane Hanna was threatening the local area on its track towards South Texas. This saw SpaceXers begin the process of moving the array of Starship nosecones inside the Big Tents for protection.
Despite Hanna creeping up on the Texas coast, SpaceX felt they had a small window to attempt a Static Fire test of SN5 on Saturday morning, as the tracking showed Boca Chica would escape the severity of the winds and rain from the Hurricane's landfall.
However, despite several "Pad Clears" during the early part of the test window, the roadblock was eventually removed as crews returned to the pad pointing to a scrubbed Static Fire attempt, which became a scrub for the day as the weather started to deteriorate.
"During a gap in the weather, Mary popped out for a quick drive past the launch site and production facility, highlighting the rare sight of work halting for the storm and even Bluezilla lowered for a rare break to protect any potential impacts of wind gusts.
Following the passing of Hanna, Mary took a trip outside to check on the facility, finding everything – bar some localized flooding – appeared to have avoided any major impact from the storm. Notably, there was a temp roadblock at the launch site, believed to be related to local flooding on the access road.
However, SN5 was then spotted venting by Mary, pointing to SN5 being pressurized overnight before undergoing depressing on Sunday.

The latest roadblock notices pointed to a potential second attempt to Static Fire Raptor SN27 on Starship SN5 as early as Monday, pending local conditions, not least access due to some localized flooding on the access roads.
Monday did indeed see a scrubbed attempt to conduct a Static Fire test during the day, before a surprise attempt outside of the test window.
Quelle: NS
----
Update: 31.07.2020
.
SpaceX fires up Starship SN5 rocket prototype ahead of first test flight
'150m hop soon,' Elon Musk tweeted today.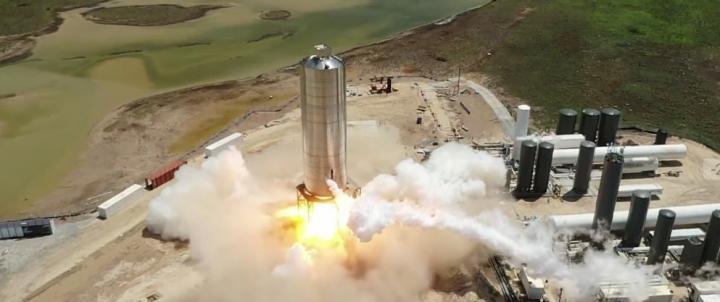 SpaceX just fired the engine of its latest Starship prototype, paving the way for a test flight in the near future.
The company conducted a "static fire" test of Starship SN5 today (July 30), letting its single Raptor engine blaze while the vehicle remained tethered to the ground at SpaceX's South Texas facilities, near the village of Boca Chica.
The successful trial apparently earned the stainless-steel SN5, a test version of SpaceX's Mars-colonizing Starship spacecraft, a chance to slip its leash.
"Starship SN5 just completed full-duration static fire. 150m hop soon," SpaceX founder and CEO announced via Twitter today (July 30).
SpaceX has been iterating toward the final Starship design via a series of SN prototypes. Most of SN5's predecessors were lost at some point in the testing process, either during pressure trials or static fires. SN4, for example, exploded during a static fire on May 30, the fifth such test for the prototype.
But SpaceX doesn't seem inclined to subject the SN5 to so many engine trials. If Musk's tweet is any guide, the vehicle could rise about 500 feet (150 meters) into the South Texas skies sometime in the next few days.
Just one Starship prototype has made such an untethered flight to date: the stubby Starhopper, an early variant that was retired after getting several hundred feet off the ground in August 2019.
The final version of Starship will feature six Raptor engines, stand about 165 feet (50 m) tall and be capable of carrying up to 100 people, Musk has said. The spaceship will launch atop a gigantic rocket called Super Heavy, which will be powered by 31 Raptors of its own.
Starship and Super Heavy will be fully and rapidly reusable, Musk has said. The billionaire entrepreneur envisions the duo eventually filling all of SpaceX's needs, from launching satellites to Earth orbit to ferrying passengers to the moon, Mars and beyond.
The spaceflight system could get up and running quickly if testing and development go well. SpaceX representatives have said that the first Starship/Super Heavy missions — likely launches of commercial communications satellites — could come as early as 2021.
Quelle: SC
----
Update: 3.08.2020
.
SpaceX Starship rocket's flight debut set for Monday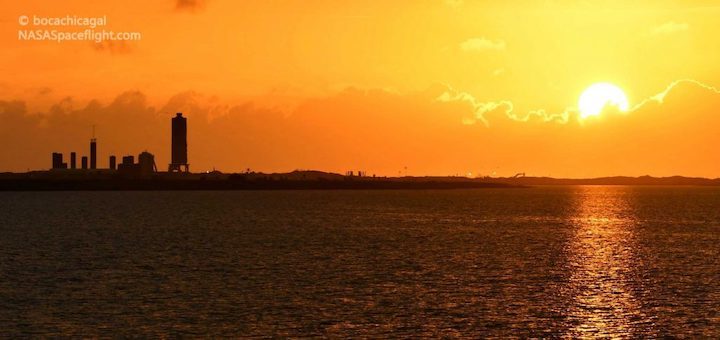 For the first time ever, a full-scale SpaceX Starship prototype could be less than a day away from an inaugural flight test in Boca Chica, Texas.
Expected to target the same 150m (~500 ft) maximum altitude as Starhopper's final flight, the hop will see the full-scale tank section of Starship SN5 attempt to follow in the footsteps of its odd predecessor. Starhopper was essentially a back-of-the-envelope proof of concept, demonstrating that a large rocket could technically be built out of common steel with facilities so spartan and basic that it defied belief.
While much shorter than a full-scale Starship, against all odds, Starhopper completed multiple wet dress rehearsals with methane and oxygen propellant, several static fires with Raptor engines, and two untethered flight tests (hops). The first of those tests saw Starhopper reach ~20m (~65 ft) on July 25th, 2019, while the stout Starship prototype went on to reach 150m (~500 ft) on its second and final flight barely a month later (August 27th). Now, a few weeks shy of one year later, Starship SN5 seeks to carry the torch forward with its own 150m hop.
This is not the first time that Starship SN5's hop debut has seemed close at hand, however. For a number of reasons, most of which likely center around extensive damage done to SpaceX's Boca Chica launch facilities when Starship SN4 exploded, SN5's path to first flight has been plagued by delays. For a prototype of any kind, that's not fundamentally unusual, but it's been exceptional as far as SpaceX's Starship development program goes. Prior to those delays, public road closures showed that SpaceX planned to launch Starship SN5 for the first time as early as mid-July.
For several weeks, SpaceX gradually worked the kinks of the repaired pad's ground support equipment (GSE) and Starship SN5 itself with four aborted attempts, finally reaching a point where the rocket was able to static fire its Raptor engine for the first time on July 31st. After many, many delays and minor issues, the static fire test went extremely smoothly – possibly the smoothest-looking Starship test SpaceX has thus far completed.
The private results from that test must have also looked great because SpaceX initially wanted to turn Starship SN5 around for its hop debut on Sunday, August 2nd – barely two days later. Yesterday's window came and went, though, and SpaceX ultimately pushed its hop test plans back by 24 hours and added a new backup window on August 4th.
The window for Starship SN5's 150m hop debut now stretches from 8am to 8pm CDT (13:00-01:00 UTC) on Monday, August 3rd. It's currently unknown if SpaceX will offer its own live coverage of the test flight but several unofficial streams will likely be available from NASASpaceflight.com, LabPadre, SPadre, and more. Stay tuned for updates!
Quelle: TESLARATI