Launch preparations for the SES 10 communications satellite, the first spacecraft to ride a reused Falcon 9 booster to space, are on track for a late March blastoff from Florida, officials said.
The satellite, designed to broadcast video and television services across Latin America, was delivered to Cape Canaveral in January from its factory at Airbus Defense and Space in Toulouse, France.
Since its arrival in Florida, SES 10 has been prepped for liftoff inside a SpaceX clean room a few miles from launch pad 39A, where the mission will blast off aboard a Falcon 9 rocket. Filling of the spacecraft with its supply of hydrazine fuel and nitrogen tetroxide oxidizer was completed Thursday, soon after SpaceX's last flight took off from pad 39A.
Officials said the SES 10 satellite was scheduled to be enclosed this weekend inside the two halves of the Falcon 9's nose cone, a composite fairing measuring 43 feet (13.1 meters) tall and 17 feet (5.2 meters) wide. The fairing protects the SES 10 spacecraft during final launch processing and the initial few minutes of flight through the dense lower atmosphere, then is shed once the rocket reaches space.
The rocket is also ready for final preflight tests after its delivery to Florida from SpaceX's test site in McGregor, Texas. The 15-story booster was cleaned, refurbished and test-fired at the Texas test facility after landing on a barge in the Atlantic Ocean following a space station cargo ship launch on April 8, 2016.
SpaceX president and chief operating officer Gwynne Shotwell said March 8 that the booster took around four months to refurbish after its first flight last April. SpaceX hopes to reduce that turnaround time to two months soon, and eventually to less than a day.
The SES 10 flight will be the first of six previously-flown Falcon rocket boosters SpaceX intends to re-fly this year, Shotwell said.
Two of the boosters reportedly might launch later this year on the first demo flight of SpaceX's Falcon Heavy rocket, which uses three Falcon rocket cores firing in unison to propel heavy payloads into orbit.
SES, a Luxembourg-based international telecom satellite operator, announced its agreement with SpaceX in August 2016 to send the SES 10 satellite to orbit on a Falcon 9 rocket with a reused first stage. The second stage and fairing are manufactured new.
While SpaceX and SES did not disclose terms of their contract for the SES 10 launch, Shotwell said last year the launch provider was offering a 10 percent discount for customers willing to fly their payloads on reused boosters.
That discount should become steeper on future flights, according to SpaceX officials. The company lists a regular commercial Falcon 9 flight at $62 million.
An SES official said just after Thursday's launch by SpaceX of the EchoStar 23 satellite that the SES 10 spacecraft and the Falcon 9 launcher set to launch it were tracking no issues.
Before a two-day delay in EchoStar 23's launch due to high winds, SES 10's liftoff was scheduled for March 27. The launch window that day opens at 4:58 p.m. EDT (2058 GMT).
But officials expected the SES 10 launch to be moved back a couple of days after EchoStar 23's delay. Inspections of pad 39A following Thursday's launch were expected to give managers a better idea of how long SpaceX needs to ready the launch complex for another mission.
The transporter-erector at pad 39A was lowered after Thursday's launch. It will be rolled back to SpaceX's hangar at the southern perimeter of the pad for attachment of the two-stage Falcon 9, then returned to the pad for a hold-down engine firing around four days before liftoff.
The rocket will then go back to the hangar to receive the SES 10 satellite, and rolled out again to pad 39A on the eve of liftoff.
The SES 10 satellite will will weigh around 11,700 pounds (5,300 kilograms) at the time of launch, giving the Falcon 9's first stage enough fuel margin to attempt a landing on SpaceX's floating platform in the Atlantic Ocean.
A successful recovery is expected to give SpaceX better insight into the performance of the reused rocket.
Quelle: SN
---
Update: 25.03.2017
.
Live coverage: SpaceX aims to launch its first reused rocket next week
Live coverage of SpaceX's preparations for the third Falcon 9 rocket launch from pad 39A at NASA's Kennedy Space Center in Florida, and the first to use a previously-flown Falcon first stage booster. The mission will launch the SES 10 communications satellite. Text updates will appear automatically below; there is no need to reload the page. Follow us on Twitter.
Technicians are closing up the SES 10 communications satellite inside the Falcon 9 rocket's nose fairing this morning at Cape Canaveral as launch engineers prepare for a hold-down firing of the Falcon 9 rocket's main engines as soon as Sunday.
The two-stage rocket, without its commercial payload, should roll out to launch pad 39A this weekend for a static fire test Sunday afternoon. The rocket's nine Merlin 1D engines will ignite for around three seconds in a shakedown of booster and ground systems before the real countdown next week.
The launch, set for no earlier than Wednesday, March 29, will mark the first time SpaceX has reused one of its Falcon 9 first stage boosters. The rocket's second stage and payload fairing remain newly-built.
Wednesday's two-and-a-half hour launch window opens at 4:59 p.m. EDT (2059 GMT).
The SES 10 communications satellite, inside the rocket's nose cone, will be transported from SpaceX's payload processing facility at Cape Canaveral Air Force Station a few miles north to the hangar at pad 39A at NASA's Kennedy Space Center for attachment to the Falcon 9 once the static fire test is accomplished.
SES 10, built by Airbus Defense and Space, will support television broadcast services and mobile communications over Mexico and other parts of Spanish-speaking Latin America. The spacecraft will also provide support for oil and gas exploration in the Brazilian market.
The fully-fueled satellite has a launch mass of around 11,700 pounds (5,300 kilograms), according to Airbus.
SpaceX plans to recover the 15-story first stage booster on its drone ship in the Atlantic Ocean following next week's launch. The company has developed a new robot to secure the rocket to the ocean-going landing platform that could see its debut after next week's flight.
The first stage slated to launch with the SES 10 satellite first flew on a space station resupply launch on April 8, 2016.
SES 10 fueled for flight
Launch preparations for the SES 10 communications satellite, the first spacecraft to ride a reused Falcon 9 booster to space, are on track for a late March blastoff from Florida, officials said.
The satellite, designed to broadcast video and television services across Latin America, was delivered to Cape Canaveral in January from its factory at Airbus Defense and Space in Toulouse, France.
Quelle: SN
---
Update: 26.03.2017
.
SES-10 static fire aims SpaceX for history books & first core stage re-flight
In what is anticipated to be the first of many such occasions, SpaceX is preparing for the all-important static fire on Monday of the first stage of the Falcon 9 rocket that will be tasked with lofting the SES-10 mission to orbit next week. Of historic importance is the fact that this first stage has already launched a mission – marking the first time that SpaceX will refly the first stage of a Falcon 9 rocket.
Static fire – the road to launch No Earlier Than 29 March:
The static fire process for SpaceX and its Falcon 9 rocket is one of the last critical components in the pre-launch flow ahead of liftoff.
For SES-10, the Falcon 9 and mated second stage will be moved to the launch pad on top of the TEL (Transporter Erector Launcher) and will be taken to vertical at historic launch complex 39A.
Once the Falcon 9 is vertical, technicians and engineers will complete all of the connections between the TEL/launch mount and LC-39A and proceed into countdown operations on Monday morning.
For this particular static fire, SpaceX has up to an eight-hour window.
KSC security personnel will establish roadblocks on the main roads leading to LC-39A and KSC Emergency Operations Command (EOC) will be activated and will stand ready to assist in the "extreme, unlikely event of an anomaly", notes an SES-10 Mission Update package available on L2.
Once into countdown operations, the Falcon 9 will be filled with its RP1 and LOX fuel and oxidizer and run through the same series of steps as it will encounter in its actual countdown.
If all goes to plan, 3.5 seconds prior to T0, the 9 Merlin 1D engines at the base of the Falcon 9 first stage – Core #1021 – will ignite for a multi-second firing sequence.
Usually, Falcon 9 static fires result in a 3.5 second engine firing – taking the vehicle right up to the nominal T0 point in the count – at which point all 9 engines are shut down and the vehicle is secured.
However, the static fire for SES-10 might be slightly longer – in the 5-second range – as was seen with the previous SES mission, SES-9, launched by a Falcon 9 rocket last year.
Regardless of the duration of the planned static fire, the event will provide SpaceX with valuable data and a wet dress rehearsal for the actual launch – which is currently slated for Wednesday, 29 March in a window extending from 1659 to 1929 EDT.
The SES-10 mission had, earlier this month, been slated for No Earlier Than (NET) 27 March – with a static fire NET now as 24 March.
That schedule was rearranged earlier this week – around the same time SpaceX stated that LC-39A held up extremely well from the Echostar XXIII launch and would have been able to support a 27 March launch – due to ongoing delays with an Atlas V rocket from United Launch Alliance which is slated to launch the OA7 Cygnus mission for Orbital ATK.
When ULA noted that they needed additional time to fix a Ground Support Equipment (GSE) issue, SpaceX agreed to delay the SES-10 launch by two days to allow ULA the 27 March date for a mission to launch supplies to the International Space Station.
When ULA subsequently announced that the Atlas V mission was being delayed indefinitely to fix a new hydraulic issue, this time with the Atlas V booster, SpaceX opted not to pull the launch of SES-10 back to 27 March and instead hold the 29 March date after all of their schedules and workflows for personnel, the rocket, and the ASDS (Autonomous Spaceport Drone Ship) Of Course I Still Love You (OCISLY) barge had been realigned accordingly.
Making history – Reusing a Falcon 9 core stage for the first time:
The history of Core #1021 stretches back far, in terms of what has to date been normal with Falcon 9 launches.
For the first time in its storied history, Core 1021 fired up for its first hot fire test at SpaceX's McGregor, Texas, test facility on 5 February 2016.
Following the full duration hot fire, the core suffered an incident on 8 February during follow-up testing when a GSE-related incident damaged most of the stage's engine nozzles.
The damage was repaired at McGregor, and the stage was shipped to Cape Canaveral by the end of March 2016.
After its arrival at SLC-40, Core 1021 was transported into the Horizontal Integration Facility (HIF) and prepared for mating with its second stage and CRS-8 Dragon payload.
On 5 April, the core's nine engines lit for the 3.5 second static fire on SLC-40.
Three days later, the engines once again roared to life as Core 1021 launched with the CRS-8 mission to the ISS.
After 2 minutes 42 seconds of flight, the engines shut down, and Core 1021 separated from the second stage – which continued to sail into orbit.
After separation, Core 1021 performed a Boostback Burn to set up its reentry into the atmosphere and place it onto the proper course for landing on the ASDS OCISLY barge.
This was followed by an automated Entry Burn and then a single-engine landing burn.
With a live view from a chase plane, Core 1021 eased onto OCISLY 8 minutes 35 seconds after liftoff while the 2nd stage continued to power the CRS-8 Dragon to orbit.
Landing on OCISLY marked the first successful drone ship landing of a Falcon 9 core and the second overall successful core stage landing for the company.
Interestingly enough, Core 1021 could have performed a Return To Launch Site landing at LZ-1 – like the ORBCOMM-2 core had in December 2015; however, SpaceX opted to land Core 1021 on the ASDS barge instead to prove beyond doubt that barge landings and recoveries were possible.
After securing Core 1021 on the barge, the duo set sail back for Port Canaveral.
Once in Port, the core was removed from OCISLY and engineers removed its landing legs before the whole core was rotated horizontal and loaded onto a transport trailer – where it was then taken from Port Canaveral to the HIF at LC-39A.
At the HIF, months of inspections, engine removals, and studies commenced.
Originally, Core 1021 was destined for multiple hot fires as part of SpaceX's concerted effort to learn as much as possible from a returned core before committing any core to reflight.
The originally announced plan called for Core 1021 to undergo 10 firings over the course of several months.
At this same time, it was not known with certainty where Core 1021 would undergo these 10 test firings – with some hopes being that those firings could occur at LC-39A with McGregor as a backup.
However, as more and more cores hit their landing marks and were recovered, it was decided that Core 1021 was not the best choice for the 10 post-flight firings.
That job went to Core 1022 that launched the JCSAT-14 mission and performed a successful reentry and landing at its maximum operational and heating limits – so much so that SpaceX didn't really expect Core 1022 to successfully reenter and land, thus making it a perfect battled-hardened test article.
Post-flight inspections of the JCSAT-14 core immediately ruled out its ability to fly again, but as Elon Musk noted, the core became the "life leader for ground tests to confirm others are good."
After initial evaluations inside the LC-39A HIF, Core 1022 was wrapped up and transported to McGregor.
In July, it was hoisted onto the Falcon 9 test stand and topped with a special cap to provide simulated weight for a second stage to aid in the data acquisition process.
Notably, Core 1022 was not the first core to see a second life – as the ORBCOMM-2 core was previously static fired on SLC-40 on 14 January 2016 to provide an initial set of data points on a previously-flown core.
On 28 July 2016, Core 1022 came back to life, conducting a 2 minute 30 second full duration hot fire test.
This was followed by two more full duration hot fires over the next two days.
After being removed from the test stand to make room for another core, Core 1022 was then returned to the stand and fired up several more times.
All of these tests on an already flown, maximally stressed F9 core provided crucial data for SpaceX on the health of returned F9 cores, how their systems responded to multiple firings and cryo tanking cycles, and gave a good baseline for the number of times each system can potentially be reused.
Importantly, it proved – through data – that the stages could be reflown.
However, even before Core 1022 was put through its paces at McGregor, SpaceX announced on 16 July 2016 its intentions to use the CRS-8 Core, #1021, for the first Falcon 9 reflight – though no specific mission was formally announced.
In August 2016, the SES corporation confirmed that their SES-10 mission would be the first one to use an already flown Falcon 9 core.
At this point, SES-10 was scheduled for a "contractual window between mid-October and mid-November 2016."
Just days after this announcement, the AMOS-6 static fire ended with a conflagration event and the destruction of that Falcon 9 and the AMOS-6 satellite and resulted in significant damage to SLC-40.
With the Falcon 9 grounded as an investigation took place, SES-10's place in the manifest shuffled as the Falcon 9 launch order was redesigned.
By January 2017, just after a successful Falcon 9 Return To Flight mission from Vandenberg Air Force Base, California, Core 1021 was at Mcgregor and installed on the Falcon 9 test stand.
The core was loaded with propellant, and its nine Merlin 1D engines were fired for a full duration hot fire test – as part of a standard pre-launch flow.
The core was then transported back to the Kennedy Space Center and moved into the HIF for final flight processing.
Despite the passage of nearly one year between flights, Core 1021 was refurbished in just four months, as Gwynne Shotwell stated earlier this month.
Looking ahead to launch, SpaceX will attempt to recover the Core 1021 at sea with OCISLY.
If SpaceX can successfully recover Core 1021 again, it will not only be an historic achievement, but will provide even more data on how Falcon 9 core stages fare during reflight events.
(Images: SpaceX; ULA)
Quelle: NS
---
Update: 28.03.2017
.
SpaceX test-fires "used" rocket for Thursday launch
SpaceX briefly fired the nine first-stage engines of a previously flown Falcon 9 first stage rocket Monday in a dramatic pre-flight test to clear the way for launch of an SES communications satellite Thursday. The launching will mark the first flight of a "used" booster, a key element in company founder Elon Musk's drive to lower launch costs.
The rocket's nine Merlin 1D engines roared to life at 2 p.m. EDT (GMT-5) and shut down about three seconds later. A billowing cloud of white exhaust blossomed over pad 39A at the Kennedy Space Center, towering into the afternoon sky and quickly dissipating.
The short static firing, or "hot-fire" test, is a routine pre-flight procedure for SpaceX to help engineers verify the rocket is ready for launch.
Assuming analysis of telemetry confirms good performance, SpaceX should be clear to press ahead with plans to launch the SES-10 relay station Thursday at 6 p.m., the opening of a two-and-a-half-hour window. Forecasters are predicting a 70 percent chance of acceptable weather.
The SES-10 satellite, built by Airbus Defence and Space, will be used to provide direct-to-home television and high-speed data services across Latin America and the Caribbean. SES was an early supporter of SpaceX, the rocket builder's first commercial customer and the first to sign up for a ride on a "flight proven" booster.
"Having been the first commercial satellite operator to launch with SpaceX back in 2013, we are excited to once again be the first customer to launch on SpaceX's first ever mission using a flight-proven rocket," Martin Halliwell, chief technology officer at SES, said in an earlier statement.
"We believe reusable rockets will open up a new era of spaceflight, and make access to space more efficient in terms of cost and manifest management."
This will be SpaceX's fourth launch this year after a flight from Vandenberg Air Force Base, Calif, on Jan. 14 to launch 10 Iridium NEXT satellites, a space station resupply mission launched from pad 39A on Feb. 19 and launch of an EchoStar communications satellite on March 16, also from the Kennedy Space Center.
SpaceX has made 13 attempts to recover first stages after launch, successfully bringing back eight boosters to date. Five of those landed on off-shore drone ships while three returned to landings at the Cape Canaveral Air Force Station.
The first stage assigned to the SES-10 mission was first launched on April 8, 2016, helping boost a SpaceX cargo ship into orbit to deliver supplies to the International Space Station. The first stage completed SpaceX's second successful landing, its first on a droneship.
After recovery, the stage was hauled back to Port Canaveral and subjected to a detailed post flight inspection. It was then refurbished, tested again and prepared for its second launch.
Halliwell said the "due diligence" SpaceX demonstrated preparing the rocket for flight "gives us full confidence that SpaceX is capable of launching our first SES satellite dedicated to Latin America into space."
It's not yet clear how many times SpaceX might be able to re-fly booster stages, but a company droneship departed Port Canaveral Saturday to await this rocket's second landing attempt.
Quelle: CBS-News
---
Update: 29.03.2017
.
SpaceX launch of pre-flown booster 'exciting step forward,' SES CTO says
SES-10 launch window opens at 6:27 p.m. Thursday
CAPE CANAVERAL, Fla. - A few days before SpaceX is set to make history by launching a "flight-proven" Flacon 9 booster, the satellite company paying for the ride into space has no pre-launch jitters about flying on some used hardware.
SES chief technology officer Martin Halliwell told journalists Tuesday that the decision to use a pre-flown rocket came down to "tremendous transparency" between the satellite provider and the commercial launch company.
SES has contracted SpaceX to launch four satellites, SES-10 targeted for Thursday from Kennedy Space Center Launch Complex 39A on the used booster, SES-11, SES-16 and SES-14.
Halliwell said the company was asked last August if they would be interested in moving to a pre-flown booster.
"The fact that it's flown once, that's just fine, let's do it again," Halliwell said.
SES was the first commercial satellite provider to contract SpaceX for a launch in 2013. The company will be first again using a flight-proven SpaceX booster.
The CTO said the company then had to explain to their insurance company "Yes, we believe in this" to get the go ahead for insuring the SES-10 launch.
The Luxembourg-based company's insurance premiums barely changed with the decision to go with a previously launched booster. The price difference was "hundredths of a percent," Halliwell said.
"There are people who've said to me, 'This will never happen,'" Halliwell said of SpaceX landing a first stage. "Never say never, eh?"
To date, SpaceX has landed three Falcon 9 boosters on a landing pad at Cape Canaveral Air Force Station and several boosters on two drone ships in the Atlantic Ocean.
The booster, scheduled to liftoff with SES-10, landed after launching supplies to the International Space Station in April on SpaceX's ocean barge named "Of Course I Still Love You" in the Atlantic Ocean. It was the first time SpaceX or any company landed a booster in the ocean.
SpaceX plans to attempt another ocean barge landing for the booster after launch, which would mark the second launch and second landing for the vehicle.
Once in Earth orbit, SES-10 will expand communication coverage primarily for HD video in Latin America for SES.
The satellite has three beams on board: one for Mexico, Central America and the Caribbean, a beam from Mexico to just south of Argentina, and a third beam for Brazil for HDTV, Halliwell said.
A static fire engine test was conducted Monday and the spacecraft was being matted to the Falcon 9 on Tuesday ahead of the launch.
The two and a half-hour launch window opens at 6:27 p.m. Thursday. If the launch is scrubbed, Friday is the back-up date.
There is a 70 percent chance for favorable launch conditions Thursday, U.S. Air Force weather officials said.
"This is a really really exciting step forward," Halliwell said. "I think the whole industry is looking."
Quelle: NEWS6
---
Update: 30.03.2017
.
SpaceX poised to launch first recycled rocket for Luxembourg's SES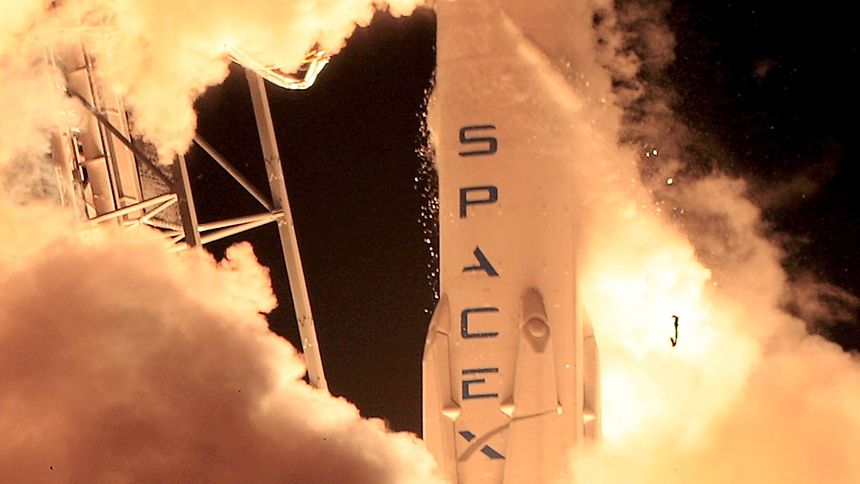 The goal of the launch, scheduled for 6:27 pm (2227 GMT) from Cape Canaveral, Florida, is to send a communications satellite SES into a distant orbit.
Standing tall at the NASA launchpad, the white Falcon 9 rocket contains a tall, column-like portion known as the first stage, or booster, that propelled the unmanned Dragon cargo ship to space last year, then returned to an upright landing on an ocean platform.
SpaceX, the California-based company headed by internet entrepreneur Elon Musk, has for years been honing the technology of powering its boosters back to careful Earth landings on solid ground and in the water.
So far it has successfully landed eight -- five on so-called "drone ships" floating in the ocean, and three on land.
The goal, Musk has said, is to make rocket parts just as reusable as cars, planes or bicycles.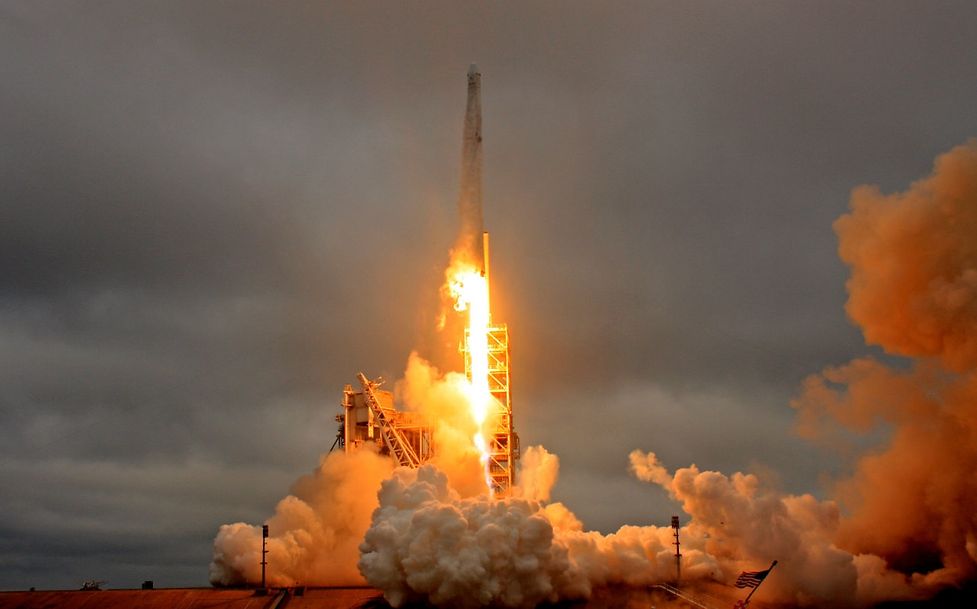 Currently, millions of dollars worth of rocket parts are jettisoned after each launch.
SpaceX officials have said that reusing hardware could slash costs -- with each Falcon 9 launch costing over $61 million -- by about 30 percent.
While generating plenty of buzz, the novel process still raises concerns for both customers and SpaceX.
They include "worries about it failing, insurance implications, retrofitting turnaround, building up a critical mass of reused first stages in the warehouse," said the global investment banking firm Jefferies International in an April report.
"But the direction of travel is clear."
SpaceX competitor Blue Origin, run by Amazon.com founder Jeff Bezos, has also successfully landed its New Shepard booster after launch, by powering its engines to guide it down for a controlled, upright landing.
"Reusability allows us to fly the system again and again," said a statement on Blue Origin's website.
"With each flight, we'll continuously improve the affordability of space exploration and research, opening space for all."
'Flight-proven'
As for the cost of Thursday's launch, Martin Halliwell, chief technology officer at SES, has declined to say publicly the exact amount.
However, he dismissed "naysayers" this week and stressed the historic nature of the launch on what he has described as a "flight-proven" rocket.
"I think we are on the edge of quite a significant bit of history here," he told a press conference.
"Now we are here to be the first ever mission to fly on a pre-flown booster," he said.
"This is obviously hugely exciting."
When the mission was announced in August, Halliwell said the deal "illustrates the faith we have in (SpaceX's) technical and operational expertise."
The SES-10 satellite will be sent to a geostationary orbit, flying as high as 22,000 miles (35,000 kilometers) above the Earth before maneuvering into its designated orbit.
The satellite aims to expand television, internet and mobile connections across Latin America.
Quelle: Luxemburger Wort
---
Update: 31.03.2017
.
Erfolgreicher Start von Falcon-9 / Start LIVE-Frams: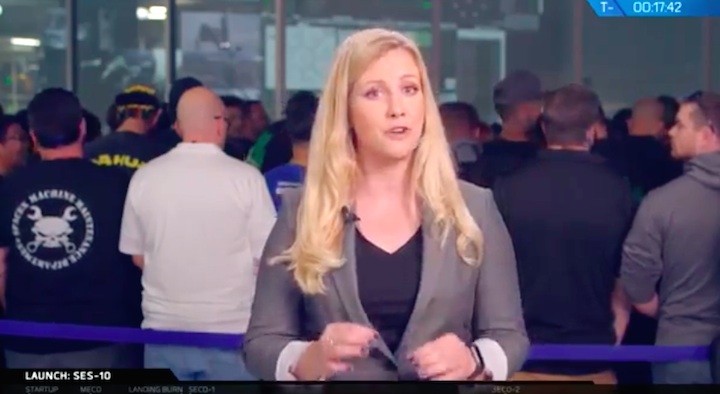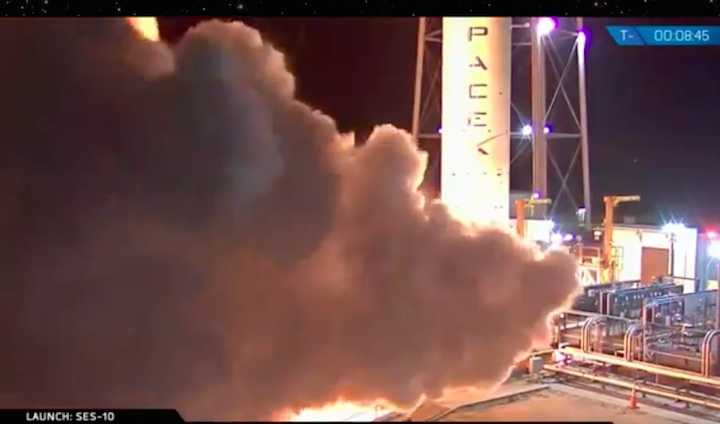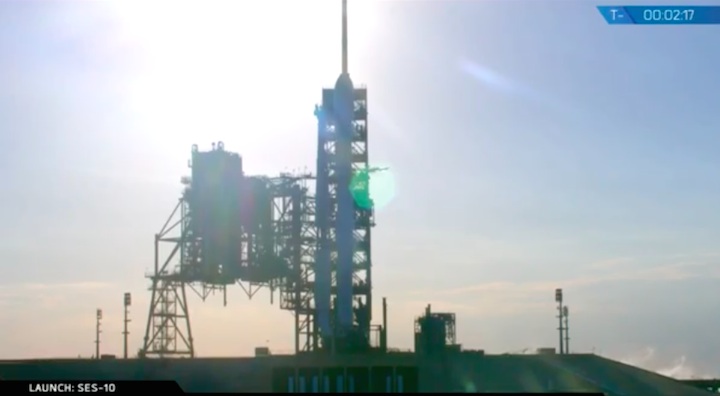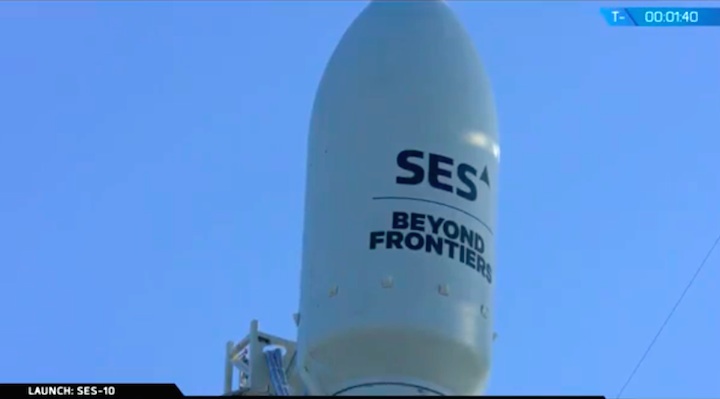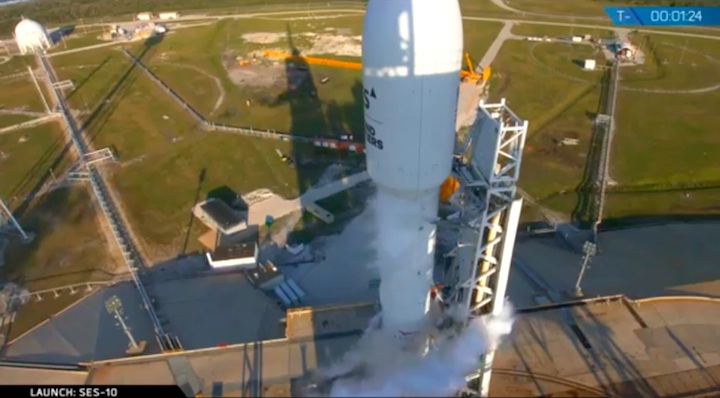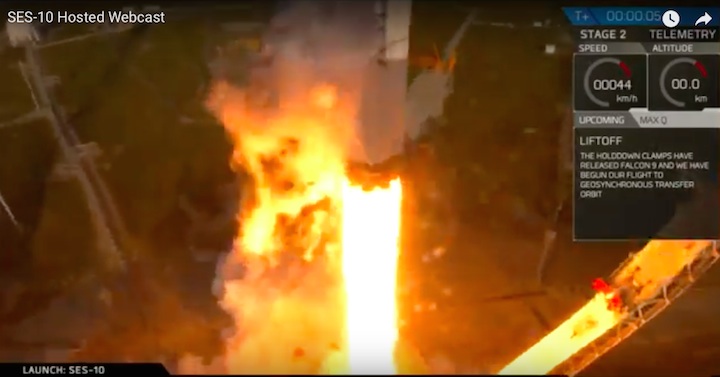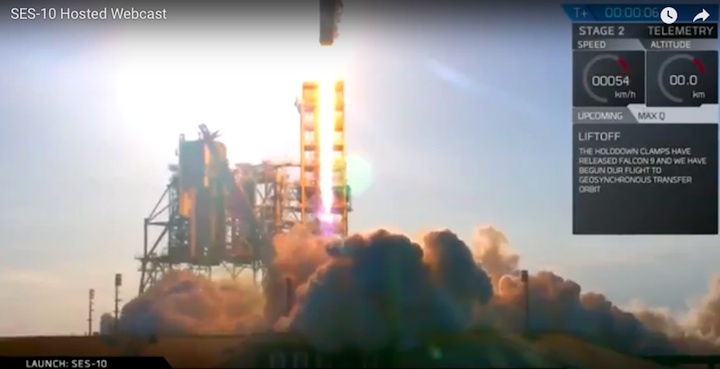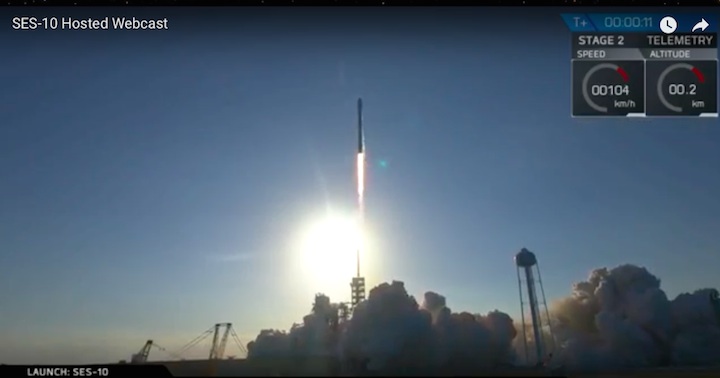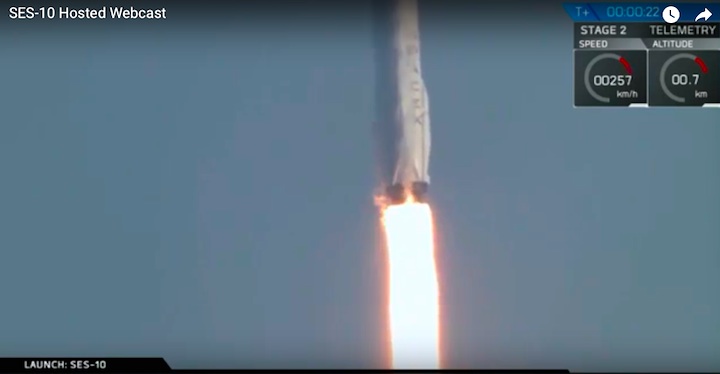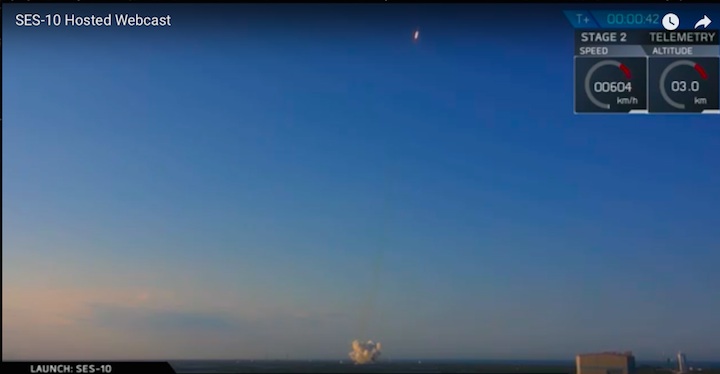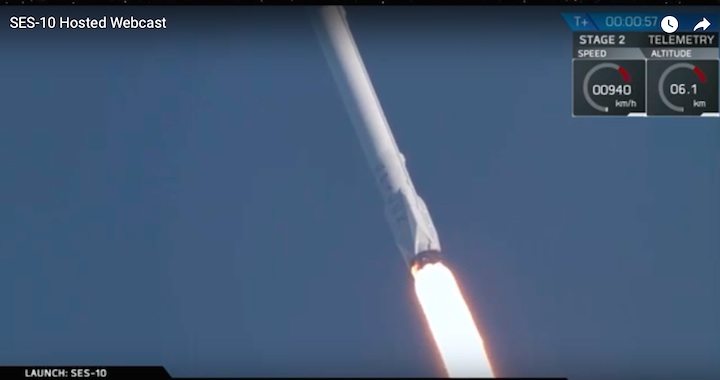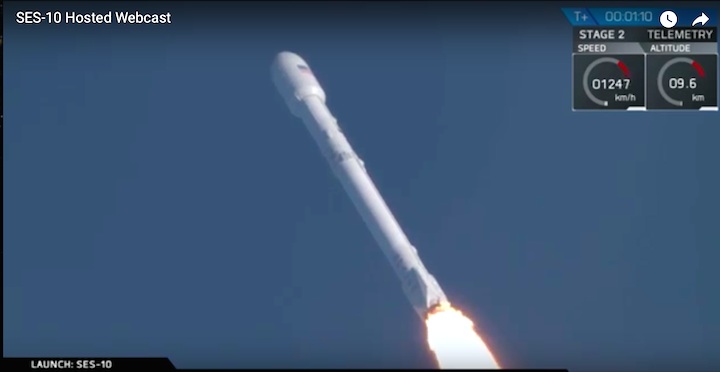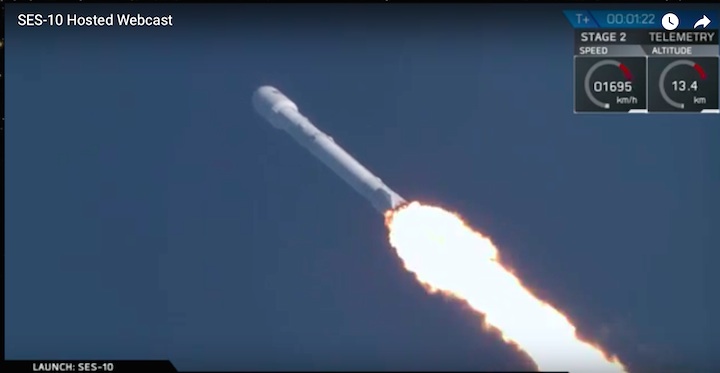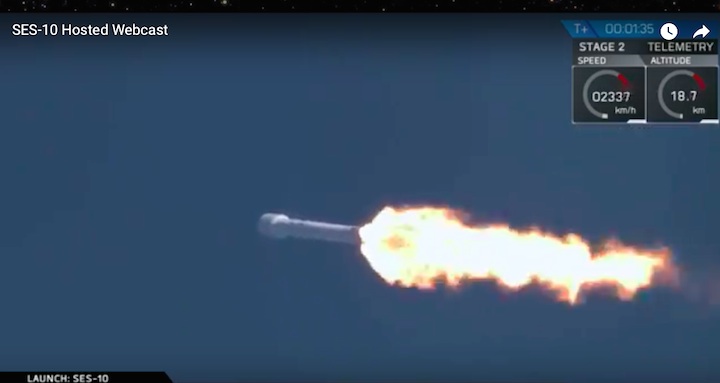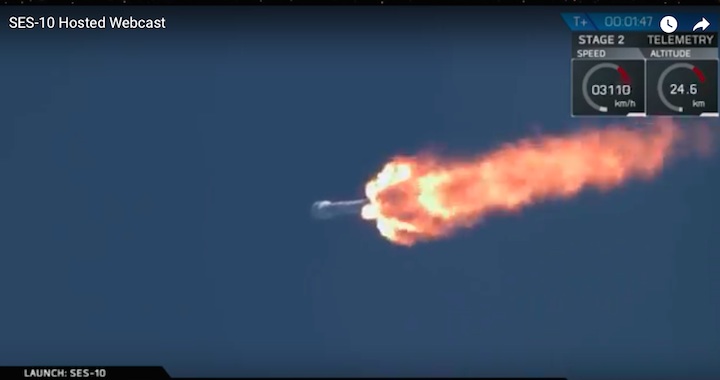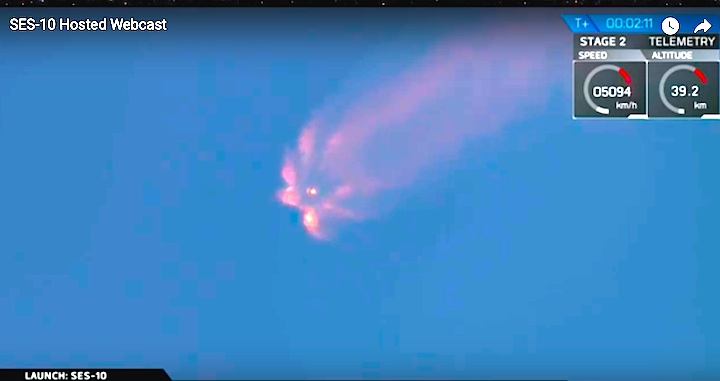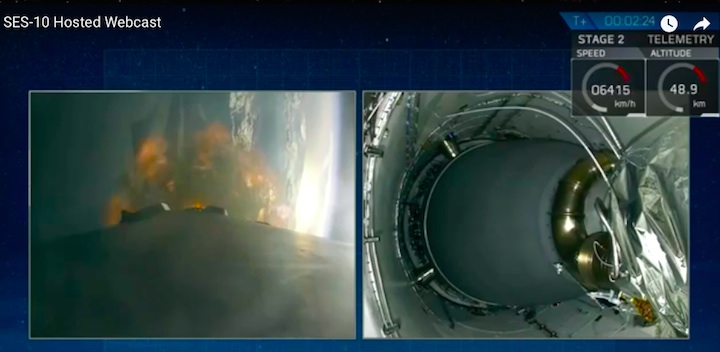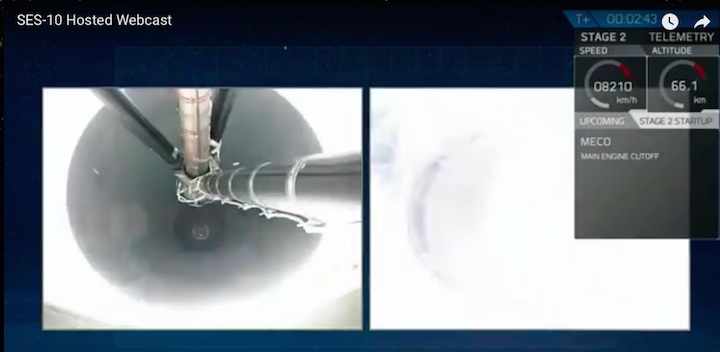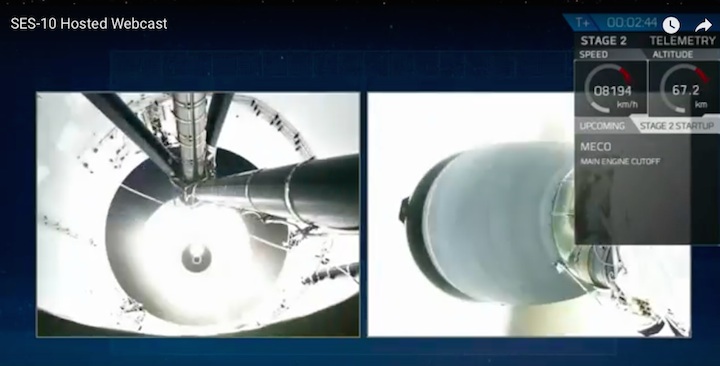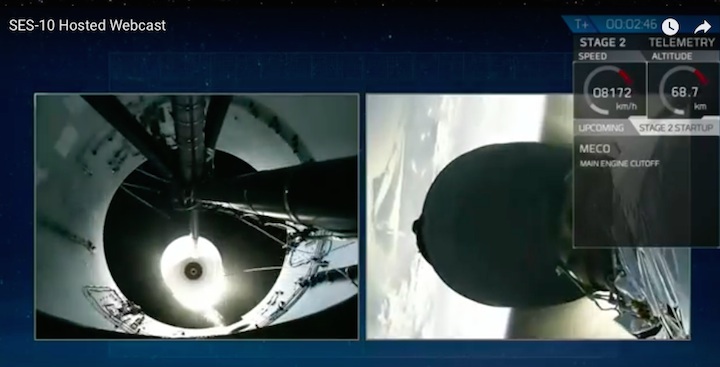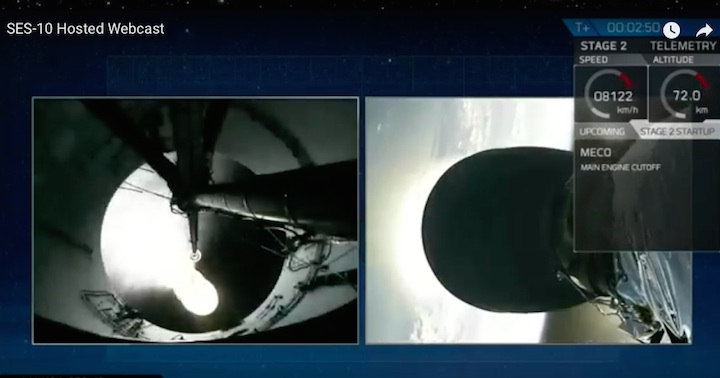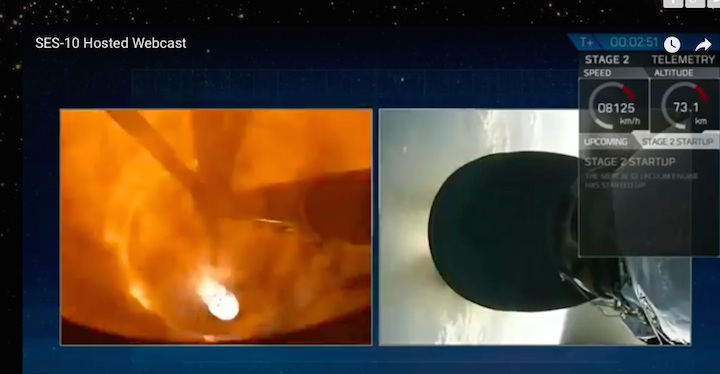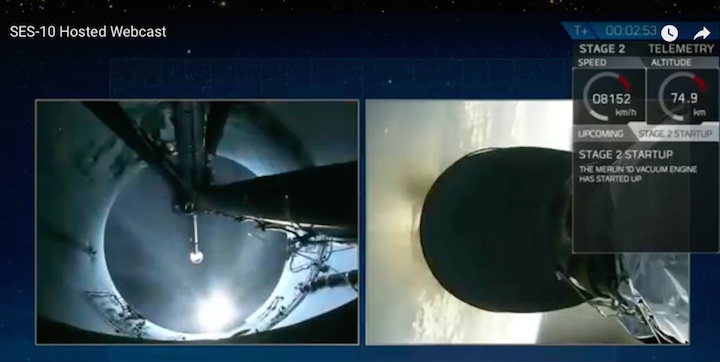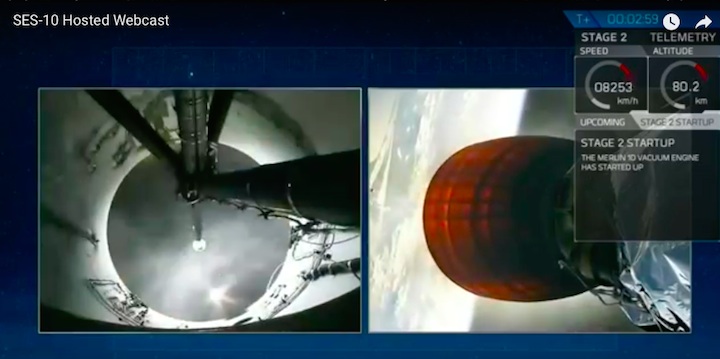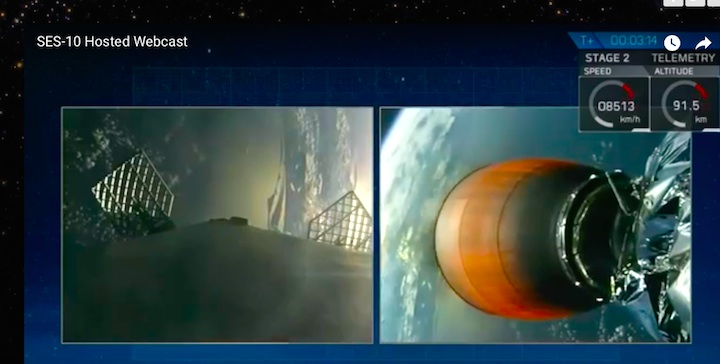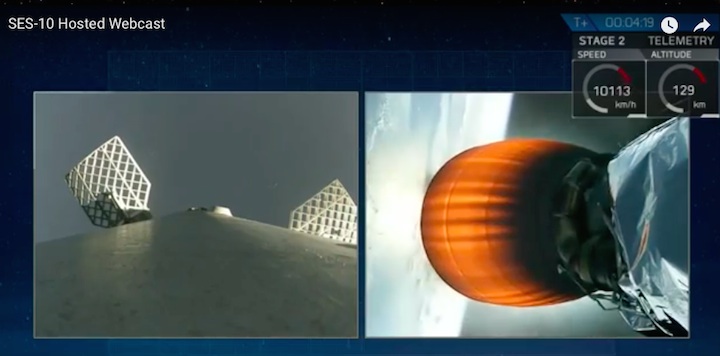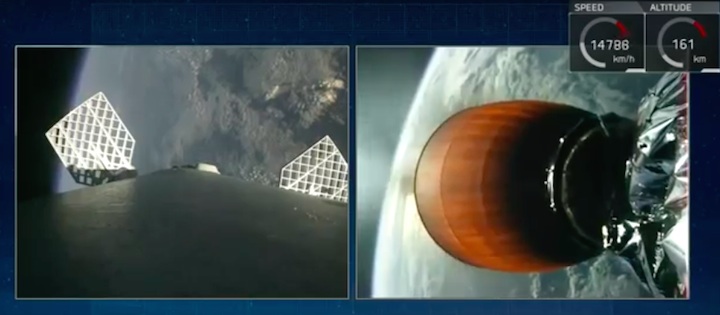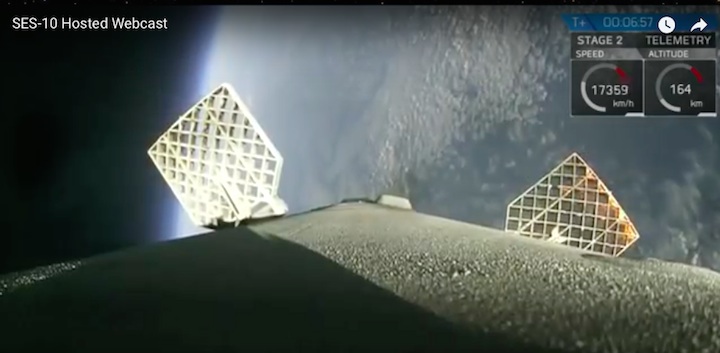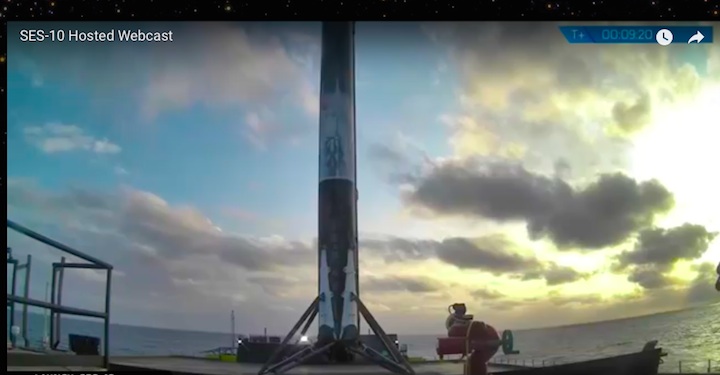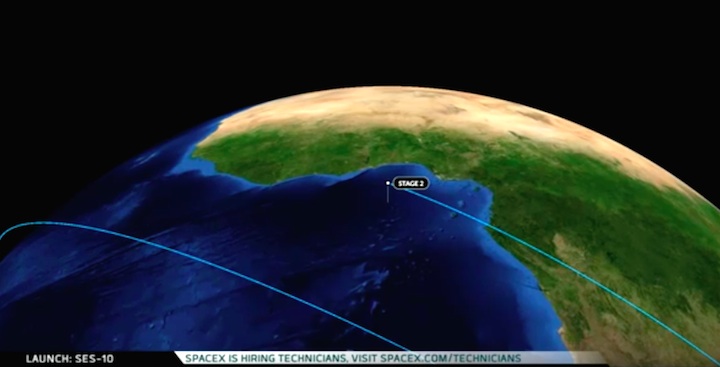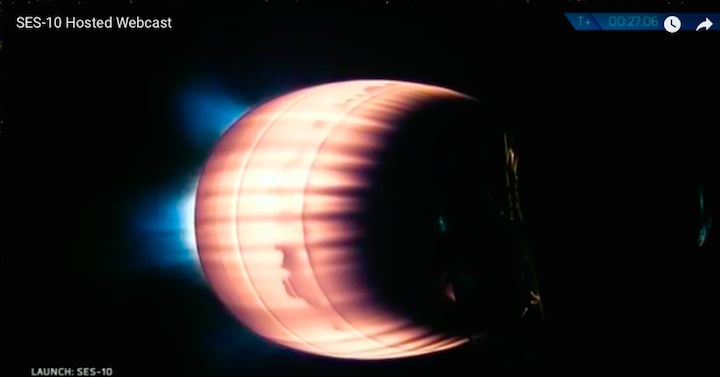 Quelle: SpaceX