4.01.2020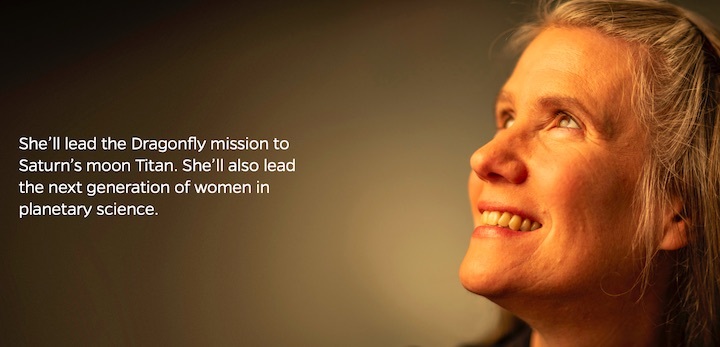 The elevator doors dinged open as Zibi Turtle took a breath, and then a step. It was, quite possibly, the final moment of quiet she'd have for some time.
When her feet hit the tile floor in the lobby of Building 200 at the Johns Hopkins Applied Physics Laboratory in suburban Maryland just before 5 p.m. on June 27, cheers and applause erupted. Balloons decorated the windowed entryway of the building — "WE WON," they proclaimed in iridescent gold — as champagne bottles popped. Elation pulsed through the room.
It was an entrance befitting a rock star.
Dr. Elizabeth P. Turtle, her long gray hair gathered into a haphazard ponytail by a black scrunchie, broke into a grateful, stunned smile.
Her energy seemed boundlessly contagious, even if her face read "blissfully overwhelmed." Less than an hour before, NASA publicly announced it was funding the APL-led Dragonfly mission to Titan, culminating a multiyear proposal process for a team of hundreds of people. Officially, Dragonfly was now staked in the annals of space exploration history.
The science and engineering behind this daring mission to Titan are fascinating. Dragonfly, a rotorcraft lander, will study environments on this distant moon of Saturn — its largest — such as dunes and impact craters, where liquid water and complex organic materials key to life may have mixed. With a comprehensive package of scientific instruments, Dragonfly will study how far this "prebiotic" chemistry may have progressed — sampling materials thought to contain the organic building blocks of life — while also investigating the moon's geology and its unique atmosphere. Flying (instead of driving, like the Mars rovers) will allow Dragonfly to cover over 100 miles and explore at least 20 different landing sites during its more than 2½-year mission.
It's a game-changing method of planetary exploration with potential to revolutionize how we understand the chemistry that led to the development of life on Earth.
But amid the genuine excitement about what humanity could learn from this mission, there was another, perhaps even more powerful, undercurrent of emotion accompanying NASA's announcement: joy.
Joy, particularly, for Zibi.
"I'm just so proud to be represented by her," said Shannon MacKenzie, a postdoctoral researcher at APL and member of the Dragonfly team.
Watching across the country at the Astrobiology Science Conference in Bellevue, Washington, MacKenzie noted the room exploded into cheers twice during NASA's live broadcast of the announcement: first at the revelation of Dragonfly's selection. Second, when Zibi Turtle — principal investigator (or PI) of the Dragonfly mission and the third female NASA planetary mission PI in history — appeared on screen.
During the celebration at APL, which included the Laboratory's director, Ralph Semmel, Zibi took the stage for just a brief moment, speaking for under 50 seconds. Her message was delightfully Zibi: "This is not me," she said as applause echoed, thanking "everyone," multiple times. Her voice was thick with emotion.
"This is everyone. Thank you all. Go Dragonfly!"
The plastic game pieces smack the cardboard, tiny rocket ships navigating their way through the distant reaches of the solar system. Young Zibi Turtle and her sister, Sally, use their small hands to guide them.
"Players must race to their secret destinations as they risk the hazards of space travel," reads the explanation of Space Hop, the board game that's captivating the Turtle girls. With a father who majored in astronomy and worked as a physicist for the Air Force, and a grandmother who was chock-full of mythological knowledge about stellar constellations, the girls are used to casting their eyes skyward.
It's the 70s, though, so as they clank their rocket ships on the board of their favorite game, answering questions and completing their missions, they're also learning what the game got wrong.
"Go to the planet that has 12 moons," one Space Hop mission card reads.
"Well," recalled Zibi some 40-odd years later, "Voyager's images came back and we learned Jupiter had way more than 12 moons!"
That exploration alone makes the game real — tangible. It is the same qualities, whether she realizes it then or not, that lead Zibi into planetary science as a young adult.
"You can get there," she says now of the planets, slamming her hand on a table to emphasize the word "get." "Quasars and neutron stars and black holes are fascinating. But you can actually get to the planets."
To understand how Zibi found herself spending a June afternoon in 2019 describing a rotorcraft lander mission to Titan live on NASA TV as the PI of a decade-long planetary exploration mission, go back to the beginning. To Wellesley, Massachusetts, and a childhood in which education about what was beyond the clouds was seamlessly intertwined with all the rest.
"I don't remember learning the names of the planets," Zibi says with a slight chuckle. The Turtle girls learned their 1-2-3s right along with their Mercury-Venus-Earth-Mars. Looking through a telescope built by her dad, John, the seeds for Zibi's passion for planetary science seem to have been planted early.
Perhaps that's a little too perfect. Too seamless to believe that the woman who's built her professional life in planetary exploration with a reputation so pristine and beloved — in large part due to her humble, patient, inquisitive nature — was on that path as just a child.
"I don't think I understood what I do now when I was a kid," she said. "I just had an interest, or curiosity, more than anything."
Curiosity. Drive. Focus. Passion. Thoughtfulness. Positivity. Diligence. These are just some the words that arise again and again when those close to her are asked about Zibi.
On the day the Dragonfly selection was announced, members of the team milled about sharing backslaps and hugs, reminiscing about their journey to this point. Remember, they joked, how they were the 12th of 12 teams to submit their proposal? "Why not use all the time allotted?" Zibi asked, matter-of-factly, to which the group responded with laughter.
"

She's quite happy to take a great idea from somebody who is two weeks out of school, or somebody who has 40 years in the business," as Hibbard put it. "She doesn't care. She'll just say, 'That's a great idea, we should consider that.'"
There are umpteen stories about her modest nature. The initial quest for who would serve as PI for the Dragonfly mission that seemed to lead directly to Zibi while she earnestly considered all of the options; the posture she'll often take, curling herself into a crossed-legged position, twirling her hair around as she talks or thinks; even the tale about her name — Zibi — sprouting from her inability as a toddler to fully pronounce "Elizabeth," and never seeing the point of reverting.
"That's indicative of her personality," said Ken Hibbard, the Dragonfly mission systems engineer at APL. He'll be in charge of bringing all the complex systems, from flight to scientific instruments to communications, together on this revolutionary mission.
"She gets along with everybody because she doesn't see herself as better than anybody else," Hibbard said. "She'll say, 'My name is just 'Zibi' because it's what I called myself when I was three.' That's unassuming, and core to who she is as a person."
It's also core to her nature of putting in the work to get the job done.
Like the time, recalls her husband, Ralph Lorenz, a fellow planetary scientist at APL and also a Titan expert on the Dragonfly team, when they were in graduate school together at the University of Arizona. Zibi separated her shoulder diving for the disc in an ultimate Frisbee game. "But," Lorenz notes, "she got the disc."
"Zibi," he said, "she does what it takes."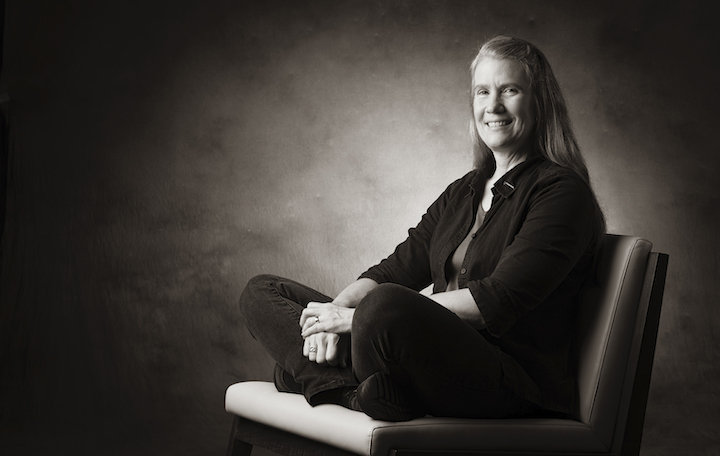 2436 Views