2.01.2020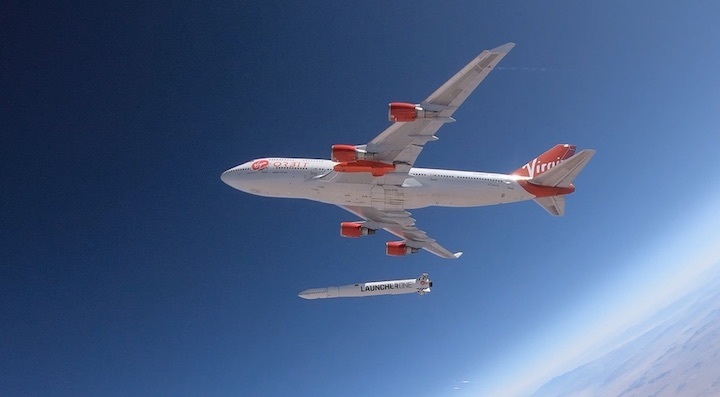 WASHINGTON — After falling short of plans to begin launches in 2019, Virgin Orbit now expects to perform its first orbital launch attempt in early 2020, a key year for the burgeoning small launch vehicle industry.
In a Dec. 19 statement, Virgin Orbit says it is now in position to perform an "imminent orbital demo flight" some time in early 2020 as it completes rehearsals of launch preparations at the Mojave Air and Space Port in California.
In that statement, Virgin Orbit said it plans to perform a taxi test of "Cosmic Girl," its modified Boeing 747 aircraft, with a LauncherOne vehicle attached. That will be followed by a captive carry flight where the rocket will remain attached to the plane throughout the flight. "Then, we'll be ready to light this candle and conduct our launch demonstration," the company said.
Earlier in the year, the company had said it planned to carry out that first LauncherOne mission before the end of 2019. Dan Hart, chief executive of Virgin Orbit, said at the World Satellite Business Week conference in Paris Sept. 11 that he expected that orbital launch to take place "in the middle of this fall."
"In about six weeks, eight weeks, we will be firing the engines on the next drop test and heading at eighteen and a half thousand miles per hour around the Earth in orbit, beginning to drop off satellites," Richard Branson, founder of the Virgin Group, said in a Sept. 16 presentation at the Air Force Association's Air, Space and Cyber Symposium outside Washington.
The company didn't disclose the reason the company missed that schedule for an orbital flight test. It alluded to development issues in its statement, noting there were "days where Murphy's law taught us a few new lessons," but wasn't more specific.
If that initial flight is a success, Virgin Orbit would be ready to move into regular operations relatively quickly. The company said in its statement that it has flight hardware in its Long Beach, California, factory for a half-dozen rockets, and is developing automation "to help us build more."
Virgin Orbit hasn't disclosed a manifest for upcoming launches, but NASA's CubeSat Launch Initiative website states that it will fly 10 cubesats on the second flight of LauncherOne, scheduled for no earlier than the middle of February. Another cubesat will fly on a later LauncherOne mission, scheduled for early in the second quarter of 2020, this time out of Andersen Air Force Base in Guam. Virgin Orbit announced in April 2019 it planned to perform flights out of Guam, citing the ability to perform launches to almost any inclination.
Virgin Orbit's plans will start what's likely to be a critical year for the small launch vehicle business, one where dozens of companies are seeking a foothold in a market that most observers believe can support no more than a few vehicles. One of those companies, Rocket Lab, is already regularly launching its Electron rocket, with six successful launches in as many attempts in 2019, a launch rate the company seeks to double in 2020.
Firefly Aerospace is working on its Alpha launch vehicle that the company once planned to launch by the end of 2019. Firefly now expects the first flight of that vehicle no earlier than the first quarter of 2020 from Vandenberg Air Force Base in California. Relativity, which once planned a first launch of its Terran 1 vehicle in 2020, recently said that launch will take place no earlier than February 2021.
Small launch vehicle development extends beyond American startups. Several Chinese companies are working on small launch vehicles. The Indian space agency ISRO plans to perform the first flight of its Small Satellite Launch Vehicle, developed to compete for dedicated launches of small satellites, in 2020.
The large number of small launch vehicles under development — more than 100 by some estimates — has led to widespread speculation that a shakeout will take place in the near future given the lack of demand for that many vehicles. While one small launch vehicle developer, Vector, filed for Chapter 11 bankruptcy Dec. 13, its problems have been linked to financial and managerial issues specific to the company and not part of a broader industry trend.
Quelle: SN
2427 Views