16.09.2017
Atlas V to Launch NROL-42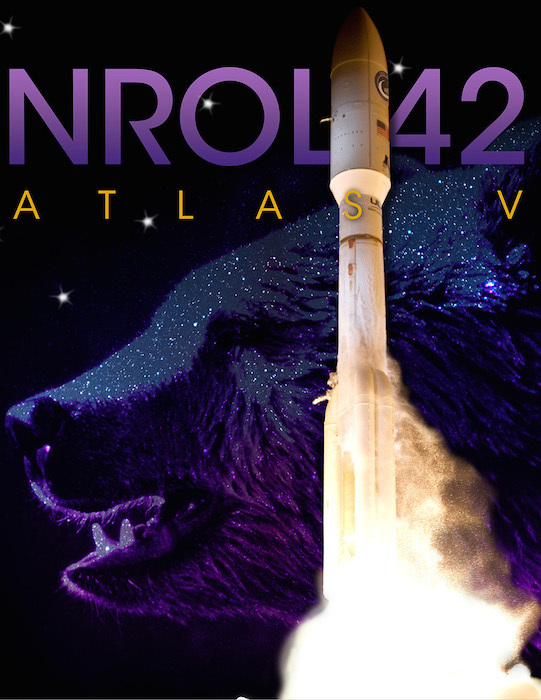 Rocket: Atlas V 541
Mission: NROL-42
Launch Date: Thursday, Sept. 21, 2017
Launch Time: 10:38 p.m. PDT
Live Broadcast: Stay tuned for how you can watch live
Launch Location: Space Launch Complex 3, Vandenberg Air Force Base, California
Launch Notes: This launch will be ULA's sixth of 2017 and 121st overall. NROL-42 will be the 25th mission that ULA has launched for the National Reconnaissance Office (NRO) since the company was founded in 2006. This mission will mark the 73rd Atlas V launch since its inaugural launch on Aug. 21, 2002.
Quelle: ULA
+++
Atlas V Rocket Launch Rescheduled at Vandenberg AFB After Delay Due to Hurricane Irma
After being delayed by Hurricane Irma, an Atlas V rocket at Vandenberg Air Force Base has a new launch date.
Liftoff of the United Launch Alliance booster is now planned for Sept. 21 from Space Launch Complex-3 on South Base.
The launch window remains classified for the mission dubbed NROL-42 since the rocket will carrying payload for the National Reconnaissance Office.
The targeted launch time is 10:38 p.m., but the launch window does not extend beyond 11:30 p.m. based upon the notice to mariners warning boaters to remain away from the ocean off South Base.
ULA officials announced Sept. 8 that the mission was delayed a week to allow ULA crews temporarily working at Vandenberg to return home before Hurricane Irma, brewing in the Atlantic Ocean at the time, was set to hit Florida.
Following Atlas, at least two launches are planned from Vandenberg in October.
At 6:06 a.m. Oct. 4, a Space Exploration Technologies Falcon 9 rocket is set to lift another 10 Iridium Next satellites into orbit amid a push to replace the constellation of craft that allow communications anywhere on the globe.
Additionally, Orbital ATK plans to conduct a Minotaur C launch of 10 commercial Earth-imaging spacecraft at 2:37 p.m. Oct. 17 from Vandenberg.
Planet's six SkySat and four Dove spacecraft have all been designed and manufactured in the San Francisco Bay Area.
Quelle: Noozhawk
Payload:               CLASSIFIED NATIONAL SECURITY PAYLOAD
                       NRO satellite in Molniya orbit
		       Collects signals intelligence

Launch Date:           Thursday,  Sept. 21, 2017

Target
Launch Time:	       10:38 p.m. local
		       1:38 a.m. EDT on Sept. 22
		       0538 GMT on Sept. 22    

Unclassified
Launch Period:         Four hours
                       7:25-11:35 p.m. local
                       0225-0635 GMT on Sept. 22

Launch Site:           Vandenberg Air Force Base, California
                       Space Launch Complex 3-East

Customer:              National Reconnaissance Office
		       Launch Enterprise Directorate, Air Force's 
				Space and Missile Systems Center

Launch Services
Provider:              United Launch Alliance, Centennial, Colorado

Launch Vehicle:        Atlas 5 designated AV-072
		       541 configuration
                       Weight at liftoff: 1.2 million pounds
		       Thrust at liftoff: 2.4 million pounds
                       Height: 197 feet (60 m)

                       Common Core Booster with RD-180 engine
			    73,800 gallons RP-1 kerosene and liquid oxygen
			    Thrust: 860,300 pounds

			Four side-mounted solid-fuel rocket boosters
			    World's largest monolithic SRB
			    Thrust: 380,000 pounds each

                        Centaur upper stage with RL10C-1 engine
			     16,450 gallons liquid hydrogen and oxygen
			     Thrust: 23,300 pounds

			5-meter Short Fairing 
			      18-foot-dia., 68-foot-tall composite shroud

Construction:          Atlas stage and Centaur upper stage built by 
			      United Launch Alliance in Decatur, Alabama
		       Fairing manufactured by RUAG Space in Zurich	
    		       RD-180 from NPO Energomash, Khimki, Russia
		       SRBs by Aerojet Rocketdyne, Sacramento, Calif.
		       RL10C-1 from Aerojet Rocketdyne, West Palm 
			       Beach, Florida

Payload Speculation:   NROL-42 is believed to be the second spacecraft
			       in the newest generation of Molniya-orbit 
			       signals intelligence satellites 
                               unofficially called Trumpet Follow-On. 
                               The highly-inclined orbit enables the craft 
                               to dwell over northern latitudes to collect 
                               surveillance. 

			The fourth Space Based Infrared System-HEO 
                               missile-warning senor package is hosted 
                               aboard the NROL-42 satellite.

			The target orbit is roughly 1,000 by 24,000 
				miles at an inclination of 63 degrees.

About the NRO:		Headquartered in Chantilly, Virginia, the 
				National Reconnaissance Office develops 
				and operates overhead reconnaissance 
				systems and conducts intelligence-related 
				activities for U.S. national Security.

NRO Uses:               The NRO is the nation's eyes and ears in 		
				space, supporting policy makers, the Armed 
				Services, the Intelligence Community, 
				Departments of State, Justice and 		
				Treasury, and civil agencies. All of them 
				depend on the unique capabilities NRO 
				systems provide.

NRO Capabilities:	    - Monitoring the proliferation of weapons of 
				mass destruction

			    - Tracking international terrorists, drug 
				traffickers, and criminal organizations

			    - Developing highly accurate military 
				targeting data and bomb damage assessments

			    - Supporting international peacekeeping and 
				humanitarian relief operations

			    - Assessing the impact of natural disasters, 
				such as earthquakes, tsunamis, floods and 
				fires.

NRO Constellations: 	Exquisite-class electro-optical and 
			        radar-imaging observatories, 
				geosynchronous and Molniya-orbit 
				eavesdropping platforms, ocean 
				surveillance network and data-relay 
				support spacecraft
Quelle: SN
---
Update: 20.09.2017
.

Atlas V Rocket Launch On Track For Clandestine Mission from Vandenberg AFB
National Reconnaissance Office Payload will head to orbit aboard United Launch Alliance booster
Thursday night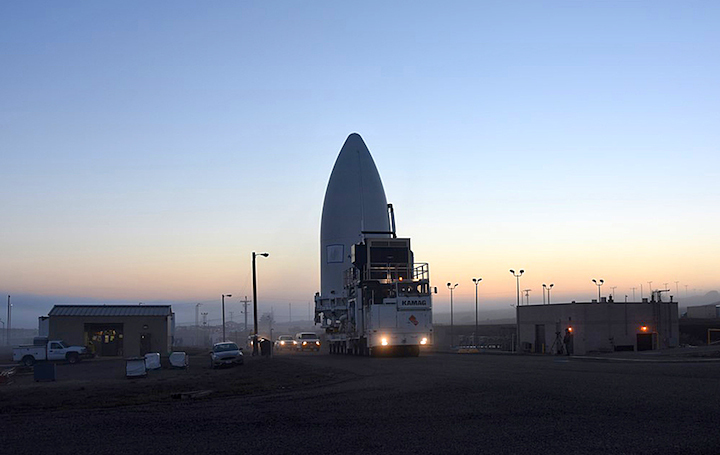 3254 Views