SpaceX test-fired a Falcon 9 rocket yesterday (June 29), helping pave the way for a planned launch this weekend.
The nine Merlin engines on the booster's first stage blazed up during a standard "static fire" test yesterday evening at historic Launch Complex 39A, part of NASA's Kennedy Space Center in Florida.
If all goes according to plan, the Falcon 9 will lift off at 7:36 p.m. EDT (2336 GMT) Sunday (July 2) from Pad 39A, carrying the Intelsat 35e communications satellite to orbit in SpaceX's third launch in the span of 10 days. You can watch Sunday evening's launch live at SpaceX's website.
The California-based company also successfully lofted the communications satellite BulgariaSat-1 on June 23 from Pad 39A. And SpaceX launched 10 spacecraft for the satellite-communications company Iridium on June 25, from Vandenberg Air Force Base in California.
On both of those missions, Falcon 9 first stages returned for successful landings on robotic SpaceX "drone ships" stationed in the ocean. No such touchdown is planned during Sunday's mission, however; getting the 6.6-ton (6 metric tons) Intelsat 35e aloft will require so much fuel that the booster won't have enough left to maneuver its way back down to Earth. (You can see in the static-fire image that the Falcon 9 first stage is not outfitted with landing legs.)
Sunday is shaping up to be a very busy day for SpaceX. That same morning, the company's robotic Dragon cargo capsule will detach from the International Space Station (ISS) after a one-month stay and make its way down to Earth for a soft splashdown in the Pacific Ocean.
The current ISS trip is the second for that particular Dragon. Such reuse is a priority for SpaceX and its billionaire founder and CEO, Elon Musk, as they aim to slash the cost of spaceflight by re-flying rockets and spacecraft. The Falcon 9 that launched BulgariaSat-1 had a reused Falcon 9 first stage, as did the rocket that lofted the SES-10 communications satellite on March 30.
Quelle: SC
---
Update: 2.07.2017 / 8.12 MESZ
-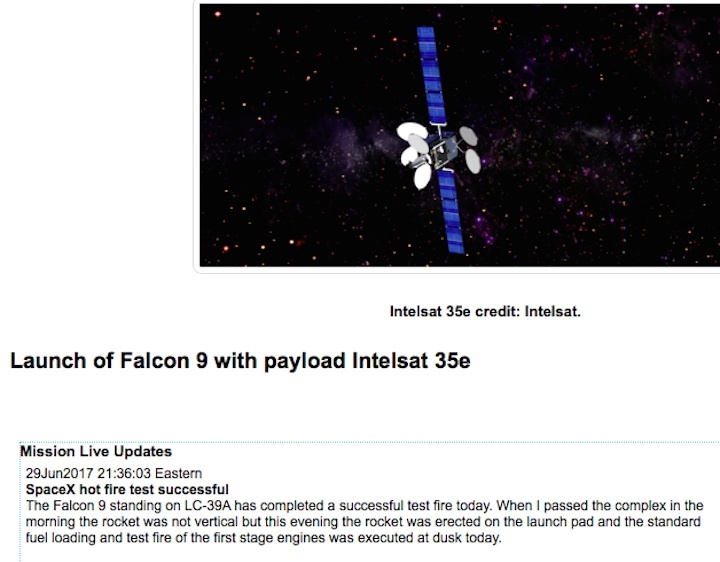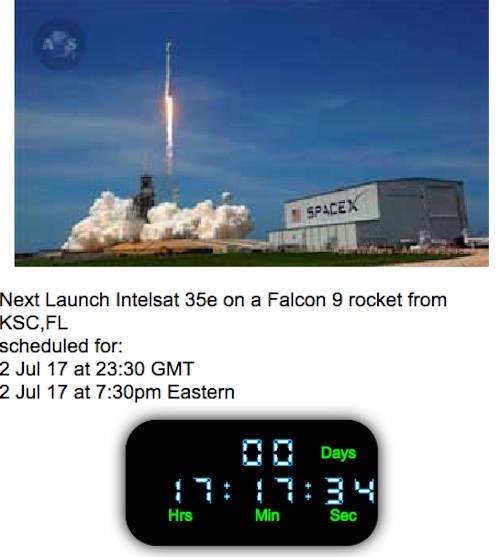 Quelle: AS
---
Update: 3.07.2017
.
On Sunday, SpaceX is launching its third rocket in 10 days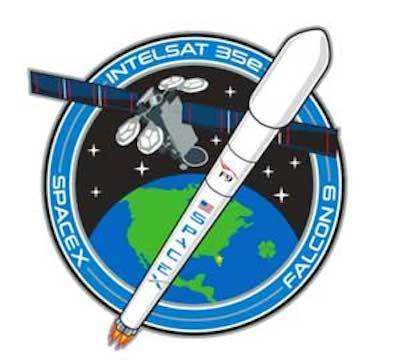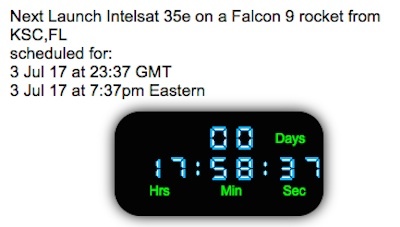 Tomorrow evening, Elon Musk's interplanetary space travel company, SpaceX, will launch a Falcon 9 rocket, its third in a 10-day span.
The rocket will be sending a communications satellite, the Intelsat 35e, from the Kennedy Space Center in Florida into a geostationary orbit, some 23,000 miles above Earth.
SpaceX will not attempt to land the Falcon 9's rocket booster for reuse after this launch, the company said in a statement. This may be because the payload is so heavy and it's going into such a high orbit that the mission requires more fuel, which won't leave the rocket with enough to make it back to land.
Watch the launch live Sunday at 7:36 pm ET / 4:36 pm PT here:
Last Sunday, June 25, SpaceX sent a new Falcon 9 rocket into space to deliver a set of Iridium satellites.
That launch came just two days after SpaceX launched a rocket that Friday, which was the second time in the company's history it successfully landed a recycled rocket. The rocket booster returned to Earth to land on SpaceX's drone ship, named "Of Course I Still Love You."
Reusing rockets is central to SpaceX's mission to lower the cost of space travel. Musk, after all, wants space travel to become cheap enough for humans to one day colonize Mars. But rockets are typically too damaged after launching to be used again, and building a rocket can cost hundreds of millions of dollars.
For perspective on the cost of space travel, take what happened in 2015 when a Falcon 9 disintegrated after takeoff. SpaceX lost around $260 million with that mission, according to a report from the Wall Street Journal.
Quelle: recode
+++
Update: 4.07.2017
.
Start-Abbruch von Falcon-9 mit Intelsat-35e Satelliten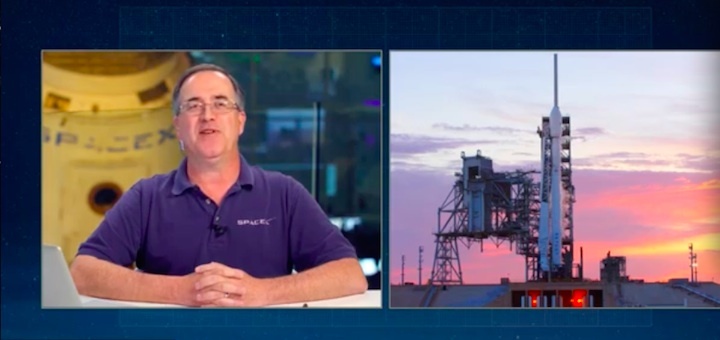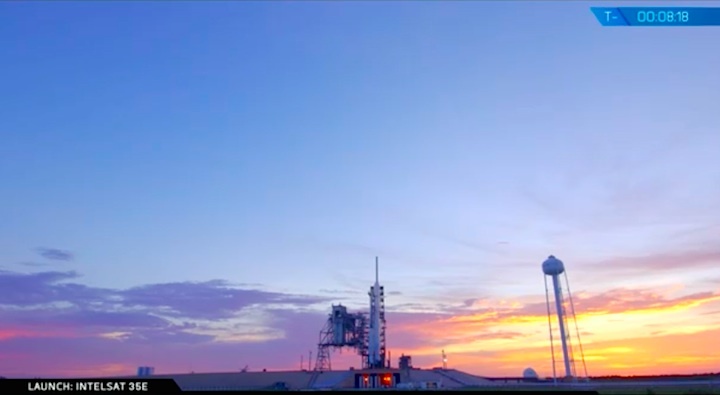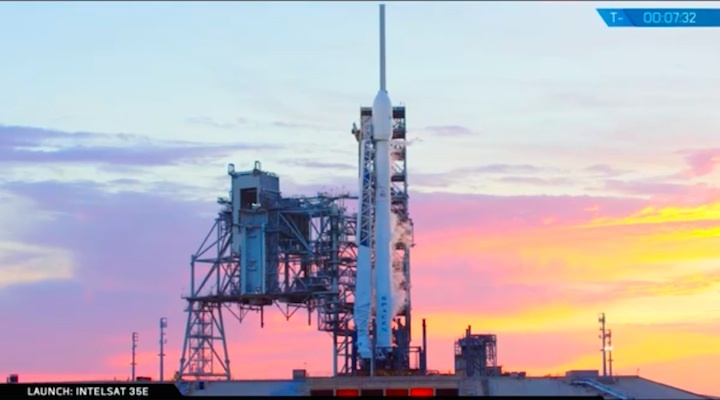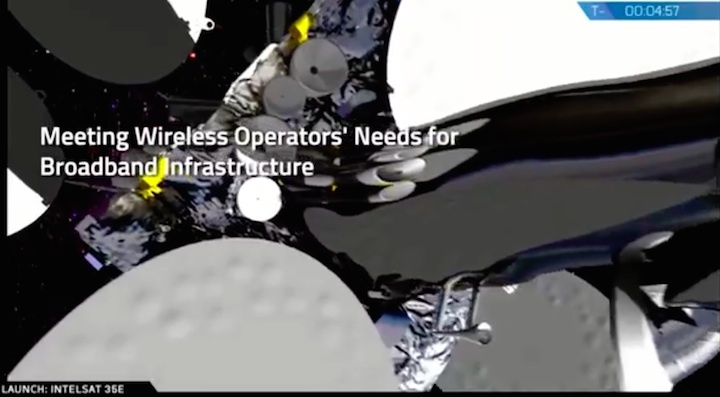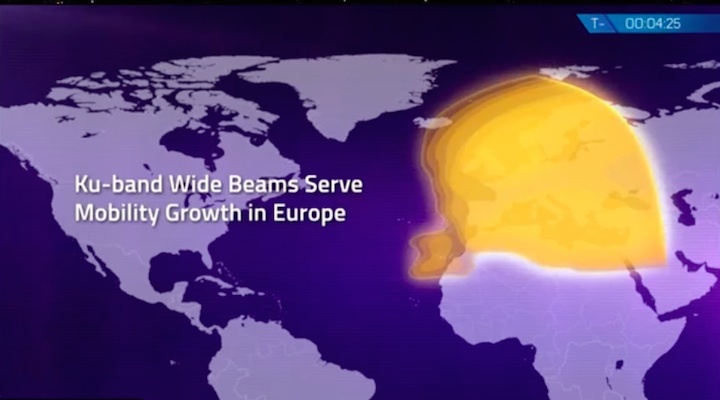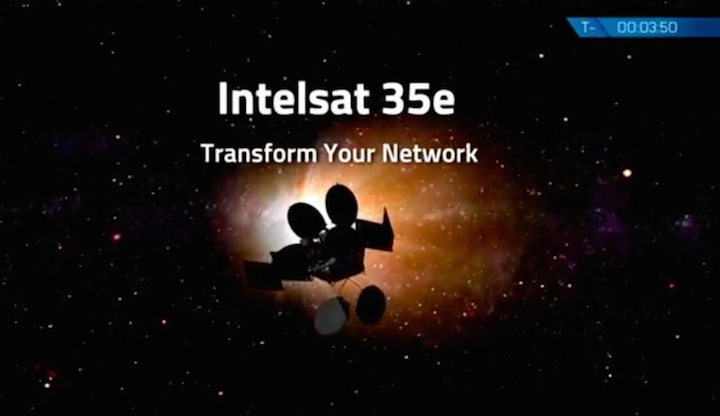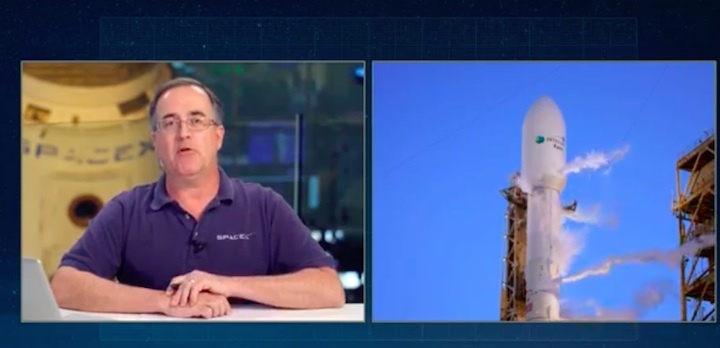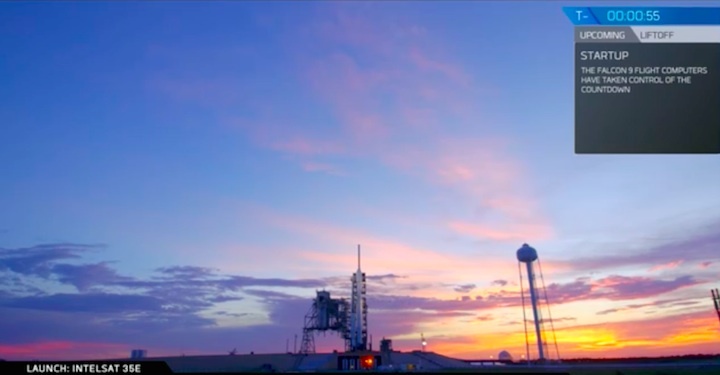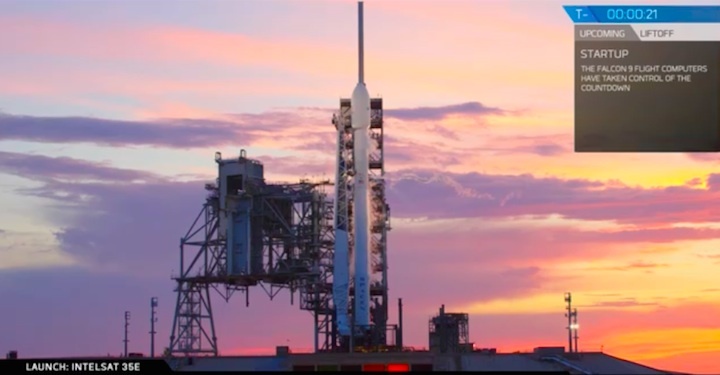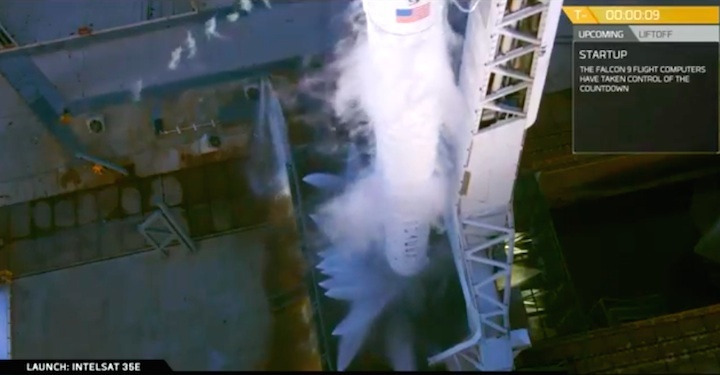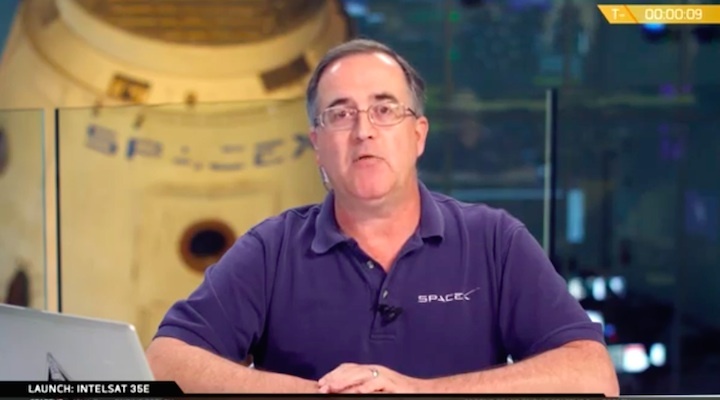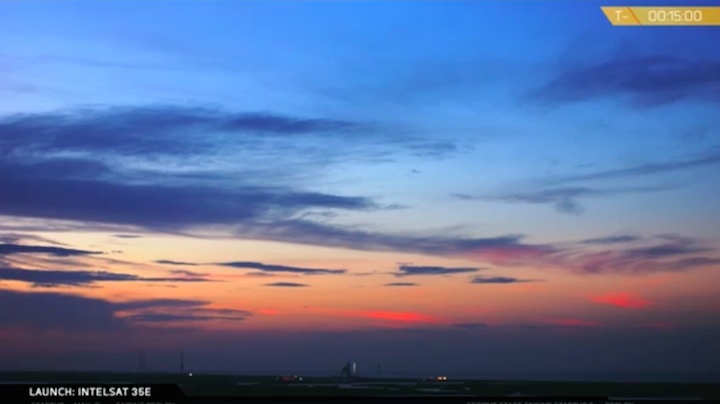 Quelle: SpaceX
+++
Another scrub for SpaceX launch, could try again July 4
SpaceX was aiming for a busy day, but while it already welcomed home the Dragon cargo capsule from the International Space Station on Monday morning, an attempt to get a rocket launched from Kennedy Space Center on Monday night was scrubbed.
For the second day in a row, SpaceX scrubbed an attempt to launch a Falcon 9 rocket carrying a satellite for Luxembourg-based company Intelsat into orbit. On both Sunday and Monday night, the launch attempts were aborted with 10 seconds left in the countdown. Sunday's scrub was due to a computer guidance problem, while there has been no word yet as to why Monday's launch attempt was scrubbed.
"We still do not have definitive information as to what caused the scrub at T-10 seconds," said SpaceX mission commentator John Insprucker.
SpaceX has made arrangements to attempt a launch on July 4, and the 58-minute launch window would open once again at 7:37 p.m., but that would only be if the team could figure out what caused the scrub in Monday's attempt.
Unlike other notable SpaceX launches, there will be no attempt to recover the first stage rocket booster as the satellite has to be placed into a higher orbit, meaning more rocket fuel, and no chance for recovery.
The satellite built by Boeing is part of Intelsat's "next generation" constellation of satellites, the fourth sent up by the company. The new satellites are geared to offer higher quality Internet service and mobile communications.
Earlier Monday, SpaceX welcomed home the Dragon cargo capsule from the International Space Station. The splashdown in the Pacific Ocean marked the completion of the first reused commercial spacecraft to be sent to and returned home from the space station.
The Dragon capsule launched from Kennedy Space Center on June 3 and undocked from the ISS on July 2. The same capsule made its first trip to the ISS three years earlier. The reuse of the capsule and reuse of the rocket boosters by the company are part of its efforts to drive down launch costs.
SpaceX's cargo capsule is the only supply ship able to survive re-entry into Earth's atmosphere.
The company has had a busy month, having also launched a Bulgarian satellite from Kennedy Space Center on June 23 as well as 10 satellites on June 25 from Vandenberg Air Force Base in California.
Quelle: Orlando Sentinel
---
Update: 16.00 MESZ
.
INTELSAT 35E MISSION
Out of an abundance of caution, SpaceX will be spending the 4th of July doing a full review of the rocket and launch pad systems. The next launch opportunity for Intelsat 35e from Launch Complex 39A (LC-39A) at NASA's Kennedy Space Center in Florida is now no earlier than Wednesday, July 5 or Thursday, July 6. Additional updates will be posted to this page as they become available.
SpaceX will not attempt to land Falcon 9's first stage after launch due to mission requirements.
Quelle: SpaceX
---
Update: 6.07.2017
.
Erfolgreicher Start von Falcon-9 mit Intelsat-35e Satelliten / Frams von LIVE-Start: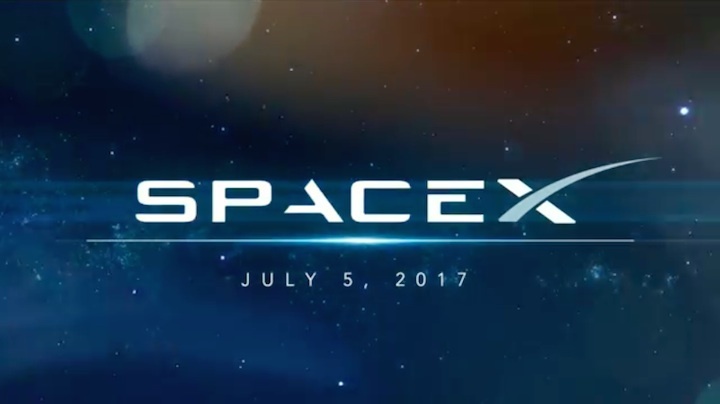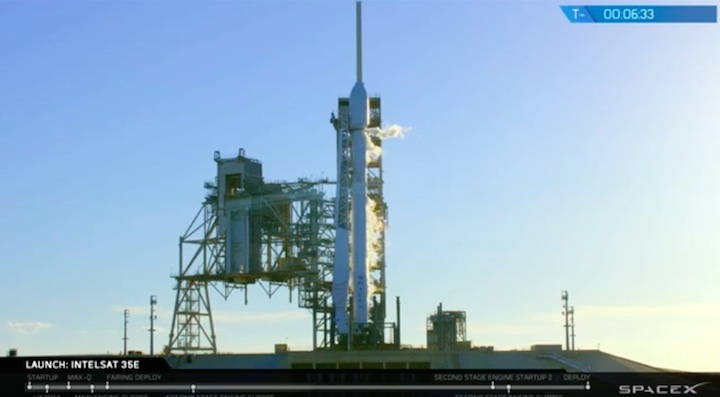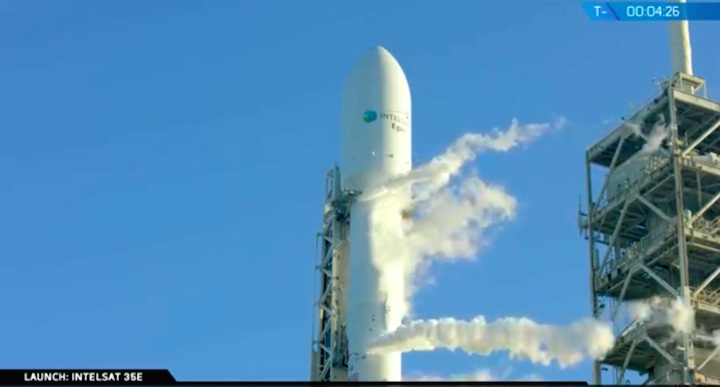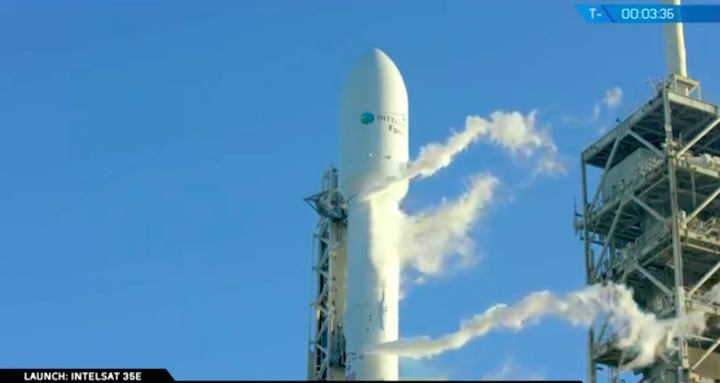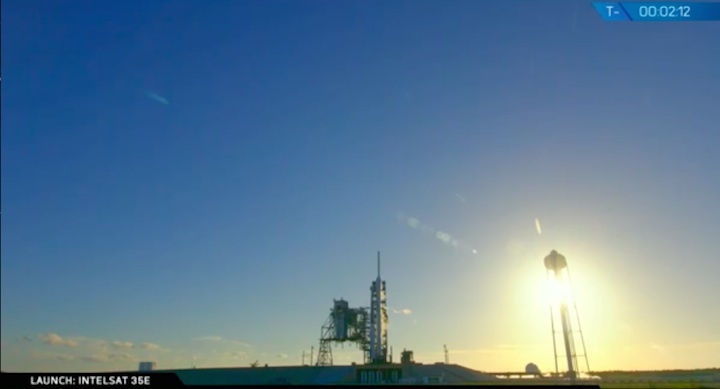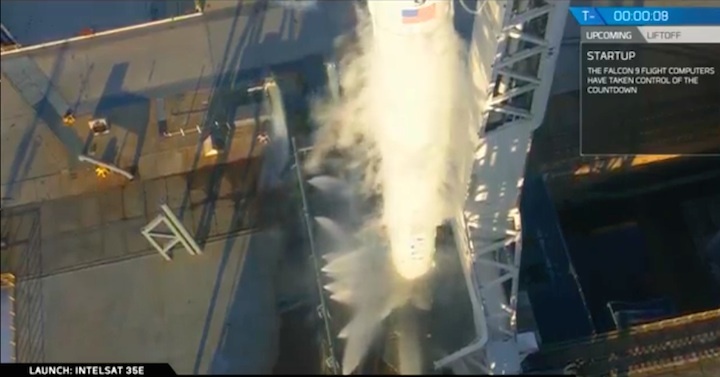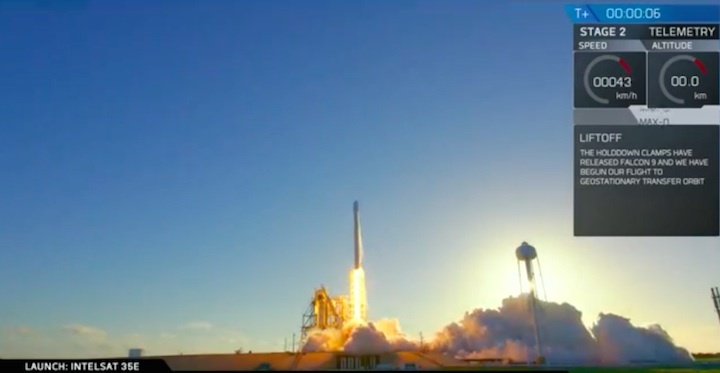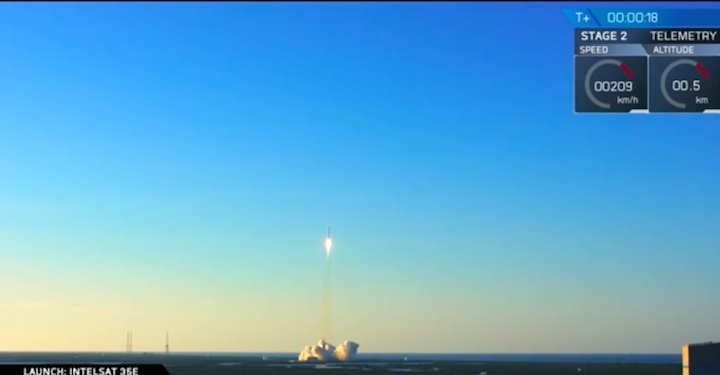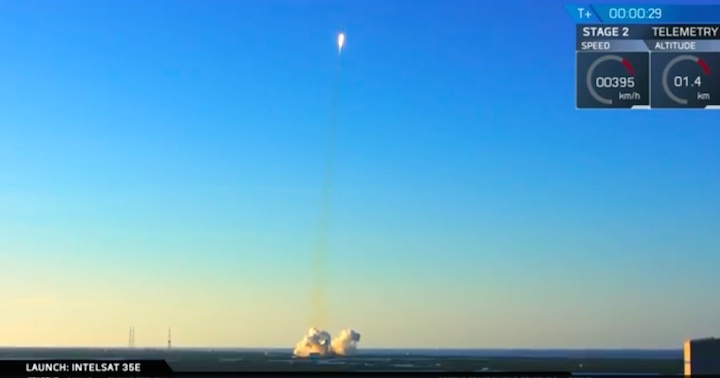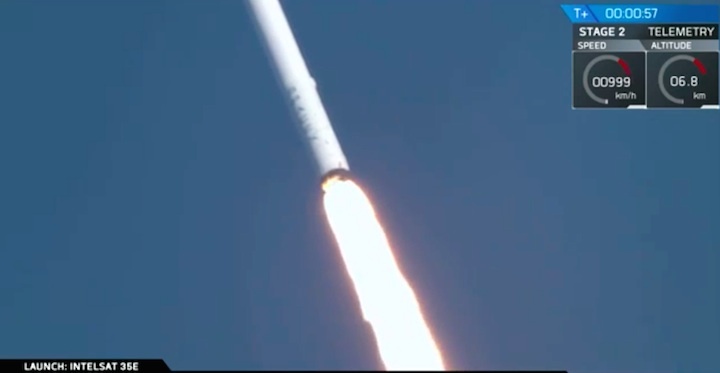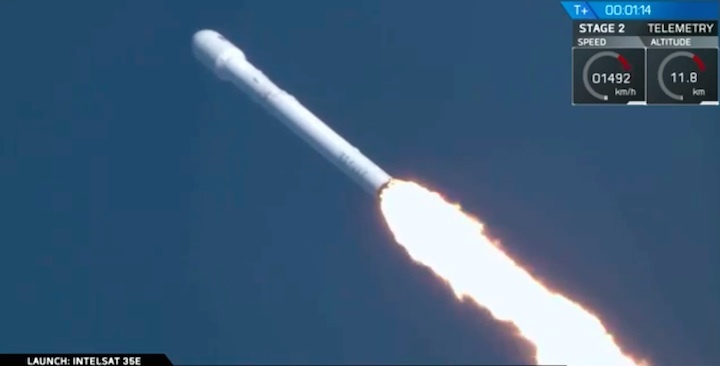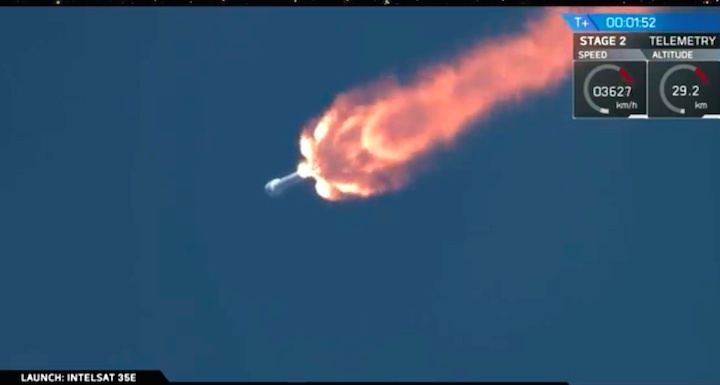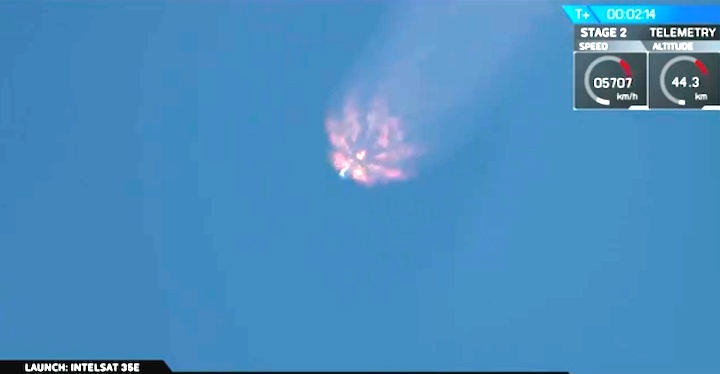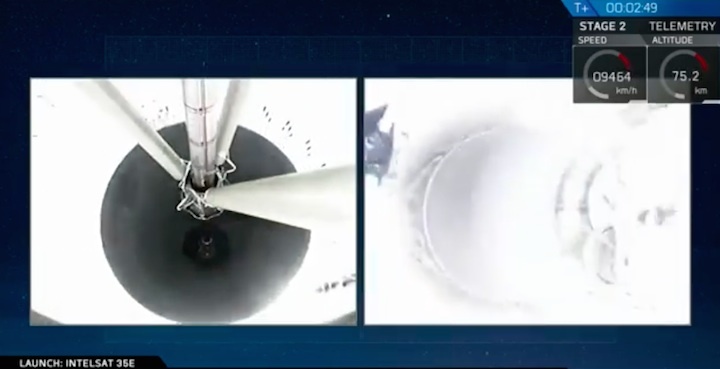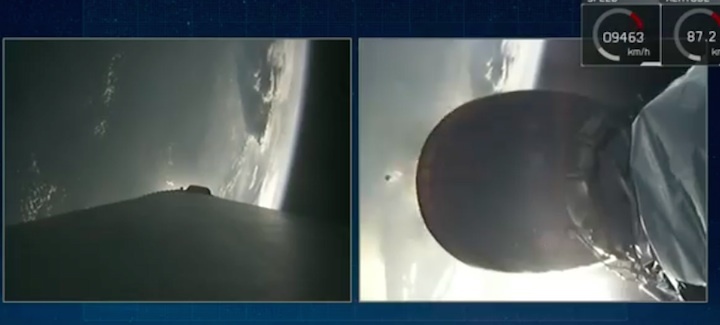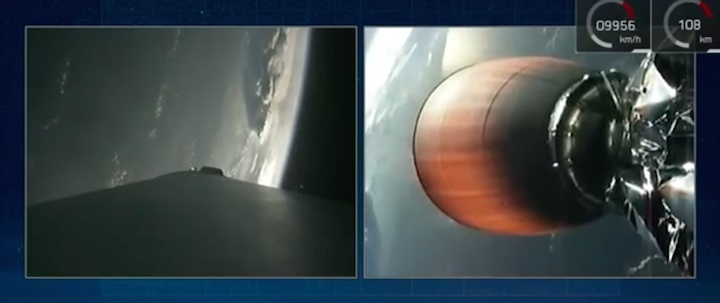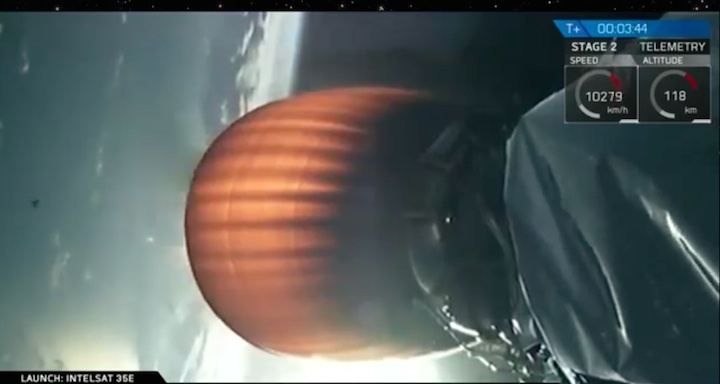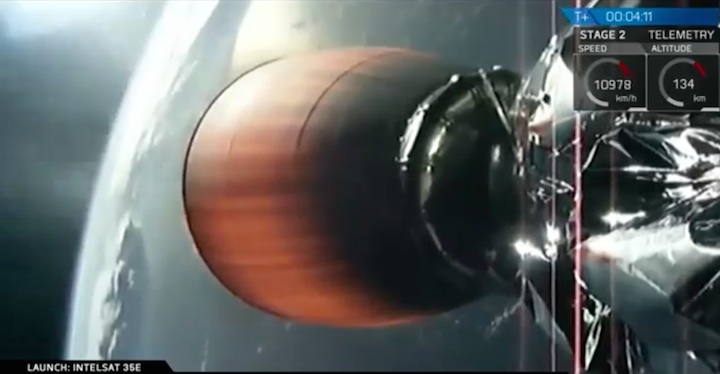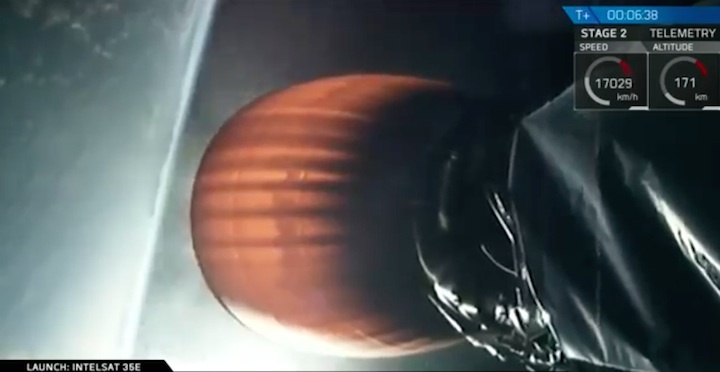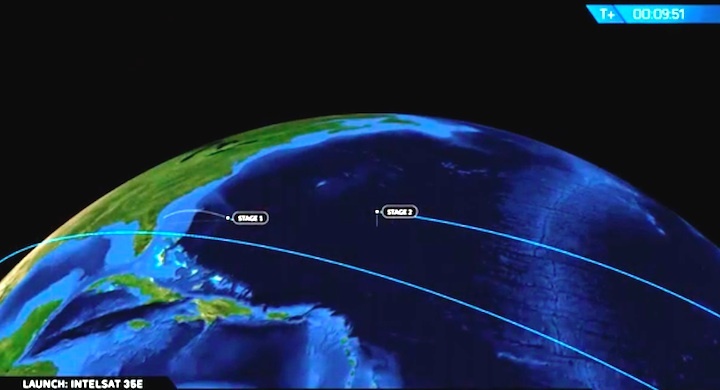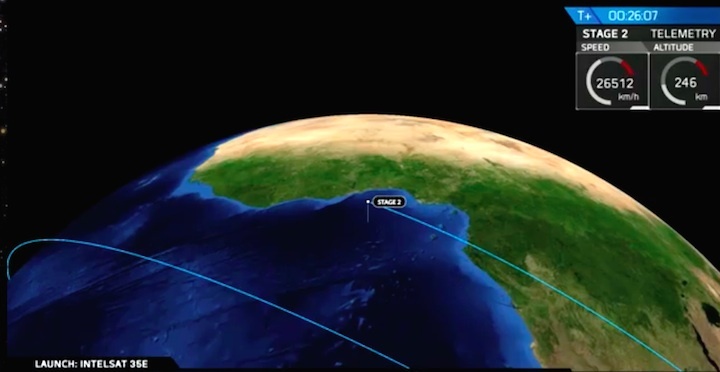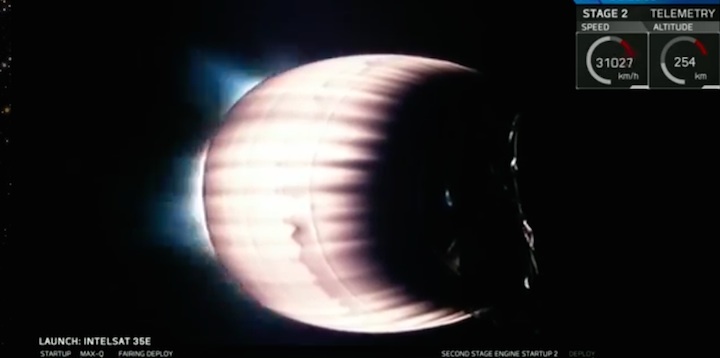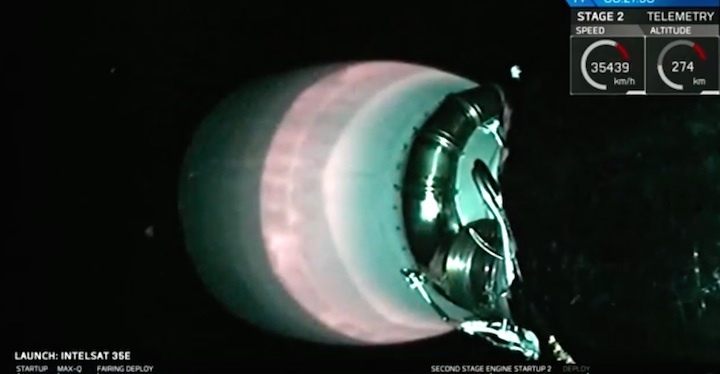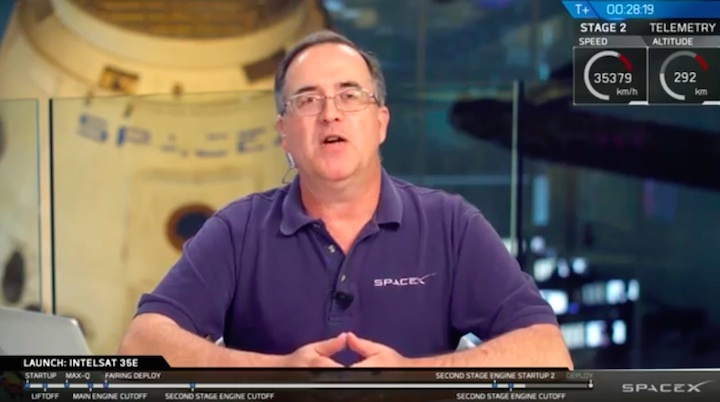 Quelle: SpaceX