6.10.2022
JAXA Postpones Epsilon-6 Rocket Launch
The Japan Aerospace Exploration Agency, or JAXA, said Wednesday that it has postponed the launch of its sixth Epsilon solid-fuel rocket, which was scheduled for Friday morning.
JAXA made the decision because conditions after the launch are unlikely to be suitable for operations to track the Epsilon-6.
The Epsilon-6 rocket is expected to be launched Tuesday or later from JAXA's Uchinoura Space Center in Kagoshima Prefecture, southwestern Japan.
JAXA usually uses radio waves from positioning satellites orbiting Earth to track a rocket after its launch, but it may lose the Epsilon-6 rocket's location in the worst case as satellite positions and other conditions are expected to be unfavorable unless the launch is postponed, according to the agency.
This is the first time in Japan for a rocket launch to be put off for such a reason, a JAXA official said, adding that it is a "rare case."
Quelle: nippon.com
+++
The Epsilon Launch Vehicle is a solid-fuel rocket designed to lower the threshold to space hitherto regarded as "special" and usher in an age in which everyone can make active use of space. Under the banner of "the world's most compact launch", JAXA has sought to streamline assembly, inspection and other operations and to renovate the entire launch system, spanning operations, equipment and airframes. Ingenious approaches have been taken to reduce vibration and noise as well as to buffer shocks during satellite separation from the rocket in order to achieve a world-class ride. Four Epsilon Launch Vehicles have been launched from the Uchinoura Space Center, all successfully.
Quelle: JAXA
----
Update: 12.10.2022
.
Japan's Epsilon rocket failed after launch - Kyodo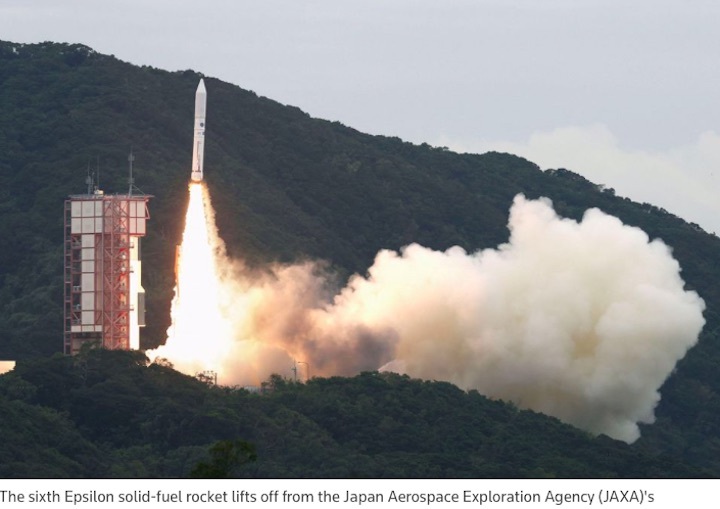 The Japanese space agency's Epsilon rocket failed after it was launched on Wednesday, Kyodo News and other domestic media reported.
Japan Aerospace Exploration Agency (JAXA) sent a destruction order signal to the rocket after detecting trouble, Kyodo said. Public broadcaster NHK said the signal was sent after JAXA determined that rocket was not able to fly safely.
It was the first failure of a major Japanese rocket launch since 2003, and the first of the Epsilon series of rockets, NHK said.
Quelle: Reuters
+++
Japan's Epsilon rocket fails during launch of tech-demonstrating satellite: reports
216 Views