5.09.2021
Inspiration4 crew will conduct health research during three day mission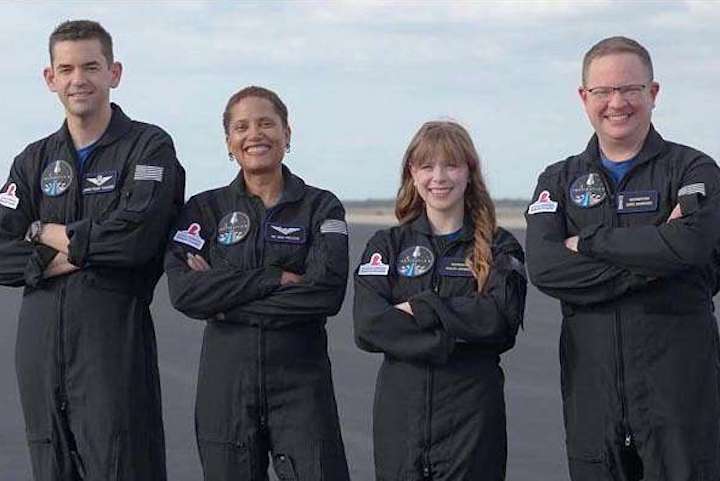 Inspiration4, the world's first all-civilian orbital mission to space, will be commanded by Jared Isaacman, the 38-year-old founder and chief executive officer of Shift4 Payments (NYSE:FOUR). The mission is named in recognition of the four-person crew's mission to inspire support for St. Jude Children's Research Hospital and send a humanitarian message of possibility while representing a new era for human spaceflight and exploration
The crew of Inspiration4 will partake in a first-of-its-kind health research initiative to increase humanity's knowledge on the impact of spaceflight on the human body. Once in orbit, the crew will perform carefully selected research experiments on human health and performance, which will have potential applications for human health on Earth and during future spaceflights.
Additionally, SpaceX, the Translational Research Institute for Space Health (TRISH) at Baylor College of Medicine and investigators at Weill Cornell Medicine will collect environmental and biomedical data and biological samples from Inspiration4's four crew members before, during, and after this historic spaceflight.
"The crew of Inspiration4 is eager to use our mission to help make a better future for those who will launch in the years and decades to come," said Jared Isaacman, commander of the Inspiration4 mission.
"In all of human history, fewer than 600 humans have reached space. We are proud that our flight will help influence all those who will travel after us and look forward to seeing how this mission will help shape the beginning of a new era for space exploration."
SpaceX, TRISH, and investigators at Weill Cornell Medicine aim to continue broadening access to space medicine research by making all biomedical data collected for the Inspiration4 mission accessible through an open data repository funded and overseen by TRISH that can be easily accessed for research purposes.
Empowered by NASA's Human Research Program, TRISH is a virtual institute that finds and funds disruptive science and medical technology in order to reduce health and performance risks in space explorers. The
Inspiration4 crew will conduct the following TRISH-sponsored research:
+ Collect research-grade ECG activity, movement, sleep, heart rate and rhythm, blood oxygen saturation, cabin noise and light intensity.
+ Perform a series of tests in the Cognition app designed to assess changes in behavioral and cognitive performance. This is the same app that is currently used by astronauts in NASA-funded research studies.
+ Scan organ systems via a Butterfly IQ+ Ultrasound device, which is designed with artificial intelligence guidance for non-medical experts. Data collected will determine if non-medical experts can self-acquire clinical grade images without guidance from ground support and will provide a timeline of biological changes before and during spaceflight. This device is also currently being tested by astronauts on the International Space Station.
+ Collect and test drops of blood during spaceflight for markers of immune function and inflammation using a state-of-the-art miniaturized device called the Vertical Flow Immunoassay (VFI).
+ Use balance and perception tests pre-flight and immediately post-flight to measure sensorimotor adaptation during changes of gravity. These tests are currently performed by astronauts upon return from spaceflight.
+ Archive, fully analyze, and share resulting biomedical samples and data in collaboration with investigators at Weill Cornell Medicine and research data in an open format database to enable greater collaborative research.
In addition, SpaceX is collaborating with investigators at Weill Cornell Medicine to perform a longitudinal, multi-omic analysis of the crew, including genome, epigenome, transcriptome, proteome, microbiome, metabolome, exosome, telomere, single-cell V(D)J immunophenotyping and epitope maps, and spatial transcriptome analysis. These samples and data will be added to a planned Biobank that will hold cryogenically-frozen samples and data from the Inspiration4 mission.
Investigators at Weill Cornell Medicine have worked closely with SpaceX's medical team on the Inspiration4 sample collection and aim to replicate many of the same protocols and experiments that were pioneered in the NASA Twins Study and the Biomolecular Sequencer Missions. WorldQuant is providing funding support for the work at Weill Cornell Medicine. The planned Biobank will hold aliquots of the human, microbial, and environmental specimens that are collected before, during, and after missions and enable long-term research and health monitoring for astronauts.
SpaceX is targeting September 15 for Falcon 9's launch of the Inspiration4 mission from historic Launch Complex 39A at NASA's Kennedy Space Center. The three-day mission will target approximately a 575 km orbit, flying farther from Earth than any human spaceflight since the Hubble Space Telescope repair missions. Inspiration4's goal is to inspire humanity and raise money for St. Jude Children's Research Hospital. Click here to join the St. Jude fundraising adventure.
Quelle: SD
+++
SpaceX Inspiration4 astronauts reveal Dragon's 'cupola' in the flesh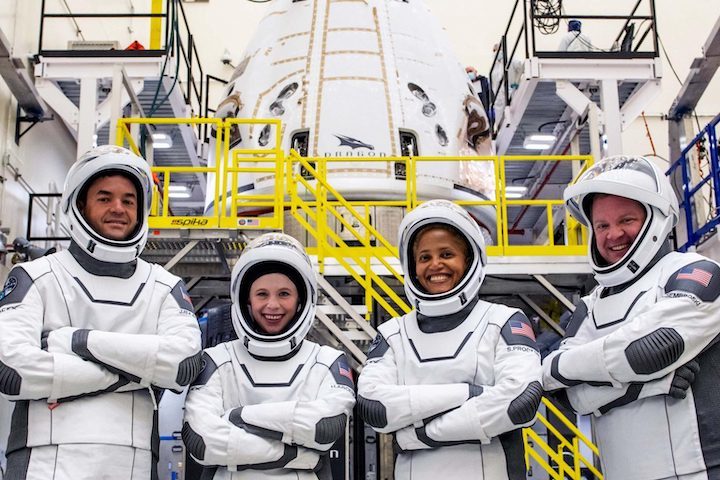 SpaceX's first fully private astronaut crew have revealed the first real look at a unique part of the Crew Dragon spacecraft that will carry them to orbit just two weeks from now.
Known as Inspiration4, the mission is the brainchild of Shift4 CEO, founder, and billionaire Jared Isaacman and will be the first orbital astronaut launch dedicated exclusively to space tourism. Unlike the side ventures of billionaires Jeff Bezos and Richard Branson, both of which cap out around 100 km (~62 mi) and Mach 3 (~1000 m/s) with vehicles that have minimal utility outside of their tourism roles, Inspiration4's four-astronaut crew will be headed to orbit – 590 km (~365 mi) at Mach 20+ (>7500 m/s) – in a spacecraft designed and used to ferry NASA astronauts to and from the International Space Station.
A step further, aside from its more symbolic role in the potential future of orbital space tourism, Inspiration4 will also check off several major technical firsts – each impressive in its own right.
First and foremost, perhaps the most unique technical aspect of Inspiration4 will be the custom-built 'cupola' SpaceX has replaced Crew Dragon's docking port with. Plans for the large transparent dome were revealed in March 2021 and according to Isaacman himself, SpaceX effectively took the idea from paper concept to real-world human-rated hardware in just six months. Initially shown off in an official render, Dragon's 'dome' was portrayed as a completely uninterrupted glass-like hemisphere where the spacecraft's docking port would normally go.
As a free-flyer mission with no need to rendezvous or dock with a space station, once-flown Dragon capsule C207 had no need for that module on Inspiration4 and SpaceX seemingly agreed. Six months later, the end result is practically identical to the renders aside from four black heat shields that will protect parts of the dome from the heat of Dragon's four most important Draco thrusters. Regardless, the dome itself still appears to be uninterrupted, almost certainly making it the largest single-piece window ever flown to space when Inspiration4 launches later this month.
Additionally, Isaacman confirmed that SpaceX has also installed a custom camera inside the retractable nosecone the dome (and normally the docking port) is cocooned inside during ascent and reentry. In just the right position, that camera should be able to take some truly spectacular photos of Dragon's four astronauts (Jared Isaacman, cancer survivor and PA Hayley Arceneaux, science communicator Sian Proctor, and raffle-winner Christopher Sembroski) silhouetted by Earth, space, and the stars.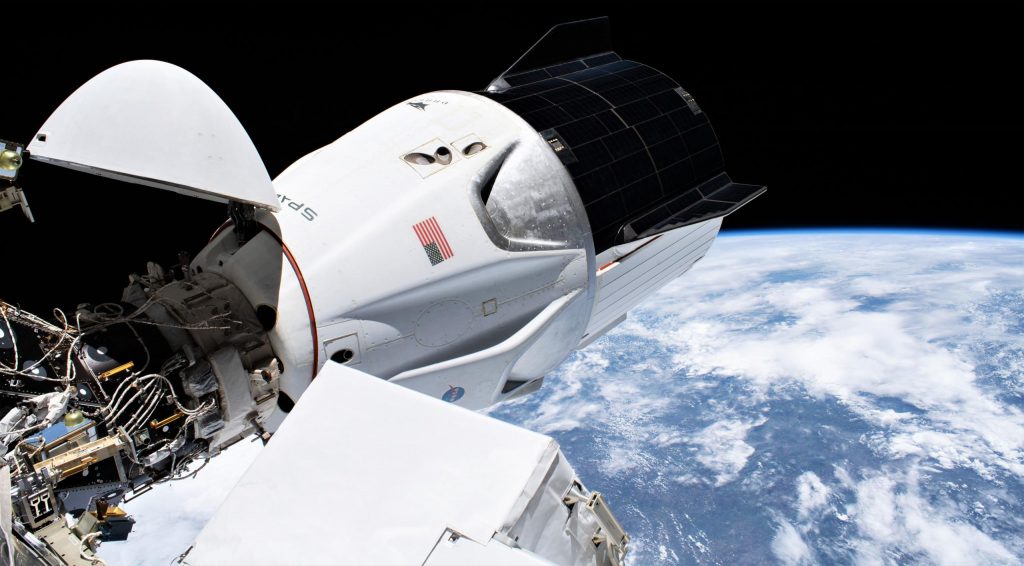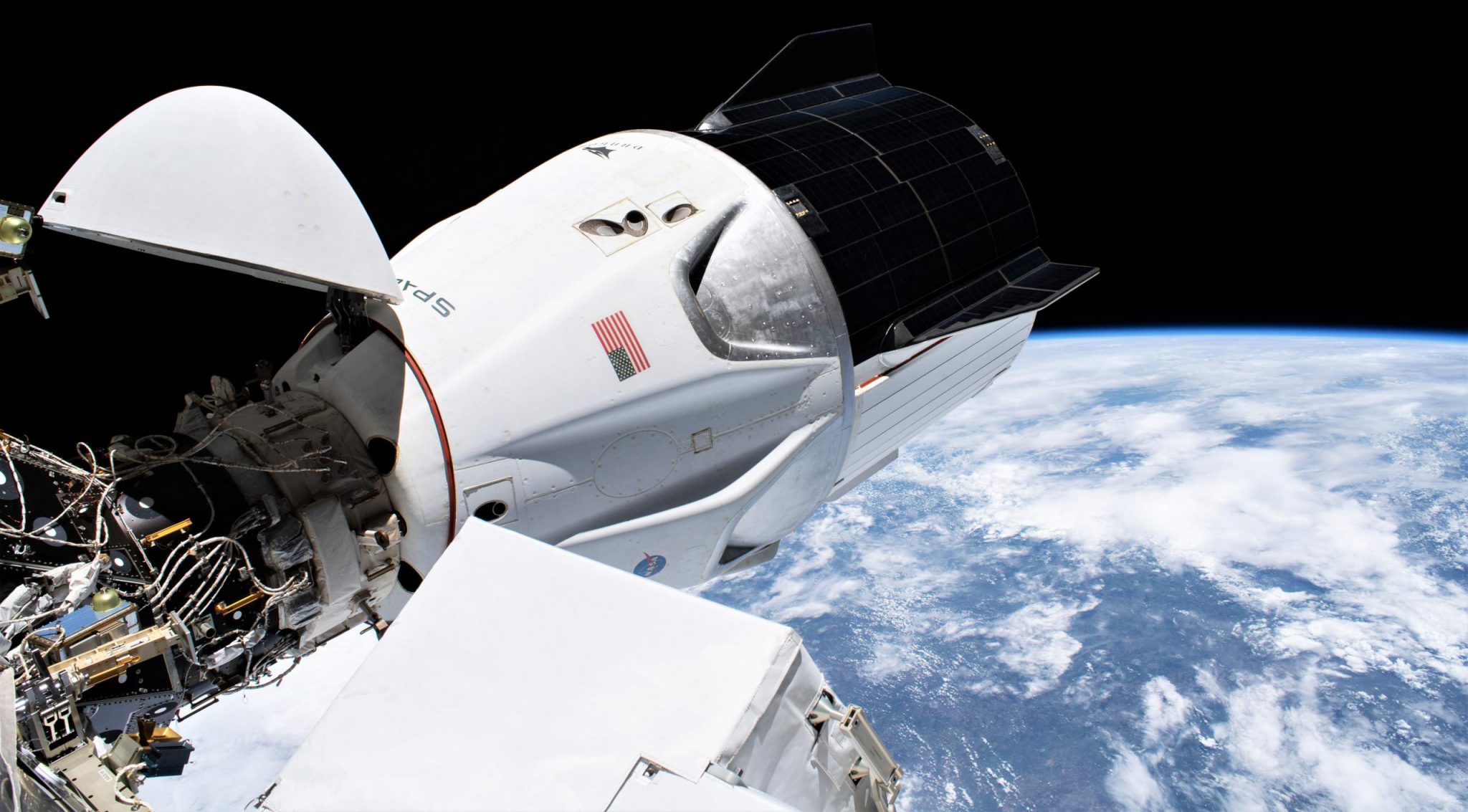 Aside from SpaceX's unique cupola modification, Inspiration4's Crew Dragon capsule is on track to once again smash the company and world's record for orbital space capsule turnaround. Previously tasked with supporting Crew-1, SpaceX's first operational NASA astronaut launch, Dragon capsule C207 reentered and splashed down after six months in orbit on May 2nd and is now scheduled to launch four more astronauts as early as September 15th. If all goes according to plan, C207 will thus fly twice in ~136 days, beating a 227-day turnaround record set just weeks prior by 91 days (41%).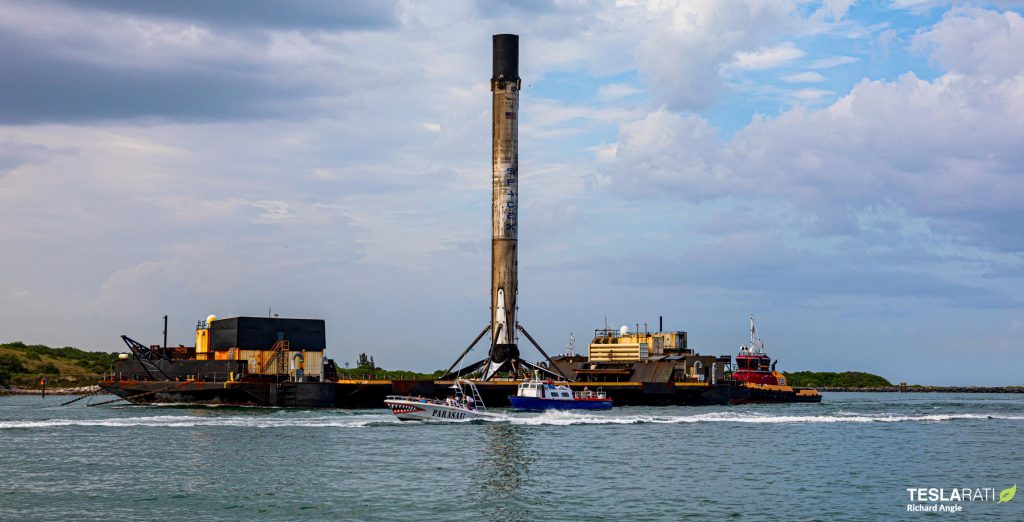 Meanwhile, SpaceX has also assigned Falcon 9 booster B1062 to launch Inspiration4, making the mission the first time a twice-flown Falcon booster launches astronauts. All told, it's hard to imagine a better way to effectively ring in a new era of true space tourism. Stay tuned for updates as Inspiration4 tracks towards liftoff around Wednesday morning, September 15th.
Quelle: TESLARATI
----
Update: 12.09.2021
.
Inspiration4 private crewed mission nears launch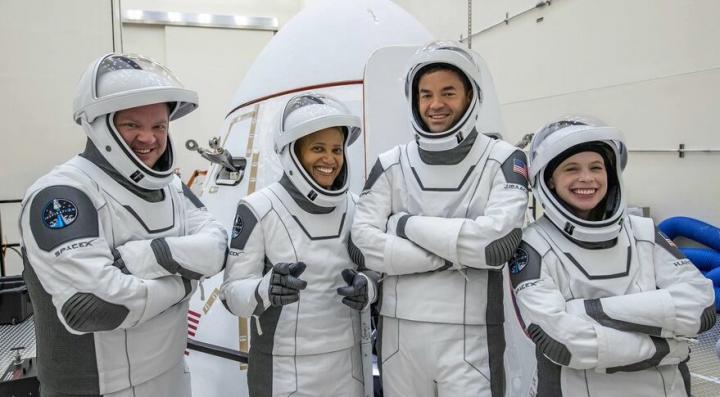 Updated 1:20 p.m. Eastern with revised launch date.
WASHINGTON — SpaceX is gearing up for its first purely commercial human spaceflight, but many details about the mission remain unclear.
A SpaceX Falcon 9 is scheduled to launch a Crew Dragon spacecraft on the Inspiration4 mission next week. Four people will fly on the mission, announced in February, spending three days in orbit but not docking to the International Space Station.
Billionaire Jared Isaacman, who is funding the mission, will fly as mission commander. The other three people — Hayley Arceneaux, Sian Proctor and Chris Sembroski — joined the mission either through competitions associated with the project or by being selected by Isaacman and St. Jude's Children's Research Hospital, for which the mission is intended to be a fundraiser.
The project announced Sept. 3 that SpaceX completed a flight readiness review for the mission. The launch was scheduled for a 24-hour window that opens at 8 p.m. Eastern Sept. 14 from the Kennedy Space Center, with the following 24 hours serving as a backup. With no docking to the ISS, the mission is not constrained to a short or instantaneous launch window. The project announced Sept. 10 that it had rescheduled the launch to no earlier than 8 p.m. Eastern Sept. 15, again at the start of a 24-hour window.
Inspiration4 has not announced a more specific launch window, stating in the Sept. 3 announcement that it will narrow that window down to five hours about three days before launch based on weather forecasts for both launch and landing as well as for abort locations.
However, a Sept. 9 media advisory by Space Center Houston invited reporters to the center between 11 a.m. and 4 p.m. Eastern Sept. 15 "to watch the SpaceX Inspiration4 launch and learn about the science aboard the mission." The center is hosting several scientists who are flying life sciences experiments on the mission.
The mission is SpaceX's fourth mission to carry people, after the Demo-1, Crew-1 and Crew-2 missions, but the first outside the auspices of NASA's commercial crew program. Inspiration4 calls the flight the first "all-civilian orbital mission," although the first orbital mission without any professional astronauts or cosmonauts on board is more accurate. Spaceflight analyst Jonathan McDowell noted Sept. 9 there have been 15 previous "all-civilian" orbital missions using the customary definition of civilian to include civil government employees as well as private individuals.
The private nature of this mission has resulted in a different flow of details about the mission than even NASA commercial crew missions. Inspiration4 has a partnership with Time magazine which led to a cover story in August. Time Studios has developed a documentary series about preparations for the mission, with the first installments appearing on the streaming service Netflix Sept. 6.
However, Inspiration4 has not done a briefing for other media since March. Brian Bianco, a spokesperson for the mission, said Sept. 7 that a final "prelaunch event" is planned one or two days before the launch, but didn't have additional details about it.
When announced in February, Inspiration4 was billed as a fundraiser for St. Jude's. The mission has the goal of raising $100 million, plus an additional $100 million donated by Isaacman. Raffle ticket sales were expected to contribute a major share of that $100 million, but fell short of initial expectations.
The Inspiration4 website states that it has raised $29.2 million toward that $100 million goal as of early Sept. 10. The mission announced Sept. 9 that it will carry a diverse payload of items, ranging from memorabilia to non-fungible tokens, a type of digital collectible, it will later auction to raise additional funds.
"The impact of the Inspiration4 mission has been immeasurable, serving as an incredible platform to educate and engage millions in the movement to find cures and deliver care for childhood cancer and other catastrophic diseases through accelerated research and treatment," said Richard C. Shadyac Jr., president and chief executive of American Lebanese Syrian Associated Charities, the fundraising organization that supports St. Jude's, in the Sept. 9 announcement of the auction. "The auction is a critical component of the overall campaign as it enables us to reach new audiences and supporters as we work to fulfill our mission."
Quelle: SN
----
Update: 13.09.2021
.
SpaceX to send 1st all-civilian crew into orbit for 3 days
The historic mission is targeting a takeoff on Wednesday.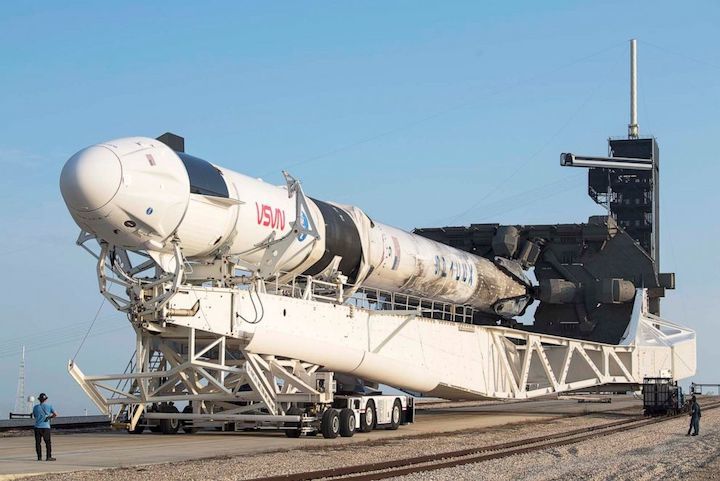 SpaceX's Inspiration4 mission may sound familiar, as another billionaire-backed space launch, but it's going where neither Richard Branson nor Jeff Bezos could -- into orbit.
Branson's Virgin Galactic and Bezos' Blue Origin sent civilians into space on brief, suborbital flights that lasted only for a few minutes.
But Elon Musk's SpaceX is just days away from sending its first all-civilian crew on a three-day mission around the Earth multiple times.
Inspiration4 will orbit 360 miles above Earth, higher than the International Space Station, with no professional astronaut on board. It will be the first orbital space tourism flight that doesn't have an astronaut to guide the passengers through launch and landing.
Commanding the mission is 38-year-old billionaire Jared Isaacman, an experienced pilot. He founded a payment process company called Shift4 Payments and purchased all four seats on the flight for roughly $200 million.
Isaacman wants this launch to benefit St. Jude Children's Research Hospital. He has already donated $100 million to the cause, and raised an additional $13 million through a lottery to win a seat.
One seat was reserved for a St. Jude ambassador -- 29-year-old Hayley Arceneaux.
Arceneaux is a bone cancer survivor who was treated at St. Jude's as a child and now works there as a physician assistant. She will be the youngest American to go to space as well as the first person with a prosthesis.
Joining Arceneaux and Isaacman on their journey is Chris Sembroski, 41, and Dr. Sian Proctor, 51.
Proctor said she has dreamed of going to space since she was a child. She once applied to become a NASA astronaut and made it to the final 47 out of 3,500 applicants, but was cut from the final round. She burst into tears when she heard she was chosen as a member of the Inspiration4 mission.
Sembroski is an Iraq War veteran and engineer with Lockheed Martin, who won the final seat through the lottery that required a St. Jude donation to enter.
The crew has gone through partial- and full-mission simulations and has been trained by SpaceX on "the Falcon 9 launch vehicle and Dragon spacecraft, including a specific focus on orbital mechanics, operating in microgravity, zero gravity, and other forms of stress testing," according to an Inspiration4 release.
They will launch from Pad 39A at NASA's Kennedy Space Center in Florida -- the same launch pad that Apollo 11 blasted off from -- sending man to the moon for the first time.
Inspiration4 is targeting a launch no no earlier than 8 p.m. ET on Sept. 15. Since they aren't going to the International Space Station, they don't need to launch at any specific time.
The crew is planning to bring items on board the Crew Dragon spacecraft to auction off to benefit St. Jude, including artwork from patients.
After three days of orbiting Earth, they will
prepare to splashdown
in the Atlantic Ocean off the coast of Florida.
Quelle: abcNews
----
Update: 14.09.2021
.
SpaceX Crew Dragon, Falcon 9 roll out to the pad for historic Inspiration4 launch
On the morning of September 12th, SpaceX rolled the Falcon 9 rocket and Crew Dragon spacecraft that will support the world's first fully private orbital spaceflight to the launch pad they'll soon lift off from.
Scheduled to launch no earlier than (NET) 8pm EDT on Wednesday, September 15th (02:00 UTC 16 Sept), the mission – deemed Inspiration4 by the billionaire funding it – will be both SpaceX and the world's first crewed orbital spaceflight without a single professional astronaut aboard. Instead, billionaire Shift4 found Jared Isaacman, Ph.D. geologist and science communicator Sian Proctor, engineer Christopher Sembroski (standing in for a friend), and physician's assistant and childhood cancer survivor Hayley Arceneaux will be along for the ride.
While none of the four crew members are professional astronauts or have any direct spaceflight experience at all, Isaacman – Inspiration4's commander – is an experienced private pilot and all four have spent the better part of 2021 training full-time to ensure some degree of competency. Of course, Crew Dragon (like its Cargo Dragon 2 variant) is a nominally autonomous spacecraft designed to fly itself to and from the International Space Station – a far more complex task than the three days Inspiration4 is planned to fly free in orbit.
Still, much like all professional NASA and international astronauts to fly on Dragon undergo extensive training, a crew that knows how to operate their spacecraft is far more likely to be able to intervene – and perhaps save the mission and their lives – in the event of a major anomaly. As such, Isaacman, Proctor, Arceneaux, and Sembroski may be far from professional astronauts when they lift off but they also won't be amateurs.
For Inspiration4, SpaceX will be launching astronauts with a flight-proven Falcon 9 booster and an orbit-proven Dragon capsule for the second time ever. The mission will still mark the first time humans have launched on a twice-flown Falcon booster (B1062) and the once-flown Crew Dragon spacecraft is on pace to reach orbit for the second time in less than five months – smashing the previous orbital capsule turnaround record by more than 40%.
Perhaps most significantly, at the earnest request of SpaceX's Inspiration4 customer, the mission will also mark the highest orbit and altitude humans have reached – 540 km (335 mi) – in more than 13 years. It will be the eighth highest Earth orbit ever reached by astronauts after five Space Shuttle missions to service the Hubble Space Telescope and two Gemini spacecraft test flights in the 1960s.
Stay tuned for updates on Inspiration4's Wednesday launch and SpaceX's webcast coverage of the historic private spaceflight.
Quelle: TESLARATI
----
Update: 15.09.2021
.
NASA Invites Media to Next SpaceX Commercial Crew Space Station Launch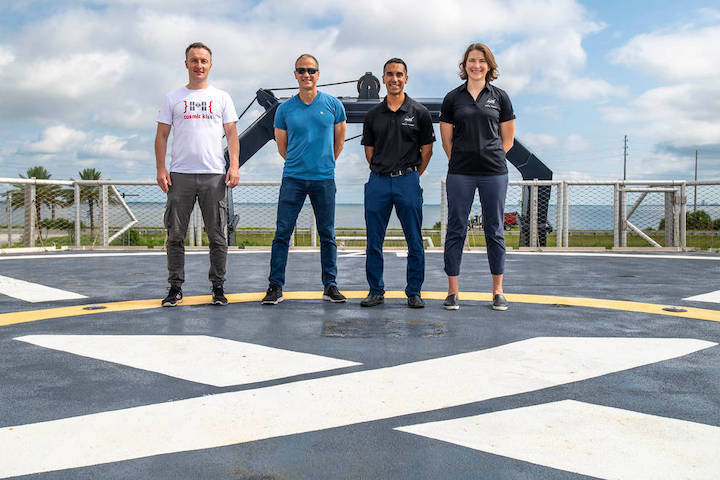 Media accreditation now is open for the launch of the third SpaceX Crew Dragon spacecraft and Falcon 9 rocket that will carry astronauts to the International Space Station for a long duration mission. This mission is part of NASA's Commercial Crew Program.
The earliest targeted launch date for the agency's SpaceX Crew-3 mission is Sunday, Oct. 31, from Launch Complex 39A at NASA's Kennedy Space Center in Florida.
The launch will carry three NASA astronauts – mission commander Raja Chari, pilot Tom Marshburn, and mission specialist Kayla Barron to the space station – as well as ESA (European Space Agency) astronaut Matthias Maurer, who will serve as a mission specialist. This is the first spaceflight for Chari, Barron, and Maurer. It is the third for Marshburn. The crew will complete a six-month science mission aboard the microgravity laboratory in low-Earth orbit.
Astronauts from NASA's SpaceX Crew-2 mission are scheduled for return in mid-November aboard the SpaceX Crew Dragon Endeavour on which they launched following a short crew handover period aboard the space station.
Media accreditation deadlines for Crew-3 are as follows:
U.S. media and U.S. citizens representing international media must apply by 4 p.m. Sunday, Oct. 3.
International media without U.S. citizenship must apply by 4 p.m. Sunday, Sept. 26.
All accreditation requests should be submitted online at:
NASA's COVID-19 policies are updated as necessary and to remain consistent with guidelines issued by the Centers for Disease Control and Prevention and White House Safer Federal Workforce Taskforce. COVID-19 safety protocols for this event will be communicated closer to the date of the event. The agency also will communicate any updates that may impact mission planning or media access as necessary.
For questions about accreditation, please email ksc-media-accreditat@mail.nasa.gov.
For other questions, please contact Kennedy's newsroom at 321-867-2468.
Para obtener información sobre cobertura en español en el Centro Espacial Kennedy o si desea solicitar entrevistas en español, comuníquese con Antonia Jaramillo 321-501-8425.
Quelle: NASA
----
Inspiration4: Amateur astronauts set for SpaceX orbital flight
Four "amateur astronauts" are about to launch into orbit in another landmark mission for space tourism.
It's the latest flight to help open up access to space for paying customers, following on from launches by Richard Branson and Jeff Bezos.
The trip has been paid for by US billionaire businessman Jared Isaacman, who will travel with three crewmates.
A healthcare worker, a science educator and a data analyst will circle the Earth with Mr Isaacman for three days.
They hope to inspire others with their adventure and to raise money for children's cancer medicine. Accordingly, the mission has been named Inspiration4.
The crew's Dragon vehicle, manufactured by Elon Musk's company SpaceX, will ride atop a Falcon-9 rocket. It is due to launch from Florida's Kennedy Space Center at 20:02 EDT on Wednesday (01:02 BST, Thursday), or very shortly after.
The spacecraft will reach an altitude of 575km (360 miles), which is about 150km higher than the International Space Station (ISS). The quartet will then spend their time doing experiments and looking at Earth through a large domed window which offers panoramic views.
The glass dome has been fitted in place of the mechanism Dragon normally uses to dock with the ISS, which isn't needed on this flight.
The splashdown at the end of the flight will be targeted at the Atlantic Ocean.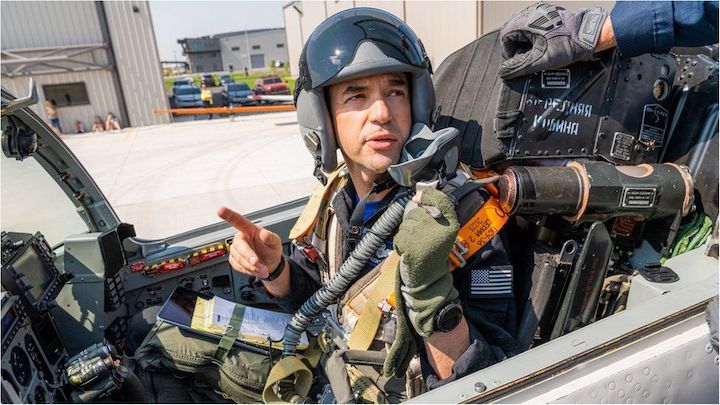 The quartet flying on Inspiration4 believes that human spaceflight is on the cusp of major change; it is being opened up beyond just those who in the past were deemed to have the "right stuff".
The commander, Jared Isaacman, 38, is the founder and chief executive of Shift4 Payments, a company he started as a teenager to process credit card transactions. He's also an aviation enthusiast with thousands of hours in multiple aircraft. While the mission has been made possible by Mr Isaacman's immense wealth, the attitude is: space should be within reach of everyone.
"It'll be the first time that a global superpower hasn't sent people up into orbital space," Mr Isaacman said.
"And I think that should send a message of all the things to come. We know someday in the future, 50 to 100 years from now, there's going to be a lunar base, you're probably going to have some sort of Martian colony. And it has to start somewhere.
"When this mission is complete, people are going to look at it and say, 'It was the first time everyday people could go to space'."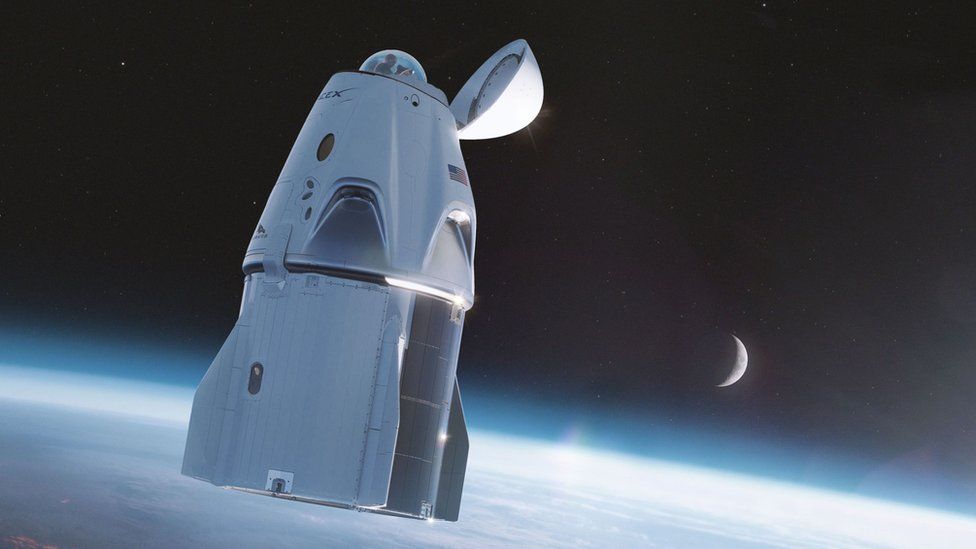 Inspiration4 will not only go fully into orbit (Branson and Bezos took only short hops above the atmosphere), the vision differs too. Mr Isaacman said from the outset he knew he couldn't just "go up with a bunch of fishing buddies"; the trip had to be purposeful.
The businessman has recruited by various means three crewmates previously unknown to him.
Hayley Arceneaux is a physician assistant at St Jude Children's Research Hospital in Memphis, Tennessee. Now 29, Ms Arceneaux was treated for bone cancer at the hospital as a 10-year-old.
Mr Isaacman wants to raise $200m for St Jude's work and it seemed fitting to him that a staff member at the hospital should join him in the Dragon capsule.
Dr Sian Proctor, 51, is a geoscientist and science communicator. She actually came close to being a Nasa astronaut in 2009 but missed out in the final round of selection. Dr Proctor won her seat through her role as an artist and by demonstrating her entrepreneurial skills.
Chris Sembroski, 42, is a US Air Force veteran and works as an engineer with aerospace company Lockheed Martin. He'd made a donation to St Jude that also entered him into a lottery draw for the fourth position in the crew.
Mr Sembroski didn't win the lottery - but a friend did, and asked him to take the place.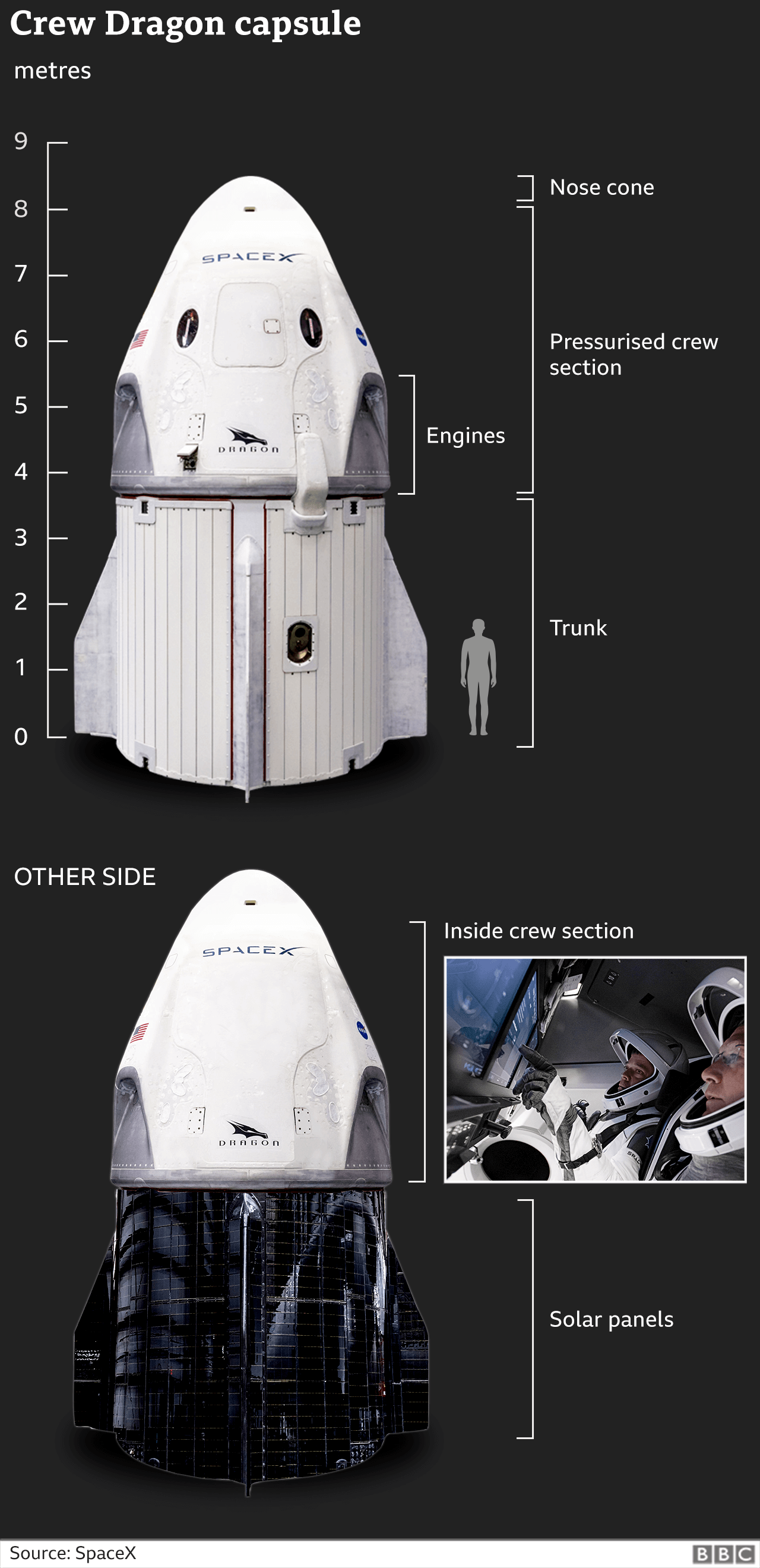 256 Views